Rachel Wan Beauty Routine
If you think you're unfamiliar with Rachel Wan's acting portfolio, think again. The LASALLE graduate first appeared on Mediacorp's Toggle series Journey with Me in 2012, and now she's best known for her recent role as Loh Ah Yoke in Channel 5's long-form drama, KIN.
In between filming, Rachel works with independent production houses such as Night Owl Cinematics, occasionally starring in their YouTube videos. What we've noticed from tracing her career is that this local actress has incredible skin, even up-close on our widescreen monitors.
We reached out to Rachel to find out how she keeps her complexion in tip-top condition, and asked her to recreate her date-night makeup.
SKINCARE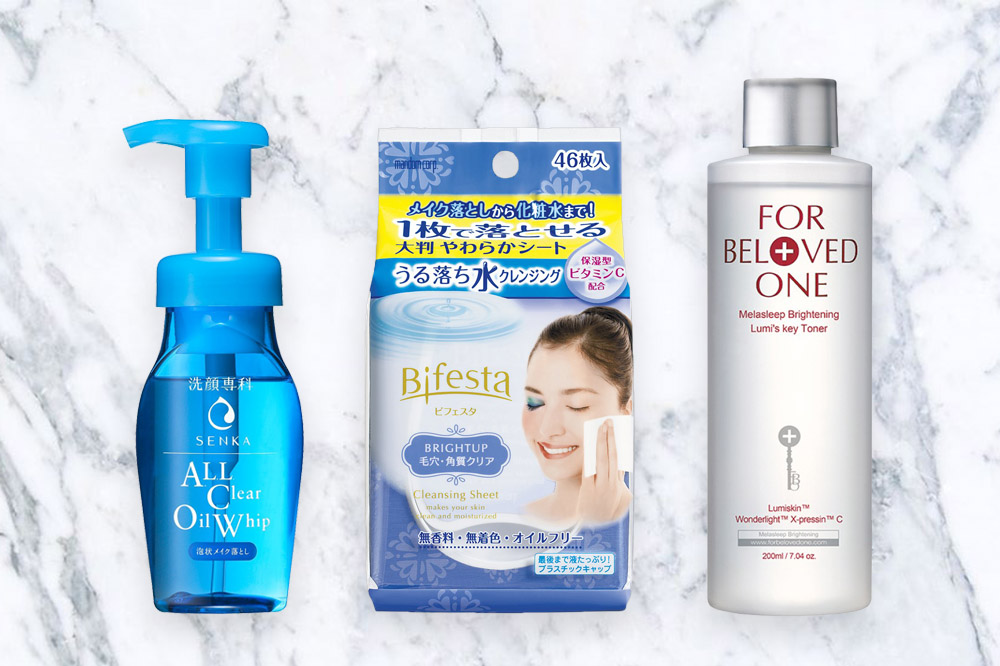 Left to right:
Senka All Clear Oil Whip ($14.90)
Bifesta Cleansing Sheet Brightup ($14.50)
For Beloved One Melasleep Brightening Lumi's Key Toner ($60)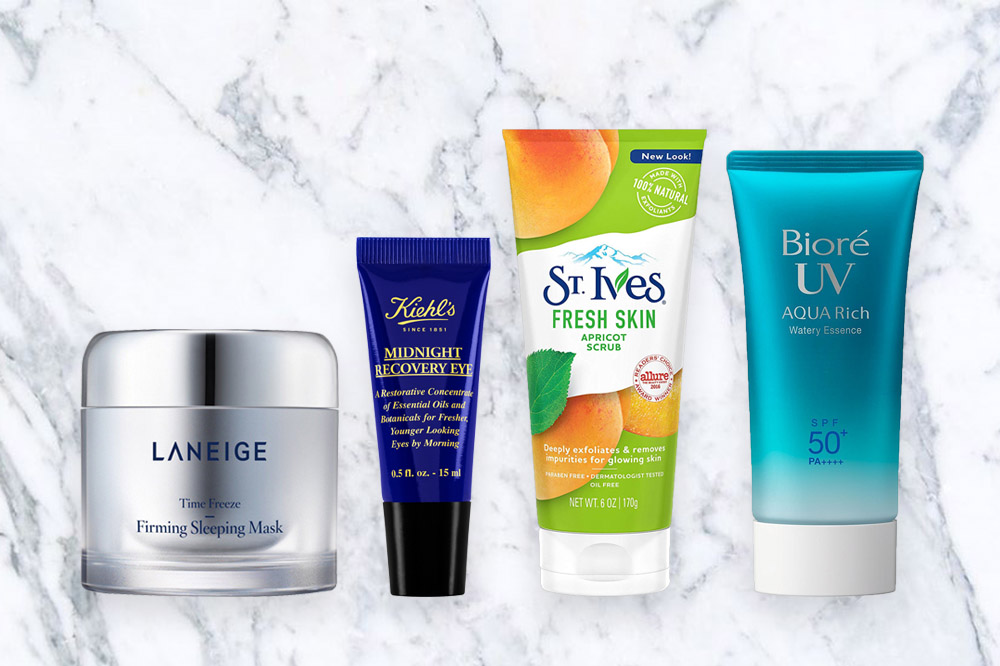 Left to right:
Laneige Time Freeze Firming Sleeping Mask ($56)
Kiehl's Midnight Recovery Eye ($60)
St. Ives Fresh Skin Apricot Scrub ($9.90)
Bioré UV Aqua Rich Watery Essence SPF50+ PA++++ ($18.90)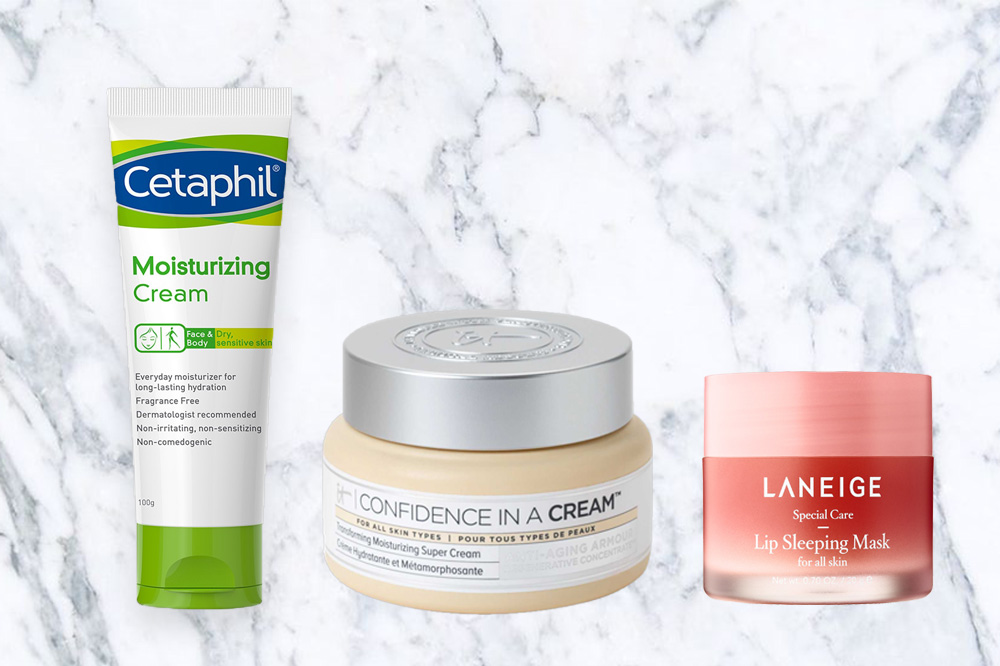 Left to right:
Cetaphil Moisturizing Cream ($20.50)
IT Cosmetics Confidence in a Cream™ Transforming Moisturizing Super Cream ($72)
Laneige Lip Sleeping Mask in Berry ($27)
What's your evening beauty routine like?
I tone and moisturise before putting on eye cream. I don't do this every night, though. I believe in letting my skin breathe every other night, so I won't apply any product on my face. This way, it also prevents my skin from getting too dependent on products!
How do you care for your complexion with long hours of filming?
Sunblock is very important. I met a 50-year-old makeup artist who looked 30. She told me her secret was that she wears sunblock on her face, even indoors. Apparently, fluorescent lighting can be damaging to the skin. When filming, we are blasted with lights all day.
MAKEUP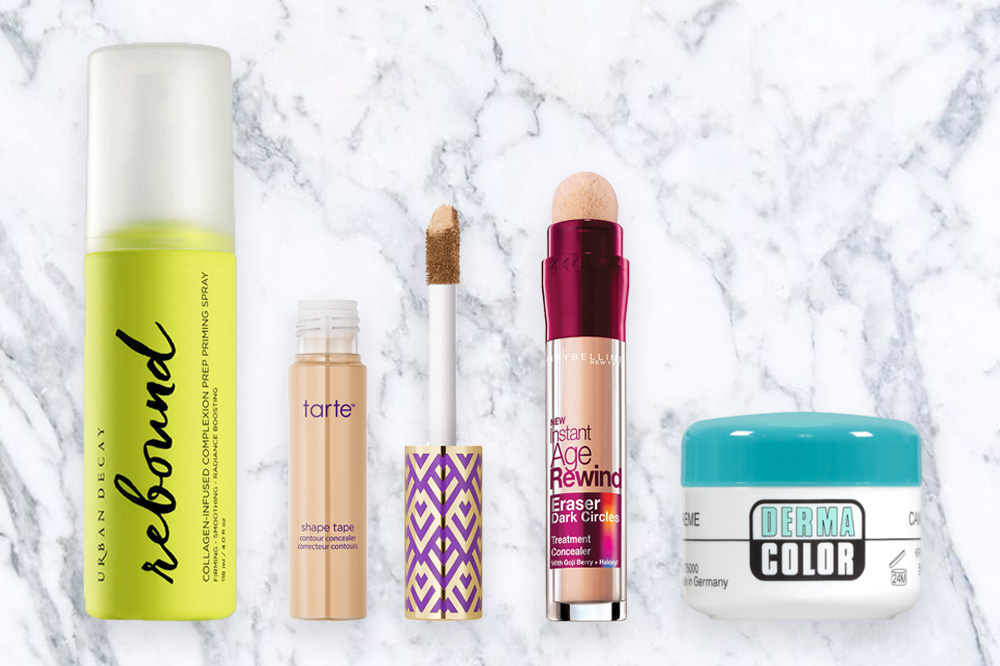 Left to right:
Urban Decay Rebound Collagen-infused Prep Priming Spray ($50)
Tarte Shape Tape Contour Concealer in 22N Light Neutral ($42)
Maybelline Instant Age Rewind Eraser Dark Circles Treatment Concealer in Light ($19.90)
Dermacolor Camouflage Creme in D30 ($62)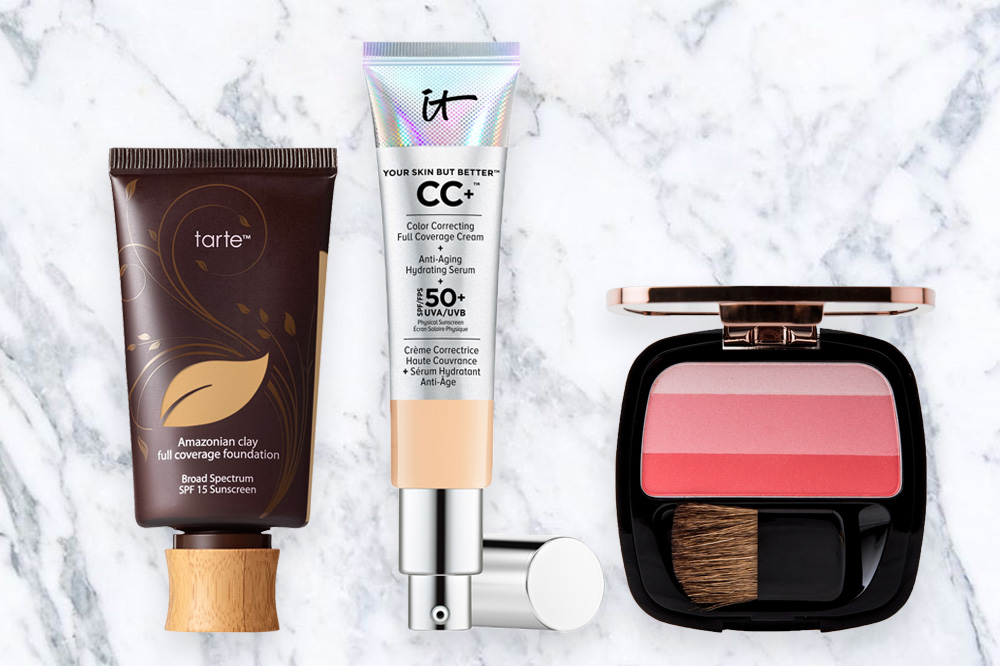 Left to right:
Tarte Amazonian Clay Full Coverage Foundation in 22G Light Golden ($64)
IT Cosmetics Your Skin But Better CC Cream SPF 50+ in Light Medium ($62)
L'Oréal Paris Lucent Magique Blush in 04 Sunset Glow ($18.90)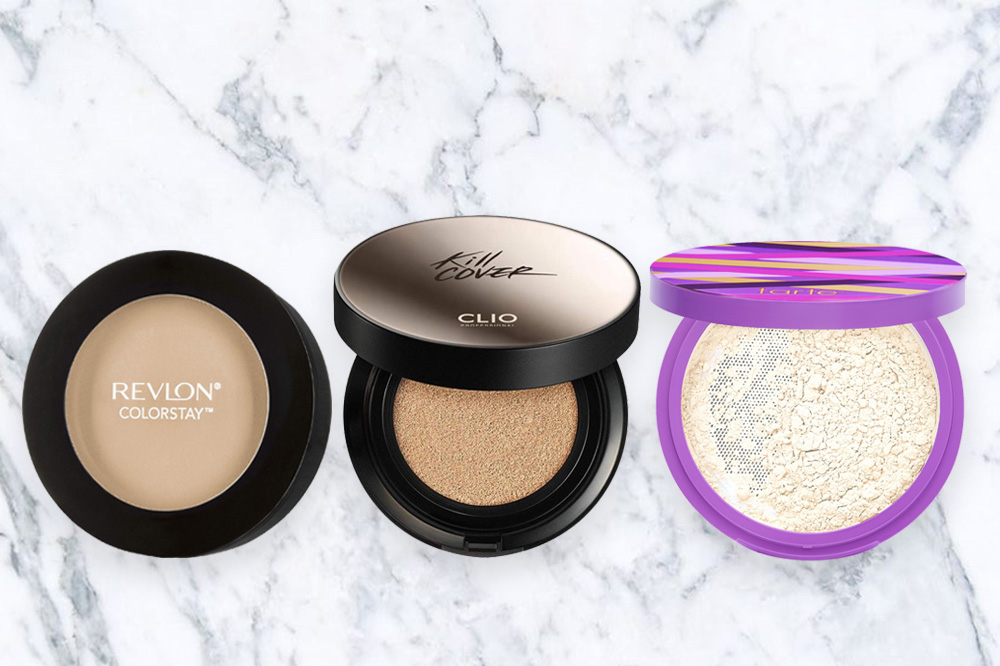 Left to right:
Revlon Colorstay Pressed Powder in 830 Light/Medium ($24.90)
Clio Kill Cover Founwear Cushion Xp in 05 Sand ($49.90)
Tarte Shape Tape Setting Powder ($50)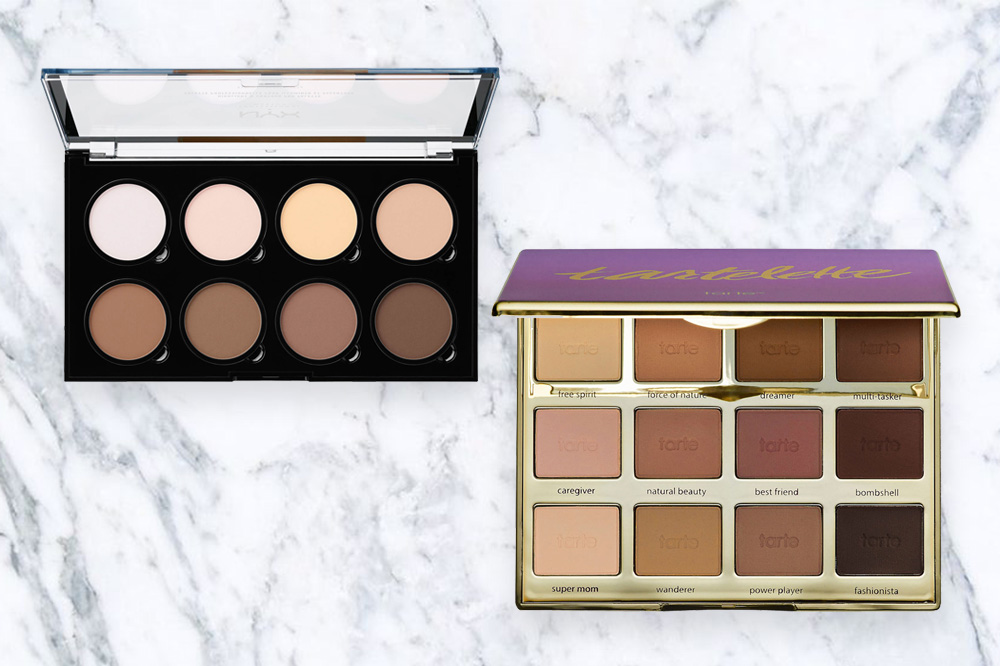 Left to right:
NYX Professional Makeup Highlight & Contour Pro Palette ($42)
Tarte Tartelette Amazonian Clay Matte Eyeshadow Palette ($59)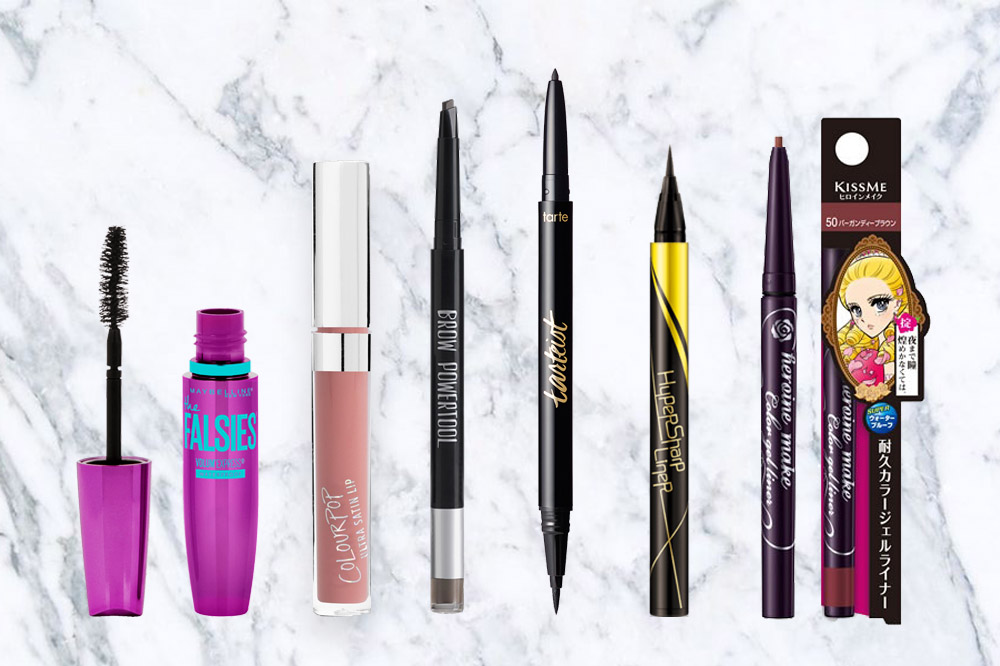 Left to right:
Maybelline The Falsies Volum' Express Waterproof Mascara ($19.90)
ColourPop Ultra Satin Lip in Echo Park (~$8.80)
Browhaus Brow Powertool in Taupe ($23.90)
Tarteist Double Take Eyeliner (Limited Edition) in Black ($37)
Maybelline Eyestudio Hypersharp 0.01MM Liner in Brown ($19.90)
Heroine Make Kiss Me Color Gel Eyeliner in 02 Pink Brown ($14.80)
Also read:
Saffron Sharpe Shares Her Beauty Routine And How She Gets Her "No-Makeup" Makeup Look
What's the most expensive product on your shelf?
Clarins' Shaping Facial Lift Total V Contouring Serum, which is $114. What it does is help circulate water retention in your face, thus slimming it down—very helpful because the camera adds pounds!
What's the best beauty tip/advice you've ever received?
Our head makeup artist for KIN (shoutout to Dollei of Makeup Entourage!) gave me this tip—put on toner, then serum and moisturiser… Then put on an eye mask and a sheet mask over everything for 20 minutes. Some of my co-stars and I tried it, and our skin felt so supple and refreshed after. I do it every once in a while.
When did you start getting into beauty?
When I discovered makeup tutorials on YouTube! I feel like that's how a lot of people also started, am I right?
What's your earliest memory with makeup?
When I was in secondary school and had to put on eyeliner for a school play. A friend had to help me!
HAIR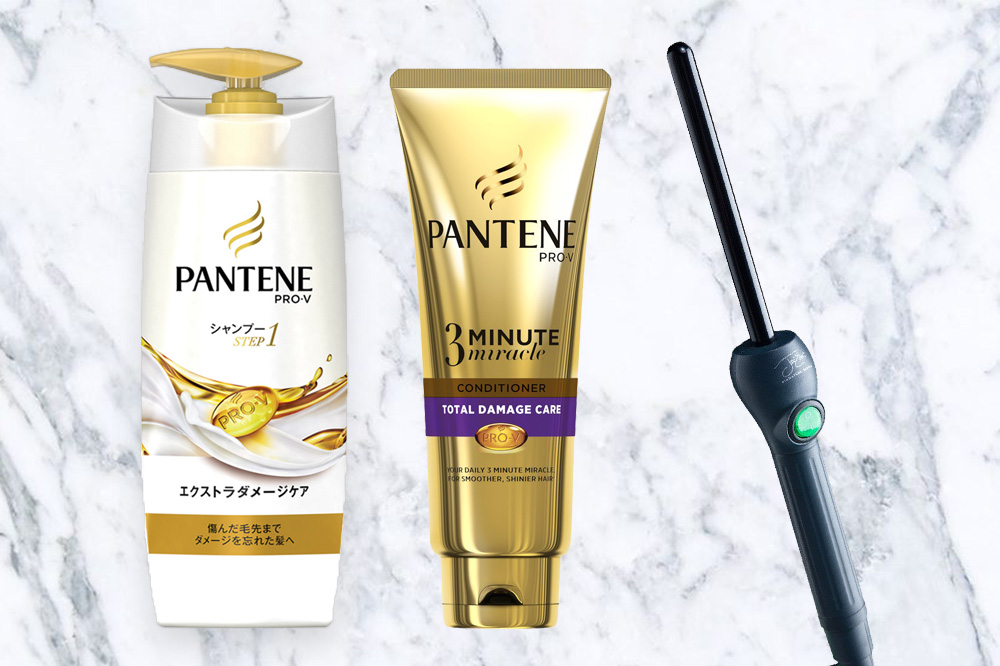 Left to right:
Pantene Pro-V Shampoo Severe Damage Care ($15.50)
Pantene Total Damage Care 3 Minute Miracle Conditioner ($8.90)
José Eber 13mm Clipless Curling Iron ($99)
BODY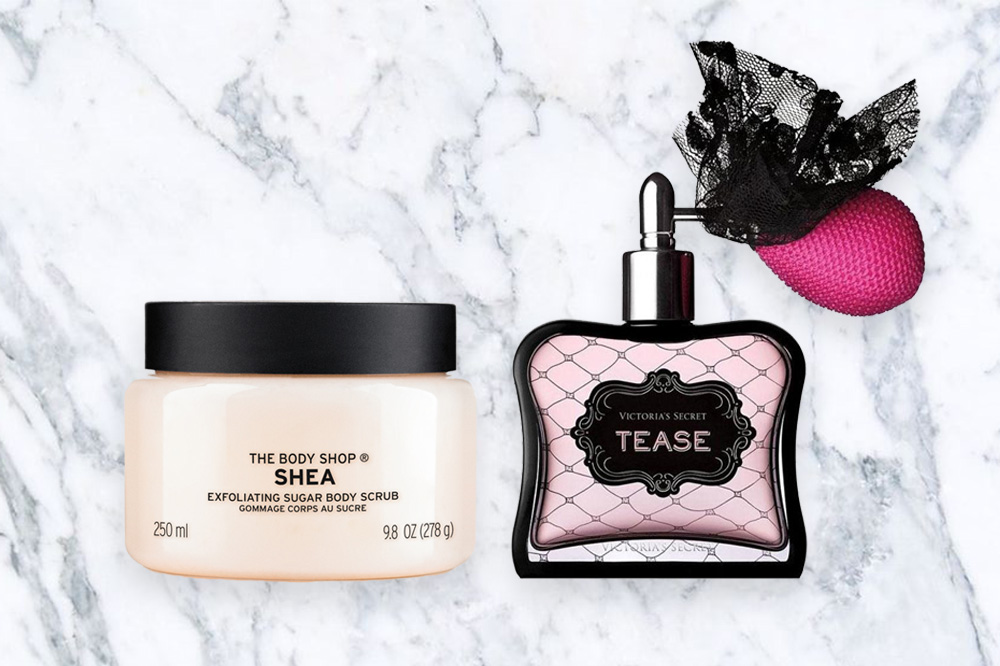 Left to right:
The Body Shop Shea Exfoliating Sugar Body Scrub ($31)
Victoria's Secret Noir Tease Eau de Parfum ($90)
What's your favourite project you've worked on thus far?
A show I did last year called No Catalogue. The script allowed us to take it anywhere we wanted, so it was very whimsical. We improvised a lot of the lines. There isn't any other show I've done that gave me and my co-stars that freedom. They were also a bomb to work with!
What's next for you?
I will soon start filming a series called The Wedding Survival Handbook, where I play a high-maintenance and overly jealous girl who's only most excited to be proposed to.
What are your 2019 goals?
To find more inner peace, improve my craft and do more things that excite my soul.
Rachel Wan's Skincare And Makeup Routines
Get to know Rachel Wan by following her on Instagram, YouTube and Facebook.
Cover image: Source
Also read:
Mongabong Shares Her K-Beauty Makeup Routine And Tips On How To Get Glowing Skin