Nightclubs In Singapore
The pandemic has taken away many new experiences from us, like going to nightclubs for the first time. Which is why it's completely understandable why my friends keep jio-ing me to check out a new spot every other weekend these days. The FOMO is real. 
With the restrictions lifting, many of us are finally heading out to enjoy a good time with friends for a long awaited reunion. And to guide you along your journey into the true nightlife experience, we've compiled a list of 10 nightclubs in Singapore other than Zouk to explore.
1. Drip Singapore
Source
Opening its doors for the first time from 8 July 2022, Drip will be the biggest underground nightclub in Singapore. The club has two levels and the basement level is called the Salt Room – though we'll have to wait till the launch day to find out if it's actually a salt room. 
Over on their TikTok account, they have also announced that the upper level will be playing Top 40s EDM while the bottom level will be playing Hip-Hop music for their launch weekend. Their Instagram stories have also revealed a peek into the Salt Room, which features a 600kg statue of Albert Einstein! 
Pre-sale tickets are available at this website for $32.50 now. All subsequent walk-in tickets will cost $40.
Cover charge: Presale tickets: $32.50 with a free drink | At-the-door tickets: $40 with a free drink
Address: 100 Orchard Road, Singapore 238840
Opening hours: Fridays 9pm to 3am | Saturdays 9pm to 4am
Reservation: Through this link
Instagram | Telegram
2. Marquee
Source
Even if you're a complete noob at clubbing, you've probably heard of the biggest nightclub in Singapore — Marquee. 
The club has an indoor adult playground that stretches over 2,300 square metres across three floors with sky-high ceilings that tower up to 30 metres. Have a ball at the giant indoor Ferris wheel and slides run by none other than popular carnival events company, Uncle Ringo. 
Even if you don't have enough time to pre-drink, they have four thematic bars that include a cage bar with peacock displays. Since Marquee is a pretty prestigious space, the menu is definitely on the pricier side, so do go prepared to burn a hole in your wallet when you're there.
Cover charge: From $20, varies with each event
Address: 2 Bayfront Avenue B1-67, Galleria Level, The Shoppes at Marina Bay Sands, Singapore 018972
Opening hours: Friday, Saturday & Eve of PH, 10pm to 6am
Website | Facebook | Instagram
3. Headquarters by The Council
Head down to Headquarters for some signature parties from Wednesdays to Sundays. 
Headquarters by The Council is an underground music venue at Boat Quay that plays techno, house and disco music. Aside from a dance floor, they also have a bar on one end of the room, red lasers, and an old-school Donkey Kong arcade machine. 
Do note that as of press time, the website and social media pages for Headquarters have not been fully updated as the main room is still in the midst of reopening.
Alternatively, you could still go to Upstairs by The Council which is located above Headquarters. The space has a more chill-out vibe with a greater range of house, techno and disco genres.
Address: 66 Boat Quay, Singapore 049854
Opening hours: Wednesday to Saturday, 6pm to 2am
Reservation: Text or WhatsApp 9667 9424
Website | Facebook | Instagram
4. Cherry Discotheque
Source
Party the night away at Cherry Discotheque, otherwise known as that one place that keeps showing up all over your Instagram feeds. This underground club takes pride in having retro vibes for old-school hip-hop lovers.
Inside, the ambience is complemented with disco balls, vintage neon lights, and arcade games, making it a good photo spot for that IG clout.
Address: 133 Cecil Street, Singapore 069535
Opening hours: Tuesday to Saturday, 8pm to late
Reservation: WhatsApp 9826 5055
Website | Facebook | Instagram
5. Yang Club
Source
If you're looking for a cosy spot with oriental vibes, pay a visit to Yang Club and feast your eyes and ears on the distinct musical and theatrical experiences that they offer. 
According to the nightclub's weekly music schedule, they play Top 40s, Hip-Hop, R&B & Reggaeton on Wednesdays, Future House, Electro Pop, Progressive and Big Room on Fridays, and Electro House, Future Bass, Big Room and Hardstyle on Saturdays. There's truly something for everyone.
Cover charge: Wednesday: $30 for Ladies, $45 for Men | Friday & Saturday: NA
Address: 3A River Valley Road, #01-02, Clarke Quay, Singapore 179020
Opening hours: Friday & Saturday, 10pm to late
Reservation: Call 9726 0307
Website | Facebook | Instagram
Also read:
Aperol Is Throwing A Bar Crawl Over Two Weekends At Various Districts With Cocktails & Complimentary Merch
6. Avenue
Source
Avenue is a sophisticated and atas lounge with attractions like mini bowling alleys and a pool table, as well as a private room with a karaoke machine and a personal bar. 
They currently have a Ladies Night event called Killer Queen, happening every Wednesday from 9pm till late. Bring a couple of girl friends along and you'll be able to enjoy one flute of Prosecco each, on the house! 
Alternatively, if you like singing along to old and new tunes, Avenue has a Tops of the Pops party every Thursday, from 9pm till late as well. Apart from the special events, they play Hip-Hop, Sing-alongs, Deep House and Open-Format music so you're bound to find something you like in there.
Address: 2 Bayfront Avenue, Basement 3 (Main entrance at Level 1),  Marina Bay Sands, Singapore 018972
Opening hours: Wednesday & Thursday, 7pm to 3am | Friday, 7pm to 5am | Saturday, 10pm to 5am
Reservation: Call 6688 8680 or email avenue.reservations@marinabaysands.com
Website | Facebook | Instagram
7. CÉ LA VI
Source
Look down and admire Singapore from a bird's eye view, as CÉ LA VI is located on the 57th floor of MBS. The club lounge is best known for throwing some of the most incredible parties spun by local and international DJs. Be on high alert during special nights, because you might even spot some celebrities partying the night away.
The SkyBar also offers signature cocktails from $17, such as the Happy Afternoon and the Even. 
Address: 1 Bayfront Avenue, Hotel Tower 3, Level 57, Sands SkyPark, Singapore 018971
Opening hours: Skybar: Monday to Saturday, 5pm to 1am | Sunday, 5pm to 11pm | Club Lounge: Wednesday, Friday & Saturday, 6pm to 3am | Thursday & Sunday, 6pm to 1am
Reservation: Call 6508 2188
Website | Facebook | Instagram
8. Taboo Club
Source
Pride Month might only be in June, but the party never stops. This modern clubbing venue with retro-chic decor is one of the hottest LGBT dance clubs in Singapore with a late closing time.
Traditionally attracting gay and lesbian crowds, Taboo Club has weekly theme nights and international DJs behind the console.
Cover charge: Varies with events (Usually $25 with 1 drink included)
Address: 57 Duxton Road, Singapore 089521
Opening hours: Tuesday to Thursday, 6pm to 12am | Friday to Saturday, 6:30pm to 12am
Reservation: Text 85182181 or via this link, depending on the event
Instagram
9. TUFF CLUB by The Council
Source
Tuff Club — a space that was supposed to be just a 3-month long pop-up has evolved into a full blown nightclub for late night revelers. 
Just like Headquarters and Upstairs, this nightclub was started by The Council, a boutique music agency specialising in music programming, promotions, event management. Compared to Headquarters, this club is tad more inviting, with purple lights and glass walls. 
Do note that no walk-ins will be entertained so make a reservation before you head there.
Address: 38 Robinson Road, #19-01, Singapore 068906
Opening hours: Friday & Saturday, 10pm to 2am
Reservation: Text or WhatsApp 9667 9424
Facebook | Instagram
10. Magic Carpet Lounge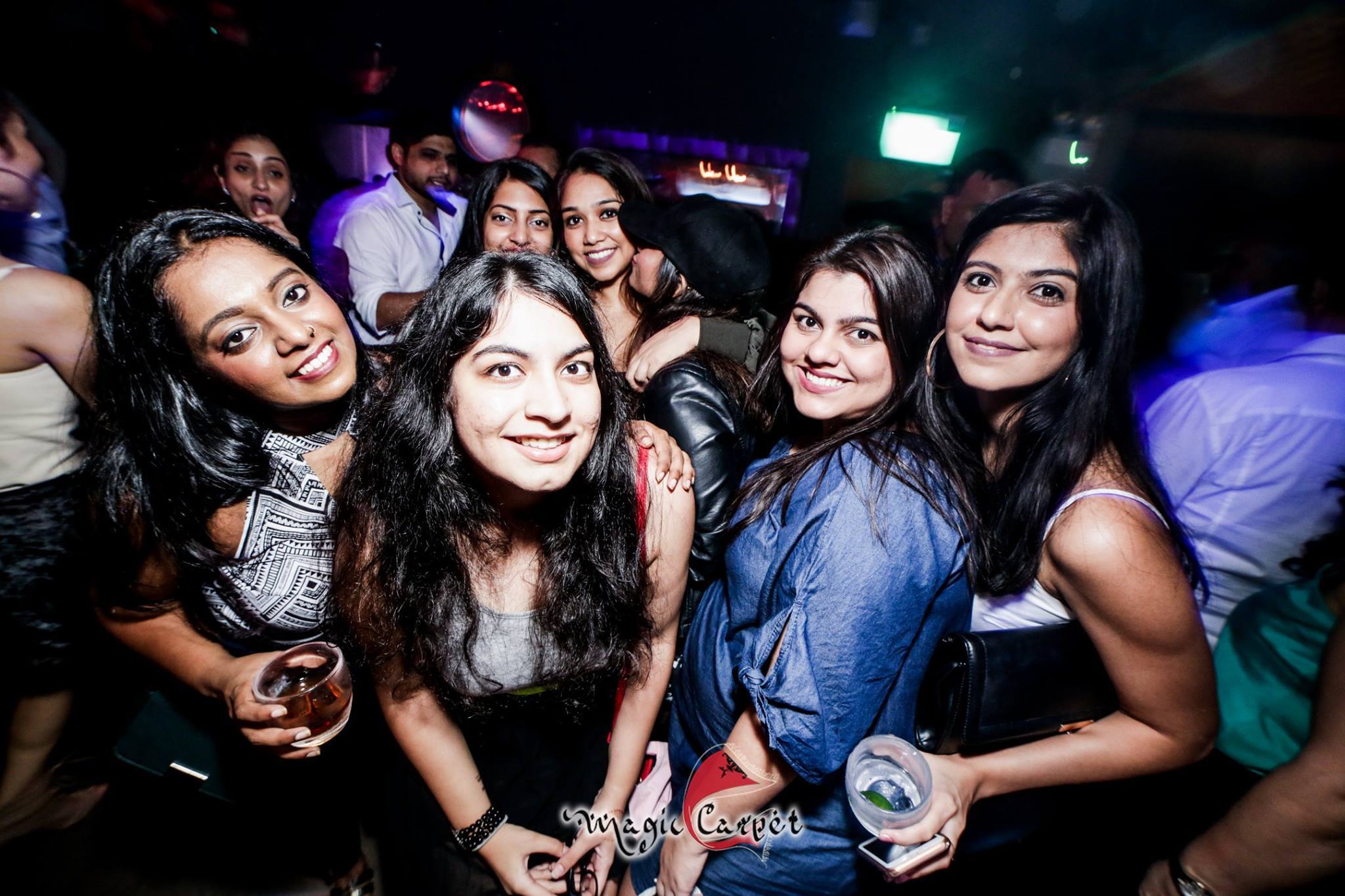 Source
Rated "Best Bollywood Lounge & Nightclub" in Singapore, Magic Carpet plays Bollywood, Bhangra, House, Hip Hop & Retro Beats for all to enjoy. Other than the good music, Magic Carpet also offers an extensive menu with vegetarian and non-vegetarian bites, mostly inspired by Indian cuisines.
Table reservation fees start from $400 and minimum spending varies for each table.
Cover charge: $50, including a house pour
Address: 7500E Beach Road, #01-201, Diners Club Building, Singapore 199595
Opening hours: Friday, 10pm to 3am | Saturday & Eve of PH, 10pm to 4am
Reservation: WhatsApp 8922 7693 or email magiccarpet@geniecollective.sg
Website | Instagram
Bonus: Candyshop
Source
Keep a lookout for Candyshop's events every month, as they organise LGBT-friendly events at different locations. Each party is themed, with ticket prices starting from $30. You can join their Telegram channel to reserve tickets and get updates on new events.
Cover charge: Varies with events
Address: Varies with events
Opening hours: Varies with events
Instagram | Telegram
These Nightclubs In Singapore Offer Unique Experiences Like No Other
Though the pandemic caused many bars and nightclubs in Singapore to close their doors, these 10 clubs have braved through the storm and are looking to throw the best parties ever with their distinct attractions and excellent music. 
While we're all rushing to satisfy our inner party animals, do take note of the different rules some of these nightclubs may have to ensure a fun and safe time for all.
Also read:
13 Affordable Alcohol Delivery Services In Singapore With Cocktails From $5 For A Girls' Night In Past 10.30PM