Nike Daybreak Coffee Shoes
Singaporeans can't seem to get enough of all things coffee. From our neighbourhood kopitiams to aesthetic hipster cafes, flat whites to kopi c gao siew dai, a cup of coffee can be enjoyed in different forms anywhere in this country. If you're a self-proclaimed caffeine junkie, then these Nike coffee shoes will be of interest to you. 
For kopi lovers who want to flex on their teh loyalist friends, Nike has got your back with its new Daybreak sneakers. These kicks are the latest addition to Nike's growing collection of coffee-themed shoes. 
The design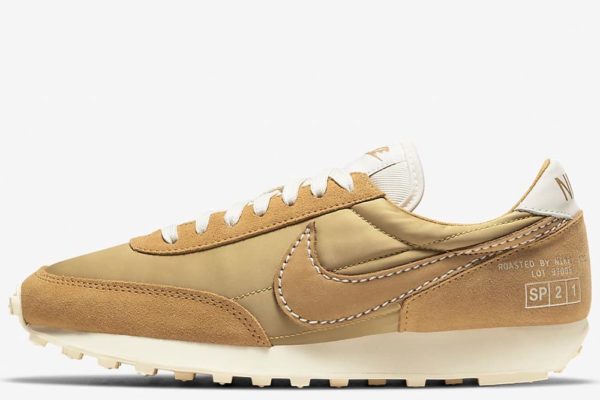 Coffee-with-milk lovers probably won't be able to resist immediately grabbing their wallets once they take a look at this shoe. The combination of the light brown suede and nylon base with the cream white tongue and heel tab mimics the colour of a deliciously crafted latte. Wearing these sneakers while sipping on a drink at Starbucks or the coffeeshop seems like a match made in heaven.
Enhancing the overall coffee theme, a "Roasted By Nike, Inc." stamp is located on the back of the shoe. Buying the sneaker will feel like you're getting a bag of freshly prepared atas coffee beans. 
Fun fact: "Lot 97005" on the stamp is actually a reference to the postal code of Nike's headquarters located in Beaverton, Oregon. As for the "SP21", while there is no explicit confirmation from the brand, it is probably used to indicate that the kicks are part of Nike's spring 2021 releases.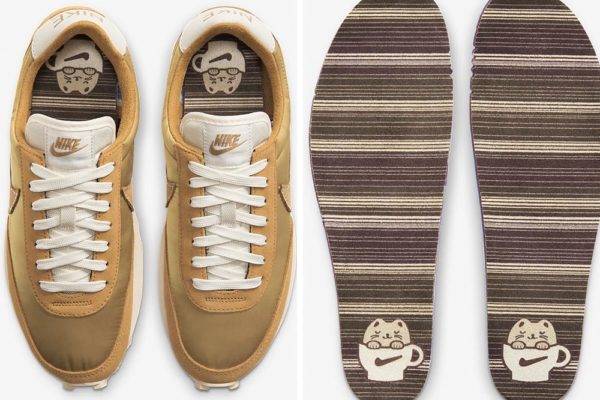 The prints on the insole of the sneakers are an absolute delight. I don't think anyone will be able to look at the cat resting in a Nike mug and not scream: "kawaii!"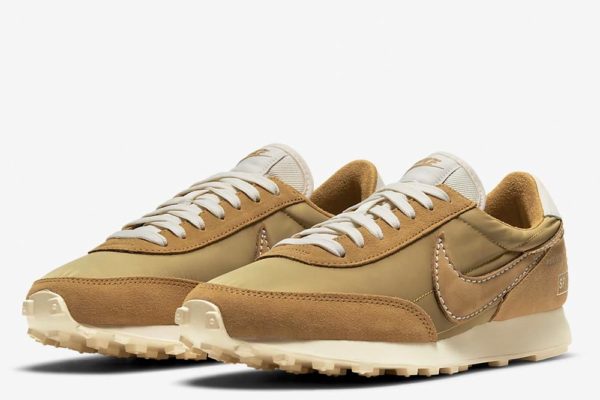 Even if you're not a coffee drinker, the earthy tones of the shoe will be a perfect companion to any UNIQLO- or MUJI-style outfits. 
Also read:
Comme Des Garçons Play x Nike Will Add Some Heart To Your Streetwear Collection
Nike coffee collection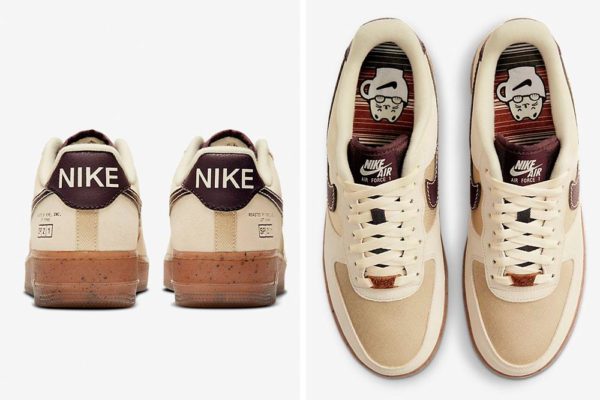 Nike's coffee-inspired spin on its Air Force 1 '07 LV8 design
In addition to the Daybreak model, Nike has released other sneaker ranges with a caffeinated spin as part of its larger coffee collection. These designs include the women's Air Max Verona and Nike Blazer Mid '77. The ever-popular Air Force 1 series also has a coffee edition, the Nike Air Force 1 '07 LV8, which even has a speckled midsole that is meant to mimic coffee grounds. The sneakers dropped in Singapore earlier this year but have since sold out.
Nike Daybreak Coffee Edition Is A Great Sneaker For Caffeine Junkies 
Many of us regard coffee as one of the most important beverages in our lives. Whether you drink it for enjoyment or to keep awake midday, consider copping these sneakers as a show of love for caffeine. 
The Nike Daybreak coffee shoes are now available on Footlocker Singapore's website. Each pair is retailing for $179. 
If you're looking for something to pair with your fresh coffee sneakers, consider checking out the newly released Comme des Garçons x Nike apparel. 
All images courtesy of Nike. 
Also read:
Starbucks Is Celebrating Its 50th Anniversary With Mermaid Mugs, Tumblers & Ornaments