Starbucks 50th Anniversary Collection
While the first Starbucks store in Singapore opened in 1996, it's been 50 years since Starbucks entered the world. Thanks to the coffee chain, we have Frappuccinos, Pumpkin Spice Lattes…and one of the world's most recognisable logos. So it's only fitting that to celebrate its global 50th anniversary, Starbucks is launching a limited edition collection inspired by the Siren. It consists of drinkware and ornaments featuring an illustration of a serene-looking siren, dipped in shades of blue, green and teal.
It seems like while some items are available in Starbucks worldwide, others differ across countries. Let's dive right into what Starbucks fans in Singapore will be able to cop once the collection drops on 10 March 2021.
Siren drinkware
For the 50th anniversary collection, the siren has taken on a more modern and life-like look. She's got blusher on her cheeks and streaks of gold highlights in her hair. She's even holding what looks like a branch from a coffee plant, dipped in gold. The siren artwork graces mugs and tumblers, as well as a water bottle and Cold Cup.
Source
This Starbucks 50th Anniversary Glass Mug seems to be an Asia exclusive. The siren artwork in green and gold stands out against the double walled glass outer layer.
A lid made of acacia wood and a silicone gasket ensures your drink retains its temperature. The 10oz mug is retailing for $41.90.
Source
Besides a glass mug, the collection also includes a ceramic double walled mug. It comes in a green box with the words "Limited Edition 50 Years". If you're a hardcore Starbucks stan, this one's a collector's item for sure.
This mug has an iridescent surface and a twist lid so it's easy to sip your coffee on the go. The 12oz Starbucks 50th Anniversary Mug is retailing for $35.90.
Source
For your drinking convenience, there's also a stainless steel green tumbler sporting a matte finish with a 3D decal. The leak-proof lid and built-in lock make sure that your drink won't spill out into your tote.
The 16oz tumbler is retailing for $45.90.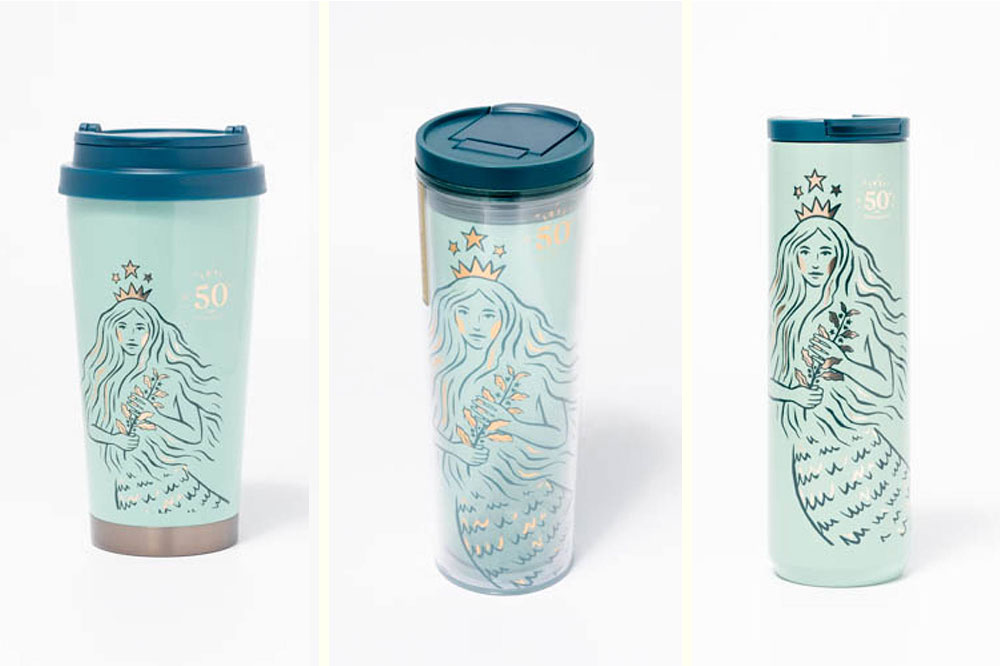 From left: Hot Cup Tumbler, $45.90; tumbler, $26.90; stainless steel tumbler, $45.90
Source

The other tumblers in the Starbucks 50th anniversary collection sport contrasting lids that match the strokes in the illustration. These are all 16oz in size.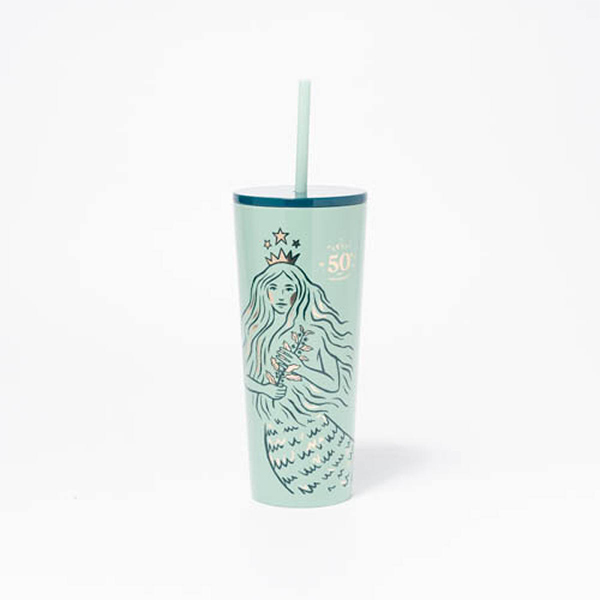 Source
No Starbucks collection would be complete without a Cold Cup. This one's retailing for $36.90.
Source
There's also a stainless steel water bottle in a mint green shade. It has a double wall vacuum and a screw-on leak-proof lid, so there's no need to worry about stains with this bottle as well.
The 16oz water bottle is retailing for $39.90.
Also read:
Starbucks Has A Dreamy Lilac & Pink Collection Exclusive To Singapore
Tail drinkware
From what we've seen on social media, it seems like the most coveted item in this collection might not be one of the products featuring the siren artwork.
Source
Instead, the breakout star is this glass mug covered with siren tails in ombre shades of green.
The 12oz mug is retailing for $26.90.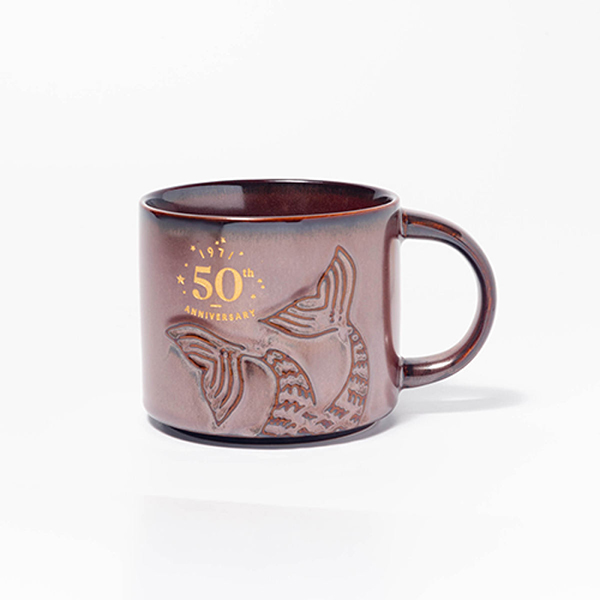 Source
There's also a ceramic siren tail mug, which sports the words "50th anniversary" in gold for a celebratory feel. This 12oz mug is also retailing for $26.90.
Ornaments
Lastly, the collection also includes 2 adorable ornaments. These can be used as bag charms, as a way to decorate your workspace, or even as an ornament on your tree come Christmas.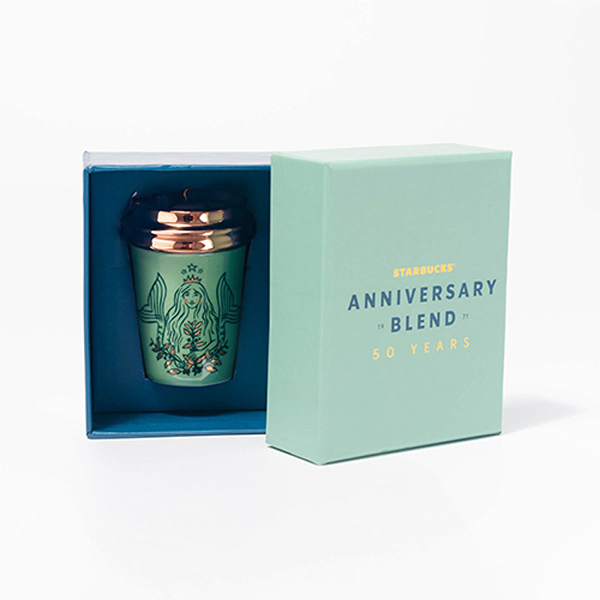 Source
First up, the 50th Anniversary Hot Cup Ornament. Get it as a matching set with the actual tumbler. It is retailing for $15.90.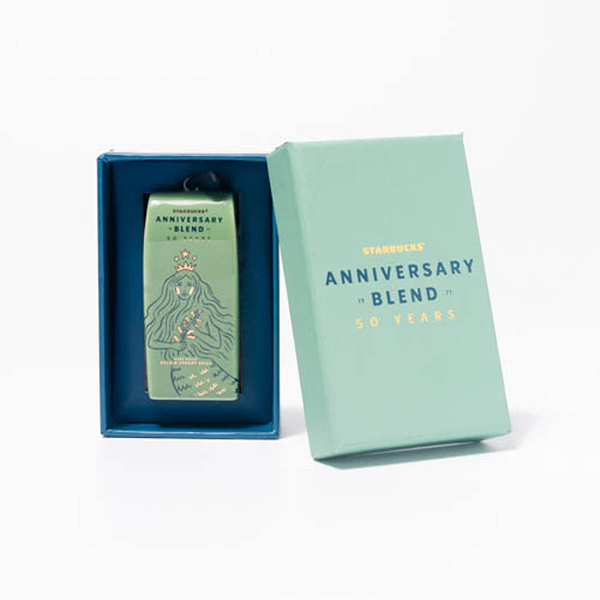 Source
There's also the Coffee Bag Ornament. If the 50th Anniversary Blend makes its way to our shelves, then you can get it as a matching set too.
It is retailing for $12.90.
Dive Into The Starbucks 50th Anniversary Collection
The Starbucks 50th anniversary collection will be available in Starbucks stores islandwide on 10 March 2021, check out the Starbucks Singapore website for the full list of stockist information. It will also be on the Starbucks official flagship store on LazMall and Shopee Mall come 12pm on the same day. Mark your calendars and rep your favourite coffee chain with the limited edition drinkware and accessories.
Also read:
Starbucks' Sakura Collection For 2021 Is Almost Here, It'll Make You Say "Shut Up And Take My Money"