Nike Valentine's Day
Every year, Nike releases new sneakers to celebrate Valentine's Day. Last year, it collaborated with StrangeLove Skateboards to create a pair of pink crushed velvet and suede Nike SB Dunk Low sneakers. For Valentine's Day 2021, Nike has come up with 2 new designs to celebrate the season of love: a minimalist Air Force 1 pair to match with your SO and an Air Max 90 pair for you to hop on the chunky sneaker trend.
Air Force 1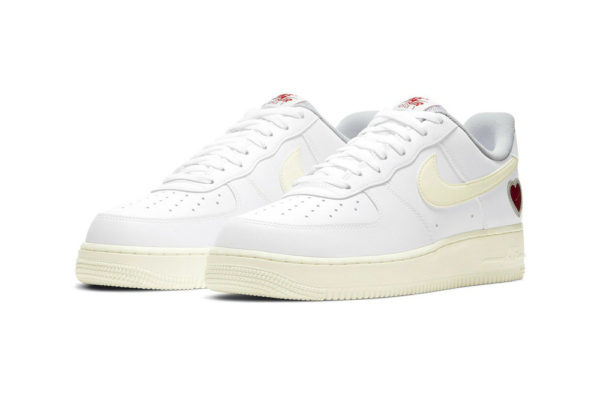 The first sneaker is a slight twist on the classic Air Force 1 design. It keeps the simplicity of the sneaker while adding small details that allude to the special occasion. The shoe boasts an off-white colour on the iconic Swoosh and on the midsoles. A red heart on the outer side of the heel adds a touch of romance. 
Since it is Valentine's Day, the Air Force 1 sneakers also feature red details like the label on the tongue tab and on the inner lining of the shoe. The simple and gender-neutral design will make for an adorable matching sneaker look with your boo this February.
Also read:
New Nike Air Force 1 Sneakers Come With A Detachable Holographic Swoosh So You Can Customise Your Kicks In A Flash
Air Max 90
Chunky sneakers were definitely a thing in 2020. One of Nike's most popular takes on the trend comes in the form of its Air Max line-up. 
For Valentine's Day 2021, Nike has put a spin on its classic Air Max 90 design. A mix of white, red and pink represents the element of love, including a pink suede lining on the upper body, as well as a red tongue tab and Swoosh. Next to the shoelaces, tiny heart details remind you that love is in the air.
Inside, the same colour palette continues, with a pink insole for the left shoe and a red insole on the right. 
Who said Valentine's Day is only about loving someone else? Show yourself some love by wearing a pair of pastel pink and bright red chunky sneakers with hearts all year round.
Nike Has Valentine's Day Sneakers In 2021 To Match With Your Boo Or To Show You Love Yourself
Both sneakers are expected to be released early next year, in time for Valentine's Day. Stay tuned to Nike Singapore's website for more information and the official release date. 
All images courtesy of Nike
Also read:
Nike & Adidas Will Both Be Releasing Valentine's Day Sneakers So You Can Feel The Love All Year Round