FemPeers Period Pack
Like how having exams are an inevitable, unpleasant part of student life, the same can be said for periods and womanhood.
While getting your menses is an unsavoury part of being a lady you didn't sign up for, you can cope with period pains and mood swings by eating chocolate and using a heat pack to soothe cramps.
To make it easier to deal with periods, social enterprise FemPeers has created FEMkit to equip women with everything they might need to survive the red tide.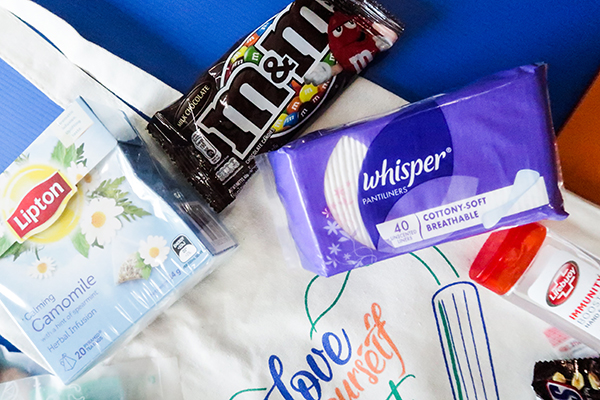 Packaged in a recyclable tote bag, the FEMkit contains twelve items which change each month, to make that time of the month more bearable.
Our pack included:
-Pads (tampon option can be selected)
-Panty liners
-Chamomile tea
-Hand sanitiser
-M&M's
-A granola bar
-Heat pads
-Ice/hot bag
-Cookies
-Snickers bar
-Nivea deodorant
-Instructions for a yoga pose to relieve cramps
Starting from S$32 per month, you can order your kit to be delivered to you monthly for "necessities and surprises" to pamper yourself.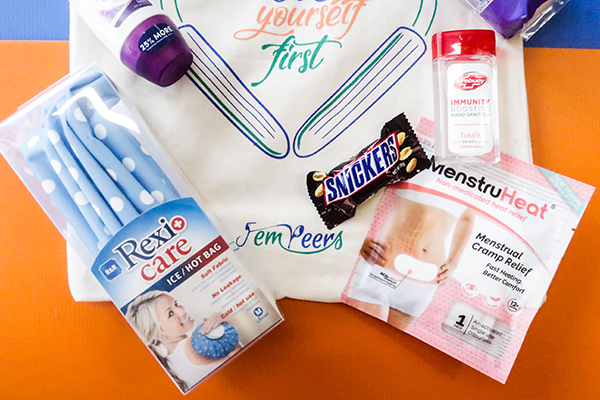 If you're a clueless boyfriend whose girlfriend is casually dying from cramps, you can score brownie points and have the FEMkit delivered to her to remind her you care.
Each purchase will help girls in rural India
And because FemPeers is a social enterprise, every subscription of FEMkit equates to a month's worth of menstrual supplies donated to rural Indian communities.
Making menstrual hygiene a reality for these girls means they don't have to use rags, husk, plastic, or even ashes to stem the flow, hence reducing their chances of reproductive tract infections.
These supplies will also keep girls in school. The lack of sanitary products and an in-campus toilet mean some girls are unable to manage their flow and are forced to drop out of school altogether.
Order A FEMKit Online
So do yourself (and another) a favour when you subscribe to FEMkit, and reduce the frustration of menstruation.
Order online and enjoy S$5 off your first kit when you use the code "FP5" when you checkout your cart.