Permanent Under-eye Concealer Tattoo
Unless you like the look of exhaustion, you probably despise dark eye circles as much as we do. However, eye treatments and self-care routines can only do so much to temporarily lighten our under-eye area.
While we usually turn to makeup to hide dark circles, there is another trending solution: permanent under-eye concealer. The cosmetic procedure uses a tattoo gun to deposit ink along the under-eye to lighten the area.
How does it work?
Hong Kong-based permanent makeup specialist, Rebecca Chung, offers a procedure for dark circles called the 'Goodbye Panda Treatment'.
At her salon, Princess Brows, a cosmetic-grade pigment that's mixed with hyaluronic acid and vitamin E is tattoed into the first layer of skin. This diffuses darkness, preventing dark tissues and blood vessels from becoming visible on the surface of the skin.
The ink is customised to the individual's skin tone, and its effect is said to last for three or more years.
Since the needles stimulate collagen as they dispense pigment, the treatment also promises to smooth and soften fine lines and wrinkles, making you look younger in the process.
Also read:

The procedure and outcome
Beauty vlogger Sarah Cheung (@sacheu) was brave enough to try the procedure and documented the process.
The specialist preps Sarah's eye area by wiping it clean and applying numbing cream with a cotton swab. She then goes in with a tattoo gun.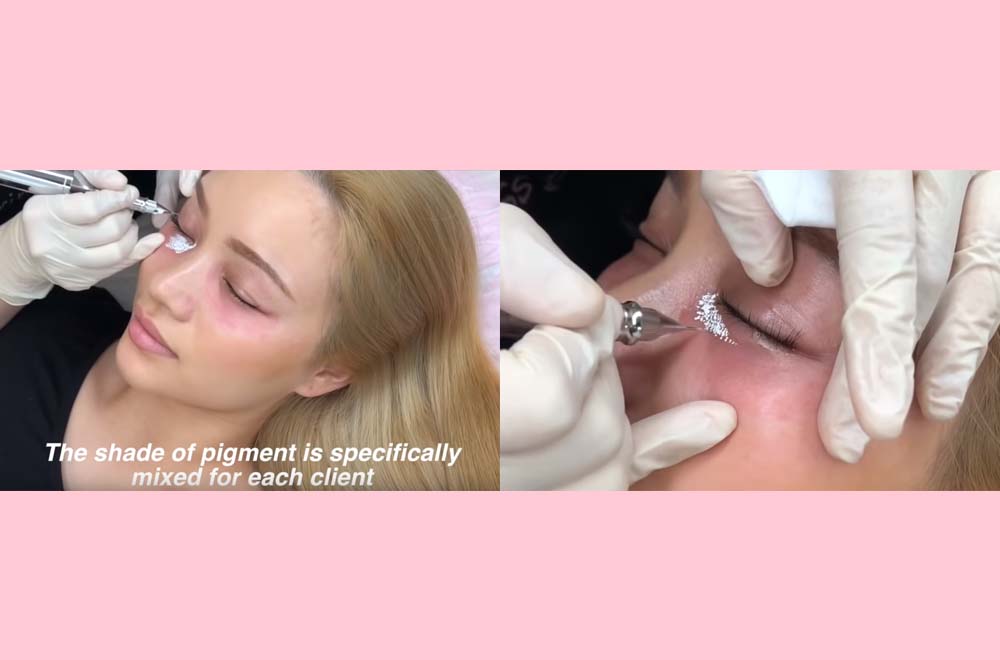 Sarah says there's no pain before and after the treatment, which is a relief as two sessions are recommended for maximum coverage. She was advised to forgo makeup and sunscreen on the treated area for three days and to apply the given serum for hydration instead.
After two weeks, Sarah comments, "It's a pretty subtle difference. It's not that they're gone or hidden, but I feel like my dark circles have gotten a lot lighter, which makes me look much more well-rested when I'm not wearing makeup."
Risks involved
Mild redness may occur immediately after the treatment, but it will look natural once it subsides. The long-term outcome of the tattoo procedure, however, is unpredictable.
Holly Starcevich, a certified permanent cosmetic tattoo artist, says the eye region is known to age faster than the rest of the skin, and because the pigments shift with the aging process, your under-eye area could look patchy after some time.
Permanent Under-eye Concealer Tattoo in Singapore
Following the success of microblading, faux freckles, and lip blushes, under-eye tattoo concealer is rising in the ranks of permanent cosmetic procedures.
If you're considering this treatment, know that it won't cover dark circles completely so don't throw away your concealer just yet. Still, if you have severe dark circles, this procedure will allow you to forgo makeup and still look awake.
The procedure is still new on a global scale and has yet to arrive in Singapore, so beware of beauty salons that claim to perform it. A traditional tattoo artist won't be able to provide this service either, so steer clear of tattoo parlours unless you're having what Post Malone's having.
Also read: