Pink BTO
Adulting comes with its fair share of new experiences, one of which is owning and decorating your dream home. Singaporean interior design company De Exclusive Interior Group has designed a cosy pink BTO that is every millennial's dream come true. 
Living room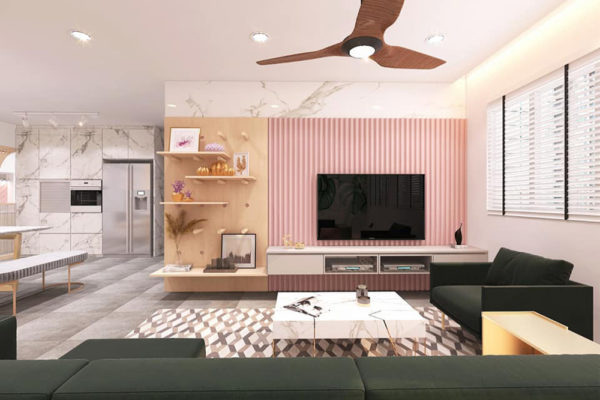 A main hallmark of the Wes Anderson aesthetic is pastel hues. A splash of pink on the TV console feature wall means every movie will have extra The Grand Budapest Hotel vibes. It's juxtaposed with a MUJI-esque wooden wall to display framed artwork and whimsical decor items.
Marble is another millennial-beloved design element. A hint of marble above the pink-and-wooden panel adds a sense of continuity with the marble walls in the kitchen. A marble coffee table further brings a harmonious look to the interior.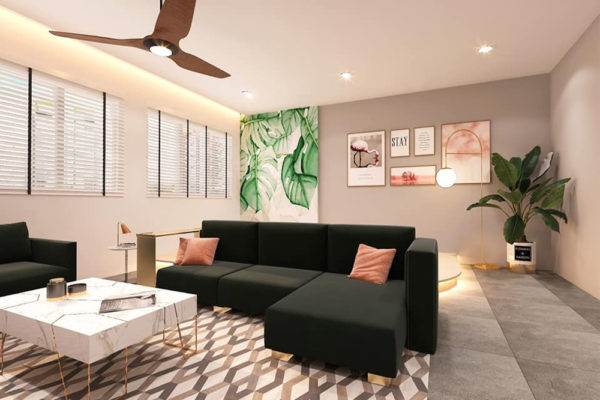 Neutral grey tones and forest green touches via the sofa set, paintings and potted plants complement the pink colour palette. Gold accents on the furnishings, from the table legs to the lamp, impart a sense of warmth to the space. 
Also read:
This Minimalist Pastel Pink HDB Flat Looks Straight Out Of A Wes Anderson Movie
Dining room and kitchen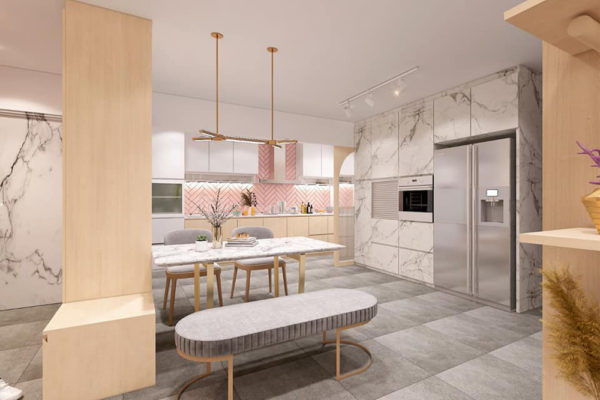 The living room extends towards a spacious dining area. The marble dining table and cabinets contrasted with the wooden panels and grey tiles give the dining room a modern and minimalist feel.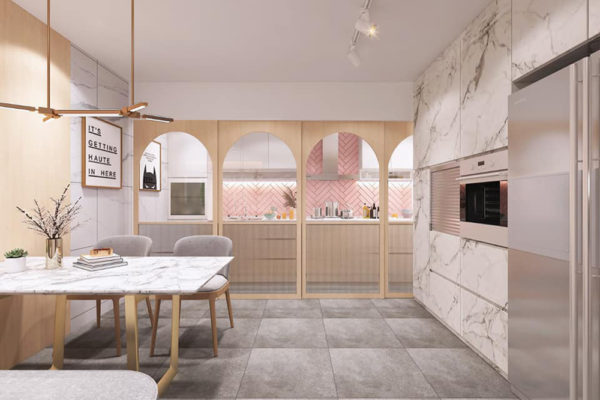 A panel of sliding doors with an arched design separate the dining area from the kitchen. Little touches like punny artwork add personality, so guests can rest assured that the owners have a sense of humour, on top of an impeccable sense of style.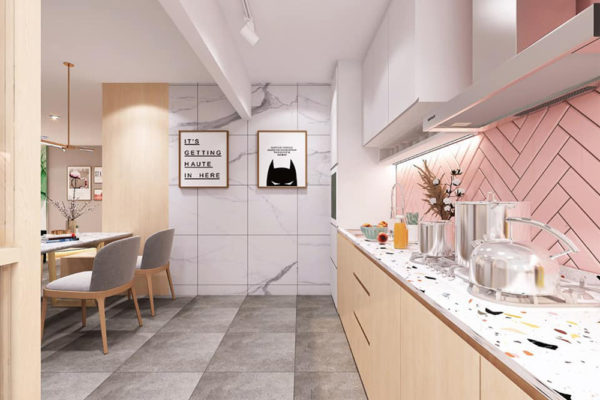 The kitchen wall is installed with millennial pink herringbone tiles. A colourful terrazzo countertop has the added advantage of hiding any temporary food stains as well.  
This Bougie Pink BTO Is A Millennial's Dream Come True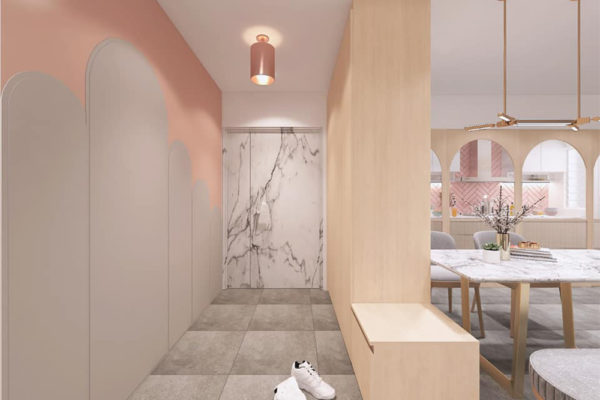 First impressions count. It's only apt that the doorway should feature all the textures and prints present throughout the rest of the home. Guests are welcomed with grey, pink, marble and wood all at the same time.
If you've been looking for inspiration on how to incorporate some quirkiness into your new home while staying true to your fondness for minimalist interior design, check out De Exclusive Interior Group for more sample BTO designs.
Also read:
Minimalist Interior Design In Singapore: How To MUJI-fy Your Home, Pick The Right ID, Plus Cost-Saving & Design Tips
All images courtesy of De Exclusive Design Group.