Choosing A Plain White Tee
For the last couple weeks, the media was dominated by news of the Crazy Rich Asians premiere. With all the glitz and glamour associated with the event, most stayed true to the movie's title and dressed in their most expensive threads. Evening gowns, million dollar watches, red-soled shoes; you name it, they wore it.
Then, there's Steven Yeun who dressed in a plain white tee and a pair of jeans.
Not only did his simple uniform stand out from the sea of glammed up stars, but also he displayed a bold and clear understanding of how impeccable timeless dressing can be.
And little else is more timeless than the plain white tee.
You probably already have one; or twelve in my case, in your wardrobe. And if you don't, there's always one available at Uniqlo for five dollars.
Having been a fashion model for a womenswear runway show, I have had the experience to be dressed with the female silhouette in mind. I've learnt that paying crucial attention to simple details, such as proportion and various necklines, is all it takes to be immaculately put together.
Consider the shirt's neckline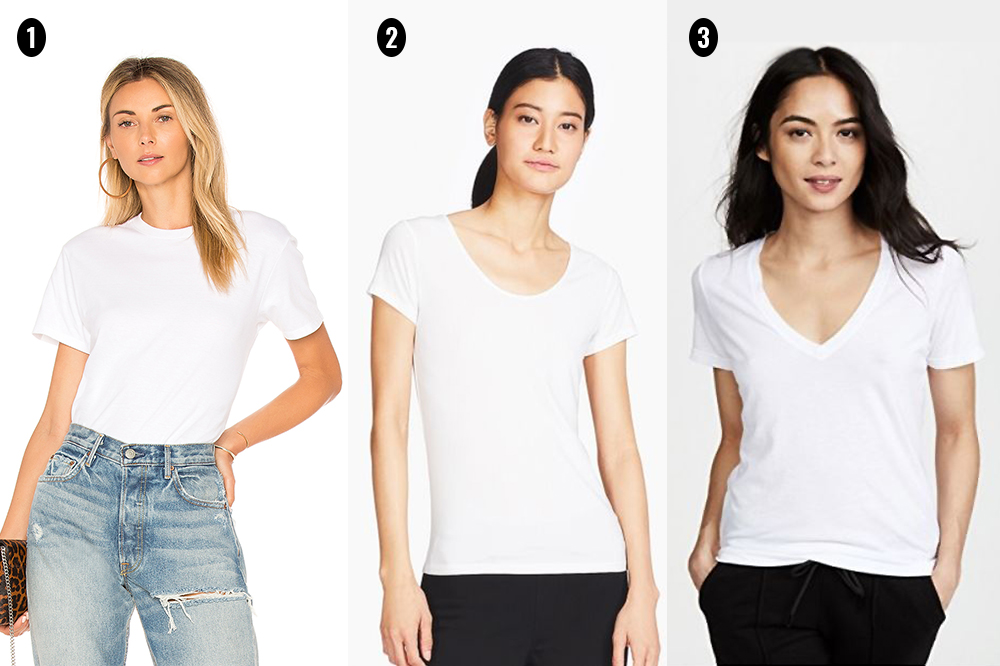 1. For the narrow shouldered: Crew and/or boat neck white tee
The crew neck tee rests upon your collar bones, drawing eyes away from your shoulders. The boat neck goes further by balancing your overall frame with lengthened shoulders.
2. For the broad-shouldered: Scoop neck tee
The round scoop neck softens the angular, athletic built with loose drapes for a more feminine silhouette.
3. For the busty: Wide V-neck tee
Loosen up by avoiding a high neckline; you wouldn't want to walk around with a uni-boob. Flatter your upper torso by showing a tasteful flash of skin; the collar bones and just the top of your cleavage.
Consider your body shape

1. For the apple-shaped: A-line tee
The flared hemline of the A-line tee erases all possibilities for a muffin top faux pas, flowing over your midsection instead of strangling it.
2. For the hourglass: Fitted tee
It's best not to add unnecessary volume to your voluptuous figure with looser cuts. Highlight your curves with a slim fit and high neck tee to give off demure vibes.
3. For the petite: Knotted tee
Prevent being swallowed up by too much fabric with too much excess length. It's a godsend if you've managed to find the perfect crop tee, but why not achieve the perfect crop yourself by knotting up? That way, all you need is one tee to achieve the ideal crop anytime.
Pay attention to the shirt's texture
Once you've managed to find your perfect fit, try taking small steps toward pushing your style to the next level by exploring subtle details; materials, exaggerated silhouettes.
A ribbed tee, for example, shifts a cleaner uniform to a 90s style nod. Whereas a tee made of silk come across as being luxurious, and more suitable for formal settings.
First-date outfit
Free of distracting prints, you'll command complete attention from your partner across the dinner table. Furthermore, it allows you to appear polished and classy without being overbearing.
Wear it at the start of the day, tucked into a pair of jeans with comfortable flats. In the evening, change to a pair of heels and have your hair secured in a neat, slicked back ponytail. Add a bold red lip and a pair of statement earrings to encourage eye contact with your date for quality interactions.
Bring along a comfortable jacket if you're heading to a formal establishment or it's just a little chilly.
Wearing A Plain White Tee
A plain white tee is the one wardrobe staple that doesn't get nearly enough credit as the one-stop solution to put you on top of your style game. And if there's any reason why it doesn't look good on you, it's probably just because you're not wearing the right fit.
Also read:

Cover image: Source