Pokemon x BABY-G Watch
Casio and The Pokemon Company last came together to celebrate BABY-G's 25th anniversary with a Pikachu x BABY-G watch spotlighting the 25th Pokemon in the Pokedex. The black watch was decorated with colourful lightning bolts in a pixelated style, as a nod to '90s video game art. This time around, the spotlight is on female Pikachu instead.
ICYMI, if Pikachu's tail ends in a point, it's a male. A heart-shaped tail indicates that it is a female Pikachu.
The design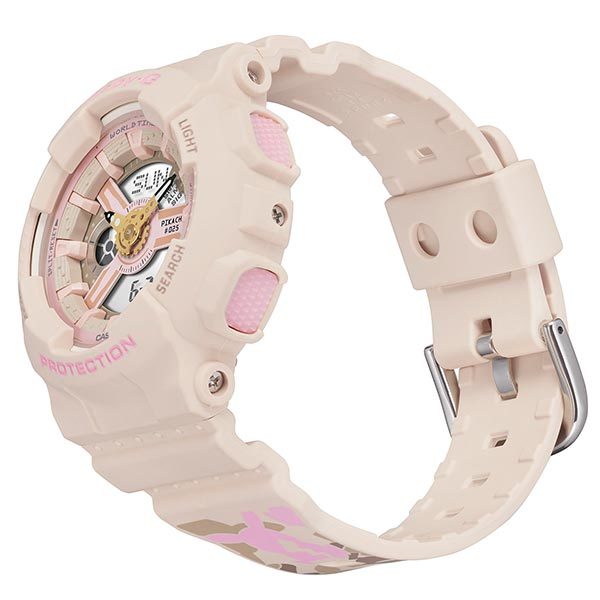 The chunky analog-digital watch comes in a soft pastel pink colour, making for a delightful contrast. On the band, you'll find a darker pink Pikachu silhouette interspersed against a two-tone brown camouflage pattern.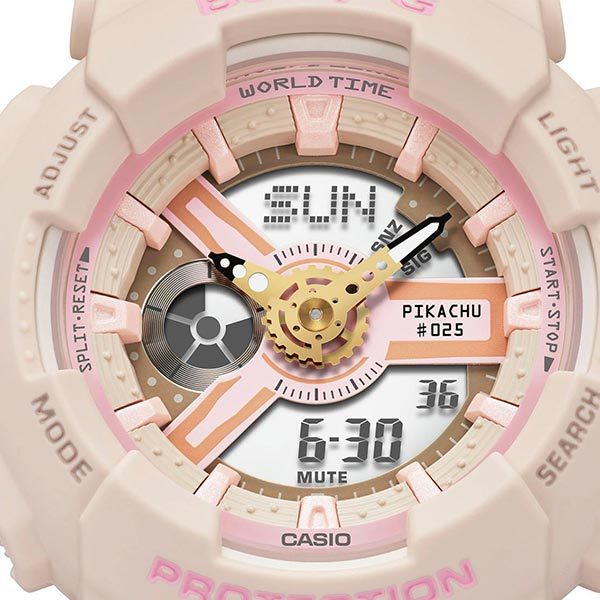 The "hide-and-seek" concept continues on the watch face. The hour and minute hands resemble Pikachu's ears and face. This playful touch to the watch will put a smile on your face whenever you look at it, since Pikachu's ears will be constantly moving, resulting in different expressions according to the time.   
And, just in case anyone questions if the face is meant to evoke Pikachu, the words "Pikachu #025" will put to rest any doubts.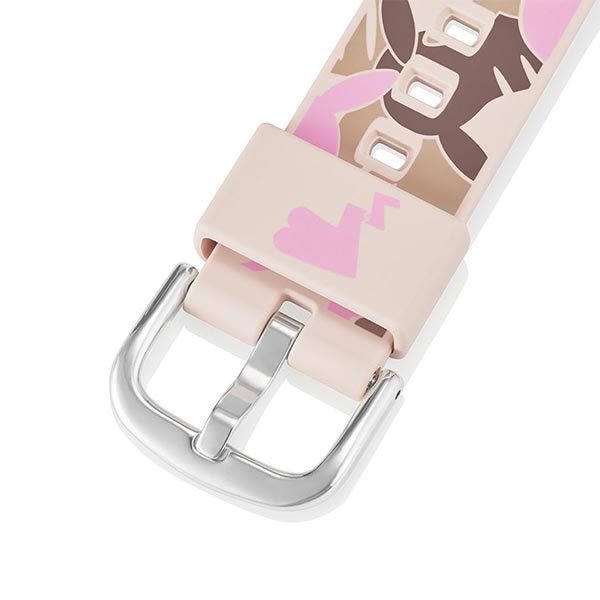 On the strap keeper, you'll find the silhouette of Pikachu's heart-shaped tail. While Pikachu's actual face doesn't appear on the front of the watch, its image appears on the caseback, along with the words "Pikachu x Baby-G". 
In line with the outdoor theme, the watch is shock-resistant. It is also water-resistant up to 100 metres.

As with its predecessor, this watch comes in the iconic Pokéball packaging. This adds to the experience of imagining what it's like to be Ash Ketchum on a mission to catch 'em all.
The New Pokemon x BABY-G Watch Will Be Launching In Singapore
We're used to seeing Pikachu-themed collaborations in a bright yellow colour palette. Casio and Pokemon's second Pikachu x BABY-G watch offers a fresh, unexpected and entirely welcome take. The watch will be launching at G-SHOCK stores in Singapore on 19 February 2021, Friday. It will hit G-SHOCK Singapore's online store on 26 February, Friday. The watch will be retailing for $239. In the meantime, you can cop a BRUNO hotplate in a matching rose milk tea shade.
This article was first published on 22 January 2021 and last updated on 16 February 2021.
All images courtesy of Casio.
Also read:
The BRUNO Hotplate Now Comes In A Chio Rose Milk Tea Colour So You Can Cook At The Dining Table In Style