Pomelo x Disney Collection
From leather jackets with Grab to lollipop crop tops with Chupa Chups, Pomelo has always brought us fun collaborations to spice up our OOTD. This time round, the fashion brand has teamed up with Disney to introduce a 29-piece collection featuring princesses and villains with a modern twist — the ultimate upgrade from the puffy princess dresses we used to wear as kids.
The Little Mermaid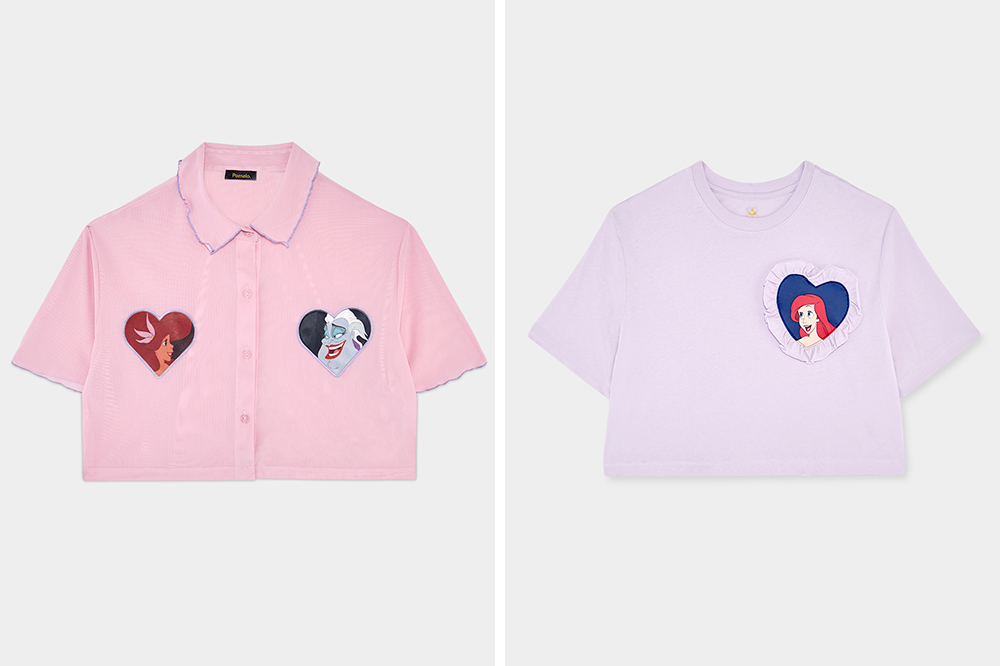 Starting off with our favourite mermaid under the sea, the pink collared cropped top (left) features Ariel and Ursula in separate hearts. For those who aren't a big fan of the evil sea witch, an alternative crop top is available in purple (right), solely focusing on Ariel alone in a ruffled heart. 
The Ariel and Ursula top is retailing at $39.90 while the Ariel top is $24.90.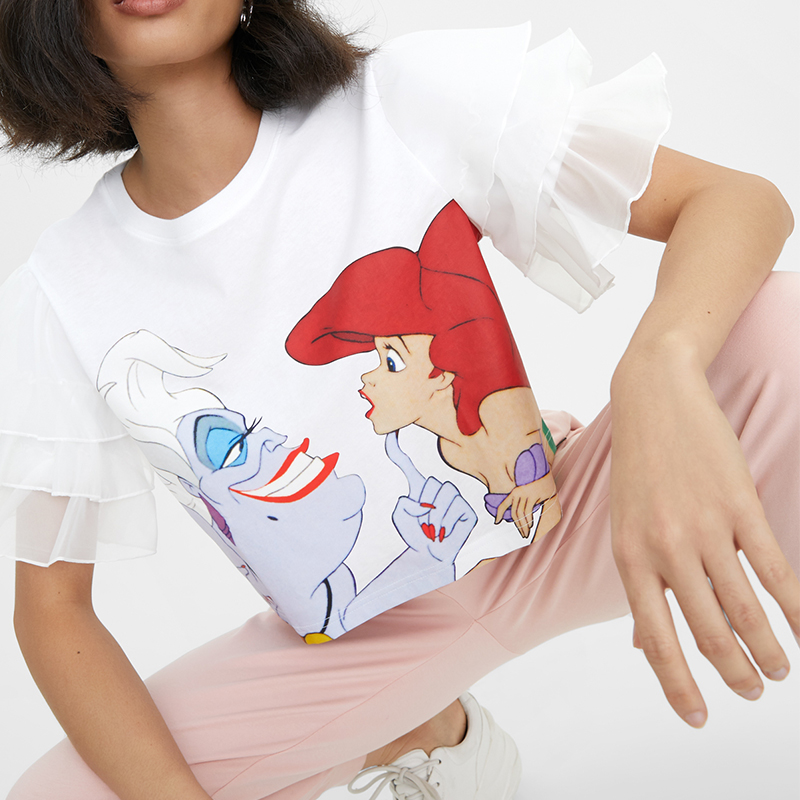 Paying tribute to the scene of when Ariel bravely gave up her voice in exchange for human legs, this ruffled sleeved top captures the moment of evil vs innocence perfectly. It is retailing at $29.90.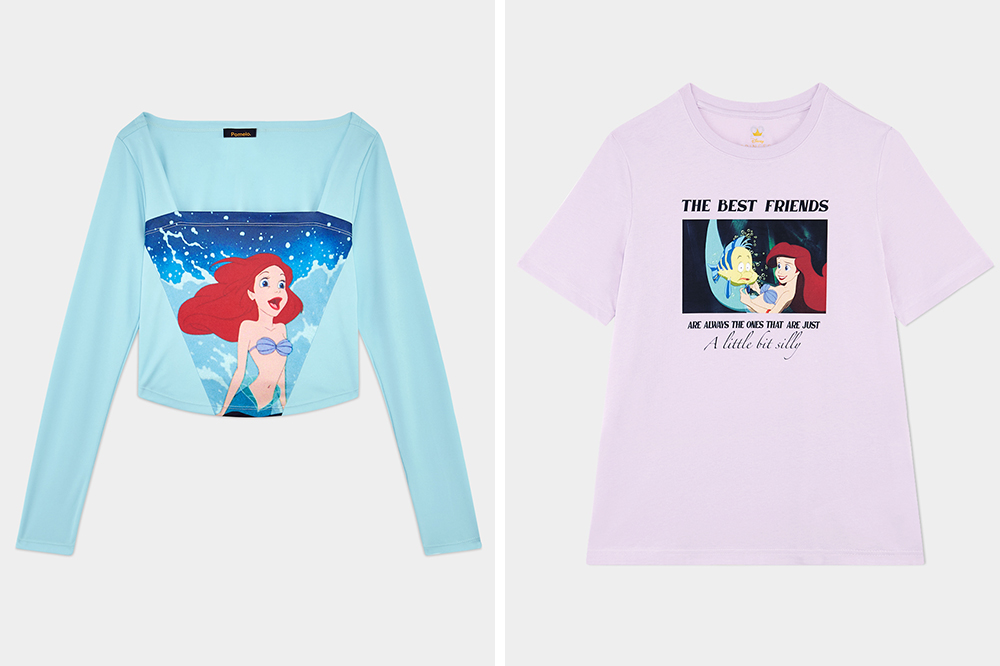 As a curious-natured mermaid, Ariel taught us how to explore beyond the safety bubble that life may enclose us in. The long sleeve Ariel top (left) comes in a trendy square-cut with the memorable scene of Ariel splashing on top of a rock. It retails at $29.90.
Meanwhile, we can't miss Ariel's best friend Flounder, who's always ready to give her all his support. The lilac tee showcasing the pair of best friends (right) is retailing at $24.90.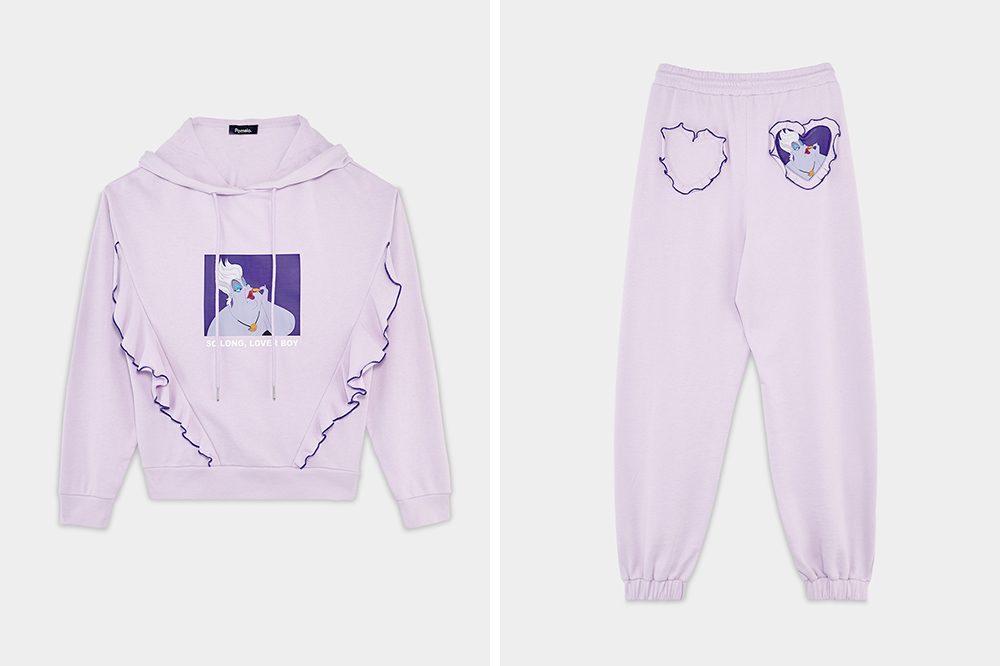 Get comfy with this Ursula sweater with matching ruffled sweatpants. The sweater's front includes the bored sea witch with the quote "so long, lover boy" on it — a huge mood for those of us who are done with chasing f-boys. 
The hoodie top is retailing at $54.90 while the sweatpants are $49.90.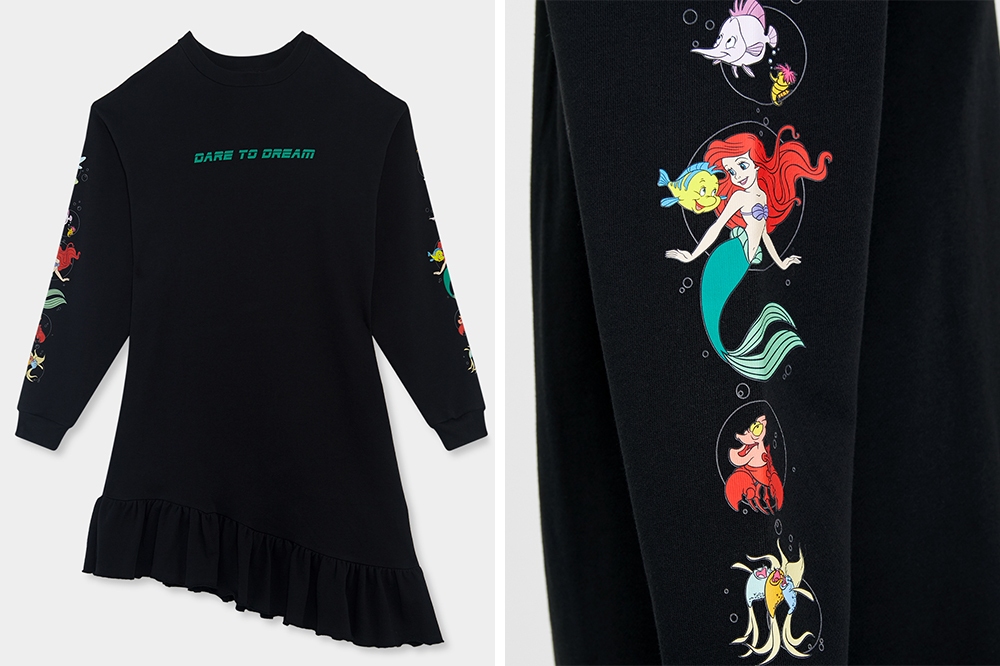 On top of Flounder, Ariel also has the support of all her adorable sea creature friends in the kingdom. The ruffled midi dress in this collection comes with Ariel and her friends swimming along the long sleeves, retailing at $59.90.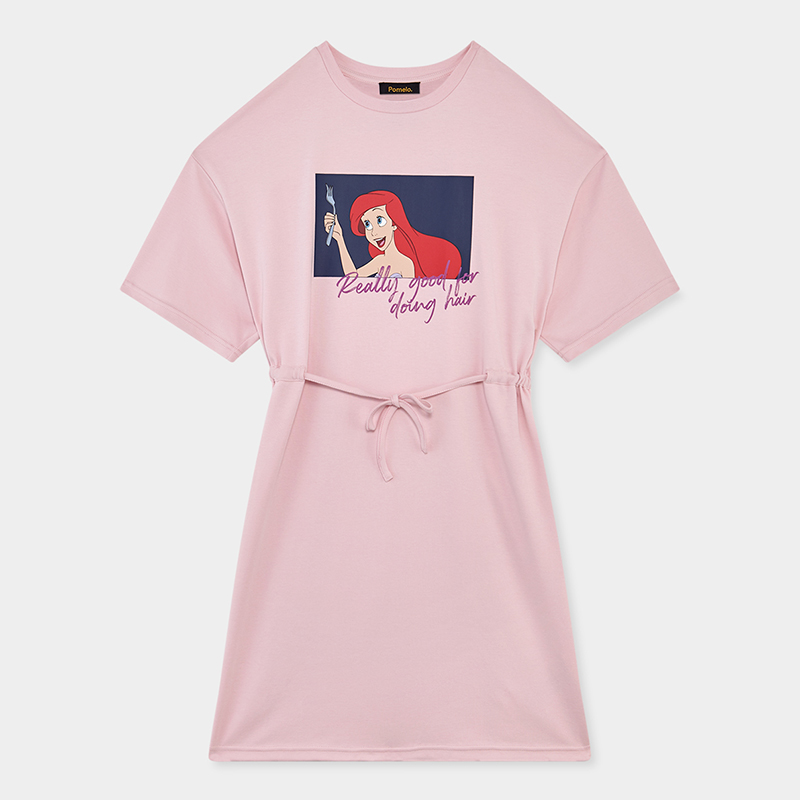 The scene of Ariel combing through her hair with a fork is truly unforgettable and takes us back to our childhood. Now you can wear this movie screencap with you on this comfy pink dress while out with your girlfriends. The dress is retailing at $44.90.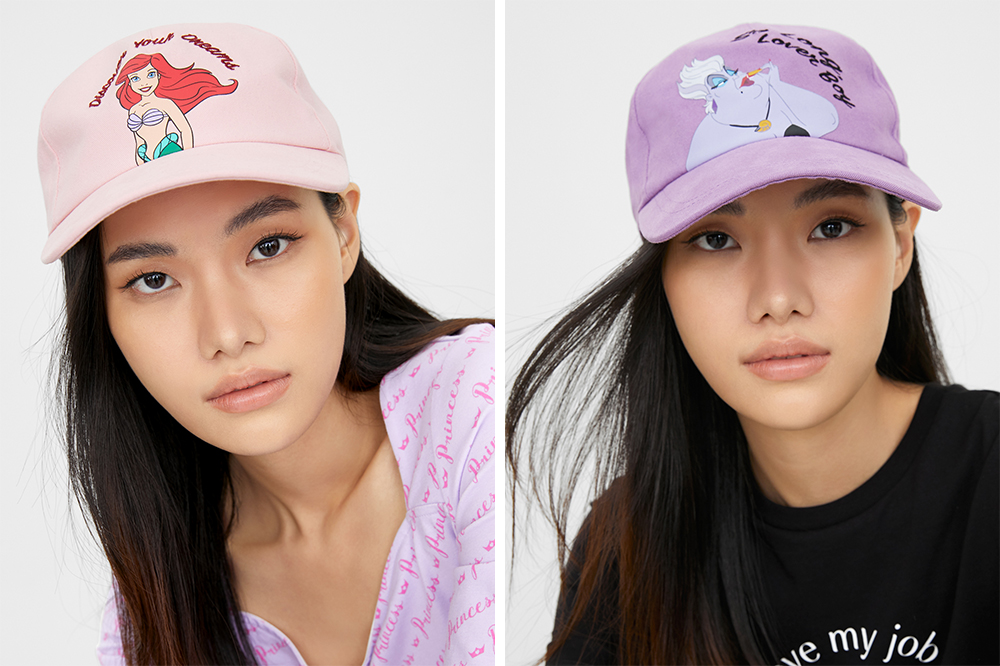 While every princess has her crown, it seems like every hypebae in this generation has her cap instead. Get your hands on either an Ariel cap in pink or a Ursula cap in purple at $24.90 each.
Sleeping Beauty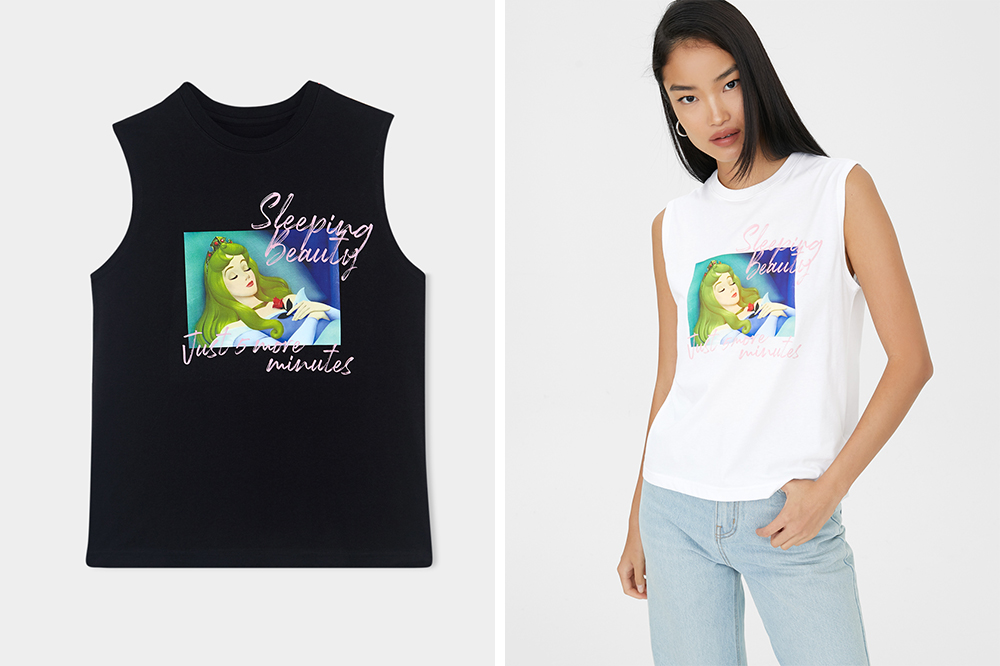 While we're back to default WFH measures, getting out of bed to jump onto that Zoom call meeting becomes harder and harder each day. For those who are used to hitting the snooze button and begging for "just 5 more minutes", this Sleeping Beauty tank top is for you.
The tank tops come in 2 colours in either black or white, retailing at $24.90 each.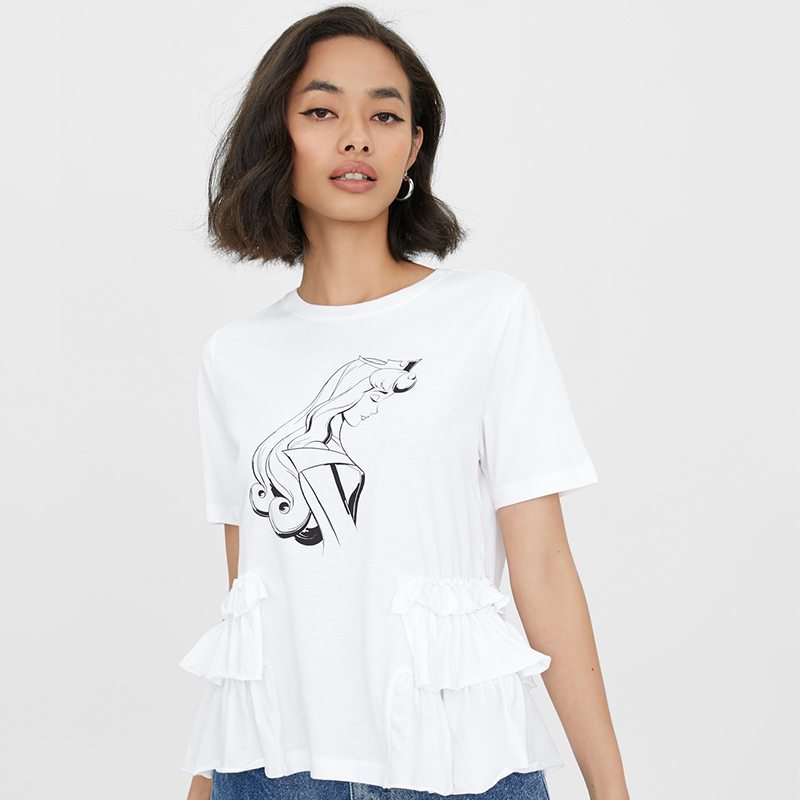 There's no need for fairy godmothers to mimic the elegant frills on Aurora's gown. This white ruffled top is an alternative that also comes with a monochrome graphic print of Aurora on it. It is retailing at $24.90.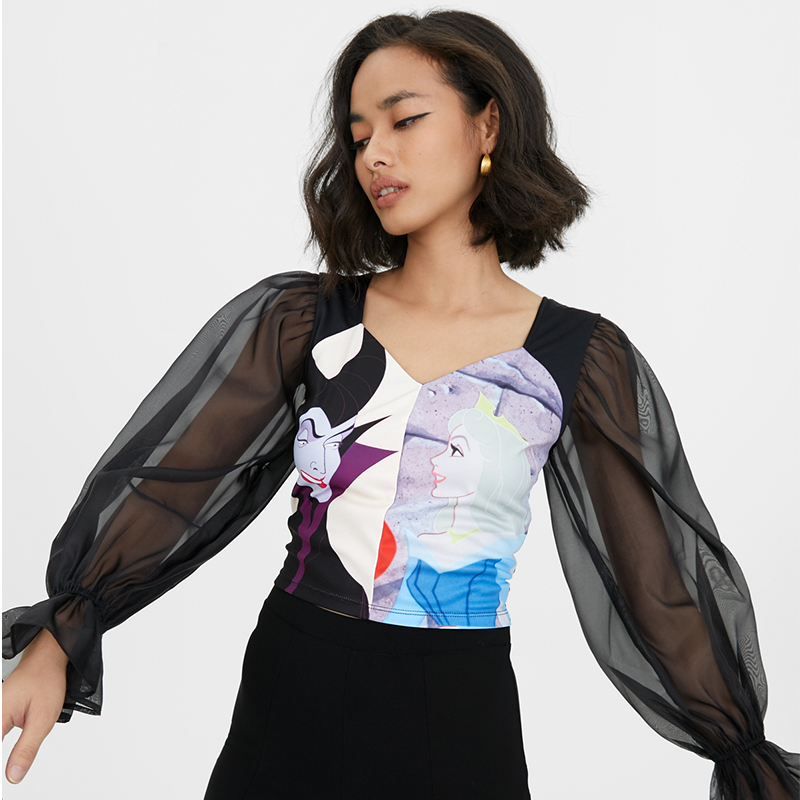 The Maleficent and Aurora top in this collection takes on a modern twist to Aurora's sheer-sleeved blue gown. Making use of black sleeves instead, the top also includes prints of Maleficent and Aurora on each side. 
This unique bustier top brings out your inner princess and is retailing at $39.90 each.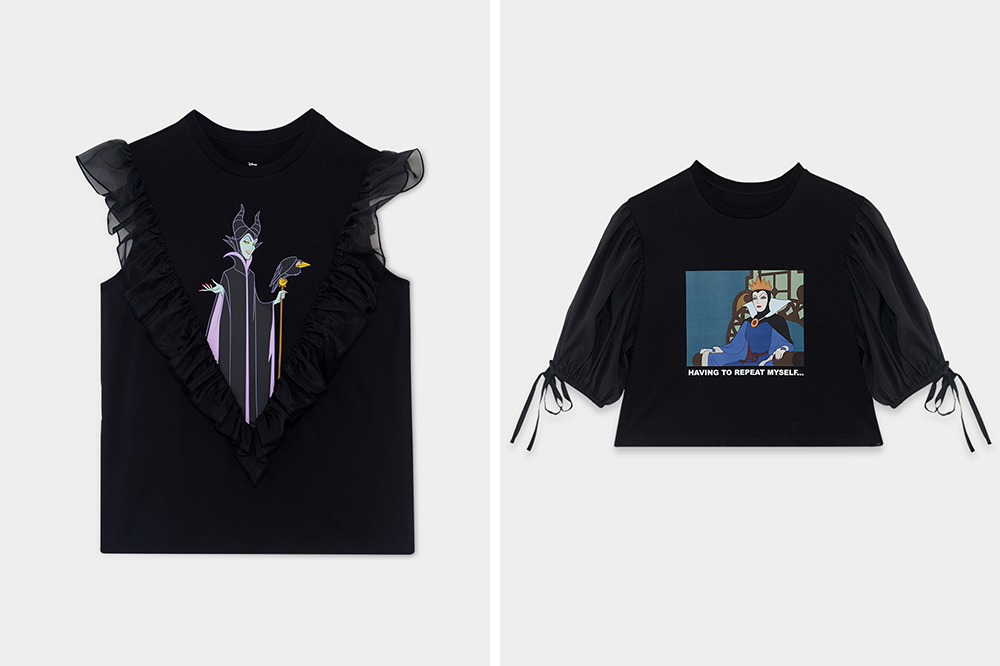 Fans of the evil queen can also get a black ruffled top with Maleficent and her pet crow on it (left), or a chic black dress that says "love to be bad" on the front (right).   
The top is retailing at $29.90 while the dress at $54.90.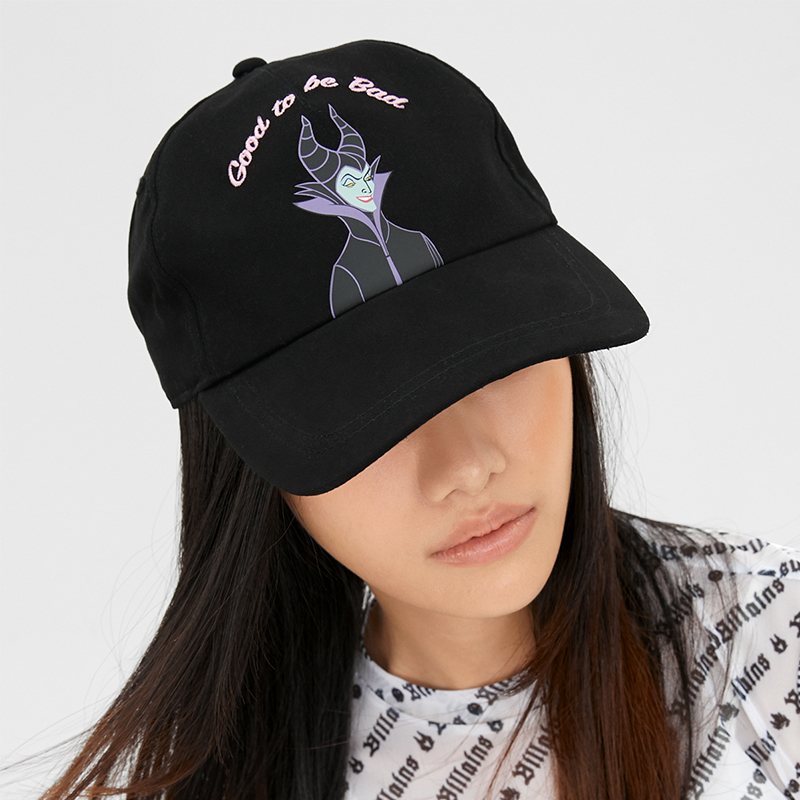 A similar Maleficent cap is also available in black at $24.90.
Aladdin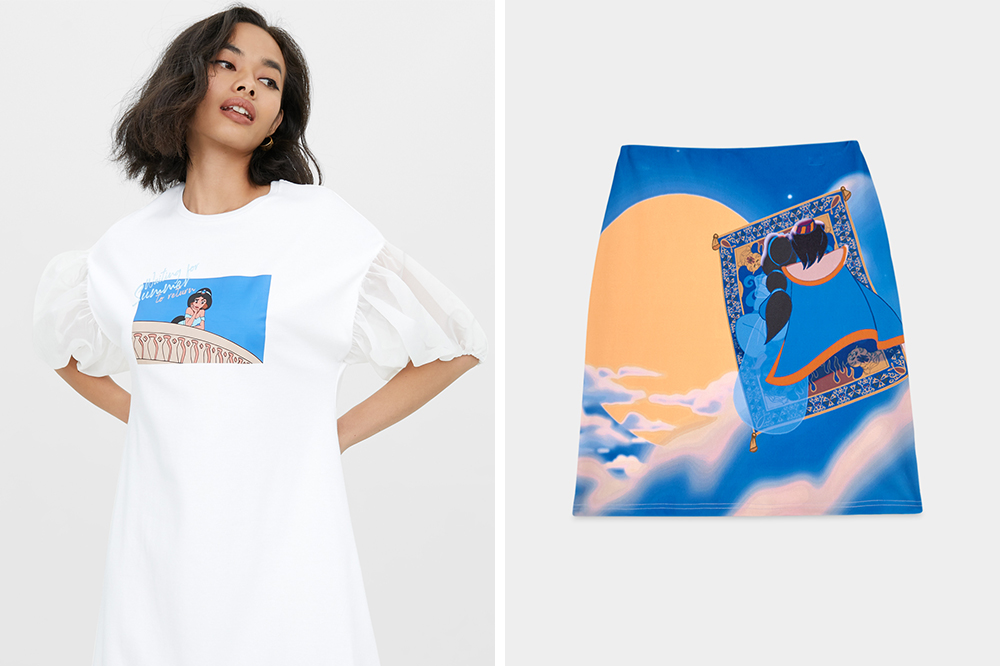 The Jasmine dress (left) may look just like a basic white outfit, but the extra details of ruffles on the sleeves add a refreshing magical vibe. Featuring Jasmine waiting on the balcony of her mansion, the dress is retailing at $49.90.
Get swooned by Aladdin in this magic carpet mini skirt (right) that immediately has the lyrics "I can show you the world" playing in our heads. Riding away into the sunset with the couple, this skirt is retailing at $34.90.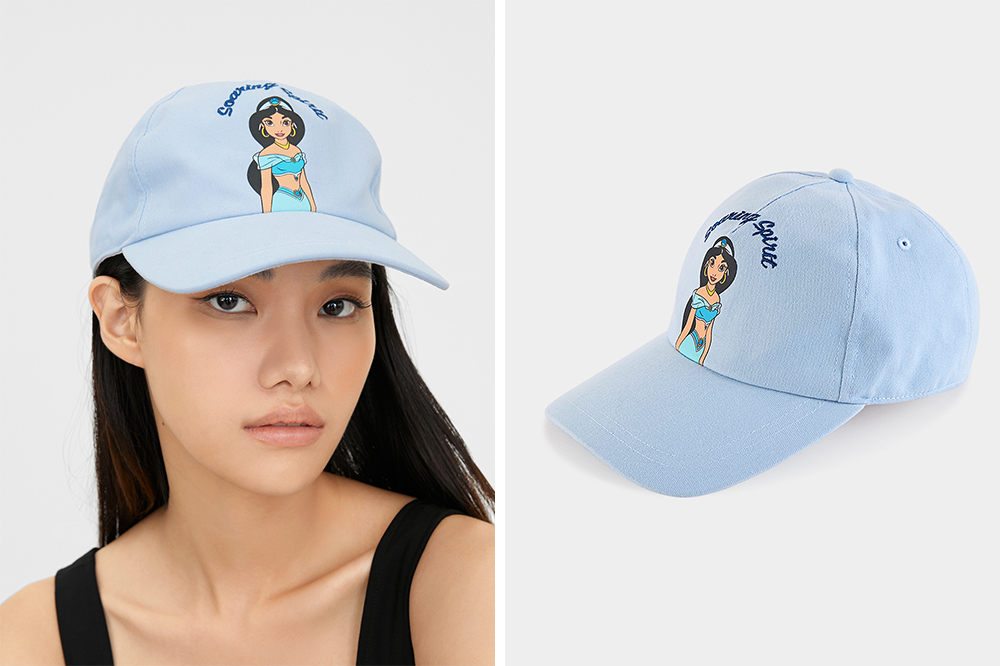 A baby blue Jasmine cap is available at $24.90, honouring the princess' adventurous "soaring spirit".
Also read:
Pomelo Fashion Has Teamed Up With Chupa Chups For A Lollipop-Inspired Collection That Is Literal Eye Candy
Snow White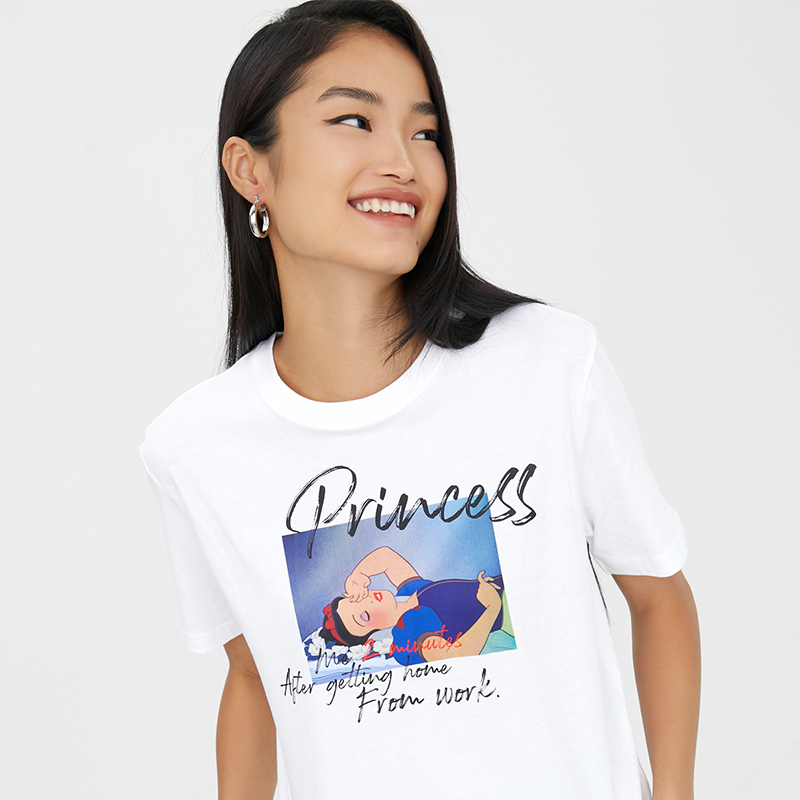 The Snow White tops in this collection are hilariously meme-worthy to match your everyday mood. This white top depicts the princess laying down in bed with the phrase "me 2 minutes after getting home from work" on the front. 
The Snow White tee is retailing at $24.90.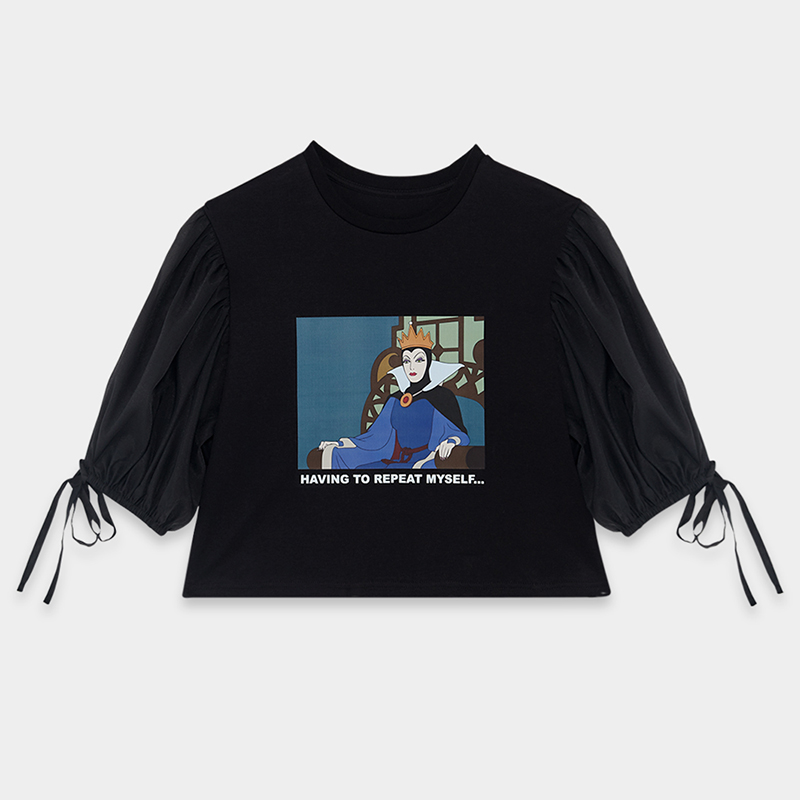 Mirror mirror on the wall, who's the fairest of them all? Besides literally being a confident queen, the evil queen in Snow White is also relatable AF. This black top with ribbons has a design of her looking annoyed, along with the caption "having to repeat myself…" on the front.
We feel you, evil queen. Having to repeat ourselves one too many times is an extremely frustrating feeling everyone understands. This top is retailing at $29.90.
Additional prints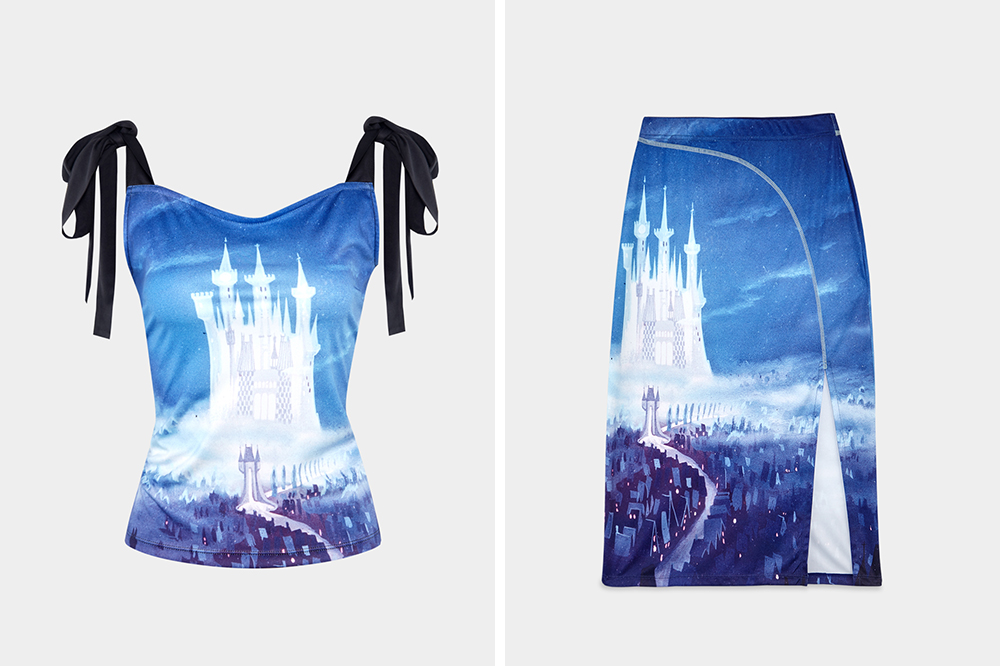 Instead of a heavy and bulky princess dress, turn up to the ball party in something more comfy instead. This castle-print top and skirt is a perfect remake of Cinderella's outfit while capturing the magical vibes of the royal ball.
The only thing missing from this outfit is a pair of glass slippers. The top is retailing at $24.90 while the skirt is at $34.90.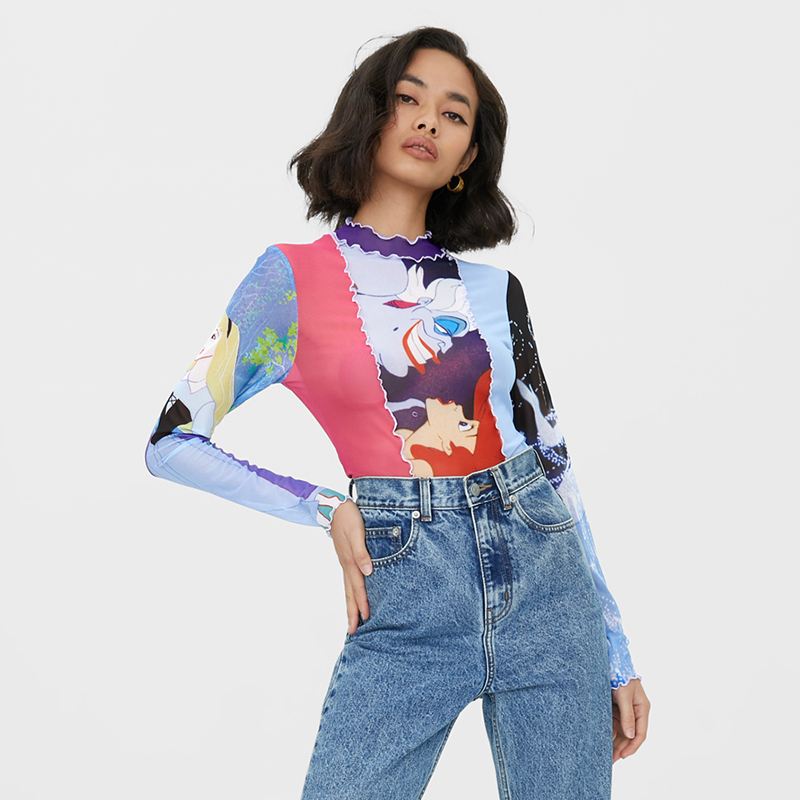 If you can't pick your favourite Disney characters, why not wear them all? Combining Sleeping Beauty, The Little Mermaid and Cinderella, this long sleeve top is a blend of Y2K fashion along with childhood nostalgia. It is retailing at $34.90.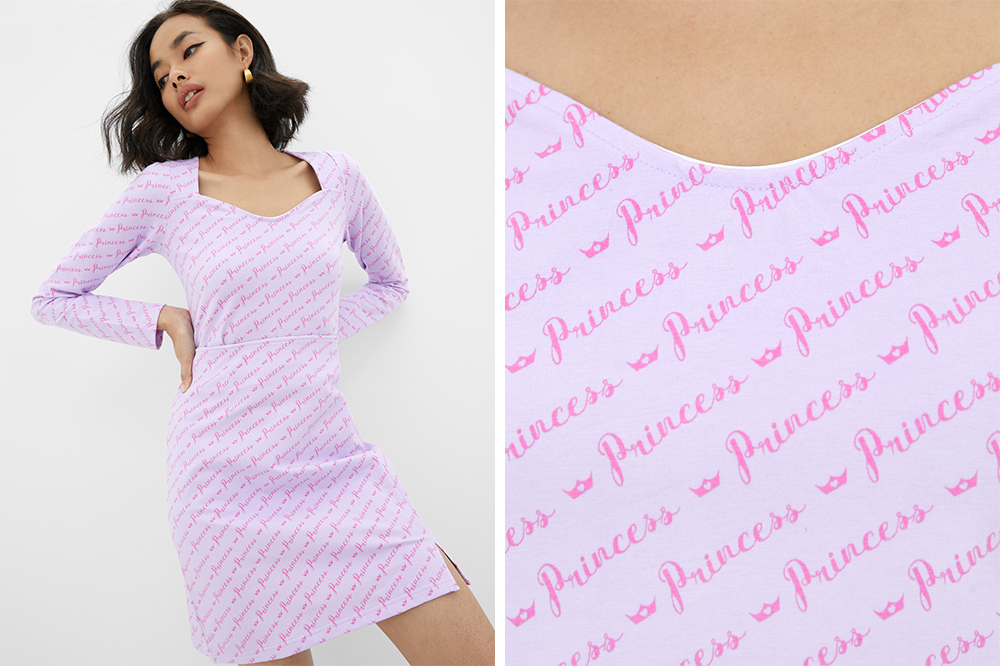 For those who prefer more subtle prints, this pink top with a matching skirt has a simple repeated design of the words "princess" on it. The top is retailing at $34.90 while the skirt is at $39.90.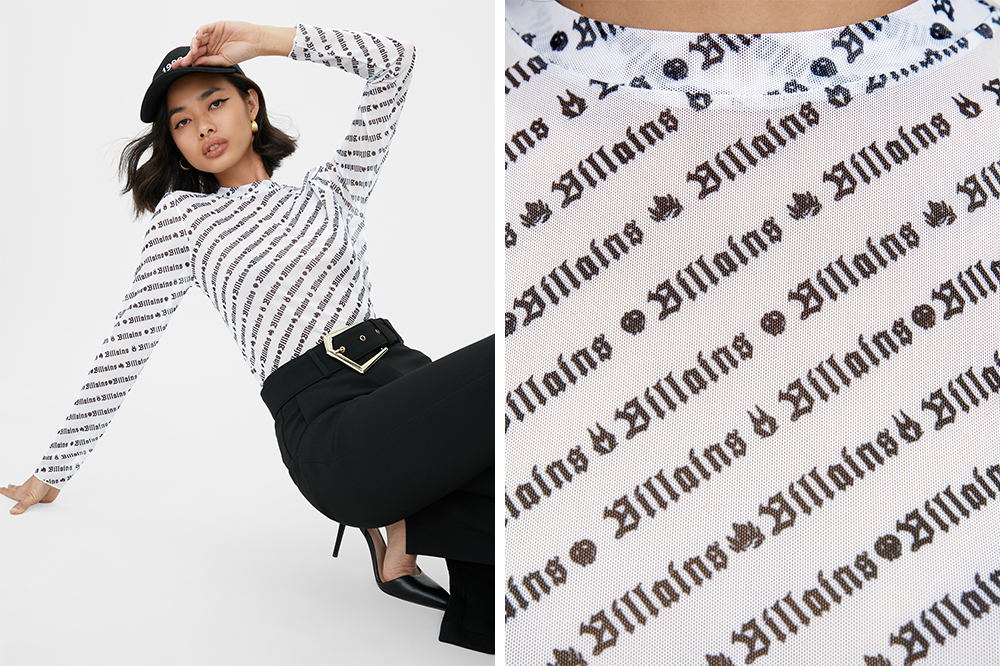 Alternatively, there is a similar design with the words "villains" instead on this monochrome long sleeve top, retailing at $34.90.
Pomelo x Disney's Princess & Villain Collection Is A Magical Addition To Your Wardrobe
This Pomelo x Disney collection has a variety of chio tops, dresses and caps to transform you into a modern day princess instantly. Not only is this Pomelo's first Disney collection, but 65% of the styles are also created from sustainable materials.
The collection will be available on the Pomelo app via iOS and Android, online at Pomelo's official website and in-stores from 29 September 2021 onwards.
All images courtesy of Pomelo.
Also read:
Pomelo's New Limited Edition Pantone Collection Comes In Iconic Colours For Your Everyday OOTD