Pomelo x Pantone Collection
If your wardrobe consists mainly of monochromatic clothing, you're not alone. But for a change in style, you can add colours to your OOTD with the limited edition Pomelo x Pantone collection. 
Inspired by Pantone's most popular shades, the collection includes 55 pieces of apparel such as T-shirts, slit skirts and dresses. As every piece is made from sustainable cotton, you'll also know that you're shopping with a good cause. Read on to learn more about this exclusive collection. 
T-shirts
Oversized Short Sleeve Tee
It's hard to hate on an oversized T-shirt when they are comfortable to wear, be it at home or outdoors. This Oversized Short Sleeve Tee is made from 100% cotton and has an A-line silhouette.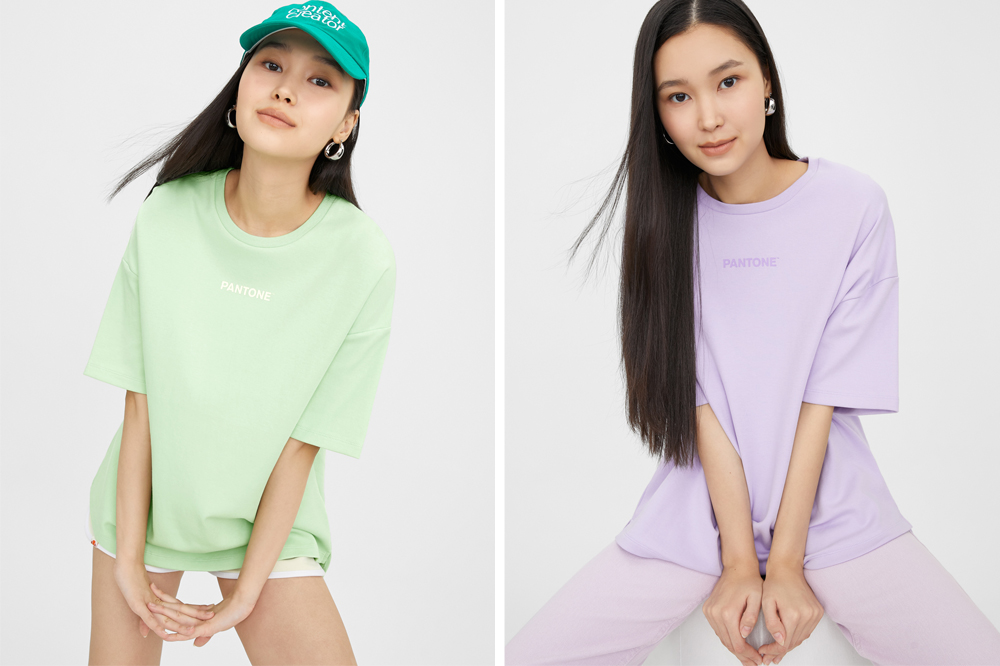 The sleeves run till the elbows and in the middle of the T-shirt, you can find Pantone's logo.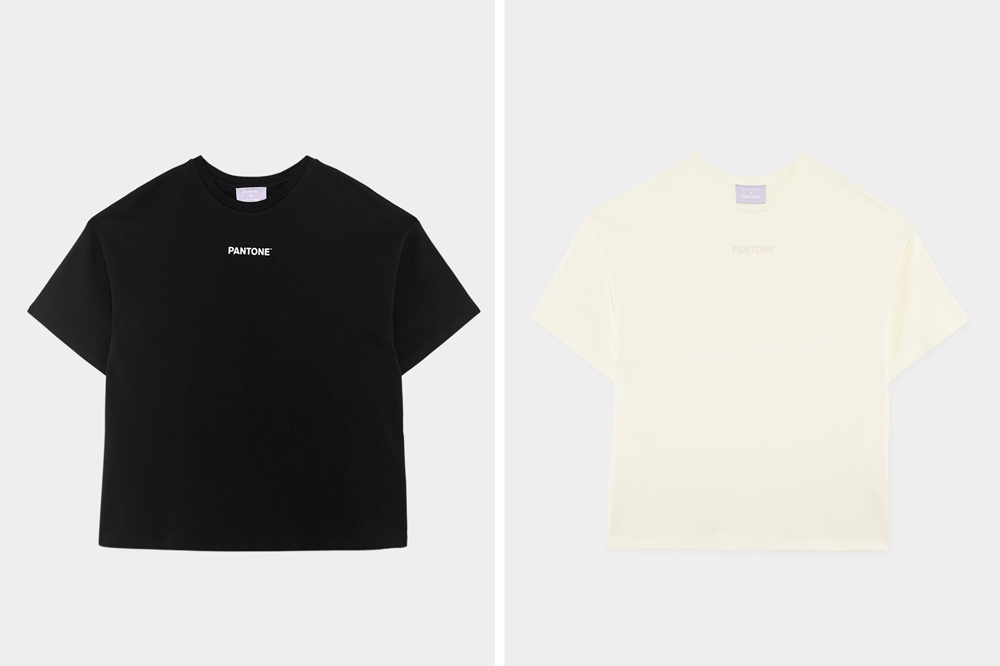 Besides the above colours, the Oversized Short Sleeve Tee is also available in white. 
The Oversized Short Sleeve Tee retails at $34.90. 
V-Neck Top
In this collection, the V-Neck Top has a relaxed fit on the body, meaning it's neither too tight nor loose on you.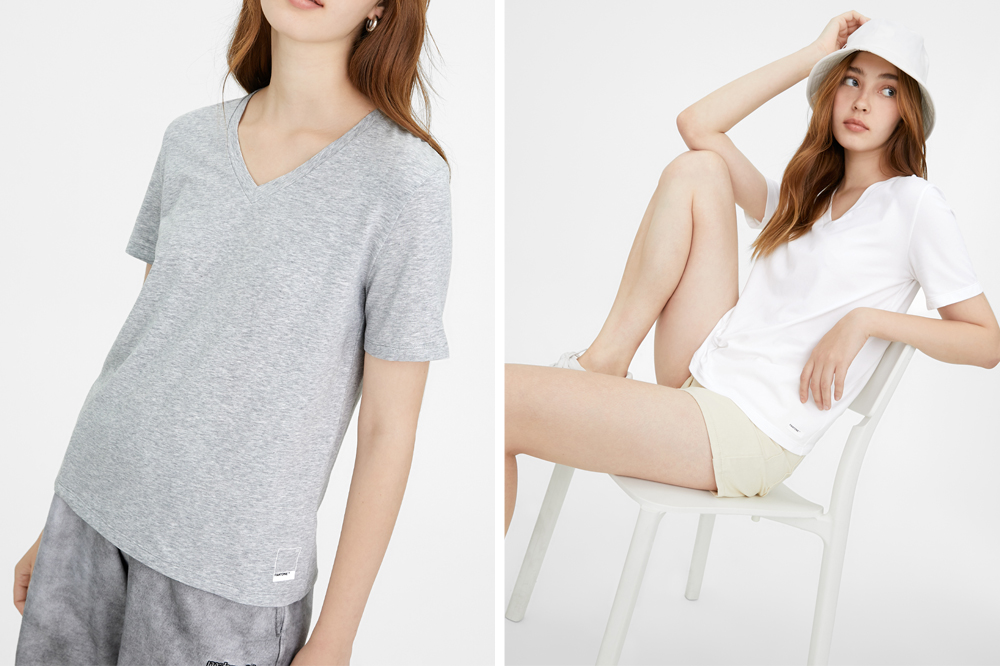 Drawing your attention to the bottom left corner of the V-Neck Top is Pantone's signature swatch card icon.
Besides white and grey, you can also choose from black and light blue. 
The V-Neck Top retails at $24.90.
Cropped Tee
The trend of cropped T-shirts never goes out of style, as they look great when matched with a pair of high-waisted jeans or skirt.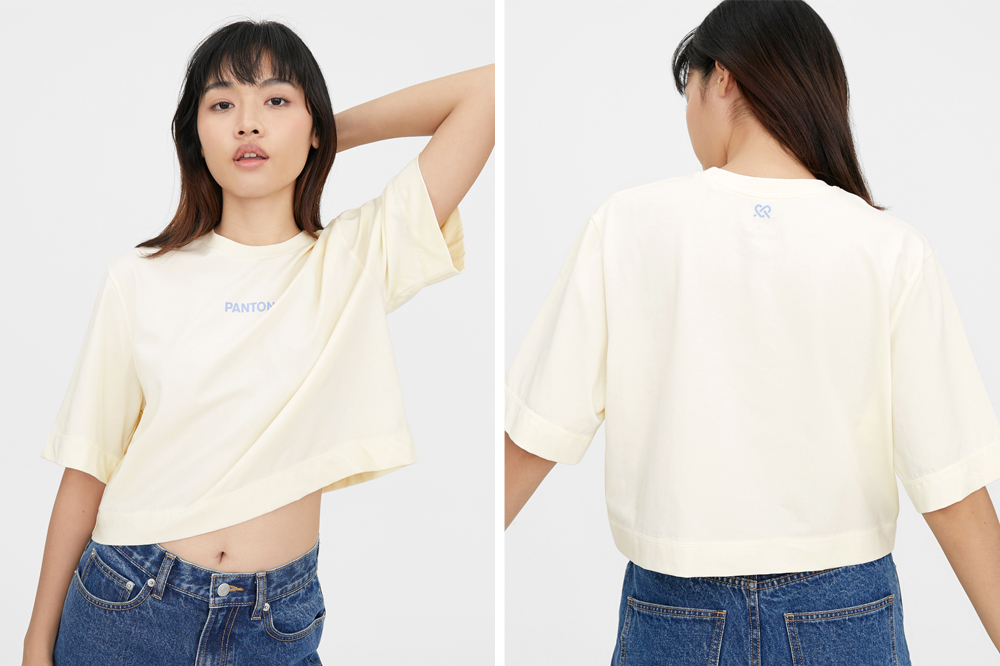 Here, you'll also find a Cropped Tee that is cropped at the waist level. On the front, the Pantone logo makes an appearance again in the middle and on the back, Pomelo's logo can also be seen.

Other colours that you can find the Cropped Tee in include cobalt blue, grey and pink. 
The Cropped Tee retails at $24.90. 
Short Sleeve Tee
In this Short Sleeve Tee series, there's a total of 11 colours for you to take a pick ‒ from neutrals to earth tones.  
You can never go wrong with such basic T-shirts as they are simple and easy to match with other apparel. On the left side of the Short Sleeve Tee, the swatch card of Pantone makes an appearance in white.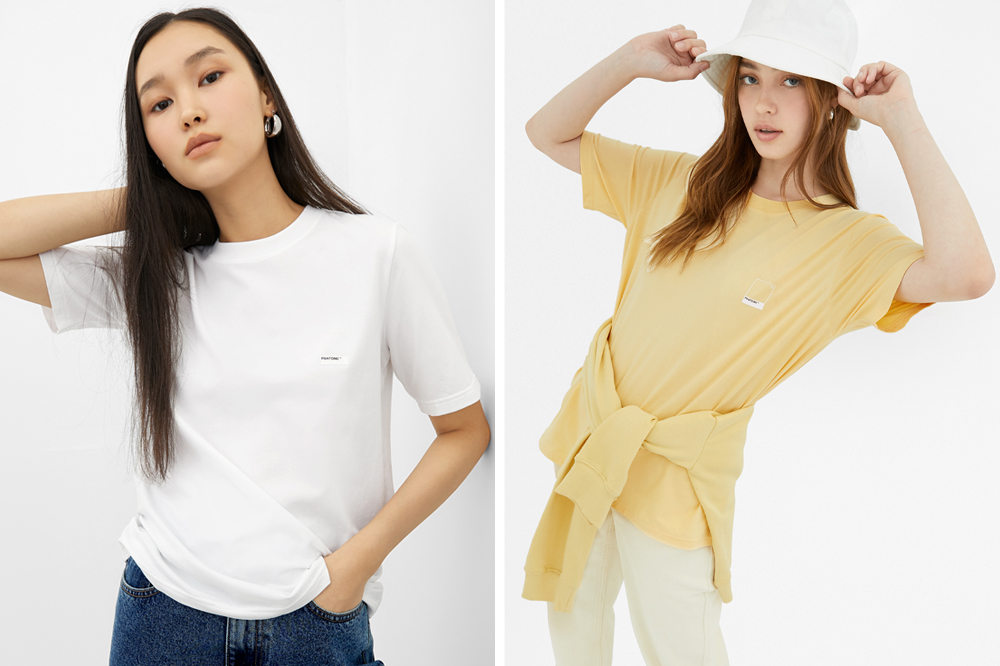 If you want to spice up your overall look, you can also wear a pair of hoop earrings or a bucket hat.  
The Short Sleeve Tee retails at $24.90. 
Tanks
As we only experience summer in Singapore, it's natural to put on tops that we find cooling and comfortable. The collection features 2 tank tops designs ‒ Square Neckline Tank and Fitted Tank Top.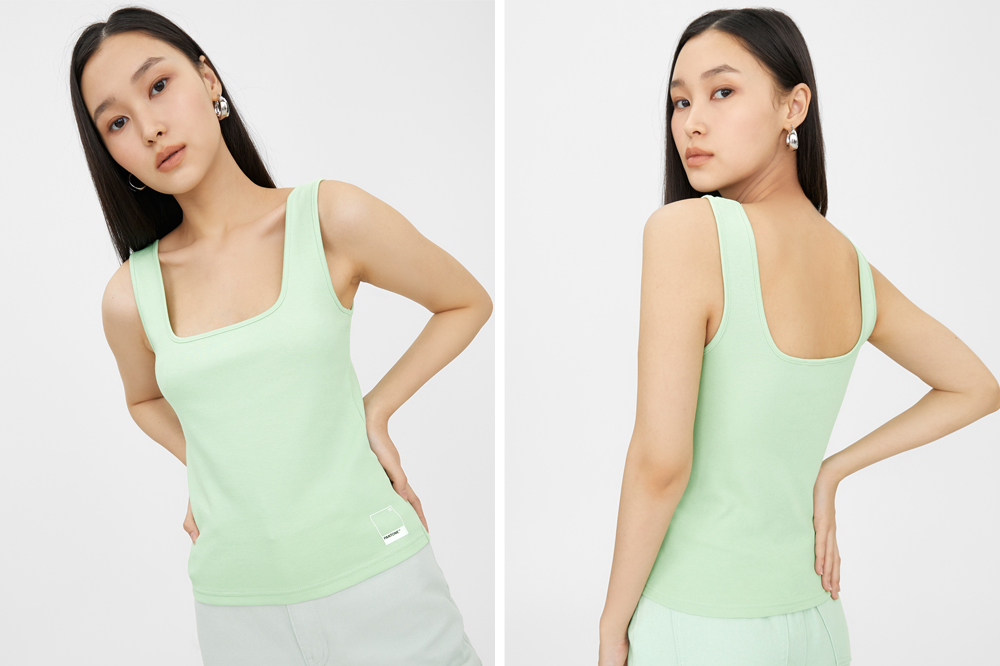 As literal as its name, the first design comes with a low neckline that accentuates your collar bones. It also has a tighter fitting where you can show off your figure.

The Square Neckline Tank retails at $24.90. 
For those who are more conservative, the Fitted Tank Top might "fit" your liking more.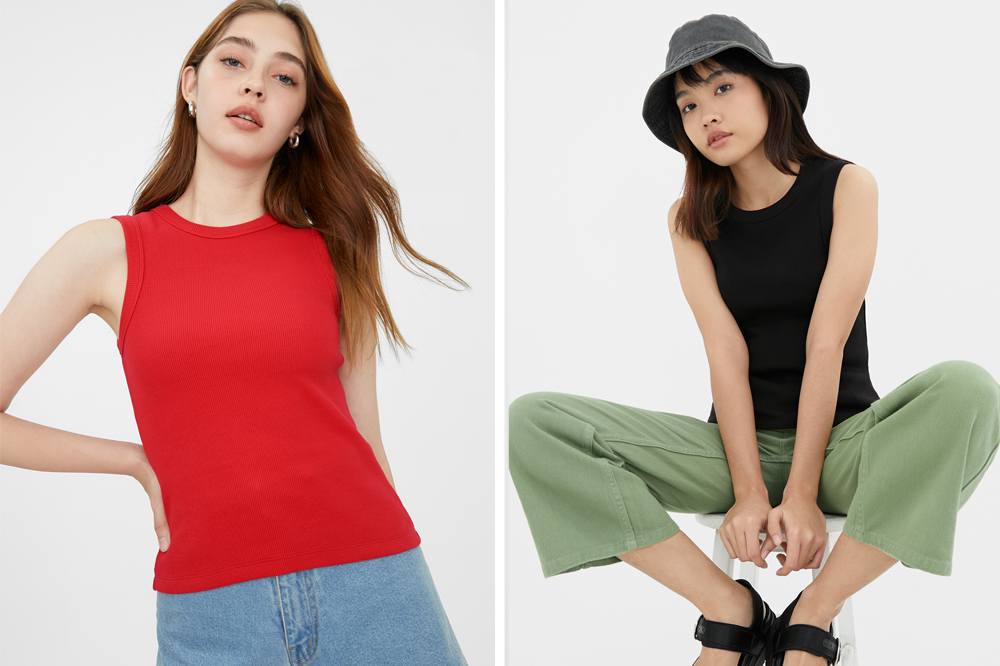 It comes with a rounded crew neckline and has a ribbed texture. Thanks to the basic colours available, you won't have a hard time matching them with other apparel.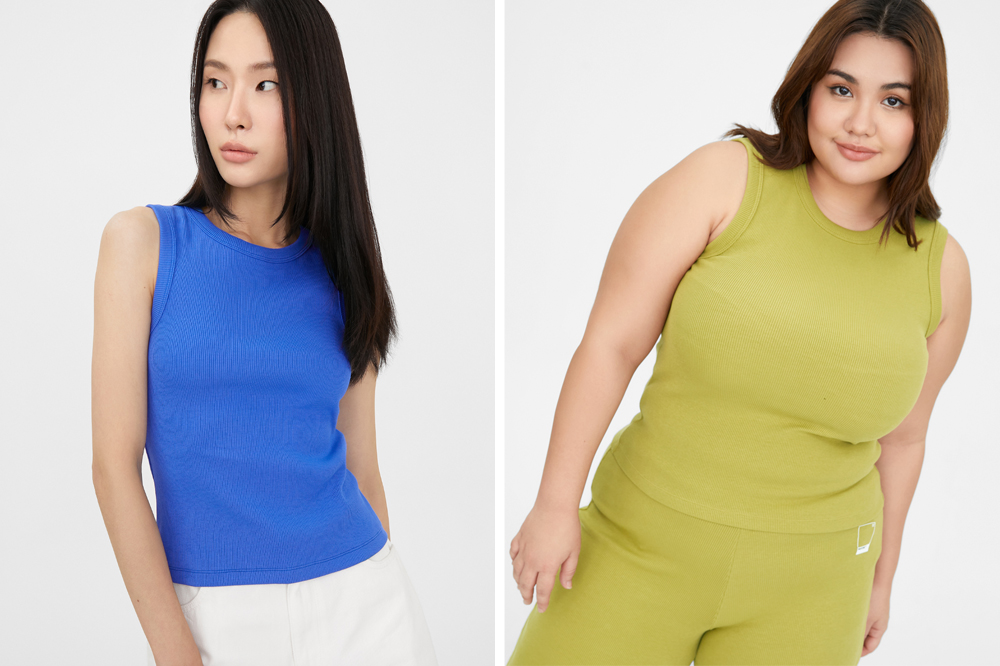 The Fitted Tank Top retails at $24.90. 
Also read: 
Pomelo Fashion Has Teamed Up With Chupa Chups For A Lollipop-Inspired Collection That Is Literal Eye Candy
Cardigan
No one can predict Singapore's erratic weather and on rare days with heavy rain, you wouldn't want to catch a cold. With this Long Sleeve Cardigan, you can keep yourself warm.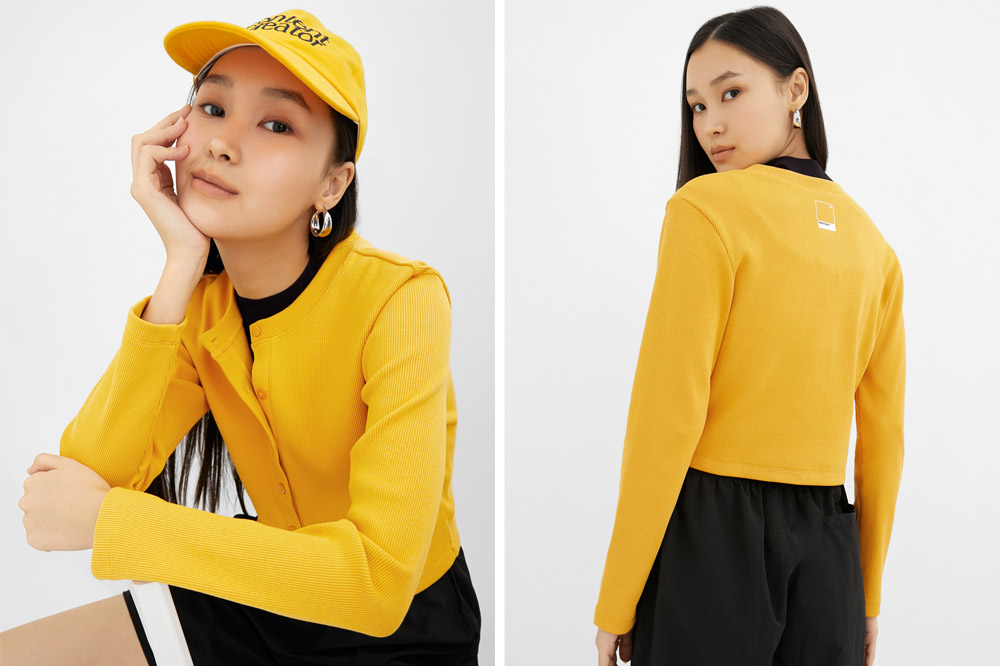 The cardigan has a ribbed texture and comes with buttons on the front. On the back, notice how the Pantone's swatch card appeared in white.
Match the cardigan to your outfit and choose from other colours like pink, black and red. 
The Long Sleeve Cardigan retails at $39.90.
If long sleeved cardigans aren't your thing, there's also a Short Sleeve Cardigan in the collection.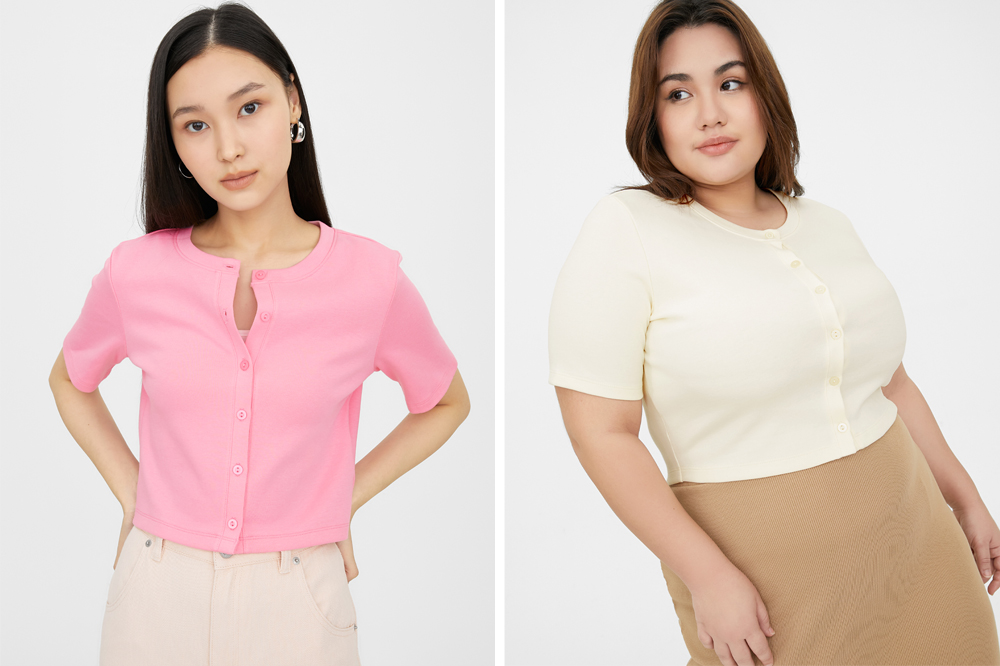 They look adorable for work or play, and also give off a girly and feminine vibe. Similarly, they have a ribbed texture and a button down front. 
The Short Sleeve Cardigan retails at $34.90.
Pants
Keeping with the theme of the collection, these Ribbed Wide Leg Pants are comfortable and simple in the design.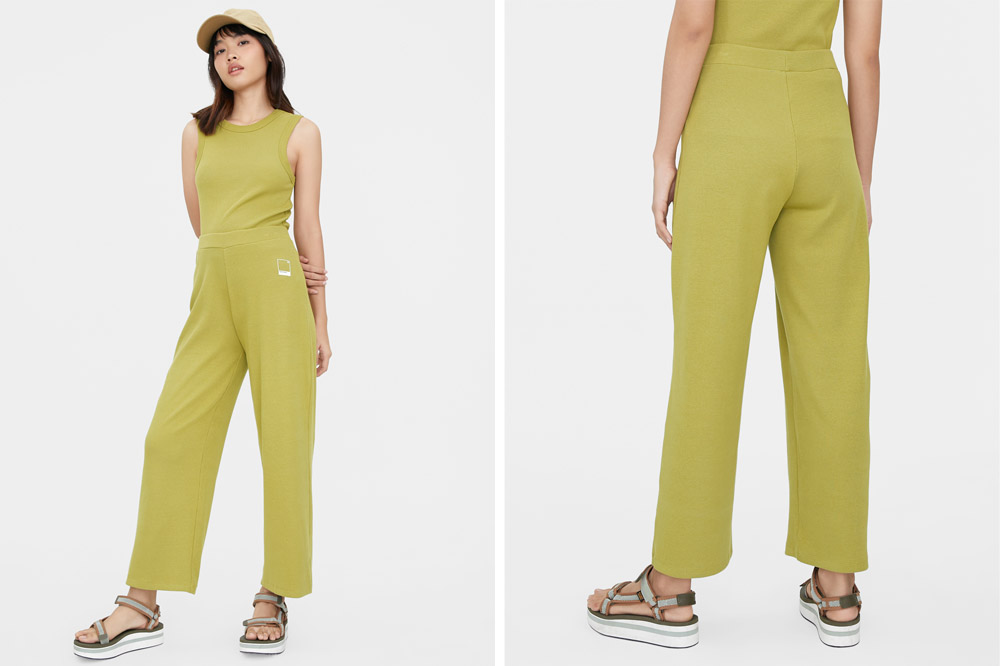 It has a wide-leg silhouette and comes with an elastic waistband. That way, you won't find the pants too tight and they can even be adjusted for occasions like a buffet – cue the free flow seafood.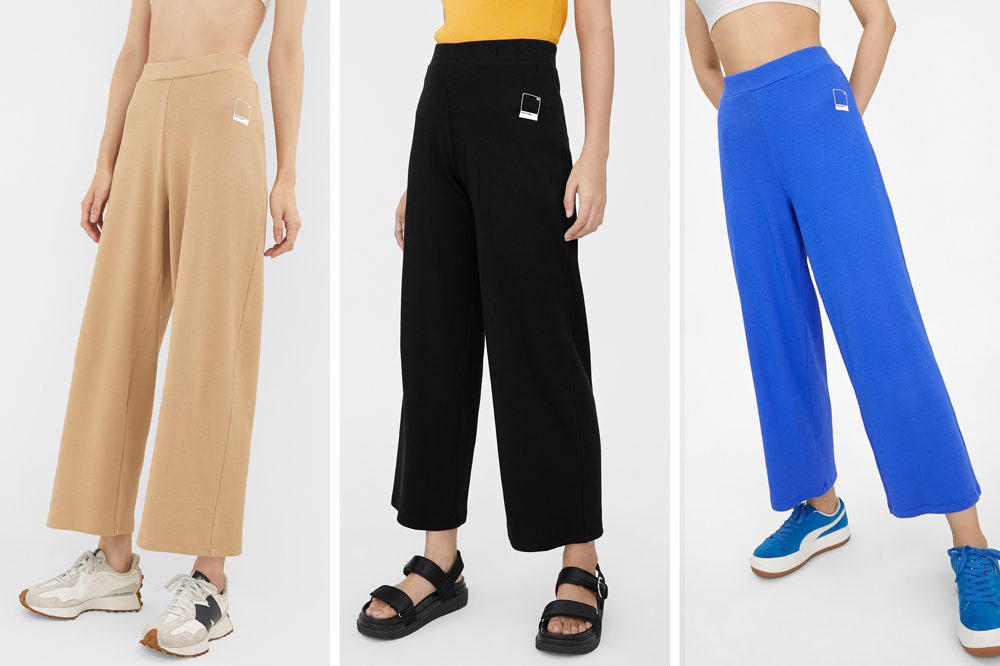 The pants come in neutral shades like beige and black, and also in brighter colours like cobalt blue. 
The Ribbed Wide Leg Pants retails at $39.90.
Skirts
Those who enjoy wearing high-waisted skirts can check out this Fitted Slit Skirt.
Not only does it complement your body type, but it also gives off an illusion of longer legs. Since the skirt reaches below your knees, you can wear them as part of a smart casual outfit.    
It also comes with a slit on the bottom left which gives the skirt a lil' oomph. 
The Fitted Slit Skirt retails at $39.90. 
Dress
Dresses are perfect for occasions such as a catch-up session with your besties or even a casual date with bae. 
By wearing a dress like this Ribbed 3/4 Sleeve Dress, you can be sure that your figure is flaunted at the right places thanks to its fit and flare fit. 
Other details of the dress include a rounded crew neckline and ribbed texture. 
The Ribbed 3/4 Sleeve Dress retails at $44.90. 
Add Colours To Your Daily OOTD With This New Limited Edition Pomelo x Pantone Collection
As the collection is also a campaign to empower women, you'll find inspiring icons like Fiona Fussi and Emcee XiXi as part of the lineup. Starting from 17 September 2021, you can purchase the limited edition Pomelo x Pantone collection on Pomelo's app, online, and offline stores. 
For more Pomelo collaborations, check out this Pomelo x Grab collection. 
All images courtesy of Pomelo. 
Also read: 
Pantone's New Colour Called "Period" Red Is Inspired By Menstruation & It's Bloody Cool