Prada x Adidas Superstar Sneakers
In 2019, Prada and Adidas announced that they would be collaborating on a series of collections. The first release of their Superstar sneakers and bowling bag was quickly snapped up. Following the success of the first drop, the brands promised more shoe designs in 2020. Nine months into the year, they're finally delivering on their promise.
Both Prada and Adidas just unveiled the sneakers on their respective social media accounts, confirming that the long-awaited new Prada x Adidas sneakers will be hitting the shelves on 8 September 2020.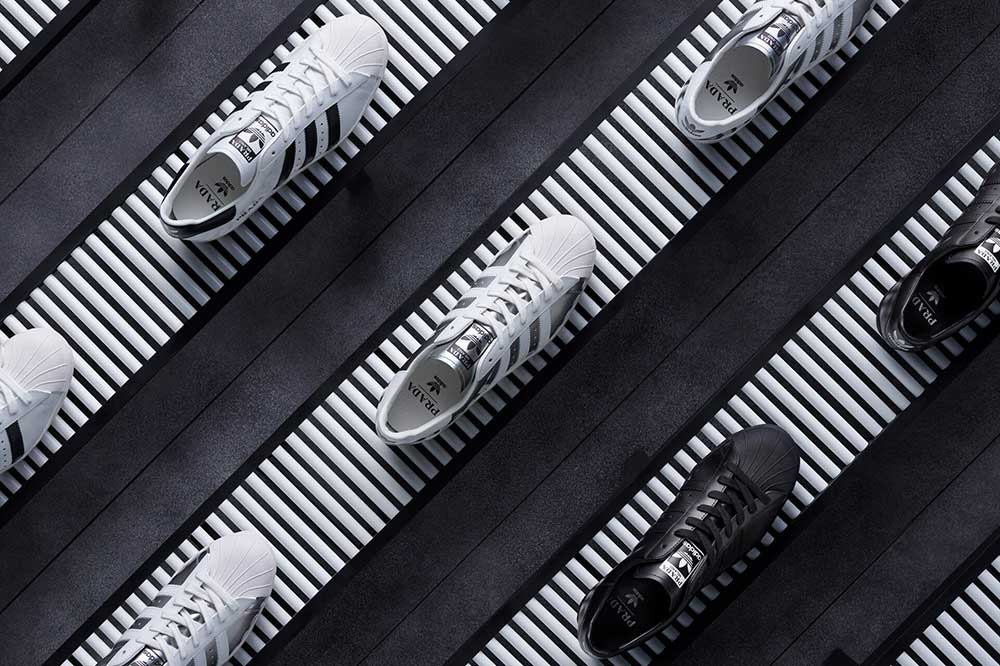 Source
Rumours of the Prada x Adidas superstar sneakers returning in 3 colourways turned out to be accurate. Let's take a closer look at the shoes, in anticipation of the upcoming launch.
Chromed silver-and-white Prada x Adidas sneaker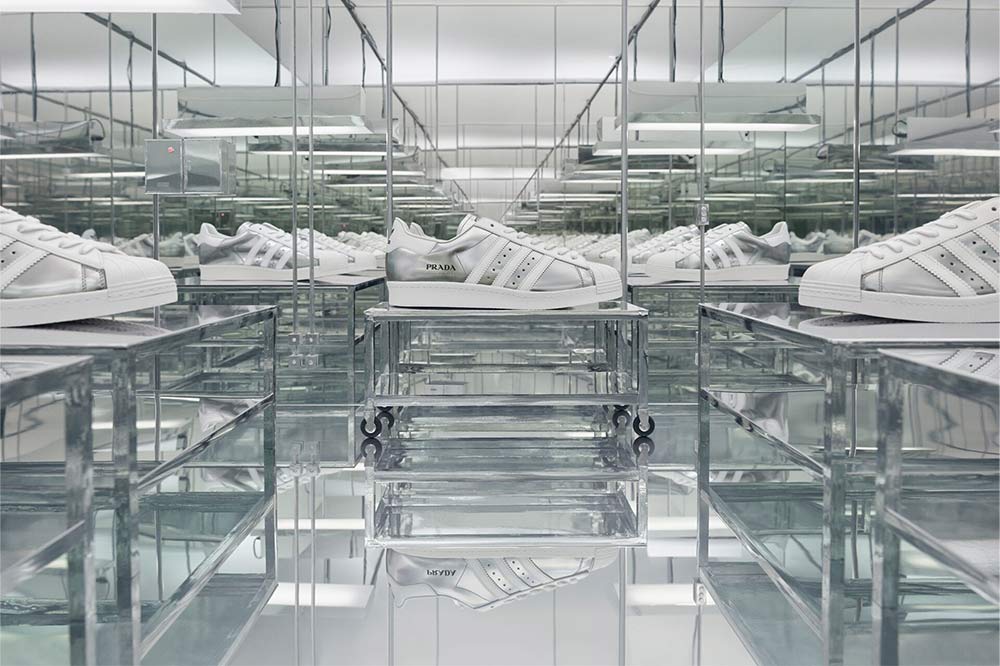 Source
The most outstanding design has to be the chromed silver-and-white Superstar sneaker. The metallic finish topped off with the iconic 3 white stripes of Adidas is sure to capture the attention of your friends. 
Source
On its tongue you can find the double Prada and Adidas Originals logos for a nice contrast. Prada's leather-working expertise is evident in the stitching on the shoes.
Pair the sneakers with black or khaki pants and a wallet chain to achieve an upgraded "sk8erboi/gurl" look. 
Also read:
Prada & Adidas Have Revealed Their First Collab & More Designs Will Be Released In 2020
All-black sneaker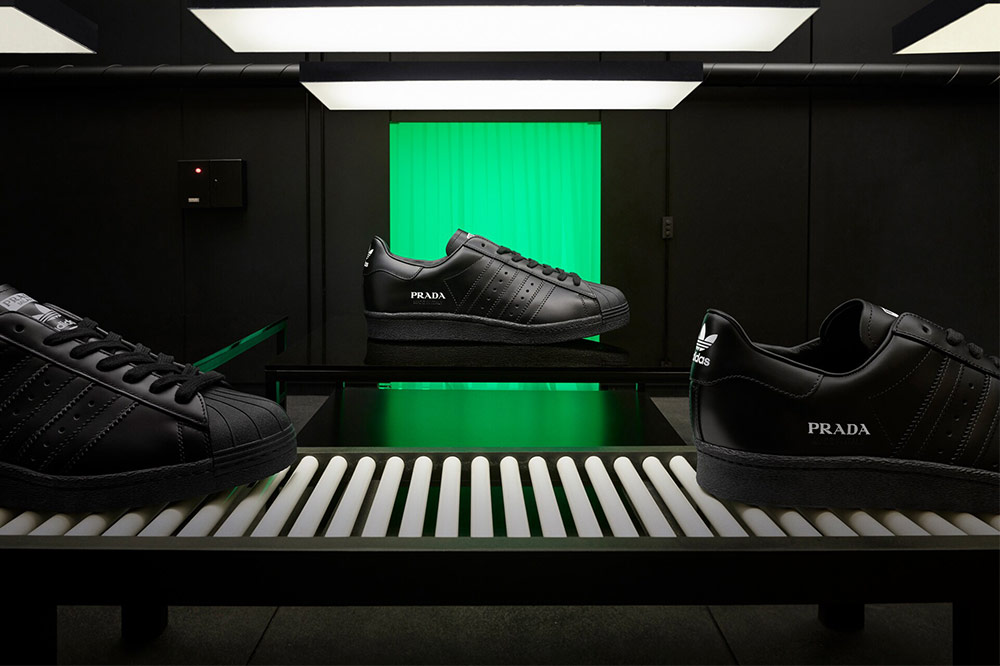 Source
If you are a hardcore minimalist, the all-black Superstar sneaker will appeal to you. 
Source
The entire shoe is jet black, including the sole, save for a white Prada logo. It is imprinted with Prada's logo and hot-stamped with 'MADE IN ITALY' to differentiate this shoe from the ones you wore in junior college or polytechnic. 
Classic black and white sneaker
Source
Ten or more years ago, the Superstar shoes were the go-to footwear for plenty of students with its instantly recognisable designs. They were mostly white with the stripes coming in all sorts of colours—green, pink, red, navy—so picking one out was like buying treats at the candy store. 
As a grown up, the black-and-white design could be a better fit for your lifestyle. It will go well with a casual T-shirt and jeans or even a blazer and pants for a K-drama 'oppa' look. Honestly, these shoes will go with just about any outfit that doesn't require heels or a dress shoe. 
Previously launched all-white sneaker and bowling bag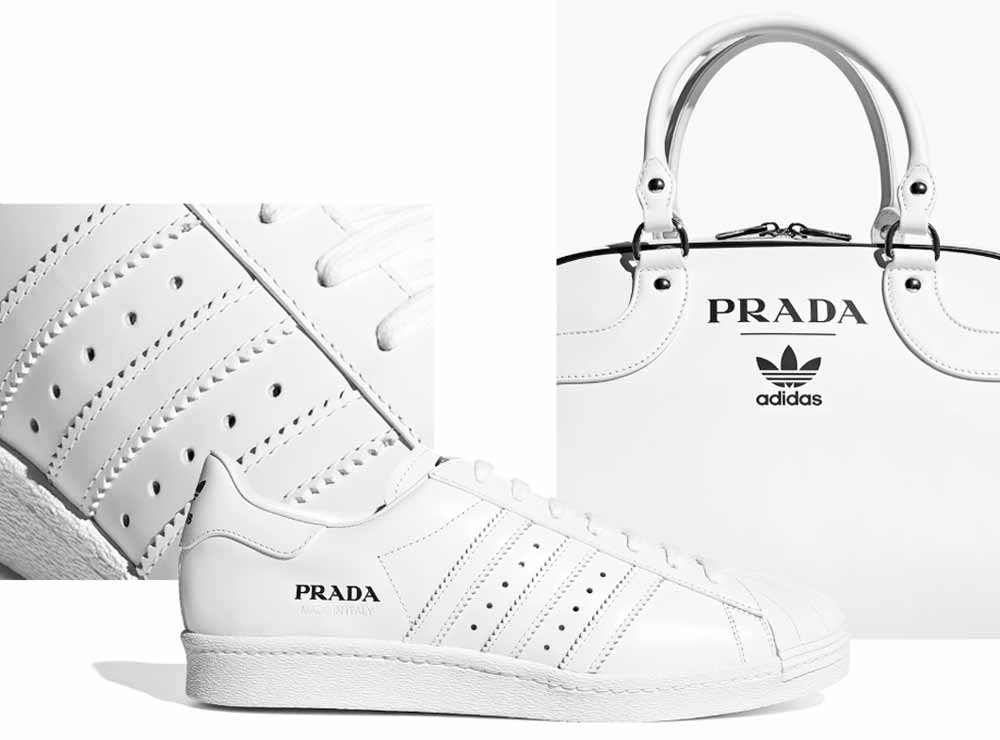 Finally, the sneaker that started it all: An all-white piece that came with a bowling bag; they have all been snapped up at this point. 
If you want to get your hands on this white beauty, you will either have to purchase them second hand from trading sites like StockX or wait and see if Prada and Adidas will relaunch it at some point. 
New Prada x Adidas Sneakers Will Come In 3 Colourways
The silver-and-white, all-black and black-and-white sneakers will launch on 8 September 2020 at 10am CEST (Central European Summer Time), which works out to be 4pm SGT. The sneakers are said to be available in Prada boutiques and on adidas' website. Stay tuned to Prada's website for more announcements, as we wait to see if the shoes will be available in Singapore. 
Cover: Source
Also read:
Loewe's New Coriander Perfume & Candles Are A Dream Come True For Coriander Lovers