Proposing Overseas
Most of us only get one shot at a romantic proposal and it's a moment that will forever be embedded in both parties' memories. Needless to say, it's an extremely pressurising and nerve-wracking position to be in, no matter where you're planning to pop the question.
If you're toying with the idea of proposing overseas, 3 men who successfully did the deed share their experiences and advice so you too can impress bae with an off-the-charts proposal experience.
Be alert and have backup plans prepared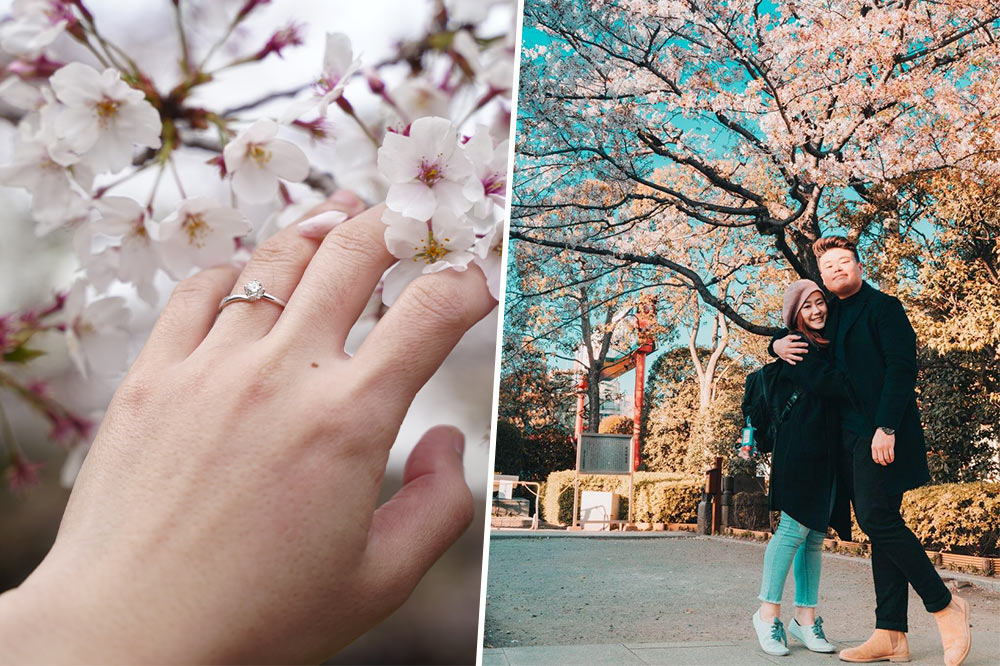 Don proposed to Jaslyn in Tokyo Disneyland in Japan
"I chose to propose in Tokyo because [Jaslyn had] wanted to visit Disneyland since we started dating. I thought it'd be a good opportunity to make her first [visit] a memorable one," Don Lim, 28, shares. 
He'd initially planned to propose in front of the Cinderella Castle during the fireworks show. As the day progressed, however, his plans kept getting disrupted. 
Don adds, "I was planning to dress [up], but the weather wasn't cooperating. We had to wear ponchos and thick jackets since it was [freezing]. I'd also planned to capture the proposal myself, with my camera mounted onto my tripod. But upon entering the park, the staff disallowed me from using it."
Things only got worse. Don learnt midday that the fireworks show had been cancelled due to the weather. But as night drew near, he noticed the carousel looking extra romantic and dreamy. That was when he decided to proceed with the proposal. 
"I underestimated the cold and how nervous I would be kneeling on the wet floor in front of a small crowd. Everything I [had] prepared to say was replaced with giggles of, "How long more do I have to kneel?" as she went "OMG" over 20 times."
"I think proposing abroad automatically makes [things] a little more romantic and special, no matter how simple [the proposal] is. If you're planning to propose overseas, kudos to you! Keep calm and remember to rehearse what you want to profess to her, because it'll stay with [you guys] for life. Plans can fail, but ride with the wind and just do it. Planning any sort of surprise for your partner already speaks volumes about your love for her," he says.
Also read:
8 Romantic Restaurants In Singapore Worthy Of Date Nights And Proposals
Surprise her with creativity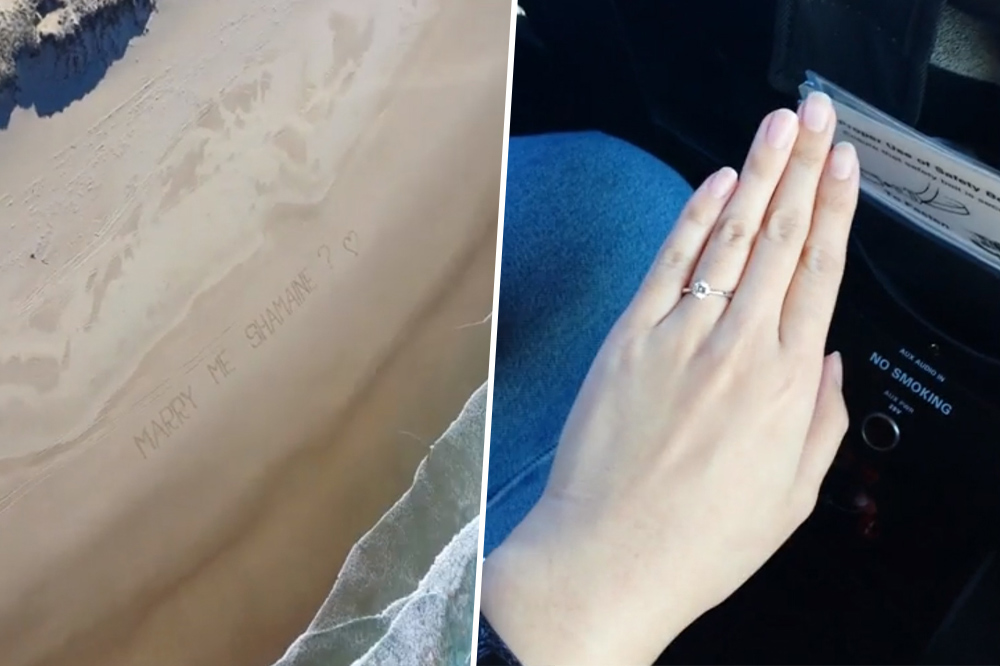 Jacob proposed to Shamaine on a helicopter above Gold Coast, Australia
Jacob Seet, 30, felt that a proposal in Singapore would be too mainstream and predictable. He decided to surprise his then-girlfriend, Shamaine, by proposing overseas in Australia instead. "I was studying in Brisbane [at the time] and had been dating Shamaine for a good 4 years. I decided to propose to her the same year we both decided to purchase our BTO."
Upon further research, he found a handful of interesting ideas. But what stood out to him most was a proposal service package that comprised renting an island, transport by helicopter and a fine dining set -up.
As the helicopter company was based in the Gold Coast, he planned for a short "getaway trip" there and flew Shamaine over from Singapore.
He arranged for the pilot to fly his guitar and picnic basket over to the island in advance on the morning of the proposal. That day, he told Shamaine that they were going "skydiving". 
"We got on the helicopter and it was really exciting for the both of us as it was our first time on board a helicopter. 
"As we were approaching the island, the words "MARRY ME, SHAMAINE?" could visibly be seen [written in] the sand. That's when I proposed," Jacob recalls.
Upon landing, they enjoyed their picnic, which had been set up by the company.
He advises, "I think it's important to be creative and plan ahead to make this once-in-a-lifetime opportunity memorable and outstanding. Factor in all possible logistics. If you have cash to splash, you can save yourself the hassle by opting for such services."
Engage a photographer based in the country you'll be proposing at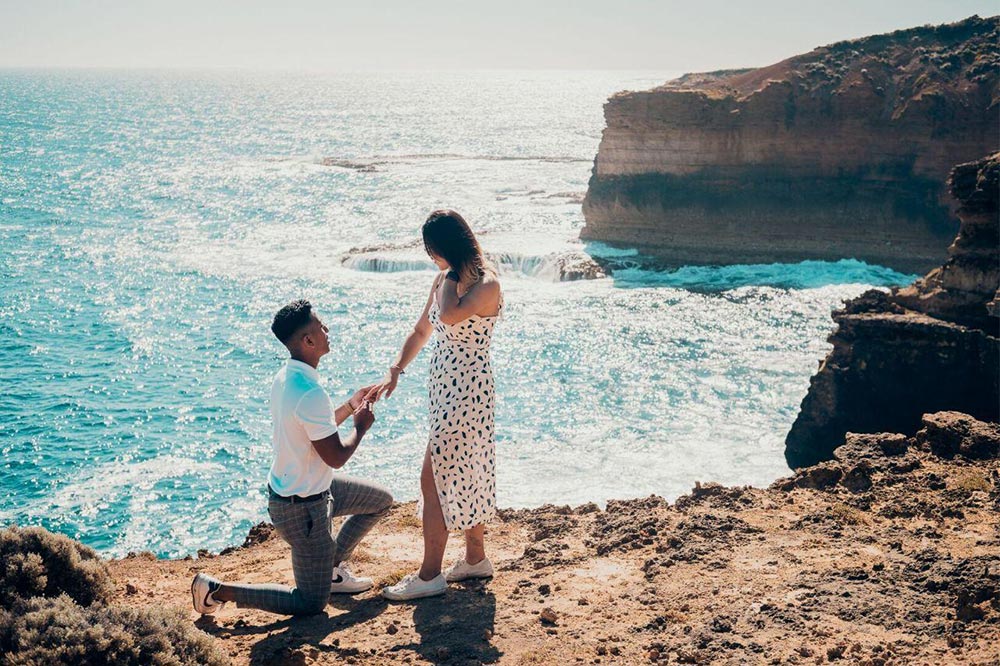 Rafiq proposed to Kai Ting in a grotto in Melbourne, Australia
Rafiq Rahim, 26, says, "I planned [the proposal] months in advance prior to our trip to Melbourne, Australia. I knew I wanted to propose to Kai Ting at a scenic place, so I eventually settled for a grotto along Great Ocean Road."
Rafiq hired a photographer to help document the proposal. Despite the additional cost, he shares that it's a worthy investment as it saves you from worrying about one more aspect of the proposal. If you intend to hire a photographer, consider following in his footsteps and engage one based in the country you plan to propose at to save on airfare.
Above all, he stresses that the most important thing is that your photographer is familiar with the environment of your proposal venue.
"[Seek] their advice on scenic spots—they could provide valuable input and show you pictures that they've snapped there before," he suggests.
Communication is key, especially since they'll be "undercover". He emphasises the importance of running the cues to start shooting and arranging contingency plans with the photographer. 
A specific spot within the proposal venue was marked as the cue for the photographer to start shooting upon their arrival, but Kai Ting ended up walking in the opposite direction instead. Rafiq had to go with the flow and capture the moment with his "emergency" GoPro. Fortunately, the photographer was vigilant enough to notice the change in plans and managed to capture the proposal on camera.
"My advice for guys interested to propose abroad would be to plan wayyyy in advance and consider hiring a photographer if you can't manage your own photography or videography. Coordinate and ensure that the cues are clear, and run a couple of backup plans by him or her," he shares.
Advice For Men Planning To Propose Overseas
Proposals are daunting and overwhelming to begin with. It goes without saying that proposing overseas is a whole other ball game.
The general consensus from these 3 accounts is to plan ahead to ensure that the proposal goes smoothly. That entails thorough research and a conscious effort to explore your choices, including the venue, itinerary, logistics, and so on. 
Above all, it is most important to factor in a budget and spend within your means. With passion and sincerity, any proposal will definitely be romantic and magical.
Also read: