Public Breastfeeding Movement: Bare It For Baby
Third-year Wee Kim Wee School of Communication and Information student Dayna Yin, 23, started a class project encouraging people to talk about boobs.
More specifically, she created a social campaign, Bare It For Baby, to promote and raise awareness for public breastfeeding.
Inspired by her elder sister, Dawn, who is breastfeeding her second child, Dayna wants her sister and other Singaporean mothers alike to be able to feel confident and comfortable with nursing in public.
Providing breastfeeding information for mothers
Initially, Dayna faced some criticism from naysayers who felt being unable to publicly breastfeed was a 'First World problem', unworthy of being a social cause.
Undeterred, Dayna began documenting the breastfeeding journeys of mothers. Through sharing personal stories and brightly-coloured photos of mothers nursing in various public spaces, the campaign gradually gained momentum.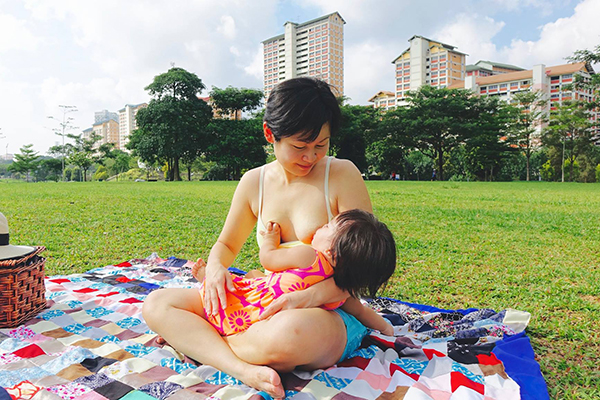 When speaking with #momswhobare, Dayna realised nursing babies is not something "mothers just get".
She shares the opinion of Kelly, 36, a nurse who noticed a knowledge gap between mothers and breastfeeding. Even among healthcare professionals, information isn't readily available.
Through stories, Bare It For Baby seeks not only to create a supportive community, but also a platform which provides information on breastfeeding.
But having breastfeeding mothers on board wasn't enough to realise this goal—Dayna needed to rope in the support of the public.
Desexualising the breast and getting non-mothers involved
Public breastfeeding in Singapore still carries a stigma. Mothers who nurse in public run the risk of getting 'Stomp'-ed, and are often on the receiving end of stares and dirty looks for being 'obscene'.
However, to the breastfeeding mother, the breast is not perceived as a sexual object but a means of nourishment for their baby.
"It's a constant battle between people feeling like they can take pictures of you like you're doing something wrong versus a mother who wants to feed their kid," Dayna explains.
"You can't choose when your kid needs to eat. When the kid needs to eat, he needs to eat!"
One way to reduce the stigma of public breastfeeding is to stop thinking of breasts as sex objects. But, Dayna does realise a short eight-week campaign is not going to change people's minds.
Hence, she aims to encourage talk around breasts and the notion mothers should be able to feed their babies whenever.
To kickstart this conversation, Dayna made short, fun videos about food which look like boobs, titled 'Breast Meal Ever'.
"If you wanna raise awareness, you have to include non-mothers. Through discussing with mothers what boobs mean to them, this is how they can still be part of the conversation," she shares.
The Future Of Bare It For Baby
Dayna's plan seems to be working as the response to the Bare It For Baby campaign has been overwhelmingly positive.
Besides having classmates and breastfeeding mums commend her on the campaign's efforts, her work has garnered attention from publications including Shin Min Daily News.
Encouraged by the feedback, Dayna has decided to continue with the project after the school term wraps up.
"I'd definitely encourage more mothers to come forward with their stories. I do believe mothers should be able to have the choice to breastfeed anywhere."
Looking at her sister, she adds, "After all, mothers shouldn't have to feel embarrassed about feeding their child."
If you're a breastfeeding mum and want to be featured in the Bare It For Baby campaign, you can get in touch with Dayna through the campaign's Facebook page or Instagram page.
Alternatively, you can share your public breastfeeding pictures under the tag #momswhobare