Qiu Qiu Tea
It's not wrong to say that Singapore is a BBT nation – we simply can't get enough of those sweet drinks. From neighbourhood shops to franchises in swanky malls, they are almost everywhere you turn. Now, there is a new Doraemon-themed bubble tea shop called Qiu Qiu Tea that just opened in the East. 
With an adorable interior design and 30 menu options to choose from, BBT and Doraemon lovers are in for a treat. 
The shop
Good news for Easties as Qiu Qiu Tea is located in an HDB estate in Eunos, just a 5 minute-walk from Eunos MRT Station.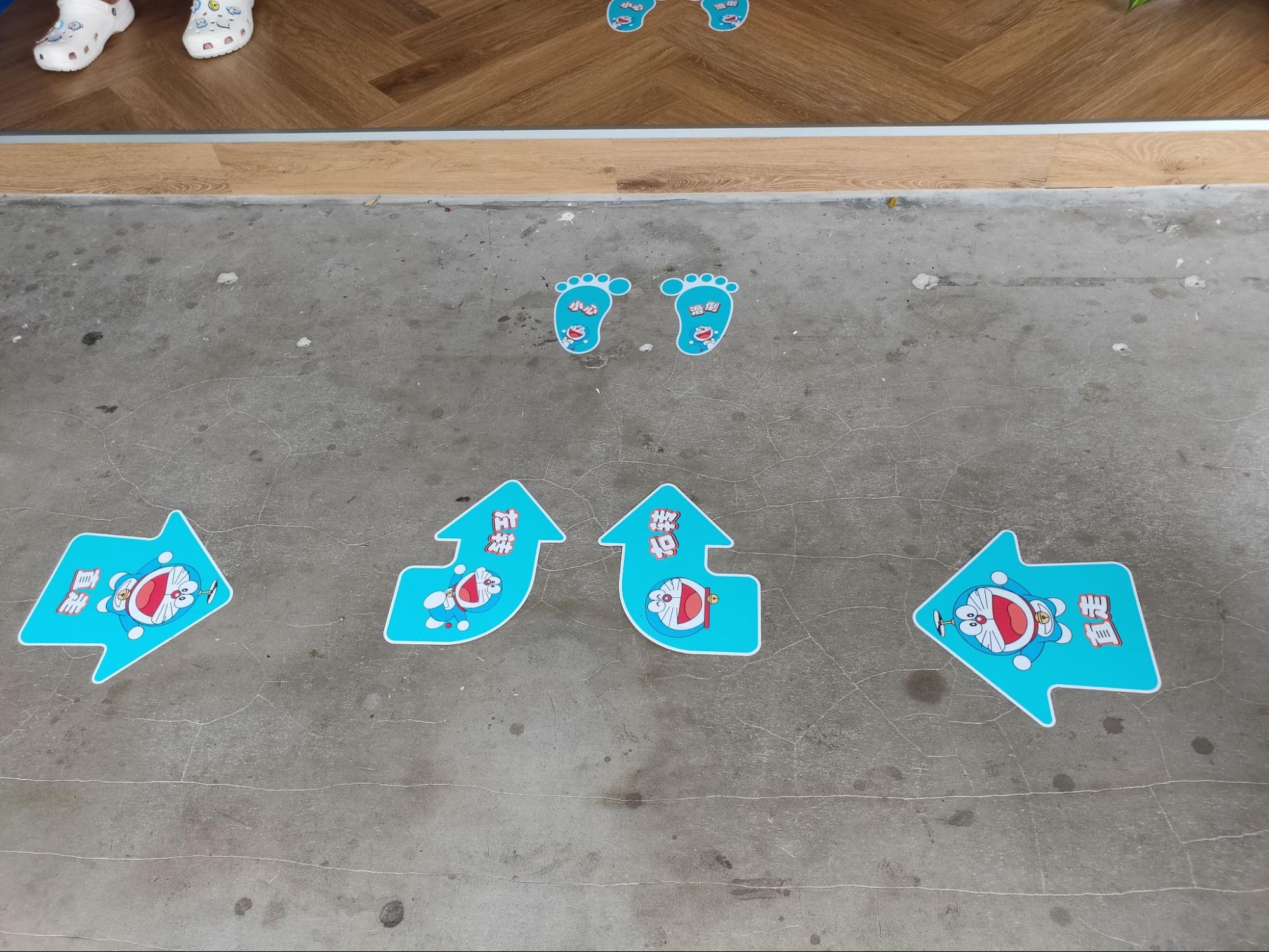 Source
Before you even walk into the shop, the bright Doraemon stickers on the floor will grab your attention. Some of them read "walk straight," "turn left," "turn right," and even tell you to watch your steps. 
Once you step inside, you'll be greeted by the yellow and blue hues of their interior design ‒ such as the wall paint and the Doraemon curtains.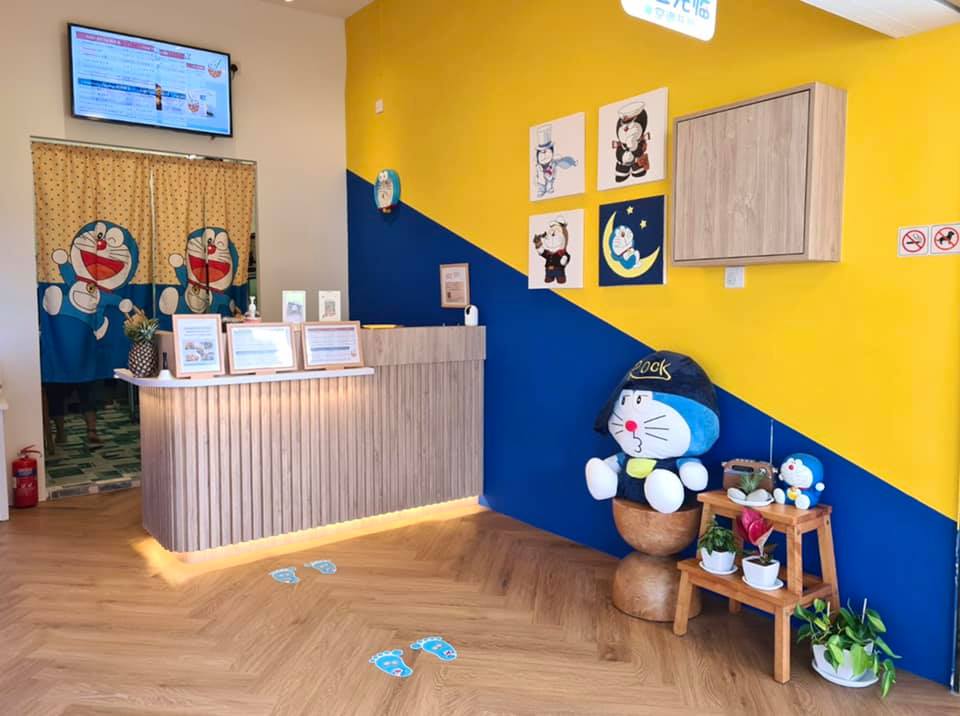 Source
Directing your attention to the wall on the right, there are also 4 canvas artworks that feature Doraemon in different outfits. Right below them, you won't miss out on the set up with 2 Doraemon plushies and a couple of potted plants ‒ an IG-worthy spot for your bubble tea.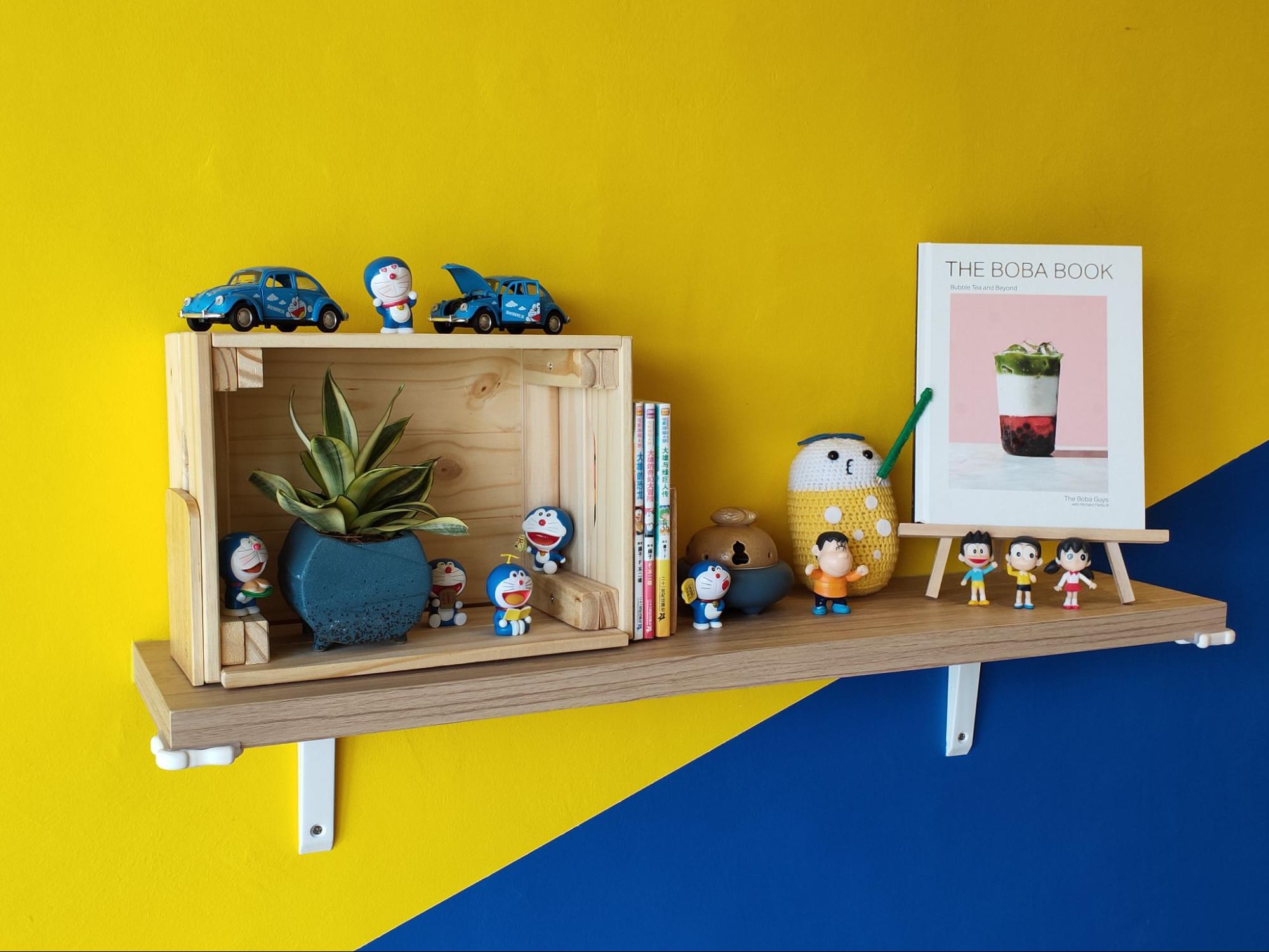 Source
On the opposite side of the shop, there is also a mini set up with numerous Doraemon and friends figurines. Plus, there's even a BBT-themed book displayed.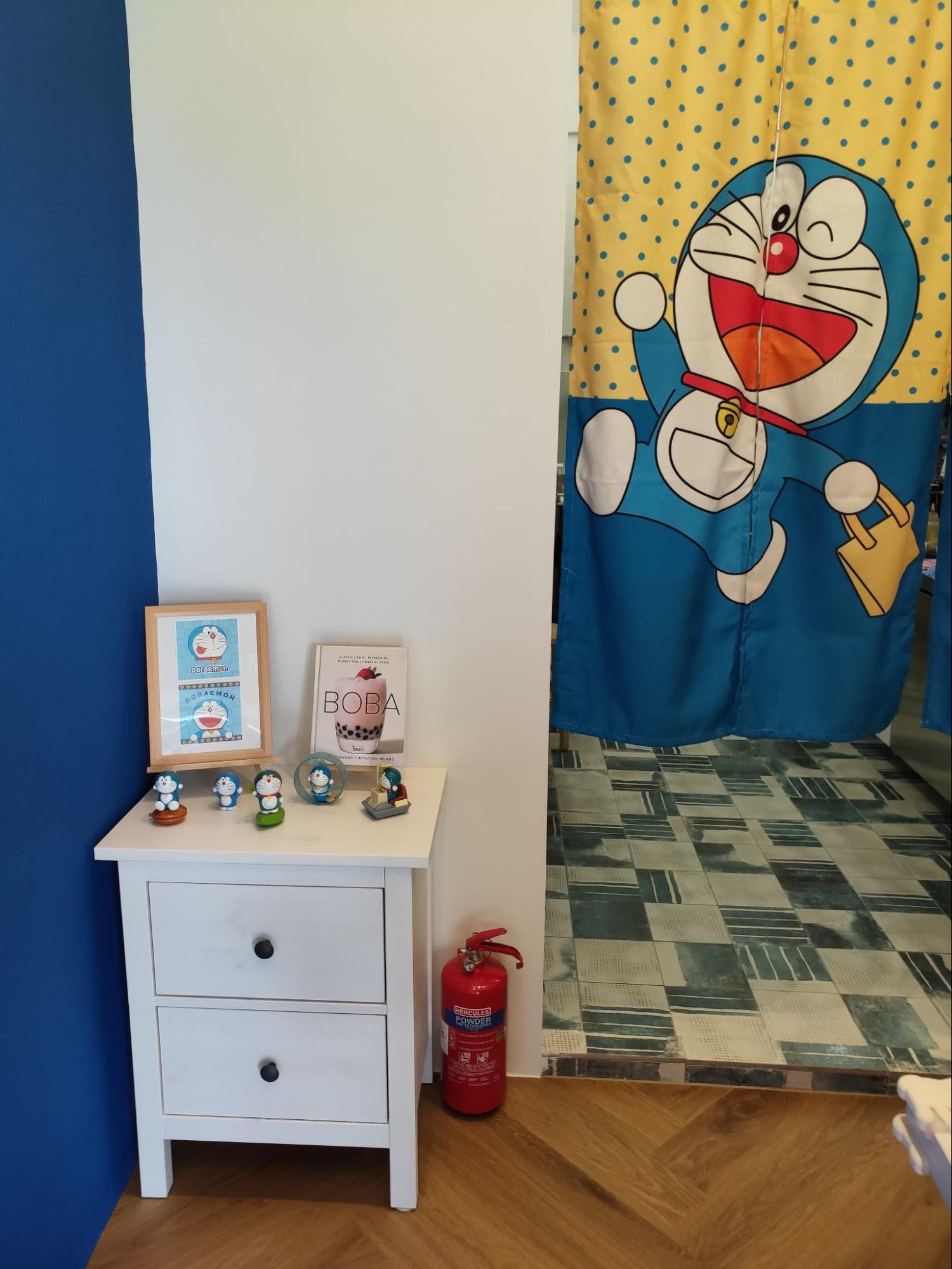 Source
That's not the end as just beside the counter, there are even more Doraemon figurines displayed neatly.
The drinks
Those who enjoy trying out new menu items would be glad to know that Qiu Qiu Tea has 30 assorted drink selections ‒ from the standard concoctions to unique mocktails. The best part? They start from as low as $2 and come with free pearls. 
Based on Qiu Qiu Tea's Facebook post, one of their bestsellers includes the Mauritian Surprise with fruits. It is from their mocktail menus and perfect for those who enjoy sipping on fruit-based beverages.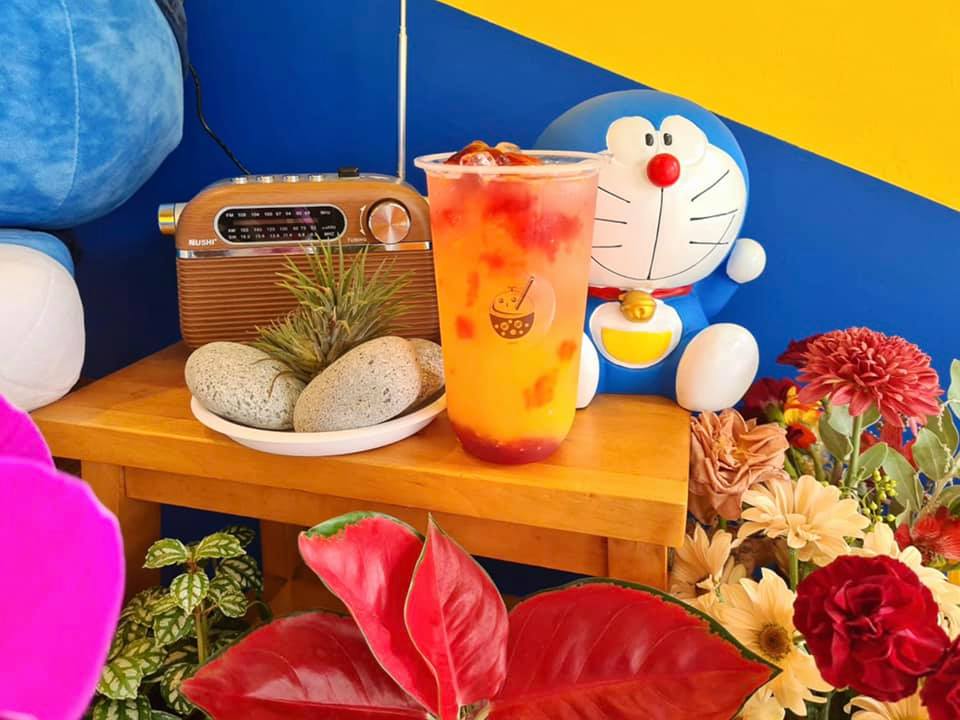 Source
The Mauritian Surprise with fruits is priced at $4.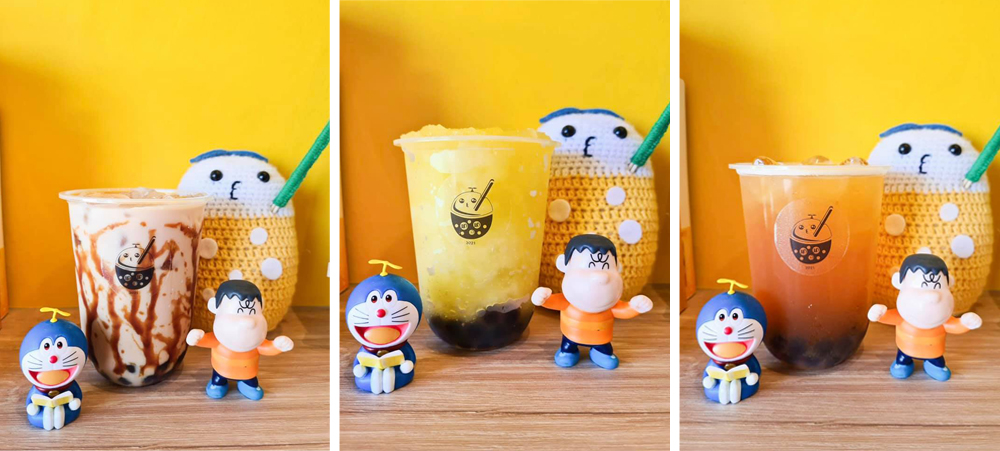 Irish Cream Milk Tea $3, Golden Lime Ice Tea $2.50, Honey Peach Fruit Tea $2.50
Source, source, source
Milk tea lovers can try out their Irish Cream Milk Tea which comes with a layer of drizzle of syrup on top. Their Golden Lime Ice Tea, on the other hand, will quench your thirst and leave you with a refreshing aftertaste. Plus, you can never go wrong with Honey Peach Fruit Tea in the hot weather in Singapore.    
For the full menu, you can find them via Qiu Qiu Tea's Instagram. 
BBT Lovers Can Head Down To The New Doraemon-Themed Bubble Tea
If you're looking for a new place to explore with your BBT gang, you can now visit Qiu Qiu Tea. Only for a limited period of time, Qiu Qiu Tea is also having a 50 cents discount for every cup of bubble tea purchased as part of their opening promotion. 
Address: 5 Eunos Crescent, #01-2605, Singapore 400005
Opening hours: 10am to 8pm daily 
FacebookㅣInstagram
For more bubble tea related news, check out the world's first bubble tea PC. 
Also read:
This Bubble Tea Soap Set Has Herbs, Oolong Tea & Brown Sugar To Let You Finally Get A "Healthy" BBT Fix