Aftershock Bubble Tea PC
Calling all bubble tea lovers and gamers – there's a new PC in town that lets you combine both of your favourite things into one. Singapore brand Aftershock has recently created the world's first bubble tea PC specially made and requested by a customer. Filled with realistic pearls made of high-quality plastic to complete the look, you can now have a video game par-tea right in your very room.
The design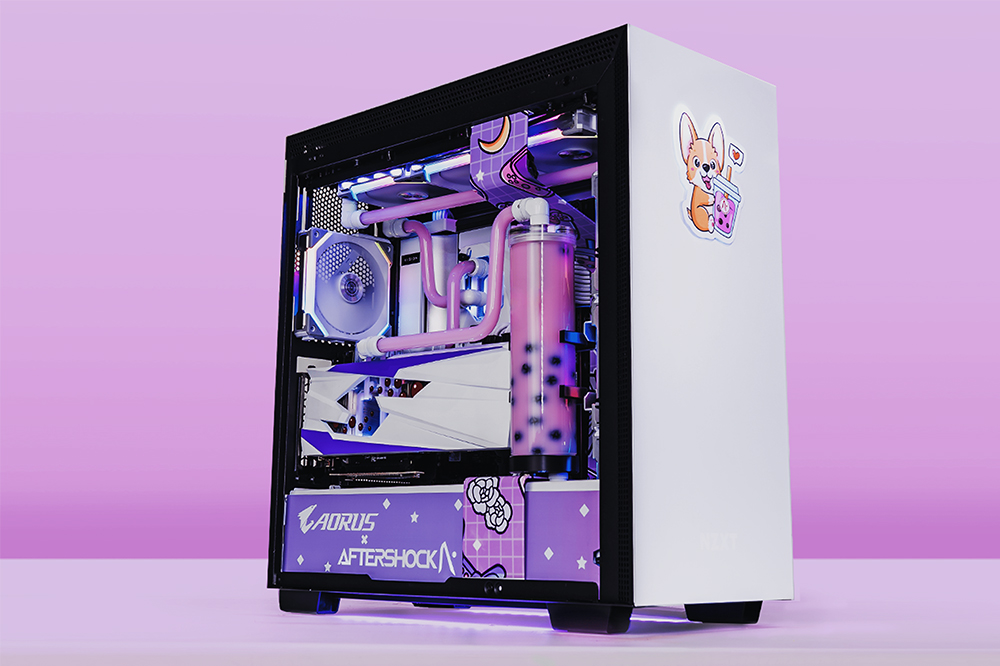 The PC's interior takes on a pastel purple coloured palette. On the side, a kawaii motif of a corgi holding onto a cup of bubble tea can be seen. This corgi logo was inspired by the owner's beloved pet dog, which also glows to add some immersive gaming vibes to the PC.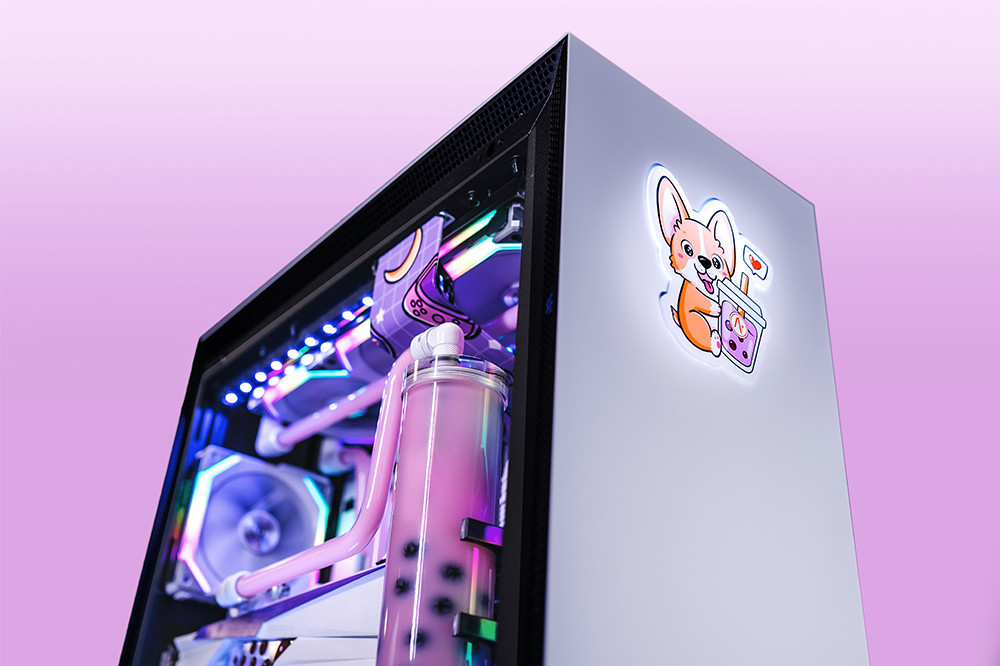 The main star of the show is no doubt the PC's hand assembled water-cooling system, filled with a creamy purple liquid that looks just like a cup of taro milk tea with pearls. This realistic BBT coolant pumps to cool the CPU system down, just as how a refreshing cup of boba relieves us on hot days, resulting in the "pearls" to swirl around naturally.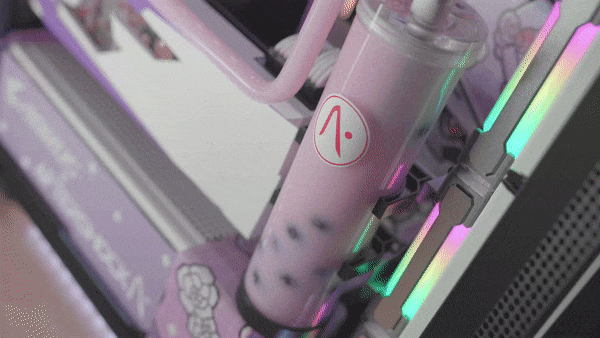 As the liquid in the coolant is constantly moving to allow heat to be removed quickly, the pearls in the "bubble tea" also swirl and float around while you game. This reminds us of when we're mixing our BBT before drinking it so that everything is blended perfectly.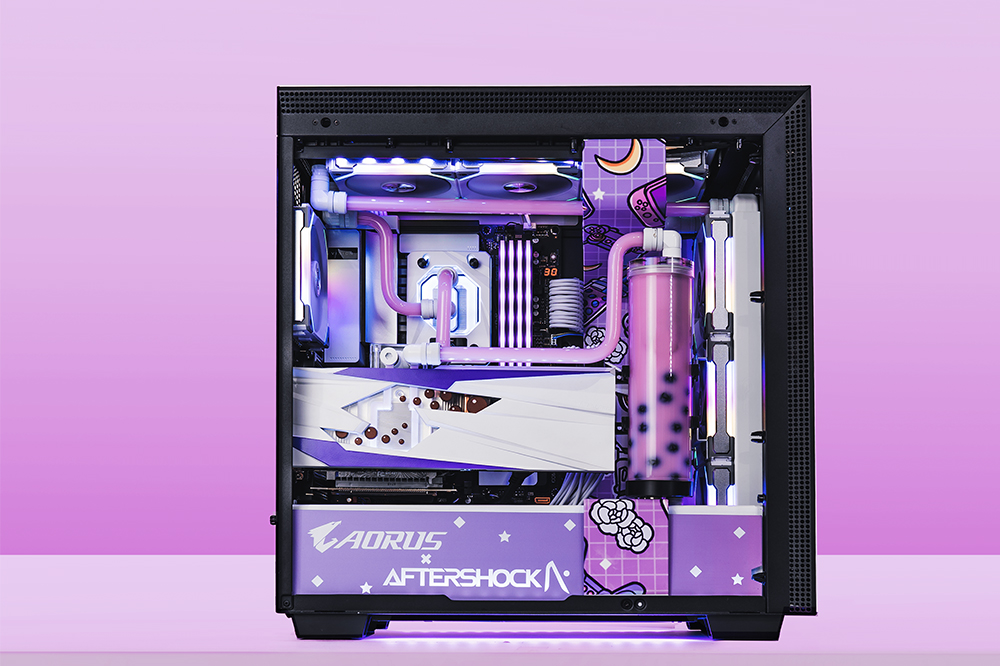 Upon closer inspection, additional design details such as flowers, game consoles and moon motifs can be found around the front plate, cable shroud and PSU.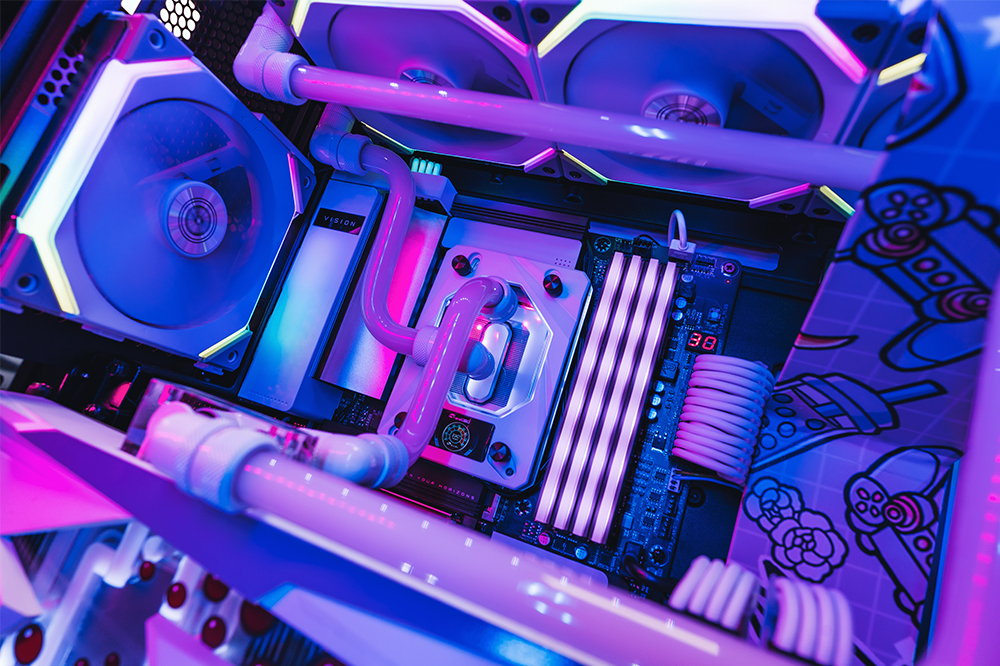 Besides the chio design of this bubble tea PC, it also features some of the most powerful computer components combined together. The CPU makes use of Aftershock's AMD Ryzen 9 5950X that can complete any gaming or work task you throw at it with ease and efficiency. 
The GIGABYTE B550 Vision DP Motherboard also ensures high performance, clear graphics and ultra-fast storage — bid goodbye to laggy gameplays that are frustrating to deal with.
This Aftershock Bubble Tea PC Is The Sugar Rush You Need To Get Hyped While Playing Games
If boba is life just as much as gaming is for you, perhaps this bubble tea PC is the system you need to get your cravings satisfied. Find out more information about this PC on Aftershock's Facebook page, and maybe you'll be inspired to bring the next crazy PC idea together with them via their website. 
If you're looking for more custom-made ideas in the meantime, check out this list of personalised gifts in Singapore to get for your BFFs. 
All images courtesy of Aftershock.
Also read:
Aftershock Laptop Review – How I Juggle My Day Job & Editing Photos With The Forge 15S