Rachel Wong Addresses Plastic Surgery Rumours
Many people suspect popular Instagrammer Rachel Wong of having done plastic surgery because she looks drastically different from her younger days. Today, speaking to us for an episode of Pillow Talk, she puts those rumours to rest. 
"Contrary to Google Search, I've never done plastic surgery. I have done fillers and Botox though. I feel that plastic surgery is too permanent, that's why I have never done it," she says before explaining her struggles with her appearance while growing up. 
Bullied in school for her complexion
Rachel was bullied for her bad complexion in secondary school. Schoolmates called her "Clean & Clear", after the oil blotters she used to keep her oily skin under control. They also ostracised her. 
The 26-year-old shares, "I was from a girl's school, there's a lot of politics. I remember not having anyone to eat recess with, I remember eating sandwiches in the toilet." 
"When you're young and you don't know how to control acne, you want to control something. My weight was something I could control…. with the bullying, with the acne, I kind of fell into [an] eating disorder."  
Since then, going to the dermatologist has improved her complexion, which looks practically flawless now. She also no longer suffers from an eating disorder. However, one thing that has not changed is her ADHD.
Suffering from Attention Deficit Hyperactivity Disorder (ADHD)
Besides being bullied in school, Rachel would often quarrel with her mum, who did not understand why she could not sit down and pay attention. The bullying and feeling frustrated about being unable to perform in school led her to visit a psychiatrist on her own.
She explains, "I was 17 or 18, and I was in a really bad place. I was pretty suicidal and I was very depressed. I felt like if I wanted things to change, I had to see someone."  
"It's a lot easier to talk to a psychiatrist than to someone who already knows you. Someone who doesn't know you can help break it down for you, like, 'Why do I feel this way? Next time, what can I do to not feel this way?'"  
Being diagnosed with ADHD provided her with the means to accept her condition and shortcomings. Talking to a psychiatrist also helped her to love herself and all her flaws. 
"[I'm] definitely a lot more self-aware, definitely love myself a lot more now," she sums up the positive changes since her difficult teenage days.  
Her improving mental health also subsequently made her relationship with mum better. Rachel elaborates, "After I saw the psychiatrist, she could see that I'd changed." Now, she tells her mum "everything: about boys, friends, work."  
While she is no longer on medication, she would not hesitate to see a psychiatrist if she were to go through a rough patch. "I would rather go see someone than take it out on myself or people around me." 
Accused of stealing someone's boyfriend
As a public figure, Rachel rarely shares about her love life these days. This is in contrast to her first boyfriend, C, whom she met through Facebook. 
Rachel says, "I posted about C a lot. When things ended, it was [of] my own accord. But later on, I found out that he'd cheated. I think a lot of people don't know that. That is why it was very easy for me to fall for D."
D is her second boyfriend, whom she met through a friend from LASALLE.
"She was a pretty close friend. I was really scared to tell her that I was having something on with D 'cause I knew that she liked him," Rachel explains. "I posted a photo of D and that is how she found out, which I am always going to be sorry for. I did call her after I posted the photo. I did say sorry to her. I said, 'I was just so scared to tell you.'"  
Rachel adds that D and her friend weren't dating but the public seemed to believe Rachel stole her friend's boyfriend. 
"People online are so vicious; they were tagging my family on Instagram. I remember my sister calling me and she was the one crying," Rachel recalls the traumatic time. Her mother even received messages asking, "What kind of daughter did you bring up?" 
She elaborates, "That was the hardest thing to deal with. I became very private after that, 'cause I felt like I had to protect my family. I chose this life, I know that I have to deal with these things. But they didn't choose it, and they shouldn't have to deal with it."
After the incident, the relationship lasted for 3 years before she ultimately decided to end it. 

Also read:
Xiaxue On The Guilt Of Motherhood, The Worst Day Of Her Life And Why She Broke Up With Yan Kay Kay
A supportive friend 
Something good did come out of the whole saga. Rachel wells up with tears as she talks about her best friend Melvin, who stood by her through the accusations. 
While he didn't talk to Rachel about her feelings, Melvin often asked her out to ensure she was not suffering alone during the difficult period. She recounts the times they partied enthusiastically at Helipad: 
"I've known him for 7 years. It's pretty crazy because I knew him through my first boyfriend. We only used to party together, every Wednesday, Saturday and Friday. He's very upset people keep mistaking him as my boyfriend." 
Recently, they went through an 8-month cold war due to a misunderstanding. But eventually, Rachel decided to put aside her pride and asked him out for a meal. Since then, they have been texting daily and are practically inseparable. 
Rachel Wong Is A Successful Instagrammer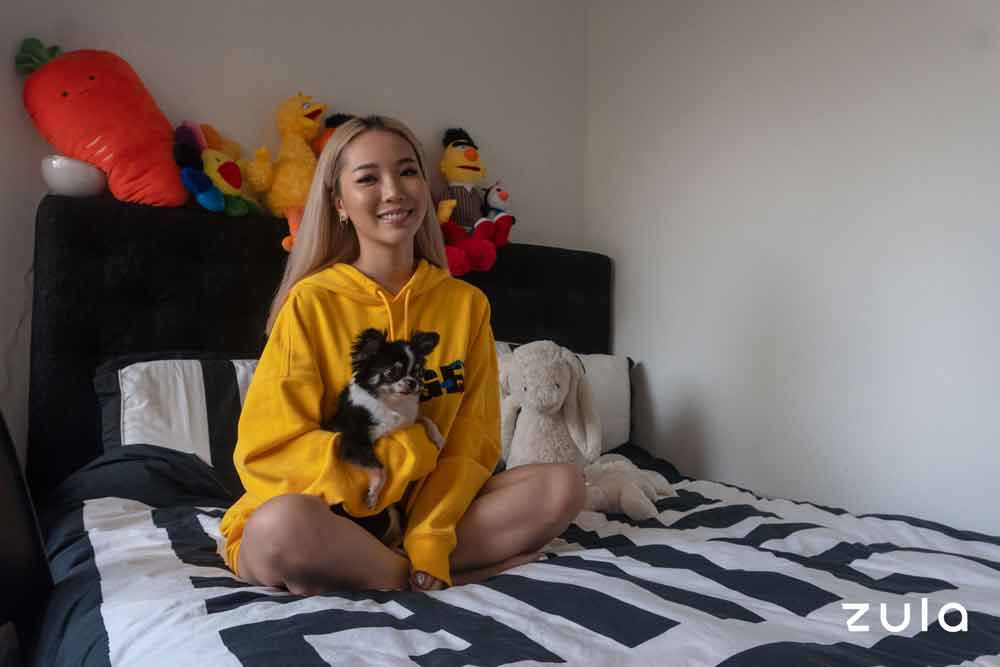 Looking at Rachel's social media, one would not guess she had a difficult time growing up. Her willingness to open up to a stranger—a psychiatrist—gave her the breakthrough she needed to accept herself.
Over the years, she has also learnt ways to manage her ADHD, such as by snacking and taking frequent breaks when she has to reply to emails. She is thankful for a job that gives her the freedom to determine her own schedule. 
Fans have also wondered if Rachel has other secret sources of income after seeing her tout luxury goods on her social media. She clears up the air:
"I come from a very average family. I started blogshop modelling when I was 19 and haven't taken money from my parents since I was 19. Everything that I own, I bought myself. If you work so hard, just buy what you wanna buy." 
She sheds light on some of her big purchases over the years, "My dream was to buy a Birkin before I turned 21, and so I did that. My next dream was to help my dad get a continental car and I also did that already."
Faced with difficulties, Rachel looked for solutions instead of pitying herself. She grew from her experiences, found creative solutions to work around her limitations and even put her pride aside to save an important friendship. 
For now, she is happily single and excited about an upcoming beauty-related launch in 2020. She is keeping it hush-hush, so you'll just have to keep your eyes peeled on her social media to find out what it is.
Also read:
Fauzi Aziz Opens Up About His Encounters With Death And His OCD
Photography by Sebastian Tan