Zula Team Tries: Rare Beauty Soft Pinch Tinted Lip Oil
"OMG I saw this on TikTok, we have to try it." Sounds familiar? With how Gen Z has pretty much taken over the social media app, it's common to hear our friends raving about a new product that's trending there. Recently, the Rare Beauty Soft Pinch Tinted Lip Oil has taken the app by storm, with many beauty influencers gushing about how it's a new must-have lippie.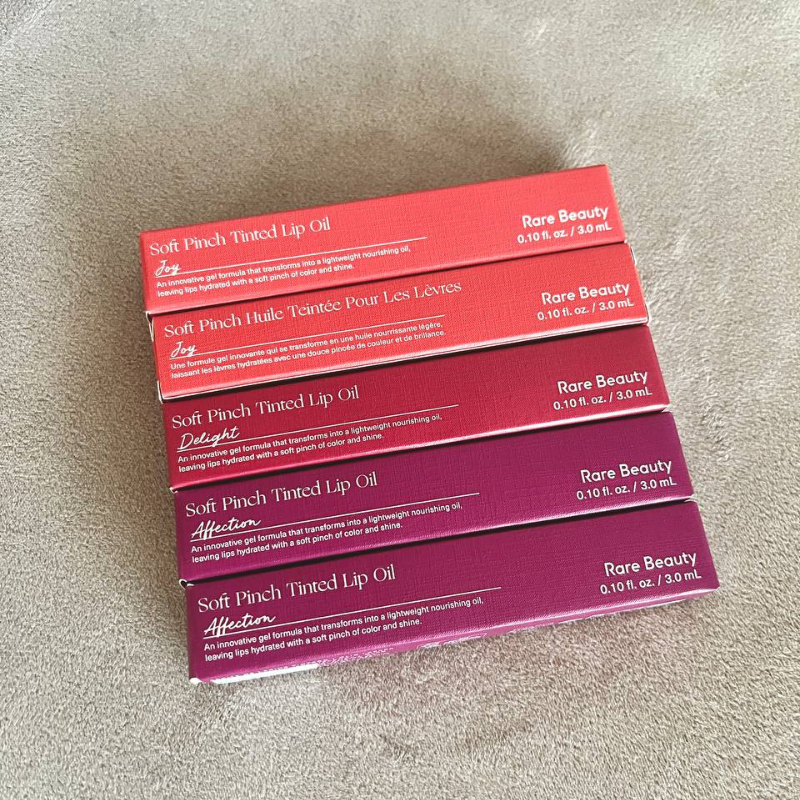 Image courtesy of Gwen 
For the uninitiated, Rare Beauty is Selena Gomez's makeup line, with products that are often highly raved about because of its high quality. It's no surprise that the new Soft Pinch Tinted Lip Oil has now made it to the list. 
NGL, because of the TikTok craze, I headed down to Sephora to check them out for myself too. Though there are 8 shades in total: Affection, Delight, Happy, Honesty, Hope, Joy, Serenity and Wonder, I was disappointed to find out that all of them sold out within a day. 
The lip oil claims to be lasting, moisturising, non-sticky and will make your lips look fuller, but does it really live up to its claims? We got five of our colleagues who managed to get their hands on the lip oils to put them through an all-day wear test and share their thoughts on the product.
1. Gladys wears the shade Serenity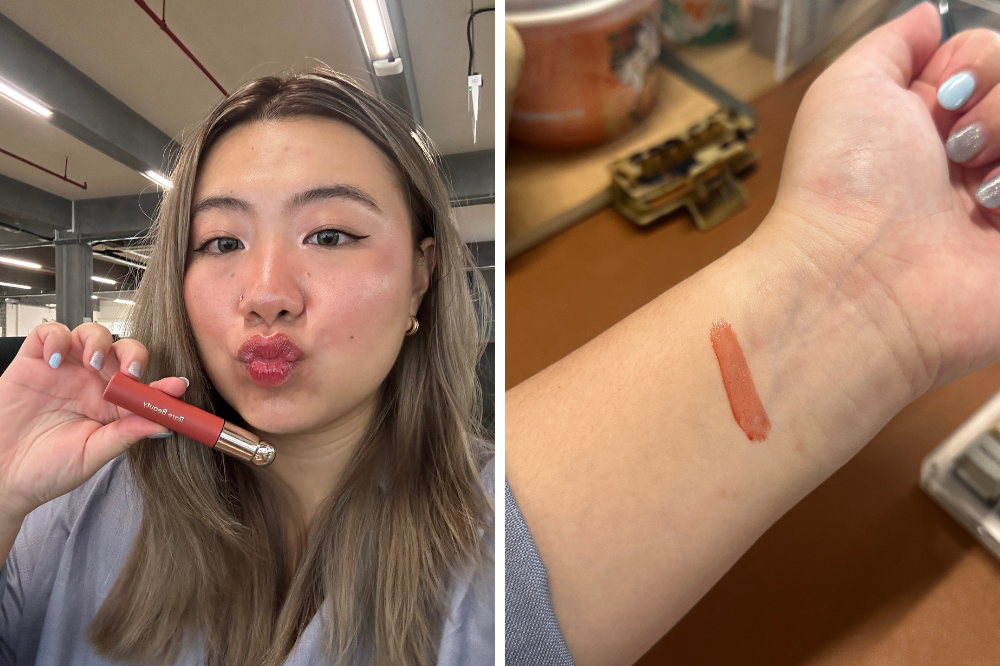 10am: First impressions
"The packaging is very similar to their Soft Pinch Liquid Blush. After letting it settle on my lips, it seemed to turn slightly darker. 
The texture of the lip oil feels more like a jelly tint. There is this minty and tingly feeling on the lips as well, but it's very mild. My lips feel hydrated and I love the shine to it. They don't feel sticky at all and I do see that the lip oil plumps my lips just a little!
I was a little worried that Serenity might look too reddish on me, but it's a nice warm rose colour that suits my skin tone, with brown undertones."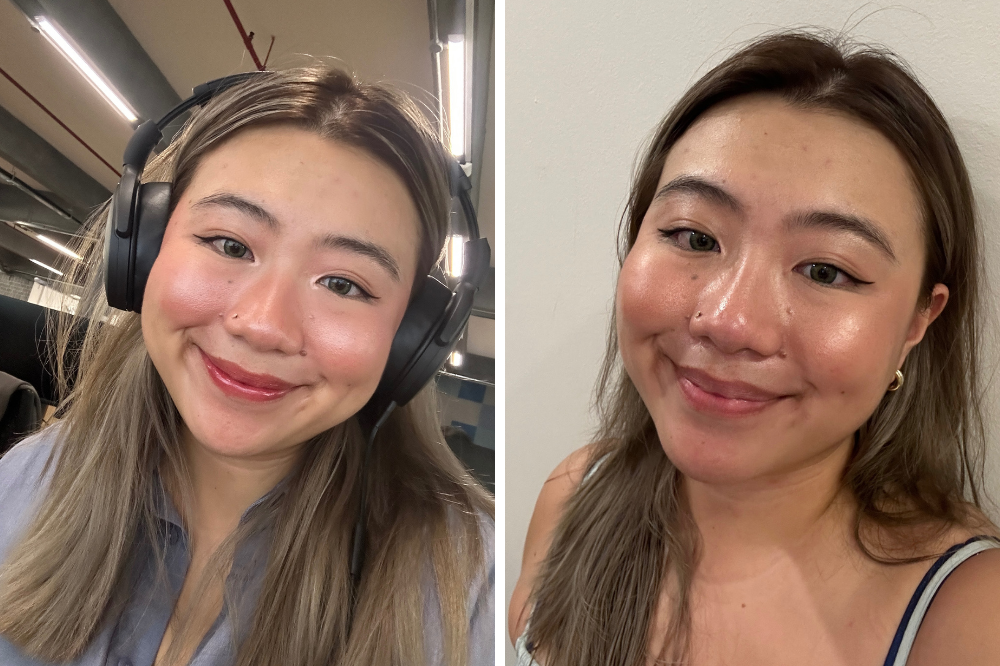 1pm after lunch vs 9pm after dinner
1pm: After lunch
"After eating one banana pie, cai fan and drinking teh, most of the lip oil is gone. I didn't even see any stain left on my lips. But I gave it another try and re-applied it after eating, in hopes that it would stay on till the evening."
9pm: After dinner
"Unfortunately, it's not as long lasting as it claims to be — I had to reapply it twice! Despite that, the colour is still very cute and I love how it isn't sticky on my lips." 
Final thoughts
"Honestly, this might be the first Rare Beauty product that didn't live up to its hype. The price point was a bit more expensive than my usual lip products, but I was really eager to try out the formula. 
I love the colour and texture of the lip oil, but I wouldn't repurchase it, as there are other Korean beauty tints out there that are dupes for this."
2. Joy wears the shade Delight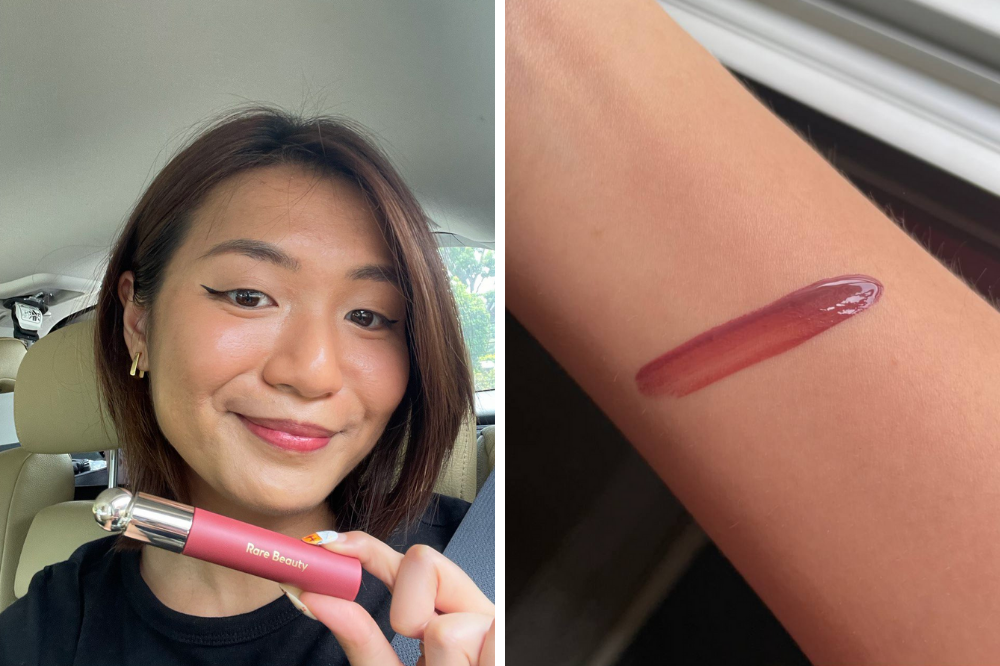 10am: First impressions
"When I applied Delight on my lips, it went on very smoothly and had a natural glossy finish. The colour was more pinkish than I thought, but it had some brown undertones which I loved. 
I am a huge fan of the minty effect it had after I applied it on my lips. It was super refreshing and I appreciated the fact that the lip oil was unscented. 
I usually go for more moisturising lip products because my lips are dry AF, so I was hoping that this product wouldn't be drying as the day progresses. I also had a cup of coffee right after and there was already a bit of residue left on my cup."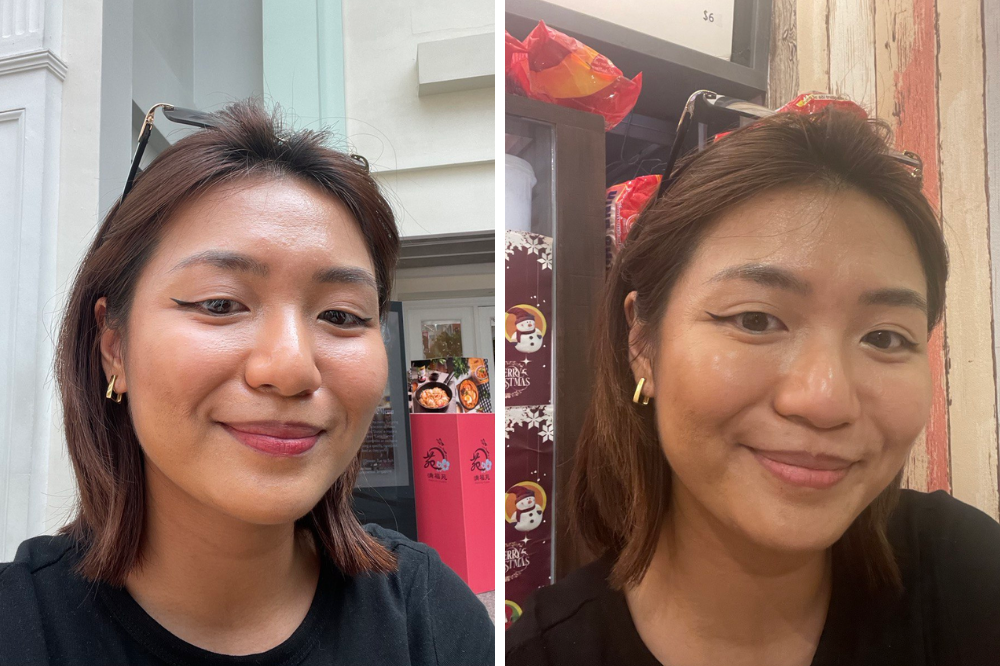 1pm after lunch vs 9pm after dinner
1pm: After lunch
"I had Samyang noodles for lunch and was pleasantly surprised that the lip stain stayed even after I wiped my lips. Compared to my previous lippies, it already lasted longer than I thought. My lips did feel slightly dry, but it wasn't to the point where I felt uncomfortable."
9pm: After dinner
"I had boat noodles and mango sticky rice for dinner. The lip oil stayed on well before I ate my food which was promising, but the majority of the colour was gone afterwards. There were remnants that settled into the lines of my lips. 
My lips did feel dry at the end of the day and I was super tempted to use my lip balm. But honestly, any product that lasts me until 7pm is considered a win in my book." 
Final thoughts
"I was super influenced by TikTok and I can see what the hype is about. However, I am not sure whether this should be marketed as a lip oil. 
As much as I love Delight's natural and glossy shade, you can probably get something similar at a cheaper price. But if you're in a rush or you're a makeup newbie, I would highly recommend this ― it is long lasting and easy to apply."
3. Soufi wears the shade Affection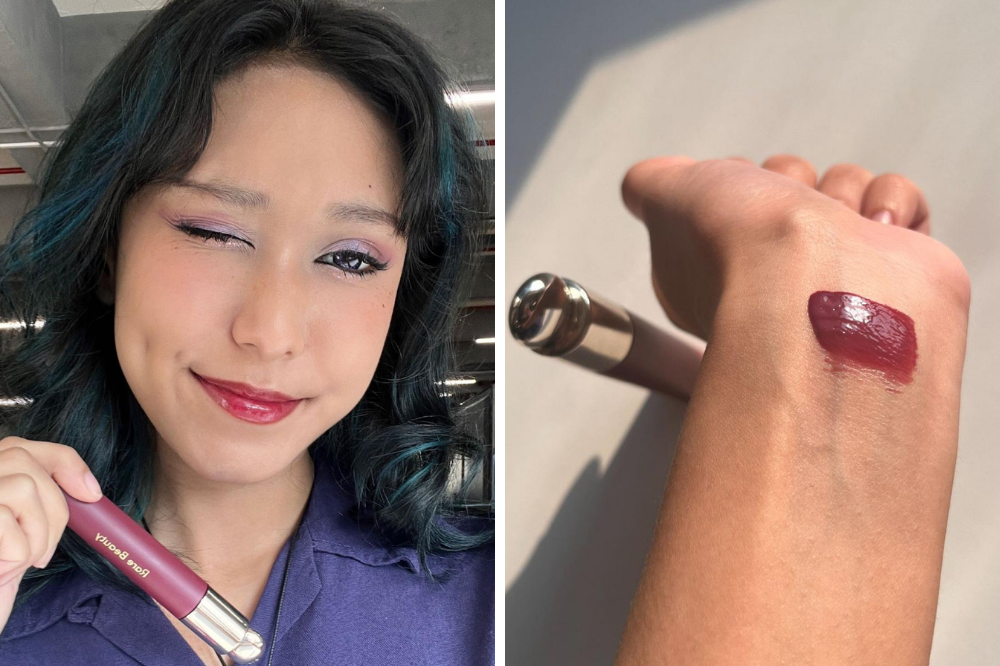 10am: First impressions
"The amount of product is quite generous, especially since Rare Beauty products are known to be pigmented and potent. Applying it felt like I was putting a "cloud" on my lips. My lips instantly felt hydrated and juicy.
I did not have much expectations since the product labelled itself as a lip oil, so I thought it would not last long. 
I was more concerned that the shade Affection would not suit my skin tone as it is the darkest shade of the product line. It also has plum undertones, and I usually do not go for purplish colours, so I felt a little out of my comfort zone."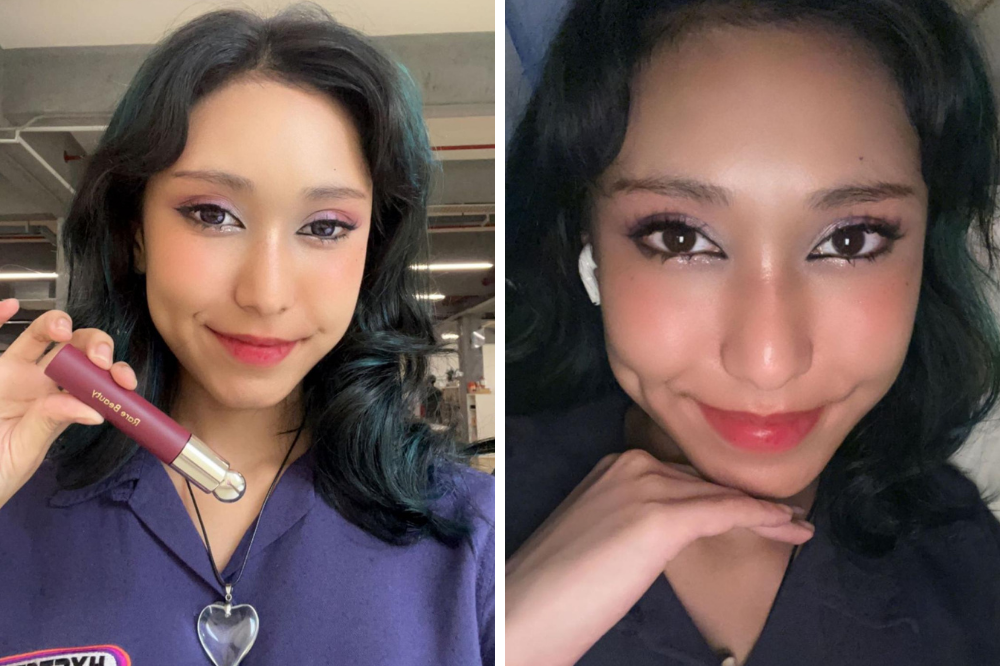 1pm after lunch vs 9pm after dinner
1pm: After lunch
"The gloss and shine of the product worn off, which is what I expected. However, it did a good job at staining my lips, leaving a lovely layer of purplish-red. Instead of being glossy, the texture is now more matte."
9pm: After dinner
"The plum colour that was stained on my lips had mostly faded, but it still looked like I had some product left. Although there were some dry patches, my lips felt slightly more hydrated than if I were to use any other lip product for the entire day."
Final thoughts
"I don't think I've ever used a product with a formula like Rare Beauty's lip oil. It's hydrating yet pigmented, and also stains your lips so you don't need to reapply it every 10 minutes. It really is the whole package of what you would want in a lippie. 
In my opinion, it is deserving of its hype. It made my lips feel luxurious and boujee. I see myself using this product and other Rare Beauty products for a long time."
Also read:
10 Best Beauty Products From Don Don Donki That SG Girls Swear By, Like Portable Facial Cleansers
4. Gwen wears the shade Joy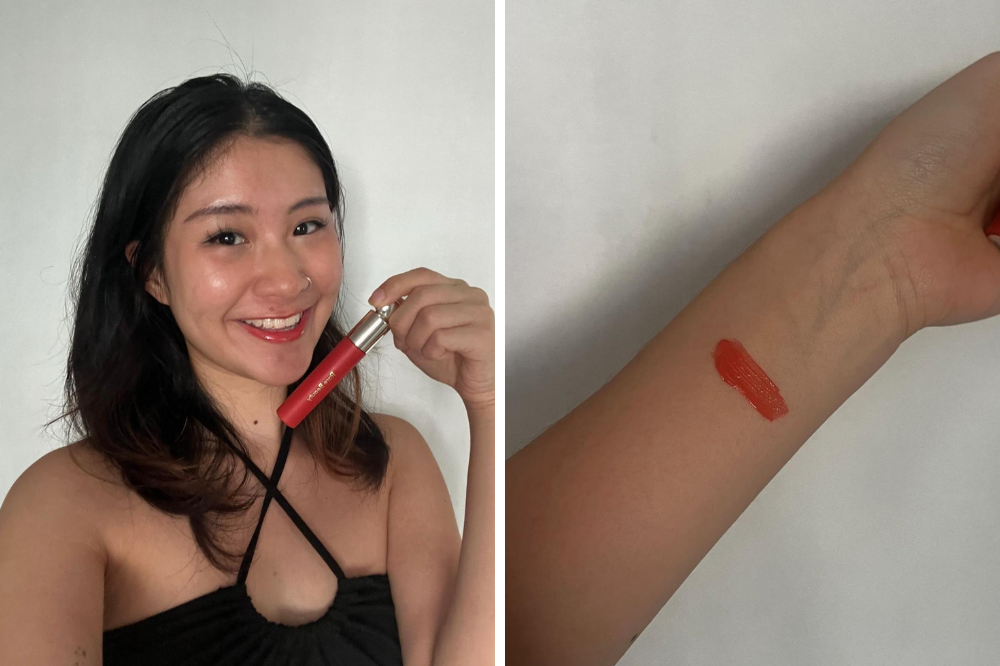 10am: First impressions
"I knew the shade Joy would turn out more coral-ish than it seemed because when I first saw it on TikTok, I thought the reddish stain that it left was pretty nice. I also liked how the applicator felt velvety, similar to the Rare Beauty Lip Soufflé. 
The product on my lips felt more jelly-like rather than an oil or gloss. But it also had a minty and tingling feeling that I did not like. I expected this product to be moisturising so that I could replace my usual lip balm."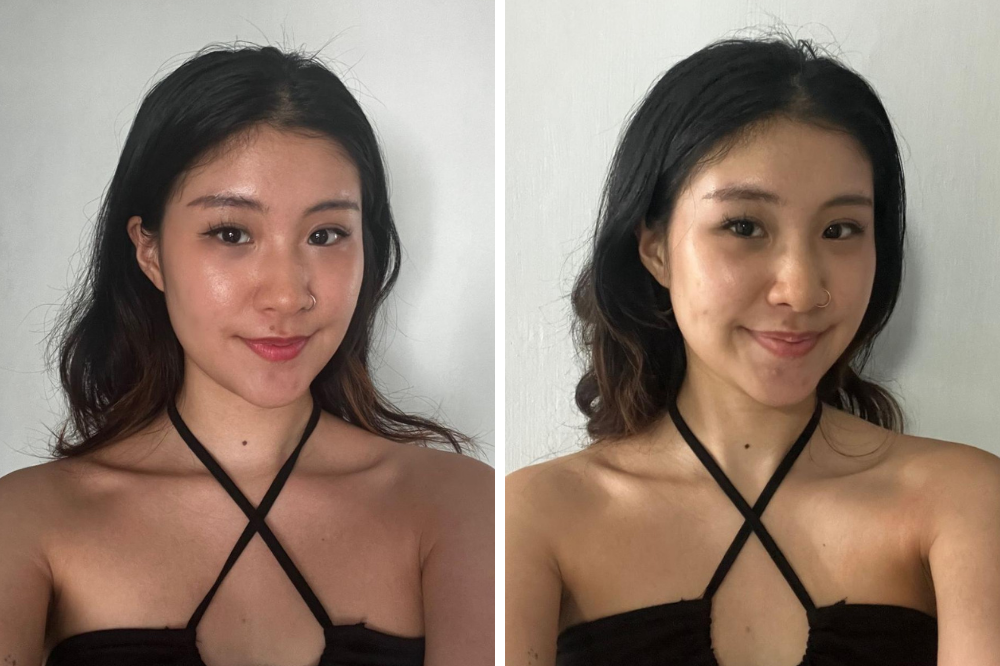 1pm after lunch vs 9pm after dinner
1pm: After lunch
"My lips did not feel very moisturised and felt just like my normal lips without any products. At least it wasn't too dry. The bold colour was gone, but there was still a tint of colour which I was pretty surprised about, since the food I had for lunch was oily and soupy."
9pm: After dinner
"The colour was entirely gone after dinner. I noticed that my lips were actually pretty dry when it came close to evening too, right before dinner."
Final thoughts
"I was really hoping that it would be moisturising and hydrating since it's lip oil. Turns out, this product might have dried my lips more than it should. 
I discovered that the lip oil actually works really well as a blusher because of the stain it leaves and the glossy, dewy finish made it pretty and subtle. But I was expecting more because of the hype surrounding this. 
I would continue using it as a blush or just as a lip gloss touch up right before taking pictures, but would not purchase this again."
5. Shash wears the shade Joy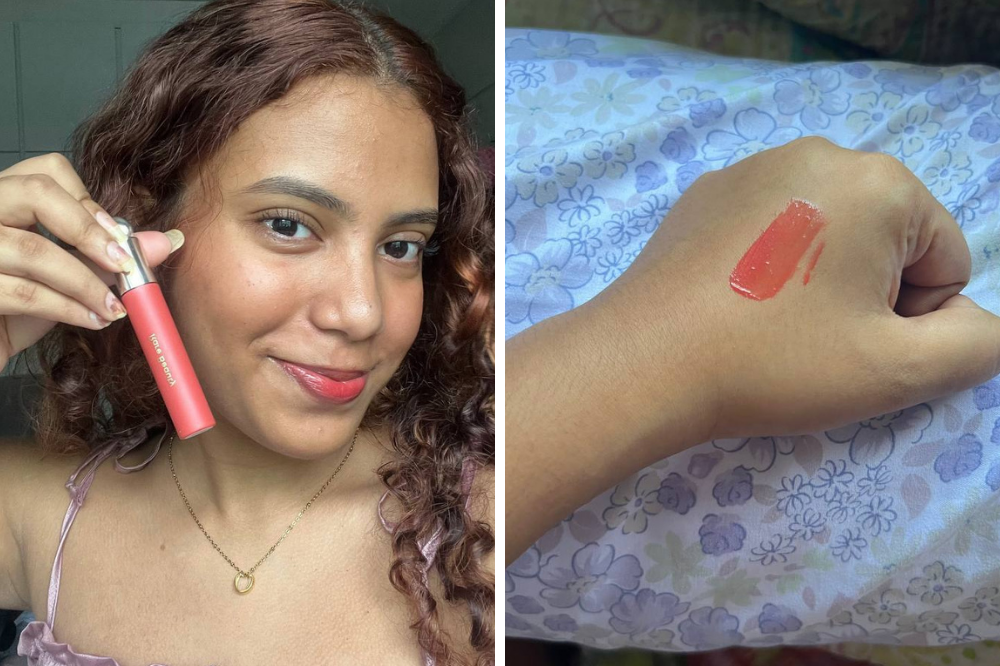 10am: First impressions
"My regular lip routine contains three different steps for moisturising, colour and shine. After watching people swatch the lip oils and learning what it is advertising to be, I was hoping that I could combine those three steps into one with this product. 
For a lip product, the packaging is a bit bulky but I love how the bottle feels. It is a pretty wet formula though, aka the type where you might be constantly worried if it's gotten on your teeth. I was concerned that it wouldn't last the whole day or even after a meal, and the shade might be a bit too orange for my skin tone."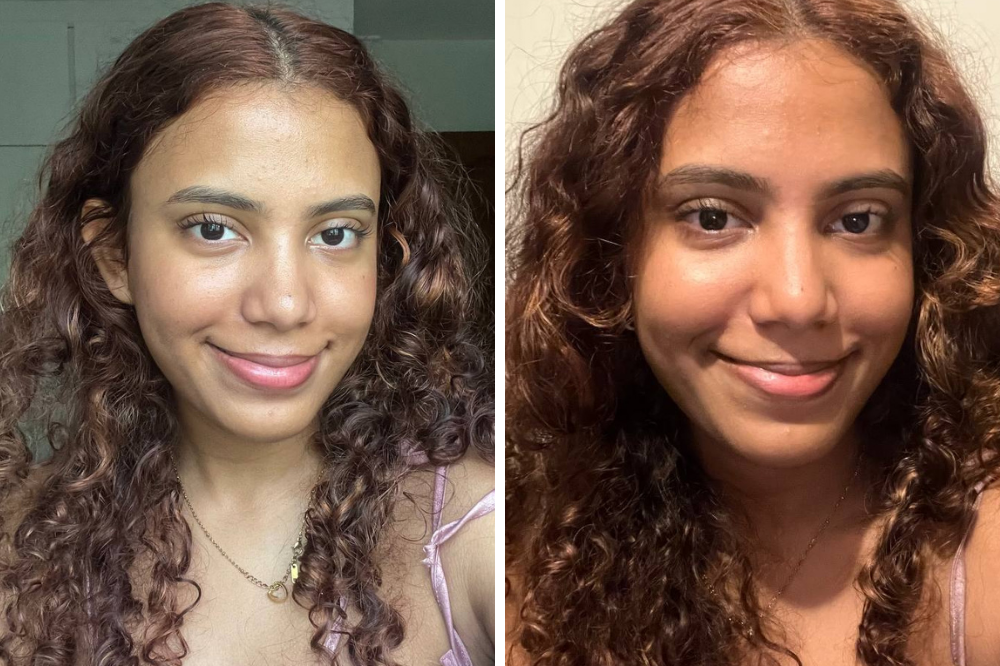 1pm after lunch vs 9pm after dinner
1pm: After lunch
"After lunch, it was practically gone in terms of shine and moisture, which is expected. It did stain my lips, but it left an outline which I didn't like. Honestly, my lips were getting pretty dry at this point compared to my regular lip routine."
9pm: After dinner
"After dinner, there wasn't a noticeable difference from lunch. The stain was still there, but I think it was also because I have hyperpigmentation on my upper lip, so it's not very obvious.
My lips became really dry by the end of the day."
Final thoughts
"I was too optimistic about how much this one product could do for me. I did not find it to have the moisturising qualities you would expect from a lip oil, nor did it have a lasting shine that you would expect from a gloss-adjacent product. It should be marketed as a tint because that is the main thing it's really good at."
We Put The Trending Rare Beauty Soft Pinch Tinted Lip Oil Through An All-Day Wear Test
Despite being a highly-raved product, most of the girls felt that the Rare Beauty Soft Pinch Tinted Lip Oil did not live up to its claims. Whether you're buying the product because you're curious to try it for yourself or you're simply part of #TeamSelena, the overall consensus is that you can find cheaper dupes that can give you the same results. 
You can purchase the Rare Beauty Soft Pinch Tinted Lip Oil on Sephora at $33 each.
Also read:
5 Singaporean Girls With Fungal Acne Share The Products They Swear By