Marriage Proposal Packages In Singapore
A marriage proposal is a once-in-a-lifetime kind of thing—it's pretty much the start of the rest of your lives with your partner. Some of us might even fantasise over a dream proposal for years. While it's a huge must for everything to run smoothly, no pressure: we can now turn to others for help for a memorable proposal your significant other will immediately say yes to. 
Since organising romantic setups and picture-perfect decor might not be your forte, these 8 marriage proposal packages in Singapore are sure to make your life a whole lot easier. 
P.S. Most of these proposal packages are suitable for an intimate proposal involving 2 pax. Otherwise, you can also KIV them for the future when your friends and family can join in.
1. Estille & Co – romantic picnic setups with cheese platters
Nothing speaks romance like a picturesque picnic. Don't worry about buying props and fixing sandwiches since the event planner Estille & Co will set up the proposal entirely to your taste. Having styled events at luxe venues like rooftop bar Mr Stork and boutique hotel Lloyd's Inn, they've got a ton of experience in throwing bespoke picnics.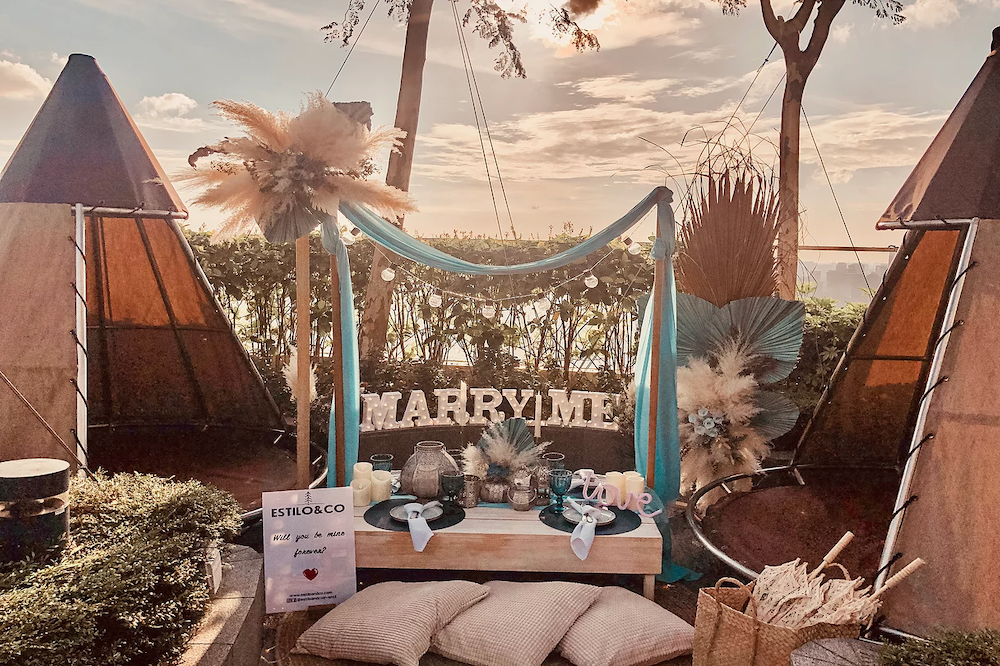 Rustic boho, pastel tones or even Alice in Wonderland-themed—they can customise according to your preferences. Their Picnic Package (from $350) includes styling, decor and tableware, and they'll even help dismantle and collect all items after so you wouldn't have cleaning up on the back of your mind. 
You can also add on grazing platters from Lush Platters which includes a cheese and charcuterie spread, handmade dips and gourmet crackers. 
2. Tall Ship – proposal sailing cruise aboard the Royal Albatross 
There's none other than a sunset sailing cruise for an unforgettable night. Aboard Tall Ship's Royal Albatross, you'll have a few choices to make your proposal: Grandeur of Love Package ($550) that's held at the Grand Salon, Magical Flying Seat Package ($640), Owners' Suite Package ($888) or a Mystery Proposal Package ($999).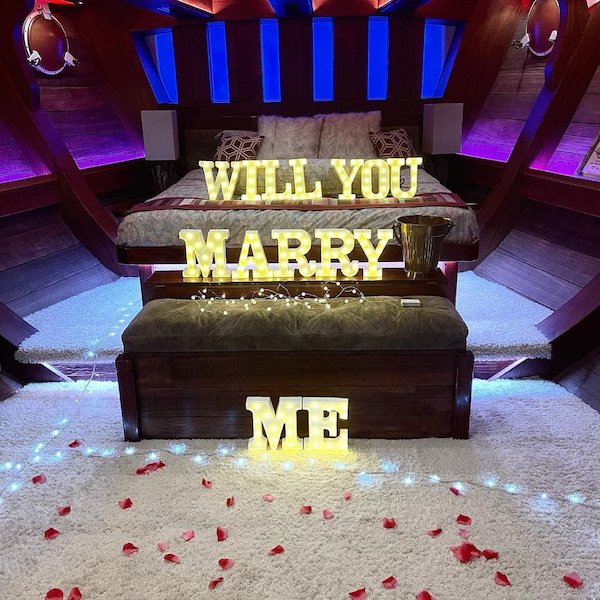 Those wanting to leave it in good hands can opt for the latter mystery package since it features a secret location onboard and also comes with a 6-course dinner. But with that said, all packages make solid choices since the Royal Albatross' staff are sure to step in with excellent service – from welcome mocktails to a complimentary rose bouquet. 
3. Hello Joi – dessert tables & prop rental 
We all know how important dessert is, especially for those with a sweet tooth. If your future fiance is one who delights in chocolate tarts and macarons, check out Hello Joi since they're known to set up a stunning dessert table that's chock full of sweet treats.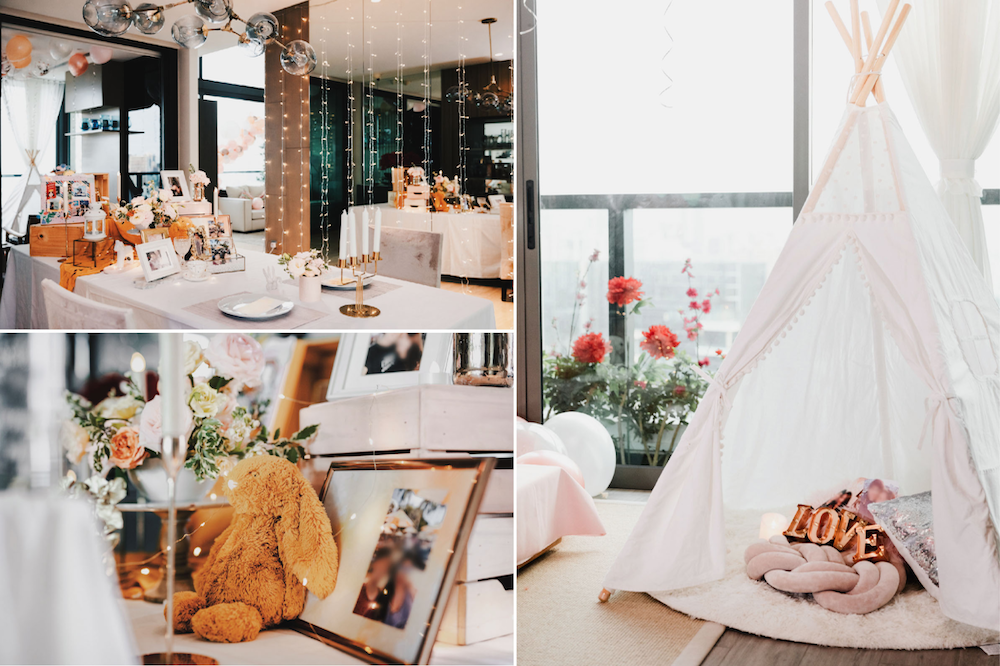 Their Dessert tables start from $519, and the package includes table styling and the choice of 3 desserts— enough to feed 20 to 30 guests. Besides desserts, they can also assist with dinner setup, a gift area and balloon decor. You can also rent additional props such as cake stands, faux plants and curtain backdrops to get the exact proposal setup you're looking for. 
4. Mr Party – colour-coordinated proposal balloons
The obvious giveaway sign of any festive occasion? Colourful balloons. With Mr Party, you can easily doll up any room with a mix of helium and floor balloons. They offer a range of balloon packages where you can choose the colour scheme and the customised text of the main 24" proposal balloon.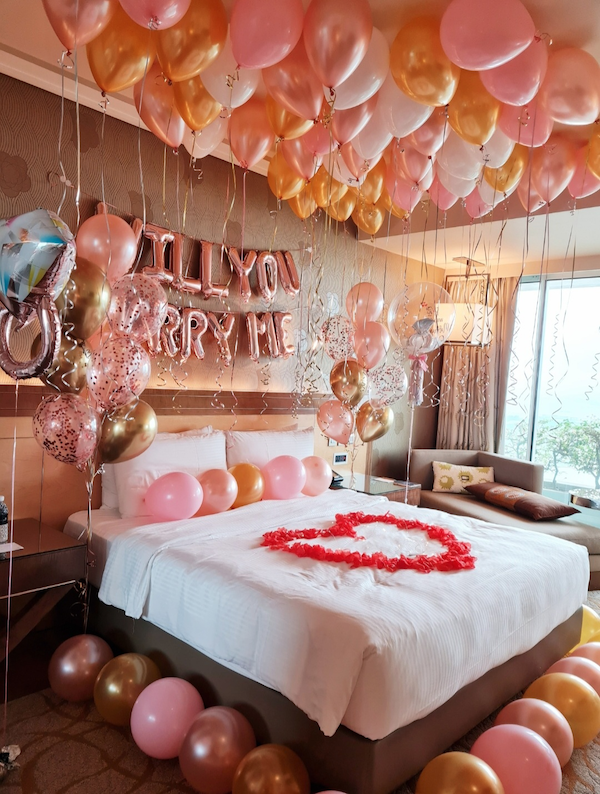 Most will be delighted with Package A ($308), which includes a specially customised proposal balloon, 50 helium balloons, 20 floor balloons, a diamond ring balloon and even an eye-popping "Will you marry me?" balloon. No one will be able to resist this: your significant other is bound to say a resounding "YES" right away. 
Also read: 
8 Romantic Wedding Proposals By Singaporeans Couples That Will Hit You In The Feels
5. Lynx Marriage Proposal – DIY packages & private yacht proposals
Take the chance to propose in the place you spend most of your time: your home, where you would've spent countless memories together.. But make it a memorable night too with the help of proposal planner Lynx Marriage Proposal, who specialises in romantic dinner and room decor packages. 
They also offer DIY packages so you can conveniently get all decor items at one go. 
For instance, their Instant Box ($350) comes with a "Marry Me" balloon and silken rose petals while their Homey Movie Night Package ($280) lets you showcase a video montage. Otherwise, you can opt for one of their Room Decor Packages (from $749), where they generously use roses, candles and fairy lights. 
6. Glamping Society – fairy-lit tent with outdoor movie screening
While the glamping frenzy has been around for a good couple of years, there's good reason why it's still a weekend fave—once Covid-19 is over that is. No need to worry about bug spray or roughing it out with this outdoorsy setup by Glamping Society: it's fully glam and 100% romantic, and even comes with its own fairy-lit tent and lace gazebo.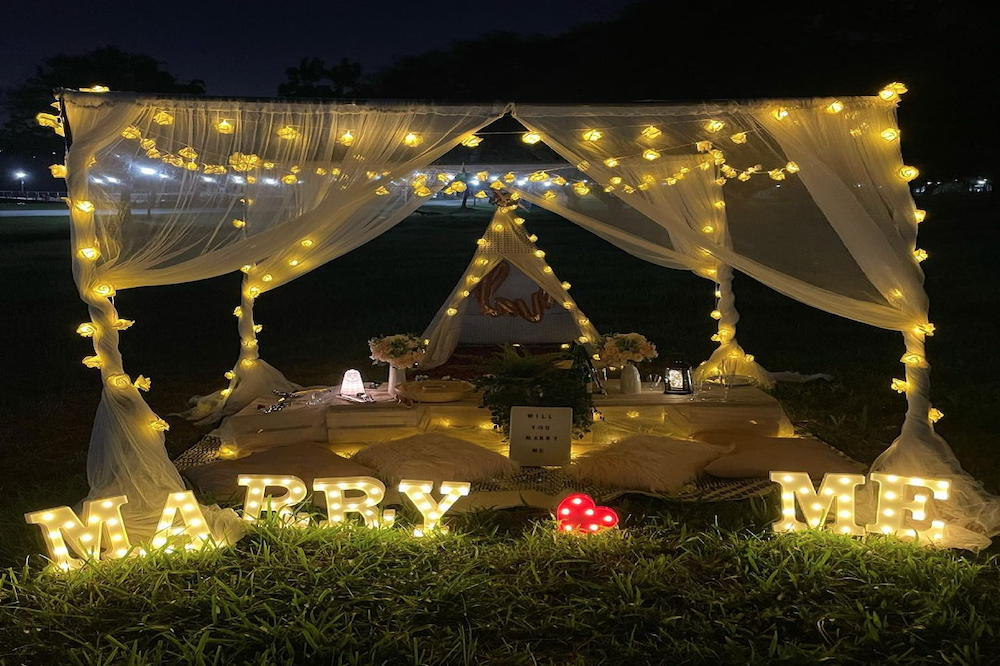 With the Proposal Package ($600), there's also a Western dinner included and an outdoor cinema setup so you can walk down memory lane with home videos or even reminisce over the first movie you watched together as a couple. 
7. Invited – proposal stylists with florals & photography
Event styling company Invited are the experienced folks: they've planned countless proposals and weddings, all of them looking stunning. From garden tea parties to an intimate proposal at the aquarium, all you have to do is show up and get ready to go down on one knee.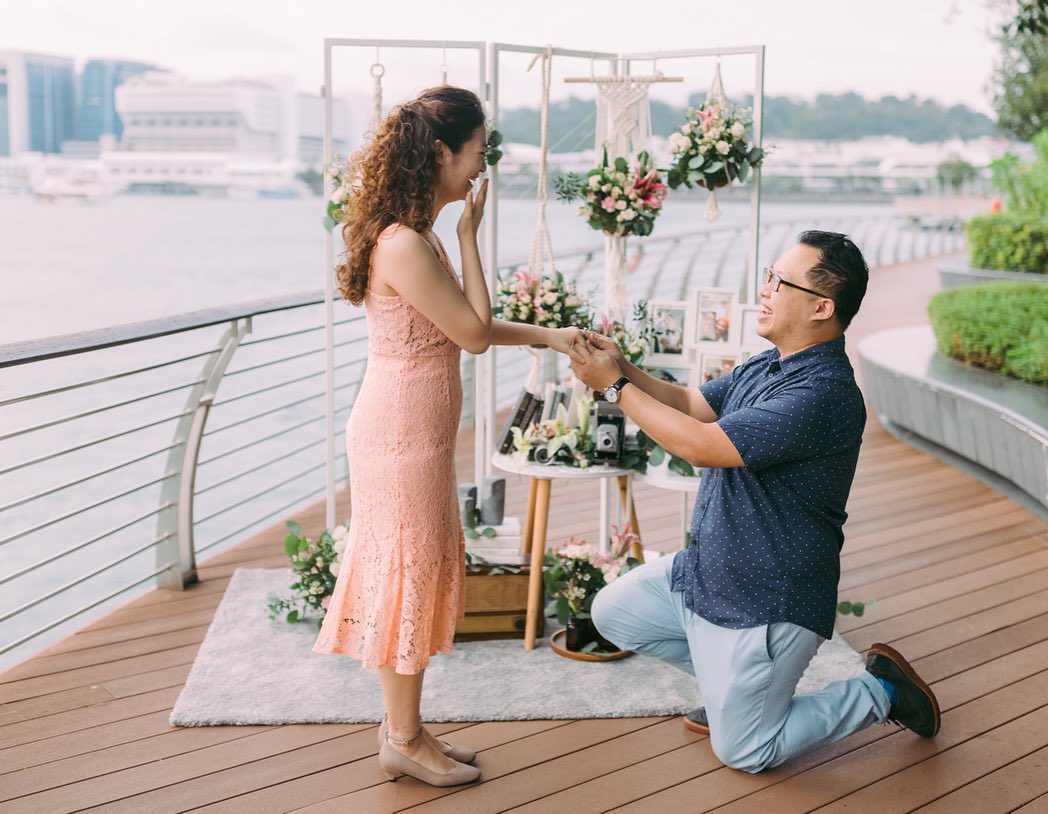 Some of the partners they pair up with are massive names in the wedding industry, such as photographer Annabel Law and florist Hello Flowers. If you're wanting a more DIY approach, they also have props for rent, sorted according to categories like Suitcases, Tablescapes and Wooden. 
8. Dreamscaper – themed proposals with photography
For those with no specific aesthetic in mind, Dreamscaper has a list of themed proposal setups that'll impress both you and your soon-to-be fiance. With themes like Botanic Charm ($95), Lavender Dreams ($99) or Secret Garden ($390), all you have to do is bring the ring.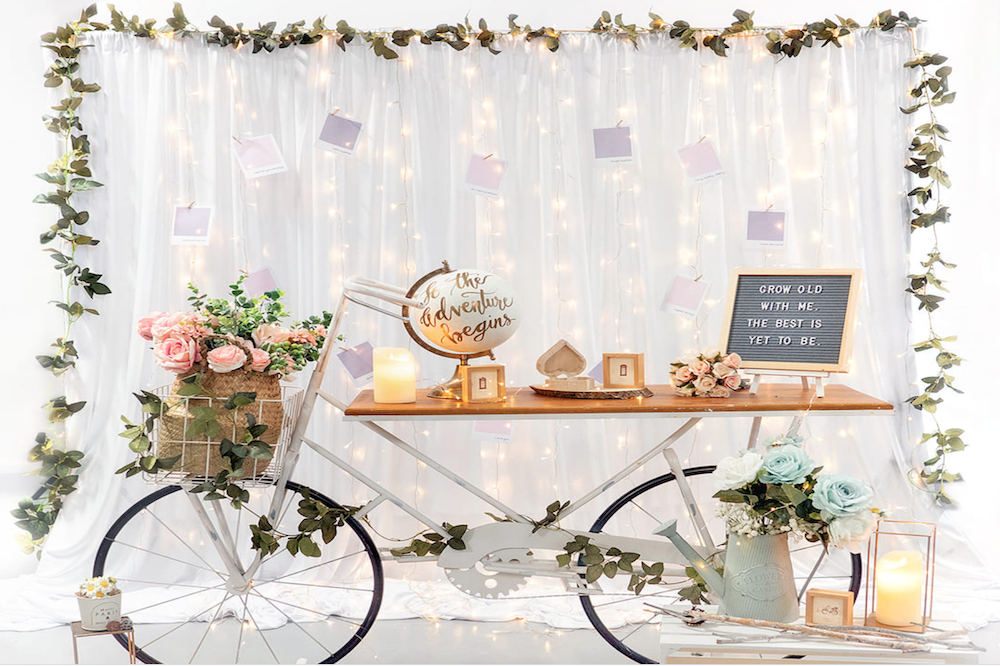 And even better, each package comes with the full setup of decor and props, so there's no need to source or rent from others. Depending on which package you choose, there'll be all sorts of props included, from vintage bicycles to marquee lights. They also offer an add-on photography package for $350 with 12 edited photos to make sentimental keepsakes. 
Marriage proposal ideas in Singapore
A marriage proposal isn't anything to take lightly—it's a precursor to The Big Day itself and you would've been thinking about the nitty-gritty details for quite some time now. But no need to fret over decor, food or venue with these 8 marriage proposal packages. 
While these packages will turn out an IG-worthy setup, they'll also create meaningful memories that you both can look back upon fondly. Whether a romantic picnic by the beach or a colourful balloon-filled hotel suite, you can be sure that it'll be an unforgettable proposal.
Also read:
3 Singaporean Guys On Proposing Overseas And Their Advice On How To Pull Off A Successful Proposal