Romantic Things On A Budget
If you feel that you need to book a candlelight dinner at an expensive restaurant or visit romantic cafes in Singapore to wow your boo, think again. We asked 7 Singaporean girls to share the most romantic things that their partners did for them on a budget. The next time you're racking your brains to impress your SO, use this list as a reference and be inspired to get your creative juices flowing. 
1.  He planned a photo trek date with bingo sheets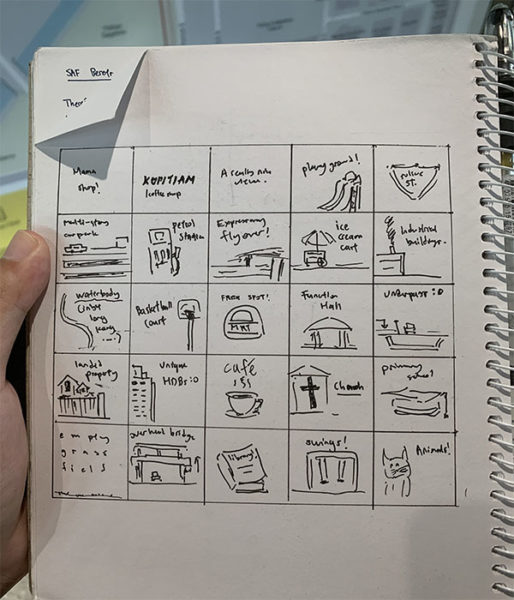 One of the Bingo sheets drawn by Vivien's boyfriend 
Cost: $20
"At the start of our relationship, my boyfriend had a list of date ideas. One of them involved a "photo trek/bingo" date, since both of us are into photography. 
My boyfriend came up with the idea of making bingo sheets consisting of common things found in neighbourhoods in Singapore. I thought that it would be a simple 5-by-5 table with the items written down but he drew little symbols and doodles, which I found super adorable. 
The plan was to explore an area in Singapore that neither of us had been to. I live in the east while he lives in the northeast, so we decided to travel a bit further than where we live. We settled on Canberra since it's quite a new neighbourhood and we didn't know anything about that area. 
The trek started out okay. We were able to find certain things pretty fast, like playgrounds and carparks. After a while, we realised that there weren't a lot of things to see or do there, and just strolled around the neighbourhood.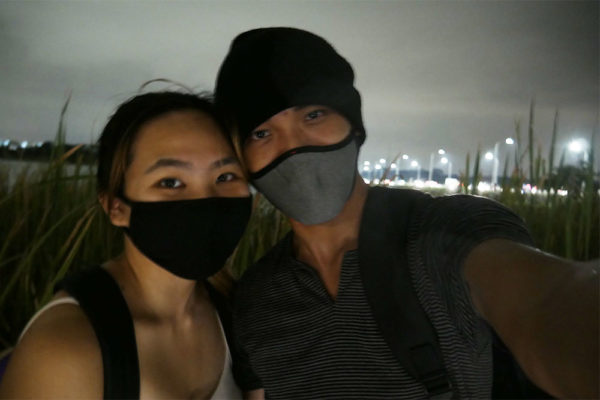 Vivien and her boyfriend at Yishun Dam
Eventually, we ended up at Yishun and had dinner at Northpoint City. We then took a bus down to Yishun Dam and walked around for a bit before calling it a night. 
Even though we ended up not completing either of our bingo sheets, it was nice spending time together on a mini adventure of sorts. It was very special to me because it was something that I had never experienced before and probably would have never thought of. I also appreciated the effort he put in, especially since both of us share Quality Time as our love language."
—Vivien Q
2
.
He surprised her with a private Instagram account documenting all their special moments as a couple
Cost: Free
"Besides giving me a bracelet for my 21st birthday, my boyfriend documented our dates, sweet moments, his thoughts etc on a private Instagram account on his own for months, from the time we started dating. He revealed the account name and password to me on my birthday. From then on, it's become a joint account for us to document our story together.
Reading through all the posts he had created, I was able to relive special moments we had together from the day we started dating officially. I was moved to tears because there were also heartfelt letters written by him in the captions on the moments we had spent together.
This romantic surprise didn't cost any money but only time, effort, thoughts and love. Rather than big gestures, my partner tends to do many sweet things in small doses in our daily lives, which I find to be really romantic. For example, holding my hair up for me as I brush my teeth, giving me massages whenever I have stiff shoulders and bringing food to me whenever he knows I am hangry."
—S
3.  He requested for her dog to be in their couple photoshoot 
Cost: Free
"This is probably not your average romantic thing but it was the most thoughtful. A friend wanted to help my boyfriend and I do a couple photoshoot to promote his Instagram page. However, my boyfriend asked for my dog to come along too. He also specifically requested to put more focus on solo shots with me and my dog, plus some with my mum at home. At that point in time, my dog had been diagnosed with cancer and we knew that he wouldn't survive for long. 
It didn't really hit me then as I was just going with the flow and following the photographer's directions. But looking back now that my dog has passed, it was one of the sweetest things [my boyfriend could have done for me]. The pictures from that day are so priceless and irreplaceable. It wasn't a surprise as he had told me about it beforehand but it meant a lot to me. My boyfriend could have easily used it as an opportunity to get good couple photos of us. But he decided to give up most of the time for us and my dog.
My boyfriend isn't the kind who will do conventional romantic things like filling my bed with rose petals because honestly, I'm not super into these things too. It's the small things that he does on the daily to show how much he cares for me. "
—Deborah Gan
Also read:
7 SG Girls On How The Circuit Breaker Taught Them New Ways To Maintain A Relationship
4. He was determined to win her a plushie because she felt her room was too empty
Cost: $20
"The most romantic thing my partner has done for me was winning this huge plushie from Uncle Ringo because I don't like my room looking too empty. It was on Christmas and there was a booth at the fair where you had to throw rings onto glass bottles. If the hoop wrapped around the opening of the bottle successfully, you could get a giant plushie of your choice. 
Though it was almost impossible to win and I told him it was a waste of money to even try, my boyfriend insisted on trying to win one for me. So, he exchanged $20 for credits to play. On our second last try, he managed to successfully get one hoop around the bottle opening. 
I was very surprised and touched seeing how he was so determined to win me something. Honestly, I would have been happy and satisfied with a small plushie.
I always thought that carnivals are a waste of money as you cannot win anything but this turned out to be a good experience. Plus, it was an unintentional win with an intentional purpose—making my room feel less empty and to always be a reminder of his presence."
—C
5. He prepared all her favourite food and surprised her with a picnic
Cost: Around $20
"One of the most romantic things that my boyfriend did for me on a budget was during our fifth monthsary. He prepared a small picnic surprise at Marina Barrage. He first surprised me at the bus stop near my house. Then, he told me we were going to be 'tourists' for the day. I had no idea what he had planned. 
When we arrived at Marina Barrage, he started unpacking his bag. He laid out a picnic mat and started arranging the food. I was shocked to see that he had prepared a lot of food like sandwiches and aglio olio, which is my favourite. It was his first time cooking for me, and I was very excited to eat what he had cooked. I had been requesting for him to do so, and for him to do it during our monthsary was very sweet. 
On top of that, because my boyfriend is in NS, we only meet during weekends. To see him putting in the effort to cook and plan this despite his busy schedule was very touching."
—Jolene Ang
6. He hand wrapped a bouquet of flowers for her 
Cost: Under $30
"My boyfriend came to my house and surprised me with a bouquet of flowers. When I asked him what the occasion was, he said that he didn't need an occasion to gift me flowers. I was very touched, especially because he chose the right flowers and right colour tones for the wrapping as well. 
My partner doesn't do romantic things very often, mostly because we are both pretty busy with our work. That surprise meant a lot to me because it was out of the norm for him to gift something to me on a normal day. 
Moreover, the gift was something he hand wrapped, which isn't really his forte. It made me feel special knowing that he spent so much time and effort on it. I am a true sucker for thoughtful gestures, whether big or small, so that gesture from my boyfriend really won my heart."
—Erica Tan
7. He taught her how to cook and helped her overcome her fear of heat
Cost: Under $20
"I'd gone over to my partner's house to spend time with him as he was still recovering from ACL (anterior cruciate ligament) reconstruction surgery.
When I asked him how we were going to settle our lunch, he whipped out his phone and showed me a YouTube video. He said he wanted to make baked fries, because he saw a recipe online that was easy to follow, and that he already had the necessary ingredients at home. Besides fries, he also wanted to cook a burger as a main dish.  
I volunteered to help out because I felt bad letting him do everything on his own. He taught me how to cut the potatoes and stood beside me to guide me along. Then, he did the same for the burger.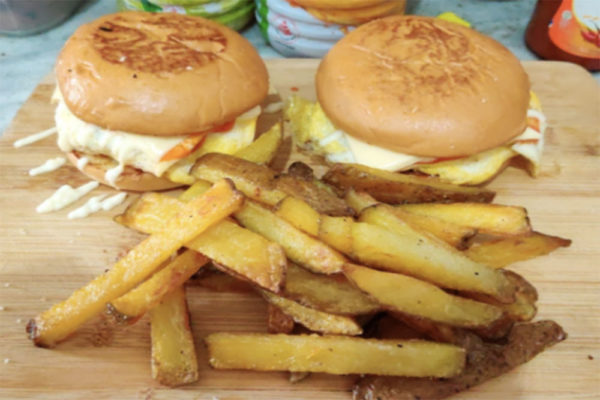 The burgers and fries that Janelle and her boyfriend cooked
I wasn't expecting cooking together to be so much more enjoyable and rewarding than simply being served delicious food. When we cooked together, we also got to bond and learn a bit more about one another. 
Although the meal was very simple, it was romantic because I felt very loved as he patiently taught me how to cook and pushed me to overcome my fear of the heat."
—Janelle Lee
These Romantic Things On A Budget Tells Us That You Don't Need To Break The Bank To Make Bae Happy
Who says that wooing your partner needs to be expensive? These romantic things on a budget show us that it can be as simple as whipping up a meal or remembering the little details that they mentioned in passing. Ultimately, it's the thought that counts. 
All images courtesy of the interviewees.
Also read:
8 SG Millennials Whose Love Language Is Quality Time Share Little Ways Their Partners Express Affection