Romantic Cafes In Singapore
Like most Singaporeans, I look forward to the weekends mainly for two reasons ‒ 1) I get to sleep in, and 2) treat myself to brunch at romantic cafes with my boyfriend. 
If you're looking for new brunch spots to explore and kickstart your morning, or afternoon, below is a list of cafes that you'll want to KIV. 
1. Surrey Hills Grocer – The Woodleigh Mall
With the recent opening of Surrey Hills at The Woodleigh Mall, you can turn brunch into a family affair with your sweetheart and your furbabies. After all, our four-legged children also deserve special outings, and this Australian grocer and cafe is designed to accommodate both humans and pets in a nature-themed environment with woody accents and decor. 
Image courtesy of Surrey Hills
While you and your partner indulge in fluffy pancakes from the iconic Melbourne pancake chain, The Pancake Parlour, your furkids also get their own pet menu with some tasty options using human-grade ingredients.
Pet products
Image courtesy of Surrey Hills
As you indulge in a Pancake Parlour Classic Stack or the outlet-exclusive Wagyu Lava Burger, your fur kids can enjoy a Duck Meatball and Watermelon Ice Cream right next to you. The outlet also has a dedicated space for all kinds of Australian pet products, treats, premium toys and accessories. 
Address: 11 Bidadari Park Dr, #01-52/53, 367803 Singapore
Opening hours: 10am to 10pm from Monday to Sunday
Contact: Email hello@surreyhillsgrocer.sg
Website | Facebook | Instagram
2. Caffe Fernet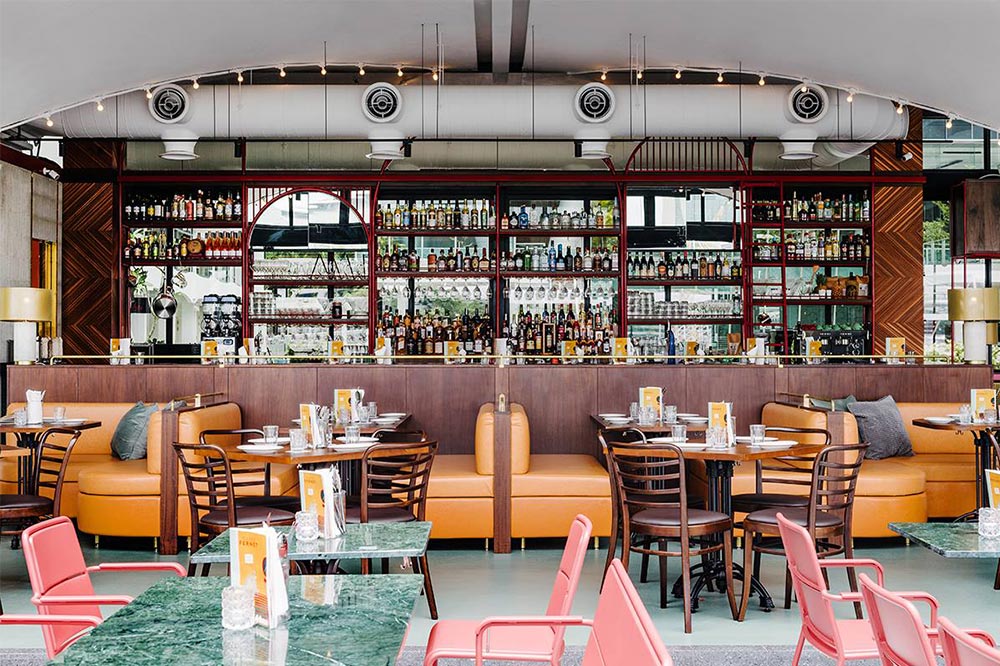 Source
Munch on Italian food at Caffe Fernet while taking in the Marina Bay skyline in all its glory. This 130-seat cafe by the Fullerton waterfront boasts comfy, spacious booth seating, with a beautiful luxe interior decked with alcohol-lined shelves and dark wood furnishings.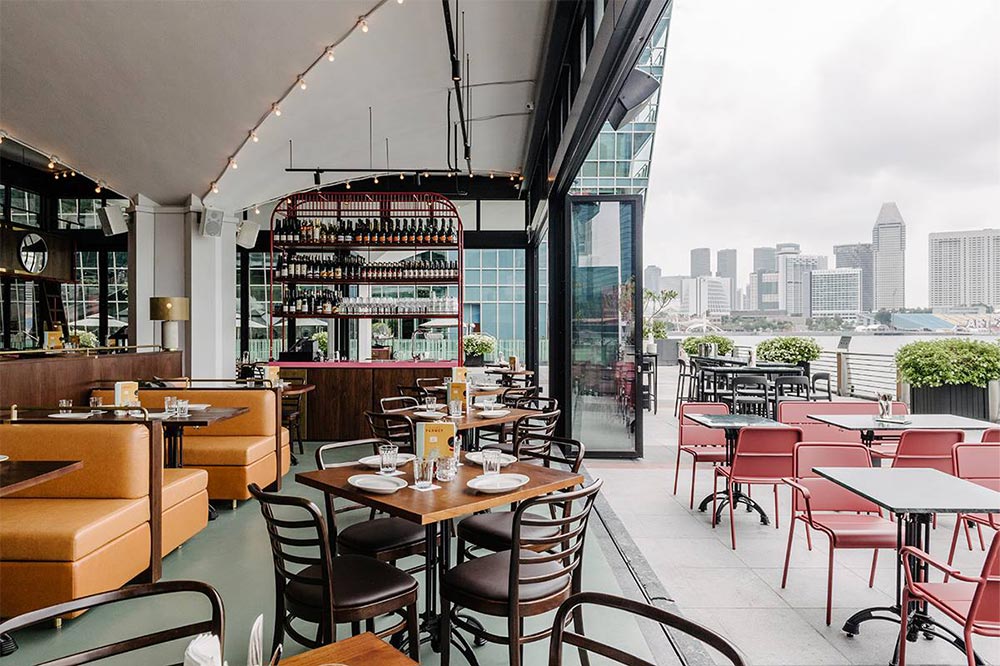 Source
Enjoy a boozy brunch by sipping on Caffe Fernet's signature spritzers and craft cocktails. For those who can't function without their caffeine hit, order the Espresso Martini with Cascara-infused Sailor Jerry Rum, Caffee Borghetti, espresso, and pedro ximenez.   
Address: 70 Collyer Quay, #01-05, Customs House, Singapore 049323
Opening hours: Mondays to Wednesdays, 5pm to 11pmㅣThursdays to Sundays, 12pm to 11pm
Contact: WhatsApp 9178 1105
Website | Facebook | Instagram
3. Wildseed Cafe @ The Alkaff Mansion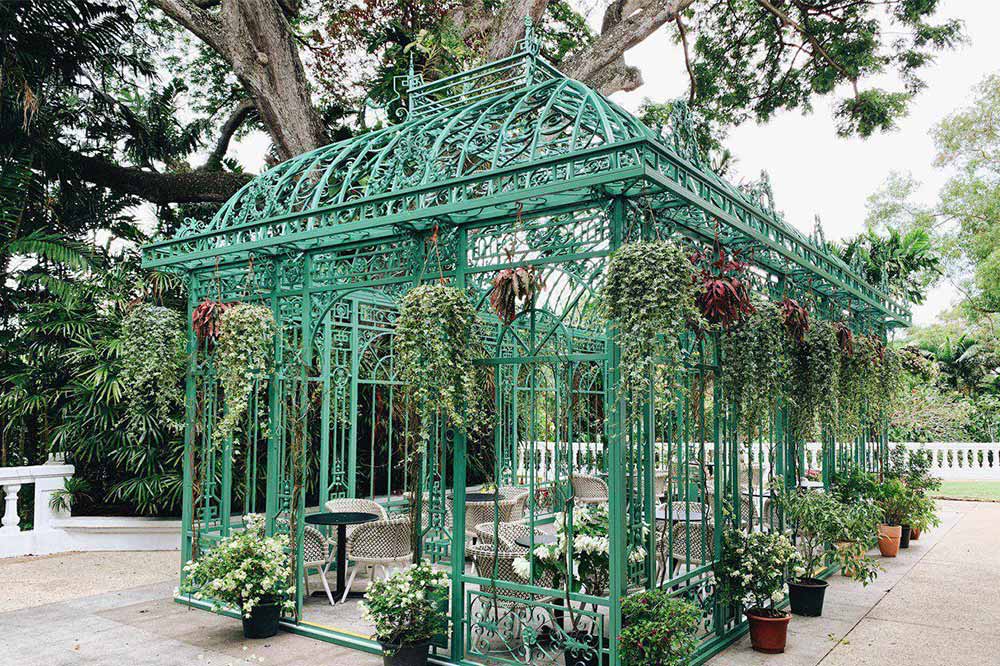 Source
Just like its sister location at The Summerhouse, Wildseed Cafe @ The Alkaff Mansion is an enchanting, garden-themed space serving up freshly-baked cakes and pastries, alongside brunch and lunch.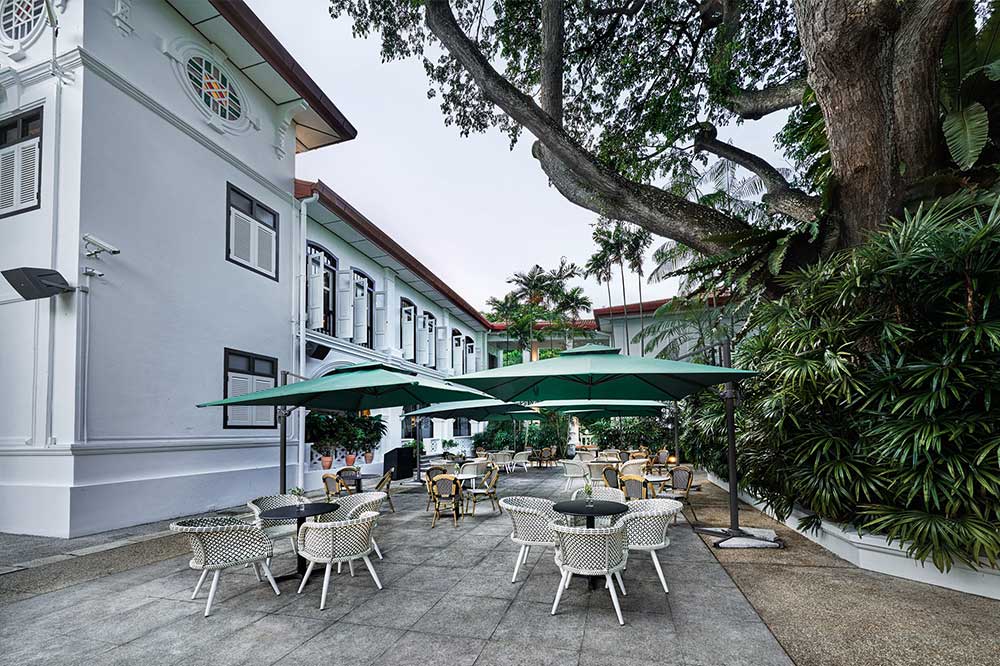 Source
Nestled atop Telok Blangah Hill, it's impossible not to feel romance in the air here. Be sure to save space for their delicate and delicious desserts, including the Pink Pear Elderflower Tart and Coconut Pea Flower Shortcake.
Address: 10 Telok Blangah Green, Singapore 109178
Opening hours: Mondays, 8am to 5pmㅣTuesdays to Thursdays, Sundays, 8am to 9pmㅣFridays to Saturdays, 8am to 11pm
Contact: WhatsApp 8126 8484
Website | Facebook | Instagram
4. PS. Cafe By The Sea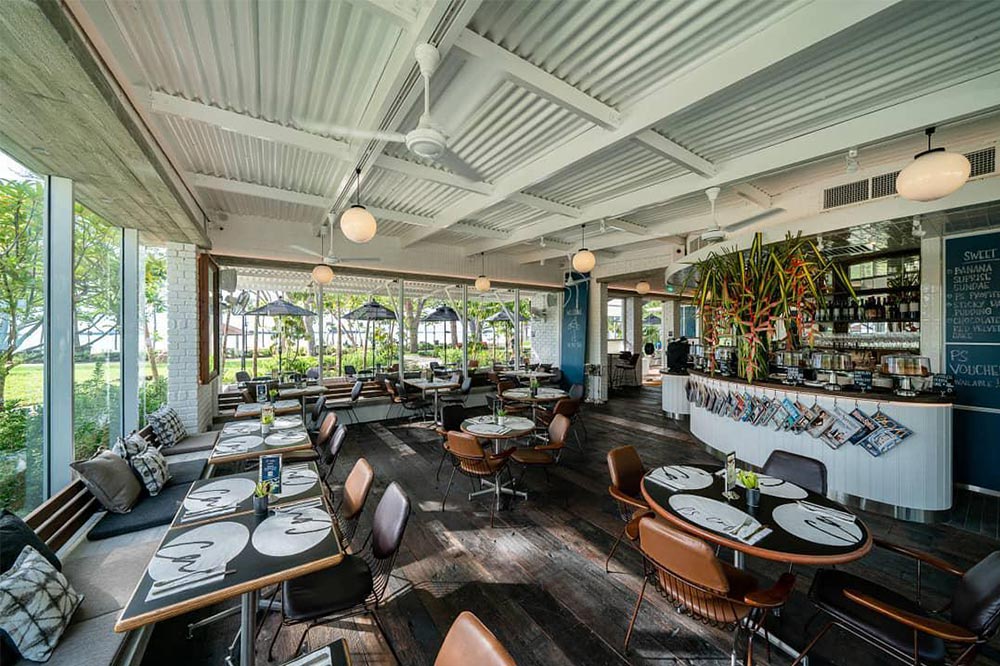 Source
Among the many PS. Cafe outlets, PS. Cafe By The Sea is the ideal pit stop for a day out at East Coast Park with bae. The floor-to-ceiling windows invite the outdoors in, for a picturesque setting that will impress any date.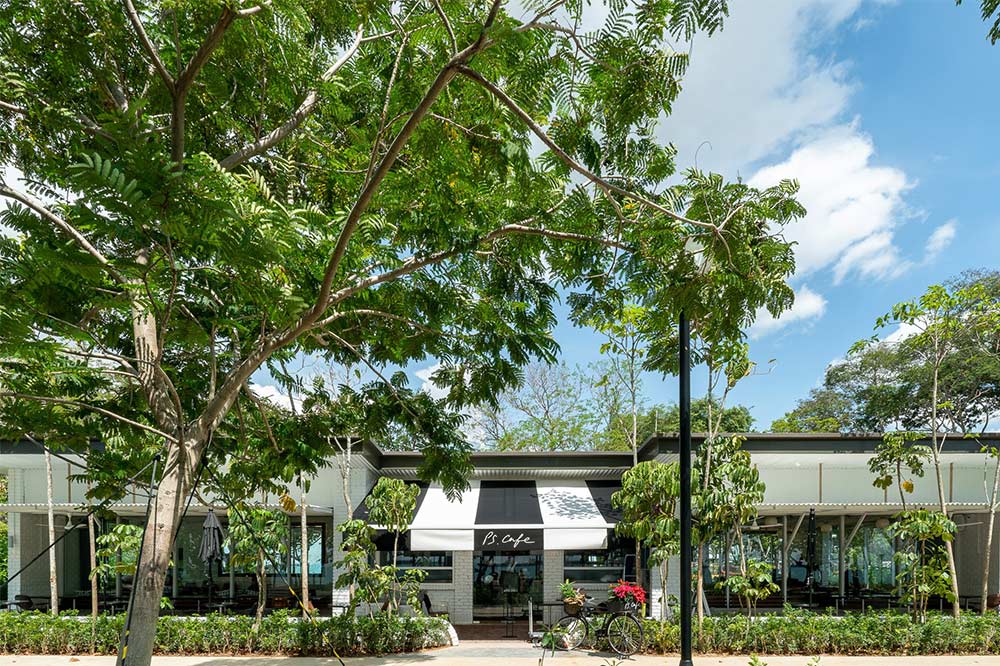 Source
As with every PS. Cafe, you're guaranteed an intimate and stylish dining experience. Tuck into hearty dishes like the Chorizo & Calamari Stew with white beans, sausage, tomato, capsicum, black garlic aioli and crusty dipping bread or nibble on the cafe's signature Truffle Shoestring Fries before setting off on a cycling expedition around the beach.
Address: 1110 East Coast Parkway, #01-05/06/07, Cyclist Park, Singapore 449880
Opening hours: Mondays to Sundays, 8am to 11pm  
Contact: Call 6708 9288
Website | Facebook | Instagram
5. The Coastal Settlement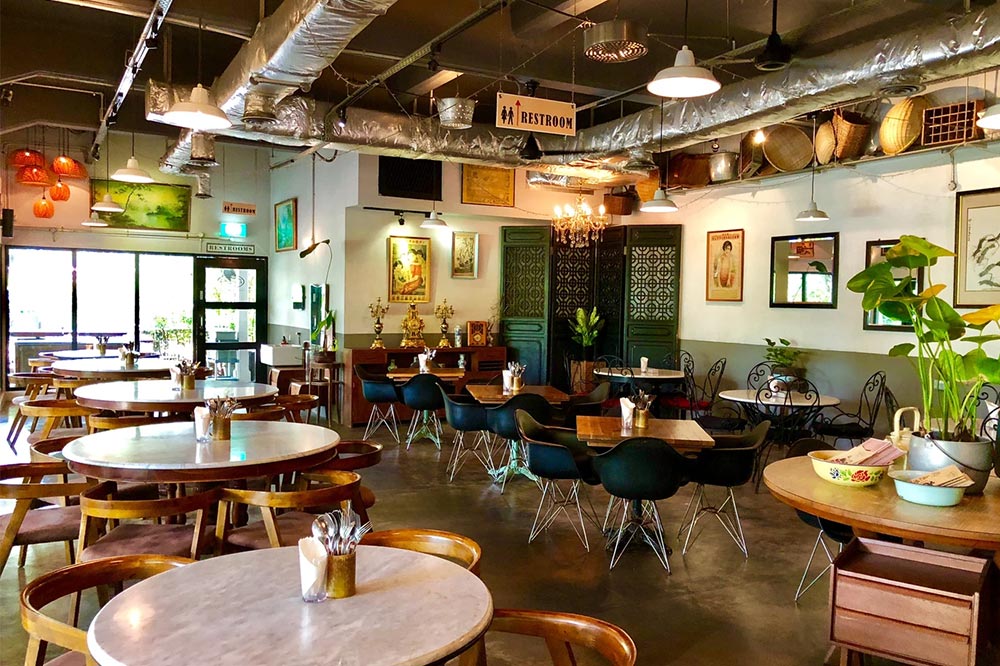 Source
Surrounded by trees, shrubs and fields, The Coastal Settlement is located on the same grounds as what was formerly used by the British Royal Air Force as a fault control and telephone exchange. The interior is a blast from the past with retro memorabilia, antique furniture and vintage knick-knacks.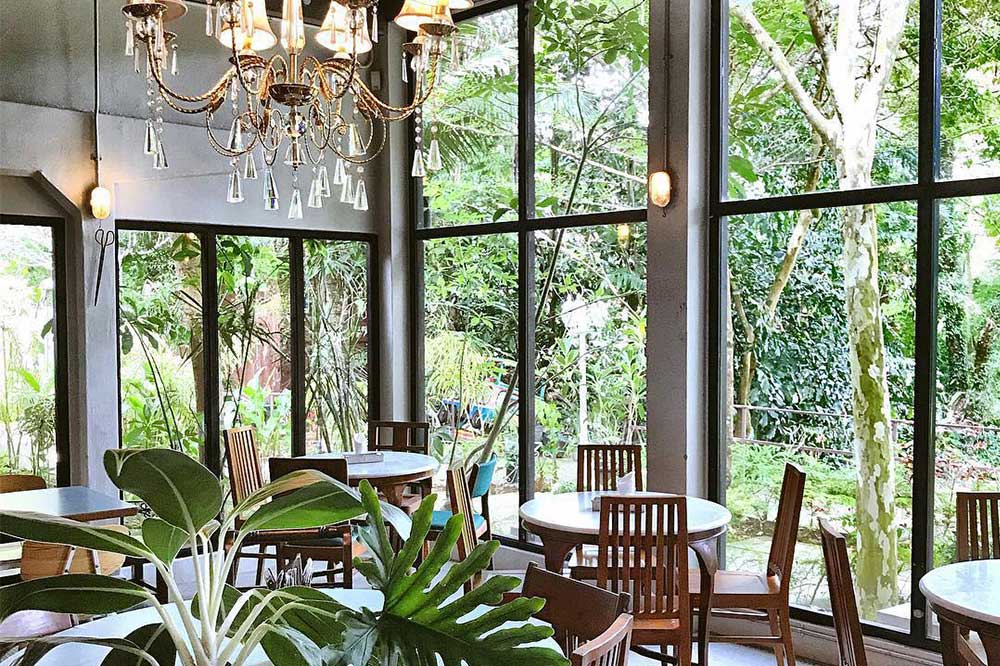 Source
Whether you're craving Western brunch items or locally-inspired dishes, get the best of both worlds with its eclectic menu. Think: Pulled Pork Benedict with braised pulled pork and poached eggs served on a croissant, or TCS Nasi Lemak with grilled tiger prawns, fried chicken and baked otak-otak on a bed of coconut rice. 
Address: 200 Netheravon Road, Singapore 508529
Opening hours: Mondays to Fridays, 10.30am to 11pmㅣSaturdays to Sundays, 8.30am to 11pm
Contact: Call 6475 0200
Website | Facebook | Instagram
6. Kafe UTU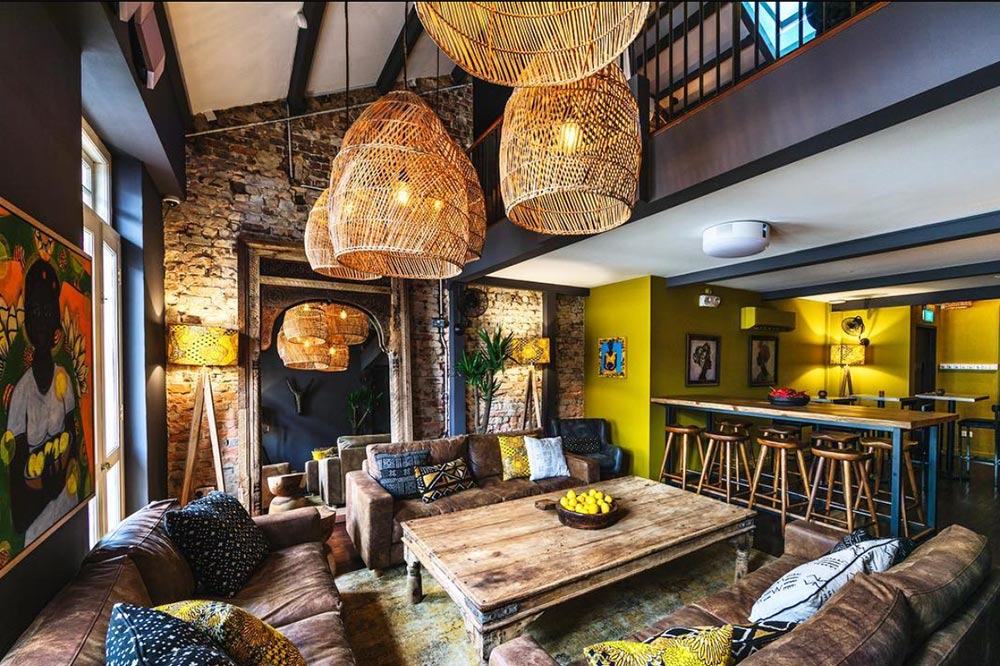 Source
A two-storey cafe and lounge, Kafe Utu's wooden brown interiors are contrasted with bursts of bright yellow from the plush pillows and walls, and dotted with African design elements.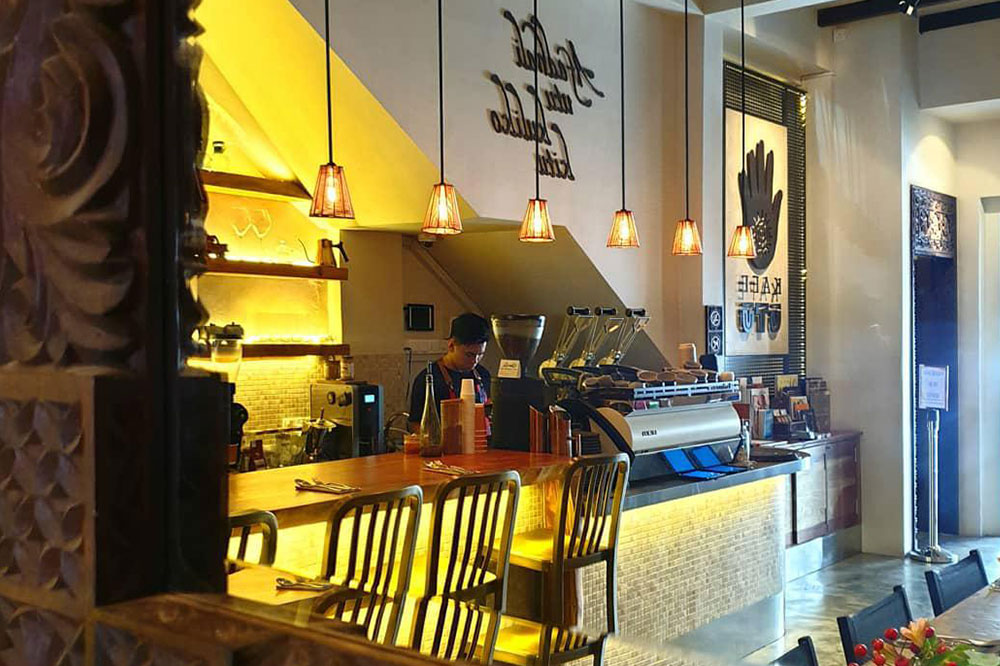 Source
If you're looking for a twist on typical brunch items, Kafe UTU has you covered. Serving up a diverse range of East and West African cuisine for dinner, the brunch menu includes staples such as eggs Ben and avocado toast, but not in the usual ways you'd imagine. The latter comes in the form of Curried Avocado with Raw Garlic Toast, accompanied by red curry paste and cassava chips.
Address: 12 Jiak Chuan Road, Singapore 089265
Opening hours:  Tuesdays to Fridays, 10am to 4.30pm, 6pm to 11pmㅣSaturdays to Sundays, 9am to 4.30pm, 6pm to 11pm (Closed on Mondays)
Contact: Call 6996 3937
Website | Facebook | Instagram
7. Whisk & Paddle
Imagine this ‒ you and your date enjoying brunch at a romantic riverside cafe on a Sunday after sleeping in. If this sounds like something up your alley, make sure to visit Whisk & Paddle for a memorable brunch session. 
Located in Punggol, Whisk & Paddle offers an all-day breakfast menu that satisfies your cravings for scrambled eggs and French toast, even in the evening. What's even better ‒ you also get to choose from a plethora of drinks, such as Italian Sodas, milkshakes, frozen fruit smoothies, and fresh fruit juices, for a boost in Vitamin intake. 
Address: 10 Tebing Lane, Singapore 828836
Opening hours: Tuesdays to Fridays, 12pm to 10pmㅣSaturdays to Sundays, 9.30am to 10pm (Closed on Mondays)
Contact: Call 6242 4617
WebsiteㅣFacebookㅣInstagram
Also read: 
12 Cafes With Free Wi-Fi & Power Plugs For A Casual Yet Productive Work Date
8. State of Affairs
I'm not an early bird myself, but if you're planning to have breakfast at 6am, State of Affairs is your go-to cafe. Situated along Upper Thomson Road, the cafe has whimsically named their menu items, such as Gone Fishing, a battered sea bass, and My Kind of Flower, a roasted cauliflower dish with lao ma gai and cai po creme. 
Plus, you'll be impressed with their take on modern and rustic interior, making it a popular spot for brunch dates. 
Address: 183 Upper Thomson Road, Longhaus 01-02 Singapore 574332
Opening hours: Mondays to Fridays, 7am to 4.30pmㅣSaturdays to Sundays, 6am to 6pm
Contact: WhatsApp 8033 4575
WebsiteㅣInstagram
9. Toby's Estate Coffee Roasters
Striving for a homey aesthetic, Toby's Estate Coffee Roasters greets customers with their cool-toned interior and tall ceiling. Since the location overlooks the Singapore River, consider opting to sit on their terrace while you indulge in their brunch menu items. If not, you can always chill inside the cafe for a cosy date. 
Personally, I've tried their Eggs Benedict Brooklyn Style, which pairs well with a cup of warm chai latte. 
Address: 8 Rodyk Street, Singapore 238216
Opening hours: Mondays to Sundays, 7.30am to 5pm
Contact: WhatsApp 9177 3256
WebsiteㅣFacebookㅣInstagram
10. Spruce
Hats off to Spruce ‒ a cafe that serves authentic traditional British breakfasts consisting of eggs, slices of bacon, sausages, mushrooms, and toast. Protein lovers who are looking to bulk up a size might find their interest piqued by the eggs benedict collection, which features variations of the classic menu.
Address: 320 Tanglin Road, Phoenix Park, Singapore 247980
Opening hours: Wednesdays to Fridays, 11.30am to 10pmㅣSaturdays to Sundays, 9am to 10pm (Closed on Monday and Tuesday)
Contact: WhatsApp 8168 7127
WebsiteㅣInstagram
11. Merci Marcel Orchard 
You don't have to travel to France to experience brunch the Parisian way ‒ you can do it right in the heart of Orchard Road. Pay a visit to Merci Marcel Orchard, which is bound to impress you with their mix of vintage and modern furniture pieces. 
Choose to dine inside or enjoy the breeze on the patio while you savour their signature brunch menu items, such as French Ratatouille and Ravioles de Royans. 
Address: 390 Orchard Road, 01-03 Palais Renaissance, Singapore 238871
Opening hours: Tuesdays to Saturdays, 8am to 12amㅣSundays to Mondays, 8am to 11.30pm
Contact: Call 6735 2608
WebsiteㅣFacebookㅣInstagram
12. Craftsmen Speciality Coffee
Look no further for a quiet and spacious brunch spot than Craftsmen Speciality Coffee. Just minutes away from Fort Canning Park MRT station, the cafe promises an inviting ambience, thanks to decorations such as trailing plants in pots and wooden accents as seen in their furniture pieces. 
Considering their specialisation in coffee, be sure to order a cup, which is made from Arabica beans, to kickstart your day.
Address: 33 Mohamed Sultan Road, #01-05, Singapore 238977
Opening hours: Mondays to Fridays, 7am to 7pmㅣSaturdays to Sundays, 7.30am to 7pm
Contact: Call 6732 2253
WebsiteㅣFacebookㅣInstagram
13. Knots Cafe

 
There is something about a place with lush greenery that instantly makes you relax. Knots Cafe is one such place, welcoming guests to dine amidst a variety of flora. 
Another impressive aspect of the cafe is that they offer a meeting space equipped with a portable projector, whiteboard, and stationery. All you have to do is make a reservation in advance to enjoy the facilities. 
Address: 102E Pasir Panjang Road #01-08, Citilink Warehouse Complex, Singapore 118529
Opening hours: Mondays, Wednesdays to Fridays, 10.30am to 9pmㅣSaturdays to Sundays, 9am to 9pm (Closed on Tuesdays)
Contact: Call 6817 0383 
WebsiteㅣFacebookㅣInstagram
These Romantic Cafes In Singapore Are Excellent Brunch Spots With Bae 
Switch things up and add some spice to your brunch dates by exploring new places in Singapore. With this list of romantic cafes, you might just discover a new go-to brunch spot.
This article was first published on 24 December 2019 and last updated on 16 November 2023 by Priscilla Emmanuel.
Also read: 
23 Most Romantic Bars In Singapore For Date Nights That Keep Things Classy