Roz Pho's Beauty Routine
Regular viewers of local TV programmes would find Roz Pho a familiar face. The Tanglin star has also hosted several travel shows, and most recently took on the lead role in ClickNetwork's series Girl Band Called Girl Band. Now, this busy bee is currently filming Mixed Signals for Channel 5 and an HBO Asia series called Invisible Stories.
The 36-year-old is a veteran in the industry, but that doesn't stop her from picking up new things in her downtime. She picked up wakesurfing this year and might enrol herself in a competition just for kicks. Roz also signed up for Japanese lessons to brush up on the language in the hopes of conversing fluently with her parents-in-law.
We sat down with Roz to find out how she keeps her complexion in tip-top condition, as well as the makeup products she turns to when she's feeling playful.
SKINCARE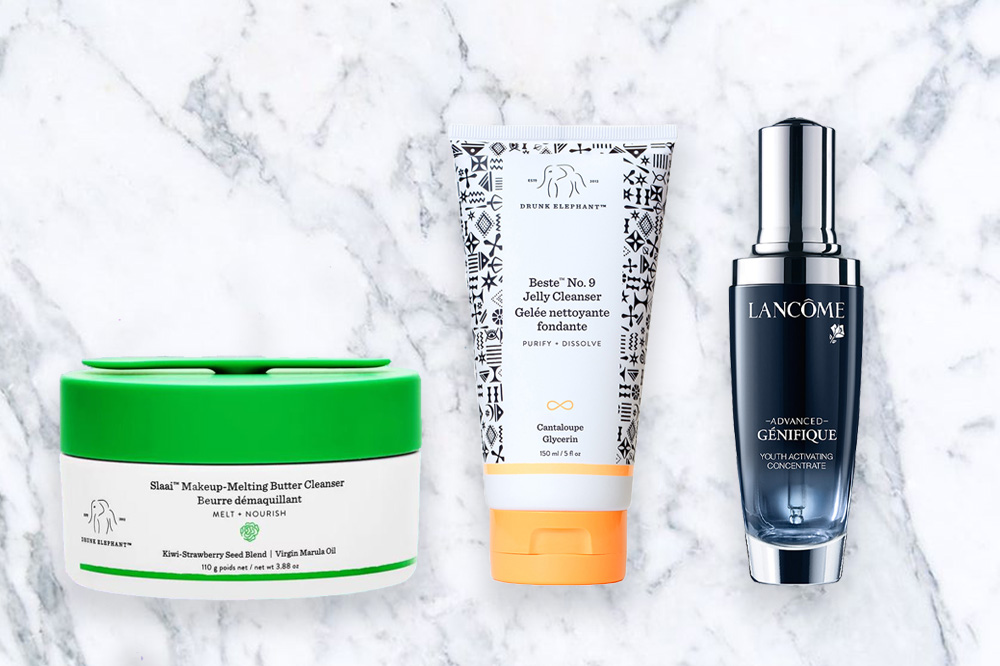 Left to right:
Drunk Elephant Slaai™ Makeup-Melting Butter Cleanser ($50)
Drunk Elephant Beste™ No. 9 Jelly Cleanser ($46)
Lancôme Advanced Génifique Youth Activating Concentrate ($170)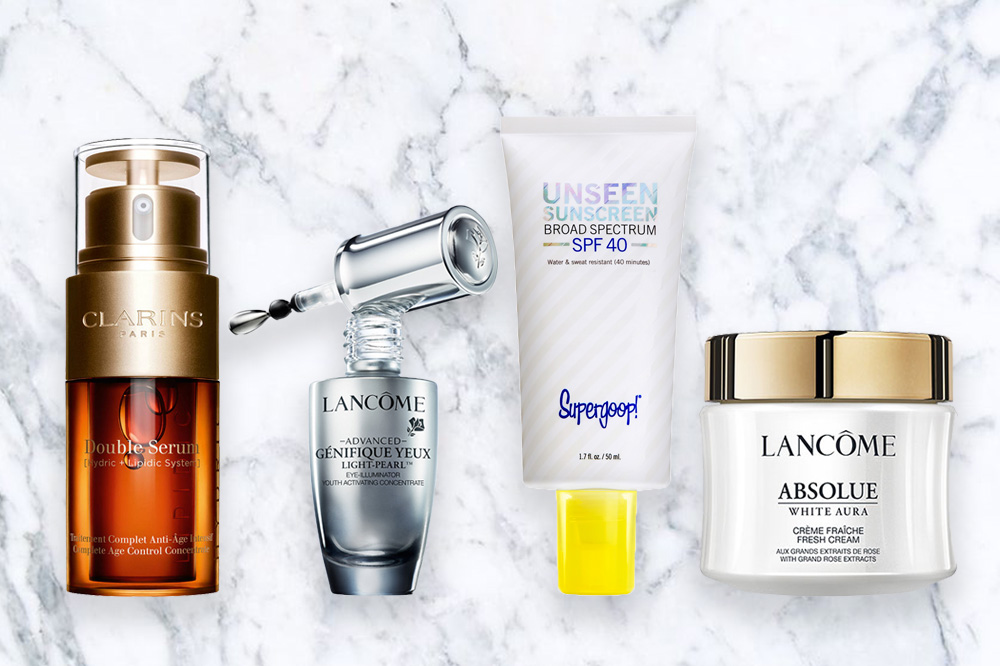 Left to right:
Clarins Double Serum ($125)
Lancôme Advanced Génifique Yeux Light-Pearl ($120)
Supergoop! Unseen Sunscreen SPF 40 ($48)
Lancôme Absolue White Aura Fresh Cream ($450)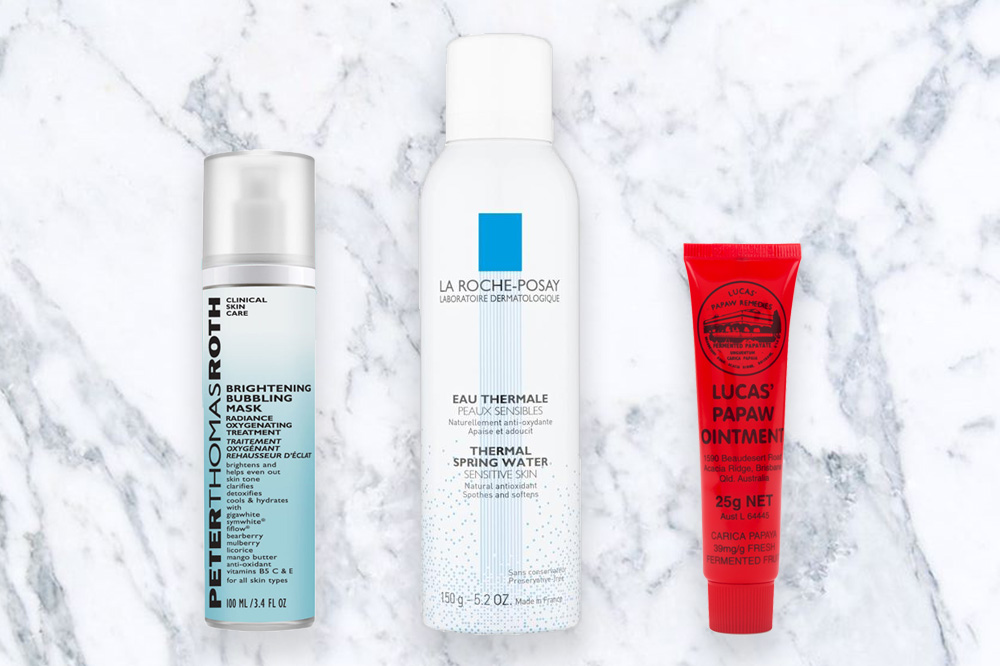 Left to right:
Peter Thomas Roth Brightening Bubbling Mask ($110)
La Roche-Posay Thermal Spring Water ($29.90 for 2)
Lucas Papaw Ointment ($12.50)
Which acne treatment do you reach for when you get sudden breakouts?
I generally leave my breakouts alone. If it's really a painful one, I'll go for some tea tree oil to dry it out, because I hardly ever get the kind that you can pop. I make sure I drink a lot of water, because that could be the reason I got the breakout in the first place.
Which is the most underrated beauty product you've discovered?
I really like fooling around with natural treatments. I love using salt as a facial scrub, or mixing honey, yoghurt and lemon as a face mask. You can lick the leftovers off your bowl too!
What's the most outrageous beauty treatment you've tried?
Probably mashing up a whole bunch of avocados and using it as a body mask. It was incredibly messy and not worth the effort—should've just tried it as a face mask!
Do you have a wellness routine that helps you unwind?
I am a big fan of yoga and wakesurfing. Engaging in activities that I enjoy has always helped to relax me and put me in a good mood. Yoga helps me sleep better, and I find that I have better posture and fewer body aches when I [do it] regularly too. Swinging my twin nephews around is also a great form of exercise.
Also read:
Jemma Wei Shares Her Beauty Routine And Why She Wakes Up At 5am Every Day
MAKEUP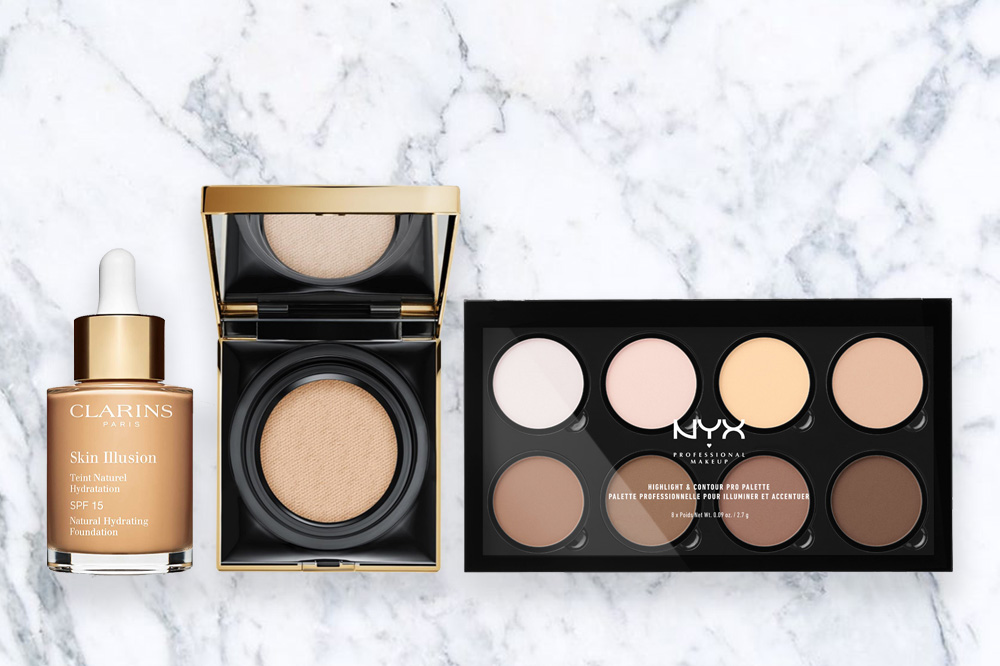 Left to right:
Clarins Skin Illusion Foundation SPF15 in 106 Vanilla ($62)
Lancôme Absolue Cushion Smoothing Liquid Cushion Compact SPF50+/PA+++ in 100 Ivoire ($140)
NYX Professional Makeup Highlight & Contour Pro Palette ($42)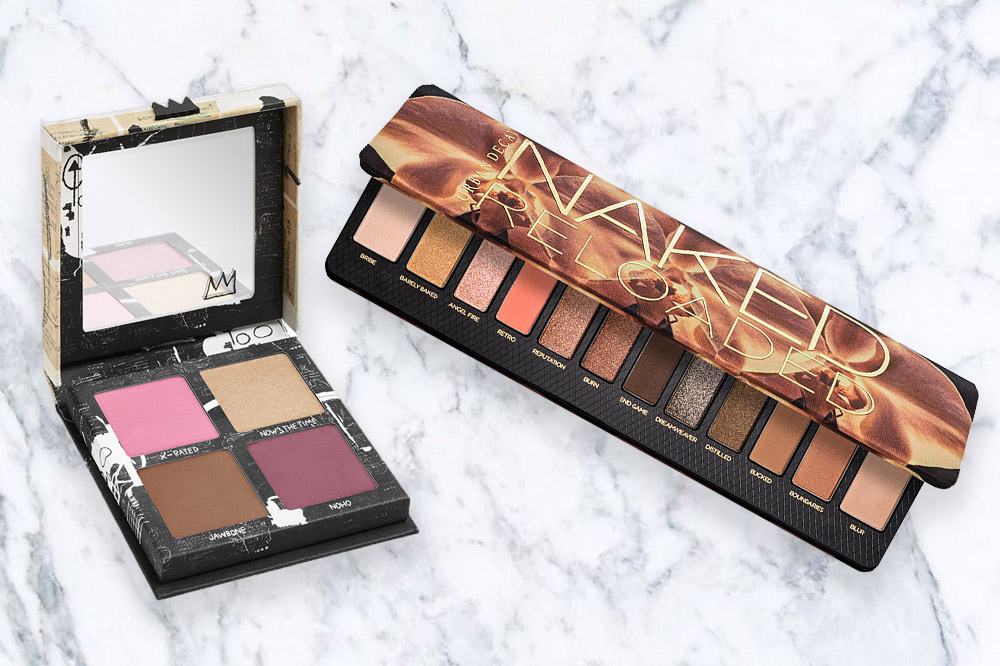 Left to right:
Urban Decay x Jean-Michel Basquiat Gallery Blush Palette (limited edition, discontinued)
Urban Decay Naked Reloaded Eyeshadow Palette ($71)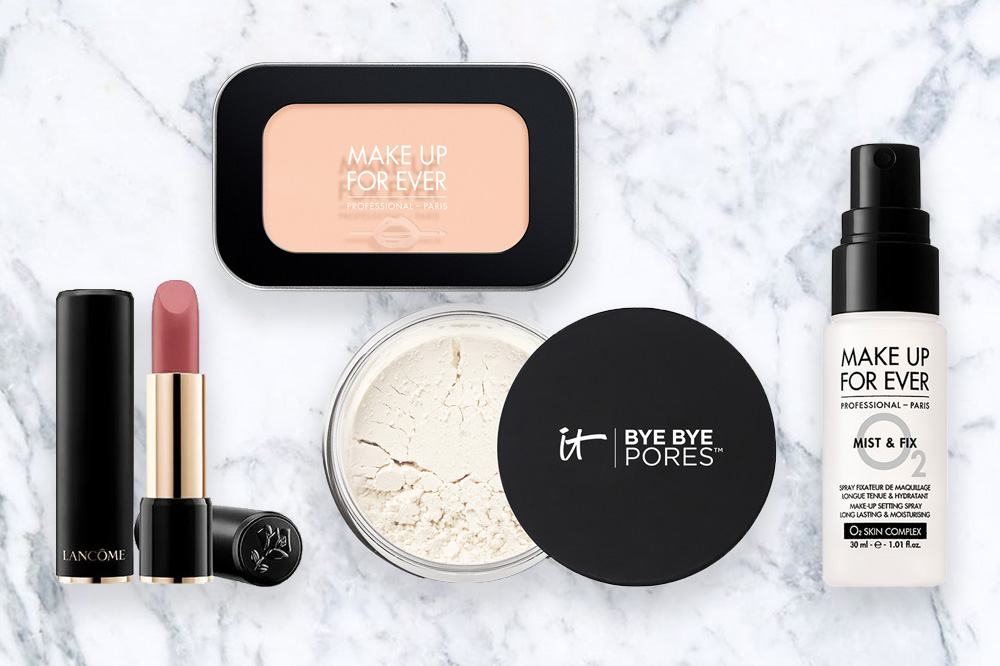 Left to right:
Lancôme L'Absolu Rouge Drama Matte in 274 Sensualité ($49)
Make Up For Ever Artist Face Colors Pressed Powder in H104 ($32)
IT Cosmetics Bye Bye Pores Silk HD Anti-Aging Micro-Powder ($42)
Make Up For Ever Mist & Fix Setting Spray ($22)
What's your earliest memory with makeup?
I was probably 3. I found my mum's red lipstick and applied it all over my face and body, except my lips.
When did you start getting into makeup?
When I was 18 or 19, I think. A lot of my friends started when they were 15 or 16, but I was a real tomboy. I think I didn't wear skirts until I was about 16 or 17, when my mum forced me. I had a boyfriend when I was about 15 years old, but I didn't even wear makeup then.
How did you learn to do your own makeup?
Back then, there was no YouTube so there was no reference or online guru to teach me. It was really trial and error. Nowadays, when you see all the young girls with perfect-looking makeup, it's really unfair because we had to go through horrendous looks.
Basically, I sit in front of the mirror every day and go like, "What am I going to do with this? I think this goes here… I think this goes there," and you just try.
HAIR & BODY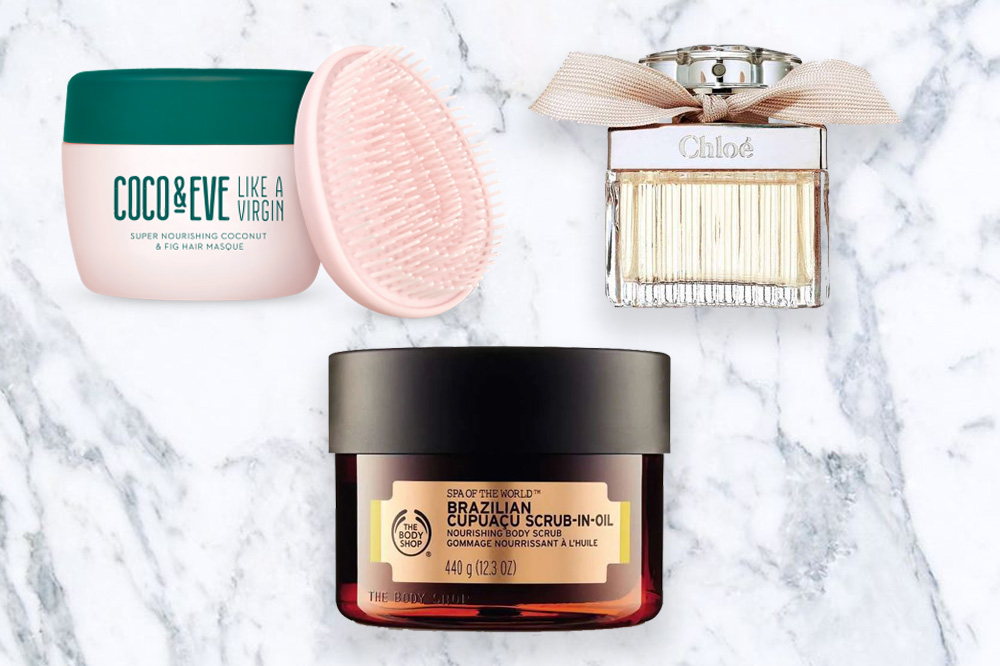 Left to right:
Coco & Eve Like A Virgin Super Nourishing Coconut & Fig Hair Masque And Tangle Tamer Set ($65)
The Body Shop Brazilian Cupuacu Scrub-in-oil ($56)
Chloé Signature Eau De Parfum ($176)
The entertainment industry is known to place a certain emphasis on looks. Due to the nature of your job, do you feel a pressure to look a certain way?
I don't really worry too much about how I look. I'm totally comfortable going out without makeup and going barefaced on camera as well—it doesn't really bother me. If I put on weight, [I'll] just rock that double chin. If I lose weight, I'll flash my abs. Whenever I want to eat and I'm happy, I'll do it. When I feel unhealthy and kind of sluggish, then I will work out.
Without sounding like a yaya papaya (an arrogant person), I think I'm pretty blessed that I look decent without makeup. Playing with makeup looks or clothes just spices up my life and makes it more fun for me.
What advice would you give younger girls who might not be as confident about how they look?
Never dress up and make yourself look a certain way just for someone. You've got to be comfortable with it, you've got to be happy with it, you've got to like yourself and love yourself.
Roz Pho's Skincare & Makeup Routine
Get to know Roz Pho by following her on Instagram, YouTube and Facebook.
Cover image: Source
Also read:
Xixi Lim Shares Her Beauty Routine & Why She Stands Up For Plus-Size Girls