Sanrio Camping Collection
Sanrio giant plushies are perfect for nua-ing with at home, but if you're looking to lepak outdoors with a tad of cuteness, Sanrio has a new camping collection that features Hello Kitty and friends. From foldable tents to cutlery sets, the collection has all you need for an unforgettable nature experience with your fellow kakis. 
Foldable tents
Whether you're planning to hang out with your gang at East Coast Park or Sentosa, these foldable tents are perfect for the activity.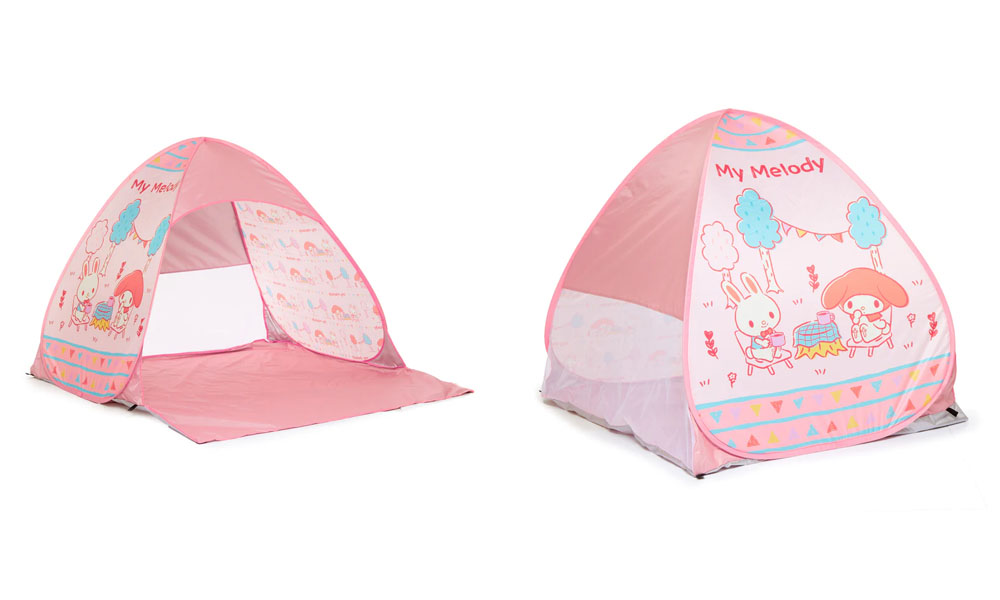 Decked in pink, the first foldable tent design features My Melody. On one side of the tent, you'll spot her having a tea party with her bunny friend, and on another, you'll notice repeated patterns of them.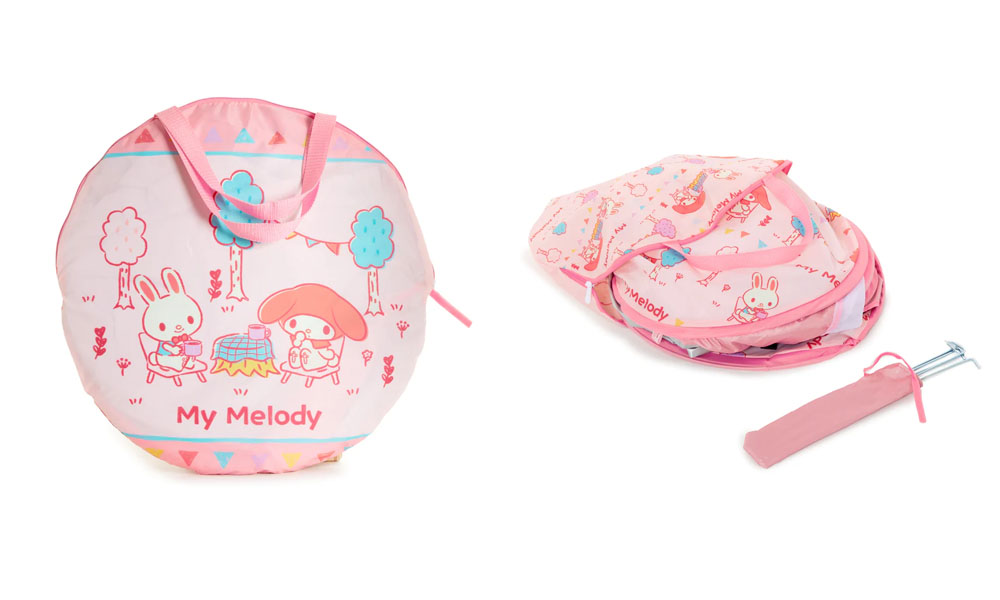 Rest assured even if you're not a handyman, you can still set up and collapse the tent with ease. Plus, the tent folds into a circular bag that comes with handles so you can store it at home without it taking too much space.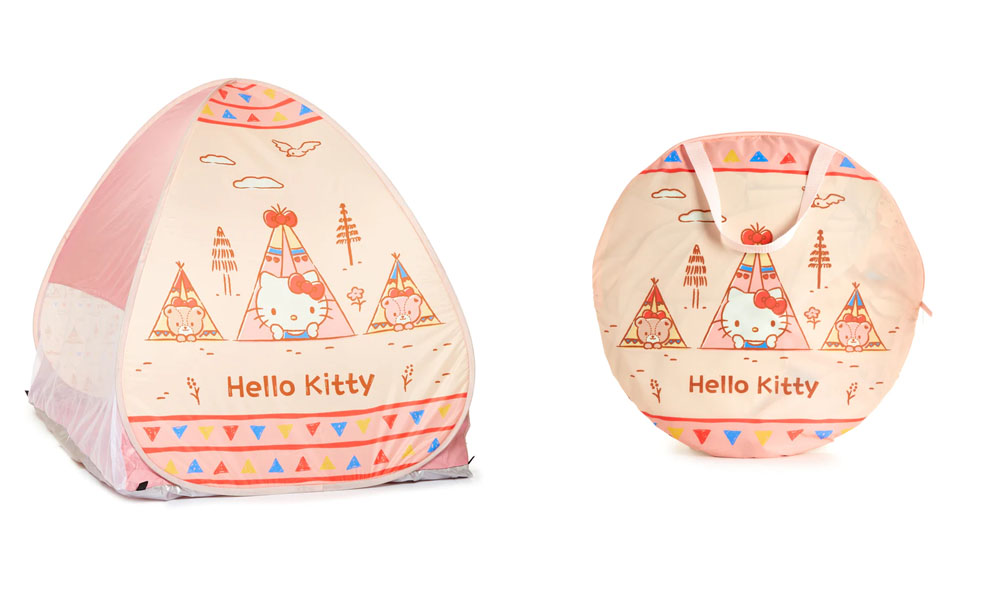 Fans of Hello Kitty will also rejoice at the next design featuring the cat character with her friends inside teepee tents. Similar to the tent with My Melody, it also folds down into a circular bag. 
Each foldable tent retails at USD$68 (~S$94.60). 
Foldable chairs
Not everyone enjoys sitting on the ground even if there is a picnic mat, since the ground is not the most comfortable. Rest your back on one of these foldable chairs that also come in the designs of Hello Kitty and My Melody.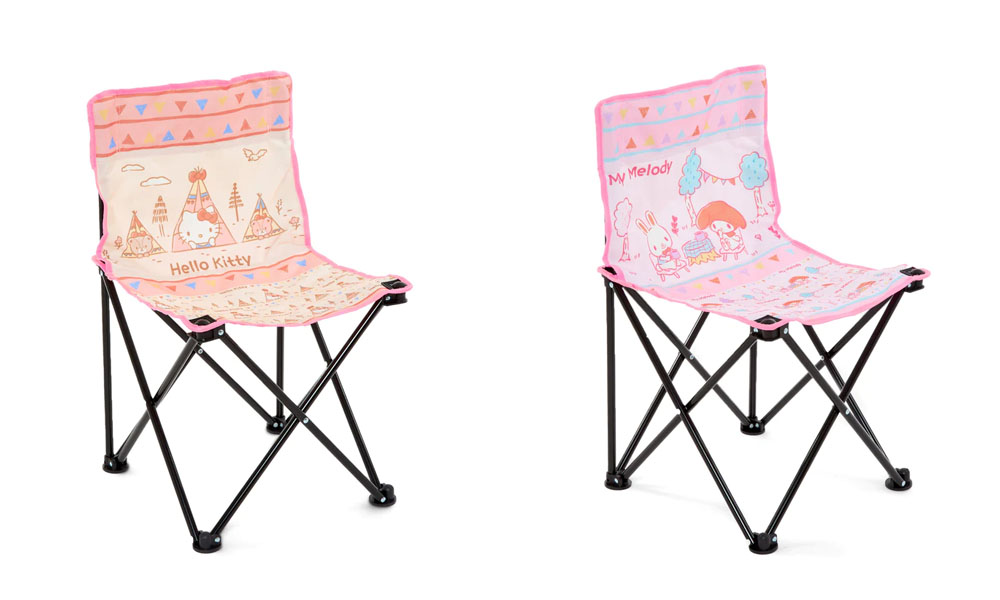 The chair has approximate dimensions of 35.5cm x 35.5cm x 58.4cm when open, and comes with a drawstring bag with straps for easy carrying. 
Each foldable chair retails at USD$49 (~$68.20). 
Foldable mats
As the saying goes, "the more the merrier" — the collection also has foldable mats you can bring along for large outdoor gatherings. Similar to the other items, the foldable mats feature the same Hello Kitty and My Melody designs.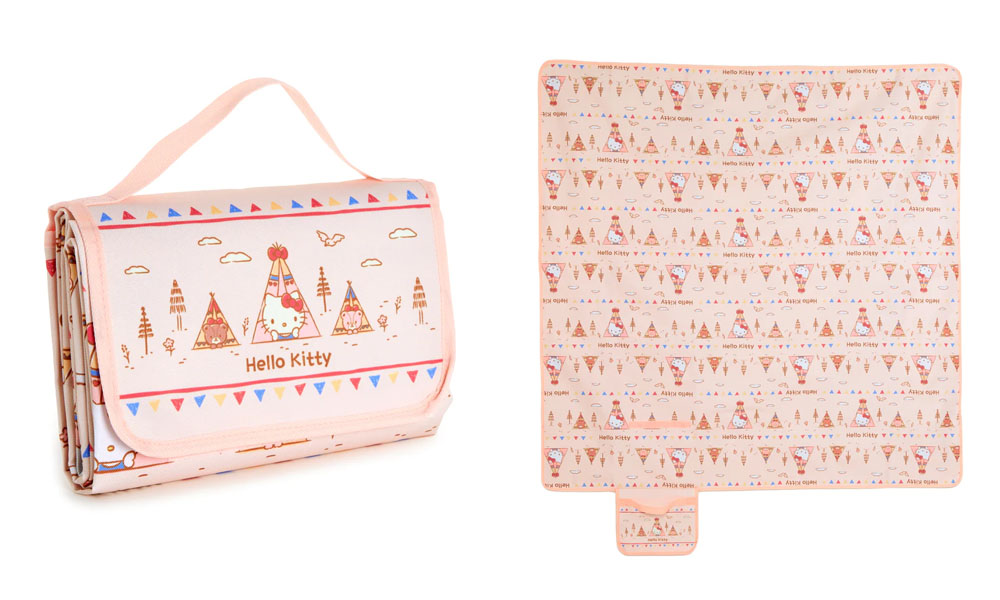 The mats spread open to dimensions of 139.7cm x 139.7cm, and are super convenient to lay on the grass or sand. With them on the ground, you can bid farewell to grass stains on your pants and shoes, and prevent sand from getting into your food.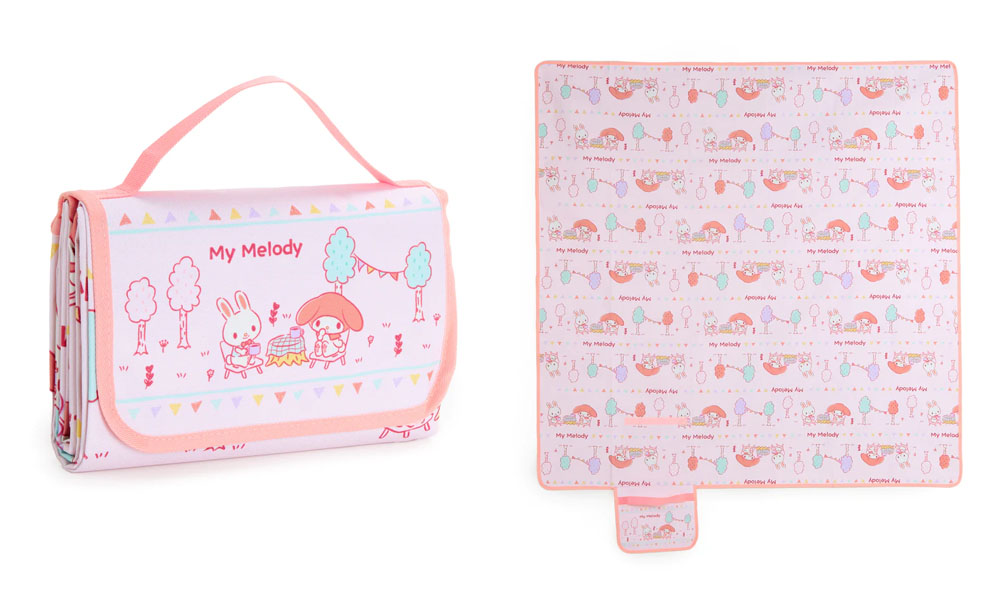 When not in use, you can always fold the mat and secure it with the velcro function. Note how there is also a handle for easy carrying.  
Each foldable mat retails at USD$48 (~S$66.80). 
Foldable tables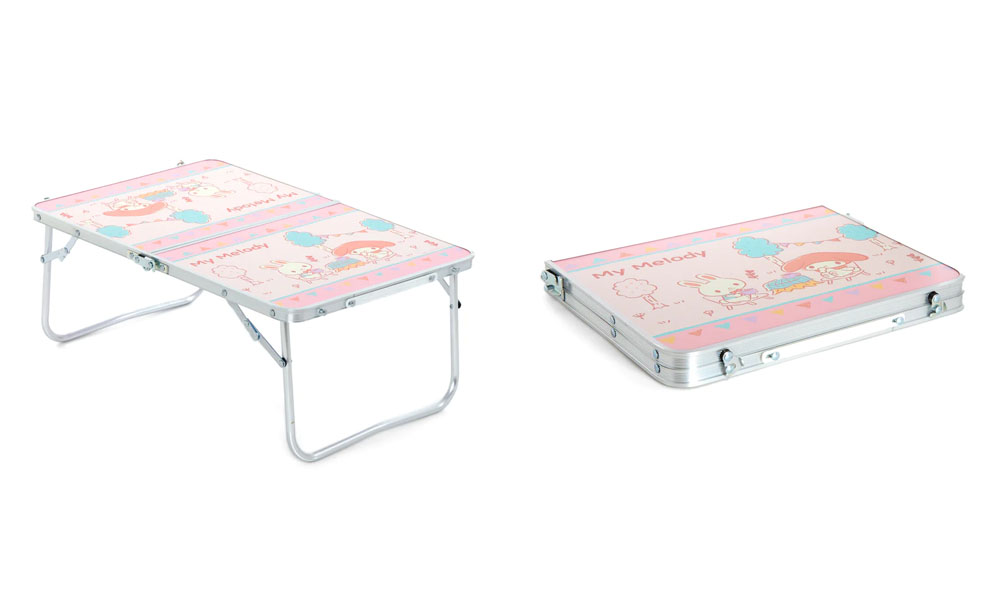 Instead of inviting creepy crawlies for a feast, keep your munchies off the ground when you bring along one of these adorable foldable tables. The Hello Kitty and My Melody designs of the collection repeat on the table tops which fold in the middle when not in use.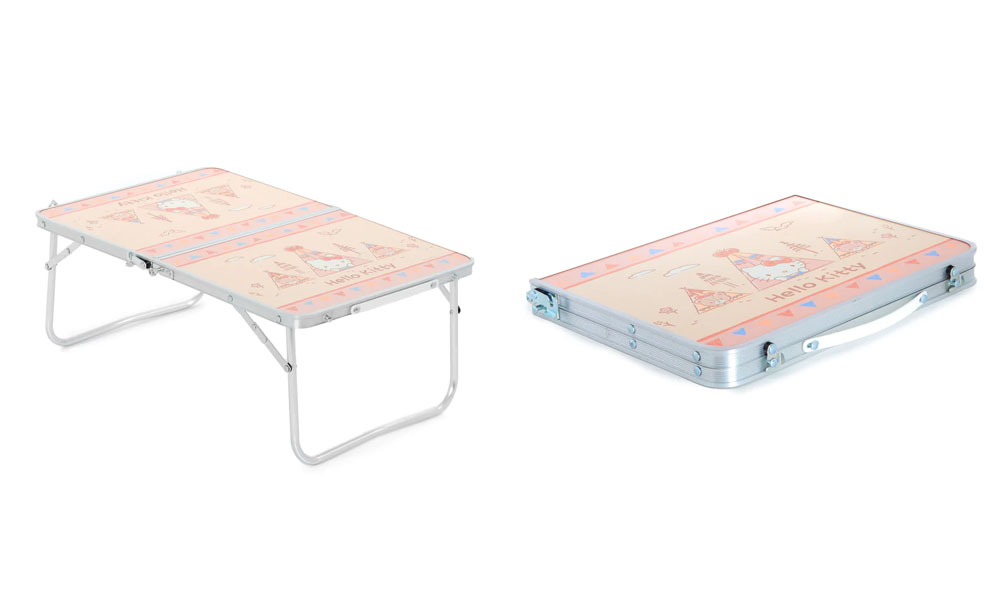 The table has a dimension of 60cm x 40.6cm x 24.1cm when opened, and retails at USD$48 (~S$66.80) each. 
Cutlery sets
With more people making an effort to lead a greener lifestyle, you can do the same when you use a stainless cutlery set instead of disposables.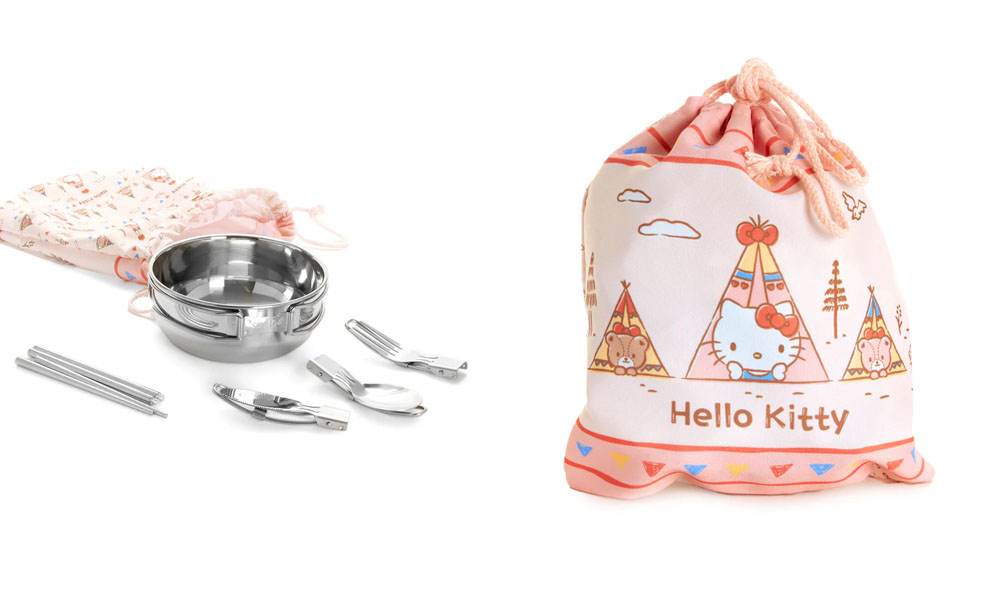 The set comes with space-saving utensils like a foldable fork, spoon, knife, chopsticks, and pot. What's more, the pot is designed with an extendable handle that is perfect for keeping over a fire. This gives you all the more reason to whip up snacks or meals like instant noodles during your next camping getaway.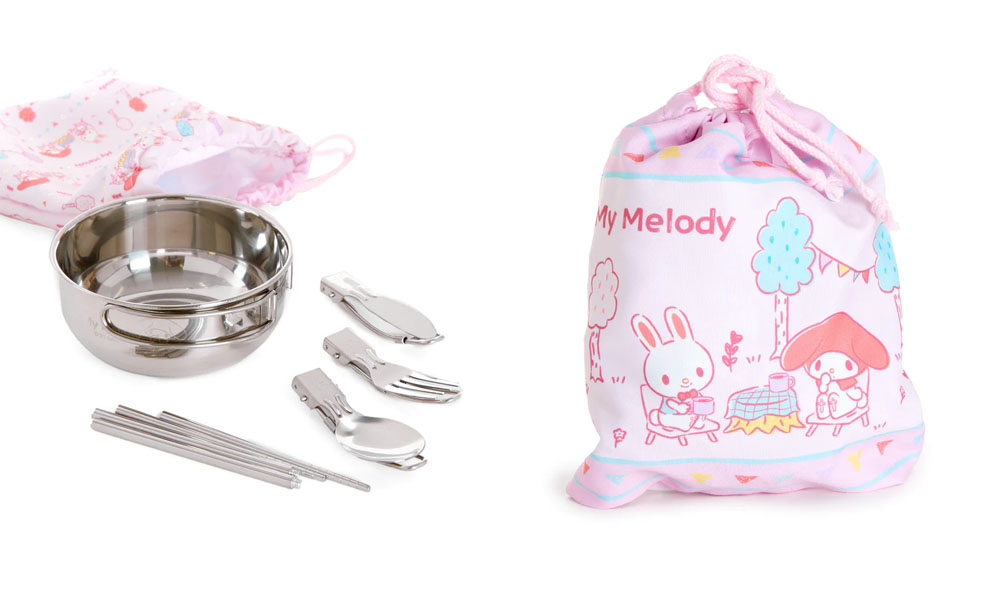 For easy storage, there are also drawstring bags in the designs of Hello Kitty and My Melody to keep the above-mentioned cutlery. 
Each cutlery set retails at USD$39 (~S$54.30). 
This Sanrio Camping Collection Prepares You For A Cuten Outdoor Adventure
Stand out from the crowd when you have one of these camping items from the Sanrio camping collection. Interested folks can find out more information about the collection on Sanrio's official website. 
Unfortunately, they are only available to those residing in the U.S for now, so you might want to consider freight forwarders that ship to Singapore or wait for the collection to be sold locally. 
All images courtesy of Sanrio.
Also read: 
These Kakao Friends x Chums Camping Items Include A Mini Grill Pan To Conquer The Outdoors