Scentopia Perfume-Making Experience
Sure, we've all heard of personality tests like MBTI, BaZi or even horoscopes, but if you're looking to create something uniquely yours from these test results, Scentopia is the place. 
Introducing Singapore's first augmented reality perfume-making experience at Sentosa, get creative at Scentopia's hands-on workshop and discover the scent that best matches your personality.
The store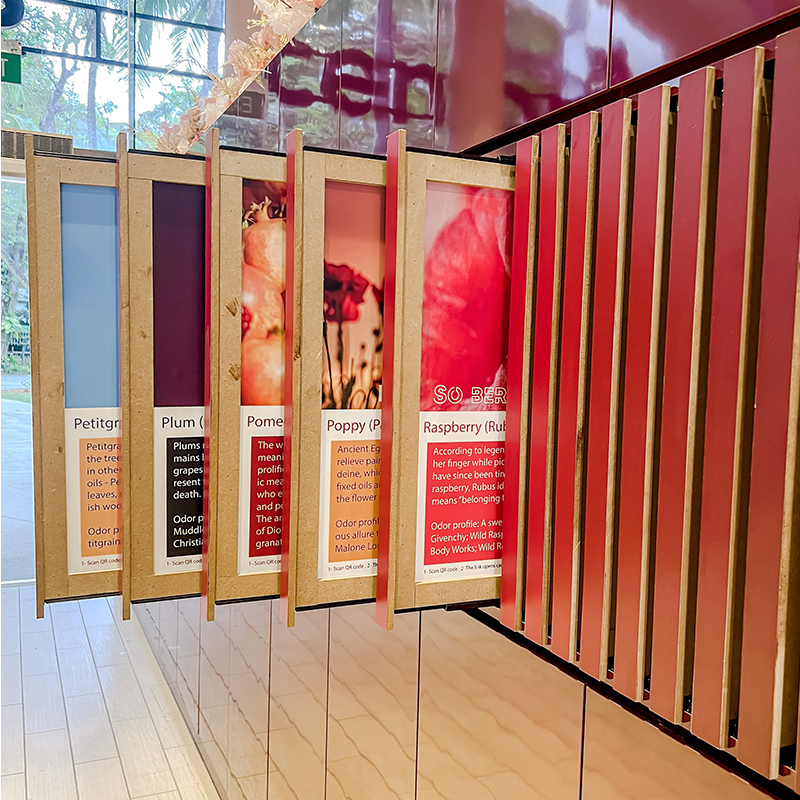 Image courtesy of Scentopia
Nestled within Beach Station at Sentosa, you'll first be treated to an interactive Scent Library with over 174 types of ingredients. Each ingredient tablet comes with an odour profile, providing information on the scent, such as what type of perfume it's commonly found in.
The tablets also come with a QR code, along with over 300 free-to-use AR scented exhibits located around the store. Go on a mini tour and scan the QR codes with your handphone. You'll unveil more details about the scents in a 3D-like digital world.
We'll let you in on a secret: a new Smell Station is said to be on its way. Here, visitors can make use of their sense of smell while discovering the ingredients for a more immersive experience.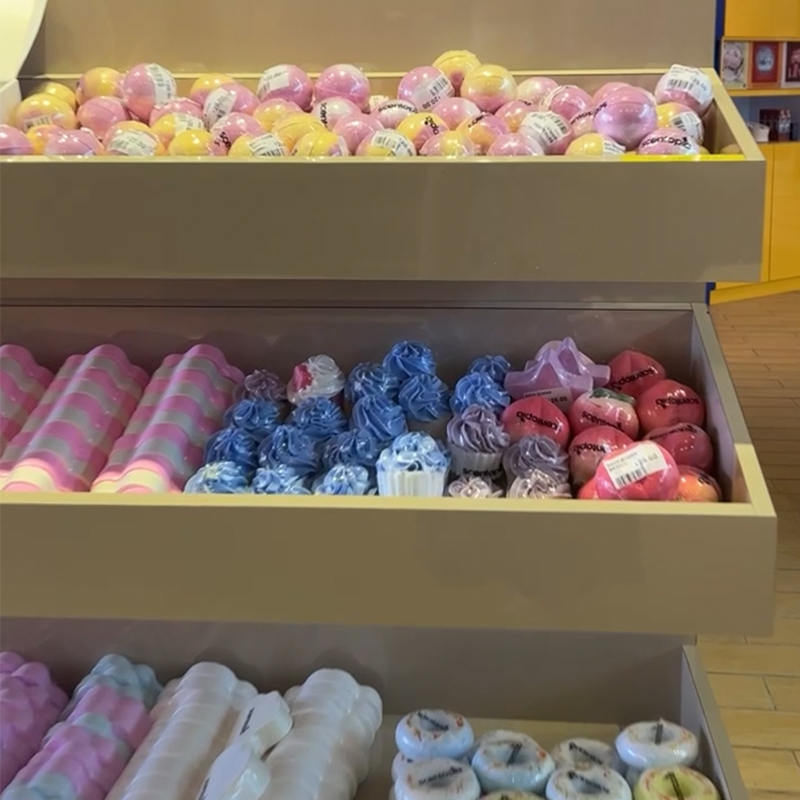 Image courtesy of writer
If you're thinking of getting a special gift for your bae, Scentopia also offers pre-made scents such as bath bombs with orchids notes, bar soaps and room fragrances. It's the perfect haven for perfume collectors to expand their collection with a more localised touch. 
Perfume Personality Test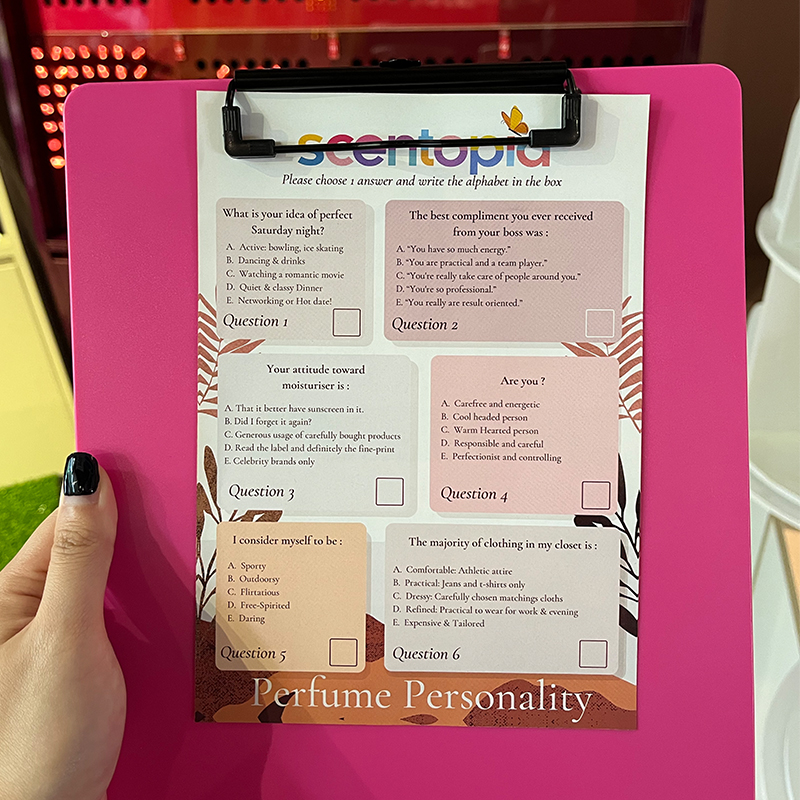 Image courtesy of writer
For those who are interested in creating your own perfume, go for the perfume-making workshop. At the start of the workshop, you'll be required to fill in a Perfume Personality Test with 10 questions to discover your personal scent selections. 
It almost feels like you're doing a MBTI quiz, with questions such as "What is your idea of a perfect Sunday night?" and "I consider myself to be…"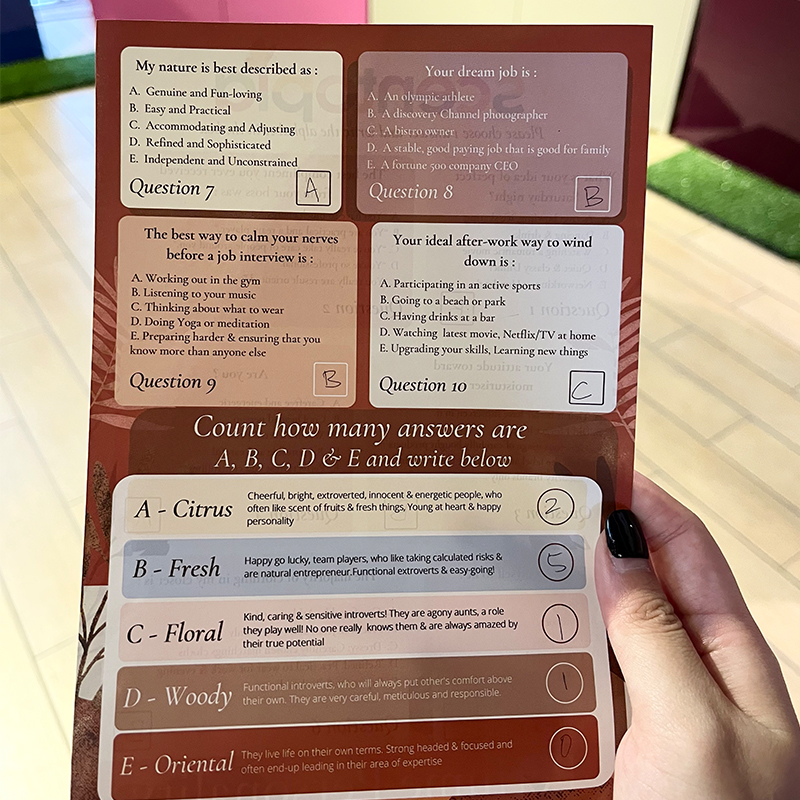 Finding out that my personality type best suits a fresh scent
Image courtesy of writer
After completing the test, compile your results at the bottom to discover which of the 5 main scents you're the most compatible with. The 5 scents are categorised into: Citrus, Fresh, Floral, Woody and Oreintal. 
My results showed Fresh to be the highest category, which I was informed is a scent that's often compatible for extroverts. On the other hand, scents like Floral and Woody, where I had lower results, were more popular for introverted people. It was a pleasantly surprising discovery for me, especially since I have never owned a fresh-scented perfume before. 
Perfume-making experience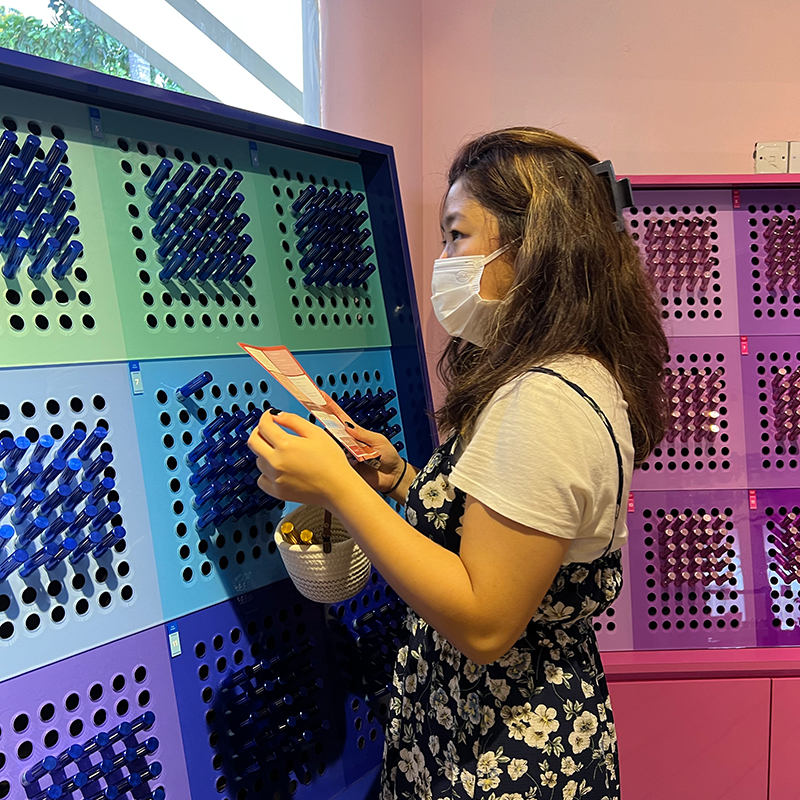 Smelling and selecting the different scent categories
Image courtesy of writer
Here comes the fun part — mixing and matching the scents to create your own perfume. Categorised according to colour, each scent category comes with 12 different types of perfume wands. Treat your nose to a variety of scents and pick out your top choices in the basket provided. 
You should follow your Perfume Personality Test results closely while picking out the wands. For example, since I scored a "5" in Fresh, I got to pick out 5 different perfume wands from the Fresh section. I also got "0" for Oriental, meaning I didn't have to pick any scents from that category.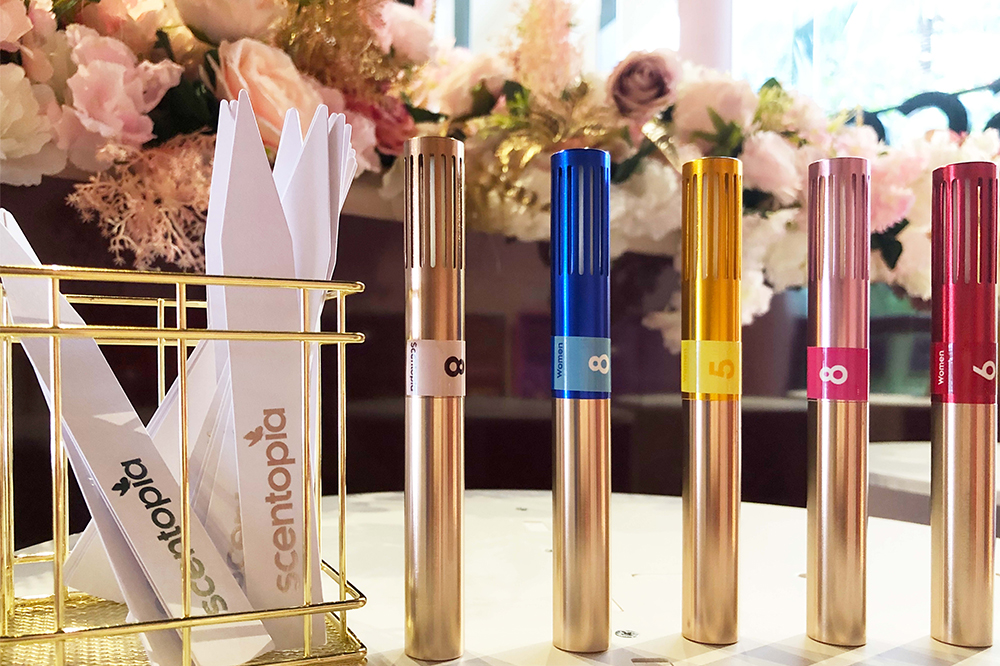 Perfume wands categorised by colours and numbers
Image courtesy of Scentopia
Fun fact: there are over 3.4 trillion combinations available, so you'll definitely be spoiled for choice. A container of coffee beans are also provided at each section. These serve as a nasal palate cleanser when the scents get too overwhelming.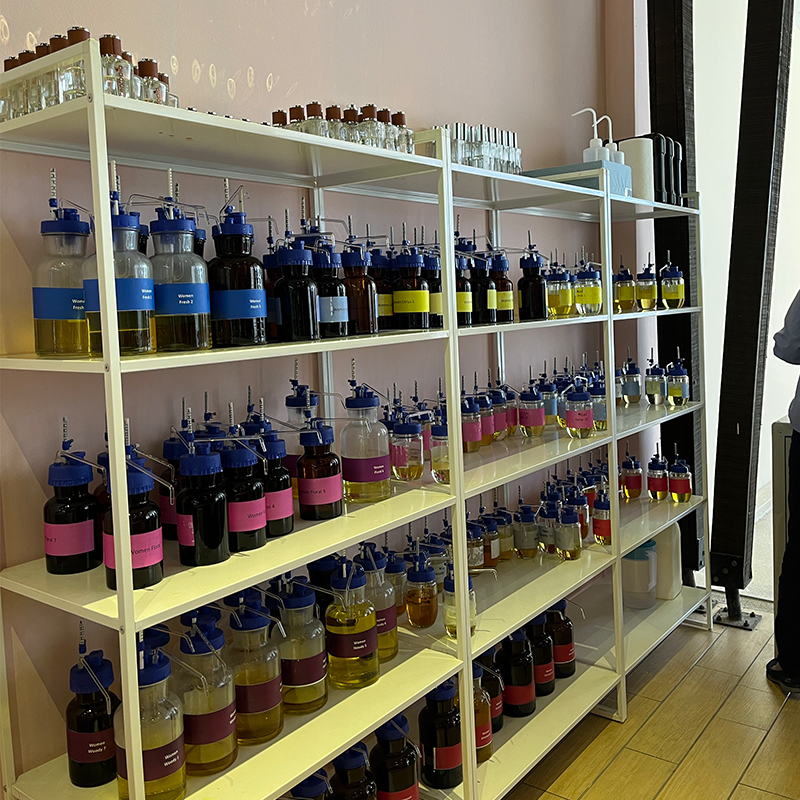 Image courtesy of writer
Once you're done picking out your favourite scents, a staff member will provide a sample of the completed perfume. Pro tip: since the onslaught of scents in the store might hinder your sense of smell, step outside and take a whiff for a more accurate experience!
No need to feel paiseh if the end result isn't up to your liking, you can let the staff know and they'll be able to tweak the perfume according to your preferences. Initially, my perfume felt a bit too strong and mature for me. So I requested for a sweeter finish, and fell in love with the new result. 
Final product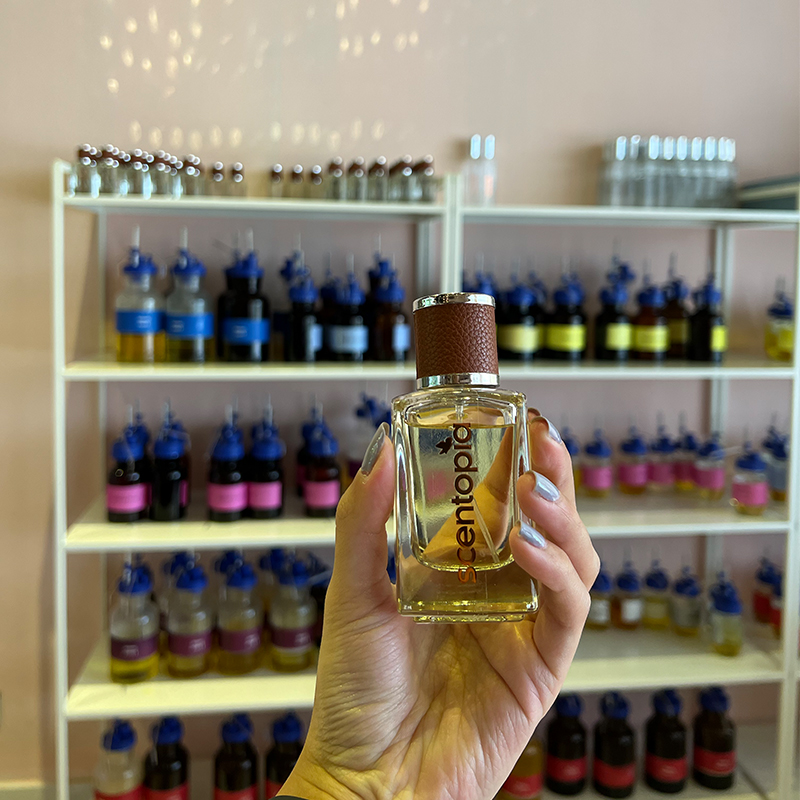 The completed product — a perfume that best represents me
Image courtesy of writer
You'll then be introduced to an array of perfume scents that resembles a potion room straight out of a Harry Potter film. The staff will begin to work their magic, aka creating your personalised perfume. 
The finished product will be presented to you in Scentopia's atas-looking hand-crafted crystal bottle. Beyond that, you can also curate your own signature scent such as room fragrances, reed diffusers, bath oils and scented candles too. 
Scentopia Offers A Hands-On Perfume-Making Experience That Radiates Your Personality
For those who are tired of complaining that there's "nothing to do" in Singapore, Scentopia's perfume-making experience is a treat for couples, families, and even friends who are looking for an intimate and fun sensory experience. 
Starting from $95 for their 50ml perfume making experience and $125 for 100ml, head over to Scentopia's website to book your tickets ASAP. For more fun indoor activities like this, check out this listicle to treat your partner and avoid the Singapore heat. 
Price: From $95 for the 50ml perfume making experience
Address: 36 Siloso Beach Walk, Singapore 099007
Opening hours: 11am to 7pm daily
Booking: Fill in the online form on their website
Website | Facebook | Instagram
Cover: Images courtesy of writer and Scentopia.
Also read:
These Pocket-Sized Mahjong Perfumes Will Give You A Winning Scent When You "Pong" & "Zi Mo"