Attending A Sex Party In Geylang
"Would you be open to a swing party?"
Up until that moment, all the swing I knew was of the dance variety. But given the nature of my relationship with Nick, this definitely wasn't an invitation to bop to jazz.
Nick and I had connected on Tinder over profane, sacrilegious innuendos, involving self-flagellation, prostration and holy sutras to finding enlightenment in the bedroom. He showed me his contraband political literature, revealed he'd dropped out of an elite school, and did hard drugs every now and then. He was the poster child for the Singaporean bad boy, a puritan's worst nightmare. We'd meet every few weeks to mess around, talk about group sex and how to get high.
Nick once said, "Intelligent people are more experimental with life, and bolder with drugs and sex." It was a pompous thing to say, especially since he was referencing himself, but he did just prove he had the resourcefulness to get us swing party invites.
"Where'd you find these people?"
"Sammyboy Forum," he declared smugly.
A few weeks prior, Nick had begun trawling the forum, looking for (legit) listings under the category "Orgies/Swinging/Fuck-Buddies/Sugar-Daddies? It's All Here!". Bypassing the leceh process of crafting bios, swiping and banal banter, people on Sammyboy aren't wasting any time on foreplay or decorum. The listing is literally ASL HMU. The site's aesthetic says it all.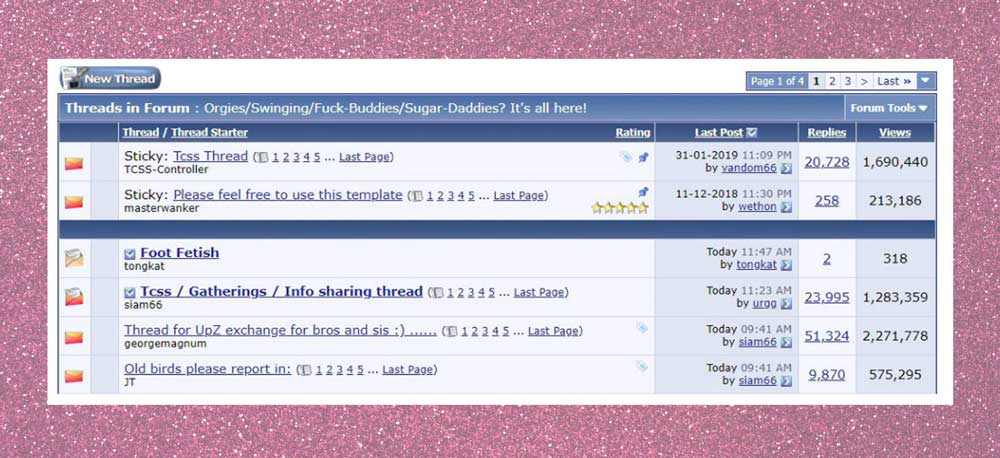 If Seeking Arrangement, Pornhub and HardwareZone had a threesome baby
Nick proceeded to show me a photo of the swing organisers: A selfie of a couple in their early thirties at the beach. I'd imagined hipsters with full sleeve tattoos or hippies with shaggy hair and baggy boho outfits. But these two looked like your everyday Singaporeans, the kind you're sure you've crossed paths with on the MRT to work.
Seeing their faces meant shit was getting real. But sex parties were never a high-priority experience on my bucket list.
"Go recce by yourself first," I suggested, like it was a site visit.
"Girls can go alone. But guys HAVE to bring a girl along. Otherwise all the coffeeshop chee ko peks would just conveniently show up for some."
Whether this was some made-up excuse to convince me to go or a requirement set out by an under-the-table swing party association, I had no way of knowing. But I knew if I returned to the motions of online dating after coming so close to this new corruptive force, I'd be haunted by the regret of an opportunity lost. #fomo
I agreed and we RSVPed.
The day of the party
The fateful day arrived. Nick and I convened at a bus stop near the fuck-spot. I realised it was the first time I'd seen him in daylight.
Who would choose to meet at 1pm on a weekday afternoon? Do people take regular AL/MC for sexy time? And why Geylang?? My mind buzzed with logistical questions that distracted from the serious existential questioning of my absurd life choice of agreeing to this meeting at the edge of Singapore's red-light district.
With the venue being so historically (in)appropriate, under any other circumstance, I'd have been cracking bad jokes to shake off the nerves. But I took to watching passing cars, wondering who else was driving to meet us. Even smart-mouthed Nick was oddly quiet, chain-smoking the entire way down Lorong 4, to the block of service apartments.
We reached the building, walked up the stairs. This was it. We knocked and entered the room.
Also read:
7 Of The Worst Catfish Experiences, Revealed By Singaporean Millennials
Meeting the organisers
The curtains were drawn, it was dimly lit and there were two queen-sized beds, shrouded in a haze of cigarette smoke. There they were, the organisers, the couple from the photo, still fully clothed.
Good, we weren't late to the party.
"Come on in, you guys," the man beckoned.
If there was a memo explaining proper sex party etiquette, we never got it. We started making formal, proprietous introductions, even shook hands. We awkz AF. As much as Nick and I attempted to be verbose, the old birds, Trevor and Bridget, picked up on our uneasiness. They told us they'd been swinging for years and "Aiya, first time will be like this one, lah!"
They told us four more people were coming, so we had to get comfortable and "make friends" while waiting.
Trevor started the ball rolling. He was a property agent, and a chatty one at that. We asked him if he'd ever hosted a party in properties he's handled. He laughed it off, saying it would be "unprofessional". The cheeky glint in his eyes implied otherwise.
We then asked what was the relationship status between him and Bridget.
"Sometimes, couples are husband-wife or GF-BF. But Bridget's not my wife; she's my swing partner, my partner-in-crime for 6 years now. My wife doesn't know…"
I was trying my best to approach this experience with a certain open-mindedness and had no business moralising while on this hedonistic pursuit. But I just couldn't help feeling disturbed that men could blindside their wives like this. Or make strangers like me, unwitting third-parties.
Trevor said he and Bridget would meet their swing friends outside, eat at Hai Di Lao and Swee Choon, even celebrate each other's birthdays. It was a community, a subculture if you will. For a moment, the conversation was about an innocuous hobby group of like-minded people coming together to do something they enjoy. I'd almost forgotten why we were meeting, when Trevor's monologue was suddenly interrupted by a phone call. One of the couples had backed out.
Considering the nature of the event, last-minute flaking didn't seem out of the ordinary. It was forgivable, given how people are already struggling meeting off Carousell.
But the last couple really made Carouhellers look like saints. Citing bad excuses to mask their indecision, from "losing their way" to "wife was so hungry she needed to eat right away", Trevor had to give them an ultimatum: show up or we'd start without them.
The duo finally did make an appearance, cautiously entering the room with body language not unlike frightened feral street cats, ready to dart with any sudden movement. They looked like they were in their late forties. I made extended eye contact with the older woman, and she seemed to register that Nick and I were young enough to be her children. That's when she bolted, husband following promptly behind.
The attendance had officially halved. But Trevor was unfazed and proceeded to explain the rules and regulations: condoms were non-negotiable, partners needed to consent to sex acts, there'd be no same-sex action, and voyeurism was permitted.
I took one last big gulp of air. My original intention was just to be a bystander to all this, because I was hiding a bloody secret. Aunt Flo had chosen precisely the wrong time to visit. But the poor attendance made it such that my participation was inevitable. We proceeded with what we had RSVPed for.
My First Sex Party Experience
Before leaving the scene, I took a final glance back at the room. Blood all over the sheets. The place could've passed off as a murder scene and in some sense, it was. It was the complete butchering of sex as I knew it and the stark realisation that sexual deviants are among us. They are us.
Kinky really does come in all shapes and sizes. And ages, for that matter. Sometimes they're next to you on the MRT or at the adjacent table at Swee Choon having supper. The only way to suss out who they are might be to turn up for a sexy. But preferably when you're not bleeding from your cooch.
Also read:
Cover illustration by Asher Mak