Catfish Experiences In Singapore
Dating apps like Tinder, Bumble and Coffee Meets Bagel have made it easier than ever for us to hook up or find our happily ever afters. But this convenience has its downsides—more Singaporean Millennials have fallen victim to fake online personas, otherwise known as the phenomenon of being catfished. Check out these 7 catfish experiences from Singaporean millennials that left us completely shook.
Names have been changed to protect identities.
1. He asked me for sex, then stood me up
I matched this guy, Jake, on Tinder. He was tall, had piercing blue eyes and brown hair, and was a doctor, or so he claimed. Conversation flowed well enough before he suddenly asked, "Sorry for being direct but would you want to have sex with me?"
I declined and he asked me out for lunch at the new PS. Cafe at City Hall instead. Despite the red flag, I thought, "Okay lah, give chance because he's quite cute."
When I got there, he was nowhere to be seen. I texted him to ask about his whereabouts, and he told me he was stuck in the toilet with a stomach ache.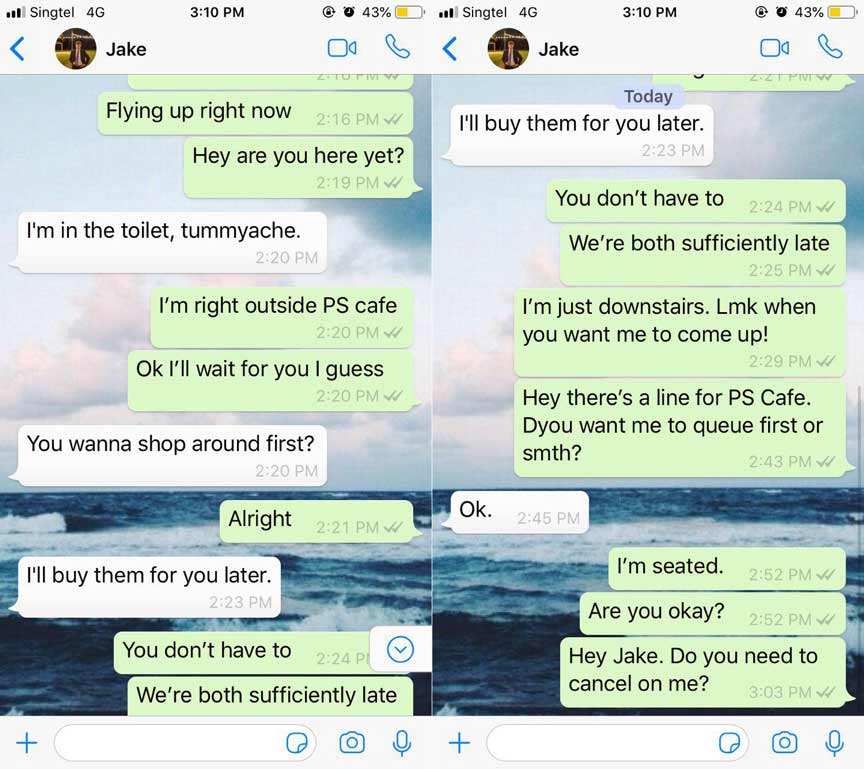 Later, he apologised profusely and even had the cheek to ask if we could reschedule. I decided to test him by saying I was heading to Kilo Lounge and that we could meet there.
That evening, he said he'd arrived at the club and was waiting for me. I knew he was flat-out lying because Kilo Lounge was closed that day.
After exposing him as a pathological liar, I promptly deleted all my dating apps.
Genevieve, 25
2. He stole an influencer's identity
As one of Dee Kosh's followers on Instagram and YouTube previously, I was pleasantly surprised to find his friend Ben Tang on Tinder. Back then, I recognised him by face and not by name, so I swiped right even though the name on the profile said "Ashley", not "Ben".
When we matched, I tried to break the ice by asking him questions. With every question I asked, his answers got more and more curt. Not long after, he unmatched me completely.
That's when I tried looking for him on Instagram through Dee Kosh's profile and finally noticed his name was Ben. I felt silly for not realising that I had matched an impersonator, but I was also relieved it didn't get any further.
Sandra, 22
3. Someone impersonated me on OKCupid
People usually talk about how they got catfished, but in my case, someone used my identity to catfish unsuspecting men on OKCupid.
I only found out after I started getting messages on Facebook from guys I didn't know, saying we'd matched on the site when I didn't have an OKCupid account.
From my photos to my full name, I had been impersonated. I have since reported this to the dating platform, but I still get the occasional friend request from random guys.
Huimin, 23
4. I made him put a paper bag over his head
A few years ago, I matched a hot, chiselled Caucasian guy on Tinder. We started to exchange photos, but his looked like they were taken a long time ago. When asked for newer ones, his excuse was that his phone was faulty.
He then invited me to dinner so he could prove he had nothing to hide. I warned him I would make him wear a paper bag if he didn't look like his photos. He found me hilarious, but I was dead serious.
Before the date, I bought a paper bag, and cut eye and mouth holes in it.
My suspicions of catfishing were confirmed when a balding, middle-aged man showed up on our date. The pictures he sent me must have been taken decades ago!
True to my word, I made him wear the paper bag throughout dinner. He tried to protest, but I was determined to punish him for misleading me.
You would think this was the end of my ordeal, except he texted me a month later, telling me he missed me and had kept the bag for sentimental reasons. WTF.
Cherissa, 29
Also read:

5. He used photos of 3 different guys' abs in his profile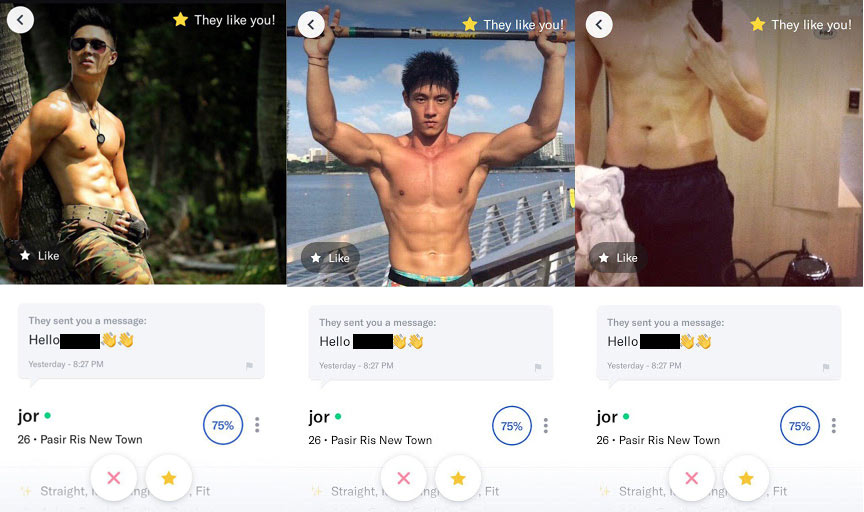 A guy named Jor messaged me on OKCupid. I didn't think much of it until I clicked his profile to ogle his abs. That's when I noticed his photos looked like they were of three different people.
I found the second picture to be familiar, and a quick reverse Google image search confirmed it was kayaking athlete, Brandon Ooi.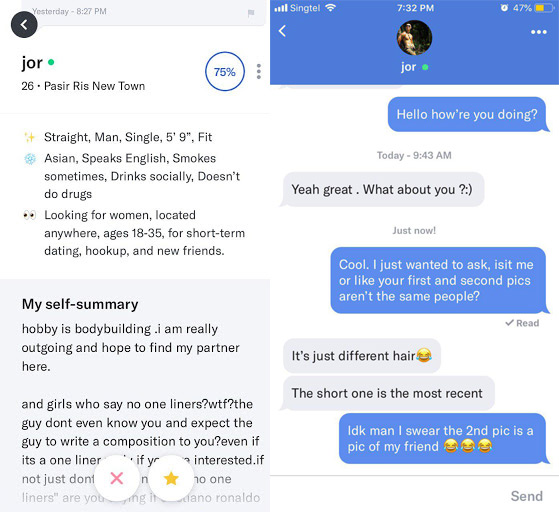 I asked him about it and he said it was just him with different hair. When I pressed him further by saying the second photo "looked suspiciously like my friend", Jor didn't reply.
I guess he was embarrassed he got called out. So fair warning, girls, watch out. And Brandon, your image is still being circulated on Tumblr and the gay internet.
Catryn, 25
6. I left him standing alone in the rain
One of my first Grindr matches was a sexy, 20-something Caucasian guy. Thrilled and horny, I made plans to meet him at the bus stop in front of Tanglin Mall.
That fateful day, I waited for him as the sky poured. I forgot to bring an umbrella, so he said he would bring one down from his apartment.
A feeling of horror crept up on me when an overweight man in his fifties walked towards the bus stop holding two umbrellas.
Looking to make a quick escape, I made up some lame excuse that I actually had a boyfriend and couldn't bring myself to cheat on him.
I then hopped onto the next bus that pulled up and left him standing alone in the rain.
Yongcheng, 28
7. I fell victim to an online sex scam
I met a super hot girl on Tinder and not long after, she suggested we take our conversation to Skype. I wasn't going to say no to the prospect of cyber sex, so I agreed.
On my phone's screen, the girl in the video looked sufficiently like her Tinder profile so I didn't have any reason to be suspicious. Young, dumb and horny, I got off during our video call and thought that was it.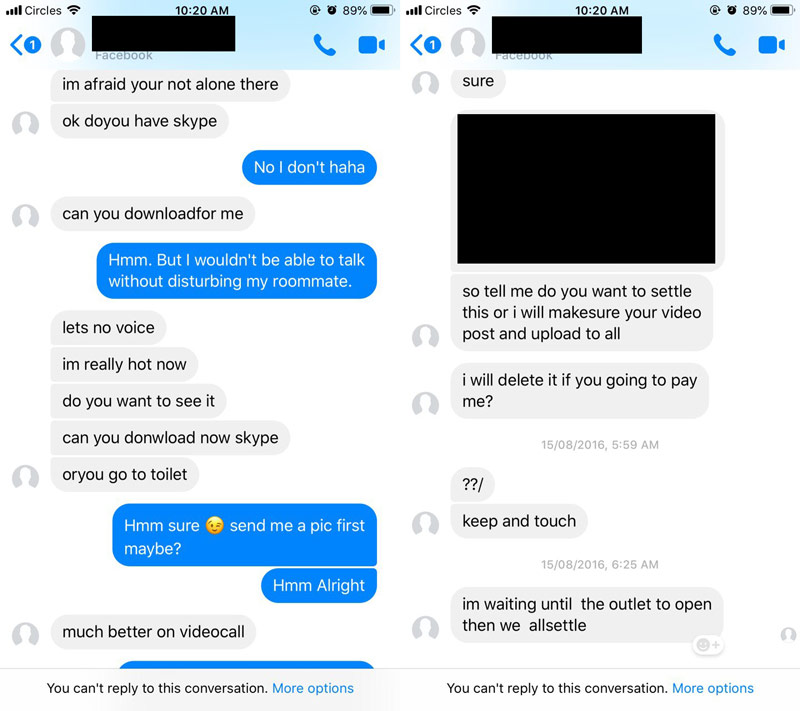 Before and after
The trouble came when she threatened to distribute the footage from our call online if I didn't transfer her a sum of money. I didn't want to believe it, until she showed me evidence that a video of our Skype tryst was indeed in her possession. It was then that I decided to make a police report.
The police informed me that these scams were on the rise and usually operated by syndicates, which means the "girl" I was skyping with was probably a fake persona.
Moral of the story: sex is great but remember to think with the right head.
Jasper, 25
How To Avoid Getting Catfished
Catfishing happens more frequently than you'd think. While the victims in these stories didn't end up in dire straits, some internet love scammers extort thousands of dollars from their targets by asking for "financial help". It is important to take precautions so that it doesn't happen to you.
To avoid being catfished or scammed, you can:
1. Threaten your date with a paper bag like Cherissa did
2. Do a 2-factor verification e.g. Instagram, Facebook, if they're too good to be true
3. Arrange a video call before hanging out IRL, because videos don't lie
4. Beware of people who make grand declarations of love before meeting you. Even if they're not catfishing, this is a huge relationship red flag
5. Keep personal information confidential, like your IC number and bank details
6. Avoid lending your date money if you haven't met them in person
7. Trust your gut instincts. If you feel they're catfishing, they probably are
Otherwise, you can learn to fall in love with their personality. All the best!
This post is brought to you by the National Crime Prevention Council.
This post was first published on 7 February 2019 and last updated on 12 November 2023.
Also read:
10 Horror First Dates For Singaporean Girls That Make #ForeverAlone Look Good