7-Eleven And Sheng Siong Sneaker Designs
While most of us are spending our day indoors, complaining about being bored and lacking inspiration, Ox Street has given us a new Sheng Siong sneaker design to prove that we can still be innovative during these trying times.
Possibly inspired by the 7-Eleven sneakers birthed from the 7-Eleven x Nike SB collaboration, Ox Street has come up with a local rendition featuring the Singaporean supermarket, Sheng Siong.
Ox Street is a Singapore-based multi-brand streetwear retailer. They carry items from brands such as Adidas, Converse and Nike, which are available on their website for purchase. This streetwear marketplace functions to connect sellers and buyers in Asia and guarantee the authenticity of all items bought.
7-Eleven Nike Sneakers
Source
The 7-Eleven x Nike SB sneakers feature layered panels of red, green and orange to make up the iconic 7-Eleven colour theme. The 7-Eleven logo is planted right below the white Nike swoosh.
As always, Nike's attention to detail is apparent in this sneaker. The insoles feature the Nike SB logo with stripes in red, green and orange, while the shoelaces end with a similar tri-coloured aglet.
The pair was all the hype when it was first announced. However, rumour has it that the sneakers may no longer be released for sale; sneaker fans gotta wait for an official statement from Nike to confirm this.
Also read:
Chinese Artist Known For His Sneaker Masks Made One With A Grocery Bag From Italy To Show We're All In This Together
Sheng Siong Sneaker Design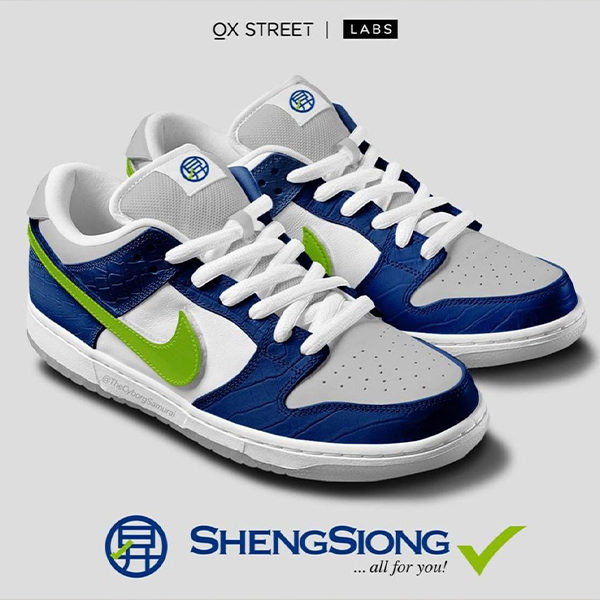 Source
Instead of 7-Eleven Nikes, we now have Sheng Siong Nikes from Ox Street. Their Singaporean take on the sneakers make for a unique pair of kicks.
Following the supermarket's symbol, a dark blue outline stands against the monochrome shoes, along with a Sheng Siong logo on the tongue. The iconic Sheng Siong tick in green is replicated as a green swoosh on the Nike sneakers.
The Sheng Siong sneaker design can be found on Ox Street's Instagram. For now, the local supermarket sneakers remain a design, and nobody knows yet if it will one day come true.
Sheng Siong Sneaker Design Proves Creativity Can't Be Contained
These 7-Eleven And Sheng Siong sneaker designs prove that even our local convenience stores and supermarkets can be a streetwear icon. If you think you can't get creative during CB, think again.
Also read:
Uniqlo's Billie Eilish By Takashi Murakami UT Collab Is For All The Bad Guys & Girls Out There