A Singapore Teen Mum's Story
When kids ask Caden who his father is, he blurts the name of the first father figure which comes to mind. Often, they are his grandpas or uncles who have filled the shoes of his biological dad since he was born.
But to Caden, a complete family is bounded by love, not by blood. He says 'dad' is a person who "protects and cares" because the 10-year-old was brought up to do so for others.
In his traditional Chinese home, he cooks 'typical grandma' porridge when his mother falls ill, saves pocket money to buy sweets for his 6-year-old brother, Caius, and kisses goodbye to his 8-month-old baby sister, Alessa, before he leaves for school.
When Caden tells me he wants to be a policeman, I ask, "What if someone hurts your mummy?"
"I will take katana chop them!" he assures with a grim face, then laughs and kick-scoots away with Caius, as Alessa eyeballs them silently.
I then watch them spend the next few minutes harassing their mother, Joyce, with incessant questions while I relish every ounce of singlehood.
With no sign of weariness, she entertains their banter about Youtube followers for 10 minutes and nags at them to remain silent on set for the next 20.
"Being a young mum is good because you have the energy to entertain them," she jokes.
But for the 30-year-old mother of three who has soldiered on through abusive relationships, staying upbeat is a matter of will, not luck.
As an old friend of hers, I've seen her pick herself up time after time again. And by sharing her story, she hopes other young mums may draw strength from their struggles.
Discovering her pregnancy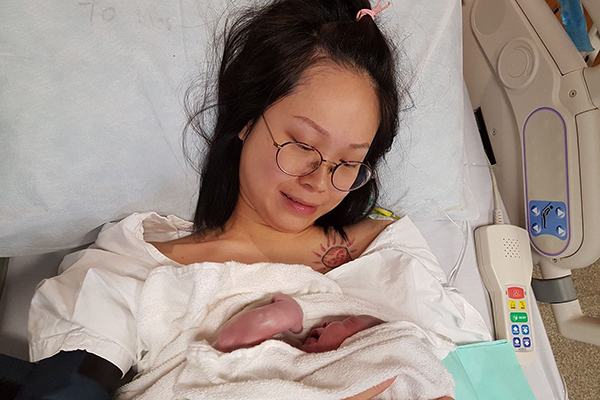 Joyce:
My first taste of motherhood was bitter. I was 18 and in Poly when I discovered I was pregnant. Due to my irregular periods and lack of symptoms, I only took a pregnancy test at the four-month mark.
The kit showed a faint 'positive' line, so I went to the gynae with one of my girlfriends to confirm the baby. I remember her crying in the car park while I remained calm, yet scared.
How could I afford milk powder and school fees? How could I party like normal 18-year-olds do? What would people think? I was still a child myself.
But when I heard Caden's heartbeat, I knew abortion was not an option. Not even when I texted my ex-boyfriend (Caden's father), "Hey I'm pregnant" and he replied, "My mum ask you abort".
Struggles as a teen mum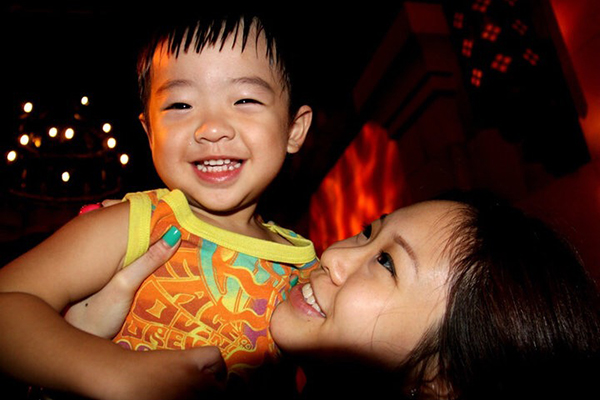 Caden and Joyce
As a first-time teen mum, I cried when he cried as I was clueless how to calm him. I had no husband for support, so my mum took Caden from my arms and comforted him.
To earn money, I worked at my family's porridge shop (Ah Seah Teochew Porridge) during weekdays and hawker stall (Stingray Forever) during weekends.
I had constant dilemmas. I thought: If I go to work now, will I have enough time for my kids? If I have enough time, will I have enough money? If I go out now, will I be able to send them to school on time tomorrow?
During gatherings with friends, I also felt like a burden when I had to ask, "Are you guys okay to come over instead?"
In turn, I learnt to appreciate my own parents more; I used to be annoyed by their nagging because I didn't realise how much they cared.
Now I can't imagine how I would have pulled through without their emotional and financial support.
Dealing with an abusive marriage
Single teen mums are often made to believe they're 'unwanted' by men. So when I first met my ex-husband a few years after, I was swayed by his sweet tongue.
Life was rosy at first until he turned physically abusive and dabbled in illegal matters. In a desperate attempt to salvage the marriage, I had my number two (Caius) with him.
I was so blinded by love that I thought a child could 'save' him. But months after, I called it quits when he tried to take money from the baby's ang bao to pay off his debt and used weapons to threaten us.
I filed for a PPO (Personal Protection Order) against him, and then a divorce. I told him he could get me involved, but never my kids.
Several years later, I met my current husband and had my number three (Alessa). He is a simple man; he's more mature; he jokes; he loves me.
I told myself every marriage is different and I couldn't pit one relationship against another.
Also read: 
5 Girls From Single-Parent Families Share The Greatest Lesson They Learnt About Love From Their Mums
Hopes for her children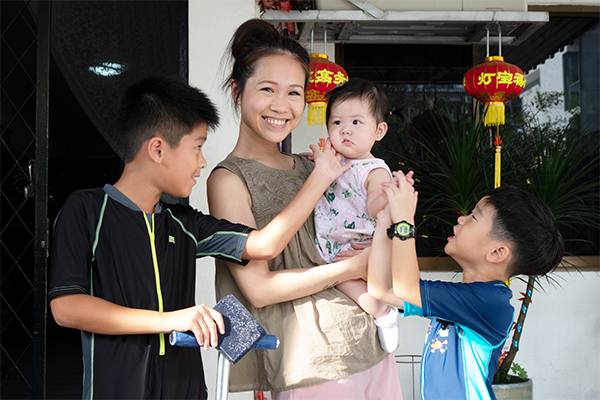 From left: Caden, Joyce, Alessa, Caius
Caden's father never met Caden until years later. I felt uncomfortable to have him 'claim' Caden so he was respectful enough to address himself as an 'uncle's friend'.
When it's time for me to explain to my kids about their fathers, I hope we'll be ready. I hope they'll have an open mind, and not pinpoint who was right or wrong.
When my kids grow up, I want them to know there were some mistakes we adults made in our relationships, but they are not the product of these mistakes. In fact, they are my biggest blessings.
I strive to help them create the strongest bond among themselves. Before Alessa was born, Caden and Caius used to fight a lot. But now, they are extremely protective of her.
For my sons, I tell them to be gentlemen. I'd ask: "How would you feel if mei mei (sister) is treated badly? So how should you treat a girl?" I remind them not to be cutting with words for you never know what someone else is going through.
As for my daughter, I hope she'll 'open her eyes bigger' and not trust men blindly.
Ultimately, nothing hurts more than seeing your own kids hurt and not being able to do anything to help them. I do my best to protect them, but also give them space to be kids.
Every child is different, so I try to let them do what they enjoy. Caden participates in taekwondo, badminton, swimming, and soccer, while Caius prefers origami and drawing.
I emphasise the importance of studies but tell them that while papers can get you to certain places, experience, skills, and passion are required for succeeding.
And above all, health and happiness are the things I want most for them.
Lessons of Motherhood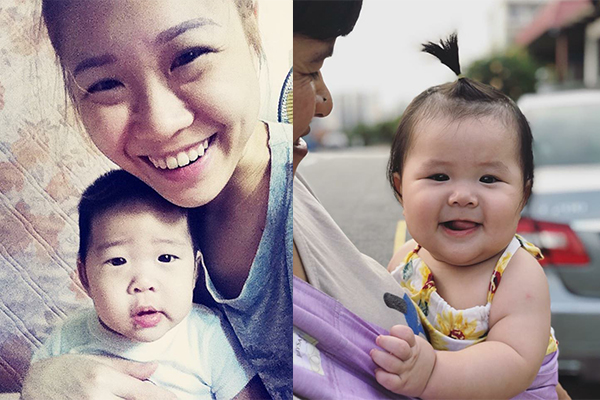 Caius and Alessa
In motherhood, you can't please everyone.
Whether it is to breastfeed or send your kid to a nursery, there are naysayers who would criticise your decisions. So you have to learn to trust your instincts and go straight to the doctor instead of listening to every piece of advice.
I used to be afraid of what others might think, but being a mother has helped me grow physically, morally, and emotionally.
I was just an average person going through life until I became this 'Superwoman' to another human being.
These little human beings taught me to love myself; to have confidence; to want to improve myself. No matter how disastrous my day is, my heart melts every time my kids go "mummyyy".
So with experience, I know if someone asks me if these are my three kids, I'll hold my head up high and proudly say they're mine.
Watch the full episode below:
Some quotes have been edited for brevity and clarity.
This post was first published by Chevonne Cheng on 11 May 2018 and last updated by Nicole Yong on 3 September 2023. 
Also Read:
Singaporean Girl Shares What It Is Like Growing Up With A Single Mother, Gives Heartwarming Advice