Sparkle Please
Whether you've seen them while scrolling shopping apps or heard about it from your obsessed friend, crystals have cemented themselves as a bonafide craze. But beyond their chio aesthetics, they are also believed to exude positive energy and vibes. 
For the curious or uninitiated, Sparkle Please is a crystal store where you can not only shop for unique crystals to add to your home display, but also join interactive crystal bracelet-making workshops.
The space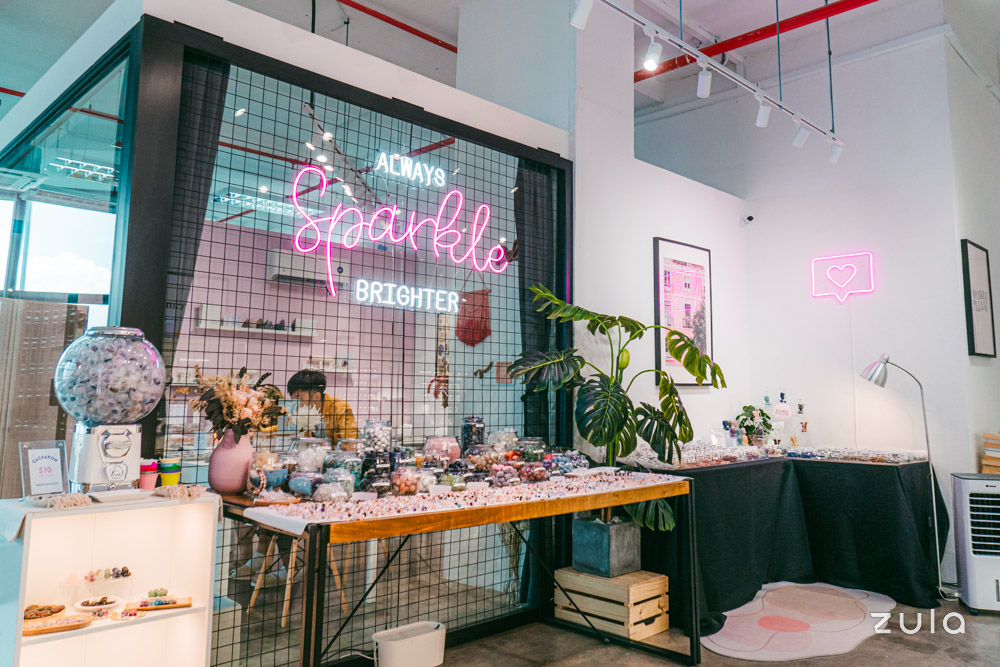 As you walk into the store's entrance, you'll immediately be greeted by a row of shelves displaying over 100 types of colourful and vibrant crystals from Amethyst to Aquamarine.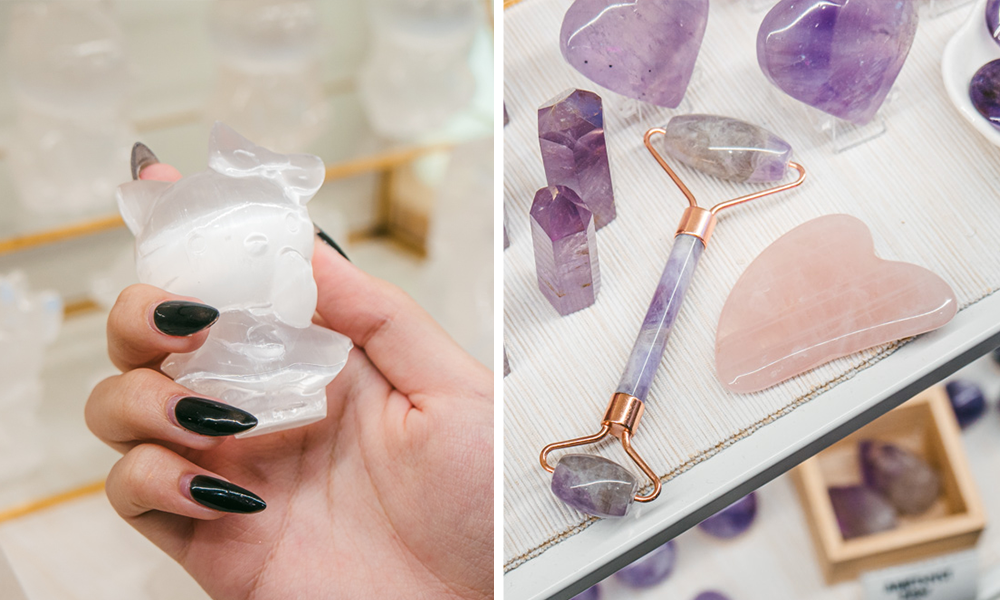 Sparkle Please's crystals are available in a variety of shapes, including mini Pokémon characters
Fun fact: Sparkle Please carries one of the widest range of crystals in Singapore including unique items like spheres, character carvings and even face rollers. Take your time to scan each shelf – you wouldn't want to miss out on something that could catch your eye.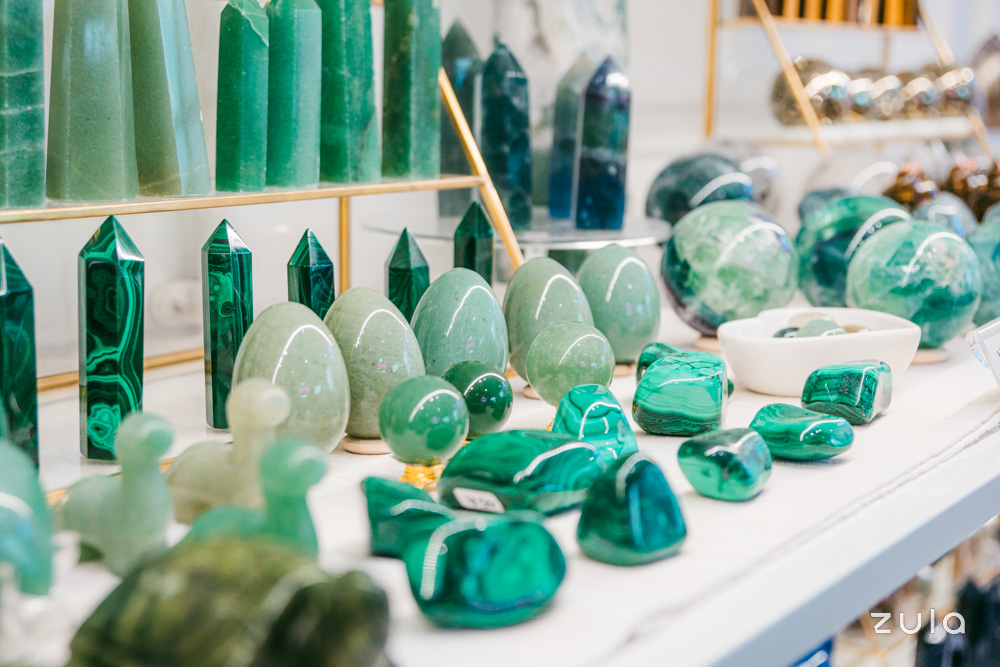 If you prefer something more minimalistic, there are also point towers and tumbled stones for you to pick up. These come in various crystals such as Jade and Moonstone.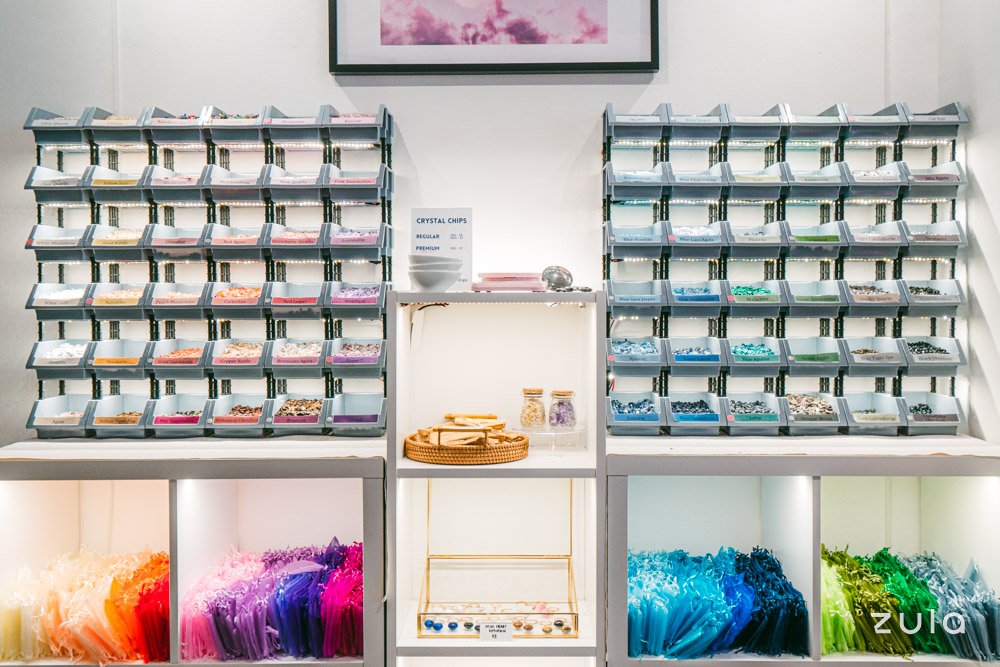 Look towards the left of the entrance and you'll spot the self-scoop crystal chips station. From Rose Quartz to Blue Lace Agate, you'll be spoiled for choice with over 70 types of crystals to choose from.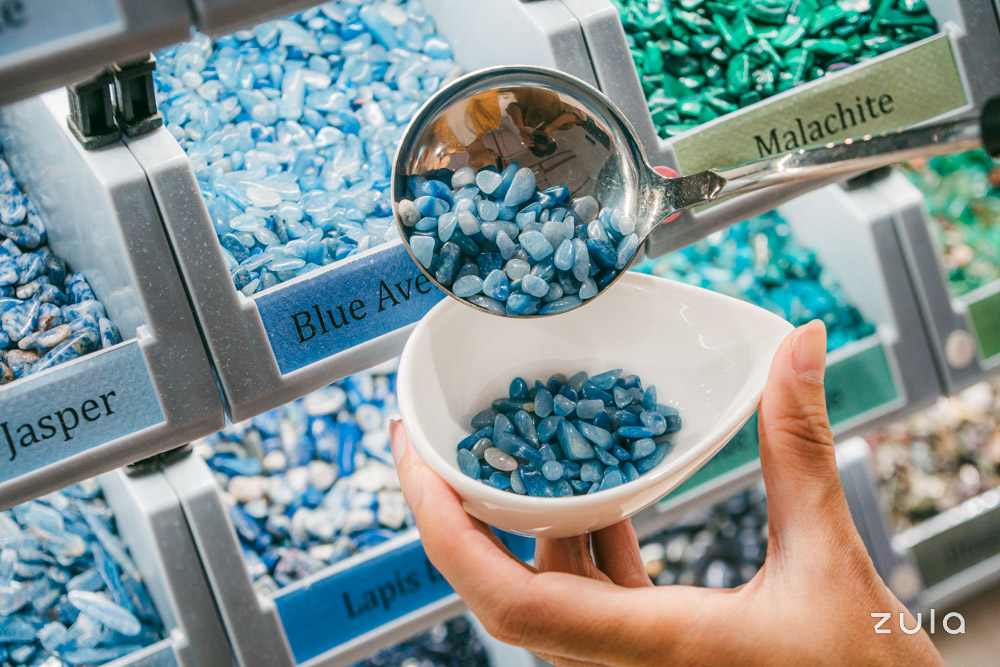 Feel free to grab the readily available dishes and scoop and shop to your heart's content. Prices start from $4 and are determined by the weight of your scoop.
Don't worry about how to bring them home – there are multi-coloured bags provided at the bottom shelf for your convenience.  Jars are also available if you want to create your very own crystal mix at the store.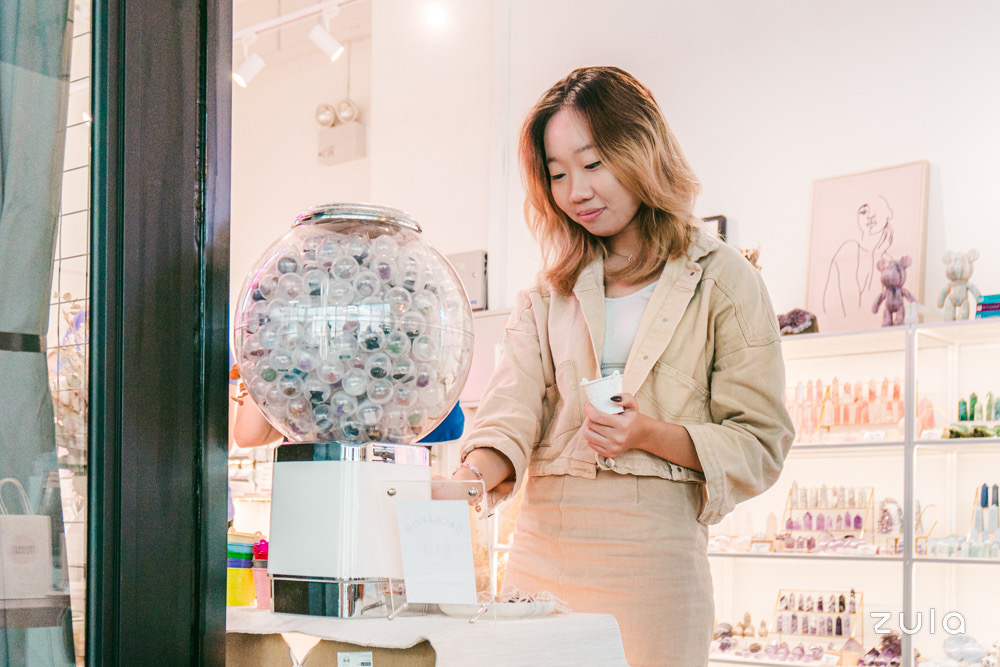 Further inside, you'll find a mini gachapon machine filled with different crystals. Try your luck by paying $10 for three tries and get at least $15 worth of items.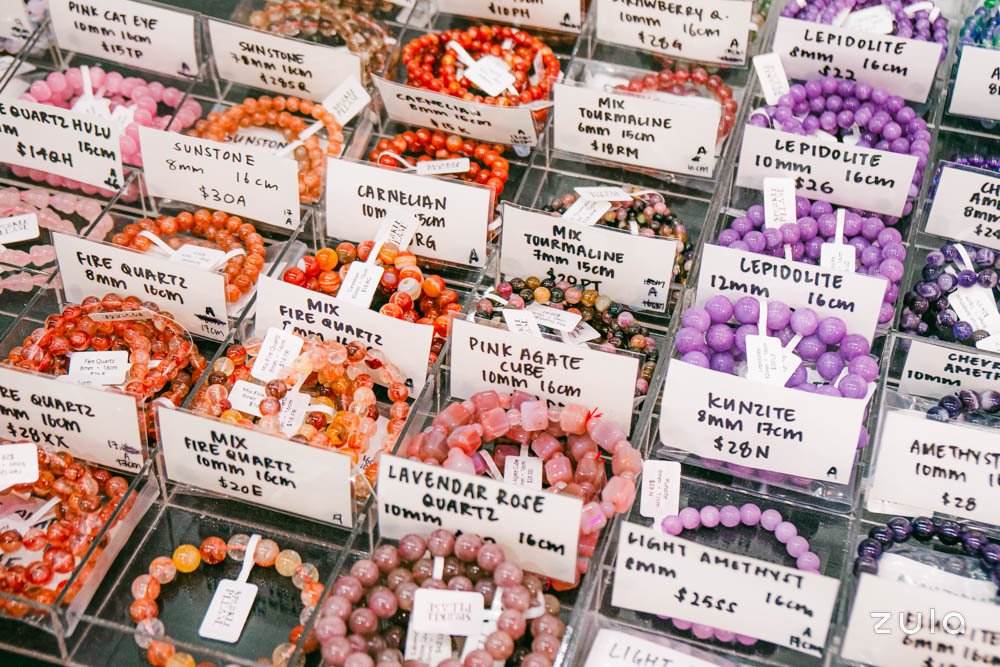 Sparkle Please also has pre-made bracelets for $10 and up with simple and intricate designs for you to choose from. The bracelets have various sizes and beads – those that prefer a soft girl aesthetic can opt for pastel options, while darker shades are also available for a more masculine look. 
Bracelet-making workshops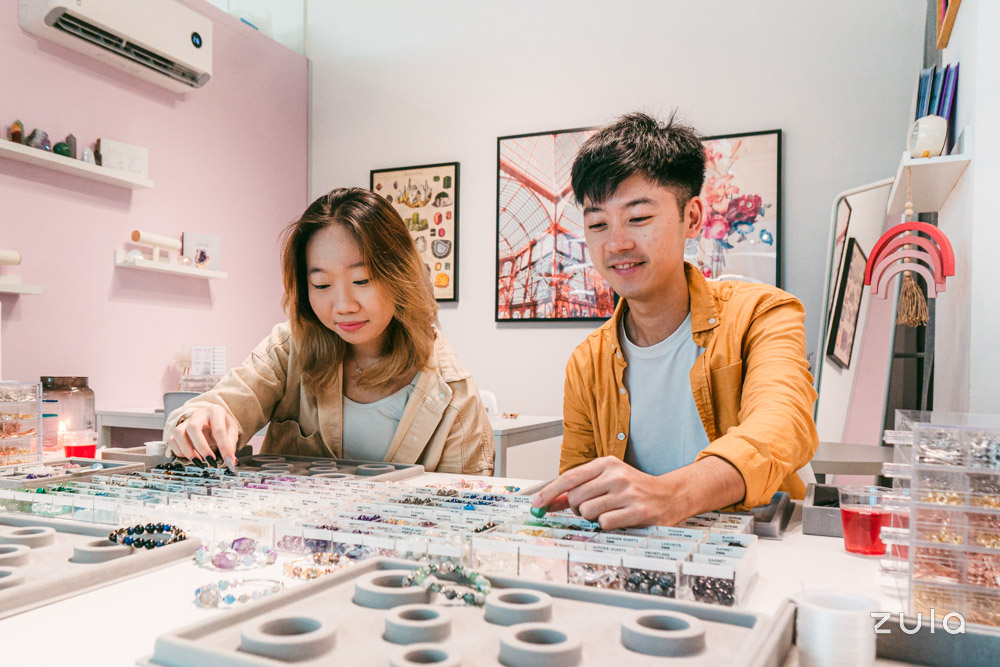 Alternatively, those who would like to try your hands at making your own crystal bracelets can sign up for their 2-hour bracelet workshops for $58 on weekdays and $68 on weekends.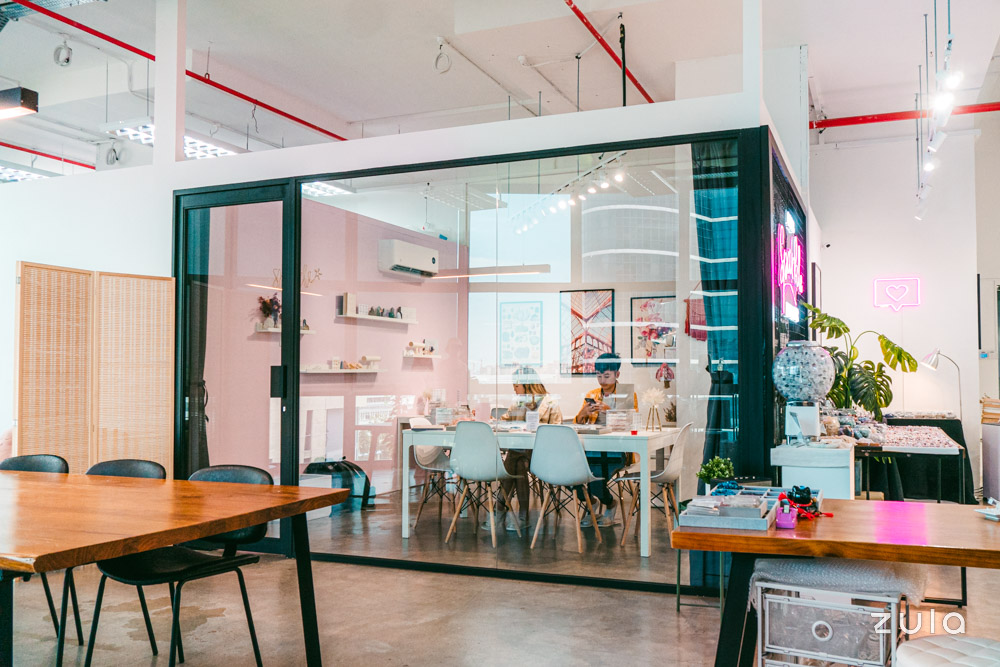 Held in a specialised glass room, the workshops are perfect for any occasion – from private bridesmaid parties to birthday celebrations with your loved ones. Refreshments are also provided so you can quench your thirst while working on your designs.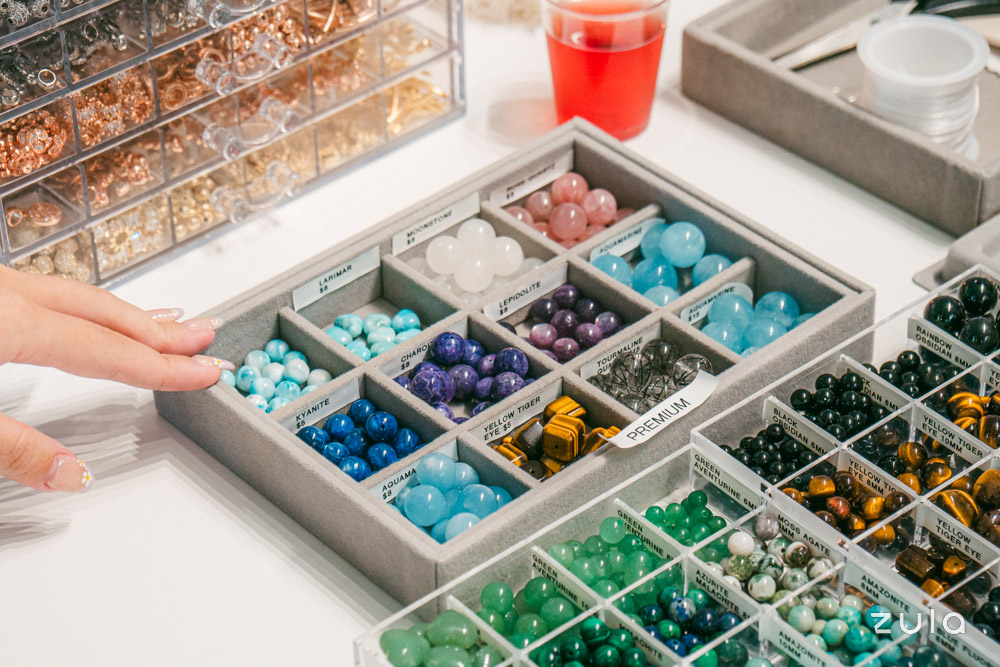 Each class is inclusive of an unlimited use of 5mm to 11mm crystal beads, spacer beads and bead caps, with limited use of 12mm to 16mm beads and premium beads at an additional fee. You will also be entitled to one dangle charm for that added oomph in your designs.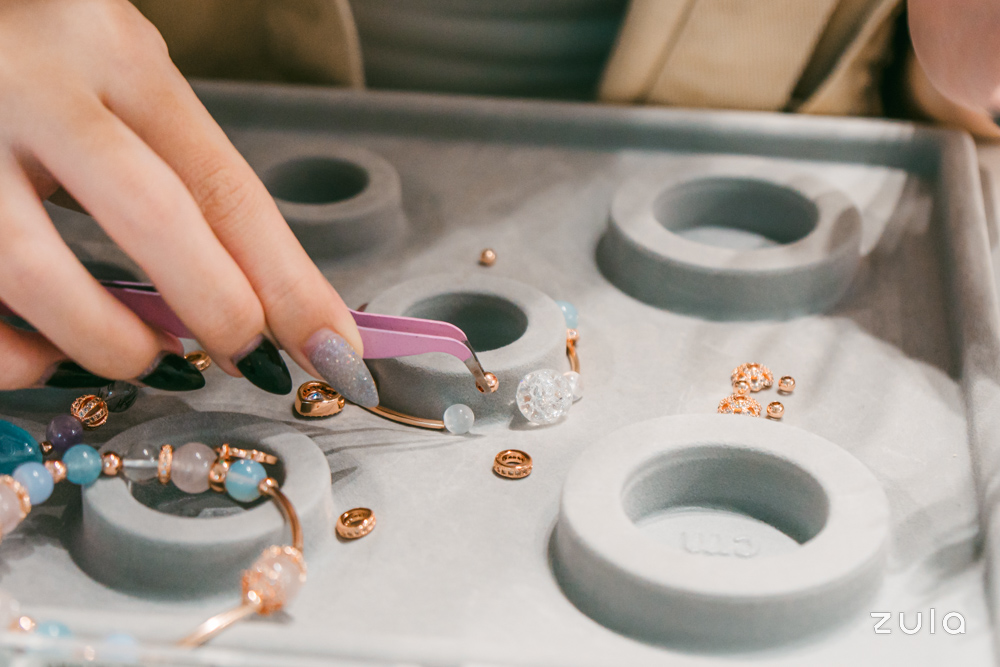 Guidance will be provided every step of the way so don't be shy to experiment and ask for help when you need it. My long nails did cause some challenges in placing the beads together, but that was resolved quickly because a pair of tweezers was provided for extra precision!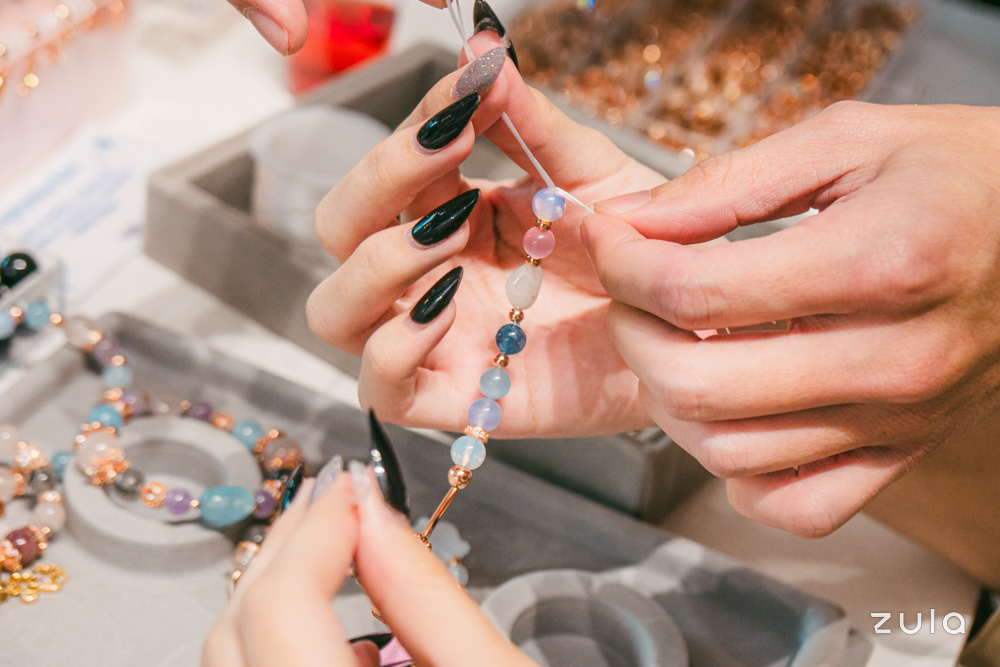 After you have curated your design, a step-by-step tutorial will be provided on how to tie it all together, literally.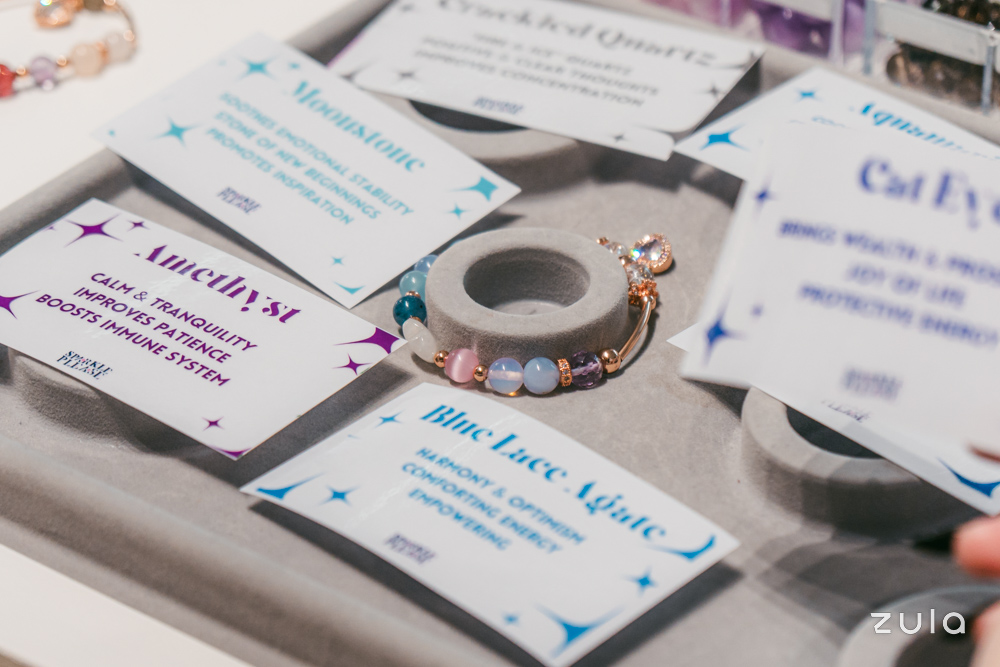 After you're done, the staff will pick out specific info cards containing the benefits and properties of each crystal you selected for your bracelet, so you can learn more about the beads that you've chosen. 
Mine coincidentally included Amethyst and Aquamarine which are said to improve calmness – a much-needed welcome considering my recent impatient and anxious nature.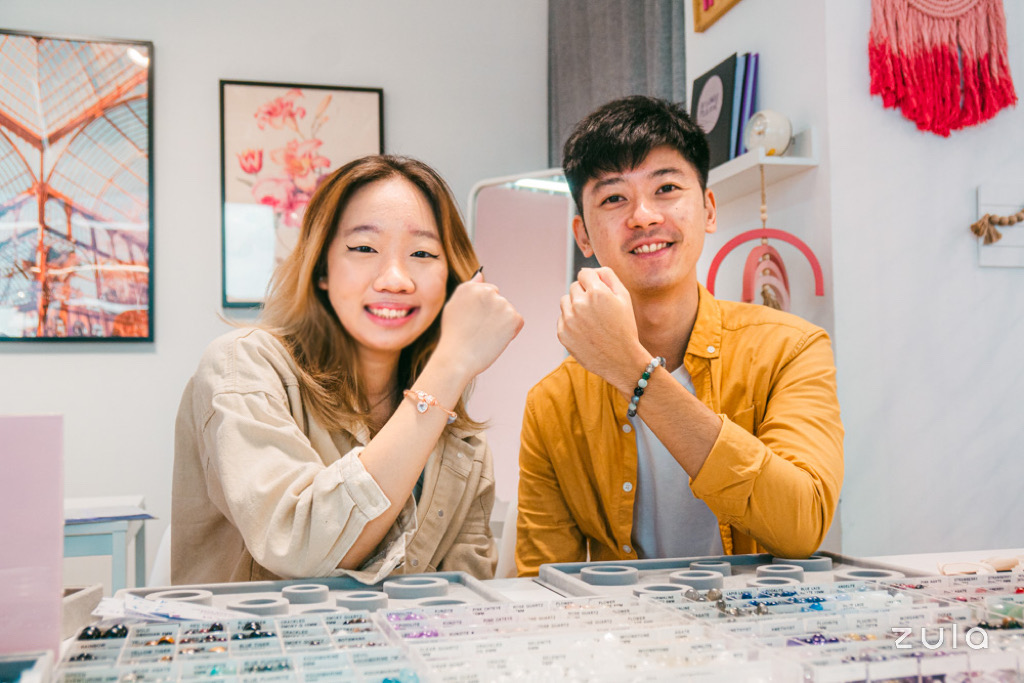 As a previous sceptic on crystals, my only understanding was that people would use them for general healing purposes.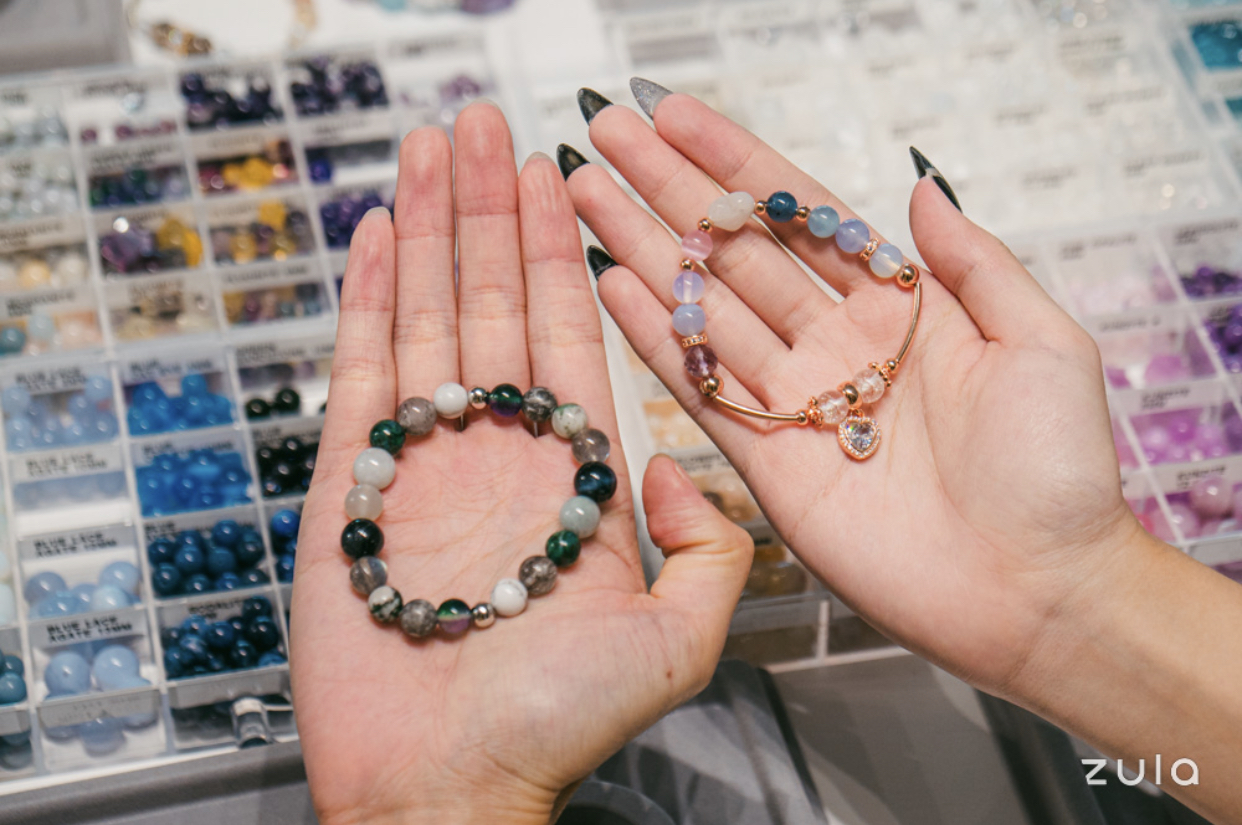 After learning more about the properties of each crystal during the workshop, my interest was piqued. It also helped that the crystal designs were super pretty, which will definitely make me more inclined to wear them out more often as an accessory.
Sparkle Please Provides A Fresh & Educational Introduction To Crystals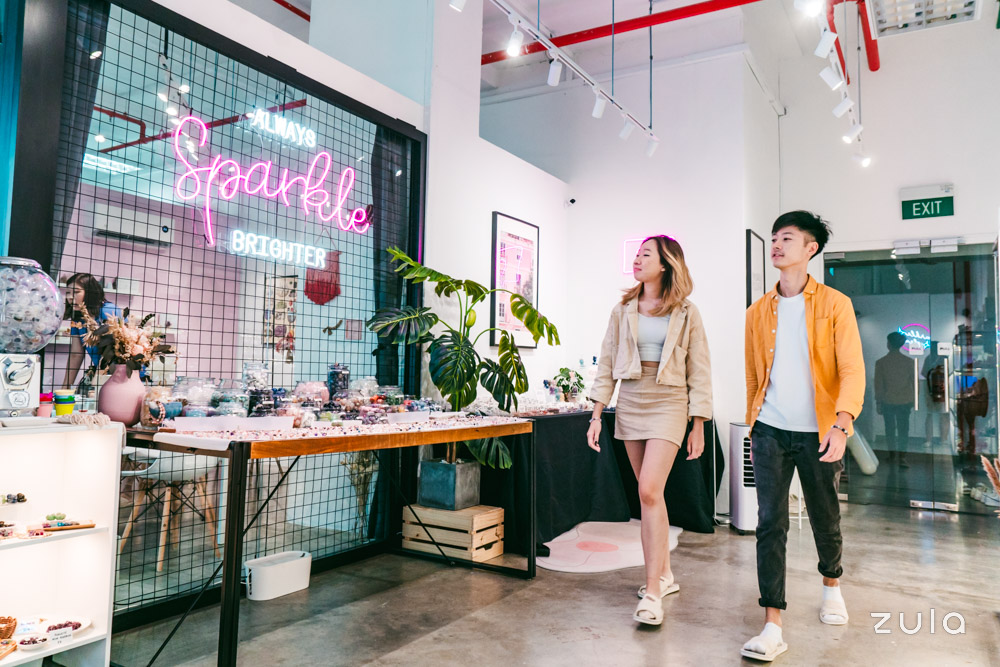 It doesn't matter if you're a crystal enthusiast or complete noob like I was –  you'll definitely be able to enjoy your visit at Sparkle Please. With knowledgeable staff ready to answer any query you might have and tons of crystal options to feast your eyes on, don't be surprised if this becomes your newfound hobby. 
Whether you want to spice up your date or have  wholesome activity with your BFF, you can consider joining Sparkle Please's bracelet workshops for a fun bonding activity while creating matching bracelets for each other.
This post was brought to you by Sparkle Please.
Photography by Ian Sim.