Street Style Snaps At TSL (April 2021)
When it comes to choosing your outfit of the day, it's tempting to reach for neutral basics and call it a day. If you've always wanted to venture out of your comfort zone and explore ways to incorporate prints into your outfit, we got you. We went around the TSL office to see how our colleagues styled printed ensembles for the office. From florals to animal prints and artsy geometric designs, we've compiled their OOTDs and tips into a lookbook and guide. Hopefully, it'll inspire you to try wearing prints too.
Animal prints
1. Shash Yoga, (@shashneetha), Assistant video producer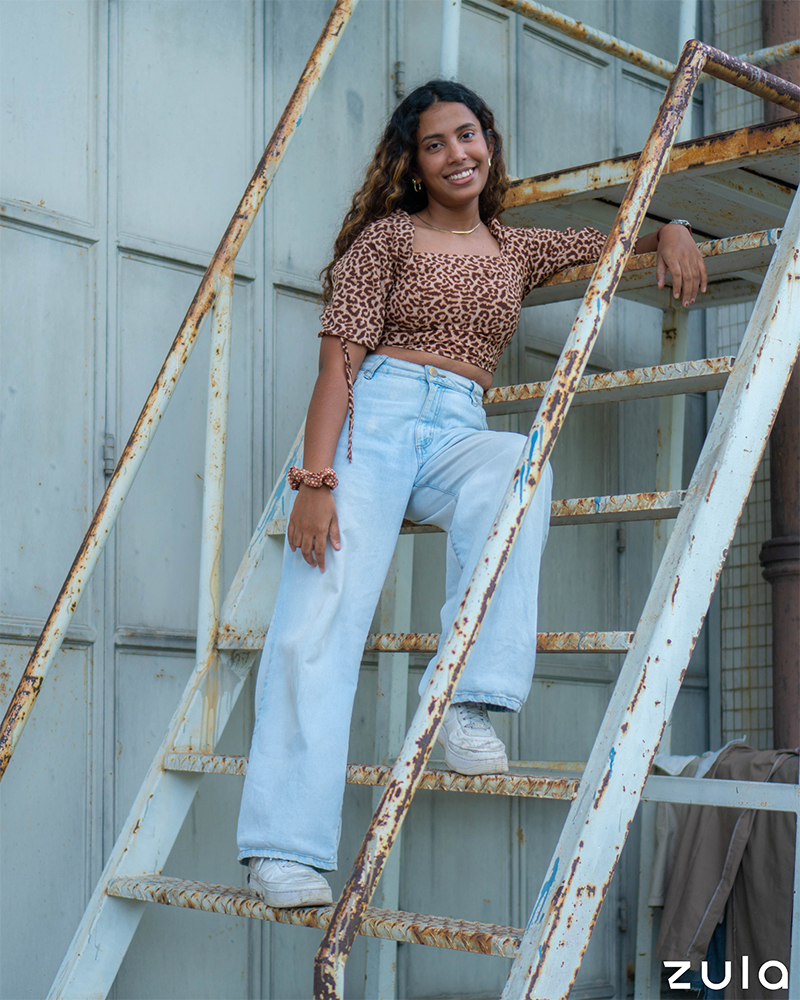 Top: H&M
Jeans and scrunchie: Cotton On
Necklace and earrings: @theslowlifesg
Sneakers: Nike
On the day of our shoot, Shash was feeling bold in her cheetah print crop top. "The cheetah print is the main point of my look, so I styled the rest of my outfit around it. When it comes to prints, I like that I can just throw them on top of a plain outfit to make it interesting."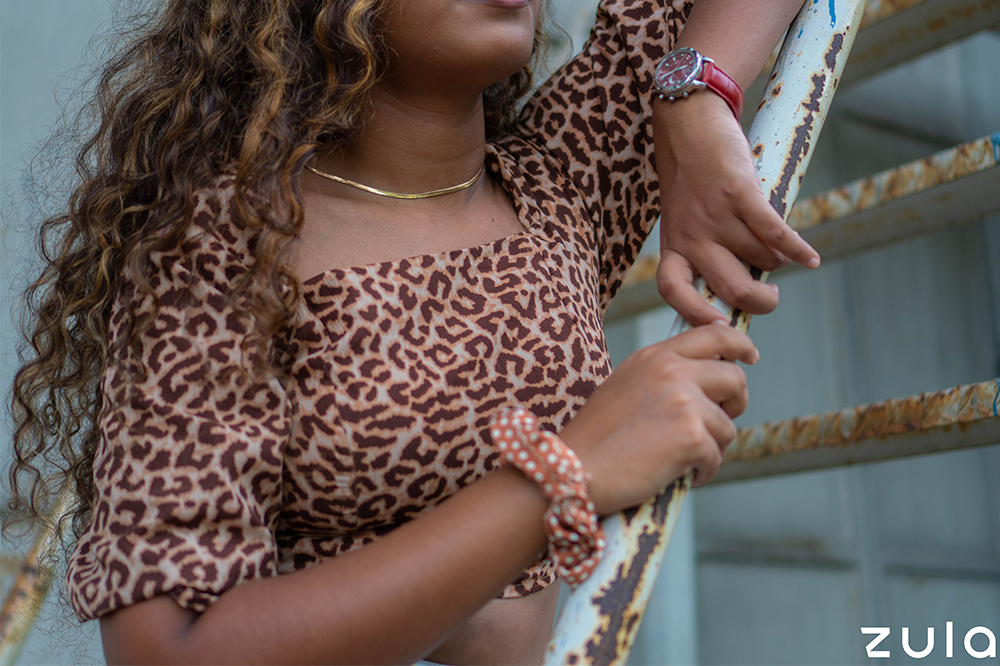 When asked what she considered when putting this outfit together, Shash shared, "My top fits me very snugly so I went for baggy bottoms to offset that." To go with the brown shades on her top, she followed through with similar coloured accessories, as seen from her watch and scrunchie. 
Advice on styling prints: "Wearing a print doesn't always have to look bold. It can just be a small part of your outfit, like an inner or outer layer, to add some spice if obnoxious prints are a concern for you. 
My favourite part about dressing myself is trying out different combinations of things and seeing how they turn out. Fashion doesn't always have to be about looking good, it can and should be about having a good time as well."
2. Richelle Vergara, (@chshellie), Assistant video producer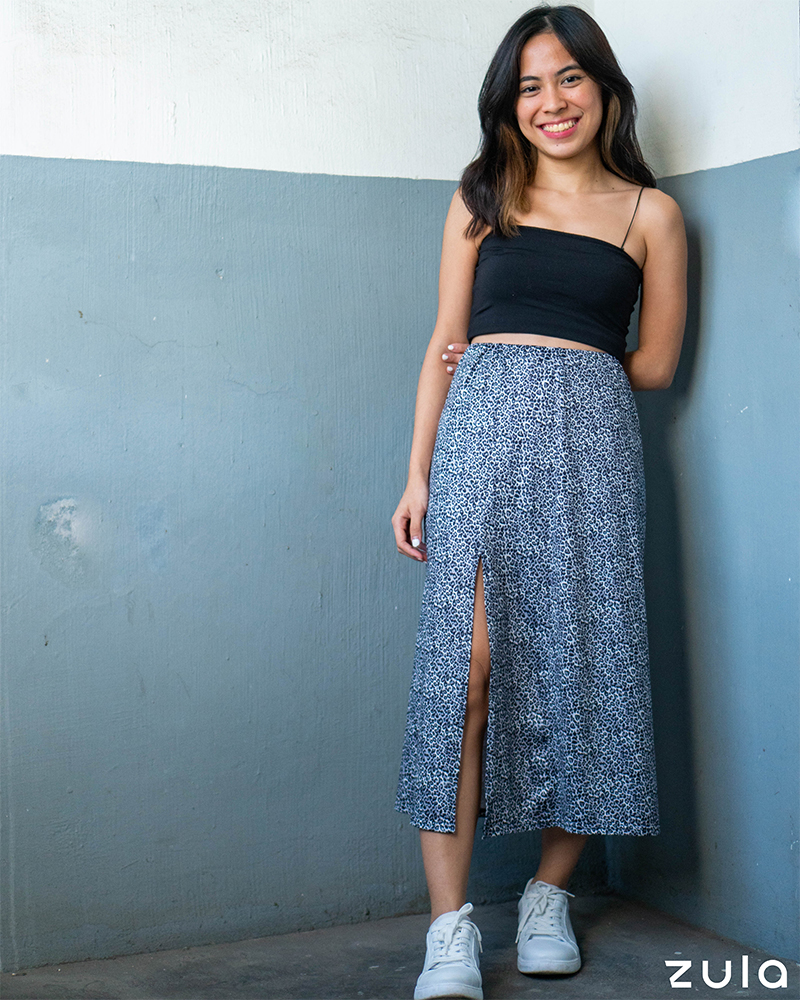 Top: Ezbuy
Skirt: Shopee 
Sneakers: Shein
Richelle's monochrome slit skirt with subtle cheetah prints makes for a cheeky and fun look. Meanwhile, her top and sneakers follow the black-and-white colour scheme to tie everything together.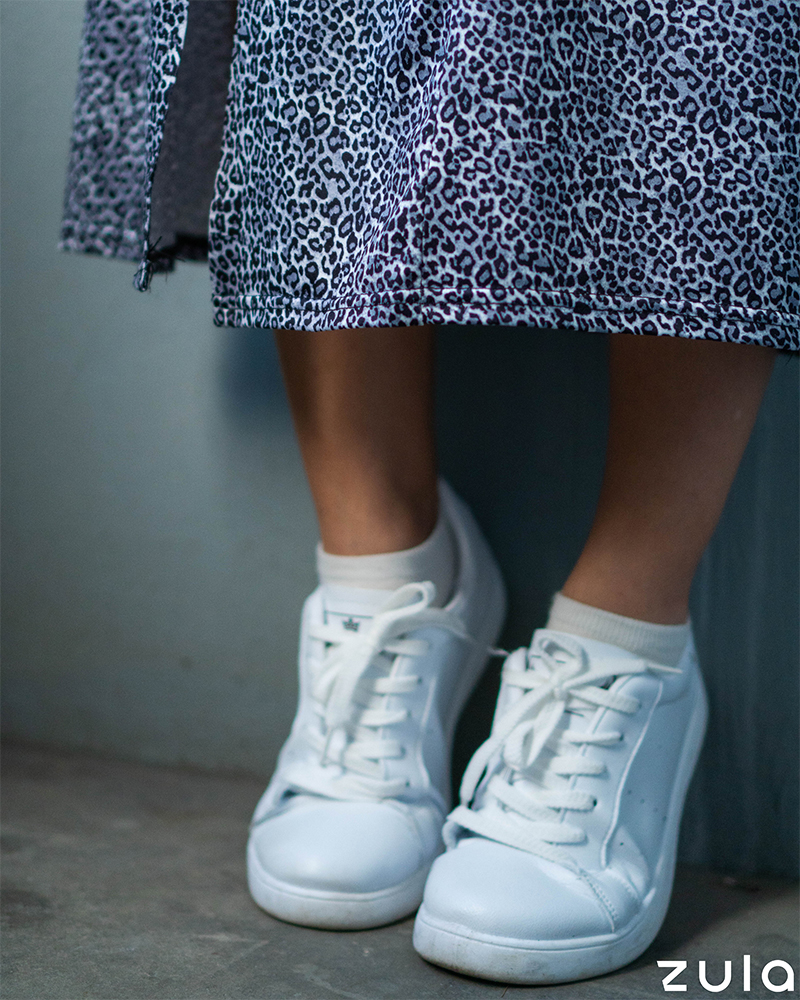 While Richelle describes her style to be "as temperamental as [she] is", her go-tos are basic tops, jeans and sneakers. When it comes to prints, her favourites are plaids and florals.
Advice on styling prints: "There's no hard and fast rule when it comes to styling prints. If you're starting out, a practical tip would be to pair your printed item with a neutral-coloured item [such as] blazer or pants."
Geometric 
3. Melody Teoh, (@melodyteoh_), Assistant video producer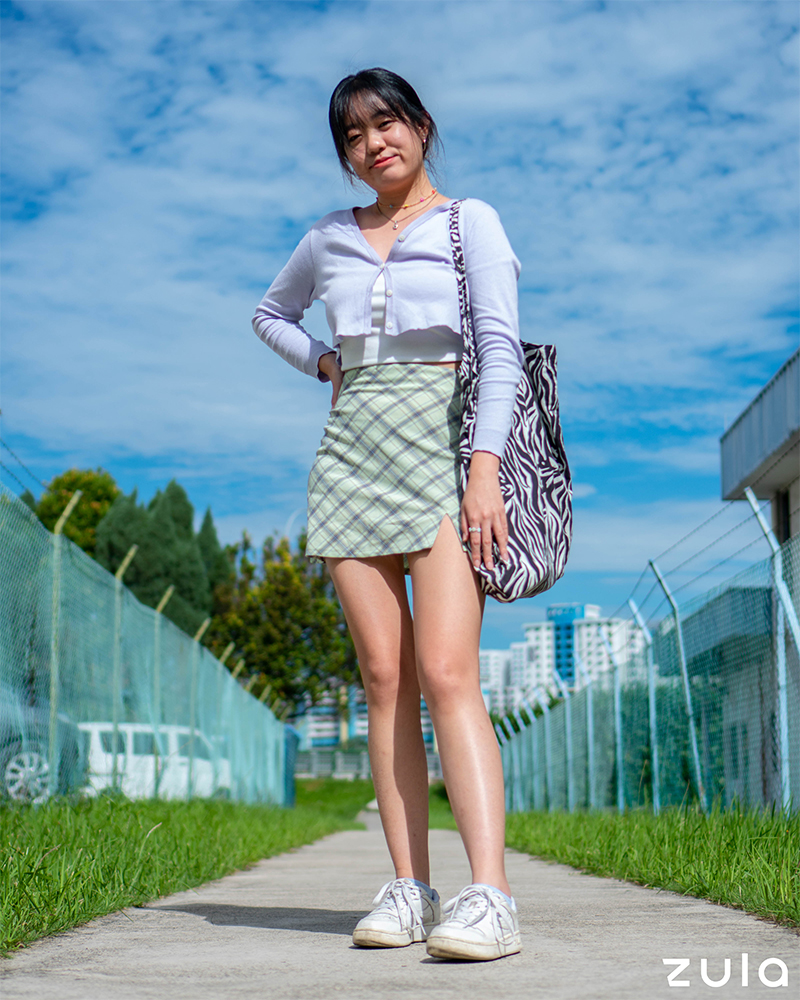 Cardigan: Upcycled from her mother's cardigan
Top: Shein 
Skirt: Aliexpress
Necklace and rings: Handmade
Hair claw: Shopee
Bag: ASOS
Melody often gravitates towards geometric prints because she finds them easy to match with anything. On the other hand, she thinks that "animal prints like leopard, cow and zebra are cute and help to elevate the outfit." No wonder then, that her outfit combines the best of both worlds, with a plaid print skirt and a zebra print tote.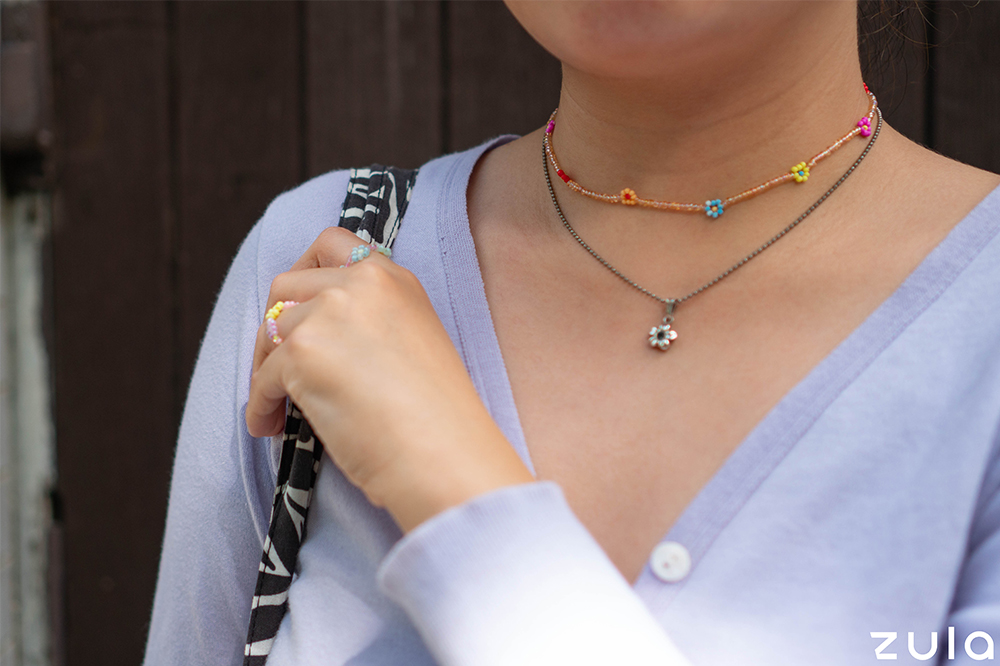 Melody's outfit also proves that creating your own style just takes a bit of fun and creativity. Her beaded rings and necklace were handmade by her, while her pastel purple cardigan was upcycled from her mother's old cardigan. Sentimental, and sustainable too. 
Advice on styling prints: "Be experimental. Often, people feel that [prints] are too much and choose to play it safe. Start off small by matching a printed top with plain bottoms and slowly add on more prints as you get more comfortable!"
4. Maggie Lim, (@maggielalala), Business development executive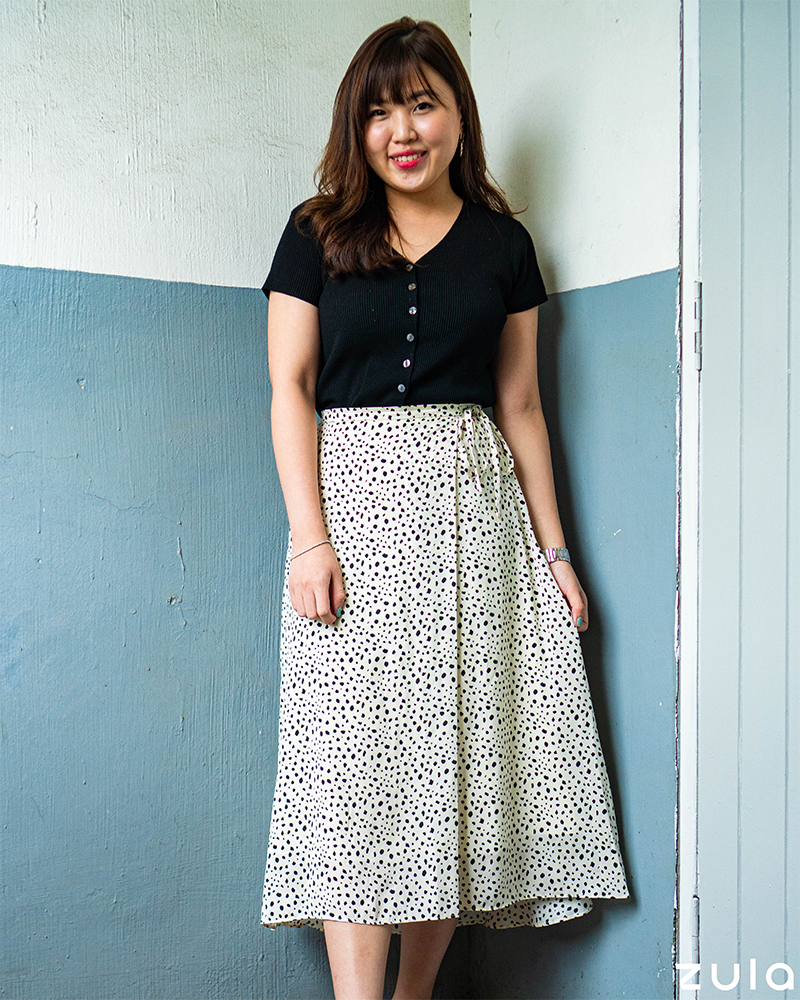 Top: Wardrobe Mess
Skirt: Uniqlo
Watch: Apple
Ring: JannPaul
Bracelet: TAKA Jewellery
Some prints come and go; others, like polka dots, are timeless classics. Maggie's flowy skirt gives her the comfort she needs to be at the office the whole day, while still injecting some fun with the polka dots.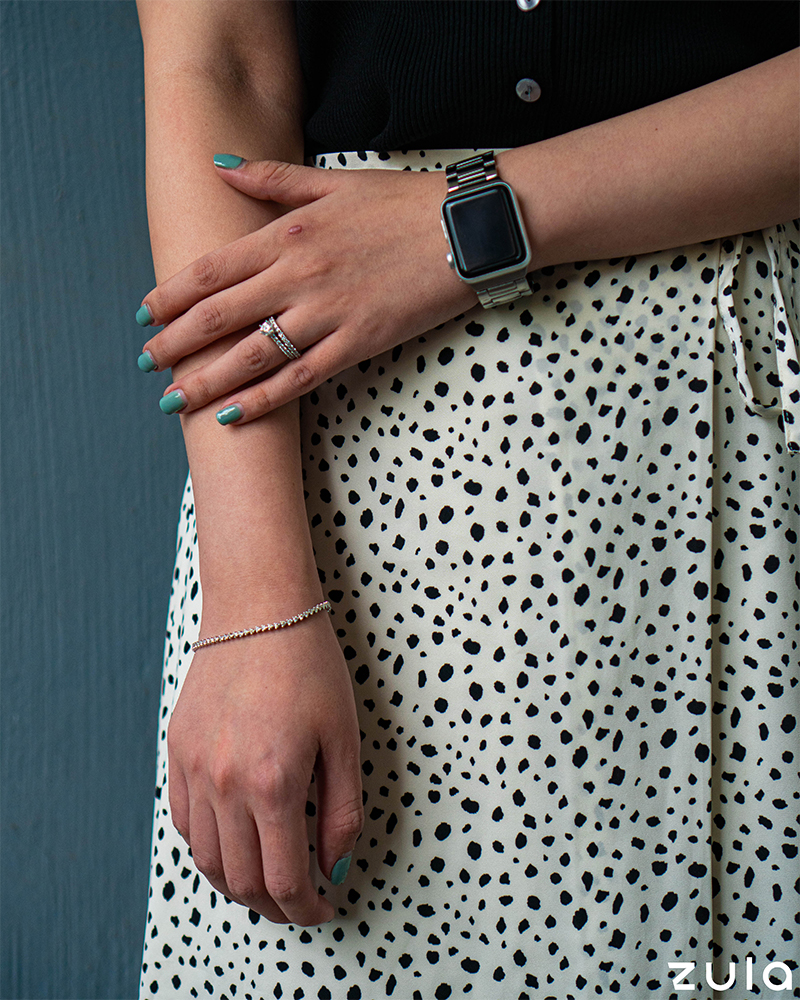 To make her outfits "less boring", Maggie adds details via her accessories, such as her bracelet and watch. Her light blue nails contribute a pop of colour to her otherwise neutral outfit too.
5. Nicole Sim, (@nicolesimxe), Assistant video producer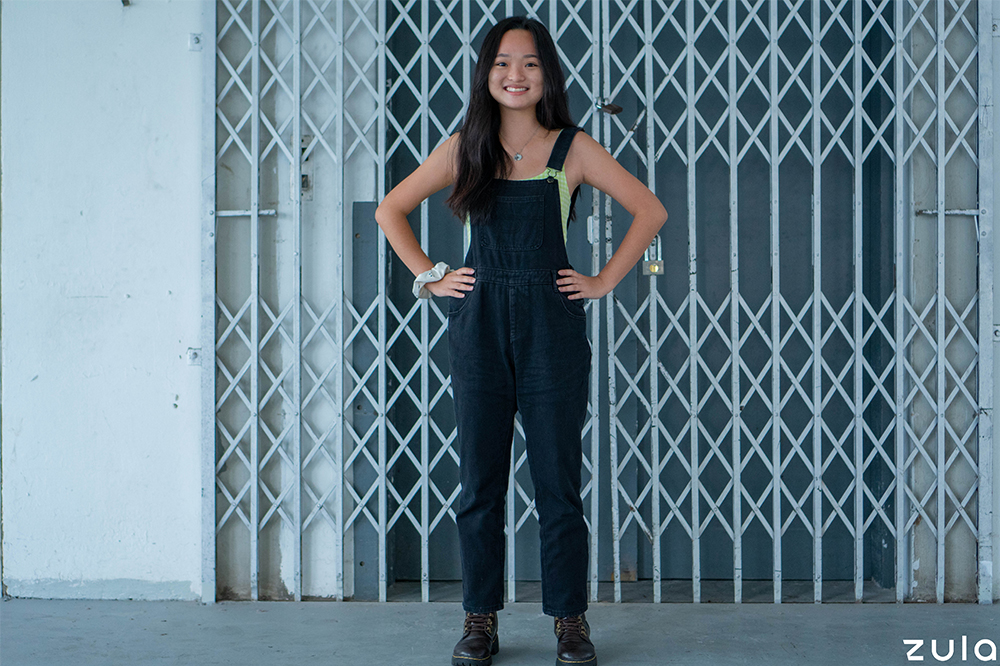 Top, shoes and scrunchie: Taobao
Dungaree: A shop in Lucky Plaza
Necklace: Gift from friends
At first glance, Nicole's outfit doesn't seem to include any prints. But upon closer inspection, you'll find that the focal point of her outfit lies in her green gingham crop top. Nicole wanted to go for a more unique look with this pairing, choosing a bright top to stand out against the black dungarees.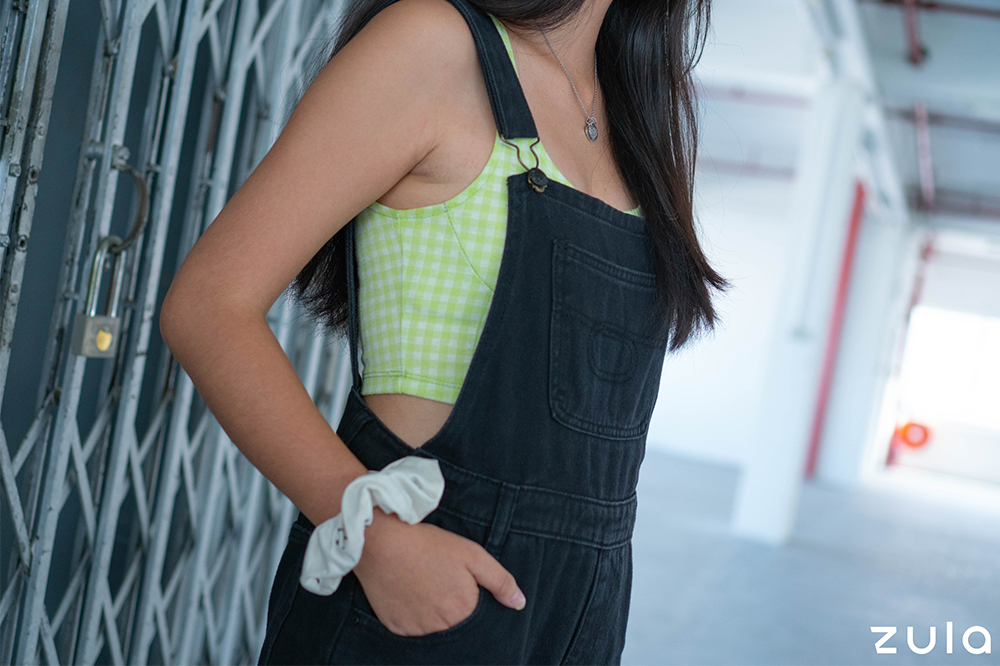 Nicole doesn't have a favourite print per se, but she "goes for gingham prints because [she's] not so much of a floral person". Her outfit is both adorable and refreshing, showing us that prints don't have to stand out in order to make a statement.
6. Fikah Zainal, (@clikzfikz), Assistant video producer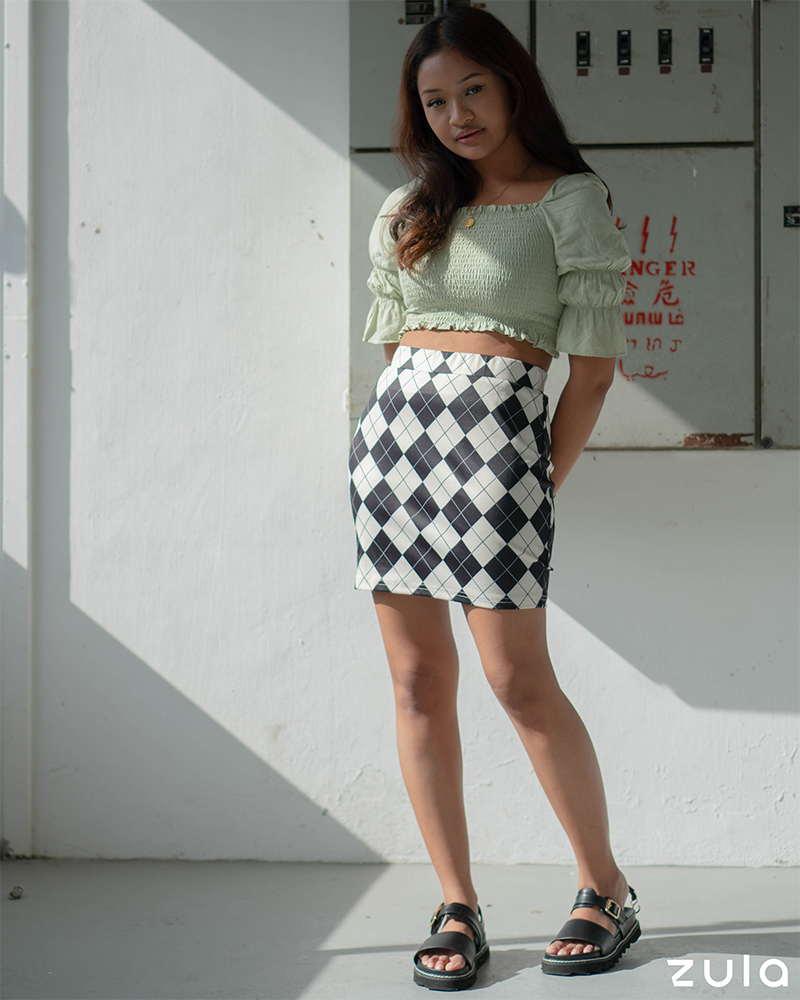 Top: The Editor's Market
Skirt: ASOS
Sandals: Zara
Watch: Fossil
Rings: Flea market
Scrunchie: Shein
Fikah's outfit is a perfect blend of prairie meets preppy. Her ruched top gives us Bridgerton vibes, while her argyle print skirt and chunky sandals add a layer of edge and contrast.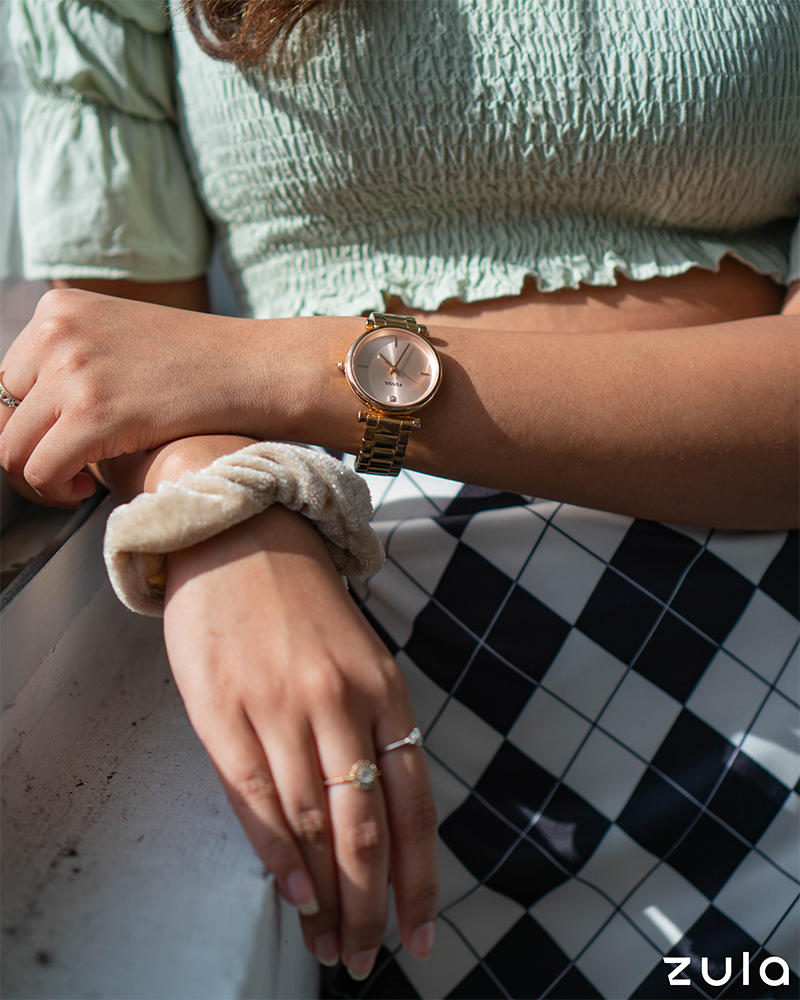 As someone who likes to keep up with fashion trends, besides argyle print, Fikah is currently into gingham, paisley and houndstooth prints as well. To match her printed ensembles, Fikah reaches for more minimalist accessories, such as thin silver rings and a metal watch.
Advice on styling prints: "Start by pairing [prints] with basics and ensure that it's something you're comfortable in. Think of what type of concept you're going for, [such as] girly, edgy, or preppy. [From there], add accessories like hats, chunky earrings or layered necklaces according to the concept to make the outfit stand out more."
7. Aidan Cheng, (@_kacheng_), Editorial assistant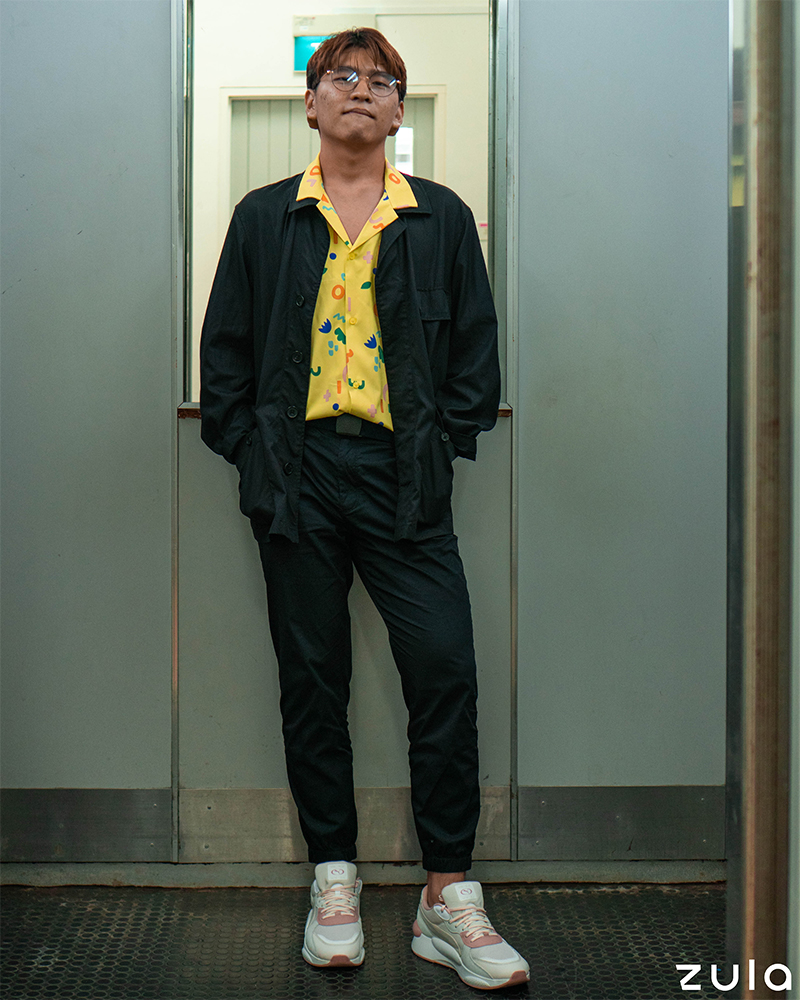 Jacket: Uniqlo
Shirt: @arcademen
Pants: Urban Revivo
Sneakers: PUMA
Worn with black pants and a black jacket, the neon yellow shirt with colourful geometric patterns is the highlight of Aidan's look, in all senses of the word.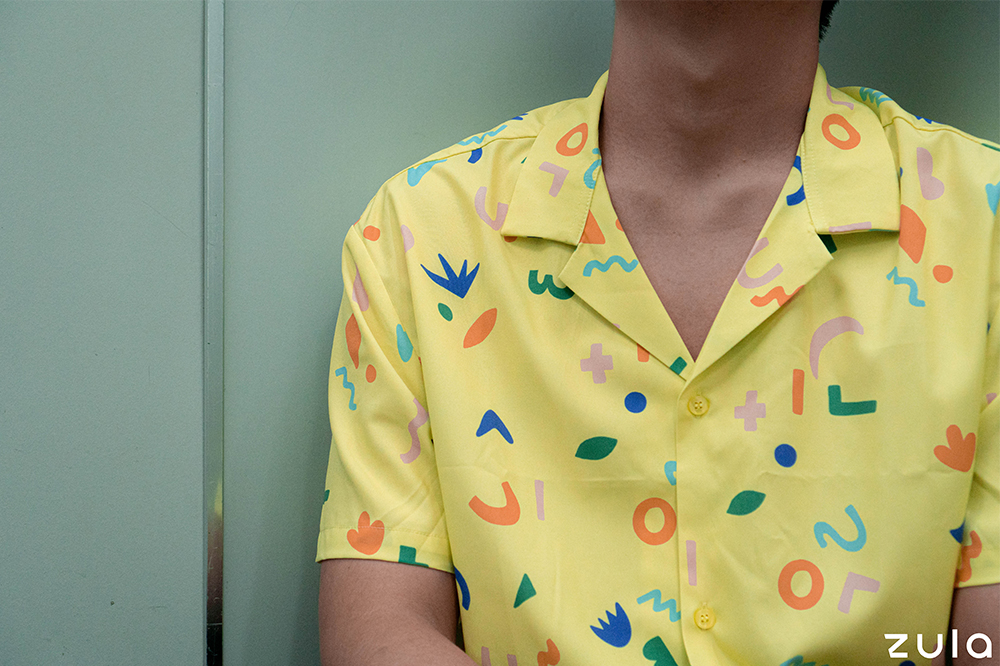 Though he doesn't wear prints often, Aidan still finds himself attracted to floral or unique prints. When putting an outfit with prints together, he ensures "the pieces around the printed piece are more minimal, so that it will complement and not clash."
Also read:
Floral
8. Chiara Ang, (@chiaraang), Senior writer and host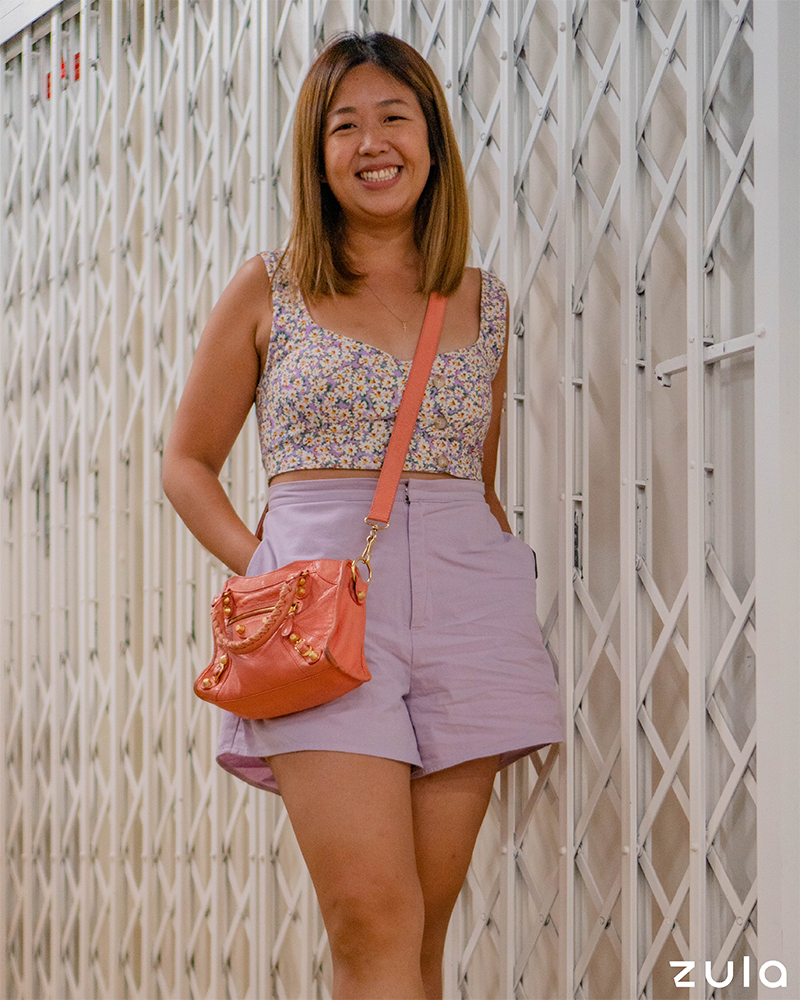 Top: Zara
Shorts: Love and Bravery
Sneakers: Vans
Rings: Etsy
Bag: Balenciaga
In shades of pink and purple, Chiara's sweet outfit is the epitome of the soft girl look. Just like how some people consider leopard prints a neutral, Chiara sees floral prints as "basic and safe".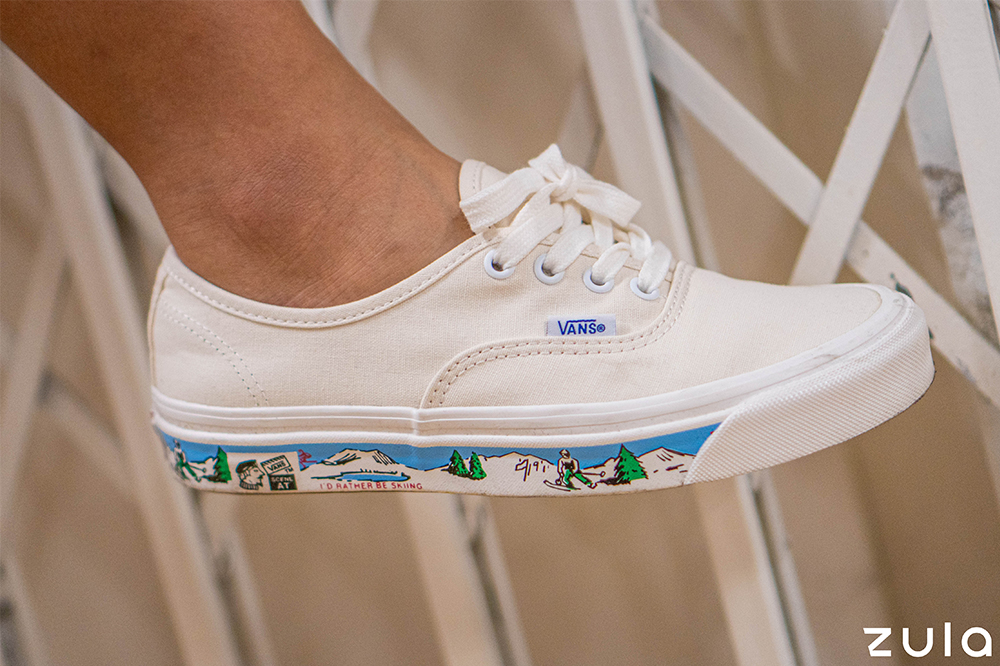 Chiara's Vans add a bonus layer of prints to her look. The midsole of the white sneakers feature an adorable scene of people skiing on icy cold mountains. 
Advice on styling prints: "If you're an amateur like myself, just colour-ordinate your outfit and pair it with something basic to avoid any clashes. I [also] often head to Pinterest to search for outfit ideas."
9. Sam Ngain, (@sammsation), Content strategist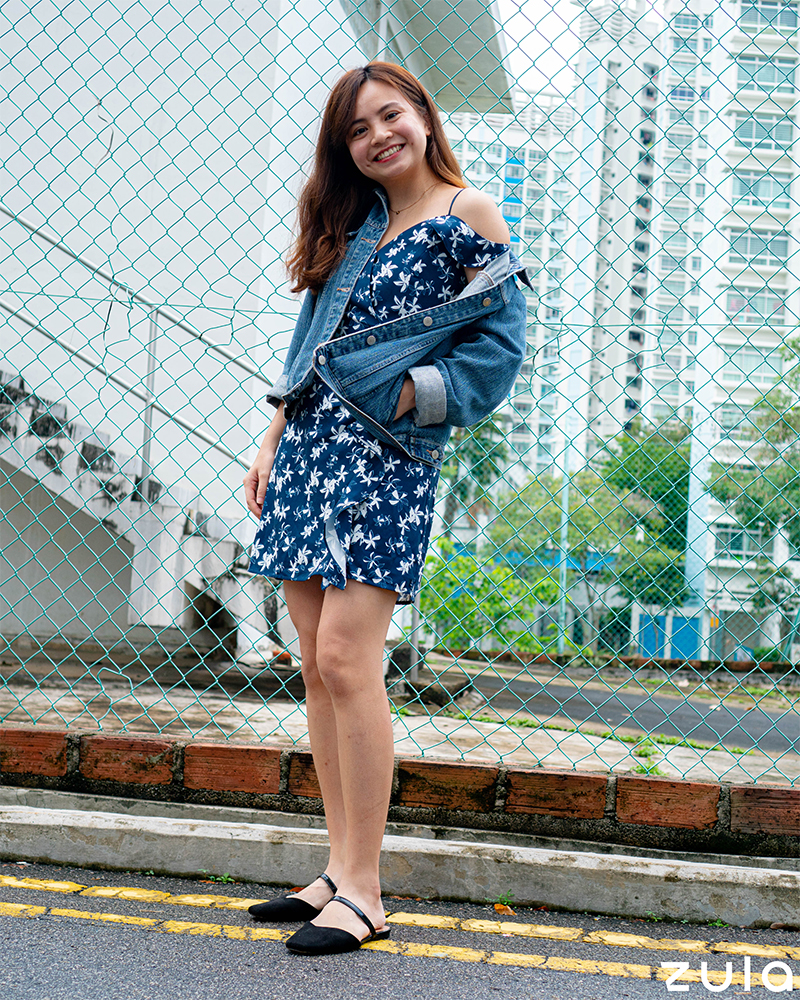 Denim jacket: Thrift store from the U.S.
Dress: Love, Bonito
Necklace: Taobao
Watch: Fossil
Shoes: ASOS
Dressed in an outfit that was easy to put together yet still looks presentable, Sam loves the convenience of printed dresses. Sam tells us that her wardrobe mostly consists of prints, as she feels that "prints add a lot of life [to her outfits] and make [her feel] happier too."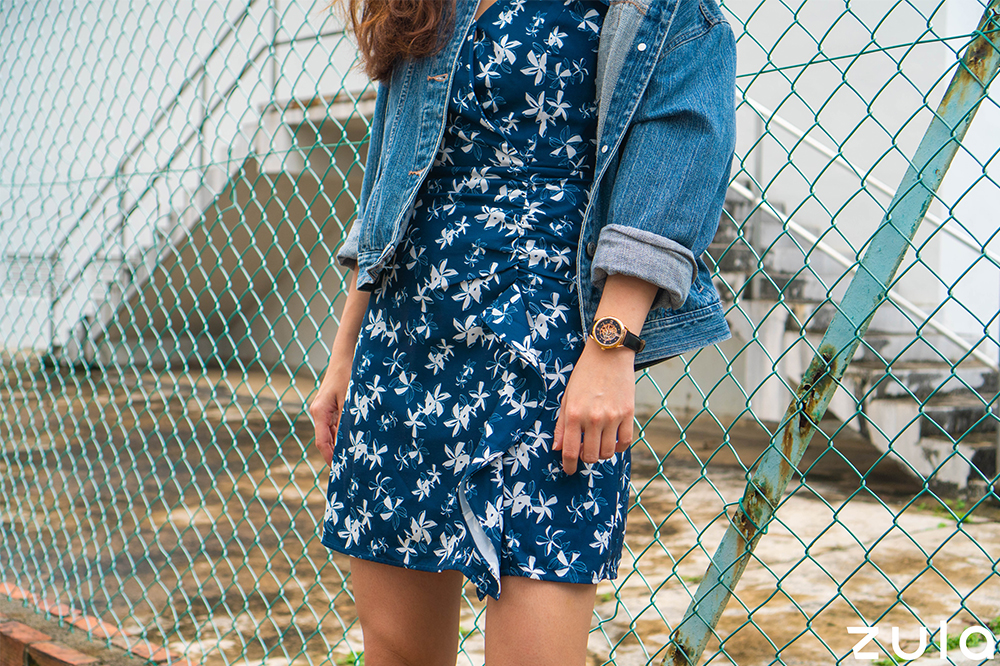 Here's a top tip from Sam: Buying clothes off Carousell can get you clothes from blogshops in Singapore at much cheaper rates. Her Love, Bonito dress, for example, was bought second-hand on Carousell. 
Advice on styling prints: "There are so many types of prints available on different types of clothing, so [prints are] always a fun way to change up your style. For example, if you love wearing pants, there are many pants with various prints to try while still staying in your comfort zone."
10. Chew Yi En, (@neiywehc), Creative assistant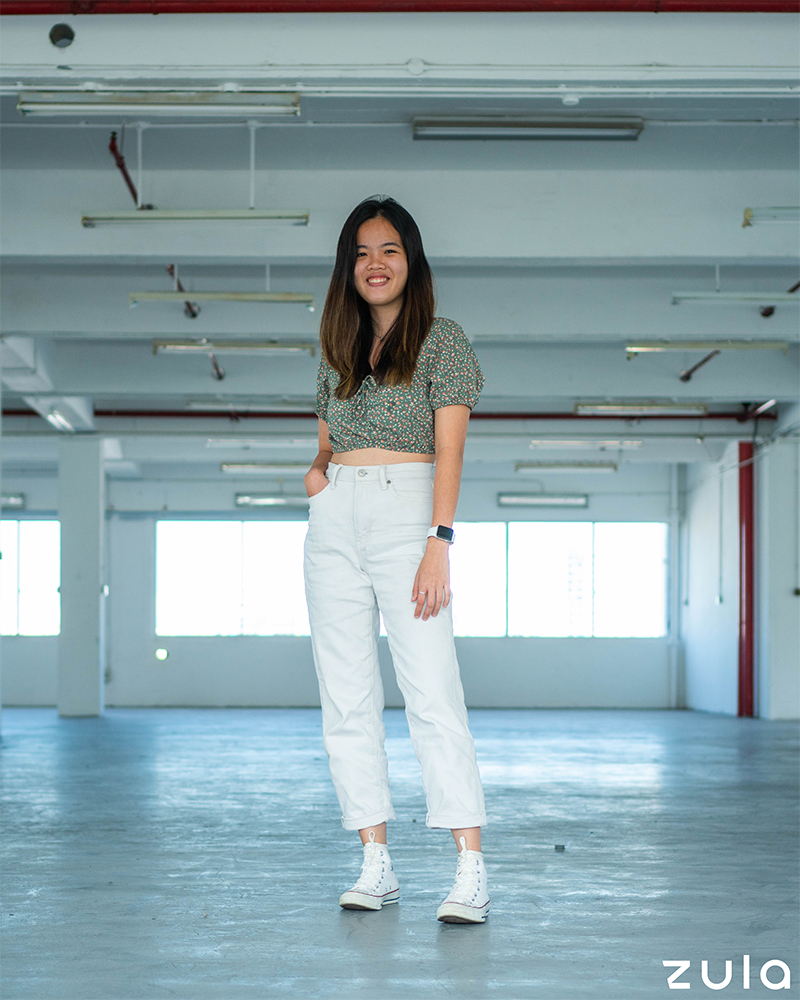 Top: Pomelo
Bottom: Uniqlo
Sneakers: Converse
Bag: Charles & Keith
Yi En's white jeans, high-cut sneakers, watch and bag act as the perfect canvas to showcase her floral print top. Her crop top and pants also have similar proportions, further adding interest to the look.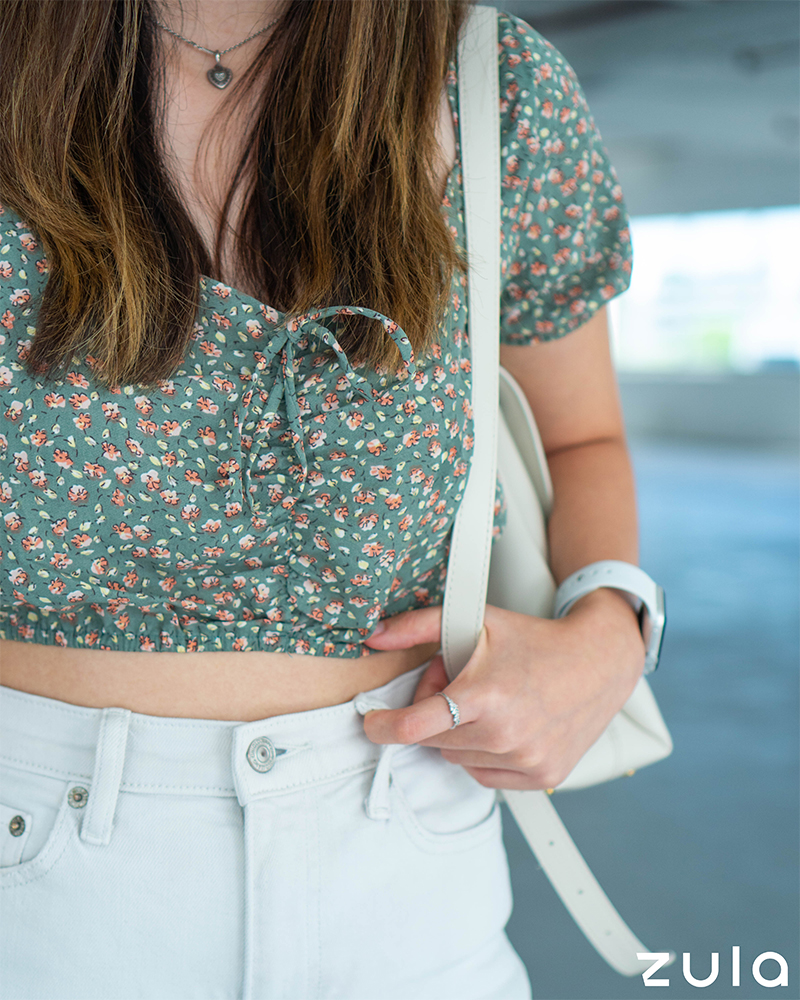 As someone who prioritises comfort, Yi En tends to shop at Pomelo and The Editor's Market, as they have a range of light and cosy clothing.
11. Adria Tham, (@thambellina), Creative lead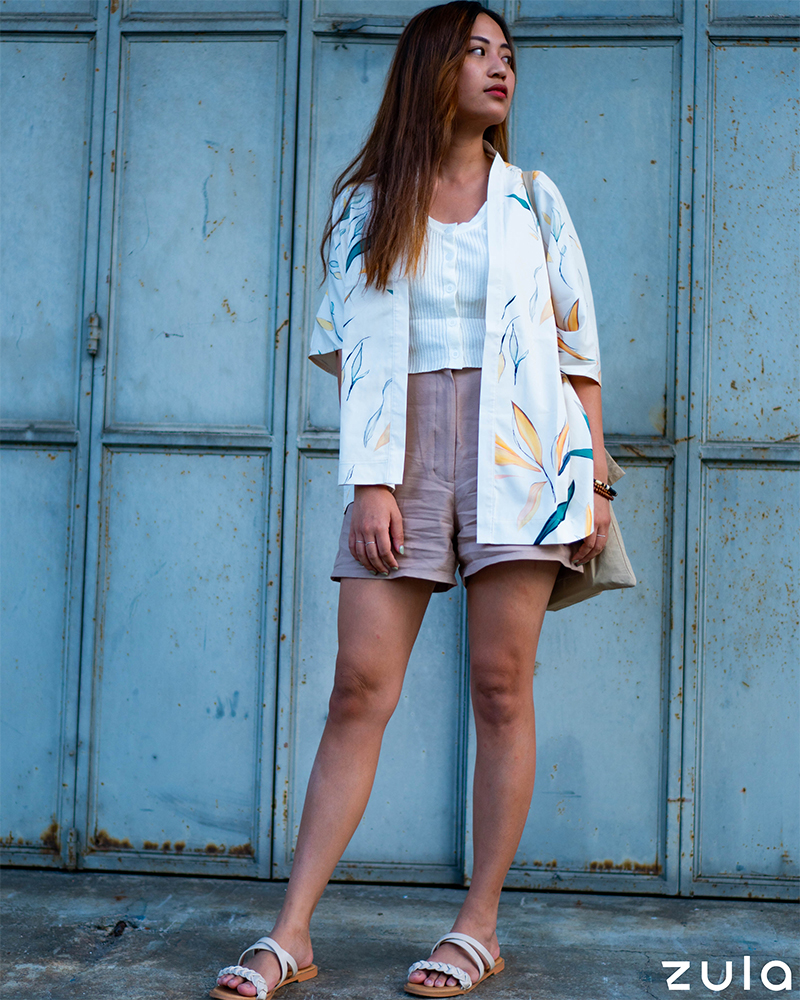 Top: TEMT
Outerwear and shorts: Love and Bravery
Brown beaded bracelet: Cotton On 
Black and white bracelet: A shop in Far East Plaza
Ring: J&CO Jewellery
Watch: Casio
Bag: Beyond The Vines
Slip-on sandals: Seira Elves
Adria's usual style consists of neutral tones and basic colours, as seen from her white and beige #OOTD here.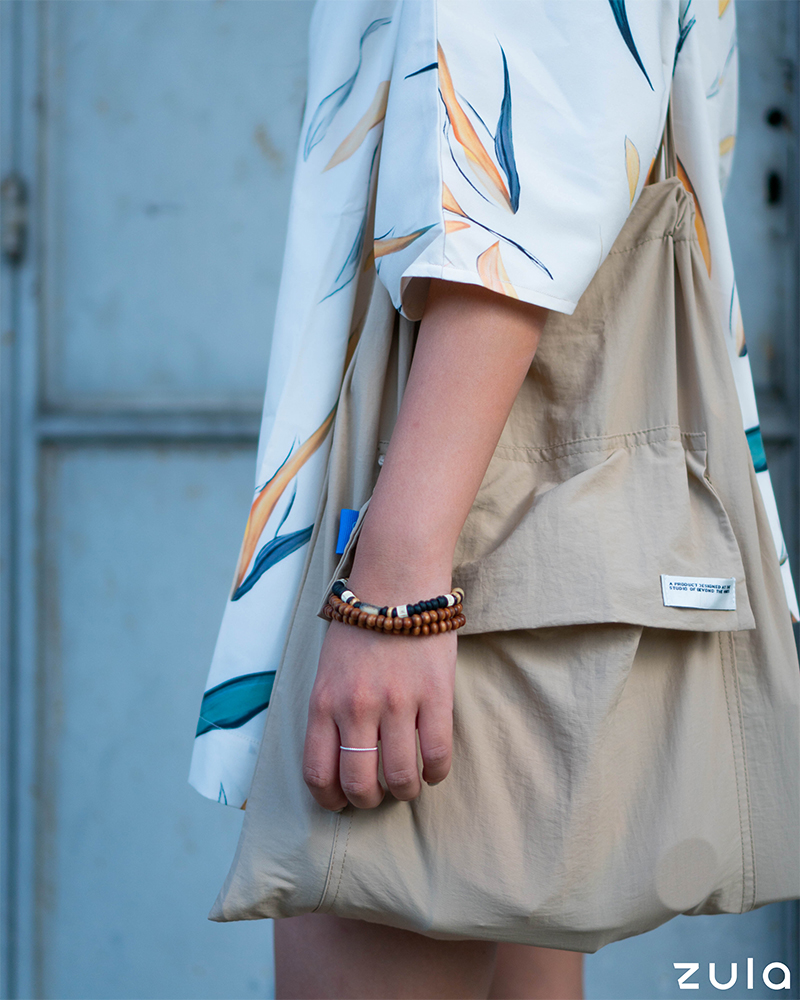 Adria doesn't wear prints often because it's hard to find ones that she likes, yet this floral kimono-style outerwear managed to steal her heart. The blue and orange watercolour florals are whimsical without being too overpowering, making them an easy way to dress up casual outfits.
Advice on styling prints: "Just go for it! Pair [your prints] with something neutral and it'll be quite hard to go wrong. When you feel more adventurous later on, you can advance on to try prints on prints."
12. Nicole Yong, (@nicolewengg), Editorial assistant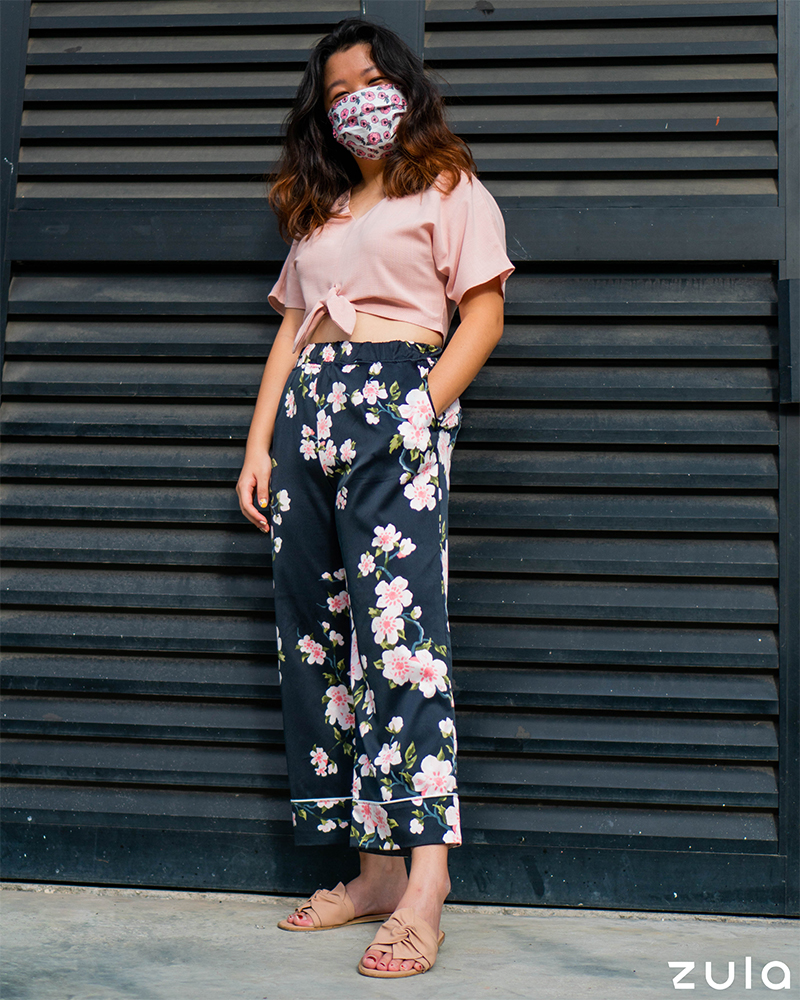 Mask: Shopee 
Top: Playdress
Pants: H&M
Sandals: Street store in Bangkok
Besides rocking a colour-coordinated outfit, Nicole shows us that prints can be coordinated as well. She enjoys "wearing matching 2-piece crop tops and pants because [she] doesn't have to worry about matching them if they're already in a set."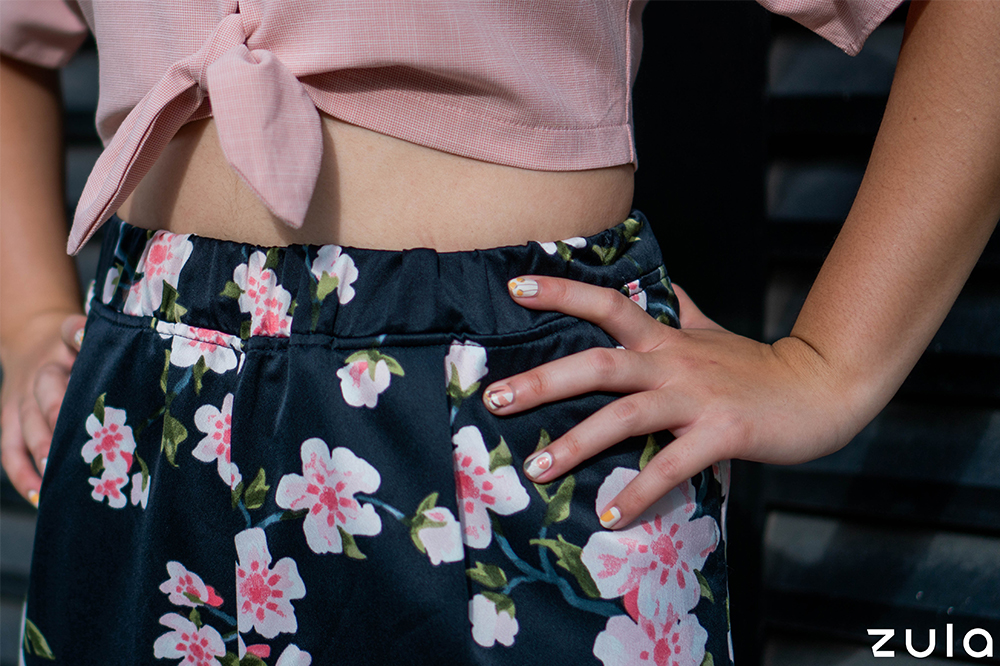 With a floral mask, pants, nails and sandals, Nicole's outfit rivals the varieties of flowers found at Gardens By The Bay. It's no surprise then, that floral prints are her favourite.
13. Loo Shuen Lin, (@shuenergy), Editorial assistant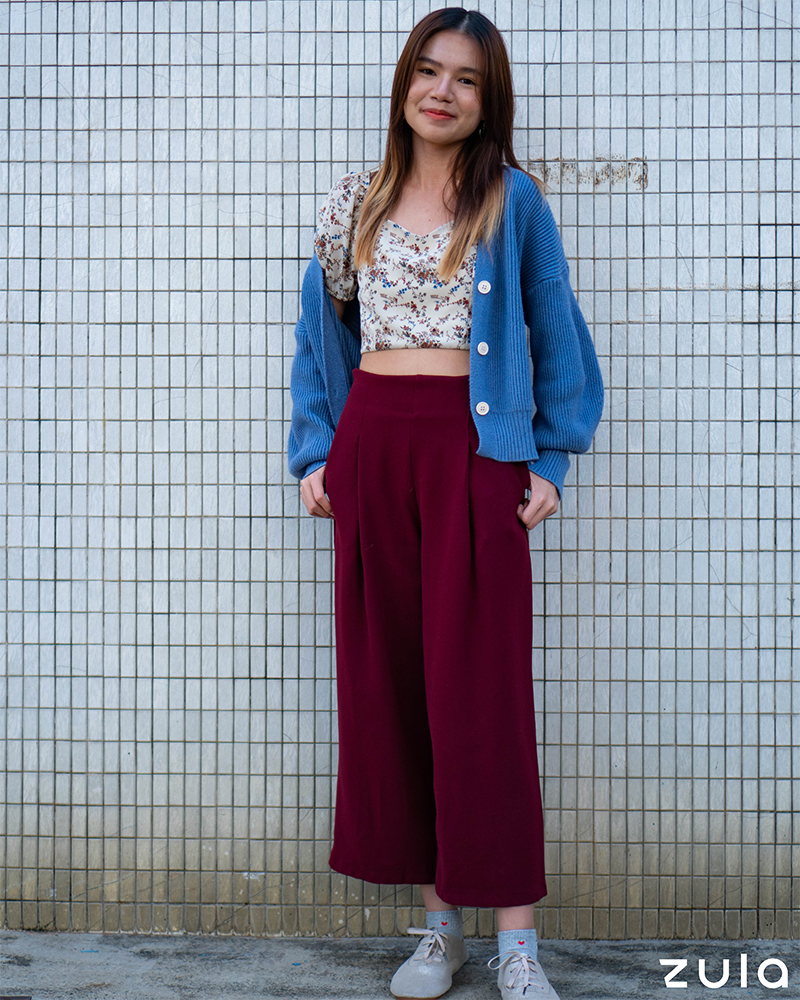 Sweater and top: Lovet
Earrings: Shopee
Pants: Fayth
Socks: Street store in Korea
Sneakers: Anothersole
Rather than going for neutral tones so that her printed item can stand out more, Shuen Lin matched her floral top with brighter, solid colours instead. Sheun Lin likes to make sure that her outfit matches, but sometimes she "likes to wear contrasting colours if I feel like standing out."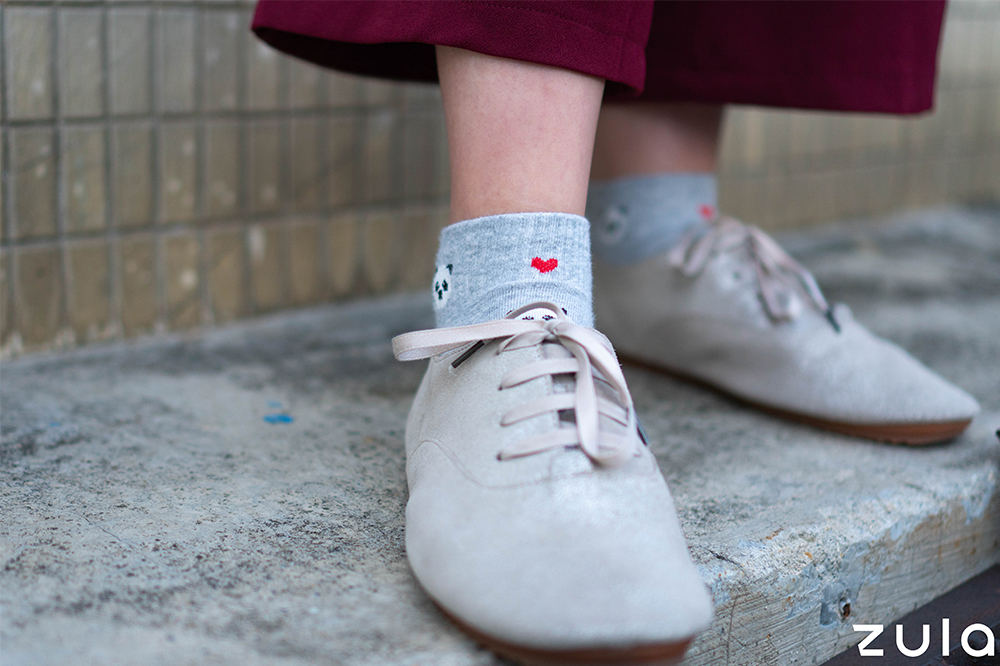 Shuen Lin flaunted another subtle print in her outfit: adorable panda patterned socks with red hearts. 
Advice on styling prints: "I feel that whenever someone wears prints, the person effortlessly looks stylish and fashionable. In a more professional setting, consider wearing 'standard' prints such as florals and gingham. When going out, fun prints are great! You can try out more eye-catching prints like zebra, leopard and Hawaiian."
14. Ryan Ho, (@ryankorkor), Editorial assistant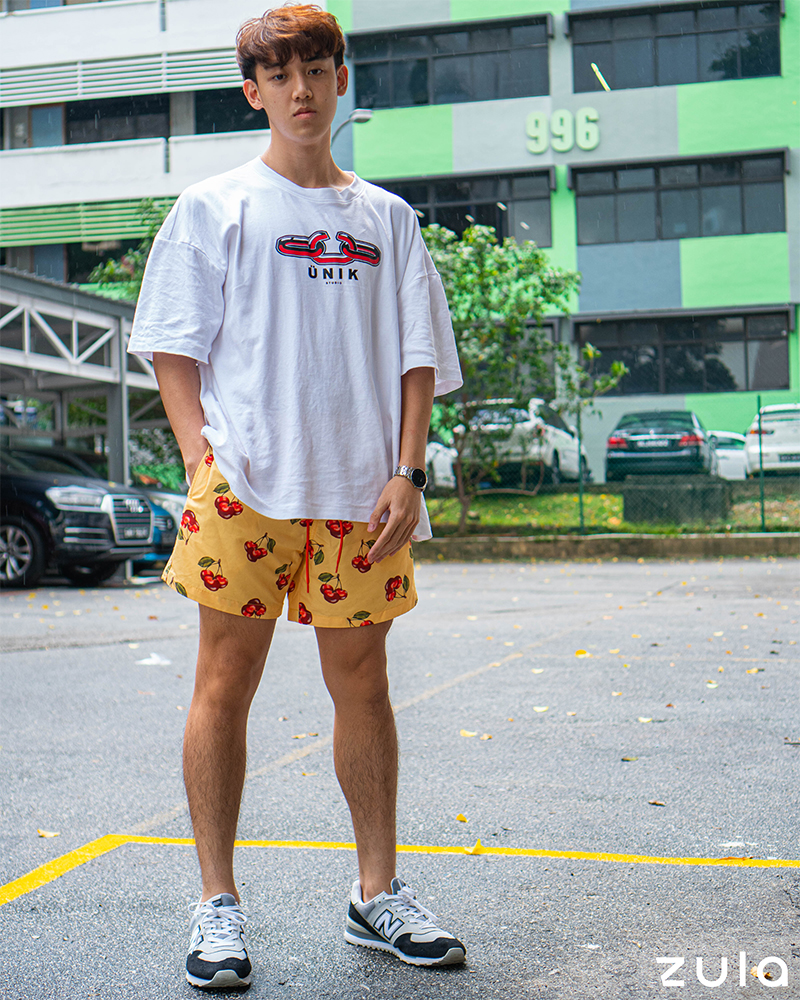 T-shirt: Ünik Apparel
Shorts: H&M
Sneakers: New Balance
Watch: Citizen 
Technically, cherries are fruits, not flowers. But the way you'd style a fruit print piece is not different from how you'd style a floral outfit. Sporting his favourite shorts, Ryan shared that he got them as a representation of his group of close friends, who named themselves "Cherry Pants Discotheque".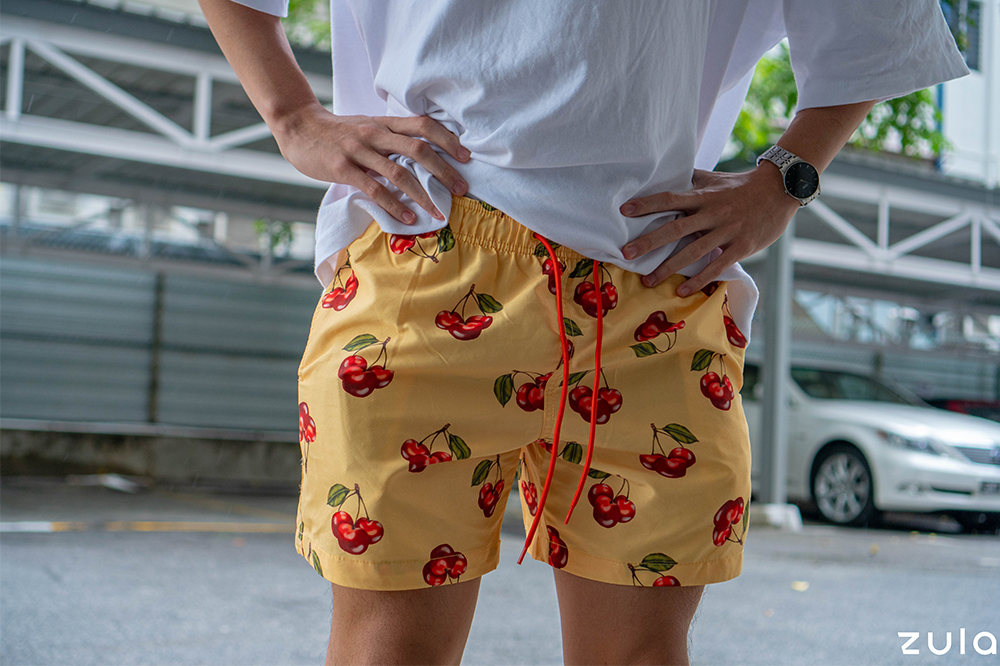 To make sure that the cherry prints would stand out, Ryan chose basic colours for the rest of his outfit to balance everything together. The red print on his T-shirt also matches the cherries on his shorts for some foolproof colour-coordination.
Advice on styling prints: "Subtle prints can look good [on] anyone; there's always a way for you to integrate prints into your outfit regardless of your dress sense. [Prints] can also be another way of expressing who you are."
These Outfits Can Inspire You To Be Bold & Style Your Next #OOTD With Prints
Finding the right set of prints to suit your style and comfort level might take a few rounds of trial and errors. From basic to unique and fun looks, our colleagues have shown us a quick guide on how different prints can be styled. We hope that you can have fun while experimenting with fun and quirky prints, even beyond the ones that were featured here.
Photography by Shash Yoga and Nicole Yong.
Also read: