Street Style Snaps at TSL (March 2021)
In previous editions of ZULA's Singapore Street Style round-up, we hit the streets to check out what stylish people in the city were wearing. This time round, we're switching things up. We're showcasing what our colleagues wore to work in March 2021, for a sneak peek at what sartorial inspiration can be spotted within the TSL office itself.
1. Brenda Tan, (@brendatjy), Social media executive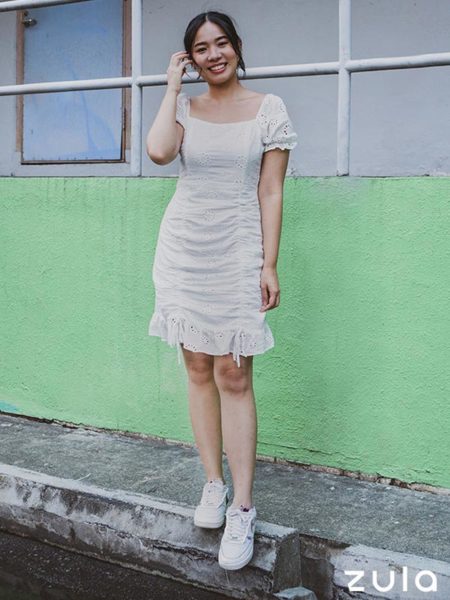 Hair ribbon: Daiso 
Earrings: Goldheart
Dress: Lovet
Sneakers: Nike
On the day of our shoot, Brenda was rocking a ruched white eyelet dress with a square neckline. While her usual style is "girl-next-door" and she tends to go for basics, what she wears is also dependent on her mood. "If I'm feeling girly, I'll throw on a skirt or dress. If I'm feeling a bit badass that day, I'll throw on a full black get-up with a bucket hat."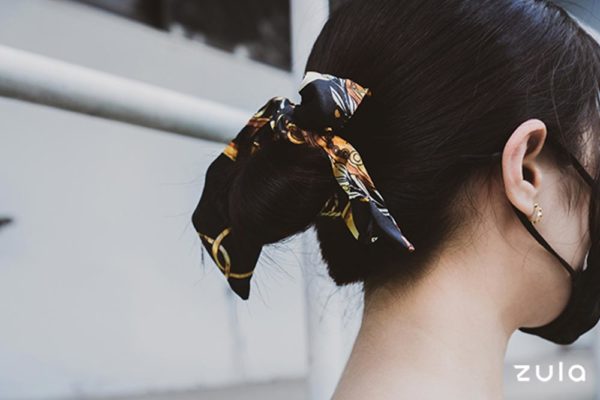 Brenda's printed hair ribbon stood out from the rest of her all-white outfit. The print and material remind us of the scrunchie Lisa from BLACKPINK wore around her wrist as a bracelet. While Lisa's Claudia scrunchie from Hermès costs $340, Brenda's cheap-yet-chic Daiso buy shows us that you don't need to spend a bomb to be fashionable. 
2. Shash Yoga (@shashneetha), Assistant video producer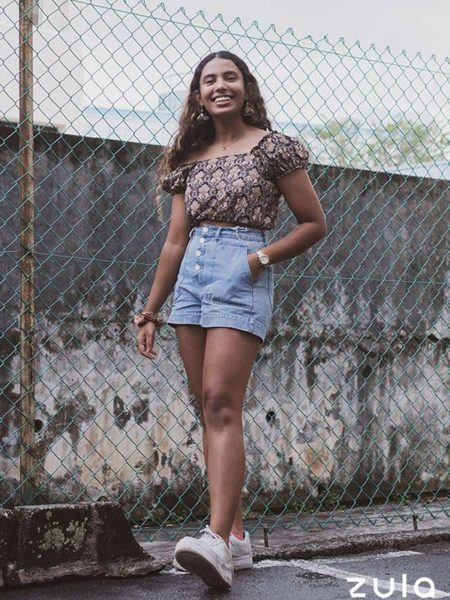 Earrings and top: Upcycled from her old dress
Shorts: Thrifted from a shop at Lucky Plaza
Watch: Gift from a friend
Scrunchie: Cotton On
Sneakers: Nike
Shash thinks that "matching clothes and accessories are adorable", and her matching top and earrings were exactly what drew us to her outfit. Turns out, she upcycled one of her old dresses to bring this look to life. When asked how she made the earrings, Shash revealed that she bunched up the scrap fabric and utilised her mother's DIY earring kit.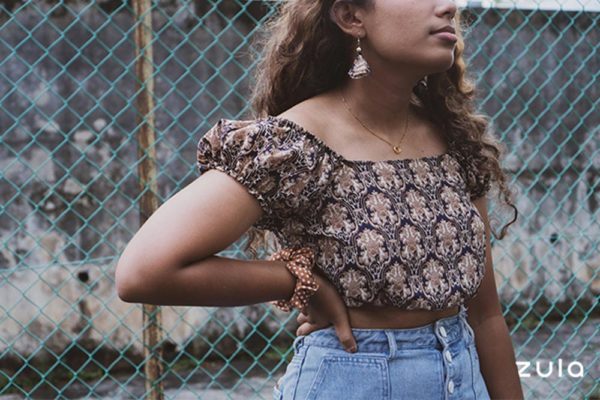 As someone who is conscious of fast fashion, Shash has stopped buying new clothes unless she really needs them. Instead, she finds most of her outfits, like the shorts she was wearing that day, from thrift stores and Carousell.
3. Ariel Ho, (@realsh1ny), Assistant video producer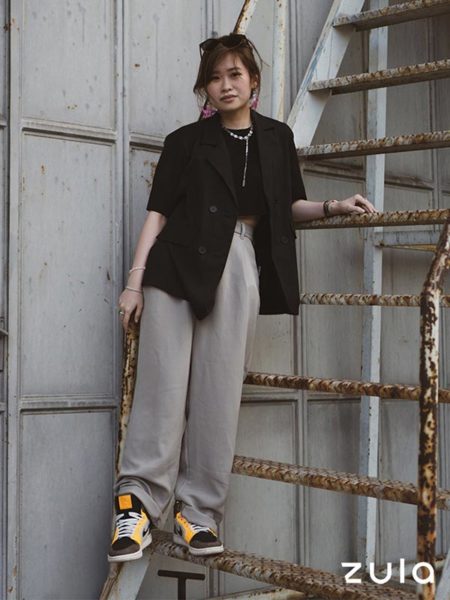 Sunglasses: Owndays
Earrings and bead rings: @pasteldreamcollective
Top: Topshop
Blazer: Taobao
Pants: Zara
Ring: @twiddlythumbs_
Necklace: Justine Clenquet
Watch: Rosefield
Sneakers: Nike
With high-cut sneakers and a short-sleeved blazer, Ariel's outfit is the perfect mix of streetwear and office wear. She stays away from skirts and dresses because she thinks they are too troublesome. Instead, she loves baggy pants, jeans and bermudas, which she usually pairs with sneakers and boots.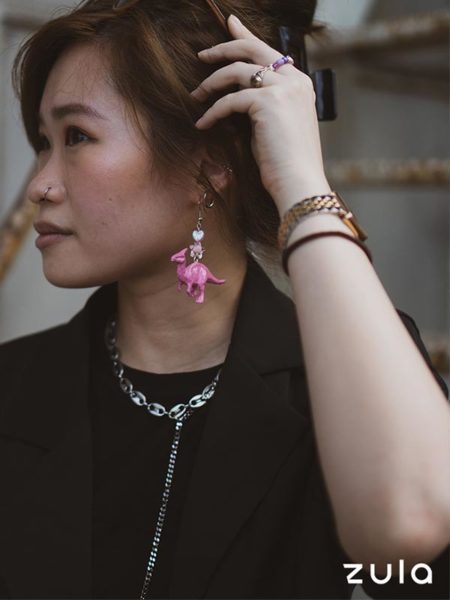 Ariel mostly cops her accessories from Instagram blogshops in Singapore, as she finds that they stock more unique designs. Her quirky pink dinosaur earrings, for example, are from Pastel Dream Collective. Along with her orange Nike sneakers, they added a welcome pop of colour to her otherwise neutral-toned outfit.
4. John Lim, (@johnjohnah), Creative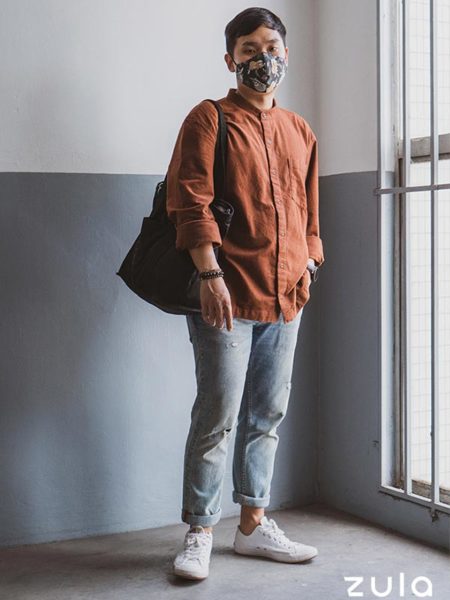 Mask: Handmade gift from a friend
Shirt: MUJI
Jeans: Calvin Klein
Bag: Kipling
Watch: Samsung
Ring: Bugis Street
Beaded bracelets: @peony.jem
Brown bracelets: Gifts from friends
Sneakers: Converse
As a fan of Japanese fashion, John's go-to shops are MUJI and UNIQLO. He adds that "a lot of Japanese tops are oversized and easy to move around in", which is important to him since his usual style is function meets fashion.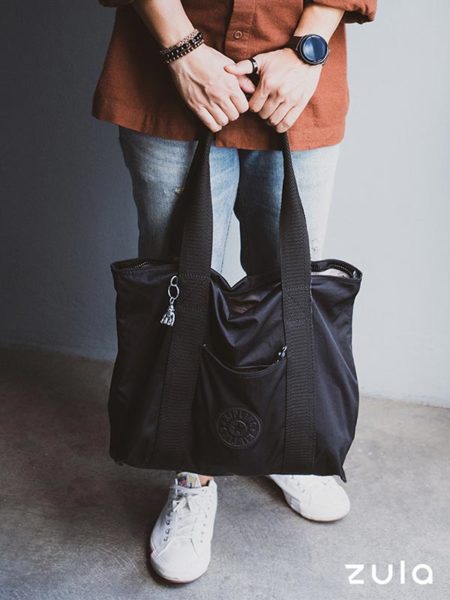 Clad in a brown top from MUJI, John tells us that he likes earth tones and often "buys colours that can be found on a tree". This applies to his accessories too: his handmade mask is adorned with cute animal patterns in brown and grey. His brown and black arm candy act as the finishing touch, which match the roomy black Kipling tote he carries to the office. 
5. An Lim, (@lalalaloves), Video producer, and Chiara Ang, (@chiaraang), Senior writer and host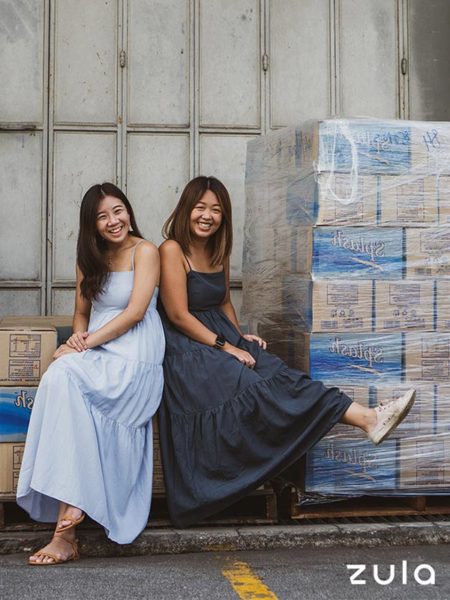 From left: An Lim, Chiara
An
Earrings: @visualmess.co
Necklace: Gift from a friend
Dress: The Editor's Market
Sandals: Charles and Keith
Chiara
Dress: The Editor's Market
Watch: Apple
Sneakers: Converse
To celebrate An's last day in the office, Chiara and her decided to wear matching dresses because they have similar tastes in clothes. 
According to Chiara, long flowy dresses are great for a number of reasons. "You can just throw on one thing without bothering to match [it]", plus the fit-and-flare silhouette is "comfortable and cute." For clothes that match her "basic and girly" aesthetic, she turns to shops like Love Bonito, The Editor's Market, Cotton On and Zara.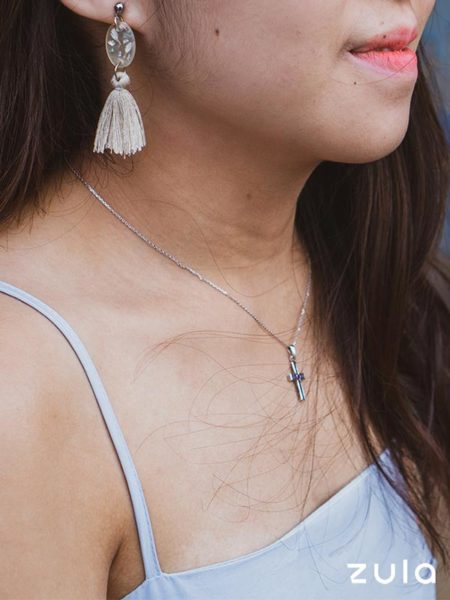 Similarly, An's closet consists of girly tops and short dresses from blogshops in Singapore and Cotton On. She also has a soft spot for ruffles and pastel colours. Accessories-wise, she can't resist dangling earrings. 
Also read:
6. Tan Yi Hui, (@xxyihuix), Editorial assistant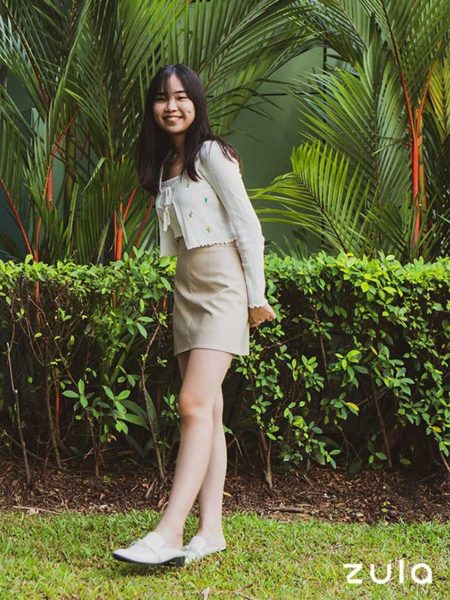 Tube top, cardigan and skirt: Taobao
Bracelet: A store in Nepal
Ring: Gift from a colleague
Slip-on sandals: Charles and Keith
Yi Hui draws sartorial inspiration from BLACKPINK's Jennie, known for her feminine and sophisticated off-stage fits. Cardigans, crop tops and vests are a mainstay in Jennie's OOTDs. They also make up a large part of Yihui's closet, including this cute cardigan that she paired with a matching white tube top and high-waisted skirt.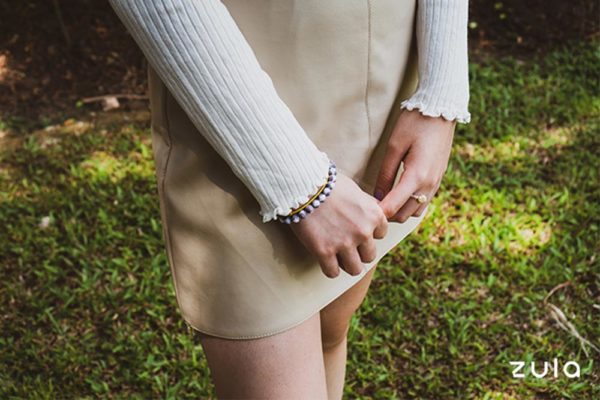 A beaded bracelet and flower ring complement the nude tones, while also adding a fun and personal touch to Yi Hui's look.
7. Leah Shannon, (@mizchiefmagik), Video producer and host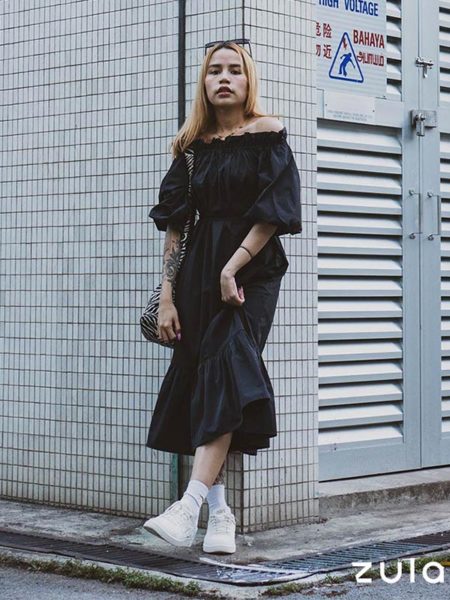 Sunglasses: Pomelo
Earrings: @lenay.official
Necklace: @by.raye
Dress: Love, Bonito
Bag: @thestylemafia
Socks: Unknown
Sneakers: Asics
A true fashion chameleon, Leah's response when we asked about her usual style was, "My style changes every day. Some days I'm Y2K, some days I'm K-style and demure AF." No matter her look for the day though, she is partial to clashing styles. "If I'm girly that day, for example wearing a dress or ruffles, I have to have a piece that's a bit more edgy, like boots or blazer, for contrast." 
Case in point: She offset the girliness of her ruffled puff-sleeve dress with high socks and white sneakers. A unique zebra-print bag slung over her shoulders further added to the edginess of the look.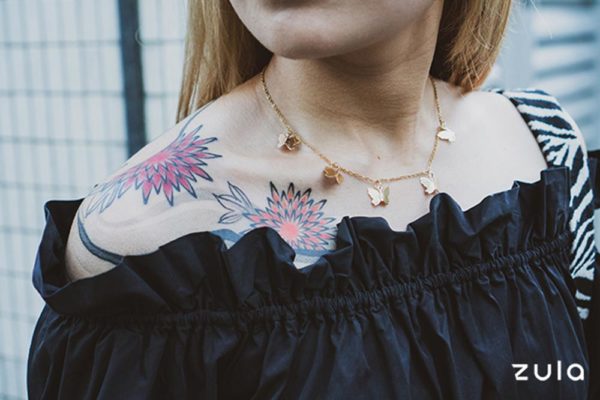 Leah's adorable butterfly necklace was especially prominent, thanks to her off-shoulder dress. The butterflies looked as if they were fluttering around her flower tattoos, a subtle pairing that almost seemed intentional.
8. Aidan Cheng, (@_kacheng_), Editorial assistant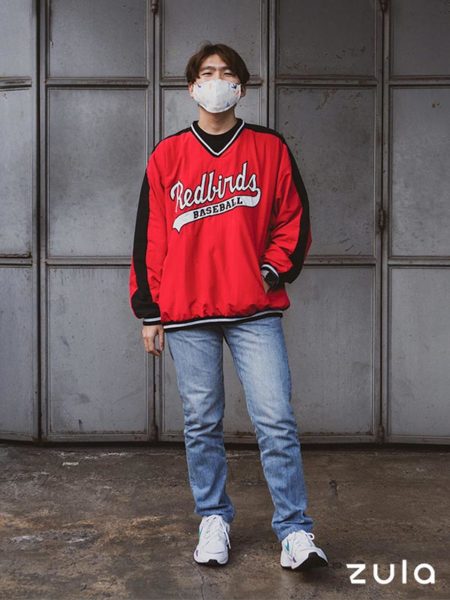 Mask: A for Arcade
Sweater: @jiggything.vtg
T-shirt: @wellbredstore
Watch: Apple
Jeans: Salvation Army Singapore's Praisehaven Mega Family Thrift Store
Sneakers: Nike on ASOS
With Instagram thrift stores on the rise in Singapore, Aidan snagged this red baseball sweater from @jiggything.vtg for a vintage look. He "gravitate[s] to things that are more baggy or oversized", pairing his sweater with loose-fit jeans and chunky sneakers for "dad shoes" and "dad jeans" vibes.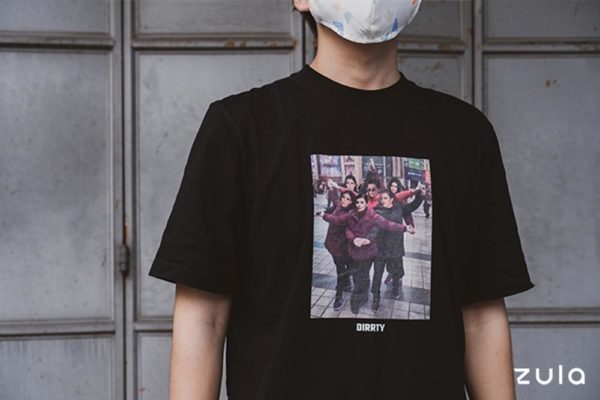 Our favourite part of Aidan's outfit is the hilarious t-shirt hidden underneath his baseball sweater. The design features the faces of the Kardashian-Jenner sisters photoshopped over an internet meme, with mum Kris Jenner in the middle. Besides thrifting and vintage shopping for "windbreakers and t-shirts with more personality", Aidan also shops for basics at UNIQLO and local brands like Arcade Men and Basic Lad.
9. Raudha Suleiman, (@raudical), Visual storyteller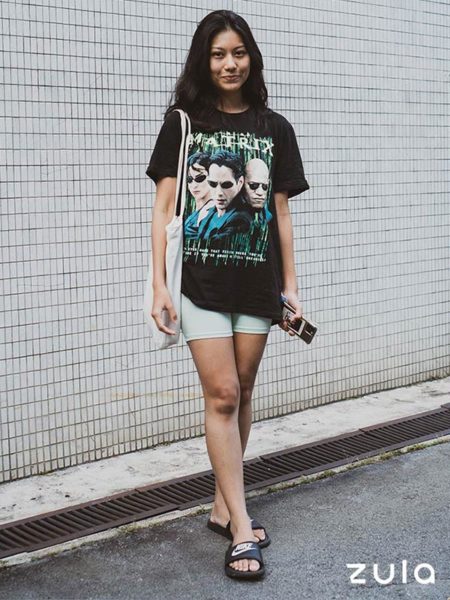 T-shirt and tights: Cotton On
Tote bag: Unknown
Slides: Foot Locker
Raudha's oversized graphic tee paired with matching mint green bike shorts immediately caught our eye in the office. The print is reminiscent of vintage band tees, except hers sports a picture from the classic sci-fi movie, The Matrix. A conversation starter, for sure.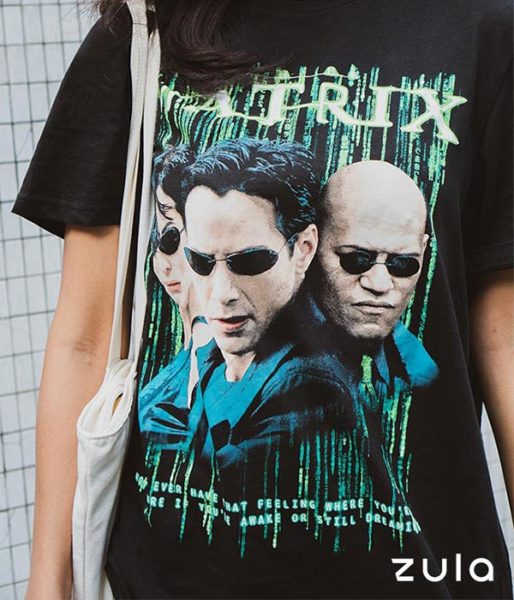 Raudha enjoys experimenting with different styles of clothing. She shares that, "these days, I try to thrift as much as I can," usually at REFASH.
10. Beatrice Bowers, (@wrackcity), Associate editor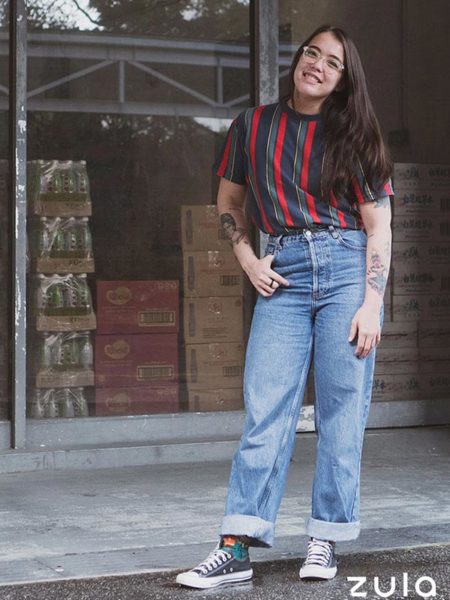 T-shirt: Cotton On
Jeans: Topshop
Ring and socks: Shopee
Sneakers: Converse
Beatrice's go-to outfit often comprises "gender neutral t-shirts and jeans", as seen from her office #OOTD here.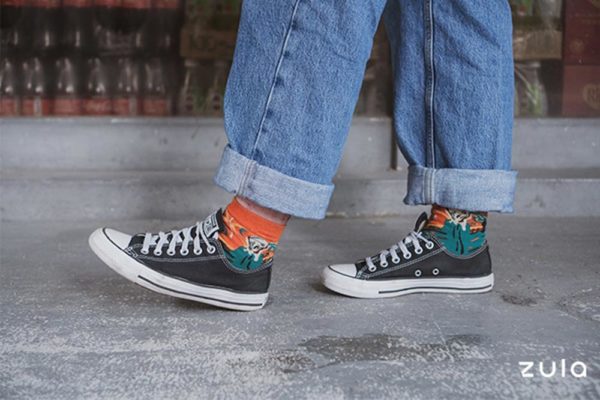 Beatrice's bright orange and green socks stand proudly against her colourful striped shirt. While most people might not be bold enough to clash these colours and patterns, Beatrice says she's "very fond of stripes and weird socks, so [she] tries to find a way to mesh both [of them] way too often".
11. Aaron Lin, (@aaronlzc), Editorial assistant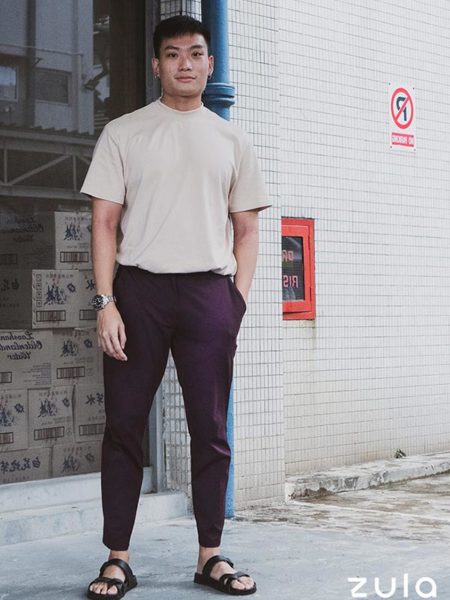 Earrings: Shopee
T-shirt: Taobao
Pants: Uniqlo
Watch: Carousell
Sandals: Hotwind
It's not often that you spot someone wearing pants that deviate from the standard colour palette (think: black, grey, navy blue). Aaron's fit shows us how to pull off a unique colour: by opting for a dark shade, then pairing it with neutral separate and minimalist accessories. He went for a beige t-shirt, then added a simple silver watch and silver hoop earrings to tie his outfit together.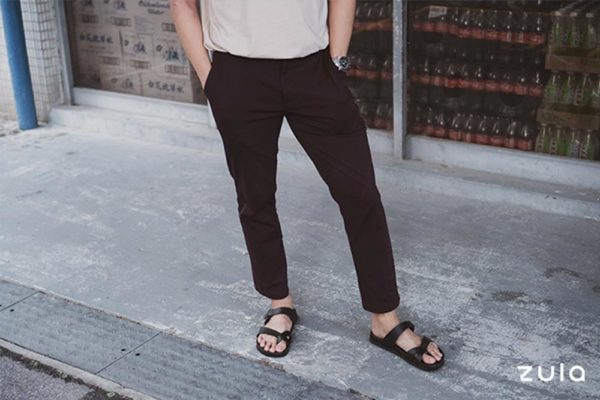 Aaron shares that he tends to avoid logos on clothing so it's "less likely people will notice that [he's] always wearing the same things". He gets his basics from Uniqlo, and tries to find more unique items online by shopping on sites such as Taobao and Carousell.
These TSL Office Style Snaps Can Be Your Next Street Style Inspiration
Finding the right balance between looking stylish while being comfortable can be tough sometimes. Hopefully, some of our colleagues' interesting outfits can inspire your next #OOTD, so you won't have to stress about wearing the same things every day. Stay tuned for another round of TSL office style, coming to you again soon.
Photography by Ariel Ho and An Lim
Also read: