Tattoo Artists In Singapore
With fewer mums threatening to disown their kids for getting an angkong, more millennials are adorning themselves with pieces of art, whether they're hidden or visible. Plenty of tattoo artists in Singapore have also taken up space on Instagram to flex their skills and share their most recent works.
If you're itching for some ink but you're not sure which of the many tattoo artists in Singapore to go with, don't worry. To help you narrow down your options, we hit up our friends and colleagues to come up with a trusted list of recommendations. From intricate botanical designs to solid geometric shapes, here are 9 tattoo artists in Singapore we were inked by and would totally endorse.
1. Anthea Tan at Wild Paw Tattoo Co.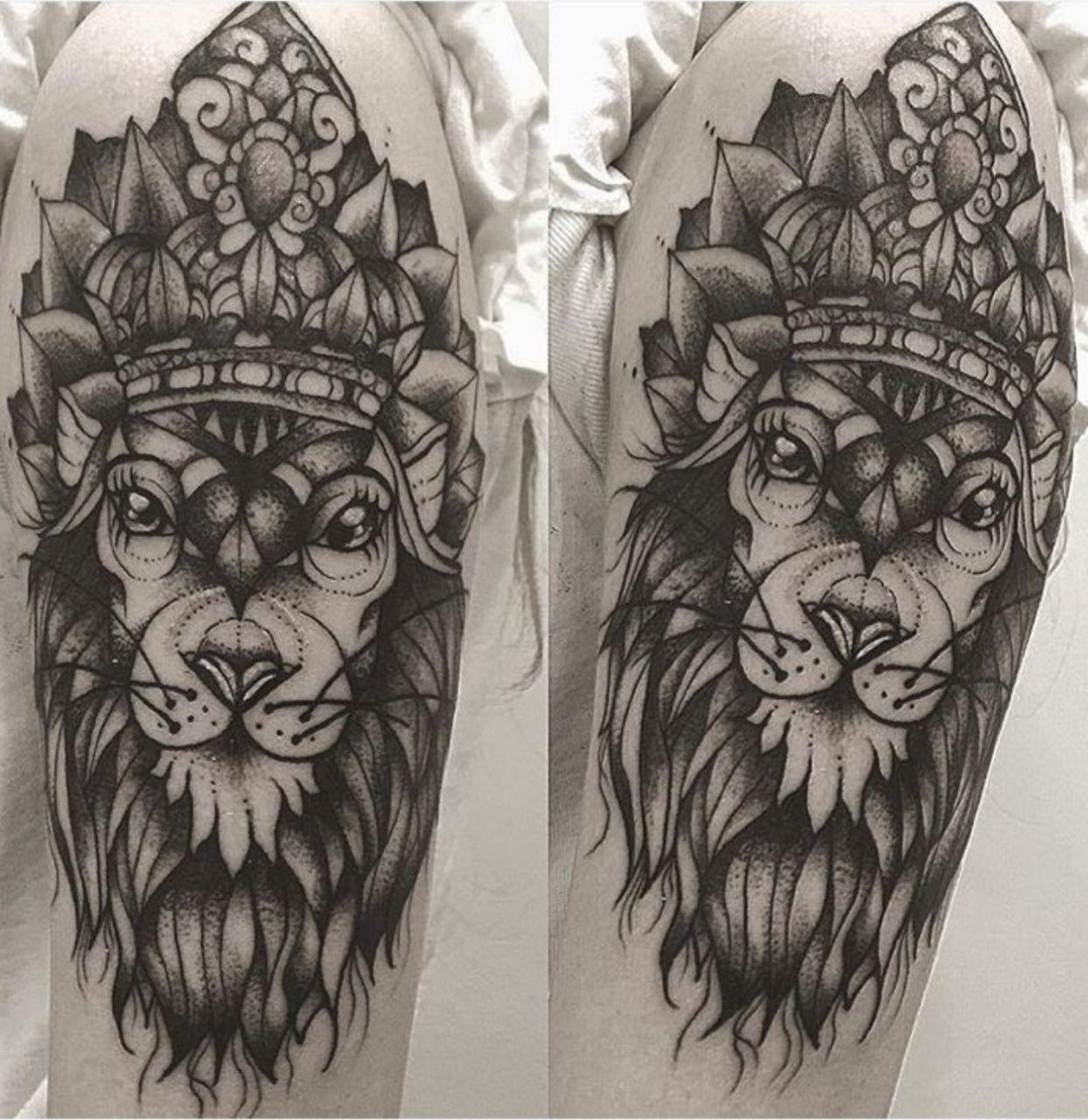 "I was searching for a local tattoo artist on Instagram and Anthea stood out to me the most. Her designs are rather detailed but at the same time cartoonish and whimsical. She has a trademark style on how she illustrates eyes, and she uses vegan tattoo ink too.
My tattoo is of a lion with a pretty pair of eyes. To me, it symbolises my masculine and feminine sides. It also serves as a reminder of the values I stand for, such as strength, courage and pride.
It took a few consultations before we settled on a design I liked. The size she recommended was also bigger than what I wanted, but when she placed the stencil on my arm, I was sold. While working on the piece, she was quiet but really focused on doing her job. The tattoo turned out great and I've been getting loads of compliments since."
—Loo Wen Xin
Contact: Email itsratking@gmail.com to get in touch with Anthea
Website | Facebook | Instagram
2. Maxine Ng at Iron Fist Tattoo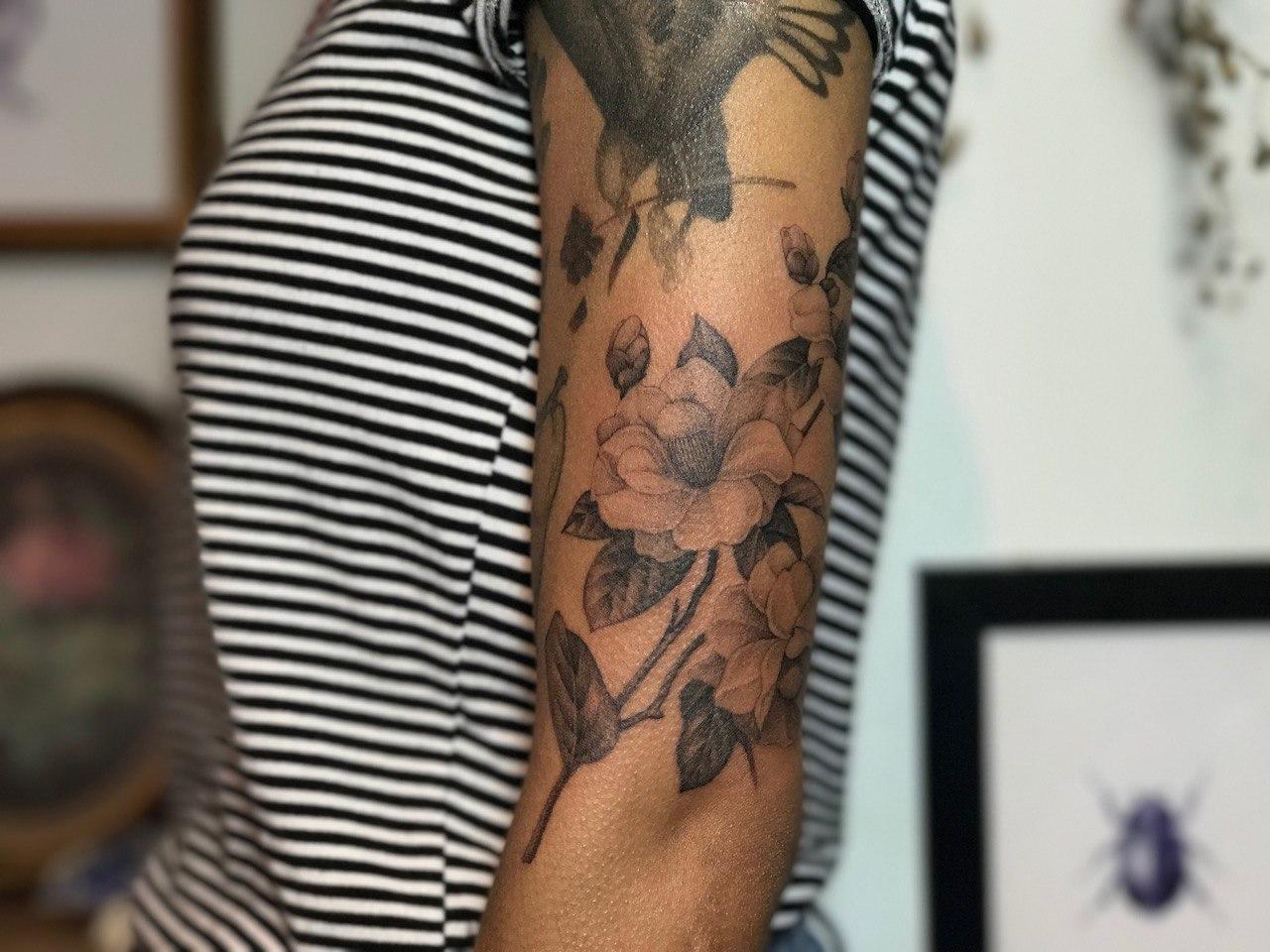 "I heard about Maxine 3 years ago through a friend who had booked an appointment with her. At the time, she was just a baby apprentice but already so talented. Maxine does fine line and illustrative pieces that have a romantic vibe to them.
All 3 pieces that I got from her are flash pieces, which means they've already been drawn up. The first one is an anemone flower on the inside of my left arm. The newer ones are Maxine's painting of a bird and some magnolia flowers on the outer part of the same arm. The level of detail in all of them is dope.
From what I remember, Maxine is pretty light-handed, which makes the experience less painful and thoroughly more enjoyable. She's super chill, very profesh, easy to talk to and her outfits are always on point. I would literally let her put anything on me."
—Dayana Rizal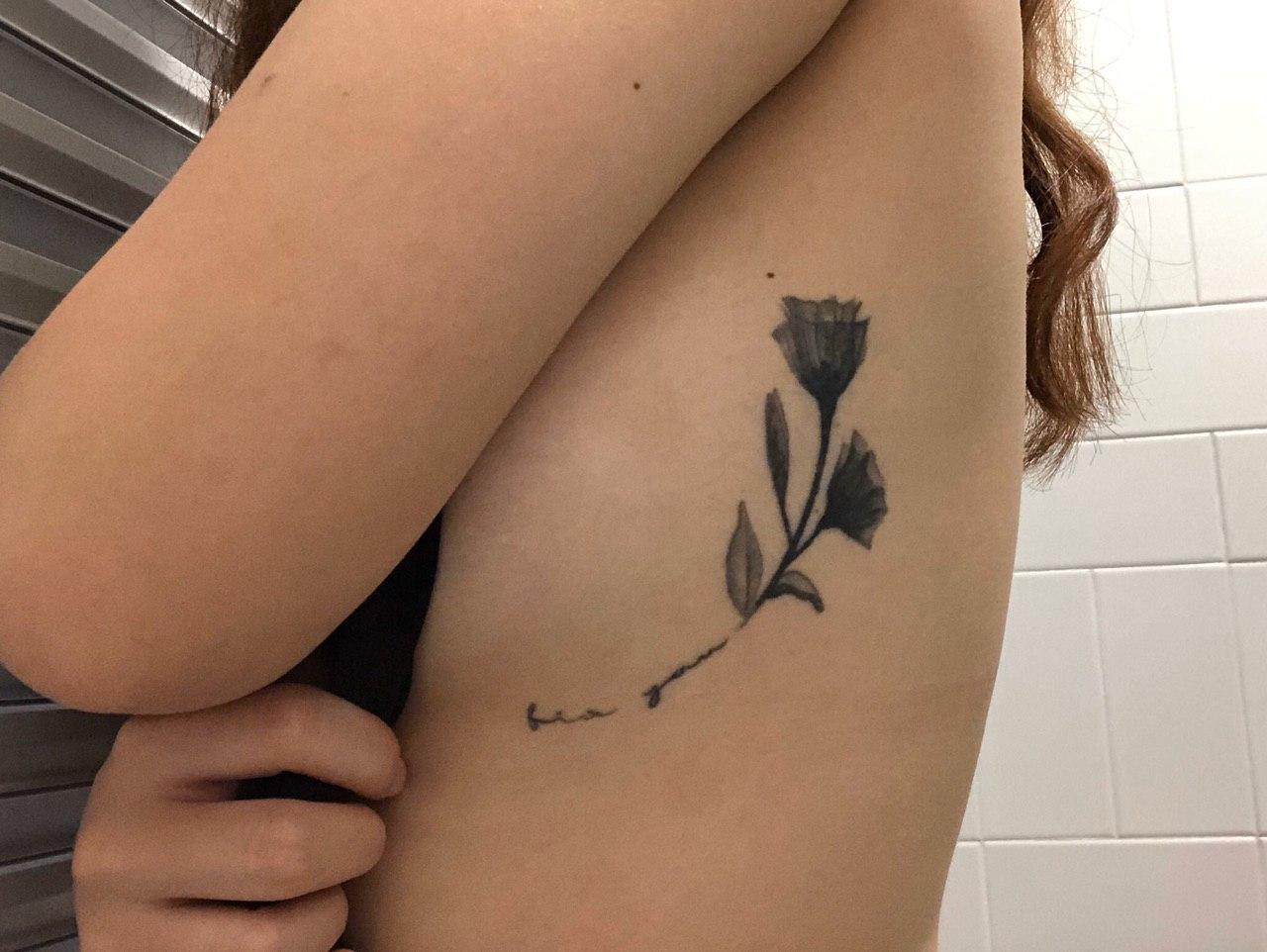 Credit: Rae Phang
"My tattoo is of a flower with the words "fix you" as the stalk, positioned at the side of my left rib cage. I knew I wanted a flower, but it didn't matter which one. The words are the main detail for that tattoo. It's a song by Coldplay that helped me through dark times.
[During the session,] Maxine frequently asked me if I was feeling any pain and whether it was unbearable. I was quite nervous as that was my first tattoo, but she managed to keep me calm and composed."
—Rae Phang
Contact: Email maxinengpeisi@gmail.com to get in touch with Maxine
Facebook | Instagram
3. Emelyn Ashley at Tooth & Nail
"Emelyn specialises in fine line tattoos, but from what I know now, she is only accepting flash pieces for new clients. I got one of her flashes, a rectangular botanical piece with a red circle and red outline of a bird. I really liked how cute the bird was, and had wanted a rectangular piece on the back of my arm for the longest time.
Emelyn is super professional and gentle. It's much harder to align a rectangular tattoo than you would imagine, and we spent a solid half an hour trying to get the placement right. She couldn't proceed until it was aligned up to her standards. You can tell that she takes a whole lot of pride in what she does."
—Haley Goh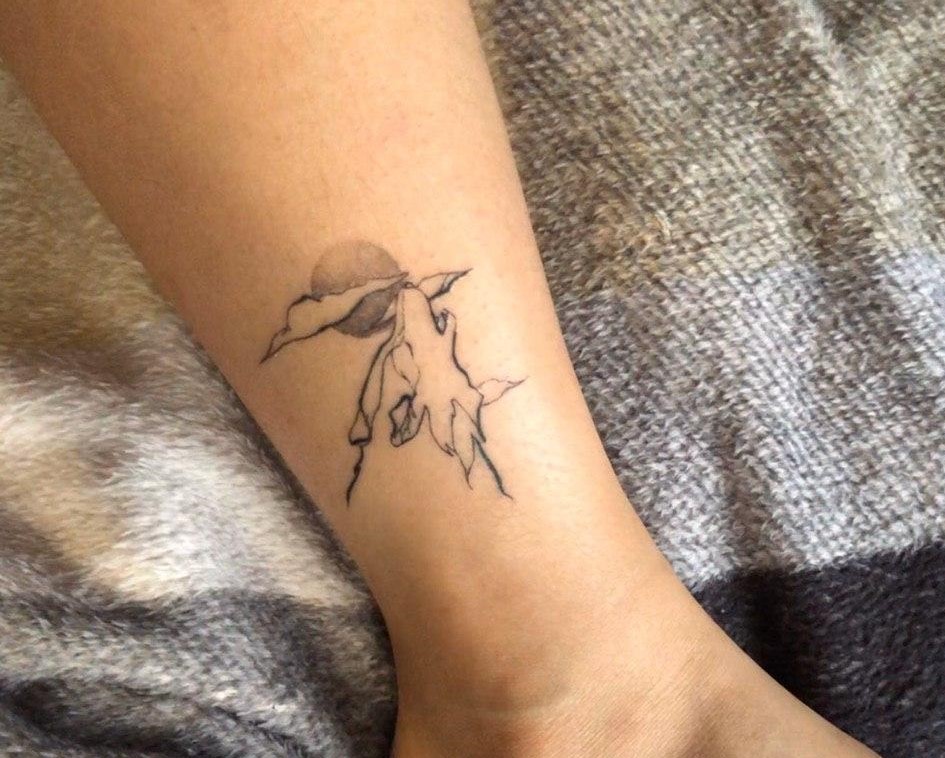 Credit: Rae Phang
"The design I decided on is of a wolf howling at the moon shrouded by some clouds, positioned on my right ankle. I chose this design more for its aesthetic than meaning. I really liked Emelyn's work and wanted to get a tattoo from her.
Emelyn was very friendly and candid, eagerly chatting with me the whole way. Maybe it was a tactic to distract me from the pain, but it worked! I like how genuine she is, and how comfortable I felt around her. She really connects with her customers on a personal level."
—Rae Phang
Contact: Email ae.melyn18@gmail.com to get in touch with Emelyn
Facebook | Instagram
4. Julian Chia at Wild Paw Tattoo Co.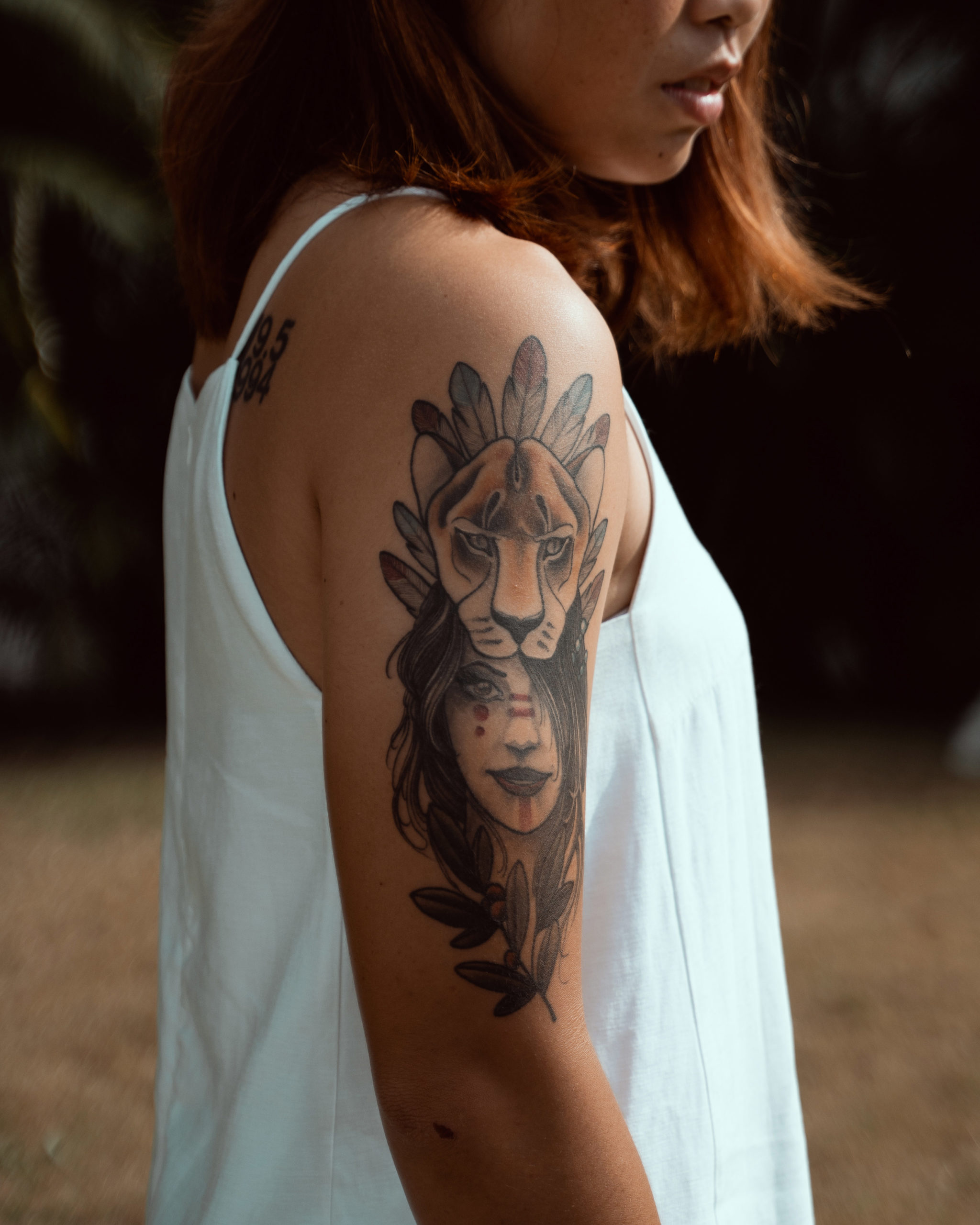 "Julian does vibrant neo-traditional tattoos that are perfect for animal lovers. The largest one he has done on me is a portrait of my mum in an Apache warrior form, wearing a lioness hat. To me, she is a lioness. She protects, guides and nurtures, just as how the head lioness does in a pride.
Since Julian is someone who works with a lot of colour, I could trust his expertise on finding the right combination of colours that would complement my skin tone. However, he's also super open to your suggestions, so he will ask for your preferences.
Julian is really easy to talk to, which is ideal for first-timers who feel a bit nervous about getting inked. He's gentle and also really quick, which helps make the entire experience more enjoyable. He is also one of the few artists who uses vegan ink, which is great if you're someone who cares a lot for animals and the environment."
—Marissa Yeo
Contact: Email julian.used@gmail.com to get in touch with Julian
Website | Facebook | Instagram
Also read:
Why This Singaporean Female Tattoo Artist Only Uses Vegan Ink
5. Syah at Fingers Crossed Studio
"I found Syah through my Instagram Explore page about a year ago. I follow a lot of tattoo artists there so I'm not surprised that she popped up. She does bold lines and blackwork tattoos that still somehow have an element of femininity.
My piece from Syah is a negative-space olive branch. This was also a flash piece that she had drawn up. I've always wanted to get an olive branch tattoo and was looking for a piece that fit the gap in my arm. It was the last puzzle of my arm tattoo jigsaw.
Syah was so sweet when I was being a baby about the pain. This was my first "blackwork" experience and my inner arm turned out to be quite a tender spot. We couldn't finish the piece in one session, so she graciously offered to have me come in for another session with no added fee. 😭"
—Dayana Rizal
Contact: Email askfingerscrossed@gmail.com to get in touch with Syah
Website | Facebook | Instagram
6. Keith Yeo at Bada Bink! Tattoo Firm
"I got my first tattoos on both sides of my ribs by another artist when I was 19 and did not touch them up for the next 6 years. When the ink in the tattoos shifted, I wanted Keith to cover them up. The pieces he did on me are black and grey floral rib designs with symmetrical placement.
Traditional style tattoos with an Asian twist are Keith's expertise. He understands colour and shading well and uses this to his advantage to make his tattoos really pop. Keith patiently guided me through the entire process and would always offer suggestions and alternatives. I appreciated how quickly and efficiently he sketched up my current design.
Though I was topless while getting inked, I was never made to feel uncomfortable. Keith made sure to constantly check in on me if I was cold or in too much pain. He was also encouraging though I was complaining like a little bitch. Everything healed beautifully and I would 10/10 recommend."
—C
Contact: Email angmohkeith@gmail.com to get in touch with Keith
Website | Facebook | Instagram
7. Olivia Lim at Wild Paw Tattoo Co.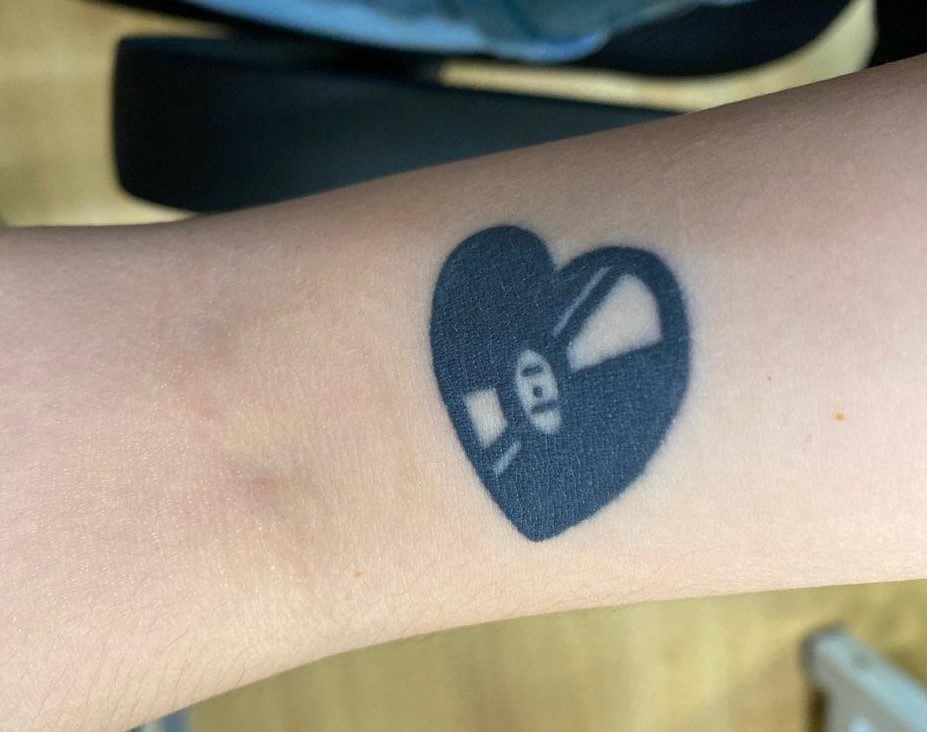 Credit: Engracia Ang
"I first heard about Olivia through a friend who was already a long-time follower of her Instagram account. Her feed is filled with works that are mostly done in a graphic style. Lots of thick black lines with the occasional accent colour. She's often inspired by movies and songs.
My tattoo is a heart-shaped vinyl. There's no meaning behind it—I got it off Olivia's flash sheet because it was cute. Also, since this wasn't my first tattoo, it was pretty low-stakes. I just wanted it on my body because I liked it.
Olivia was really friendly, and she came across as someone who's direct and no-nonsense when she needs to be. She also gave suggestions on placement and size. A few months ago, I got my daith pierced and one of the guys in that piercing/tattoo shop said that Olivia's line work was great; I'm inclined to believe the word of a professional."
—Engracia Ang
Contact: Email dietcokecrash@yahoo.com.sg to get in touch with Olivia
Website | Facebook | Instagram
8. Lee Wai Leng (Fleecircus) at Traditions Tattoo Collective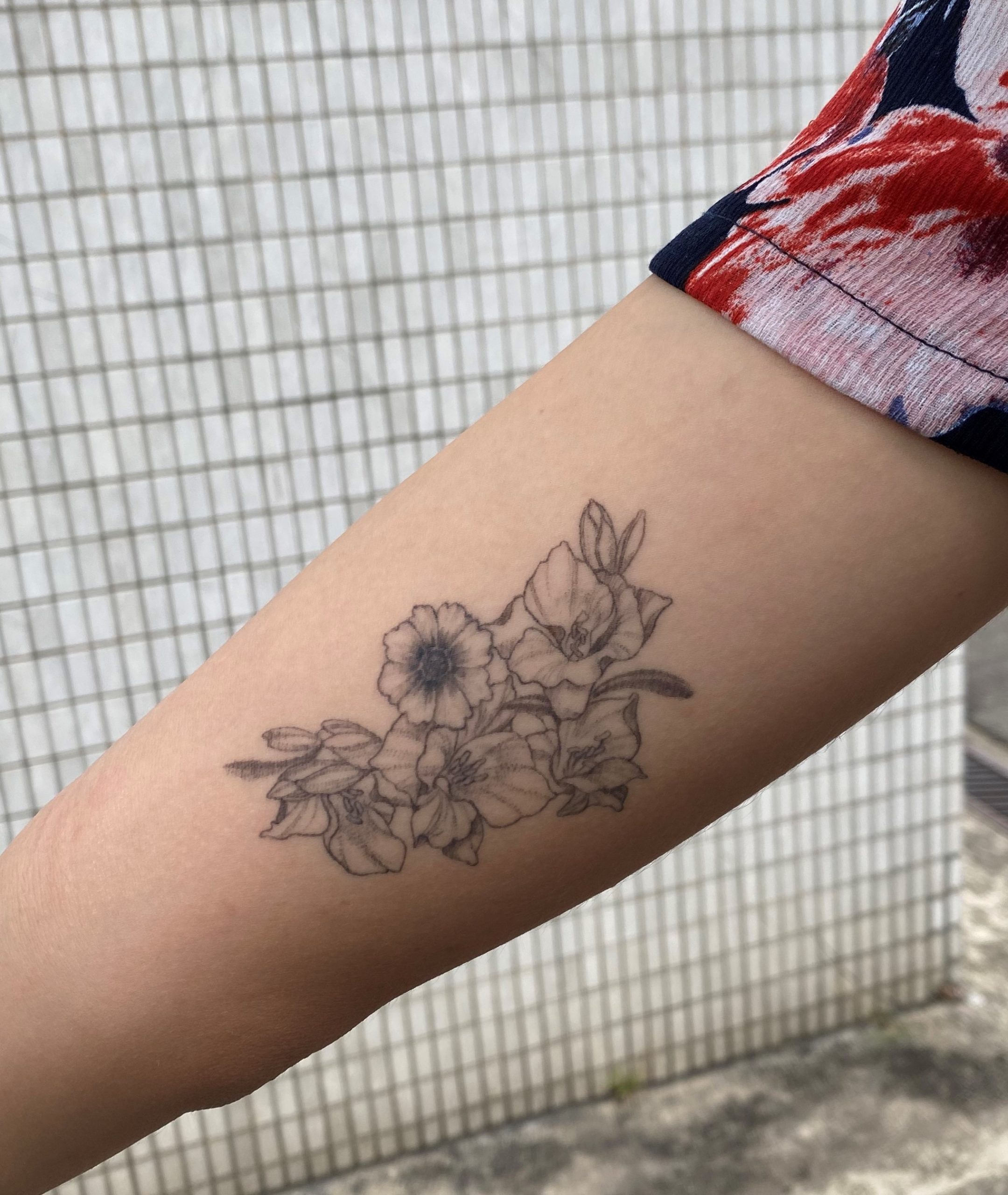 Credit: Samantha Ngain
"Wai Leng does mostly black and grey tattoos with intricate line details, and quite a number of botanical illustrations. She used to be a commercial illustrator before transitioning into a tattoo artist, and it reflects in the style of her tattoos.
My tattoo is of a thin-lined gladiolus flower stalk with some shading and dotted line work. I wanted to add on to a small flower tattoo I already had on the same area. During the consultation at her home office, she drew a few sketches and suggested different placements around my existing flower until we decided on one that I liked best.
The tattoo session was very chill and she even let me watch shows from her Netflix account. She would chat and update me on what she was doing, so that helped me to stay relaxed. After it was done, she wanted me to send her an update when it healed to see if there were any lines that she needed to touch up, which she would do for free."
—Samantha Ngain
Contact: Email traditionstattooing@gmail.com to get in touch with Wai Leng
Facebook | Instagram
9. Cat at Catalyst Tattoo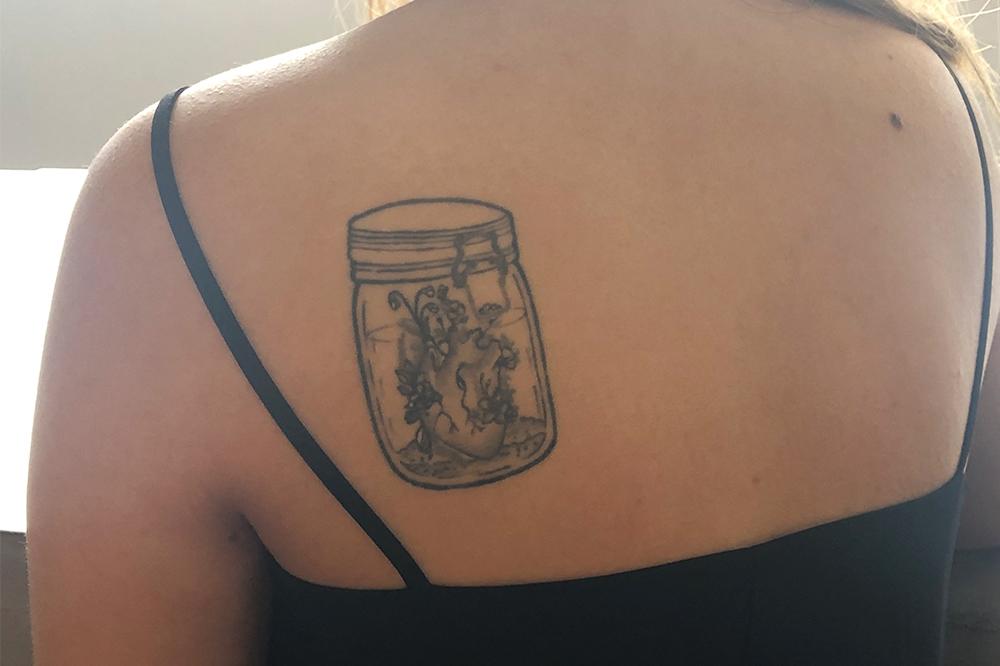 Credit: Wong Xin Hui
"I heard about Cat when my favourite local singer Lew Loh mentioned her after getting his tattoos done. I thought his small fruit tattoos were so cute and vibrant, so I decided to check out her profile.
Cat does watercolour as well as black and grey tattoos. She is really open to new ideas too. My tattoo is of a terrarium with flowers blooming out of a heart within it. I wanted something that symbolises independence to me, so I decided to get this as a permanent reminder.
Cat was also extremely patient. I started with just an idea in mind and she helped me visualise it. This was after several back-and-forths with several sketches. She always made sure I was truly comfortable."
—Wong Xin Hui
Contact: WhatsApp 9435 4093 or email catalysttattoosg@gmail.com to get in touch with Cat
Facebook | Instagram
We Were Inked By These 9 Tattoo Artists In Singapore
If you're looking to get your first or next tattoo done, we have 9 tattoo artists in Singapore to recommend. Whether you like a full sleeve or a tiny tatt, you'll be in good hands with these unique individuals leading the tattoo scene.
Also read: