TikTok-Inspired Poses
Let's admit it — whether it's to show off a new fit or capture a memorable moment, the struggle to pose for a picture is real. Most of the time, we default to a typical smile, accompanied by a "peace" hand sign. It's a pretty safe pose that can't go wrong, but it also gets boring and repetitive. 
Apart from Google, TikTok is undoubtedly a one-stop shop for all our Gen Z matters, such as figuring out how to pose like a pro. To ensure that you'll always be camera-ready, we picked out six easy posing tips on TikTok for extra flattering photos — time to make way for a brand new and zhng-ed up IG feed.
1. Hands on your face or body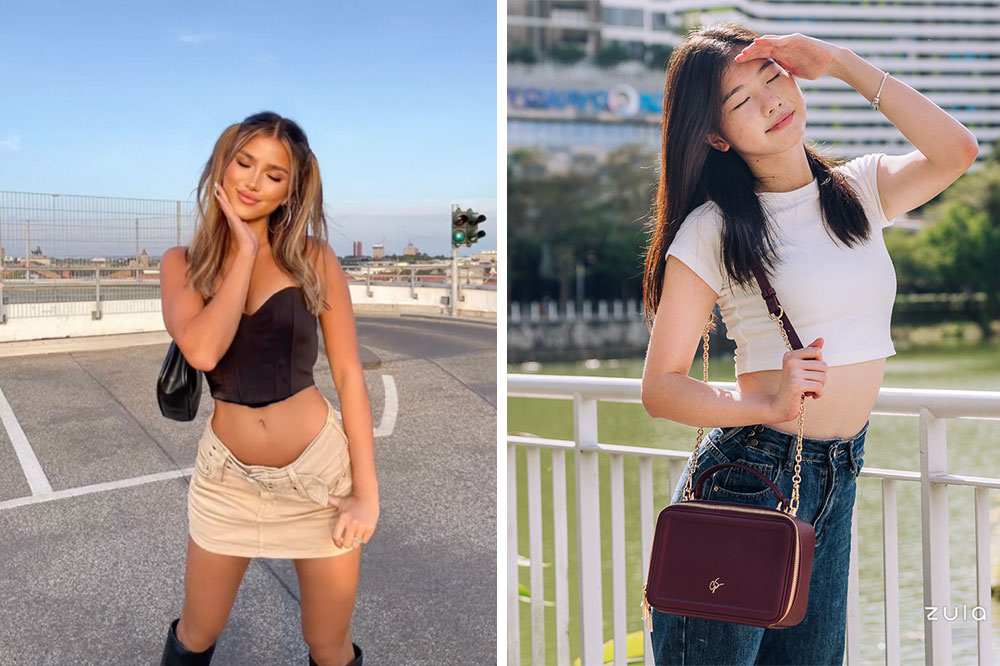 Source, On her: THEGREYSPACE.CO's VALERIE in WINE bag, $55.90
Awkward hands, begone. The next time you find yourself wondering where to position your hands in a solo pic, simply cradle your face, or have your hands gently posed against your torso. We recommend blasting Nicki Minaj's "Feeling Myself" while you're posing for an added confidence boost. 
Depending on how you werk those hands, it'll either give off a soft girl look or a sexy vibe. A versatile and stylish pose? Slay.
2. Step forward while looking at the ground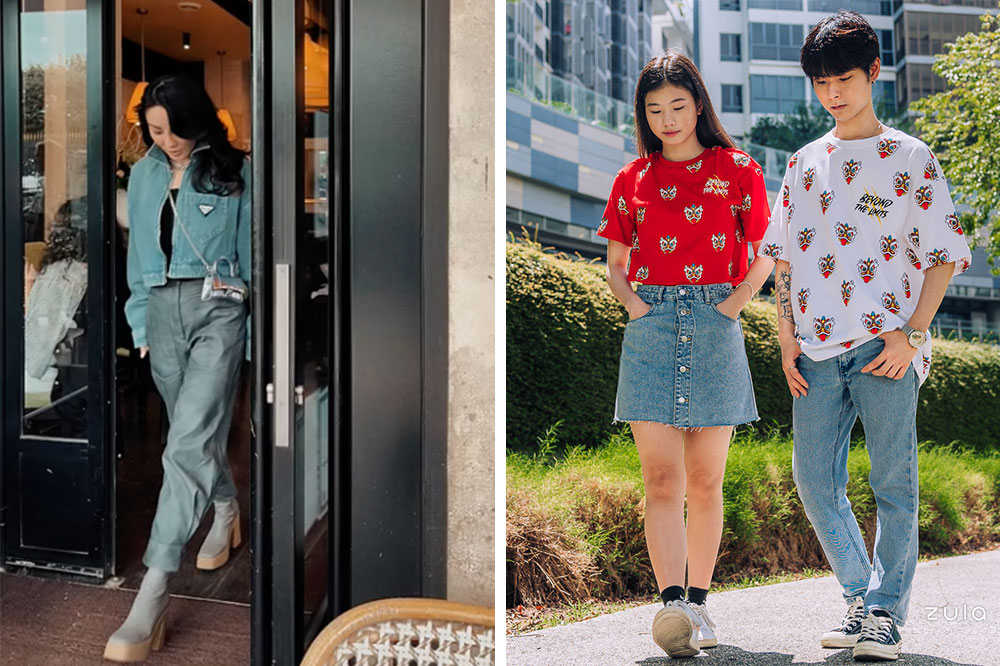 Source, On her: Yishion's Cropped Solid Coloured Short Sleeve T-shirt with Lion Head All Over Print in red, $39.90; Mini A Line Denim Skirt with Button-Up Closure and Raw Hems in light blue, $34.90
On him: Yishion's Oversized Solid Coloured Graphic T-Shirt with Lion Head All Over Print in white, $39.90
Candid photos give off a natural aura that feels chill and laid back. For those who are a bit shy and tend to avoid looking straight into the camera, look at the ground while taking a step. If you have a chio background, this pose also subtly draws attention to it. 
Bonus tip: If you're an iPhone user, turn on the "live photo" function so there's no need to spam your gallery to get the perfect shot. 
3. "Trust fall" for couples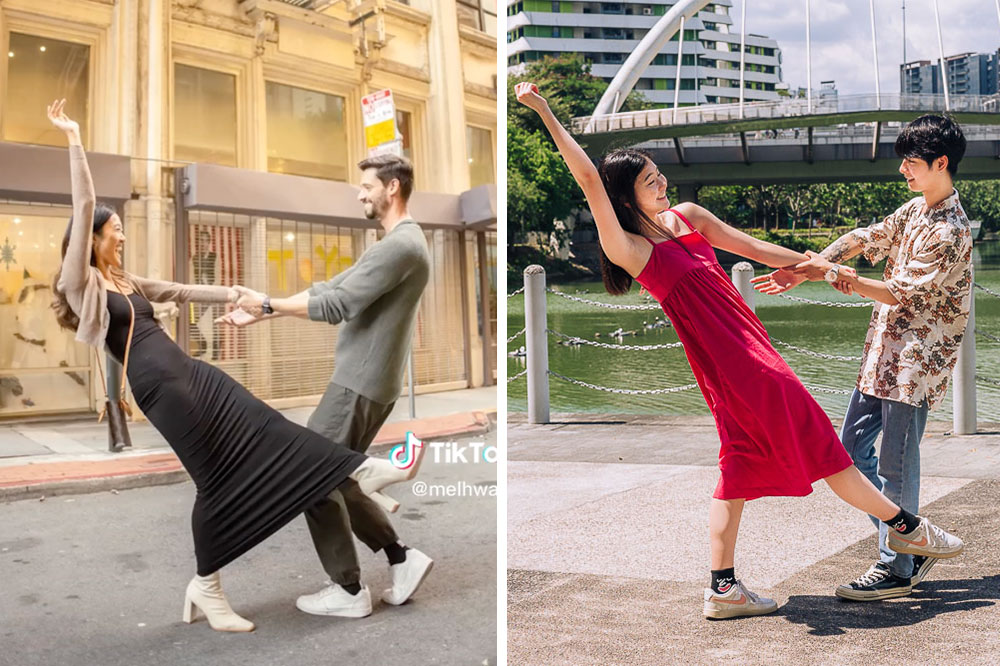 Source, On her: UNIQLO's Linen Blend Gathered Camisole Dress, $59.90
On him: UNIQLO's Modal Cotton Printed Open Collar Short Sleeve Shirt, $39.90
Couple photos where you're just standing side by side? Boring. Go for a more fun and quirky photo with this "trust fall" pose. Simply face your partner, hold onto each other's hands and lean back. 
For added cuteness, ladies can raise an arm or leg too. This pose can't work without trust, and the picture will turn out way better if you lean all the way back — with full support, of course. It's not called a trust fall pose for nothing. 
4. Fake mirror selfie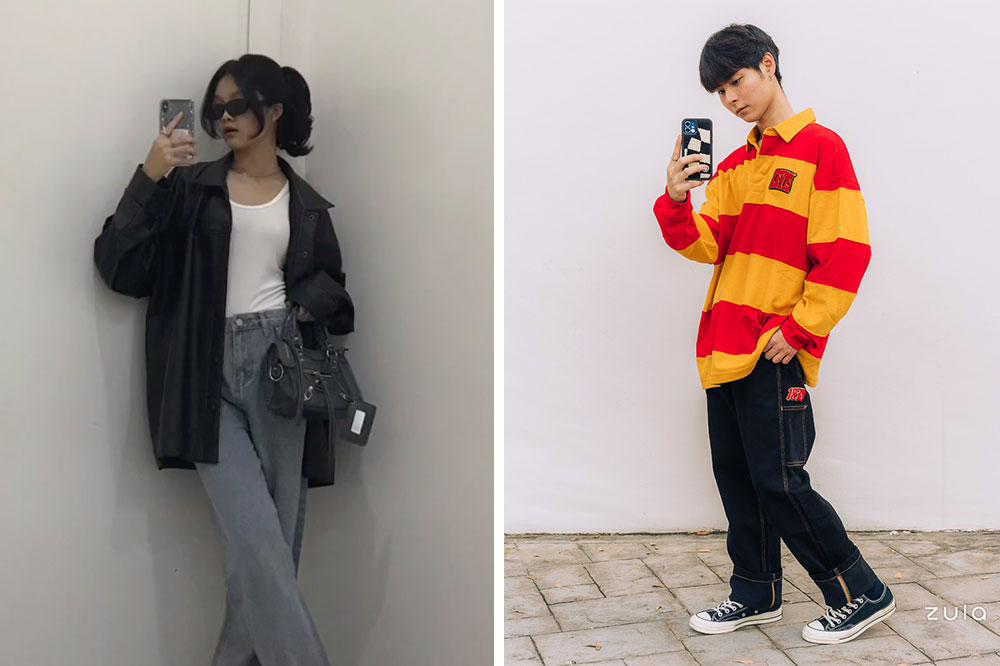 Source, On him: Levi's Stay Loose Rugby CNY Small Varsity, $79.90; 568 Stay Loose Carpenter, $129.90
Mirror selfies are a great way to show off a new fit, but taking them against a dirty public bathroom background might not give the best results. For this pose, all you'll need is a reliable BFF to snap the photo for you — and a phone as a prop. 
You'll be able to fake that mirror selfie by posing for your friend while looking at your prop phone. Honestly, taking photos is less awkward when it feels like you're busy with something else. 
5. Grabbing your leg while seated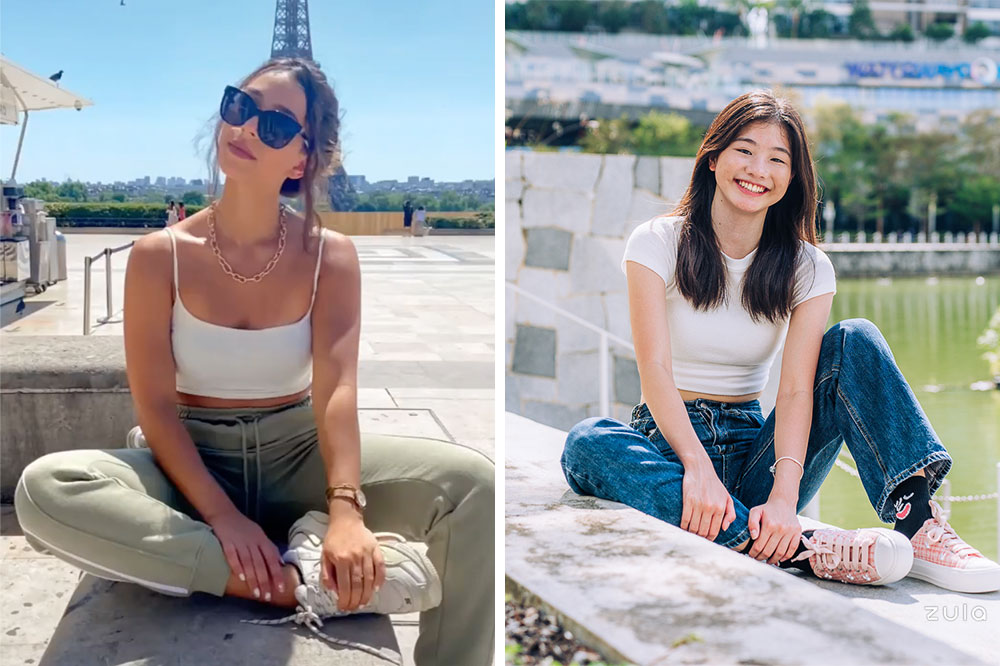 Source, On her: Charles & Keith's Bunny Tweed Slip-on Sneakers, $65.90
If you're wearing a cosy fit with long pants, sit with your legs open and bend one knee, pulling your foot close to you in a casual pose. It may seem too easy to be true, but sitting comfortably can make you feel more relaxed for that 'gramworthy picture. 
Hypebaes can even take this opportunity to flex your brand new kicks.
6. Raise your arms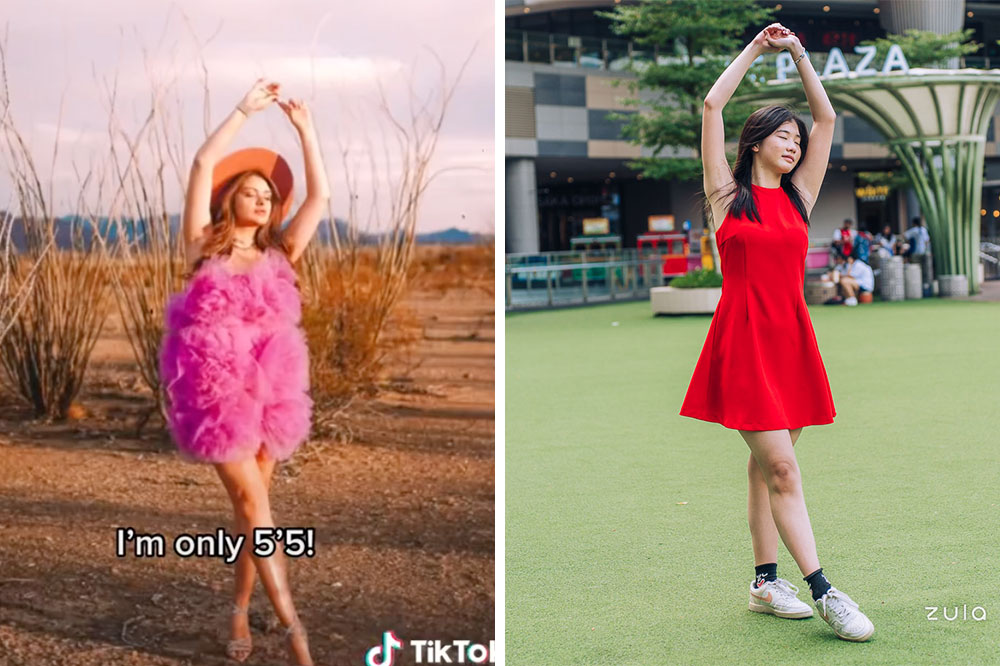 Source, On her: Love, Bonito's Eileen Padded Cut Out Swing Dress, $59
Ladies who are on the petite side and can't risk looking stumpy in photos, we've gotchu. To make it look as if you have longer legs, raise your arms and step one foot diagonally in front of the other. Appear even taller by going up on your tippy toes, and look to the side or into the sky for added elegance. 
Check out this TikTok that includes a step-by-step guide to more poses for adding those inches.
Shop For A New CNY Look & Celebrate Festive Activities At Waterway Point
With CNY right around the corner, these easy TikTok-inspired posing tips will have you all set for your upcoming OOTD pic. No matter if it's to give you longer legs, a sharper chin or discovering a new and quirky angle, stand out from your feed by practising these poses.
Lunar New Year begins so early this year, some of us might still be scrambling to get a new outfit in time. This sounds like the perfect excuse to shop till you drop and treat yourself to new clothes. After all, "new year, new me" right?
Luckily, Waterway Point is bringing the festive mood with a Miffy-themed celebration titled Miffy's Bountiful New Year – featuring fashionable CNY outfits, accessories and shoes for all ages. From now until 5 February 2023, score attractive FRx eDeals with 88-Points each on their FRx Rewards Catalogue. It almost feels as if you're receiving free angpaos while you shop.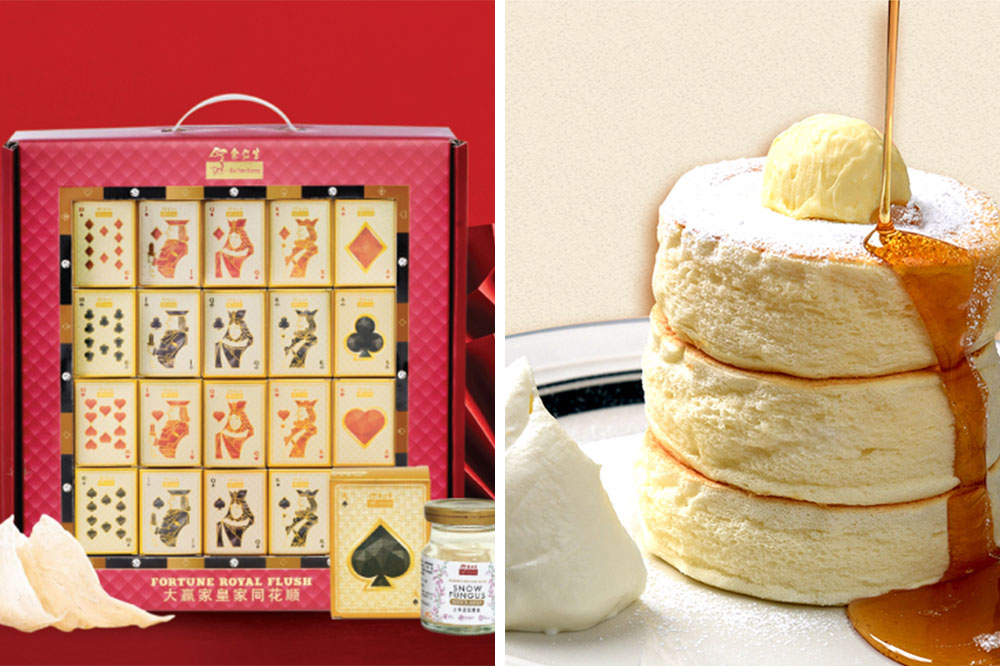 Images courtesy of Eu Yan Sang and Gram Café & Pancakes
Head's up: we've compiled some exclusive FRx eDeals that will extend beyond 5 February 2023, so your inner kiasu auntie can enjoy them for an extended period of time. 
For those who are craving good food to kick start the Lunar New Year, Eu Yan Sang has you covered with an atas treat. Their Fortune Royal Flush Premium Snow Fungus Bird's Nest Gift Set 20'S is retailing at $88 each, limited to the first 100 Frasers Experience Members. 
If you prefer sweeter snacks, Gram Café & Pancakes is offering a 10% discount for the first 300 dine-in members.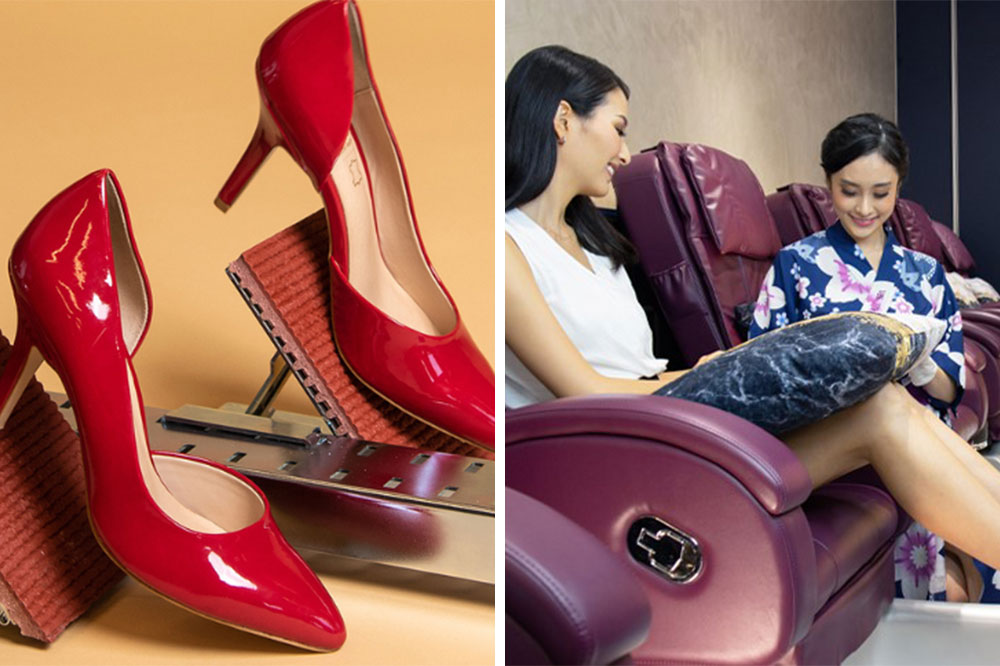 Images courtesy of Bata and Pixie Nail Spa
No matter if it's high heels for a special occasion or comfy sneakers for a chill day out, treat yourself to new footwear at Bata. Bata is offering 8% off all their regular-priced items for the first 300 members so you can flex your new kicks throughout 2022.  
New year's resolution to prioritise self-care? Go for a relaxing nail sesh with your BFFs at Pixie Nail Spa, featuring their $88 gel pedicure and gel classic manicure combo, limited to 100 members only.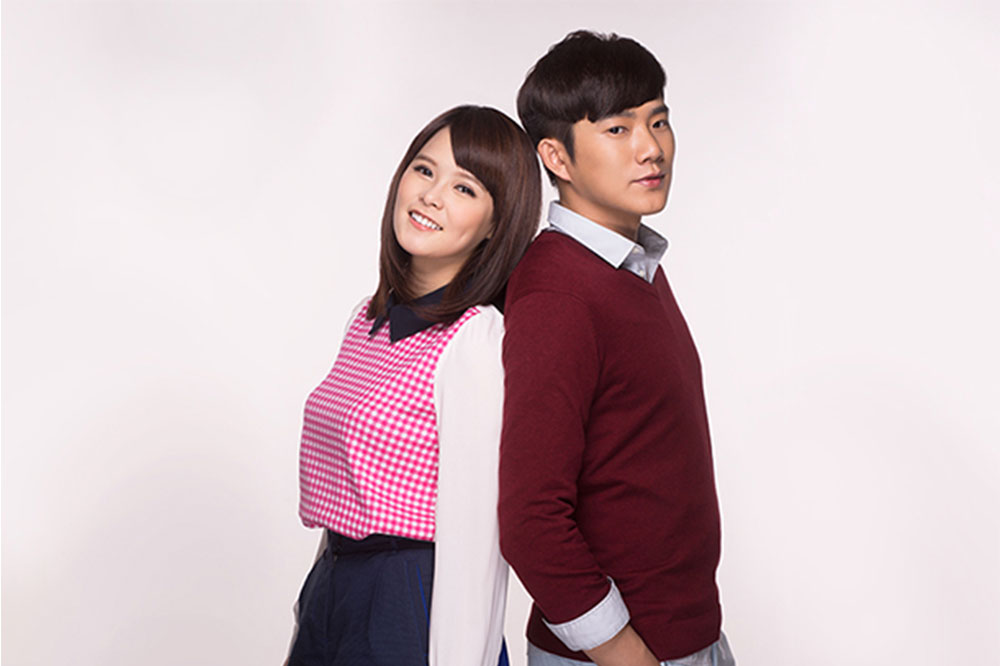 Image courtesy of Vintage Studio
Give your hair a glow-up at Vintage Studio, which is offering hair or scalp treatment at just $99. It's never too late or too early to give your hair a refreshing treat for the new year — the eDeal is available to the first 88 members with an appointment basis.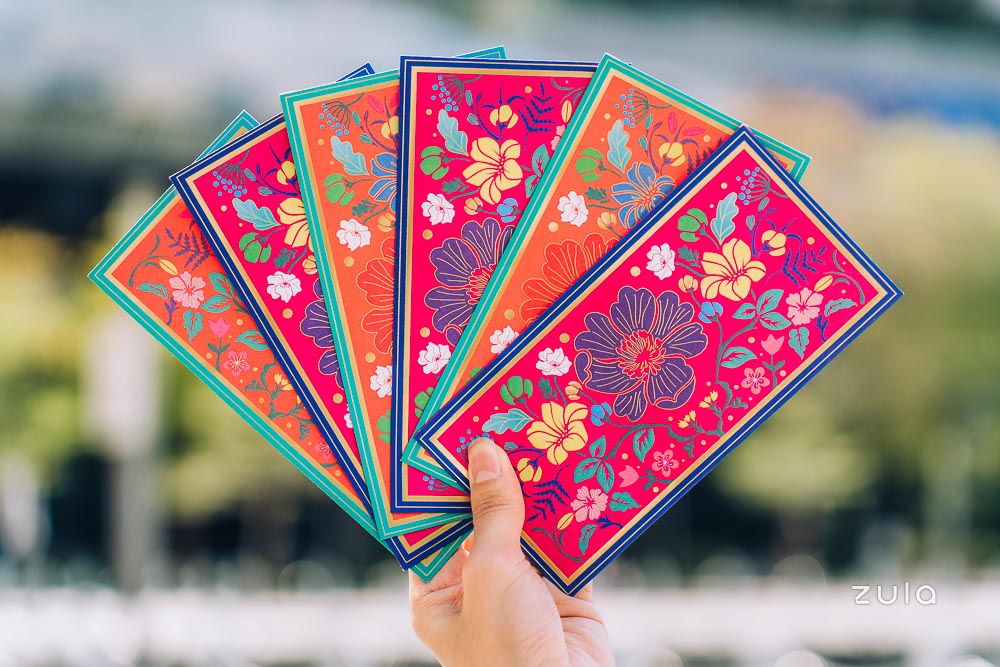 That's not all — Waterway Point is also welcoming the new year with sustainable tree-free red packets redeemable at Customer Service, Level 1 (East Wing), exclusive shopping vouchers and performances that you can't miss. Discover the full list of deals on Waterway Point's website.
From LED War Drums and a LED Dragon Dance to lion dance on high poles performances, the loud and cheerful energy will chase away any bad luck for the year ahead. Make sure to jio all your family and friends to Waterway Point, shop, and get rewarded with more gifts ASAP.
This post was brought to you by Waterway Point.
Photography by Poh Jin Ron.
Also read:
5 Easy Ways To Upgrade Your CNY #OOTD IG Shots At Common HDB Areas