Unspoken Gym Rules
Since the start of the fitness studio hype in 2018, my Instagram feed has been flooded with mirror selfies of friends in activewear and neon lights flashing on loop. Spin classes, boxing classes, F45…there are so many types of boutique gyms that I can't seem to keep up. And, along with these gyms come a set of unspoken gym rules.
When I think of studio classes, a few things come to mind—namely, rooms full of picture-perfect girls wearing matching sets of branded activewear, capped off with bright smiles and flawless complexions. Since most people head to the gyms before or after work, it's little surprise that everyone looks stylish and put together. But that doesn't make it any less intimidating.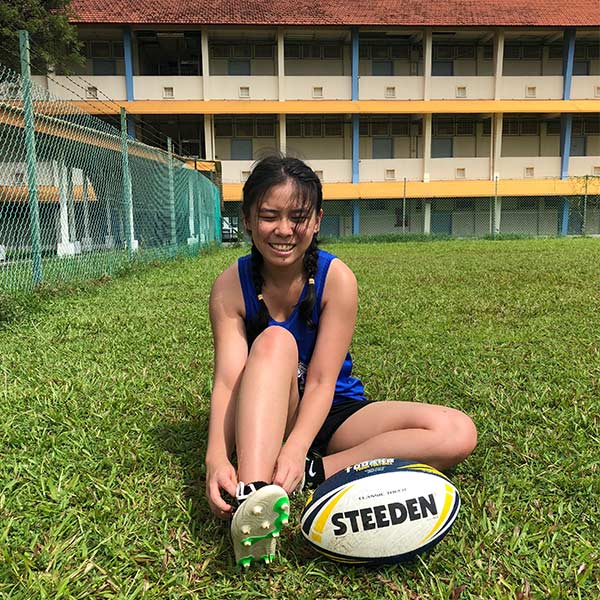 Most of my weekends are spent on the field, and I often go home covered in mud
It's the opposite of my own workout routine. As a touch rugby player, I've been trained to dive into mud in the name of the game. After many failed attempts of scrubbing mud out of my clothes, I've resigned myself to recycling the same few field-stained outfits during training. My skincare routine is just as "minimalist". It consists of one product: tap water.
Despite the pressure of not fitting into the boutique gym aesthetic, I can't deny that there is something intriguing about these studio classes. Perhaps it was the strong community and empowering slogans, or the new year pushing me to try new things. Either way, I decide to put my fears aside and sign up for a class at boOm Singapore, an indoor boxing studio located at Cecil Street.
Doing away with fancy activewear and makeup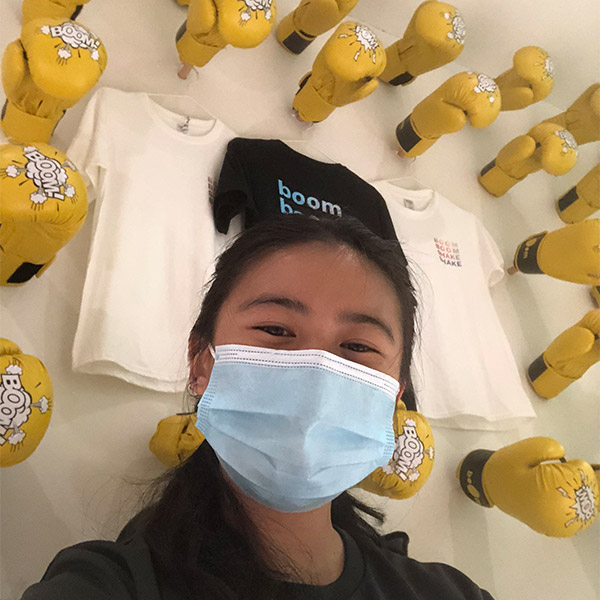 Going to class with swollen eyes and no makeup to conceal those ghastly eyebags
With only 5 hours of sleep, I'm tempted to pile on concealer to mask my swollen face and heavy eyebags before my 7.15AM class. But I also know better than to put on a full face of makeup before working out. Embracing every last bit of my insecurities, it's my first time venturing into the CBD barefaced.
Stepping into the studio, I realise I've already broken the first rule of working out in a CBD gym—looking the part. In an oversized t-shirt and a pair of knee-length PE shorts, I stick out like a sore thumb. A quick glance around me confirms that everyone else looks more stylish than me. Not gonna lie, I tell myself that if I want to yeet out, this is my last chance to do so.
Getting used to looking out of place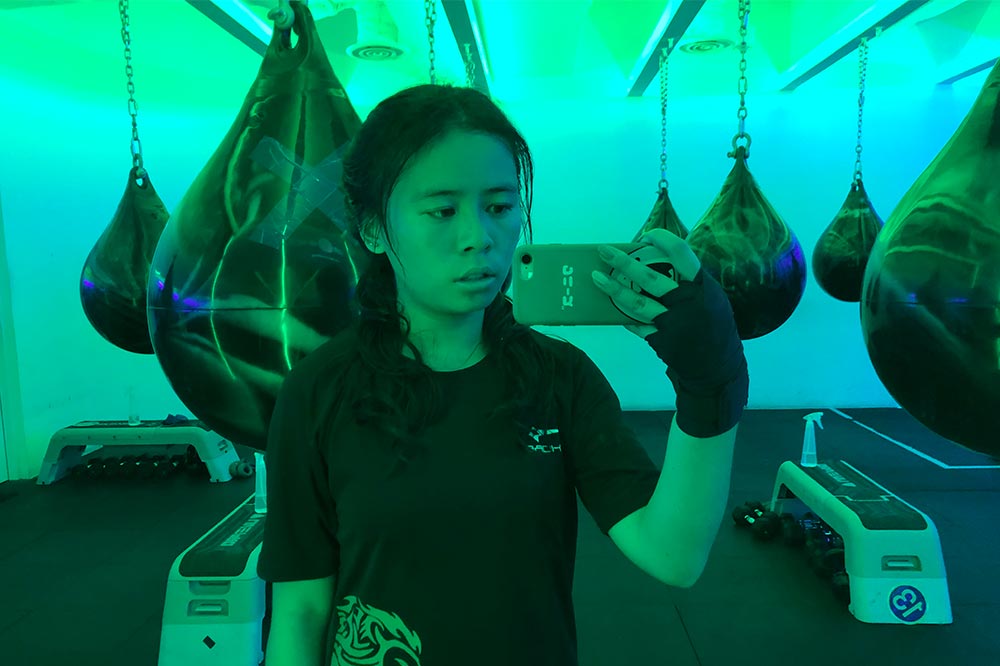 The instructor begins playing loud EDM music and, just as I expected, the first five minutes leave me regretting my decision. While the rest of the class is doing weighted burpees and push-ups with renegade rows, I can barely catch my breath. As a newbie, I'm too scared to ask for help or show any signs of struggle.
Thankfully, the instructor comes by at the 15-minute mark. But instead of taunting me, he reminds me to work out at my own pace and tells me that I'm doing well. I realise that he is encouraging other gym-goers to go at their own pace too.
I do another quick scan around the room. Just like my half-dead self, everyone else in the studio is struggling and gasping for breath.
Your own opinion and fitness over everything else
A series of crosses, jabs, hooks and uppercuts later, I find myself much happier and free from all the self-consciousness that I had going in. Perhaps it was the sudden realisation that these workouts are meant to be difficult, or that I partly enjoyed the workout despite the struggle.
After biting the bullet and trying out a studio class, I've realised that your fitness regime is about what you want to achieve, and the only person whose opinion matters is your own. The truth is, everyone's too engaged in completing their own reps to notice how fast or slow people around them are doing. It was my own self-doubt that stopped me from trying something new, and it took me years to realise it was all in my head.
Take it from me: if you have always wanted to take the leap and go for something but have been too afraid to go for it, make the choice to do so for yourself. Be the best version of yourself for yourself, and everything else will fall into place.
Feeling Good In Your Own Skin With PERFECT ONE's Skincare Line
I can't say that I smashed the workout and clocked in a record high number of reps. But if there's one thing I took away from the entire experience, it's the fact that I felt good about myself in a place where I initially thought I wouldn't belong. I might not have looked the part, but that didn't mean I should stop myself from feeling my best and being comfortable in my own skin.
The experience also taught me that there's no need to be intimidated by the unfamiliar. Instead of sticking to washing my face with tap water because I don't know where to start when it comes to beauty products, I've started taking baby steps with a 3-step skincare routine.
Whether you're a noob like me or a beauty junkie looking to give your skin and complexion a boost, you can turn to PERFECT ONE for your skincare needs.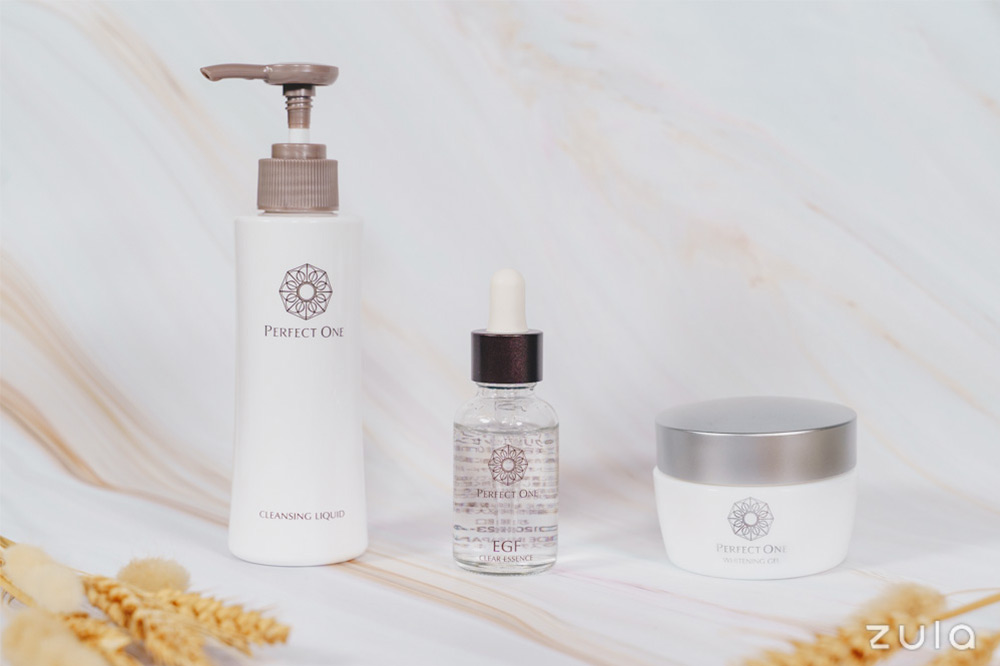 Developed by a pharmaceutical company with a focus on natural ingredients and collagen technology, PERFECT ONE has sold over 60 million bottles worldwide. The Japanese brand aims to provide simple, high quality and effective skincare, with each product packing a punch.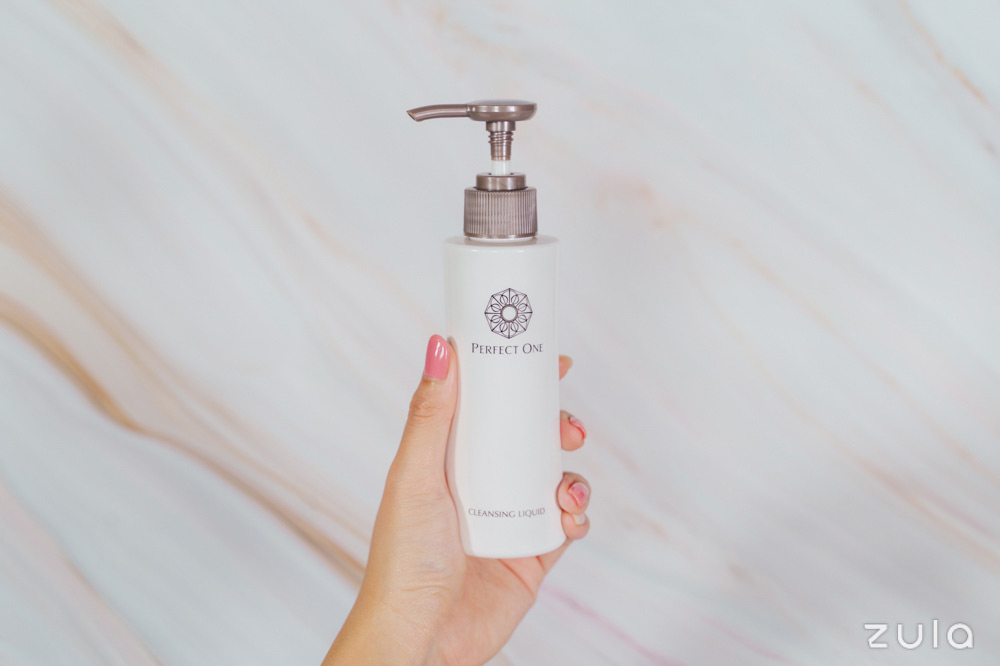 PERFECT ONE's Cleansing Liquid ($48) removes makeup and impurities while being gentle on the skin. Collagen is key to PERFECT ONE's philosophy, and the cleanser proves that with the addition of Compound Lifting Collagen—made up of 5 types of collagen with different purposes—as well as Cleansing Collagen. 
It also contains 48 moisturising ingredients such as hyaluronic acid and shea butter to leave your skin feeling healthy and hydrated.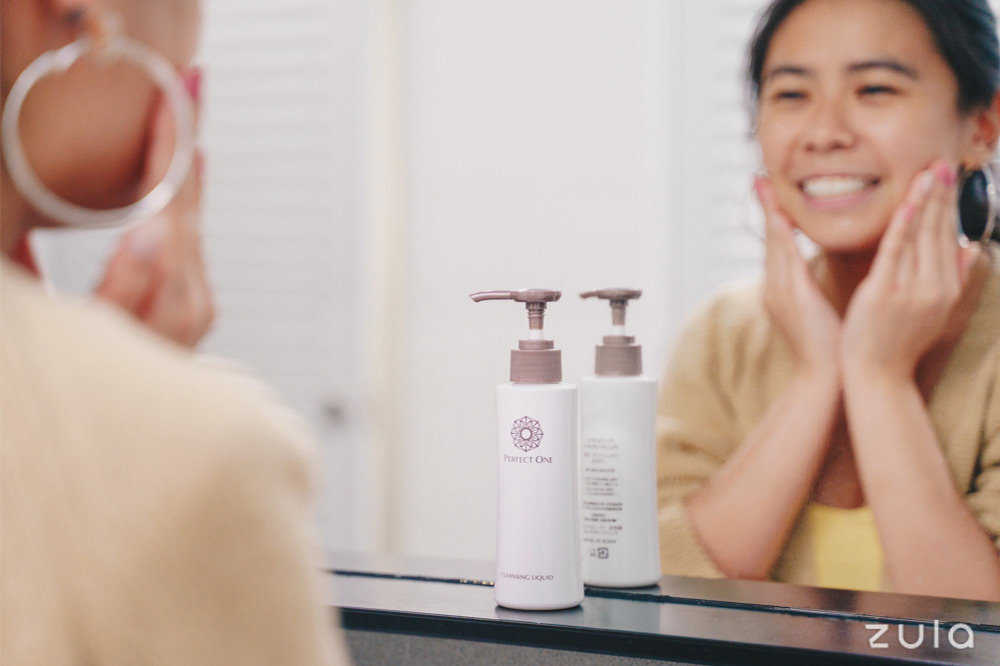 Dispense 2 to 3 pumps onto your palms to cleanse and refresh your skin post-workout, or to remove the dirt and grime accumulated over the day.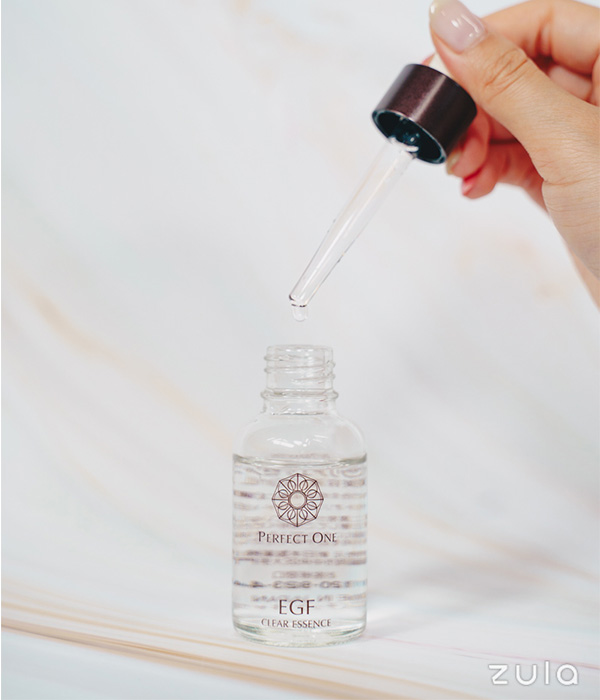 Next up, PERFECT ONE's EGF Clear Essence ($126). The lightweight serum is brimming with natural and powerful ingredients. EGF, aka Epidermal Growth Factor, encourages skin growth at the cellular level to combat signs of ageing. Vitamin C, on the other hand, preps the skin to allow the goodness from the rest of your skincare routine to penetrate more effectively.
Apply the essence by tapping it gently over your face. For areas that are more dry or need more TLC, you can apply 2 layers for good measure.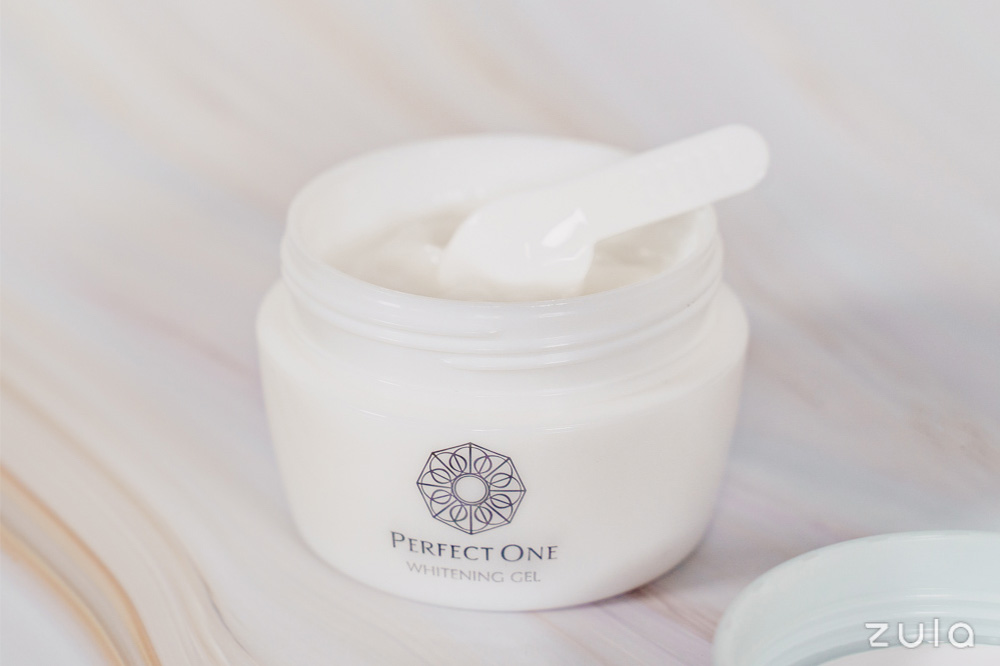 Formulated with a combination of 7 different types of collagen to target every layer of your skin, PERFECT ONE's Whitening Gel ($85) is creamy yet refreshing, keeping your complexion looking plump and radiant.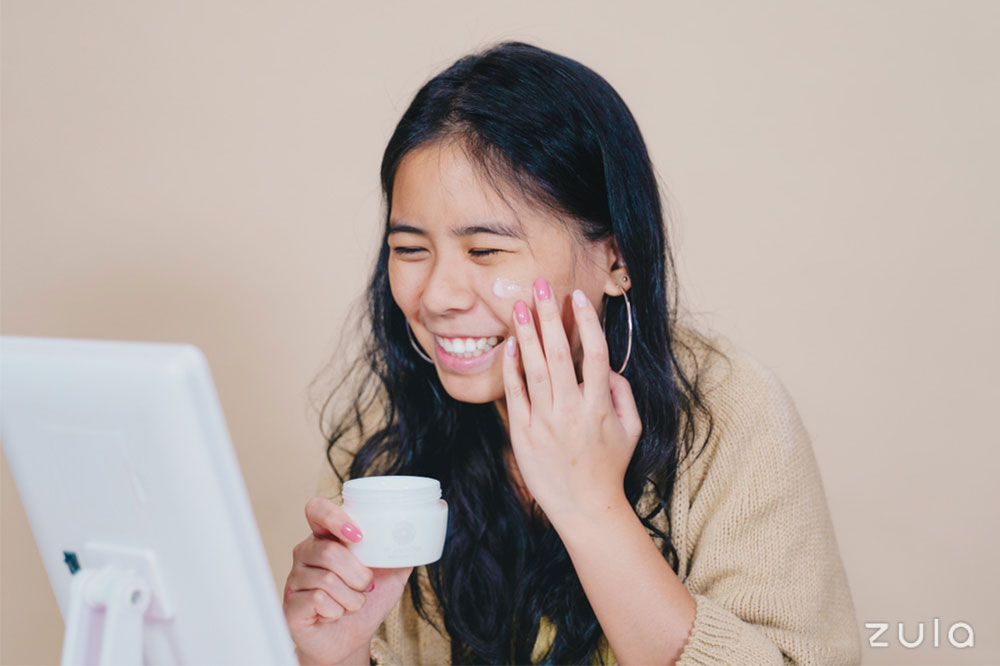 For those who, like me, don't have an elaborate skincare routine in place, this multitasker will be your new BFF. It does the work of 6 skincare products, acting as a toner, lotion, cream, serum, mask and even a makeup primer! 
PERFECT ONE has an extensive range of products to cater to the various needs of all skin types. If you have sensitive skin, you will also be glad to know that the cleansing liquid, serum and whitening gel are free of synthetic fragrances, synthetic colouring agents and parabens. Besides skincare, it also has base makeup such as a BB cream, CC cream and face powder. 
You can find the full range of products on PERFECT ONE's official online store. If you'd like to see the products in real life, head down to your nearest Tokyu Hands store. For updates on new launches and promotions, follow PERFECT ONE Singapore on Facebook and Instagram.
This post was brought to you by PERFECT ONE.
Zula photography by Nadia Loewito.
Cover (LHS) courtesy of spin class enthusiasts who encourage you to
sign up for a class whether you prefer PE shorts or activewear

Also read: