Vans "Save Our Planet" Collection
Sneaker label Vans has just jumped on board the sustainable fashion train with its latest "Save Our Planet" collection.
The brand has put a fresh spin on 4 footwear designs: the Era, UltraRange Rapidweld, Sk8-Hi Reissue and Slide-On. The range also features tees, jackets, bags and caps.
Sneakers & slide-ons
Each pair of shoes and slides sports a colourful graphic of the world map, along with the slogan "Save Our Planet" stamped in a graffiti font and peace signs on the side soles. The trainers are made with organic cotton uppers and the brand's signature rubber waffle outsoles.
If bright colours aren't your thing, the Era trainers (left) and Sk8-Hi Reissue (right) also come in a black and white version. These have a monochrome design of the world map with the same slogan and graffiti on the chunky soles.
Short-sleeved & long-sleeved T-shirts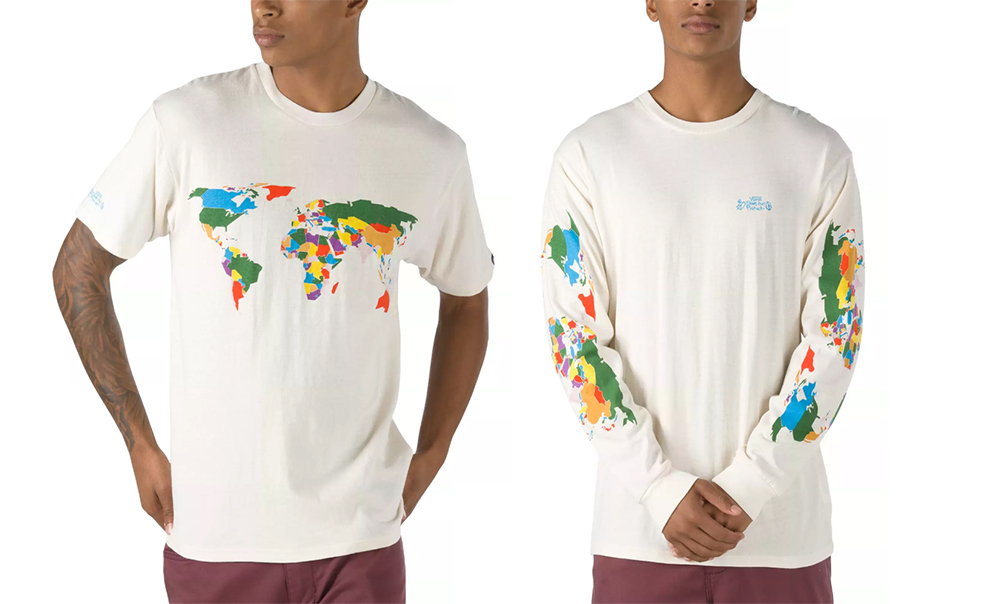 True to its sustainable promise, both the short-sleeved (right) and long-sleeved (left) tees in the collection are made with 100% recycled cotton. The multi-coloured map is printed on the chest of the short-sleeved T-shirt and on the arms of the long-sleeved one.
Also read:
Recycling Bin Handbag From Lazada Lets You Be An Eco-Warrior On The Go
Hoodie & puffer jacket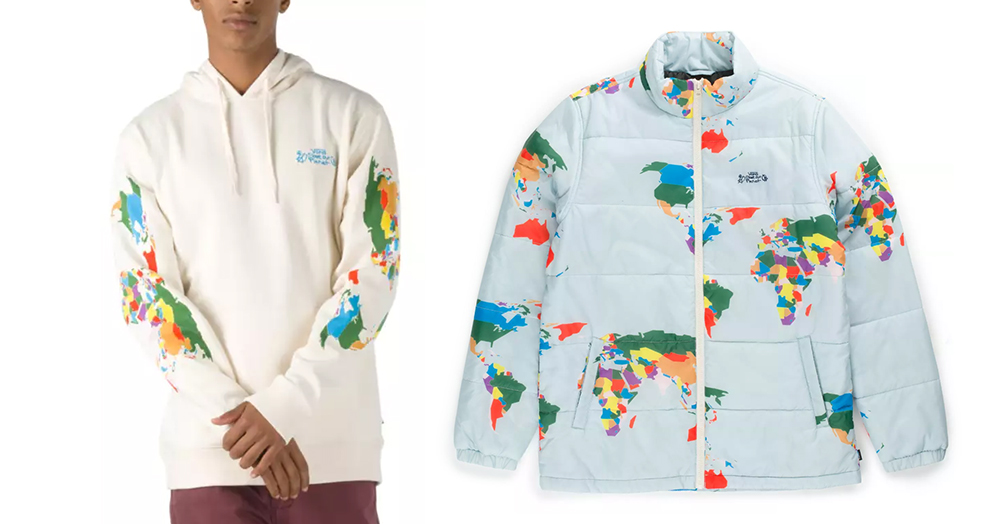 Recycled fleece is one of the hoodie's (left) materials, while the puffer jacket (right) is made with 100% recycled polyester.
Just like the long-sleeved tee, the hoodie's sleeves have a colourful print on them. The puffer jacket, on the other hand, is splashed all over with bright colours of the map.
Cap, cross body bag & backpack
For accessories, the collection has a cap (left), cross body bag (middle) and backpack (right) with the same global map design.
Vans "Save Our Planet" Collection
With these new launches, Vans aims to draw attention to water pollution. If you didn't know, the fashion industry produces 10% of global carbon emissions, with textile dyeing being the second largest water pollution culprit in the world.
Vans will be donating up to US$200,000 (~S$271,665) of the proceeds to Sustainable Coastlines Hawaii, a non-profit foundation that works to tackle coastal pollution.
The new collection has yet to hit Singapore's shores, but you can check out the full collection on the brand's US website.
Also read:
Vans' New Breast Cancer Collection Has Naked Women Illustrations To Celebrate Diversity