Recycling Bin Handbag Available From Lazada
You can now buy a recycling bin handbag from Lazada. It costs $8.46 before shipping and allows you to separate your trash in style while you are on the go.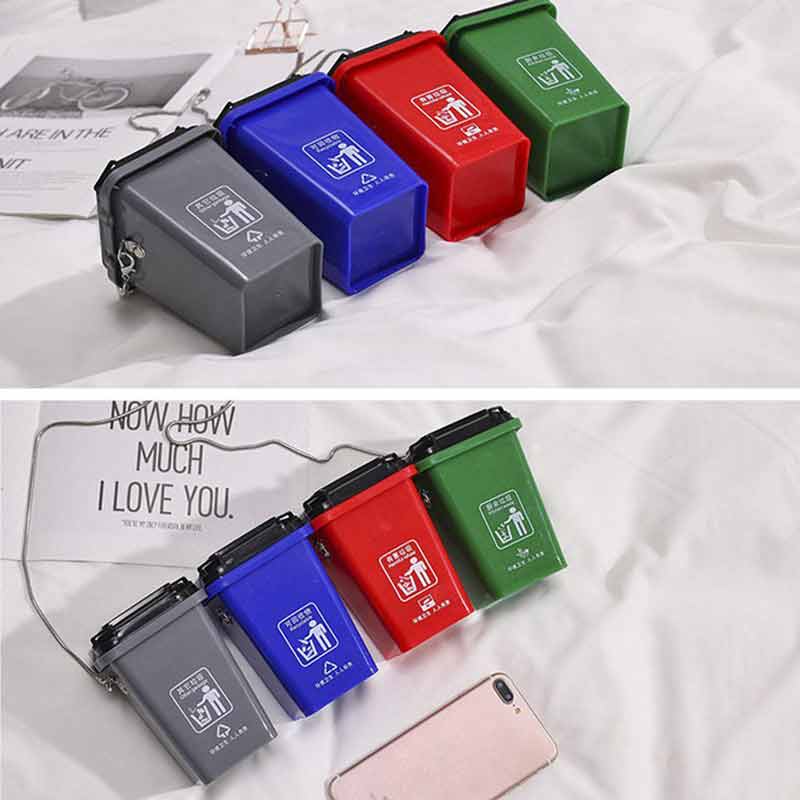 It is essentially a miniature version of the trash-separating recycling bins seen in foreign countries like Japan and Korea. This version has 4 bins, in grey, blue, red and green. They each come with a black cap that acts as a cover for your trash.
Customisable design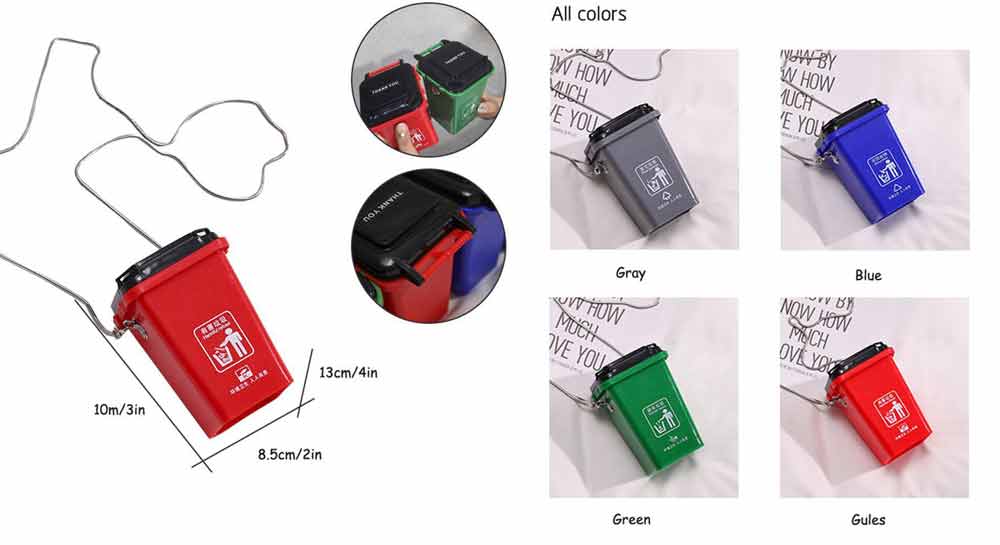 The bins are linked together and come with a slinky metallic chain, so you can sling it around your shoulder like a regular handbag.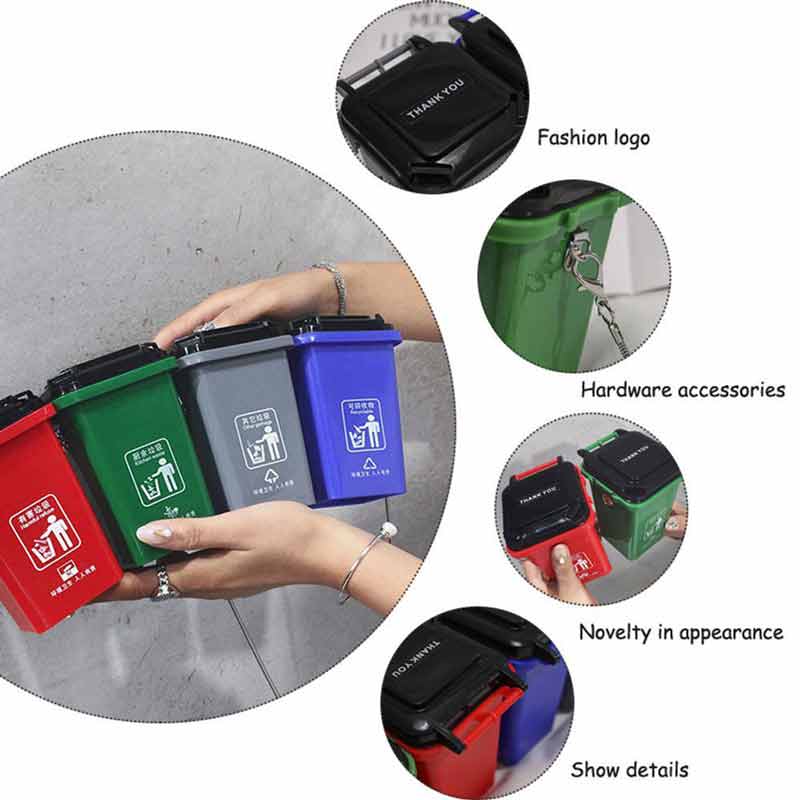 The handbag is customisable, so you can bring 1 or all of the 4 bins along with you. Simply remove the chain and reattach it. The bins can be joined to each other or detached using the grooves on their rims.
Separating trash for recycling
In many cities and countries, trash has to be separated to increase recycling efficiency, an initiative that is enforced by state laws. For example, in New York City, trash that has not been separated will not be collected from your doorstep, leaving your garbage to stink your vicinity. You might even get a fine if your trash bag remains for more than a day. 
This year, Shanghai has made trash separation mandatory from 1 July. Residents have to separate their trash into 4 categories: wet, dry, hazardous or recyclable. In Japan, trash has to be separated into combustible, non-combustible, recyclable and oversized categories. The trash is disposed of only on certain days of the month. 
In Singapore, we have the luxury of not having to separate our trash. Recycling is optional and simply brought to the big blue bins in HDB estates. Perhaps that might explain our extremely low recycling rate. In 2018, our plastic recycling rate stood at a measly 4%.
A common problem our 'universal' blue recycling bins face is the recyclables being contaminated by people leaving their food waste in them. 
You can check out the National Environment Agency's (NEA) guide on what can or cannot be recycled to better inform yourself.
Recycling Bin Handbag Available From Lazada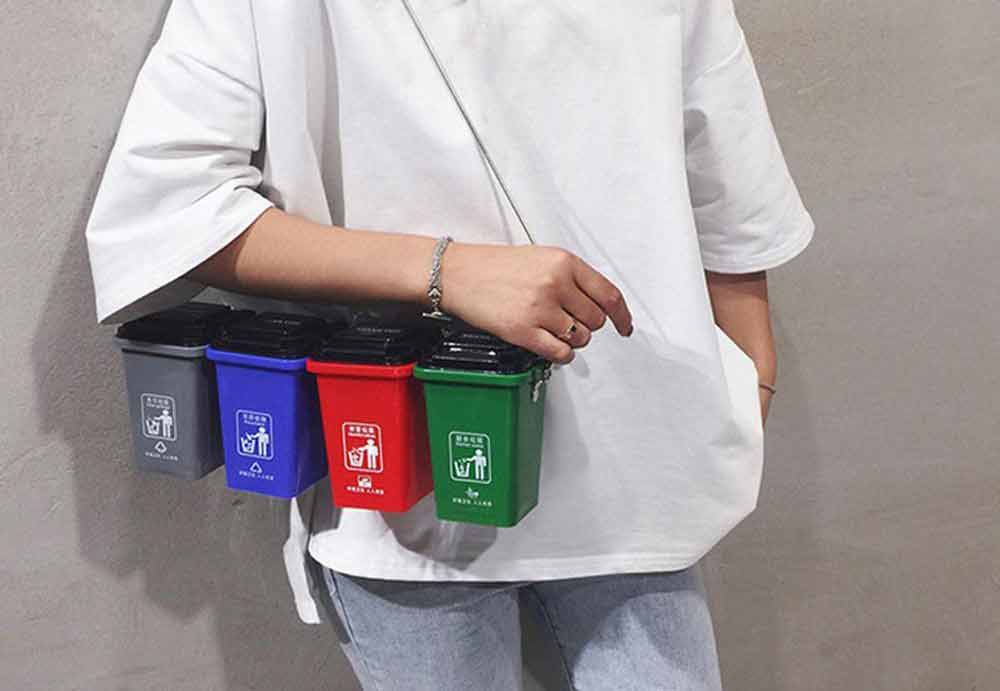 This recycling bin handbag is a well-priced, fashionable statement piece. It can also be a talking point to educate others about sustainable and eco-friendly living.
Maybe we need a localised version that is in the form of our giant blue bins. Local designers, take notes!
Also read:
15 Easy And Realistic Eco-Friendly Ways Beginners Can Fight Climate Change Besides Using Metal Straws
All images: Source