Wonho Facts and News 
K-netizen or not, unless you've been living under a rock, you would probably be familiar Wonho and his burgeoning thirst traps on Instagram. For the uninitiated, a thirst trap refers to a post on social media meant to attract and entice viewers sexually.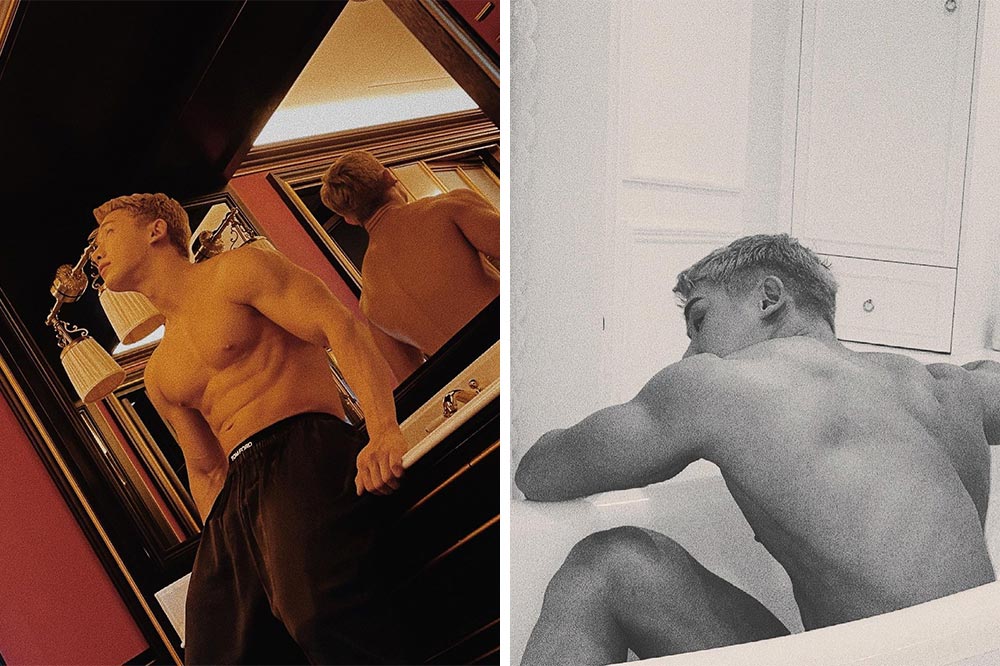 The pictures speak for themselves. However, beyond his hot af photos on the internet, how much do you actually know about Wonho? If you are curious about the idol and former member of K-pop group Monsta X, here are 20 facts about Wonho including his life and career for you to chew on. 
1. Wonho is not his real name 
Wonho was born on 1 March 1993 in South Korea's Gyeonggi Province. 
Wonho's real name is actually Lee Ho Seok although for a period of time, fans knew him as Shin Ho Seok. 
2. He dealt with bullying and financial issues as a child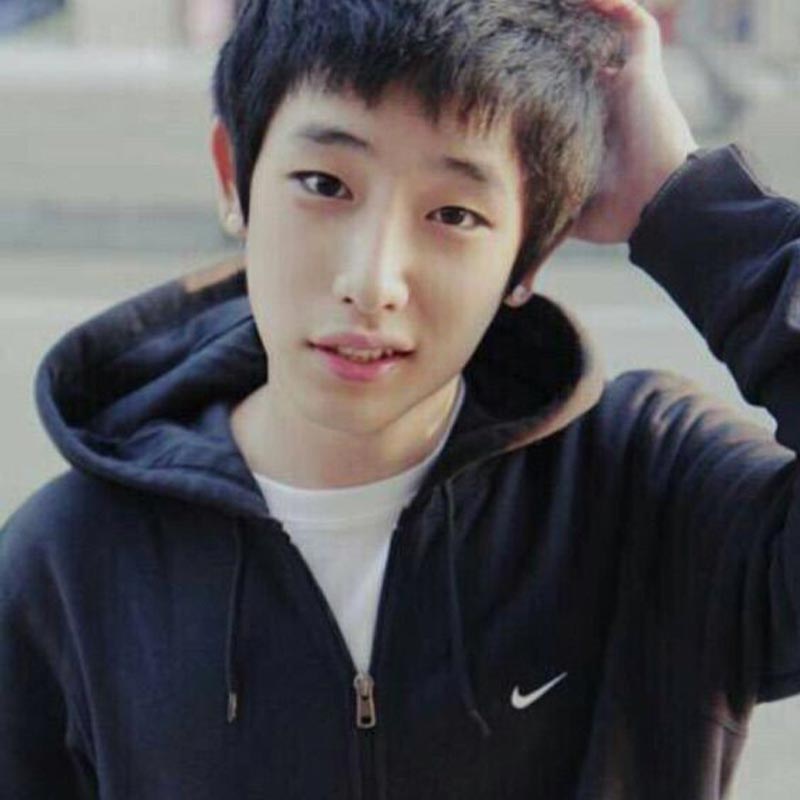 Wonho's childhood and adolescence was far from smooth sailing. In an interview with Dispatch last year, the singer opened up about his difficult past. 
He grew up living in a small apartment consisting of only a living and bedroom together with his grandmother, parents and brother. He was also bullied for his financial difficulties in elementary school.
As his parents often fought over money, Wonho spent a lot of time outside and eventually met an "older guy" who he started to follow around. This stopped the bullying but the people he got to know turned out to be a bad influence causing the singer to have a brush with the law and receive probation. 
3. Family went bankrupt while Wonho was training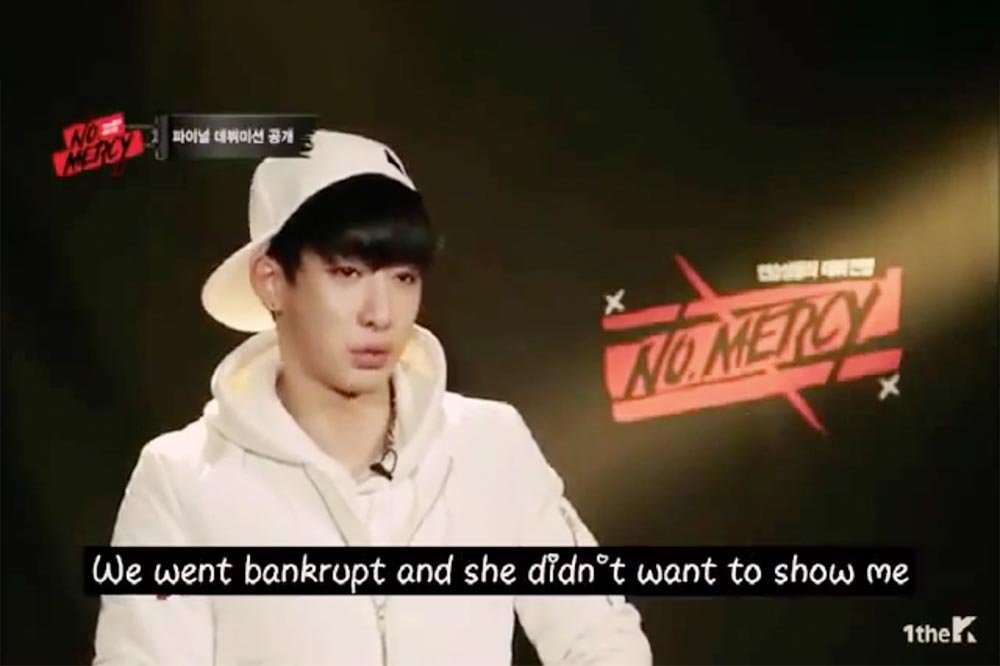 During an old interview on NO.MERCY (a reality singing competition leading to the formation of Monsta X), Wonho shared that his family went bankrupt while he was training to be an idol.
He told viewers about how his mother would sit in front of the fridge at home as there was nowhere else to sit. Because of this, Wonho felt immense pressure to debut as fast as possible.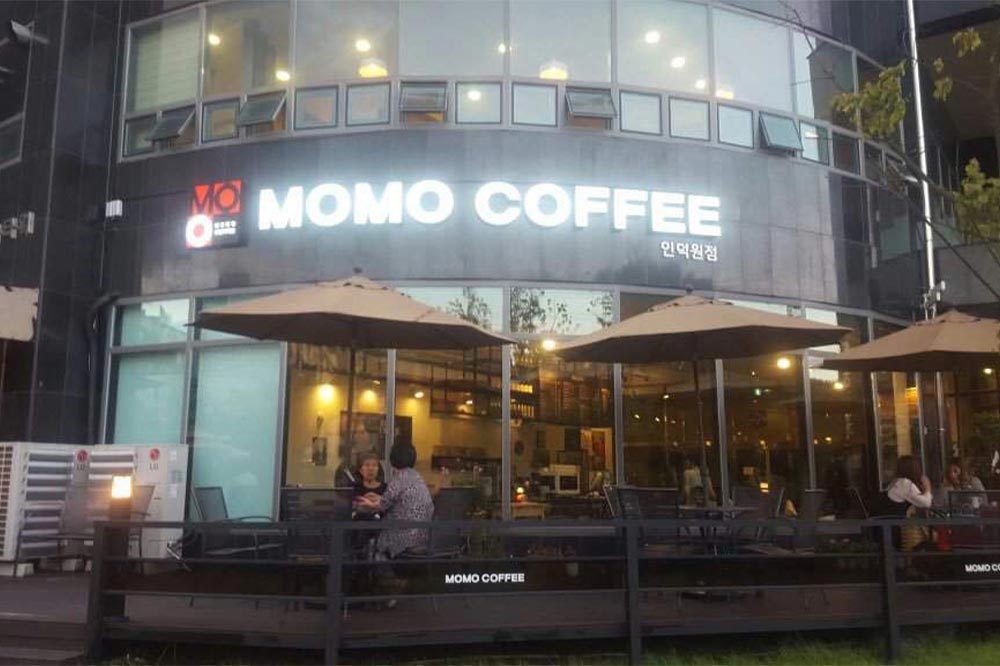 The cafe opened by Wonho's mother
Source
Of course, his family seems to be doing just fine now. At one point Wonho's mum managed to open her own cafe (though it closed down in 2017 for an unknown reason). 
4. Would be a taekwondo player if he wasn't a musician
Wonho used to do taekwondo as a kid. He told fans during a Monsta X concert in Seoul in 2019 that his childhood dream was to be a taekwondo athlete. 
Last year, he also shared in an interview with Billboard that if he wasn't a musician, "maybe [he'd] be a taekwondo player". 
5. Was a backup dancer for another K-pop group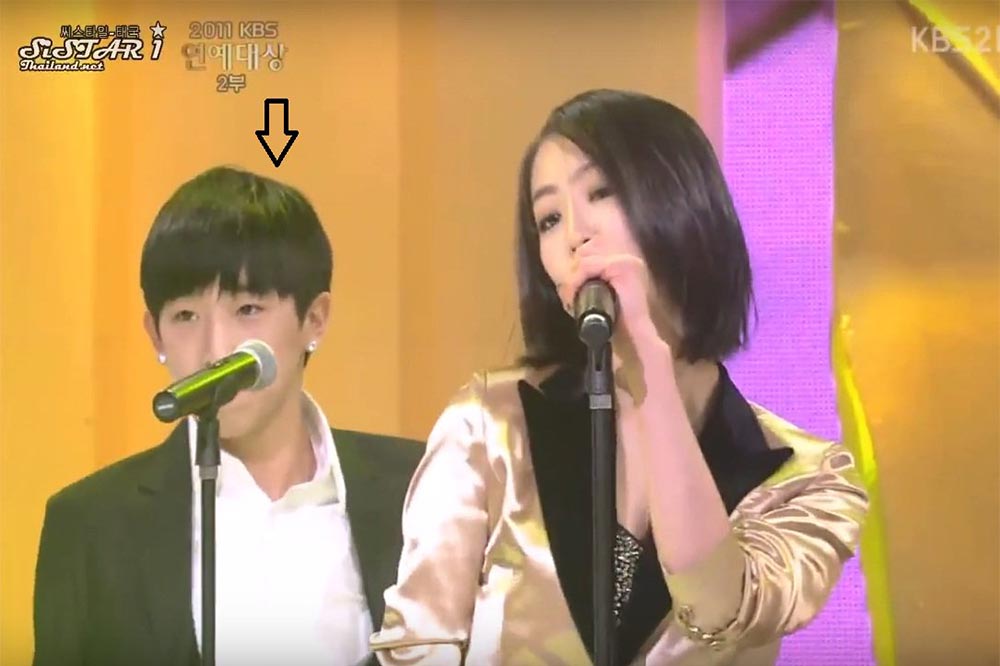 Prior to becoming an idol, Wonho had a stint as a backup dancer for the now disbanded K-pop girl group Sistar.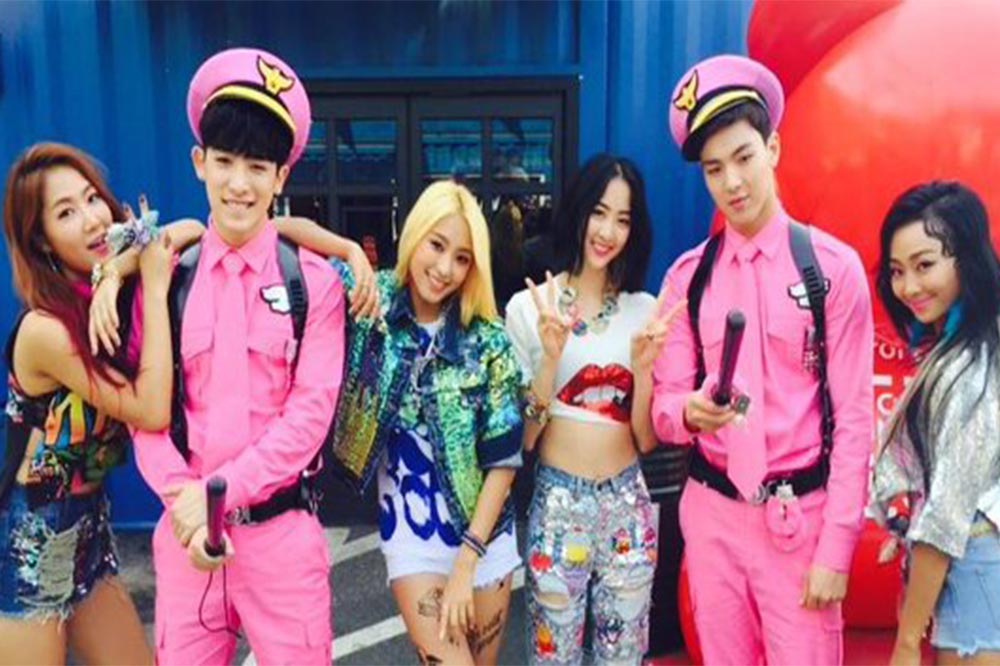 Wonho and Shownu together with Sistar
Source
Sistar was under Starship Entertainment, the same management company as Monsta X. He was a backup dancer together with his bandmate and leader Shownu. 
6. Was in another boy band before Monsta X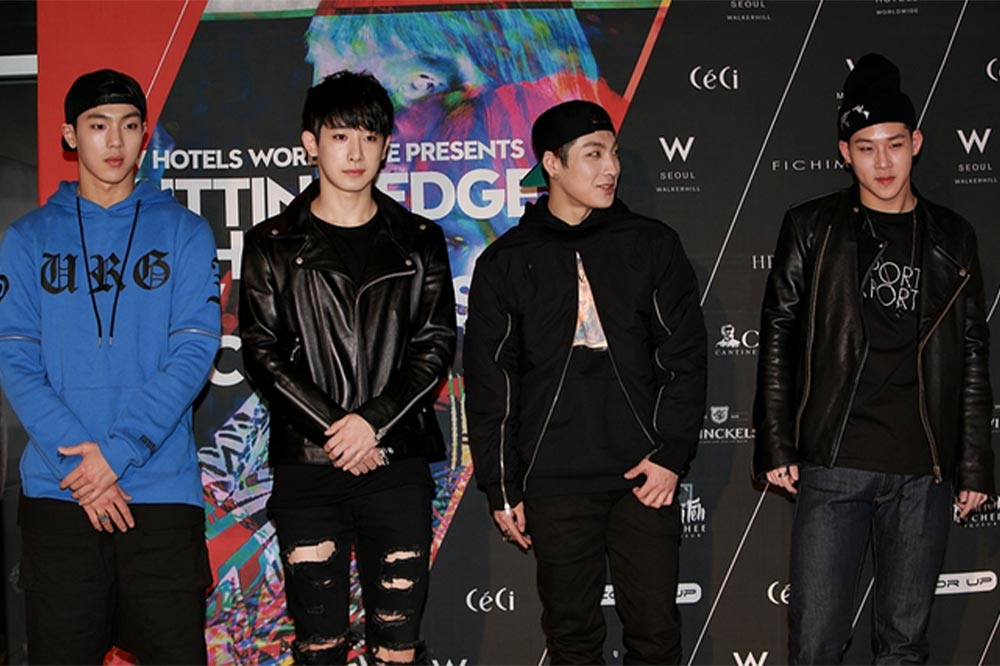 Wonho (2nd from the left) together with the other NUBOYZ members
Source
Most people would know Wonho as a former member of the 7-piece (now 6) K-pop group Monsta X. 
But, before his debut with Monsta X, Wonho was a part of NUBOYZ, a unit formed by Starship Entertainment. The group consisted of fellow trainee #Gun and would-be Monsta X bandmates Shownu and Joo Heon. 
Wonho then went on to participate in NO.MERCY and eventually gained success after his debut with Monsta X in 2015. 
Fun fact: Wonho's 3 years of training was the longest out of all the members in Monsta X. 
7. Left Monsta X due to drug use allegations 
Wonho's departure from Monsta X in 2019 after 4 years with the group was probably one of the biggest bombshells for K-netizens that year. 
He was accused of smoking marijuana in 2013 and theft by South Korean TV personality Jung Da Eun, someone Wonho befriended in his teenage years. Any form of recreational drug use is heavily frowned upon in Korea, causing a huge blow to the singer's reputation. 
While Wonho and Starship Entertainment denied the allegations, the idol still chose to leave the group as he wished to minimise the damage such a scandal would do to Monsta X. 
8. There was incredible fan support during his scandal 
In the South Korean entertainment scene, it's not unusual for a scandal to ruin someone's career. Not for Wonho though. When news of him leaving Monsta X broke, fans were eager to express their support for the idol.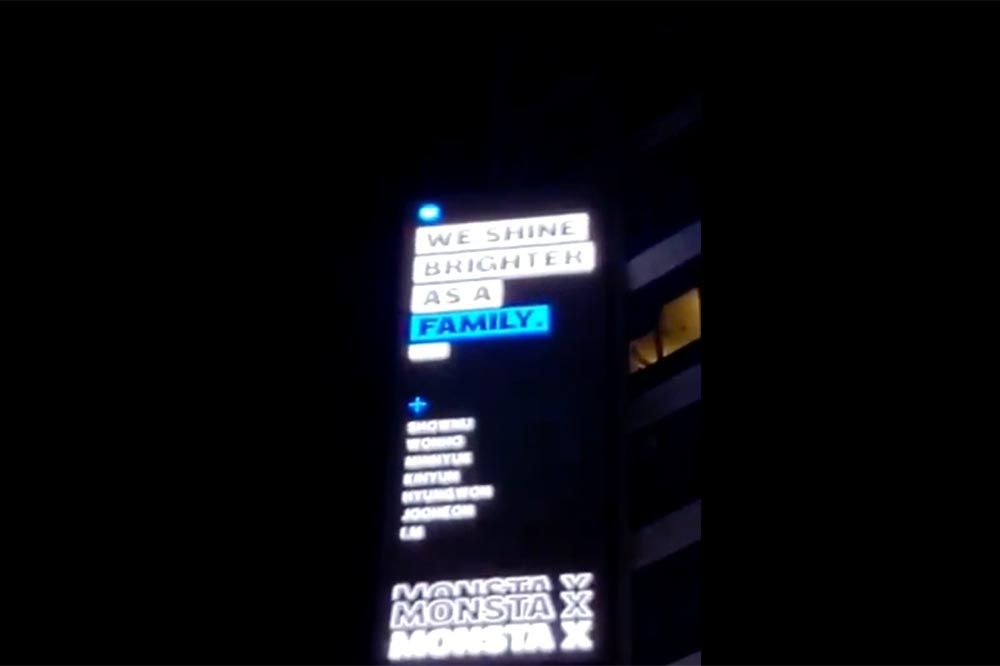 The fan-funded billboard protesting Wonho's departure in Times Square
Source
Hashtags like #fightforwonho were spawned and gained traction. Fans even set up a GoFundMe campaign which raised over US$25,000 (~S$33,143) for a billboard in NYC's Times Square protesting Wonho's departure.   
Months after the scandal, when Wonho was cleared of all charges, fans rallied together once again to support the singer. They sent the 2017 Monsta X song, "From Zero", which was written by Wonho, to the top of Billboard's World Digital Songs sales chart. 
9. His fandom is called WENEE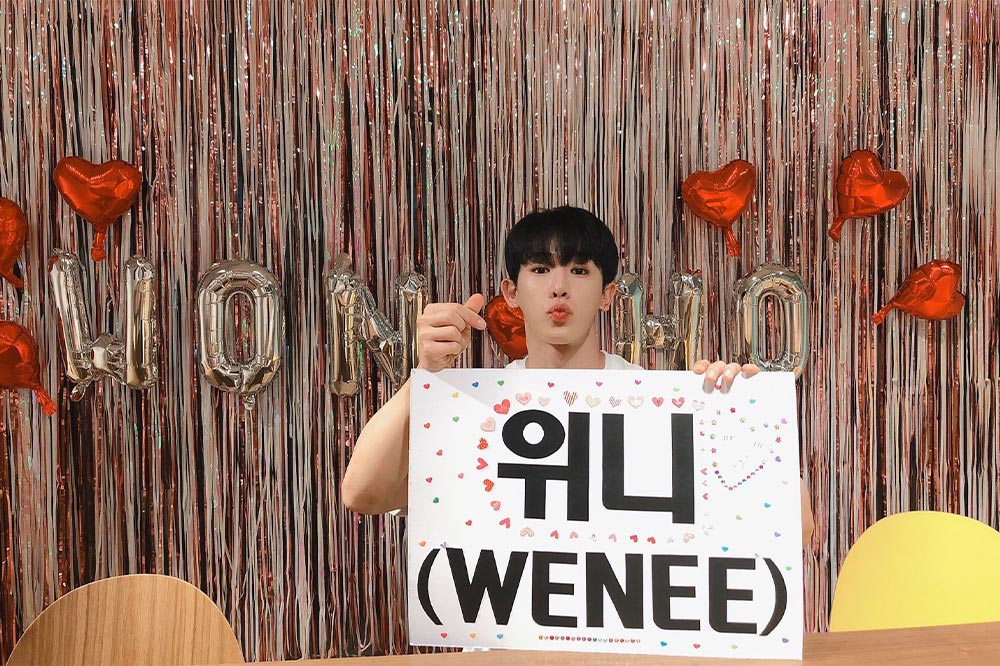 Wonho announcing WENEE as the new name of his fandom
Source
Back when Wonho was still a part of Monsta X, his fans would have been part of  Monbebe, the band's fandom. Monbebe is a portmanteau of 2 French words, mon (which means "my") and bebe (which means "baby"). 
Upon clearing his name, it was announced on 10 April 2020 that Wonho had signed to Highline Entertainment, a subsidiary of Starship Entertainment, as a soloist.
To kickstart his solo career, Wonho picked a new name for his fandom, WENEE, after numerous suggestions from fans. It stands for "We are new ending" or "We need".
10. Inspired a TikTok trend
Wonho's thirst traps are not limited to Instagram.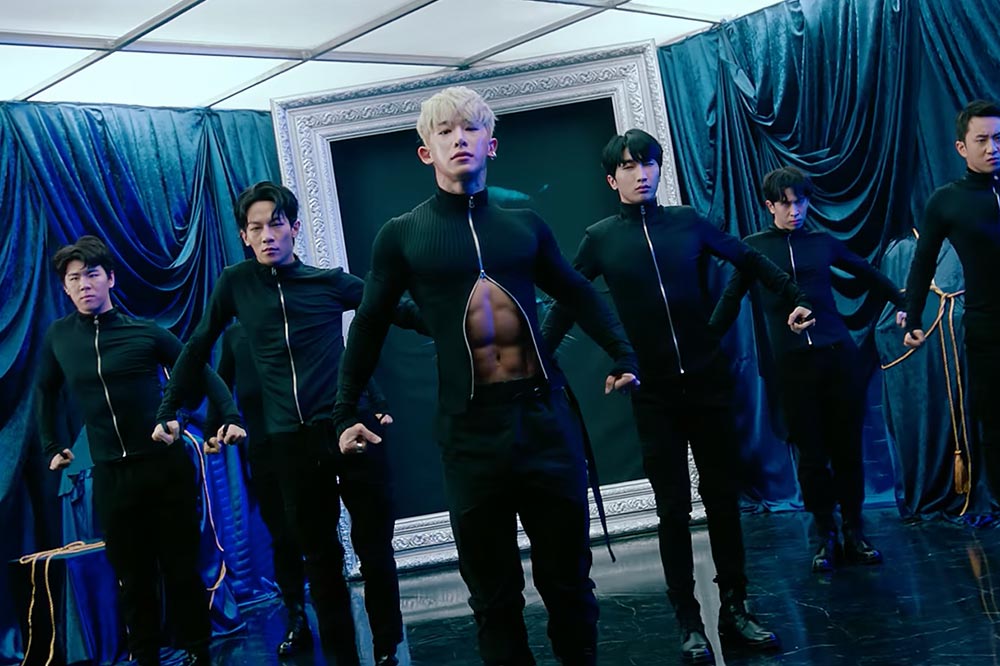 The music video for Wonho's "Open Mind"
Source
If you watched the MV for "Open Mind", his first comeback single as a soloist, you would probably agree the video was one whole thirst trap.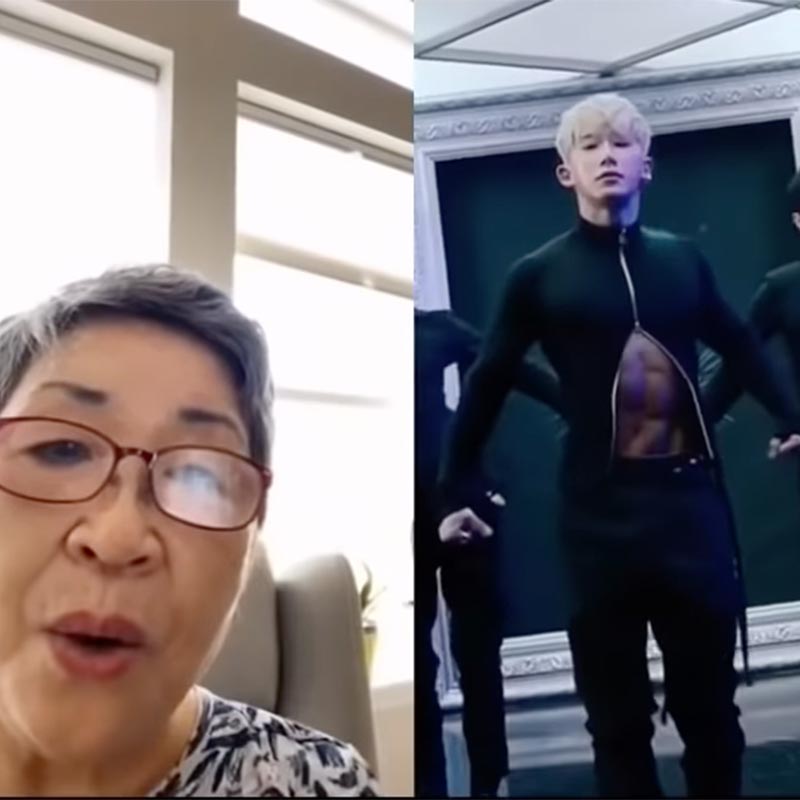 In fact, Wonho's swoleness in the video even started a TikTok trend. Essentially, people would do a duet (for the Millennials, that means a split screen TikTok) with a snippet of the "Open Mind" MV and react to Wonho's body in a hilarious way.
Some even got their grandmothers to appear on the TikTok to catch a glimpse of Wonho's body. For a compilation of these clips, check out this Youtube video.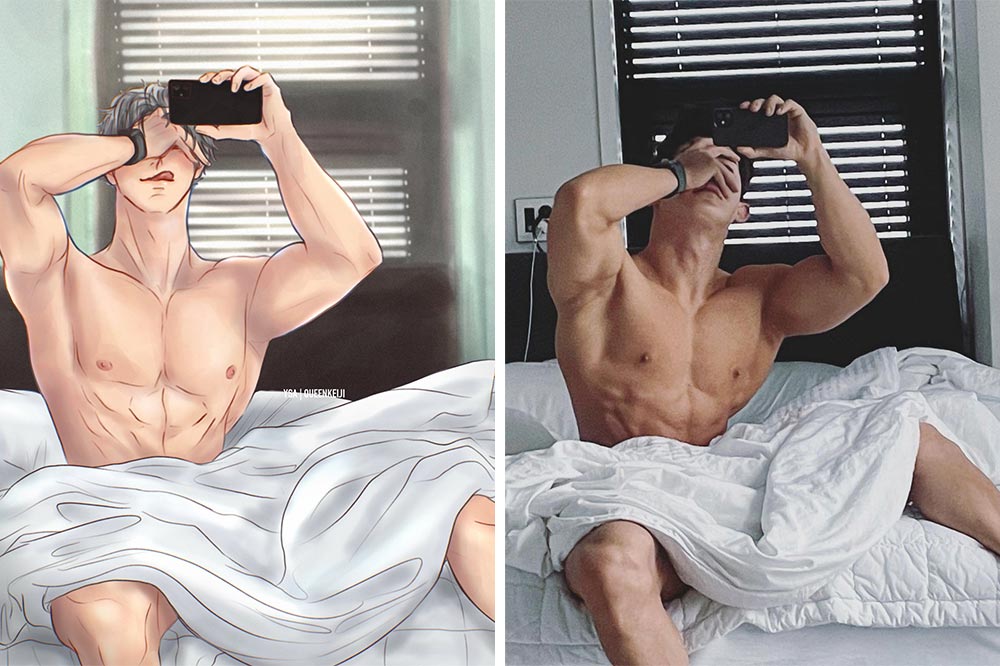 A few netizens also noticed that Bokuto, a character from the anime Haikyuu, is built similar to Wonho. This resulted in a niche trend on Twitter where people would draw fan art of Bokuto based on some of Wonho's thirst traps. 
Also read: 
21 Lee Jong Suk Facts Including His Phobia, Dreams Of Getting Married & Plans After Military Service
11. A lot of effort goes into his thirst traps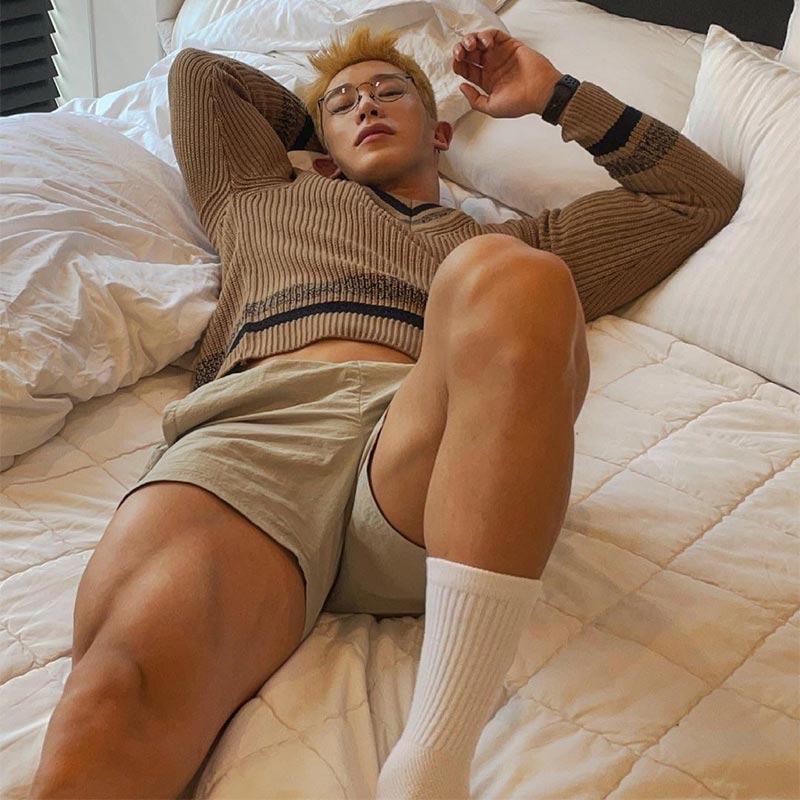 While many of his IG thirst traps are simple mirror selfies, some fans were puzzled as to how Wonho would take the more complicated ones, particularly those of him lying down. 
During a livestream, a fan posed the question to him. He answered, saying that he takes the photos by setting up a tripod and previewing the shot with his Apple Watch. After which, he uses the tripod's remote control to snap it.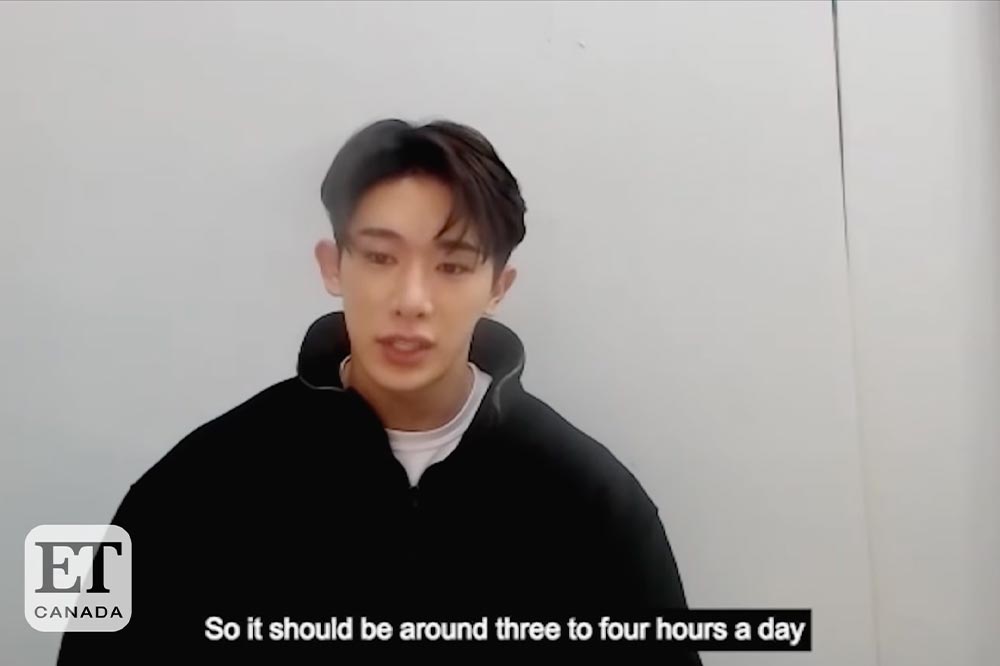 Of course, achieving a build like Wonho's takes a lot of work. In a recent interview with ET Canada, he shared that he typically works out twice a day for a total of 3 to 4 hours.
12. Posts ASMR and Mukbang videos on Youtube 
Apart from Instagram, Wonho also has an active online presence on Youtube.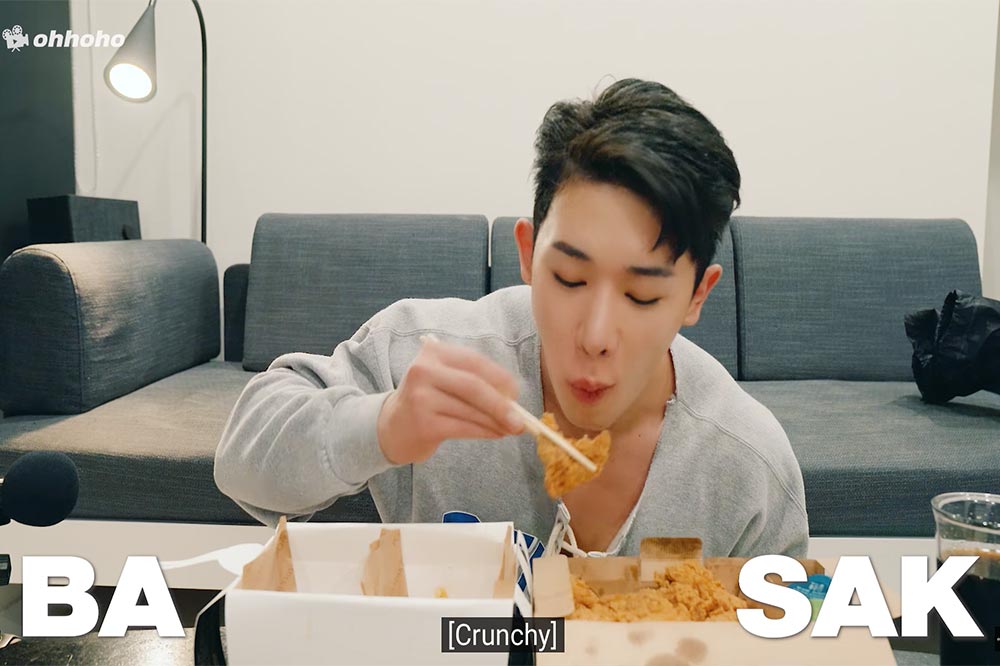 Wonho's ASMR fried chicken mukbang video
Source
On his channel, ohhoho, he regularly uploads videos ranging from workout vlogs and behind-the-scenes footage to ASMR and mukbangs (a term used to describe eating shows).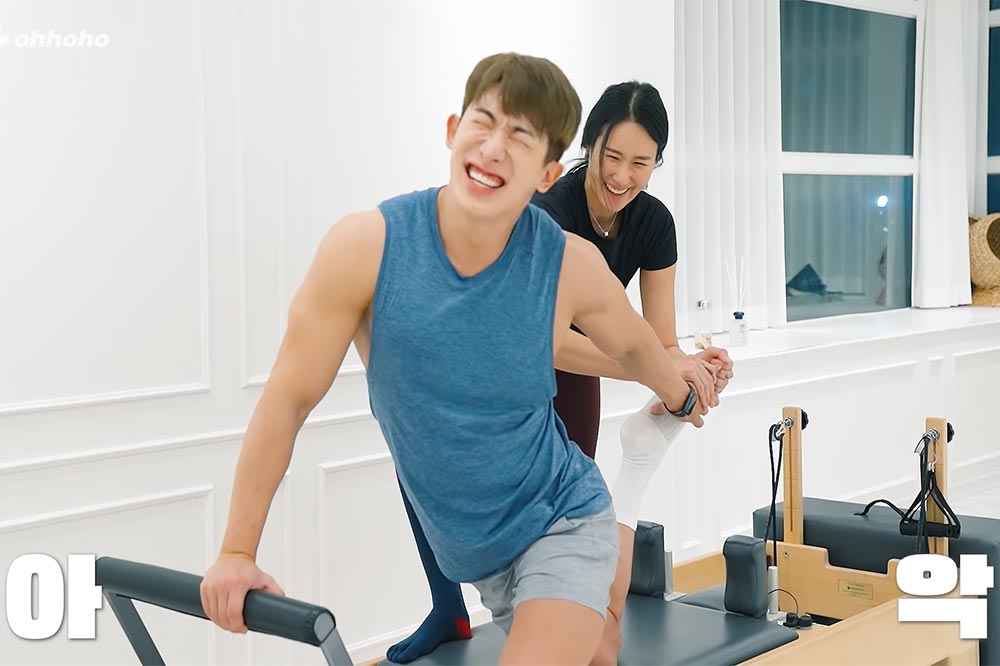 He has a pilates series on the channel where you'll be impressed with his flexibility despite how muscular he is. 
During an interview with Dazed Korea, Wonho said he started the channel as he thought "fans would want to see what [he's] up to when they're bored".
13. Is a fan of Justin Bieber and Kanye West 
An interview with Billboard last year gave some insight into his music taste. He revealed that the first piece of music he bought was a CD of Kanye West's "Through The Wire". The first concert he ever went to was Justin Bieber's. 
In addition, he shared that he "would love to see [Michael Jackson's] performance live if he was still alive". 
14. Has a fear of heights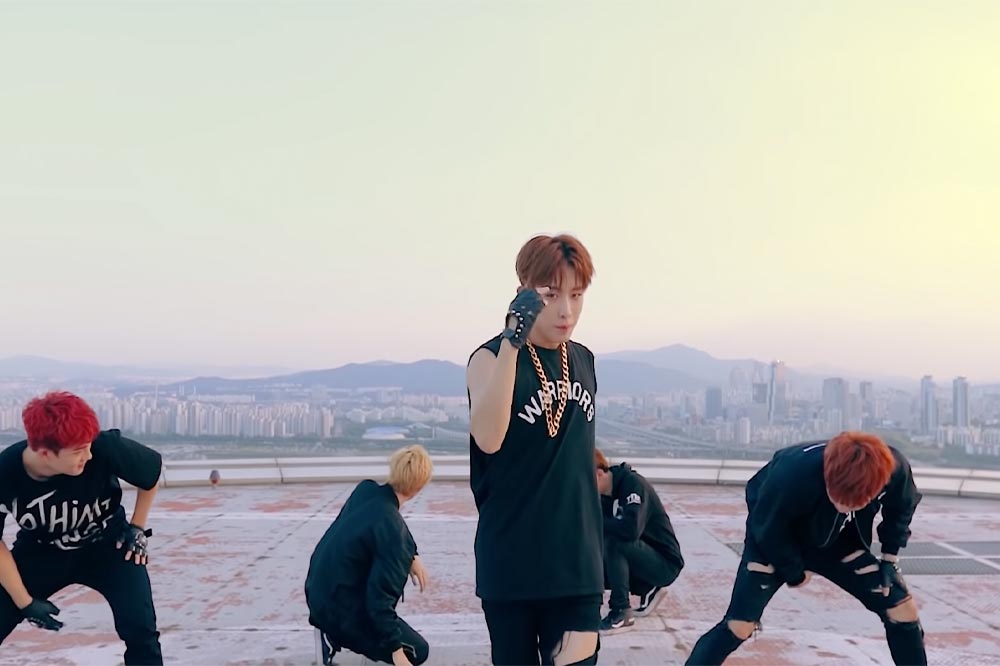 Wonho in the music video for "Hero"
Source
For those who've watched the MV for Monsta X's "Hero" which was shot on a rooftop, you'll be surprised to hear that Wonho is scared of heights, given how slick the dance moves were.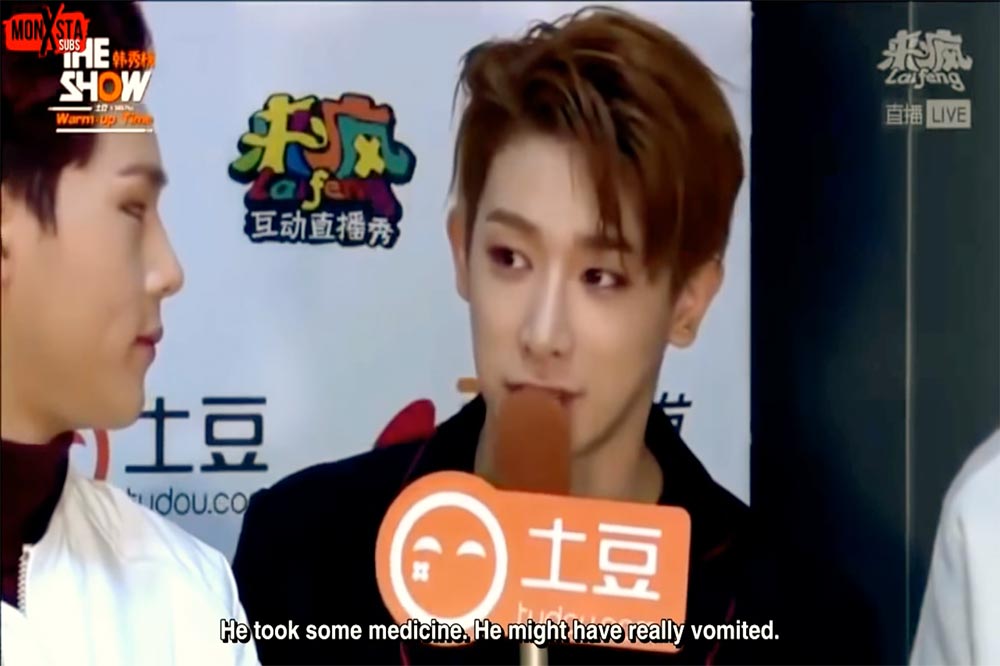 To deal with the anxiety of being so high up, Wonho was even prescribed medicine for the filming.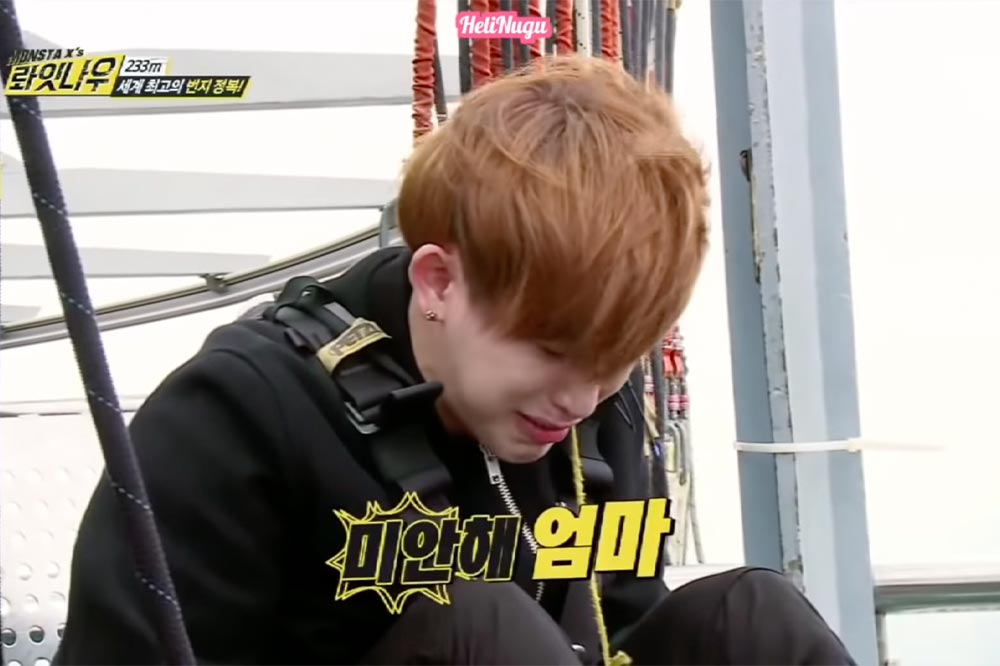 His acrophobia is so bad that he cried when it came to his turn to bungee jump on the Monsta X reality show, Right Now.
15. Doesn't intend on getting married 
Bad news for the WENEEs out there: time to cancel your fantasy nuptials with the idol as Wonho has no plans on getting married. 
On an old radio broadcast with Monsta X back in 2016, Wonho divulged that he has "no interest in getting married" when asked what kind of woman he would like to wed.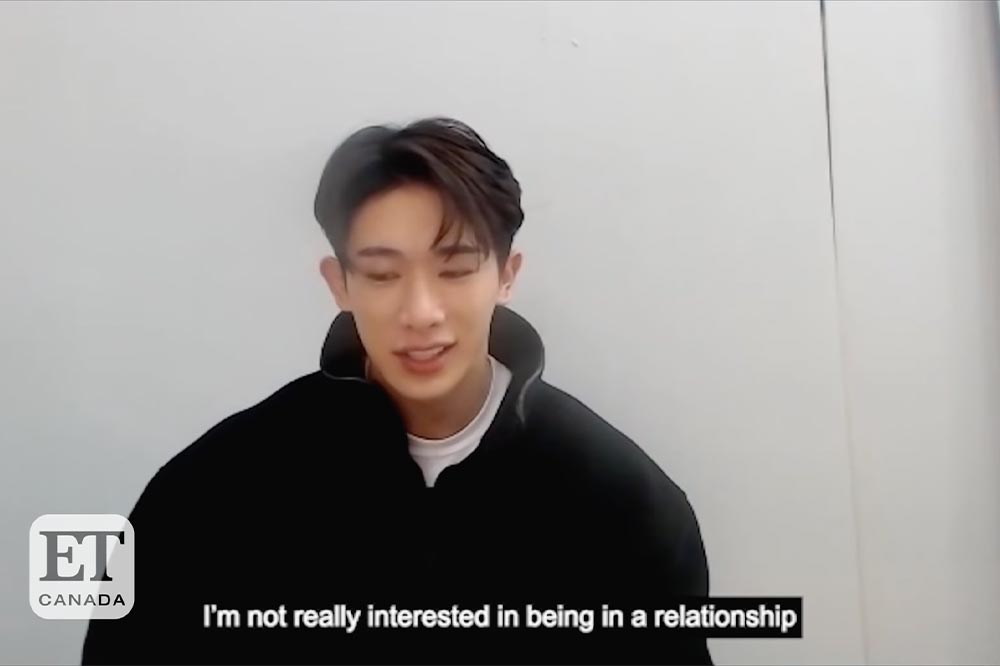 More recently, the bachelor shared with ET Canada that he is "not really interested in being in a relationship". Instead, Wonho feels like he's already "in a relationship with [his] fans". 
16. In love with ramen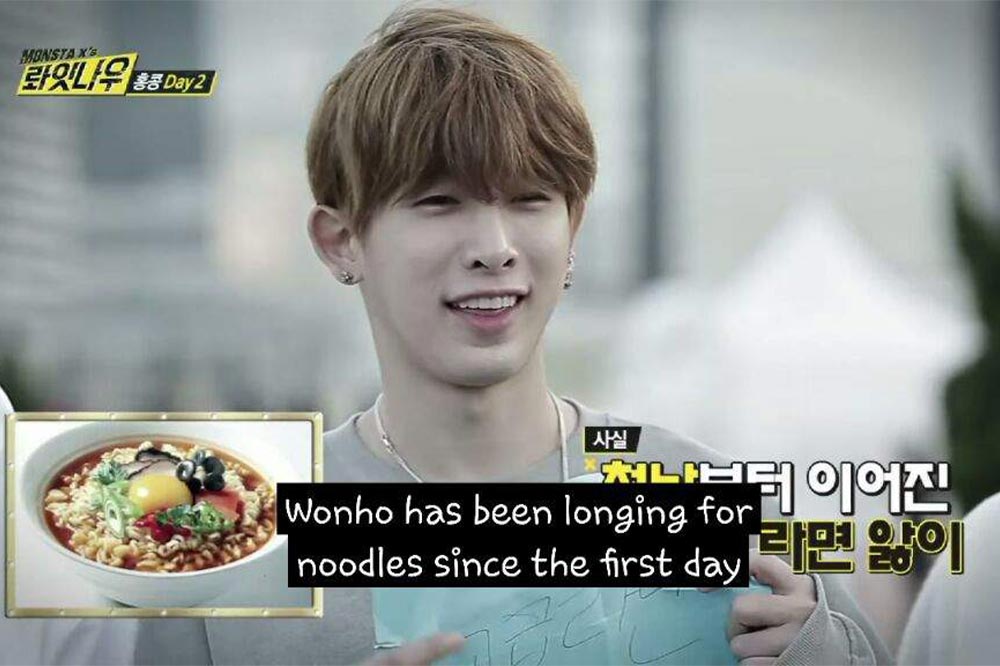 If you still haven't given up on Wonho, then you would be interested to know that the way to his heart is probably his favourite food – ramen.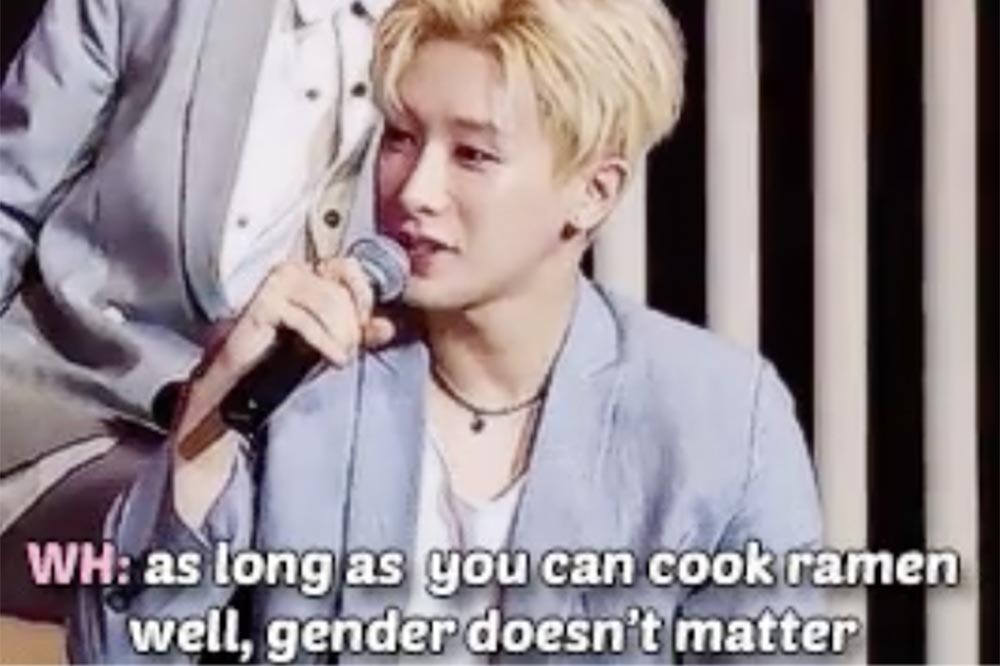 He once said that the gender of who he dates doesn't matter as long as the person can cook ramen well.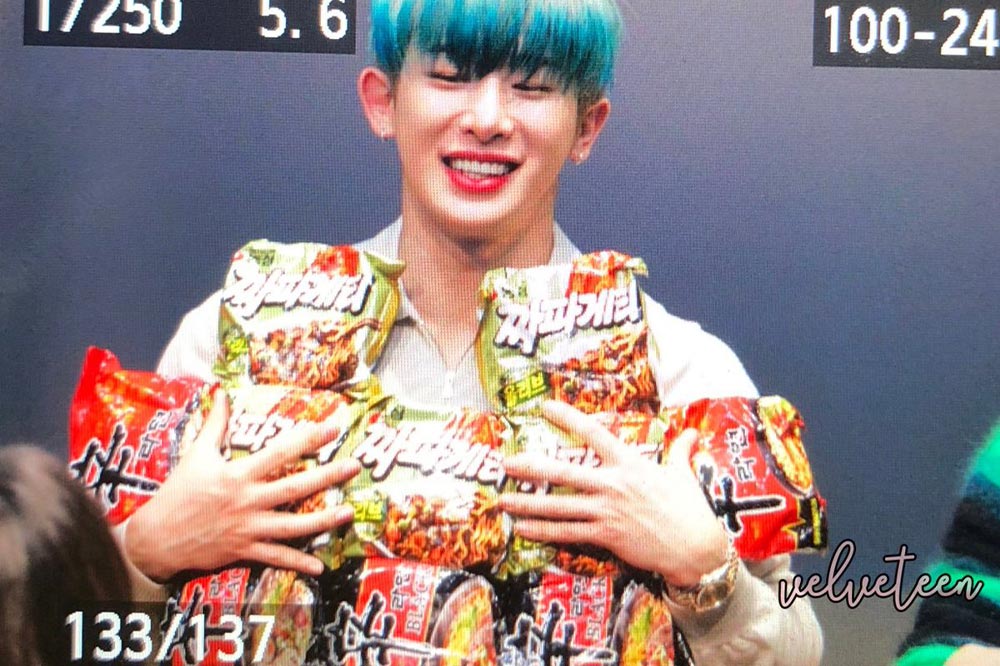 Knowing his love for ramen, fans of the idol also frequently present noodles as a gift to Wonho.
17. Has a soft spot for bunnies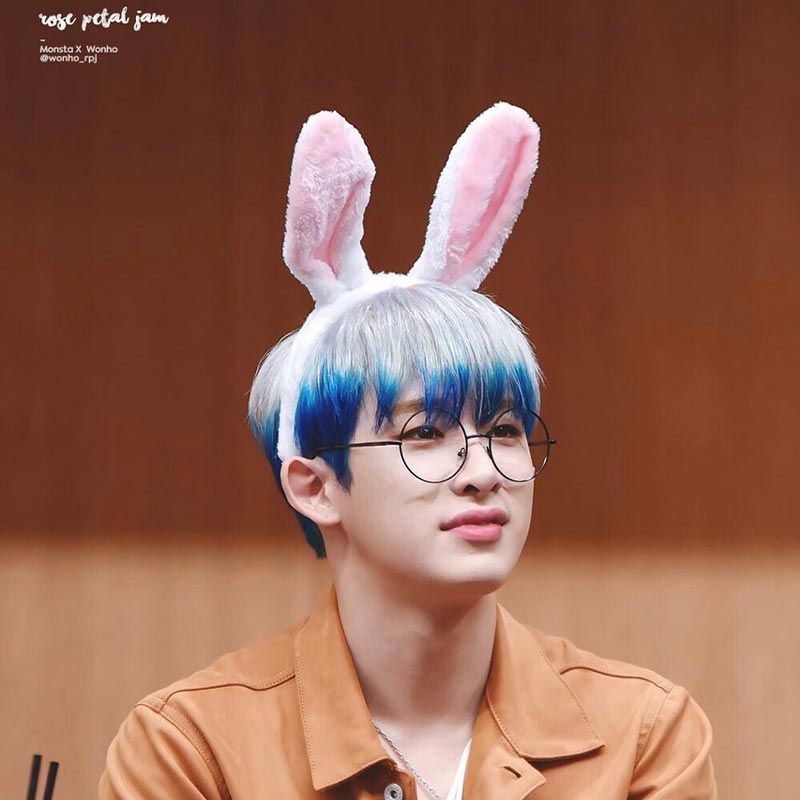 Underneath Wonho's buff exterior is actually a huge soft boi with great affection for bunnies. After all, one of the idol's nicknames is "Bunny".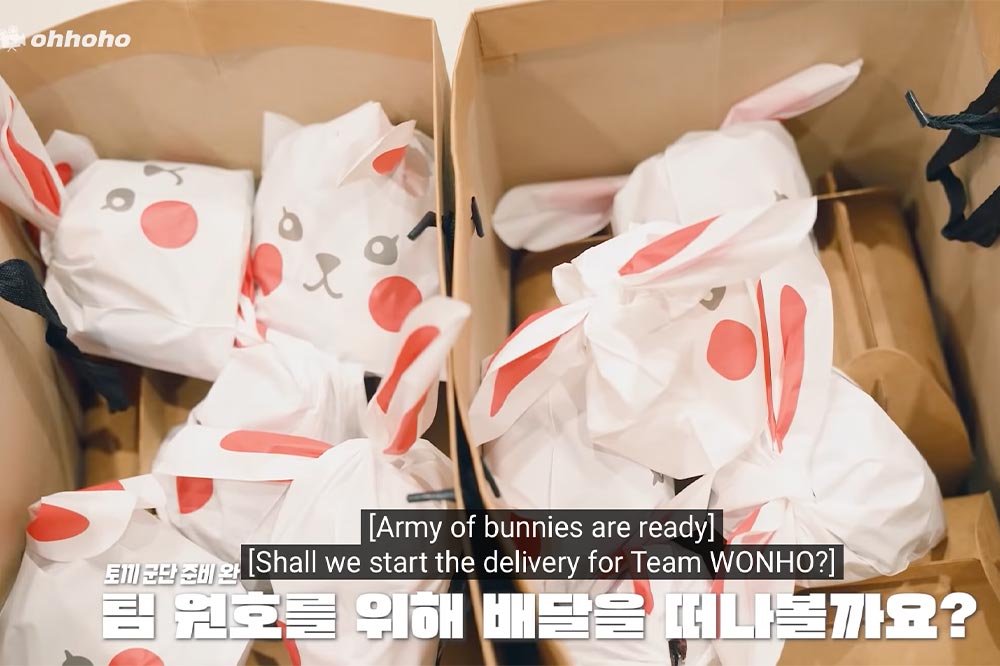 On Valentine's Day this year, Wonho prepared gifts for all his staff members packed in – what else – bunny-shaped goodie bags. 
18. His MBTI is INFP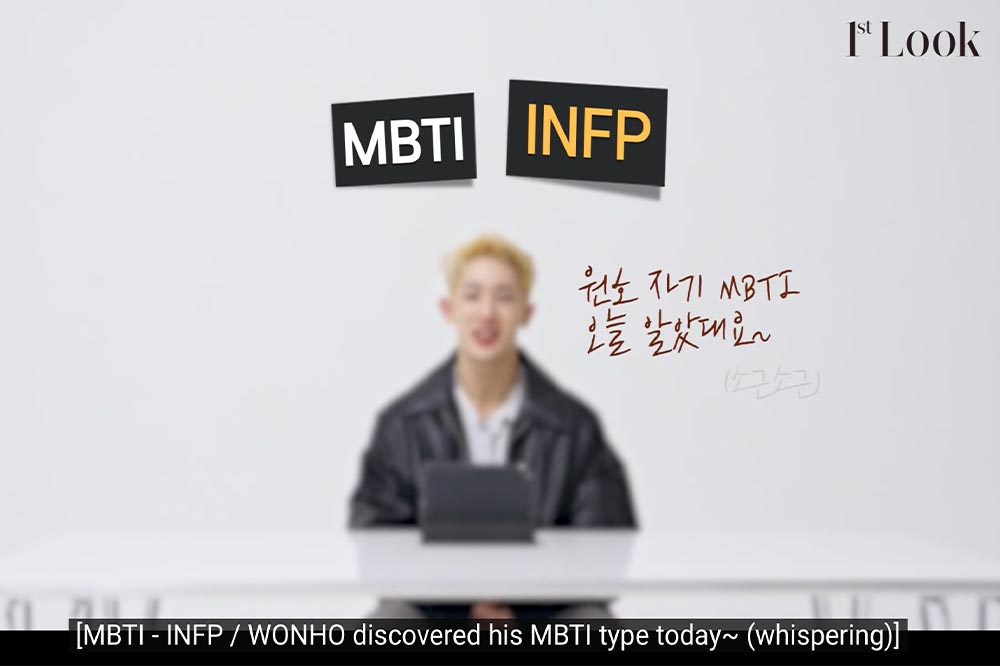 Last year, when Wonho did an interview with 1st Look, it was revealed that the singer is an INFP, otherwise known as the mediator personality type. 
In the video, Wonho identified with many typical INFP traits including being empathetic and appreciating alone time. 
This should come as no surprise to long-time fans as the singer has always been known to be sensitive and thoughtful.
19. Just dropped an English collab single 
Lately, more South Korean artists have been dropping English-language songs, in hopes of capturing the global audience. Look no further than BTS' "Dynamite" and "Butter" or Blackpink's "Ice Cream" with Selena Gomez.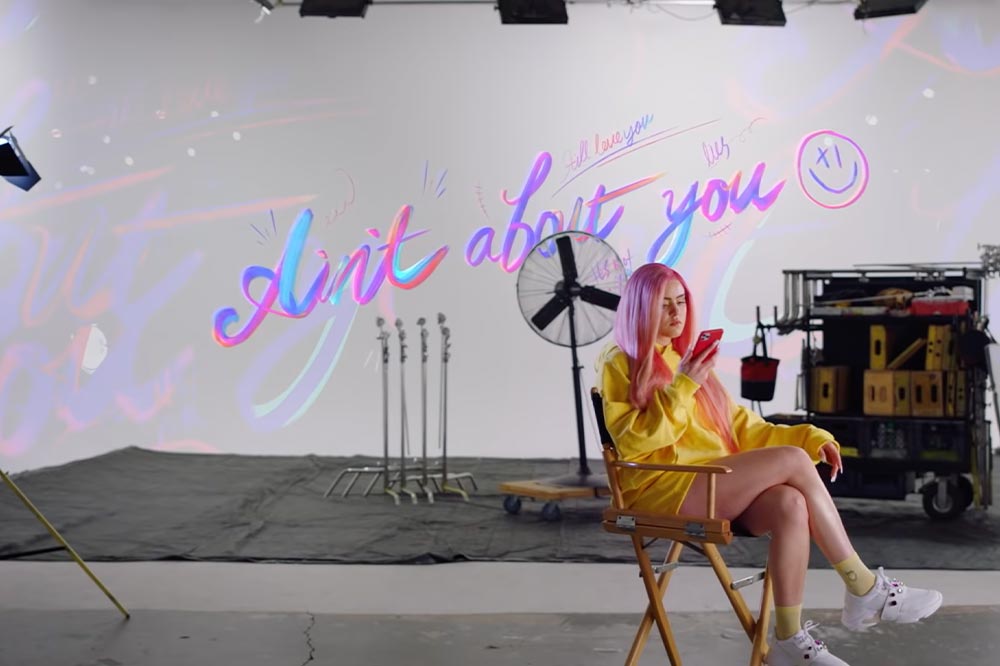 Kiiara in the music video for "Ain't About You"
Source
Wonho has followed suit. On 12 May 2021, Wonho released the music video for "Ain't About You", a collaboration with American singer Kiiara. The fully English track is part of Wonho's second solo EP, Love Synonym Pt.2: Right for Us.
20. Plans to make his third comeback this year 
Even though he released his second solo EP in February, Wonho is showing no signs of slowing down. He has been working hard on his third album and recently told fans during an online concert that he "think[s] [he'll] be able to see [them] again in the summer". 
These Wonho Facts Show That He Is An Artist K-Netizens Should Look Out For
Despite unforeseen setbacks in his career, Wonho's triumphant return to K-pop shows that he has what it takes to be a successful soloist. These 20 facts about Wonho have shown that the idol is more than just his body and thirst traps, though we still appreciate him treating our eyes every now and then. 
If you enjoyed these Wonho facts and want more fun information on K-celebs, check out these 22 facts about up-and-coming actor Song Kang.
Also read: 
22 Song Kang Facts Including His Admiration for BTS, Ideal Type & New Dramas For Fans Of The Love Alarm Oppa