Song Kang Facts and News
Even though he only made his debut in 2017, 26-year-old Song Kang has found his way into the hearts of K-drama fans all over the world. He has even been dubbed the "Son of Netflix" by the Korean media, having gotten his big break through playing lead roles on the popular streaming platform. 
Here are 22 facts about the young actor to accompany you as you binge-watch the freshly released Love Alarm season 2. 
1. Childhood dream was to be an architect or furniture designer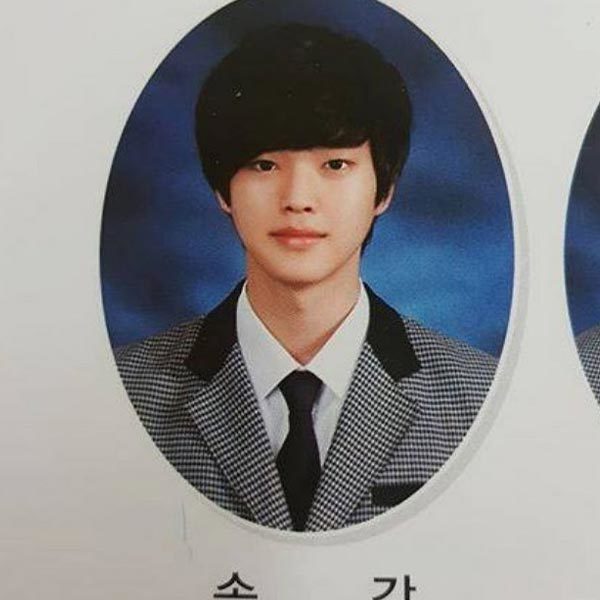 Source
Song Kang was born in Suwon, South Korea on 23 April 1994. 
He told Cosmopolitan Korea in an interview that, growing up, he wanted to be an architect or furniture designer after seeing "cool pictures" of the occupations. Luckily for fans of his dramas, he eventually gave up on the dream as he had "no idea where [he] needed to start".
2. Was inspired to become an actor by Leonardo DiCaprio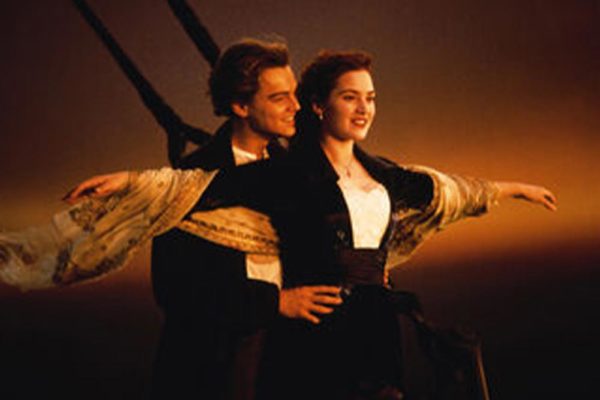 Watching Leonardo Dicaprio in this iconic Titanic scene made Song Kang want to be an actor
Source 
If you needed another reason to love the acclaimed movie, Song Kang has shared that he was first inspired to act after watching Leonardo DiCaprio in Titanic (1997).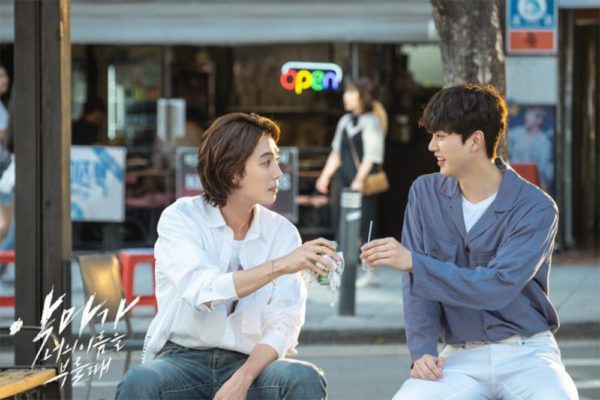 Jung Kyung Ho and Song Kang in When the Devil Calls Your Name
Source
Aside from LDC, the star's list of acting role models also includes Hospital Playlist's Jung Kyung Ho. The pair were co-stars in When the Devil Calls Your Name (2019). More recently, he expressed his admiration for English actor Tom Hardy after watching him in the movie, Legend (2015). 
3. Was offered the chance to be an idol prior to his debut 
Unsurprisingly, given his good looks, Song Kang was asked to be an idol (a term commonly used to refer to K-pop singers) before his acting debut. 
However, he rejected the offers as he wanted to focus on studying to become an actor.
4. Got his start acting alongside Red Velvet's Joy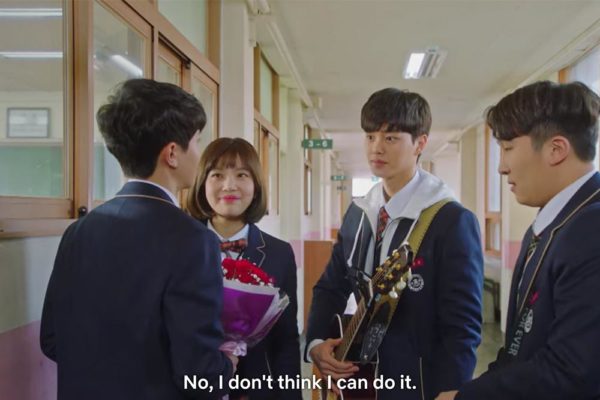 Song Kang (as Baek Jin Woo) alongside Red Velvet's Joy (as So Rim) in The Liar and His Lover
Image courtesy of Netflix 
Song Kang made his debut playing the supporting role of Baek Jin Woo in the romantic comedy The Liar and His Lover (2017). 
His character is the protagonist, So Rim's (played by Red Velvet's Joy) childhood friend and bandmate, who has a crush on her. 
Four years on, Song Kang has been elevated to top billing status, with 2 leading roles under his belt and a third one on the way.
5. Has a lot of admiration for BTS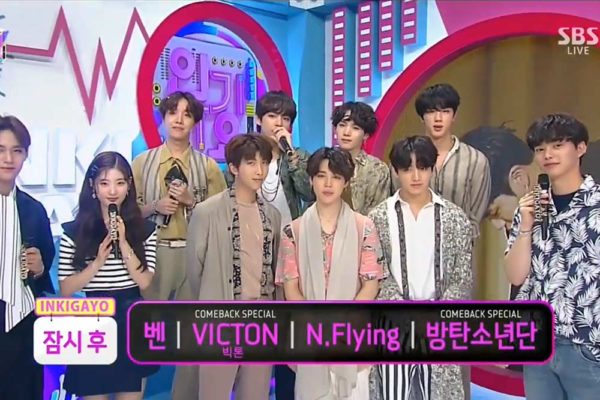 Song Kang (extreme right) interviewing BTS during an episode of Inkigayo alongside co-hosts
Mingyu from Seventeen and Jung Chae Yeon from I.O.I
Source
Song Kang hosted Korean broadcasting network SBS' music chart show, Inkigayo, from 19 February to 28 October 2018. 
During his time as the MC for the show, he met many idol groups, one of them being BTS. He shared in an interview with SPOTV News that his "heart especially fluttered" when he met BTS and that he "fell in love with their stage". 
We feel you, Song Kang.
6. Went to the same school as BTS' Jin
Fun fact: Both Song Kang and Jin attended Konkuk University's Department of Film Arts. This makes Jin Song Kang's sunbae ("school senior" in Korean). 
The actor even had an encounter with Jin in the school's hallway and remarked to his friend how handsome the singer was. Jin biases, don't be too envious! 
7. Is an actor with a spontaneous side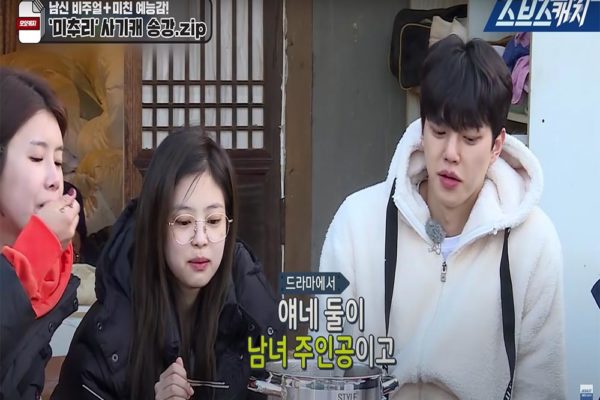 Song Kang with BLACKPINK's Jennie during Season 1 of Village Survival, the Eight 
Source
While he primarily acts, Song Kang doesn't need a script to show off his charisma. In addition to hosting Inkigayo, he was also a cast member on both seasons of SBS' variety show: Village Survival, the Eight. BLACKPINK's Jennie Kim also appeared on its first season. During the show, Song Kang demonstrated his wit by captivating viewers with his goofy answers during their speed quiz segments. 
For his work on Inkigayo and Village Survival, Song Kang was nominated as Best Male Rookie during the 2018 SBS Entertainment Awards. 
8. Rose to fame acting in webtoon dramas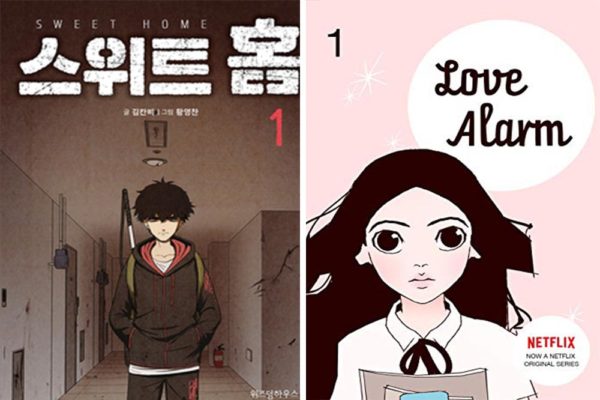 Cover of the Sweet Home and Love Alarm webtoons
Source, source 
Song Kang was catapulted to fame when he scored a leading role in Netflix's Love Alarm in 2019. He plays Hwang Sun Oh, a former model who competes with his best friend, Lee Hye Young (Jung Ga Rum), for the affection of Kim Jo Jo (Kim So Hyun).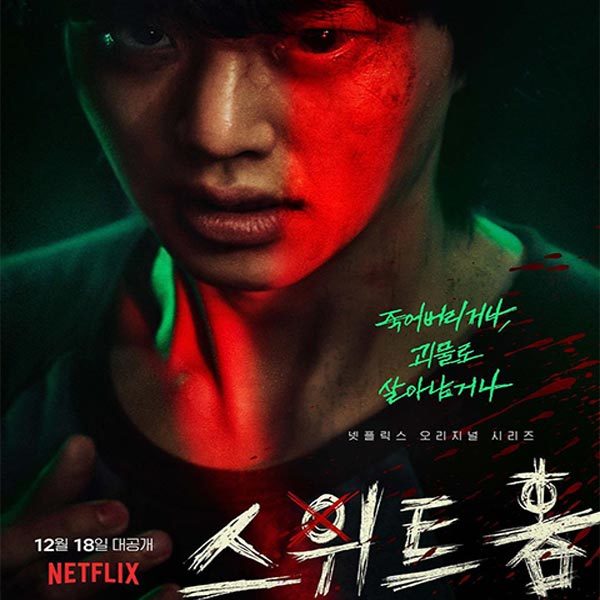 Song Kang (as Cha Hyun Soo) in a promotional picture for Sweet Home 
Source
His leading-man status was cemented when he was cast in Netflix's horror thriller, Sweet Home, a year later. Song Kang plays Cha Hyun Soo, a teenage loner who develops supernatural powers as the world begins to be overrun by monsters.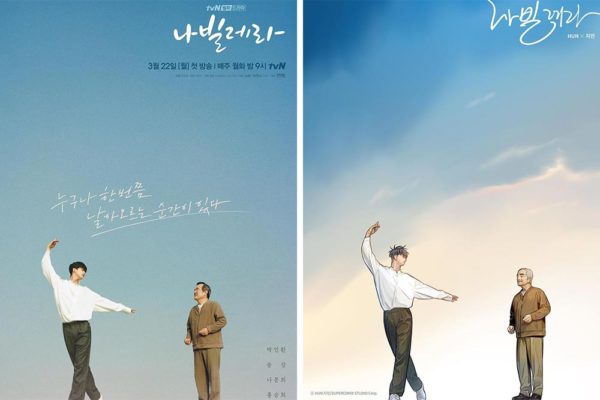 Promotional pictures for Song Kang's upcoming drama, Navillera
Source 
Both Love Alarm and Sweet Home happen to be based on webtoons, a type of digital comic originating from South Korea. His upcoming drama, Navillera, is also inspired by a webtoon. It will be available on Netflix from 22 March 2021.
9. Will not download an app like the one in Love Alarm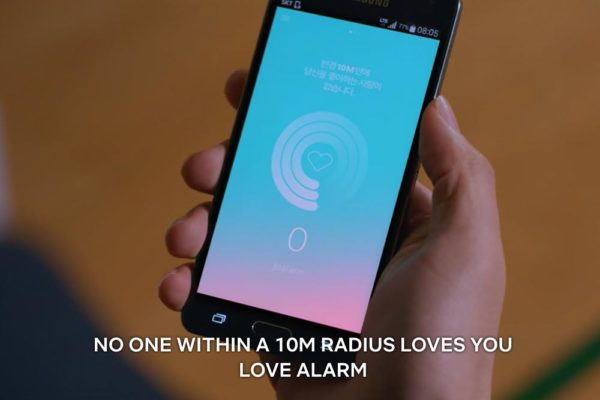 Love Alarm is an app that will show you if anyone within a 10m radius has feelings for you
Image courtesy of Netflix
In a recent press conference for Love Alarm season 2, Song Kang shared that he will not download an app like the one seen in the series. He believes that while the app adds "convenience" as we won't need to express our feelings, he thinks that confessing your love in your own words is "more true for [him]".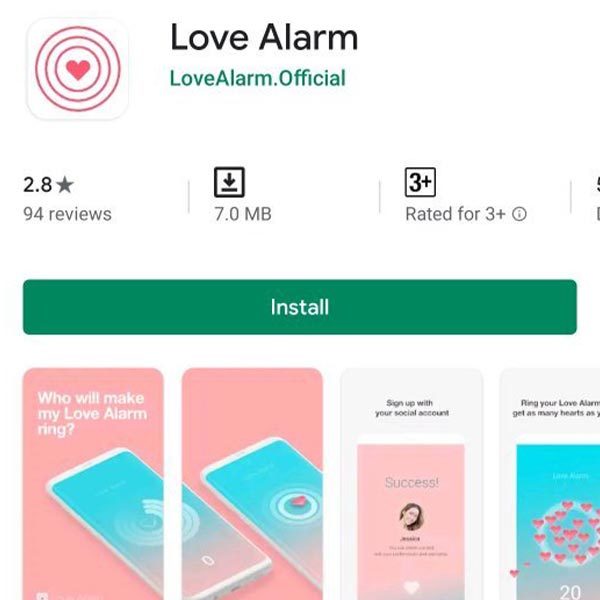 Source
Love Alarm fans can even try the app out for themselves in order to make their viewing experience truly immersive. Unfortunately the real-life app on the Google Play store is only available for Android users in Korea. 
10. Beat out 900 other applicants for his Love Alarm role
After watching Song Kang play Sun Oh so convincingly in Love Alarm, it's hard to believe that anybody else could have taken on the part. However, Song Kang had to face immense competition of around 900 applicants to land the role. Love Alarm's director, Lee Na Jung shared with Hype Malaysia that it was Song Kang's "innocent and sentimental aura" that won her over. 
As a testament to the actor's talent, Lee Na Jung recommended Sweet Home's director, Lee Eung Bok, to bring in Song Kang for an audition. 
11. Felt extreme pressure to play his part in Sweet Home well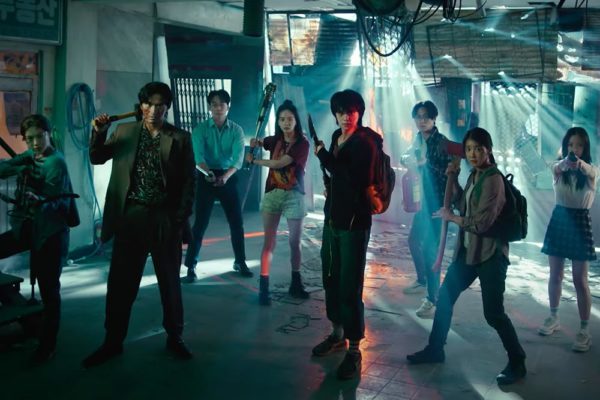 Song Kang with his fellow Sweet Home cast members 
Source
With a hefty budget of ₩30 billion (~S$35 million), Sweet Home is Netflix's most expensive K-drama production to date. 
Song Kang had no idea about the show's huge price tag when he was first cast in Sweet Home. He said in an interview with Sports Chosun that "he suddenly felt a lot of pressure" and thought about how he could "better lead the show". 
His efforts certainly paid off. Sweet Home was well received globally. The horror thriller hit Netflix's Top 10 list in multiple countries including the U.S., an unusual feat for a Korean production. 
Also read: 
13 Life Lessons From 18 Again Including Living Without Regret & Never Giving Up On Your Dreams
12. Wants to work with co-star Lee Do Hyun again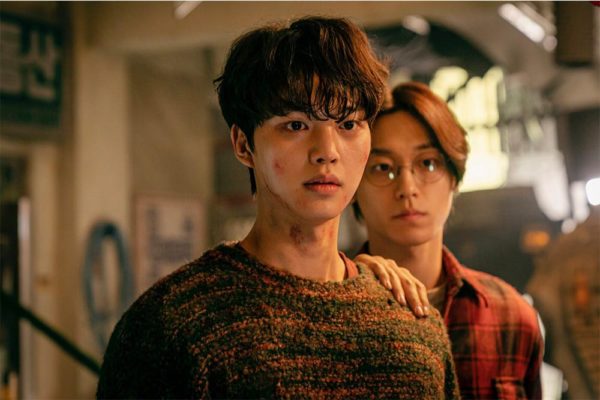 Song Kang with co-star Lee Do Hyun in Sweet Home
Source
If you have watched 18 Again (2020) on Netflix, then you will be familiar with Lee Do Hyun. In Sweet Home, he plays Lee Eun Hyuk, a medical student who becomes the leader of the Green Home residences survivors. 
Song Kang and Do Hyun have a lot in common. Both actors are around the same age (Do Hyun is just 1 year younger) and both made their acting debut in 2017. This might be why they get along swimmingly. 
Song Kang was full of compliments for his Sweet Home co-star during his interview with Sports Chosun. He feels that as actors, they have a "good and strong connection". Song Kang has also expressed his desire to work with Do Hyun again, wishing to portray close friends that work together as partners. This is contrary to their relationship in Sweet Home where their characters make use of each other. 
13. Has no stomach for horror movies
Sweet Home might be a horror series, but Song Kang himself has no stomach for the genre. He revealed in an interview with ELLE Korea that he has never finished a single horror movie, as he thinks doing so will make him scared when leaving sets late at night. Similarly, he had to try to read the Sweet Home webtoon in the day to prepare for filming to avoid getting scared. 
14. Inherited his fitspo spirit from his family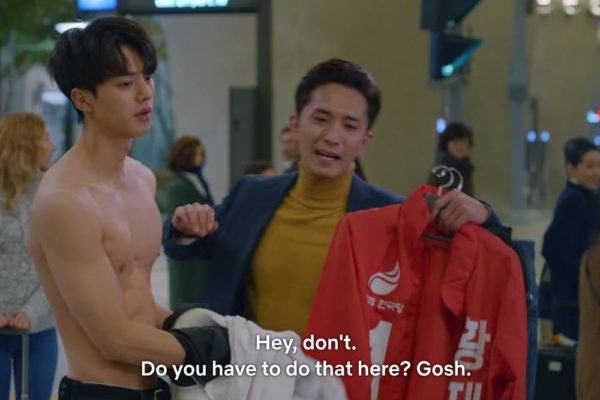 Image courtesy of Netflix 
One look at the hunk's sculpted figure and you can already tell athleticism runs in his blood. Song Kang enjoys working out, opting to go to the gym for a run on the treadmill whenever he feels upset. He also begins each day with stretches on a yoga mat in the morning. 
At his heaviest, the actor packed so much muscle that he weighed 78kg. He was even too fit to portray his role in Sweet Home accurately and had to lose his bulk so that he could shed his weight to 65kg.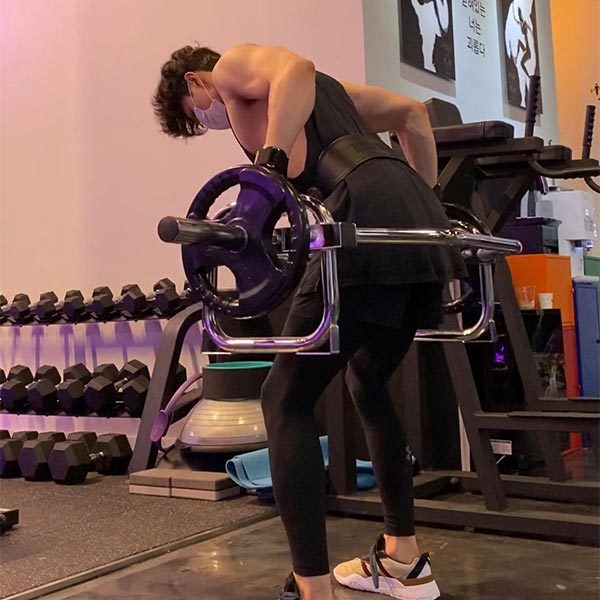 Source
Song Kang is not the only one in his family who leads an active lifestyle. His father used to be a gymnast, and his grandfather currently does wrestling. The men in the Song family are truly absolute fitspos.
15. Is a bookworm
Brains and brawns join hands when it comes to Song Kang. The actor has been very open about his love for reading. He enjoys reading mystery novels as a form of relaxation to help him sleep as the stories enable him get his mind off things. 
His love for reading also extends to his craft. While others would improve their acting skills through watching movies and television, Song Kang prefers to do so through books. By reading novels, he is able to use imagination to interpret the writing, something that he feels makes him more expressive. 
16. A man of many talents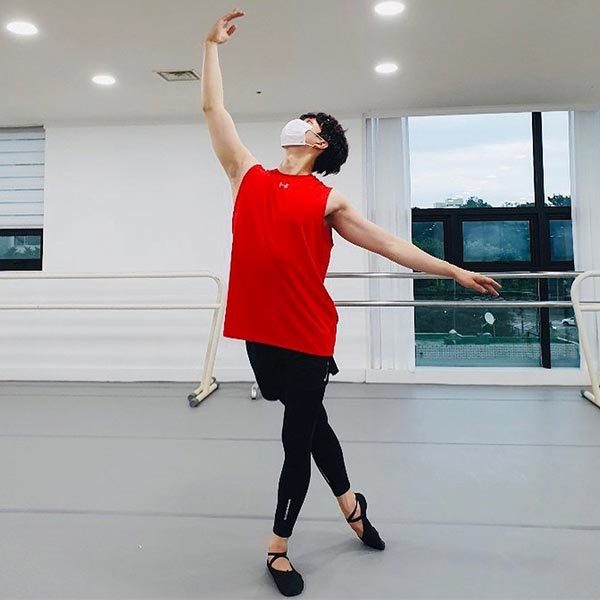 Song Kang practising ballet for his role in Navillera
Source 
At this point, you might wonder if there is anything Song Kang can't do (other than watching horror movies, of course). The answer is: very little. 
The actor has dabbled in many activities. These include Kendo (a Japanese martial art) and playing the piano. He has also expressed interest in mountain climbing. And, as if all that wasn't enough, Song Kang even picked up ballet for his upcoming drama, Navillera. 
17. Tends to get shy when it comes to love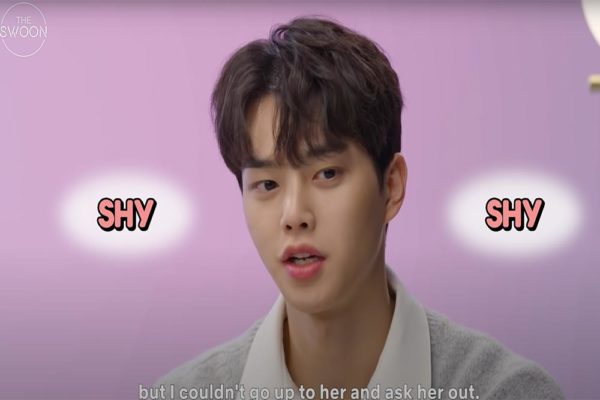 Source
Despite his many talents, the handsome oppa still gets the jitters when it comes to love. In a promotional interview for Love Alarm on The Swoon, Song Kang revealed that he had a crush that lasted for 2 to 3 months in high school. The crush never amounted to anything as he was unable to ask her out. In the same video, he also shared that once, he had to get drunk in order to confess to a girl. 
18. Sucker for public declarations of love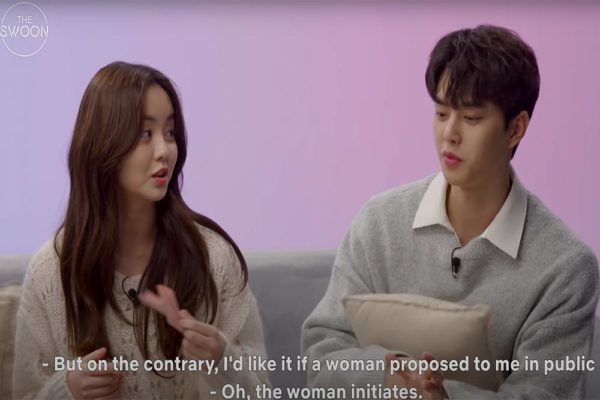 Source
Ironically, the man who gets sheepish when it comes to confessions more than welcomes public proposals (as long as he's on the receiving end). 
Song Kang's ideal confession from a girl is a public declaration of love surrounded by a large crowd with 100 roses. The actor also believes in love at first sight and his ideal type is someone with a warm and kind first impression. 
Ladies, it seems like the way to Song Kang's heart is to be brave, outgoing and to make the first move.  
19. Prefers to date older girls
Song Kang has a history of dating older women. When describing a drunk dial he made to his then girlfriend on Village Survival, the Eight, he used the term noona (used by guys when casually referring to an older woman).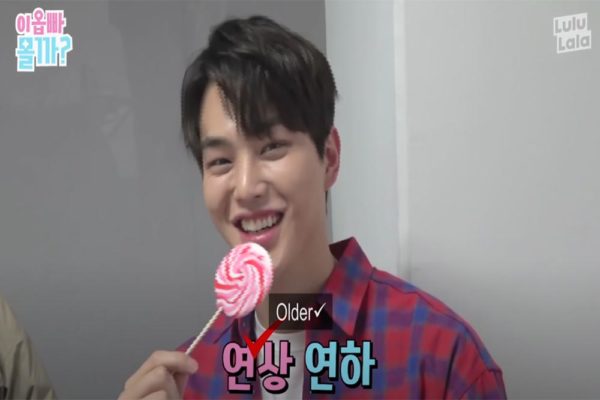 Source
In addition, during a speed round Q&A with content production company, Studio Lululala (owned by broadcasting network JTBC), he answered that he prefers an older woman over a younger one. 
20. Is a champion of more casual, understated styles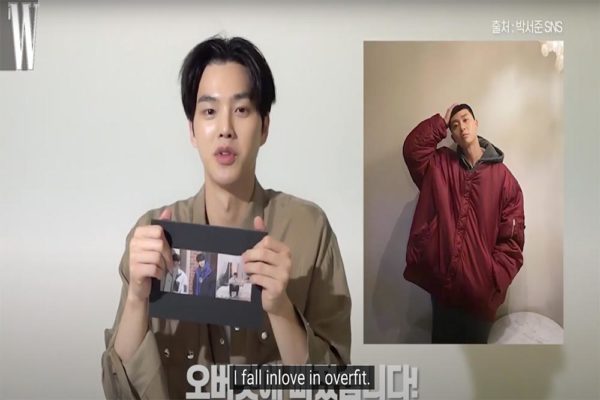 Source
Like most Korean celebrities, Song Kang has a keen sense of fashion and his own personal style. Speaking to W Korea, he commented that he usually opts for something simple and nothing too "dazzling". 
He also cited Park Seo Joon's Itaewon Class character Park Sae Ro Yi's overfit style as fashion inspiration.
21. Will star as a ballet dancer in Navillera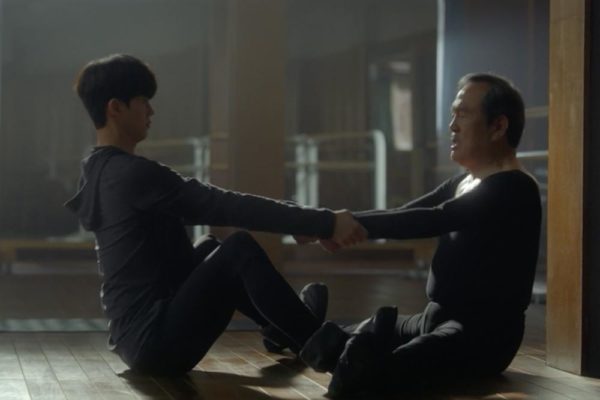 Song Kang (as Chae Rok) with co-star Park In Hwan (as Deok Chul)
Image courtesy of Netflix 
If you've already binge-watched Love Alarm season 2, you still have more Song Kang to look forward to this March. 
In Navillera, Song Kang stars as 23-year-old ballet dancer, Lee Chae Rok. Chae Rok is about to give up on ballet until he meets 70-year-old Shim Deok Chul, a retired mailman who wishes to fulfil his lifelong dream of becoming a ballet dancer. The 2 form an unlikely friendship as they motivate each other to pursue their dreams. 
Also starring in the show are Hong Seung Hee and veteran actors, Park In Hwan and Na Moon Hee. 
You can view the trailer for Navillera here.
22. Might star in 2 more dramas in 2021 
The actor is staying booked and busy this year. In addition to Love Alarm season 2 and Navillera, Song Kang is in talks to star in 2 more dramas this year. 
First up is JTBC's romance drama, I Already Know, which is another webtoon-inspired story. He is rumored to star alongside Han So Hee, who plays Yeo Da Kyung in The World of the Married (2020). 
Song Kang is also in preliminary discussions to star in another JTBC series, Cruel Story of Office Romance. For this show, Song Kang might partner up with What's Wrong with Secretary Kim's (2018) Park Min Young. 
Song Kang Is Set To Be Korea's Next Big Leading Man 
With his drop-dead good looks and impressive acting talent, Song Kang is definitely one of Korea's up-and-coming actors to watch out for. Make sure to catch all of the versatile actor's new works and follow his Instagram account.  
Also read:
7 Life Lessons From The Uncanny Counter Including Standing By Your Friends & Treating Others With Kindness