Yeezy Dumplings
The lovechild of Adidas and Kanye West, Yeezy sneakers are known as much for their wacky designs as they are for their high resale value. One of its latest prototypes is something that looks less alien than the infamous Foam Runners, and more like something you might find on your table during lunch. Cue the Yeezy 451, which has the internet buzzing because it looks like dumplings.
Yeezy 451s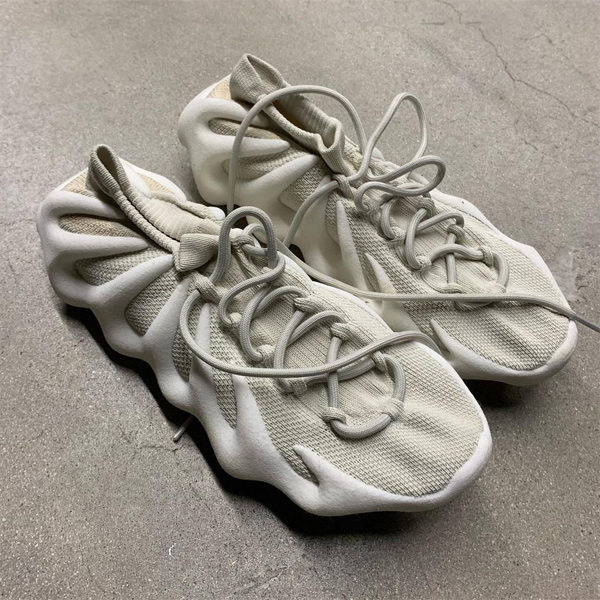 Source
The Yeezy 451s were first announced in 2018 as a prototype by none other than Kanye West himself in a tweet that has since been deleted. It is a running shoe with the soles crawling up the sides, which look similar to the folds on dumplings, gyozas and xiao long baos. 
Aside from a minor update in 2018 about the design of the sole, there had been no news about the prototype until this year. During Paris Fashion Week in March 2020, Kanye West was spotted wearing a white-and-cream sample version of the sneakers.
According to Yeezy Mafia, a sneaker collective that has all the information on the newest Yeezys, the 451s may be rebranded as the 450s. And, like the Foam Runners, there will be a slide version of the shoe as well.
Also read:
These Atas Spike Sneakers Cost Over $1,000 For Those Who Really Need Their Personal Space On The MRT
Netizens' reactions

Source
Reddit user ProfSauix posted this comparison photo between the Yeezy 451s and a bowl of dumplings. The cream and brown sneakers in particular look almost identical to the Asian side dish.

Source
Yeezy Mafia also posted the Yeezy 451 sample on Twitter, where netizens were quick to comment on the design. Most of the comments and retweets were along the lines of "Yeezy Dumplings" and "Add some soy sauce to it". Twitter user @idiotbanhmi even specified the type of dumpling,  dubbing the shoes "Yeezy Xiao Long Bao".

Source
Other netizens on Twitter and Reddit were also quick to make memes about it. One Reddit user inserted the 451 sample into a picture of a plate of dumplings, where it looked like it fit right in.
Netizens Compare This Pair Of Yeezy Sneakers To Dumplings You Get During Brunch
Just like the Spike Sneakers released this year, these Yeezy Sneakers may still be a popular shoe among hypebeasts, even if the designs are odd to everyone else. While there is no set release date for these shoes yet, sneaker insider py_leaks has announced that the shoes are likely to be released in February 2021.
Also read:
Balenciaga's Latest Sneaker Is A $8,790 Shoe That Can't Be Worn