Walter Van Beirendonck Spike Sneakers
Luxury brands are no strangers to quirky and wacky designs, like Bottega Veneta's "garbage bag" and "instant noodle shoes". If you're someone who hates it when people step on your shoes or stand too close to you on the MRT, these spike sneakers from Walter Van Beirendonck have you covered. 
The design
Source
The shoes are by Belgian fashion designer Walter Van Beirendonck in collaboration with Japanese designer Mikio Sakabe's Grounds. They are part of Walter Van Beirendonck's fall/winter 2020 collection, called W:A.R. 'WALTER ABOUT RIGHTS'.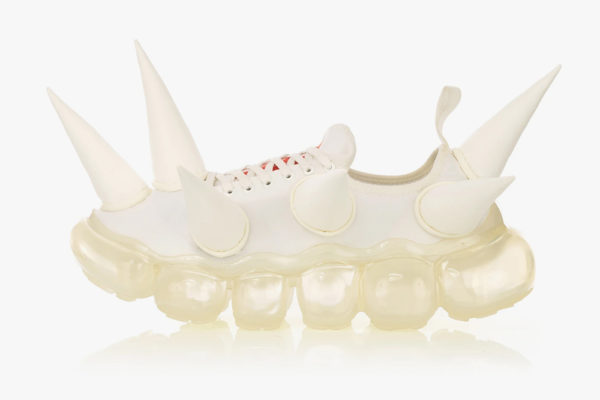 Source
Walter Van Beirendonck is best known for his avant-garde creations. The Spike Sneakers are an epic example of his design ethos. Each shoe has 6 elongated spikes: 2 on the toe box, 1 on the heel and 3 along the outer side. The upper body of this shoe is made of a stretchy knit material and the bottom features a bulbous, airbag-like sole.
The shoes come in 3 colours: red, white, and black.
Also read:
Louis Vuitton Has A Monogram Yoga Mat & Strap For Aspiring Tai Tais To Flex At The Gym
The rest of the collection
W:A.R. 'WALTER ABOUT RIGHTS' includes other spike jackets and shirts for different occasions, all of which are great for days when you just want to be left alone.

Source
These jackets take the current shoulder pad trend to the next level. They don't look as aggressive as the massive spikes on the other jackets, but they'll still help clear a path for you in crowded malls.

Source
This collection also includes spiked officewear, because why not? Wear these blazers at your next meeting to send a strong message to any nosy coworkers.

Source
Bringing your chou chou out and about might not be the most convenient. Fret not. This teddy bear pullover will give off warm and fuzzy vibes, and act as your security blanket sweater on the go.
These Spike Sneakers Cost Over $1,000 But Are Perfect For Maintaining Social Distancing
The price to keep people away with these intimidating kicks is €840 (~S$1,344). You can find a list of stockists over on Walter van Bierendonck's website. We've also reached out to the brand's local stockist, Dover Street Market Singapore, to find out if the shoes will be making their way here, so watch this space for updates.
Also read:
Prada & Adidas Are Finally Releasing Their Second Round Of Superstar Sneakers, Hypebaes Mark Your Calendars