Aesthetic Bars In Singapore
If we just wanted a drink, opening a bottle at home is much cheaper. However, hitting a bar on a night out is much more than that, it's about the full experience. This curated list of aesthetic bars in Singapore are sourced from streetwise nightlife enthusiasts for their amazing atmosphere. We've also recommended some delicious treats to go with their drinks—be it a fancy cocktail or just yummy beer on tap.
If you are on a budget, you can also check out our compilation of Happy Hour deals!
1. Almost Famous Craft Beer Bar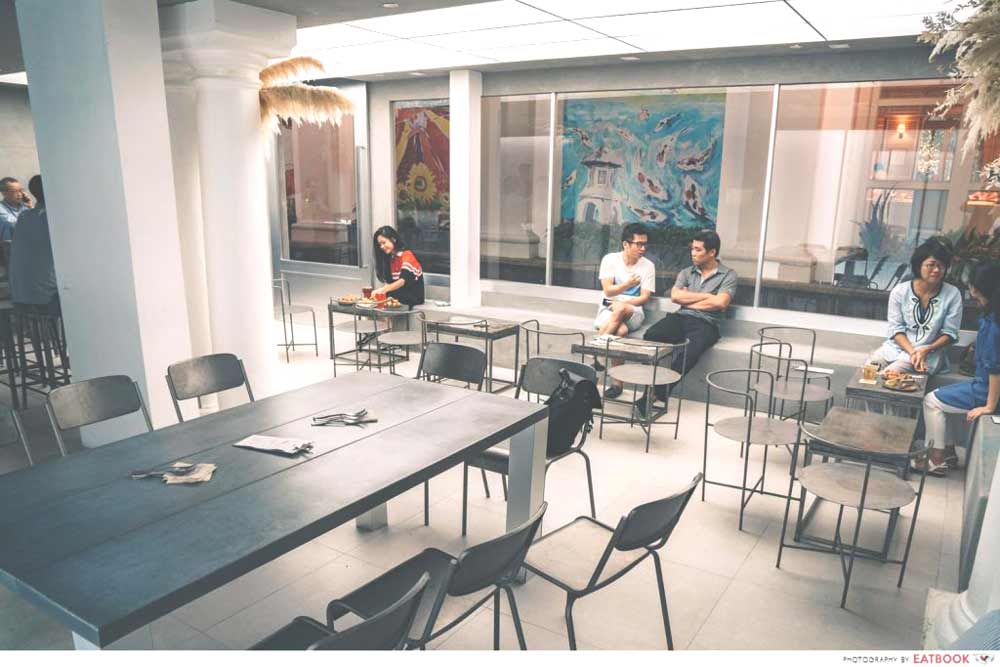 Awash in a grey concrete finish and filled with steel furniture, this industrial-looking bar is refreshing if you are tired of seeing beer ads plastered across walls.
The bar has put an emphasis on importing craft beers from regional localities like Hong Kong, Vietnam and Cambodia. Western, Eastern and fusion cuisines to pair with beer create a unique gastronomical adventure.
Local craft beers on tap include Brewlander's Love Wild IPA ($14) with flavours of pineapple and passion fruit. Brewerkz's Green Gunpowder Double IPA ($14) with citrus, mango and grapefruit flavours will be perfect if you prefer a more bitter drink.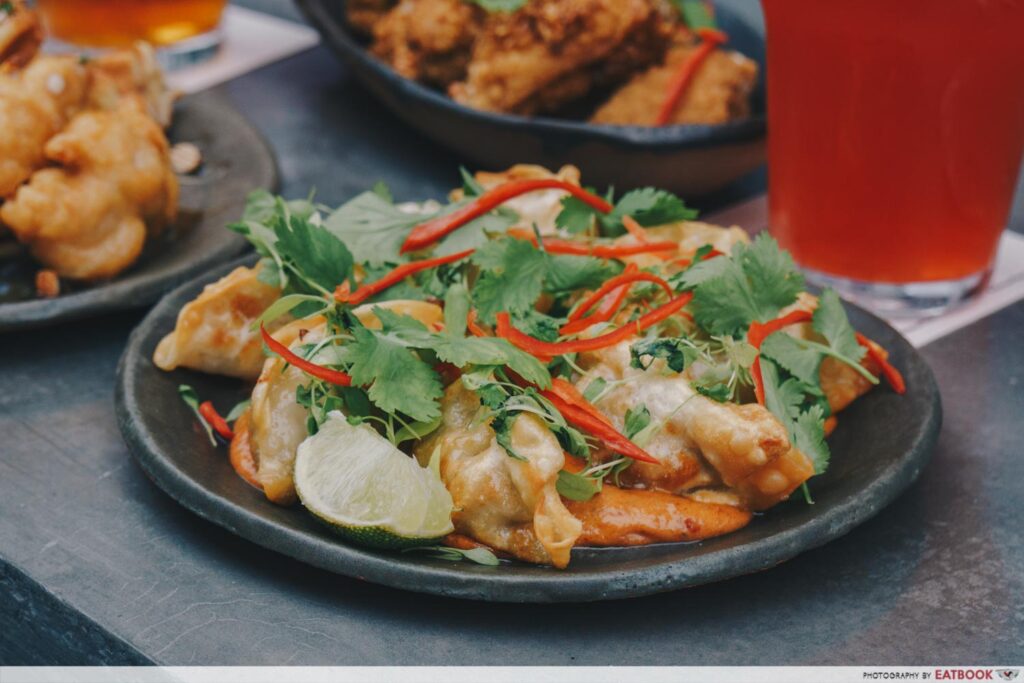 The Almost Famous Duck ($10) garnished with Japanese cucumber, grapefruit and Peking sauce sounds like a steal. And how about chowing down on the Tom Yum Gyoza ($10, pictured above), crunchy fried dumplings atop creamy tom yum sauce, with Pasteur Street's Cyclo Imperial Chocolate Stout ($20)? Sounds like a great pairing. 
Address: 30 Victoria Street, #01-06, CHIJMES, Singapore 187996
Opening hours: 3pm to 12am (Daily)
Website | Facebook | Instagram
2. The Old Man Singapore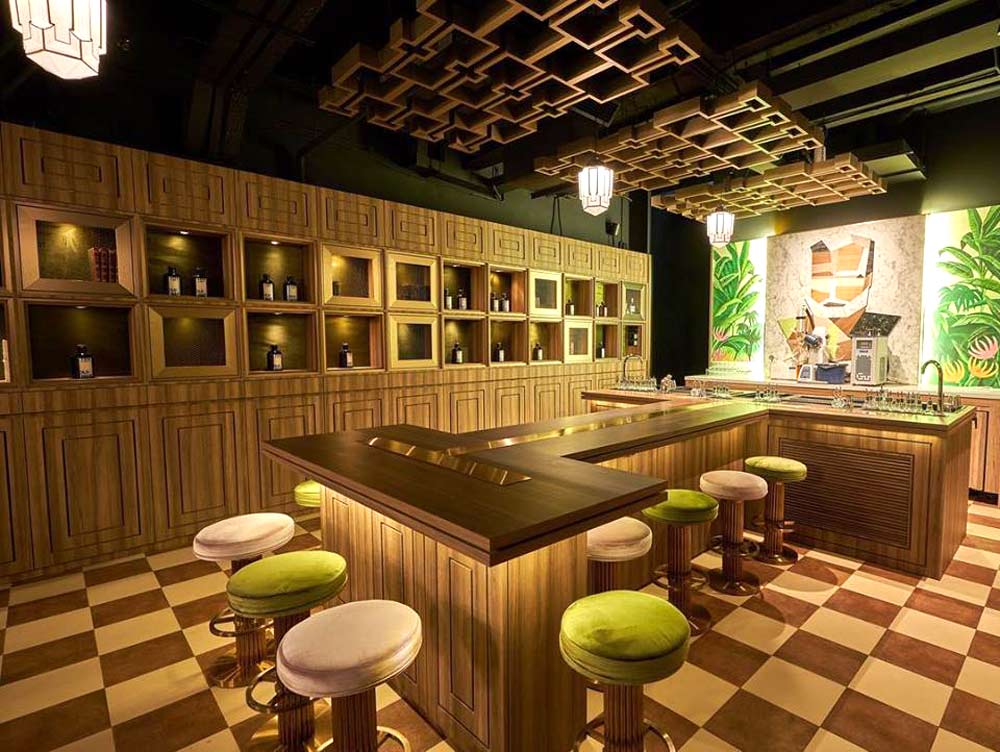 Source
Inspired by Ernest Hemingway's The Old Man and the Sea, this award-winning bar from Hong Kong has opened a branch in Singapore. Just look for a quaint pineapple lamp on Keong Saik Road and enter into a world of literature-inspired cocktails.
The cosy space sports an I-shaped counter so you can witness the drink wizards at work while they create your favourite cocktail.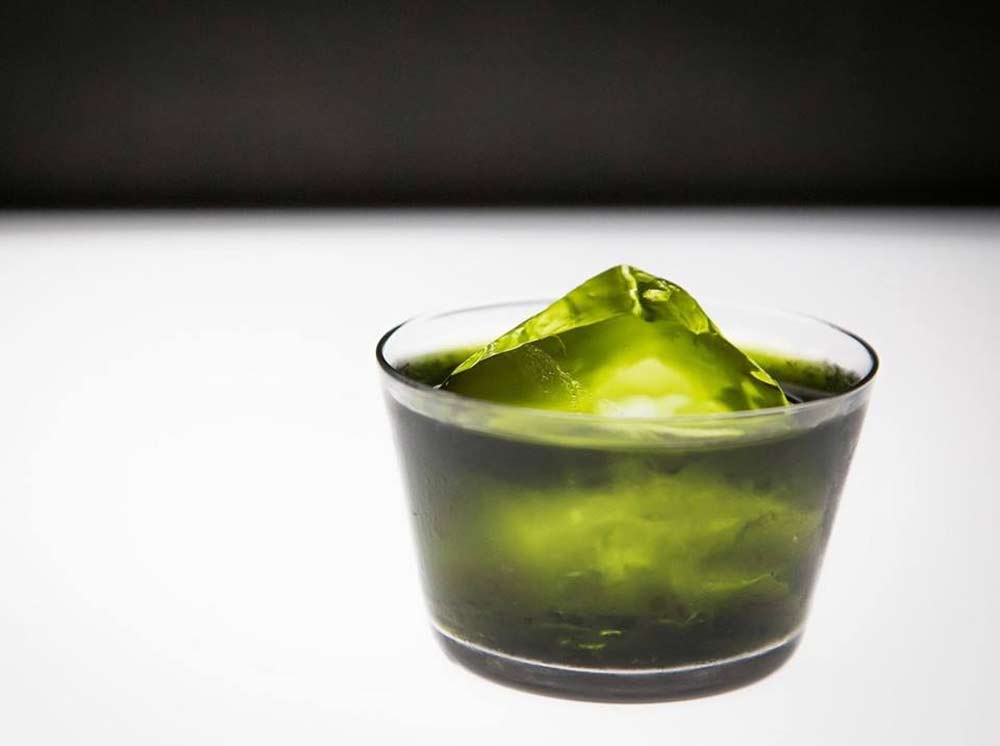 Source
The Sun Also Rises (above) ($17) is a twist on the Negroni, made with curry-leaf gin and sous vide pandan leaves, which also gives its gorgeous emerald green coloration. Alternatively, try A Farewell To Arms ($17), dusted with sous-vide nori seaweed, it is sure to burst in your mouth with flavours.  
Address: 55 Keong Saik Road, #01-04, Singapore 089158
Opening hours: 5pm to 11.45pm (Mondays to Saturdays) | Closed on Sundays
3. Atlas Bar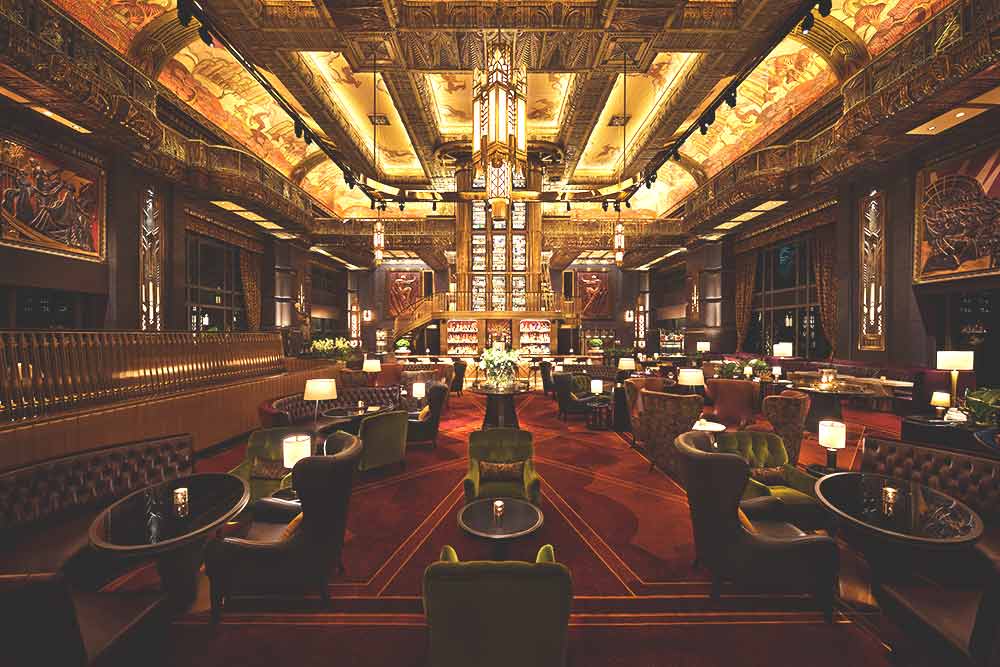 If it's your dream to step into the world of The Great Gatsby, Atlas Bar is the best place in Singapore to fulfil that dream. Inspired by the Art Deco movement in New York and Europe during the 1920s, one of the most aesthetic bars in Singapore is decked out in bronze finishes and murals similar to those in the iconic Rockefeller Center in New York City.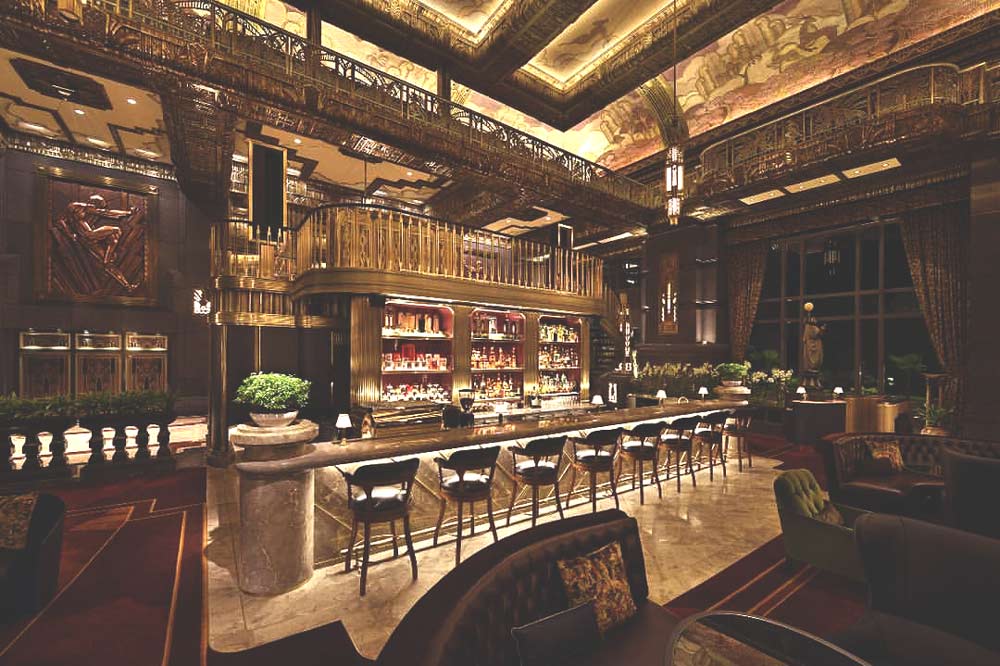 Source
True to its aesthetic, Atlas Bar does its best to revive old-world flavours in an old-world setting. Its ATLAS Martini ($25) is a classic gin cocktail with vermouth, orange bitters and champagne vinegar. Otherwise, we'd opt for a simple ATLAS G&T ($19) with a burst of fresh citrus because it's fit for any occasion.   
Atlas Bar ranked 8th on the The World's 50 Best Bars in 2018. Get lost in the padded leather seats and plush red carpet as you sip on one of the world's best collections of gin. Butter-Poached Deep Sea Prawns ($26) with yuzu spiced hollandaise sauce or Belgian Pomme Frites ($12) with horseradish bacon mayo also make great pairings for a night out.
Address: 600 North Bridge Road, Parkview Square, Singapore 188778
Opening hours: 10am to 1am (Mondays to Thursdays) | 10am to 2am (Fridays) | 3pm to 2am (Saturdays) | Closed on Sundays
Website | Facebook | Instagram
4. Telok Ayer Arts Club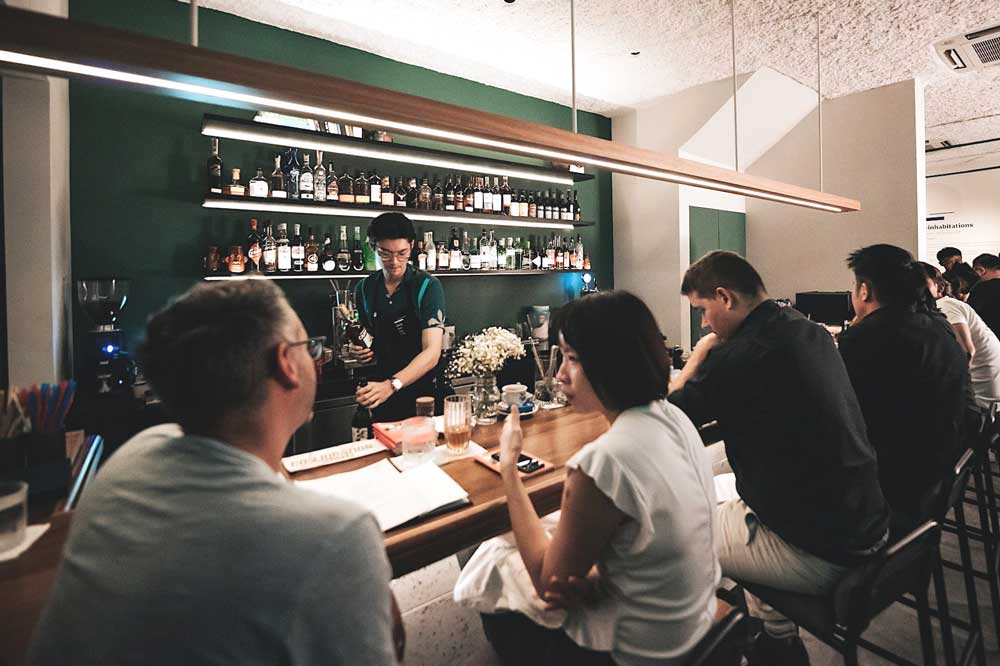 True to its name, at Telok Ayer Arts Club, you can enjoy your favourite drink while appreciating the artwork on the walls. This space aims to bring together local musicians, artists and a creative mix of cocktails.
How about a Spiced Cup ($24) made with Hendrick's Gin, ginger ale, cucumber and Tabasco? Or a Japanese favourite, the High Ball ($14), which mixes Choya Yuzu liqueur, whisky and citrus to give you a good feeling all night long?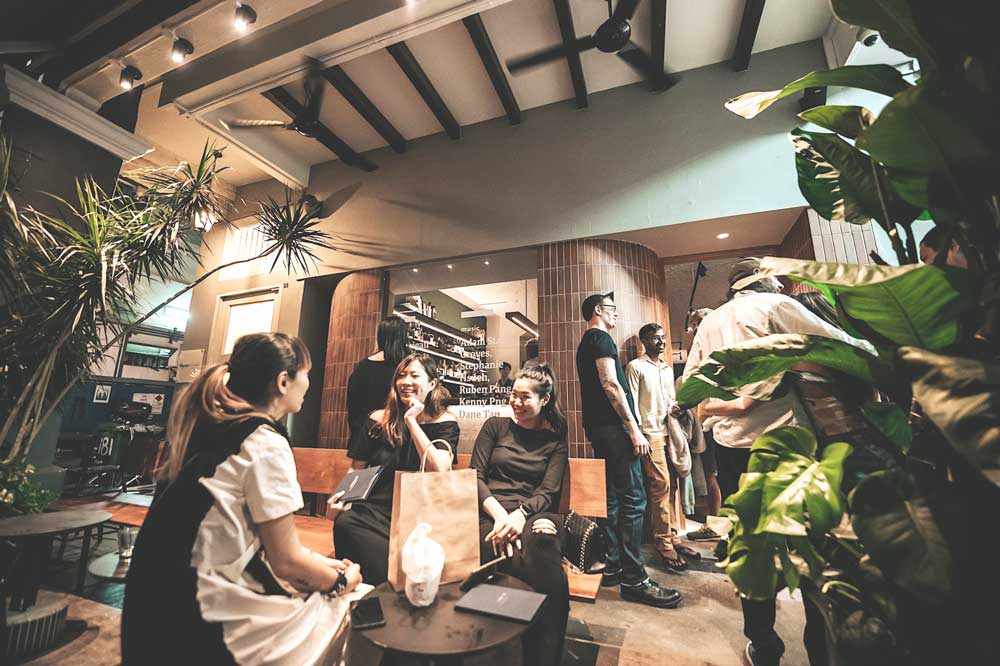 Source
Have a fun night enjoying their drinks with appetisers like Chilli Crab Slider with softshell crab and sambal ($16), or desserts such as Chendol Mousse ($12) and get to know the local arts community better.   
Address: 2 McCallum Street, Singapore 069043
Opening hours: 11am to 11pm (Mondays to Saturdays) | Closed on Sundays
Website | Facebook | Instagram
Also read:
10 Rooftop Bars in Singapore For Grand Views, Great Drinks And Good Vibes
5. Orh Gao Taproom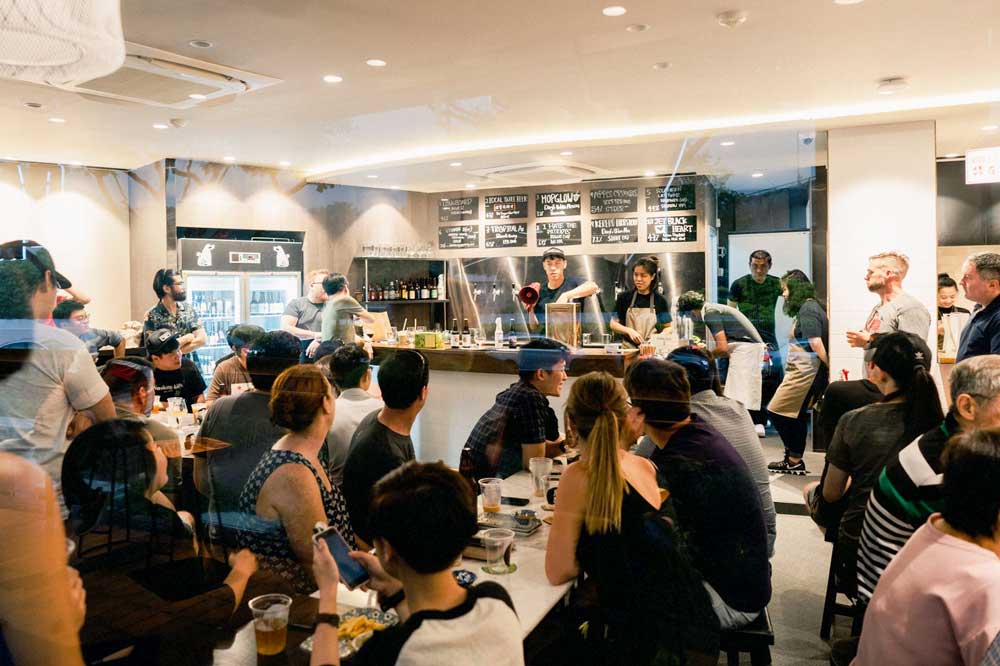 Killiney Kopitiam by day, beer-dispensing locality by night, this hidden gem aims to recreate the gotong royong (kampung) spirit amongst Bukit Timah's residents who have little chance to interact with neighbours due to their massive bungalows.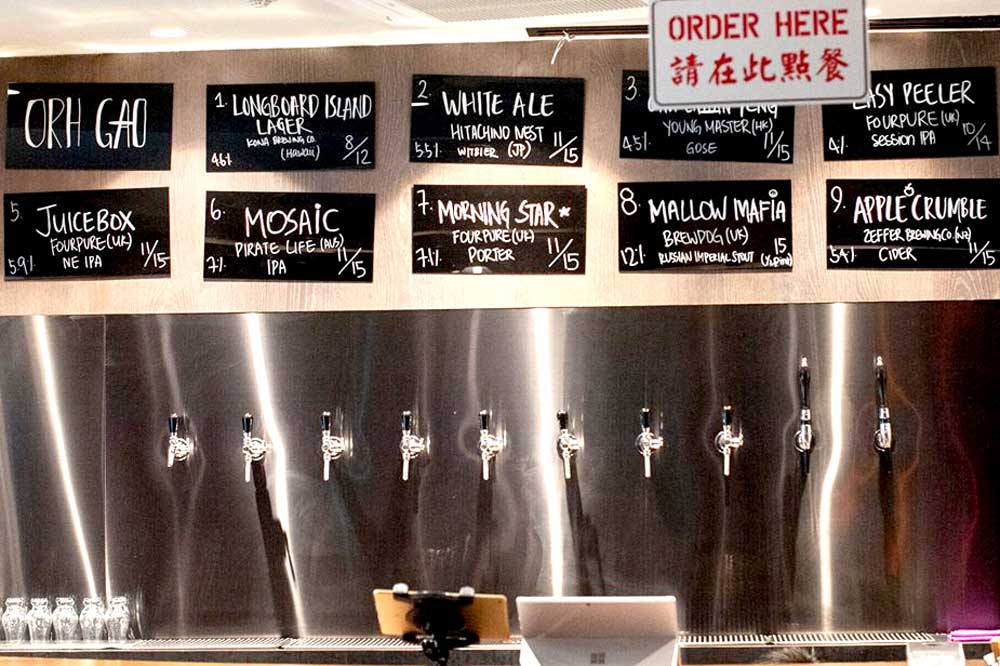 Source
It specialises in beers on tap, with pints ranging from $8 to $15. Try the Apple Crumble ($11) from New Zealand's Zeffer Cider if you enjoy the fragrance of freshly picked apples or just a simple White Ale ($11) from Hitachino Nest, which is always refreshing for Singapore's humid weather.   
Get local favourites like Har Cheong Gai ($11) and Kaya Cheese Stick ($6) to pair with the stout this joint is known for. Apparently, stout from the tap tastes much better than the bottled Guinness you can order from the kopitiam, so taste the black magic at Orh Gao Taproom.
Address: 10 Jalan Serene, Serene Centre, Singapore 258748
Opening hours: 4pm to 11pm (Tuesdays to Thursdays) | 4pm to 12am (Fridays) | 12pm to 12am (Saturdays) | 12pm to 11pm (Sundays) | Closed on Mondays
6. Ah Sam Cold Drink Stall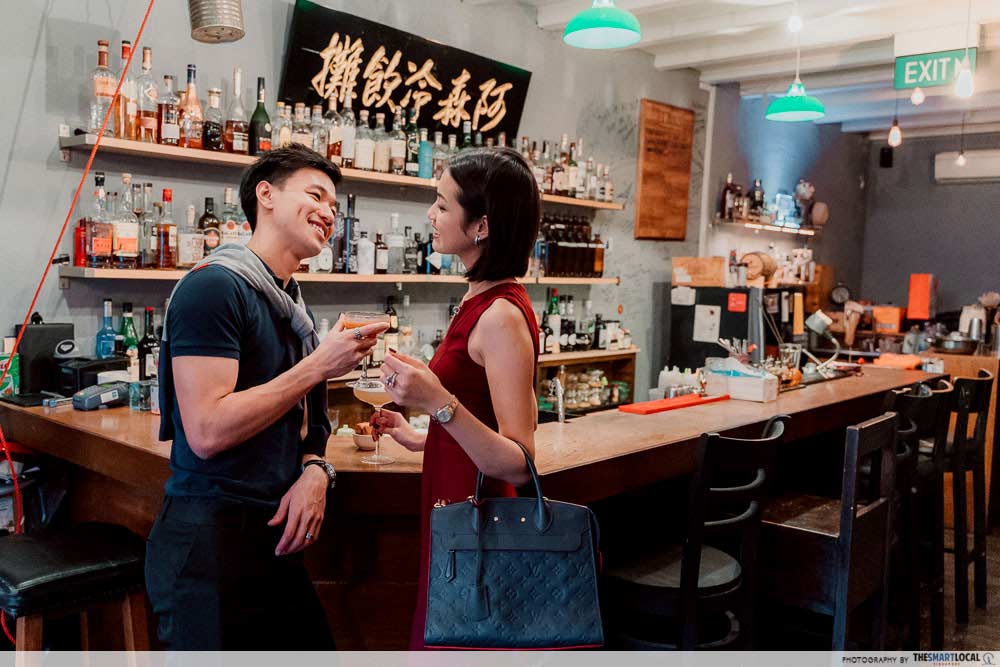 If you are looking for a local experience, Ah Sam Cold Drink Stall will hit the spot. It turns Singaporean flavours like chilli crab and laksa into cocktails. Furthermore, your favourite hawker fare such as Hokkien Mee ($12) are also served here.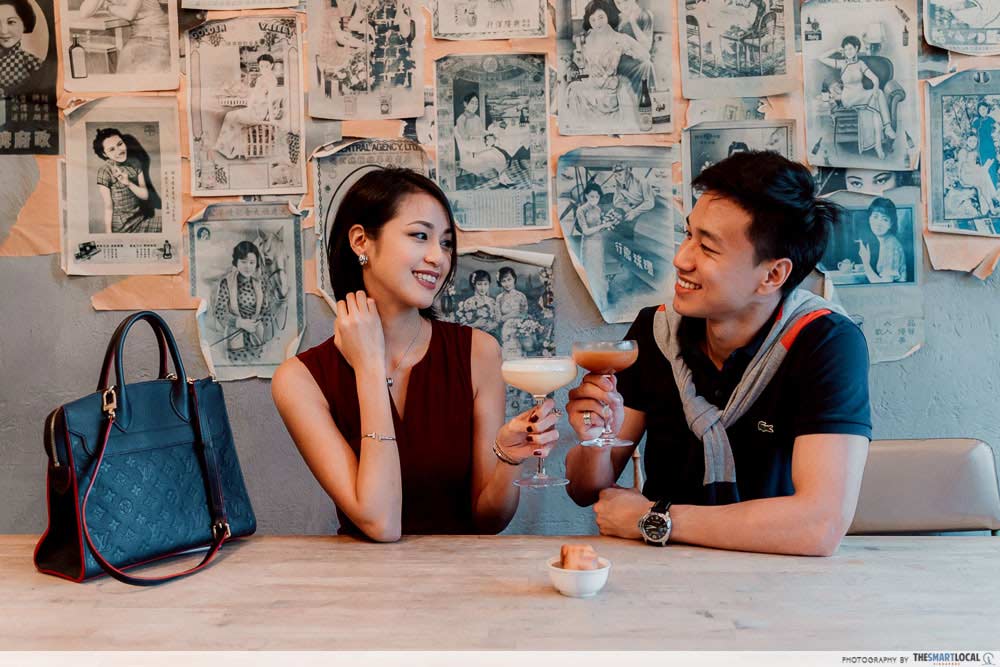 Its concrete wall with vintage posters exudes the romantic vibes of a Wong Kar Wai film. Head there if you are in the mood for love or if you're just in the mood for Char Kuey Teow ($12) and a Laksa cocktail ($24).
Address: 60 Boat Quay, Singapore 049848
Opening hours: 6pm to 12am (Mondays to Thursdays) | 6pm to 2am (Fridays to Saturdays) | Closed on Sundays
7. Operation Dagger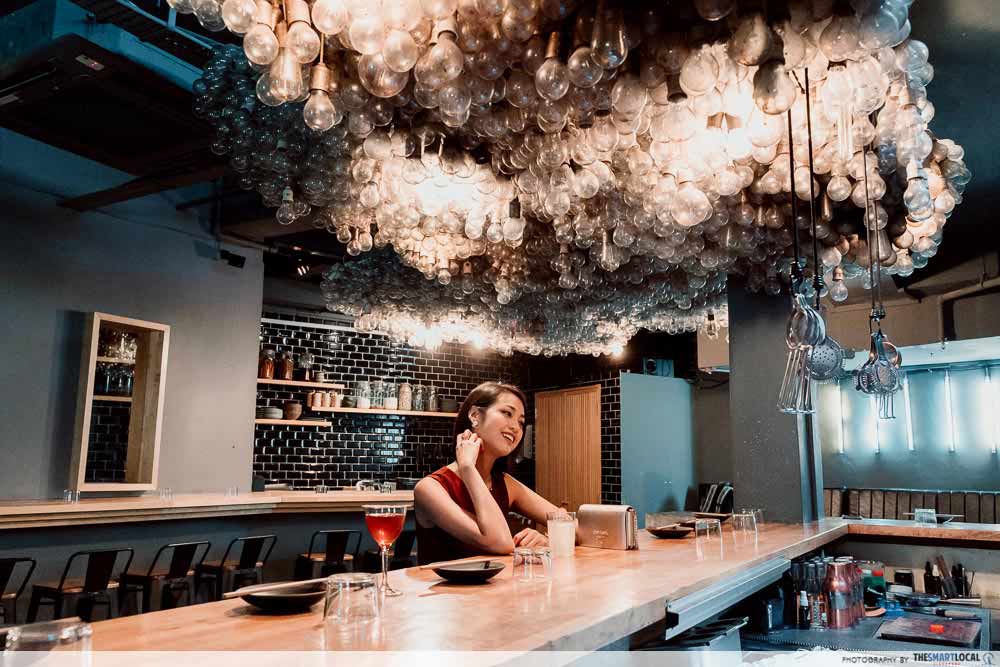 Look for a grey door with 6 white squares that will lead you to this underground surprise. The first thing you'll notice is Operation Dagger's ceiling, which is bedazzled with dozens of light bulbs.
The bar is decked out with dark bottles that reminds one of an Aesop store, except you can drink the ingredients from the bottles. This joint specialises in unique cocktails like Caramelo Koala ($25), infused with the flavours of eucalyptus and garnished with a caramel-filled olive to provide a unique surprise at the end of your drink.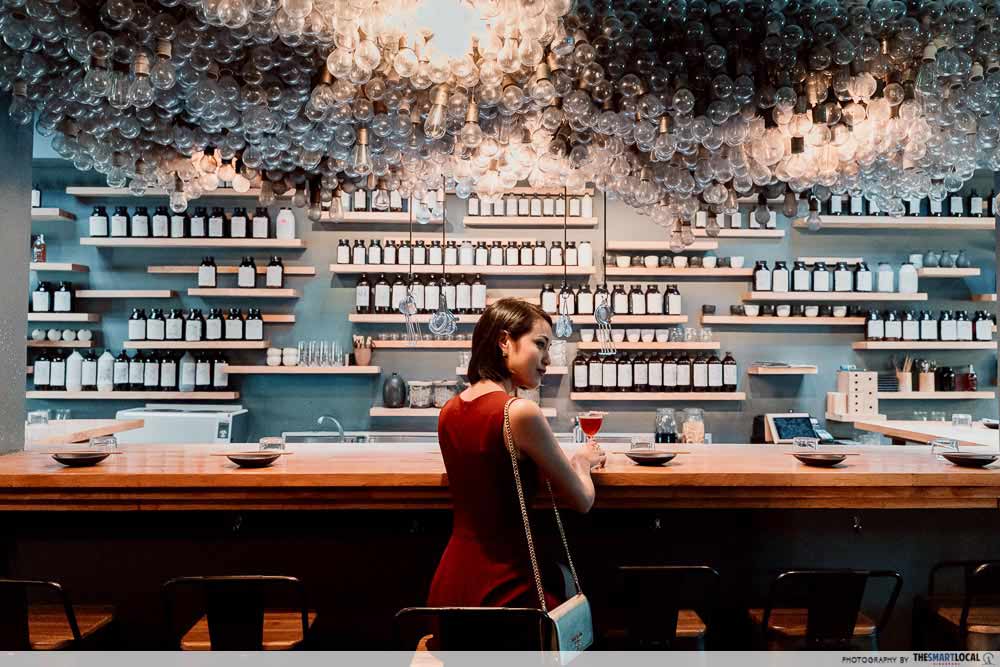 If you like your dessert in the form of a drink, give Hot + Cold ($25) a shot. It's a pineapple-based drink topped off with a creamy coconut and white chocolate foam. Operation Dagger is well-known for its off-the-menu drinks. Depending on the flavour profile you want, ask the friendly bartender to concoct something to surprise you.  
For food items, Oyster Ice Cream ($25) is a must-try for its sheer absurdity. If you are feeling indecisive, pick the 3-course omakase ($95) and let the experts decide on your food and drink.   
Address: 7 Ann Siang Hill, #B1-01, Singapore 069791
Opening hours: 6pm to 12am (Mondays to Saturdays) | Closed on Sundays
Website | Facebook | Instagram
8. Fu Lin Bar & Kitchen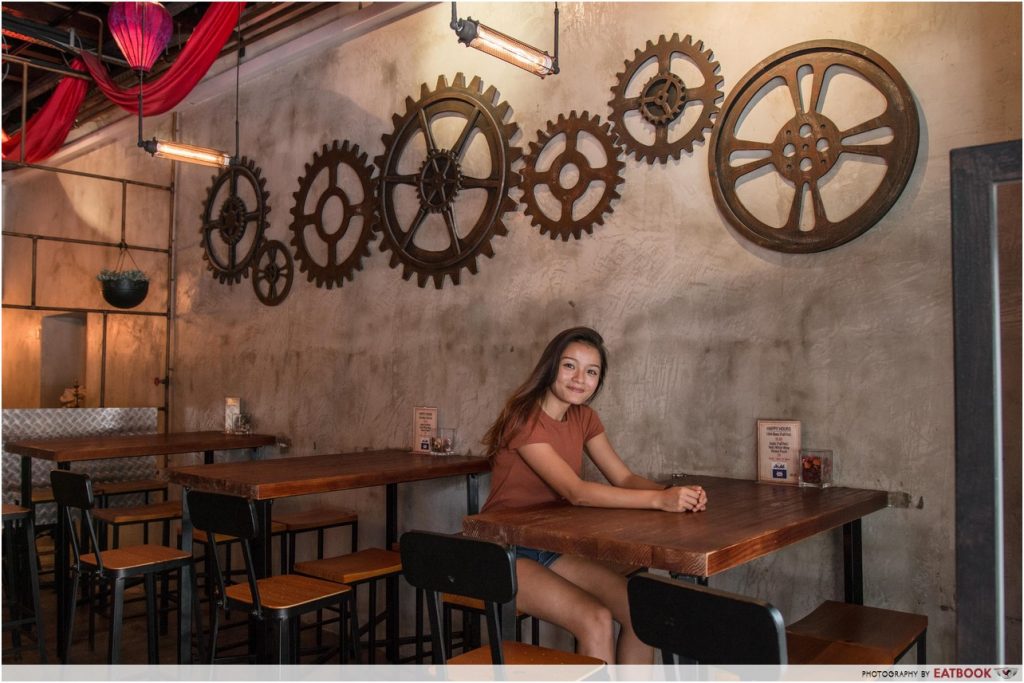 This outlet serves a mean yong tau foo to please the hungry office crowd during the day, especially if you like your YTF deep fried to a golden crisp. At night, it becomes a favourite joint of white-collar workers who want a relaxing atmosphere to sip on cocktails and innovative fusion bar grub.
With its wide range of drinks, from standard fare like a Cosmopolitan ($13) to the more experimental House Cocktails ($20), there's something for everyone.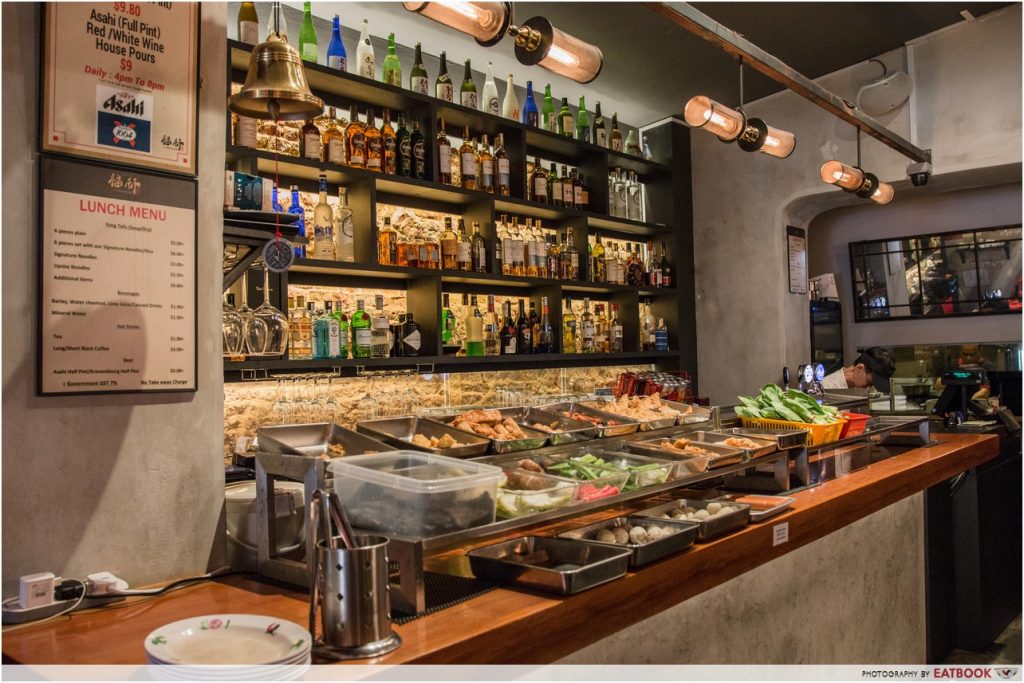 The small plates are great if you had a heavy lunch and just want tapas-type munchies and a drink. Drown your sorrows from the work week with Truffle Tofu ($9) sprinkled with sea salt. Wash it all down with an Asahi Black draft.
There is also a second outlet called Fu Lin Bar & Wok at 50 Circular Road with a similar menu.   
Address: 127 Telok Ayer Street, Singapore 068596
Opening hours: 11am to 12am (Mondays to Fridays) | 12pm to 12am (Saturdays) | Closed on Sundays
Aesthetic Bars In Singapore For A Stylish Night Out
Armed with this list of aesthetic bars in Singapore, you never have to be bored on a Saturday night again.
Also read:
14 Romantic Rooftop Bars In Singapore For Date Nights Under The Stars