Jigger & Pony
Here's some good news amidst a slew of not-so-great ones: Jigger & Pony just clinched the top spot at Asia's 50 Best Bars 2020 awards. On top of that, the cocktail bar is also celebrating its 8th anniversary.
To mark this double celebration in style, the bar has launched 2 cocktail bottles, limited to 100 bottles each. Both bottles feature colourful labels designed by local artist, Shanlyn C.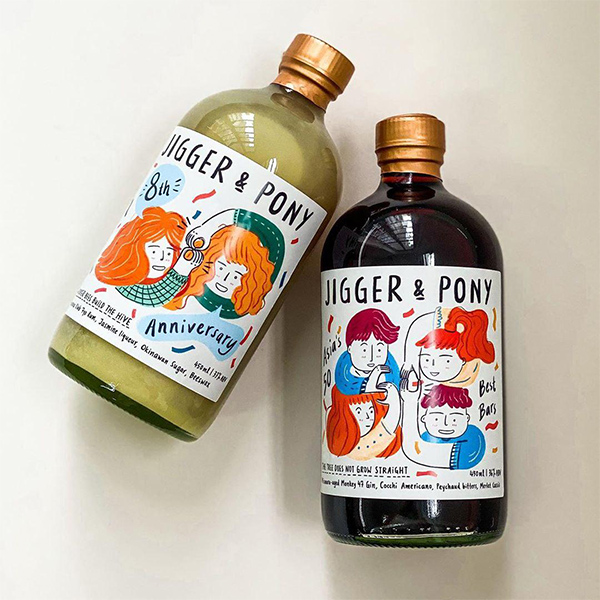 Source
The Tree Does Not Grow Straight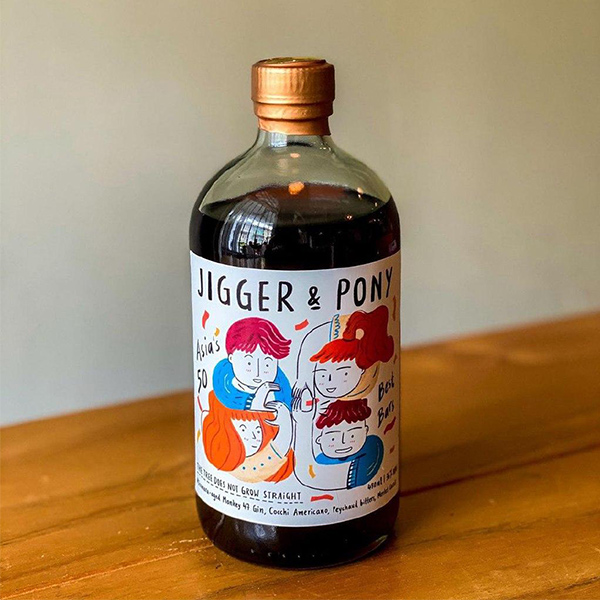 Source
First up, The Tree Does Not Grow Straight, to mark being numero uno on Asia's 50 Best Bars 2020 list. The cocktail contains Mizunara-aged Monkey 47 Gin, Cocchi Americano, Peychaud's Bitters and Merlet Cassis.
The drink was inspired by Mizunara oak, a rare tree that is deemed difficult to use because it doesn't grow up straight. According to the description on the website, it is meant to reflect " how the path up and towards recovery in the future is not straight." It's been a challenging period for the F&B industry, which means it is now even more important to celebrate every win.⠀⠀⠀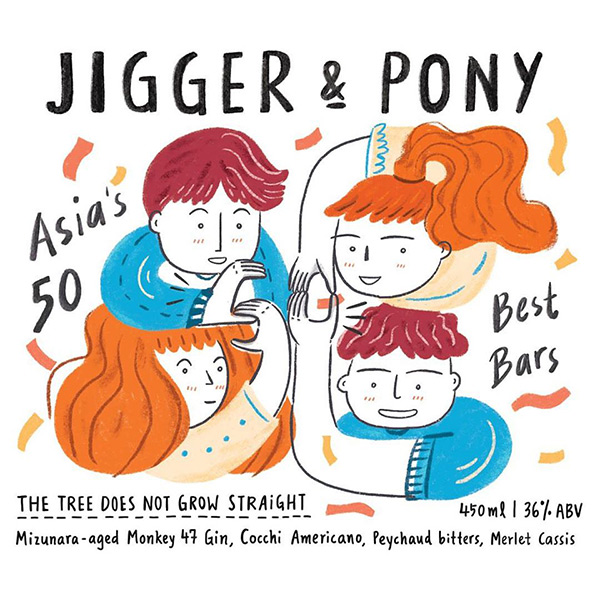 Source
Here's a closer look at the label, which sees 4 friends coming together to form the number 50 with their hands.
In a Facebook post, the illustrator Shanlyn shared: "When the situation gets better, families and friends can gather again, catching up with each other and taking photos together!" Now that's something we can all look forward to doing.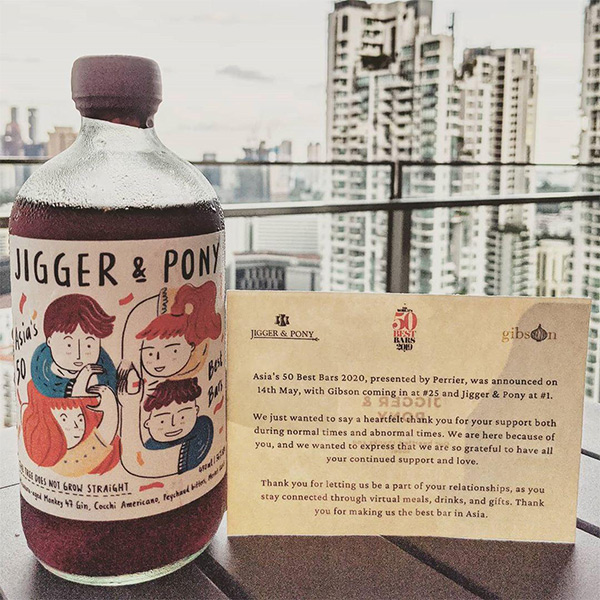 Source
Every order comes with a heartfelt thank-you note from the bar to bring some warm and fuzzy vibes into your home.
The 450ml bottle retails for $85. The cocktail is meant to be drunk on the rocks.
Also read:
Hello Kitty x Young Master Beer Is Made Of Sugar, Spice & Everything Nice
Worker Bees Build The Hive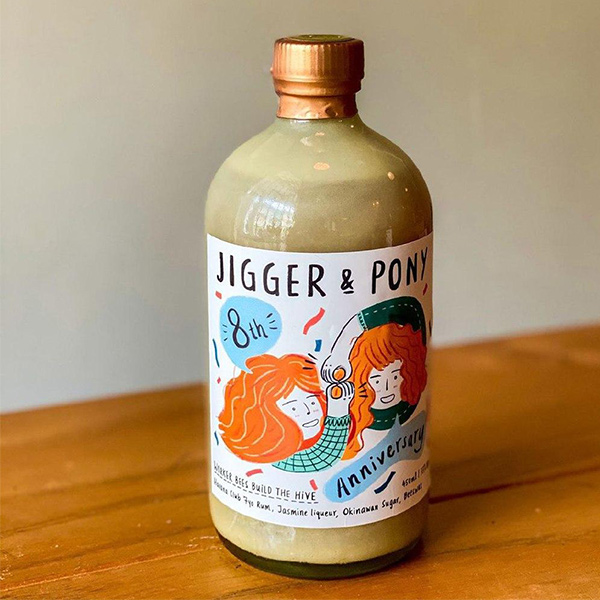 Source
The second cocktail in the Celebration Bottles Series is Worker Bees Build the Hive. It's a mix of Havana Club 7yo Rum, jasmine liqueur, okinawan sugar and beeswax.
As its name suggests, this cocktail is a tribute to all the workers in the Jigger & Pony group. In 8 years, it has grown from 1 bar along Amoy Street to encompass 4 bars and a restaurant: Jigger & Pony at Amara Hotel, Gibson, Humpback and Live Twice at Bukit Pasoh Road, and Caffe Fernet at Collyer Quay.
On this happy occasion, the bar acknowledges in its description of this cocktail: "Just as bees work hard to produce the wax that is the building blocks of a hive, all our ponies work hard and in tandem in order to offer craft cocktails with convivial hospitality to all our guests."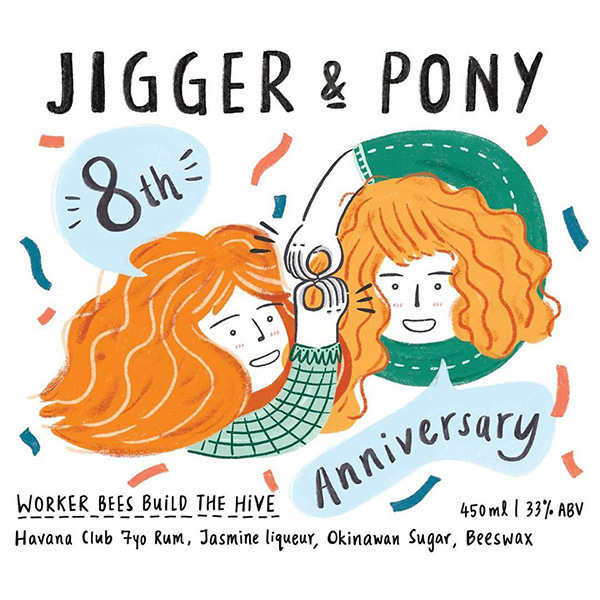 Source
This bottle's label sees 2 people coming together to form the number "8" with their hands. This time around, it's a pose those staying at home with their siblings or partner can still partake in.
Like the first cocktail, the 450ml bottle retails for $85. The cocktail is also meant to be drunk on the rocks.
Jigger & Pony Celebrates Being Asia's Best Bar 2020
Order a bottle of each cocktail for your best girlfriends from Humpback's website, and celebrate with Jigger & Pony by playing some Asian drinking games over Zoom. Islandwide delivery is available at $8 and free delivery is available for orders above $150.
Also read:
These Asian Drinking Games By Two Sisters Prove You Can Still Have Fun By Staying At Home