Official Animal Crossing Merchandise
Nintendo hit a home run this year with the release of Animal Crossing: New Horizons. Whether you were forced to stay home because of a lockdown, shelter-in-place or Circuit Breaker, millions of people worldwide found themselves united in their passion for the game. Now, you can take your love to the next level by decorating your house with Animal Crossing merchandise too.
Nintendo Tokyo's Dōbutsu no Mori ("Animal Forest" in English) collection consists of all sorts of items you can use around the house. Think kitchen mittens, jars, cups, room shoes and even skincare. The Animal Crossing merchandise is exclusive to the official Nintendo store in Tokyo's Shibuya Parco. And while you can't check out the shop for yourself just yet, the collection is now available for pre-order on Nintendo Tokyo's My Nintendo online store. The items will be delivered by the end of October.
In the kitchen
Circuit Bakers, rejoice! The Animal Crossing Kitchen Mitten combines 2 of your biggest Circuit Breaker passions into 1 adorable item. And if you find yourself no longer having the time to cook or bake now that Phase 2 is here, well, you can always keep it as a reminder of what an extraordinary time it was to be alive.
You'll spot many characters depicted on the colourful mitten, including Timmy and Tommy, as well as villagers like Bunnie and Filbert. The mitten measures around 28cm by 20cm. Made of cotton and polyester, it retails for ¥1,430 (~S$18.60).
Keep yourself entertained while eating with the 2 lunch mats. The first is a repeat of the same design as the kitchen mitten above. The other is a yellow and white checkered print with the characters lined across the front. Both lunch mats measure around 32cm by 42cm. They retail for ¥990 (~S$12.90) each.
If your home is a showcase for minimalist interior design in Singapore, fret not. Store your food in these Animal Crossing canisters, which come in 3 different sizes. The small canister (left) features Marshal and Hamlet. It retails for ¥1,650 (~S$21.45). The medium canister (middle) stars Mabel and Sable. It retails for ¥1,870 (~S$24.30). The large canister (right) depicts K.K Slider performing. It retails for ¥2,640 (~S$34.30).
Also read:
Minimalist Interior Design In Singapore: How To MUJI-fy Your Home, Pick The Right ID, Plus Cost-Saving & Design Tips
Around the house
Besides the kitchen, there are more Animal Crossing products you can use around the home.
These include room shoes in pastel yellow and pink, as well as another in mint green. They retail for ¥2,530 (~S$32.90) each.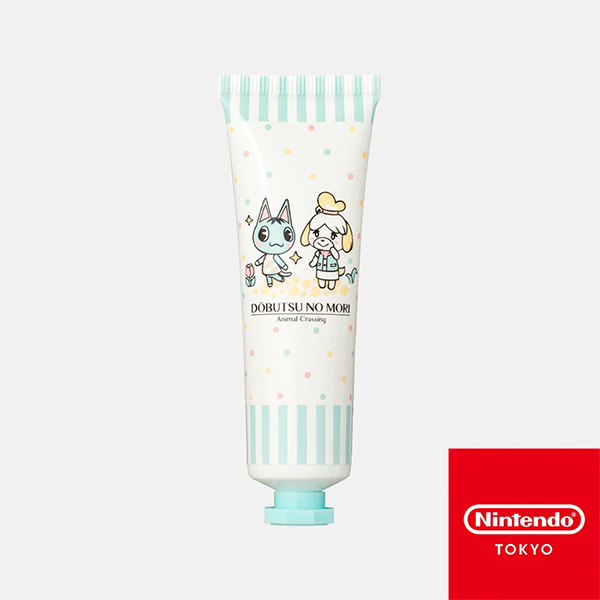 Skincare products are part of the roster too. Keep the hand cream and lip balm on-hand so you can stay moisturised while working at your home office set-up. The hand cream retails for ¥880 (~S$11.40).
Animal Crossing Merchandise Lets You Take Your Love To The Next Level
The Animal Crossing collection includes merchandise like homeware, apparel, stationery and more lifestyle items. It is available for pre-order on the My Nintendo online store. Shipping is limited to Japan for now, but you can try submitting a request on Airfrov in the meantime.
All images courtesy of Nintendo Japan.
Also read:
Crowdmade Has Animal Crossing Merchandise Including Tom Nook Reusable Face Masks For The Perfect CB Package