Puma x Animal Crossing
Through creating your dream island and becoming BFFs with animal villagers, Animal Crossing New Horizons was the boost of serotonin we all needed in this pandemic. Earlier this year, UNIQLO x Animal Crossing released a collection of tees and towels inspired by the game. 
Since we obviously can't get enough of Animal Crossing merch, Puma has teamed up with Nintendo for an upcoming collection of sneakers, hoodies and more tees. If you're still struggling to pay off your home loans to Tom Nook— that can wait. It's time to spend all your "bells" on this collection instead.
Footwear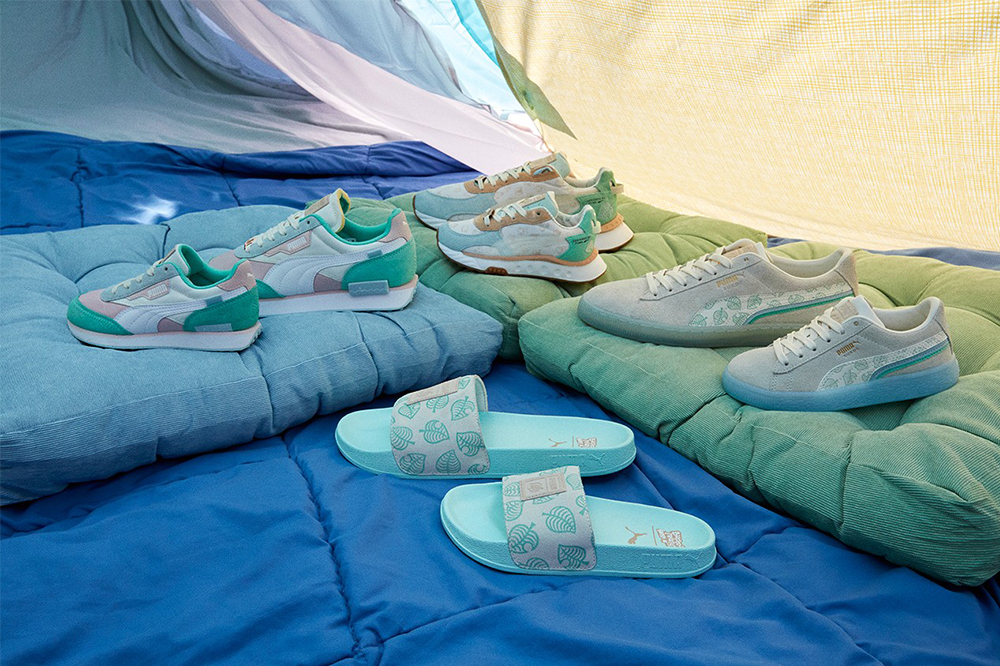 There are 3 pairs of sneakers and one pair of slides in this collection. The slides stand out from the rest of the footwear as it comes in a bright pastel blue colour.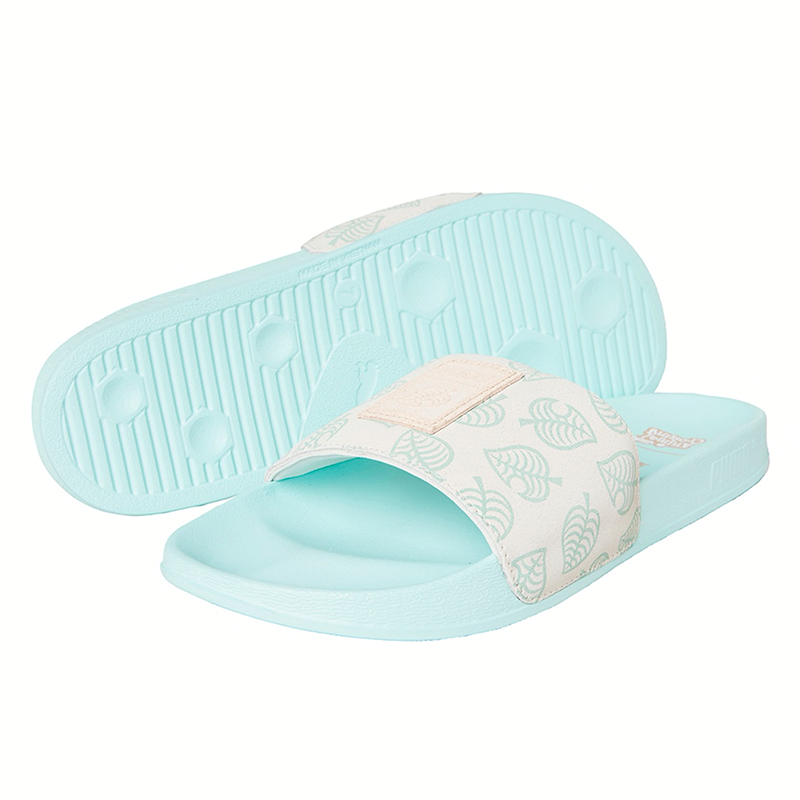 Taking Puma's iconic Leadcat sandals, the straps on the top are designed with leaf patterns inspired by Nook Inc. merch, which you can claim with Nook Miles in the game.
Sneakers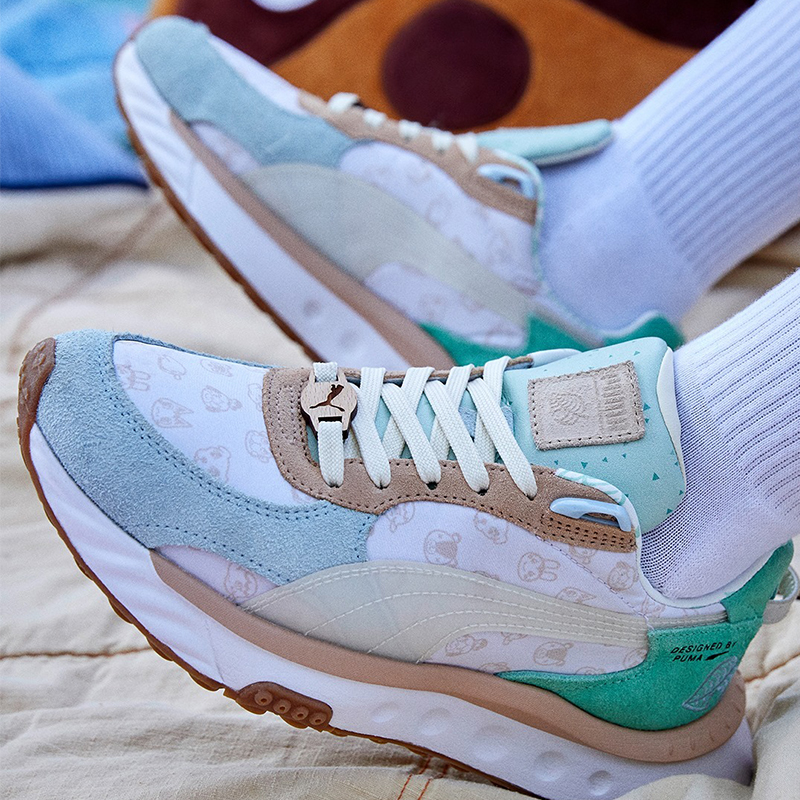 The Wild Rider Men's Sneakers come in neutral tones of brown, blue and green surrounded by Animal Crossing villagers. If you miss your villagers while you're out and not playing the game, take these prints of K.K. Slider, Isabelle and more on the go.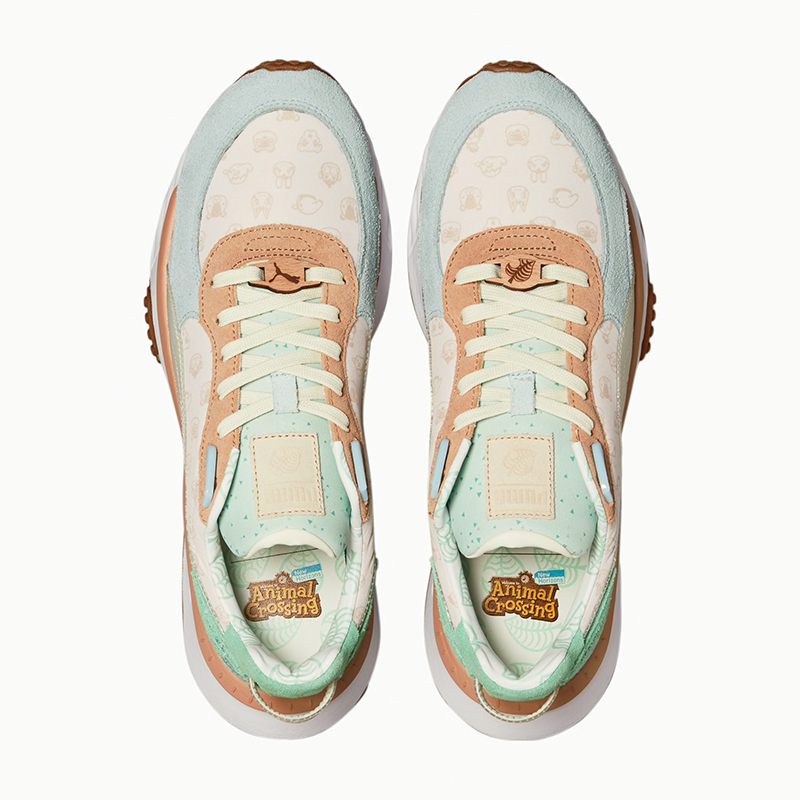 The front of the laces includes wooden charms that remind us of in-game actions like chopping trees for wood to craft DIY recipes. These charms feature the Puma logo and Nook Inc.'s leaf logo, while the insoles have leaves surrounding the Animal Crossing New Horizon logo — a familiar image we see when booting up the game.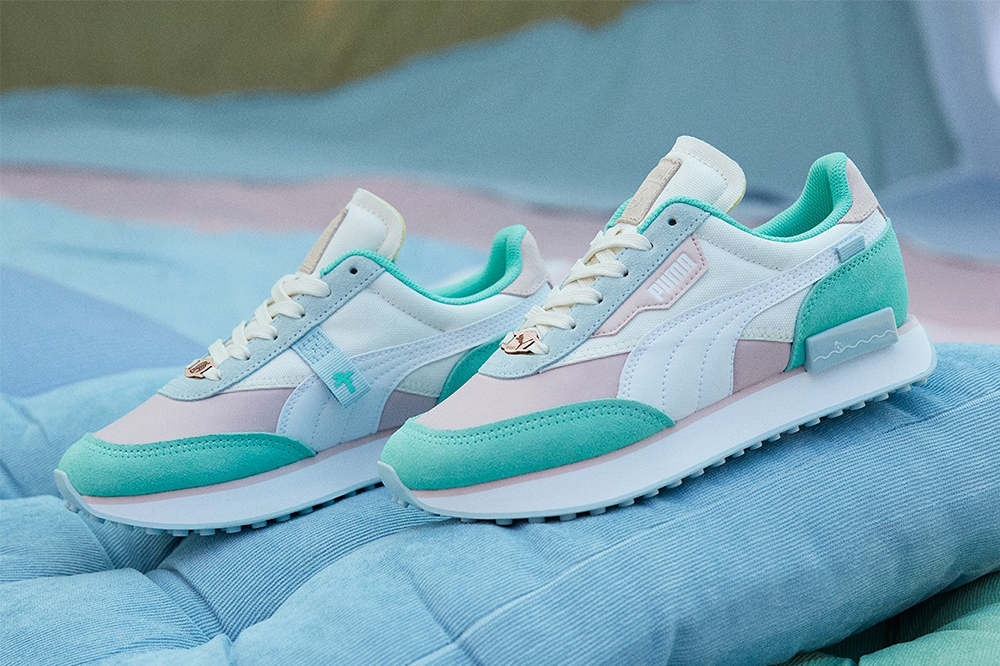 For those who prefer going for the soft-girl look, the Future Rider Women's Sneakers has pastel colours to best suit that vibe. While we still can't travel for now, wear these playful colours to explore Singapore like how you would explore tropical islands with Dodo Airlines.
Near the heel tabs, there is a motif of a message bottle floating in the sea. Puma pays tribute to the fun game feature of finding DIY recipes washed up on the beach.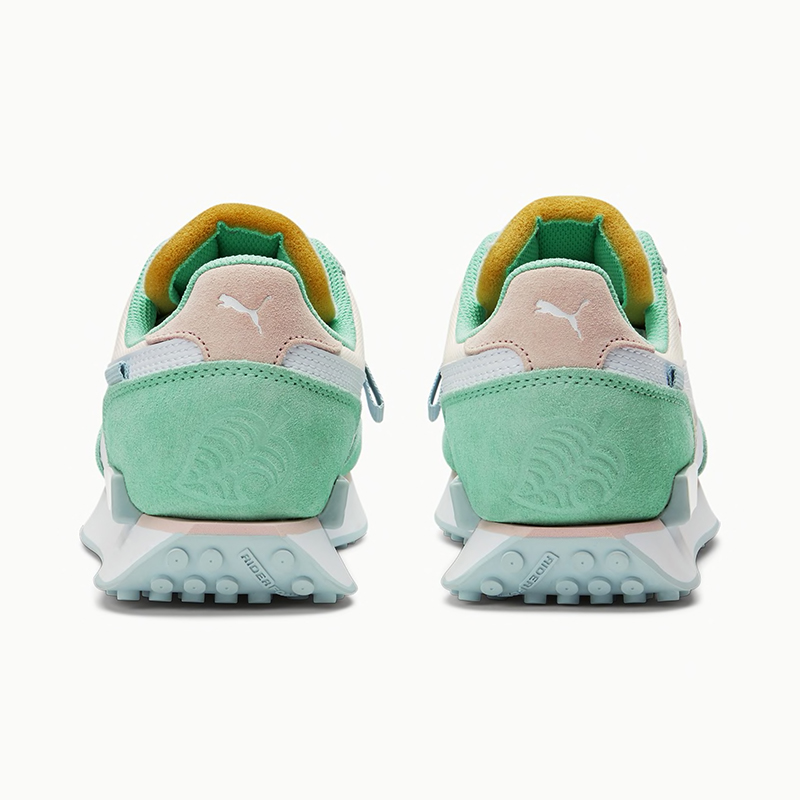 An imprint of Nook Inc.'s leaf logo is once again debossed on the heel tabs in lush green colours.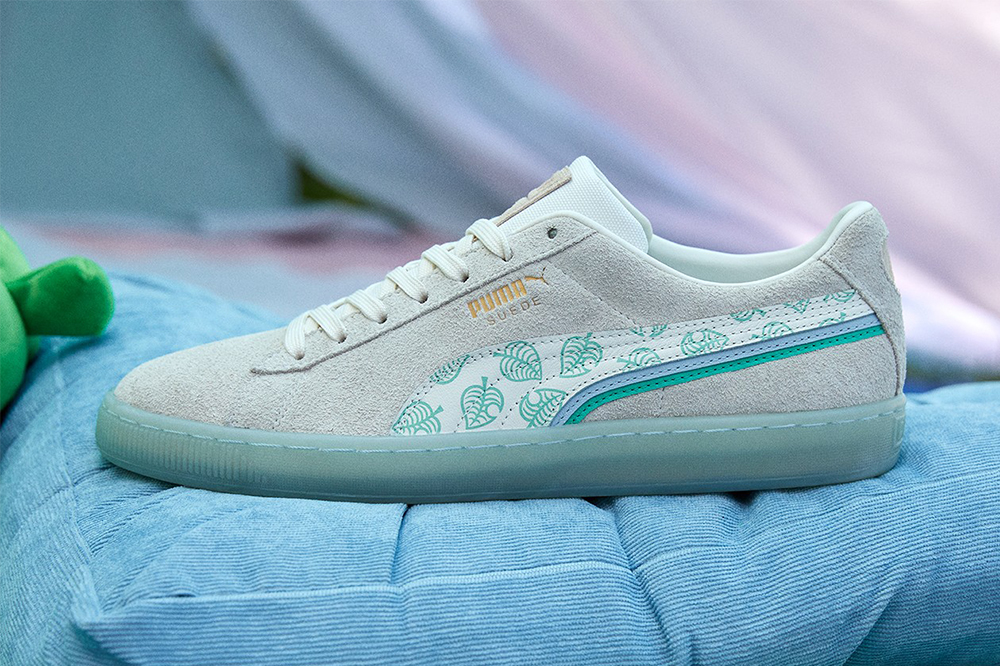 The Suede Men's Sneakers come in a minimalist grey shade with streaks of Nook Inc.'s leaf logo on the side. The key point of this sneaker lies in its translucent outsole — perfect for impressing your friends with a chic look.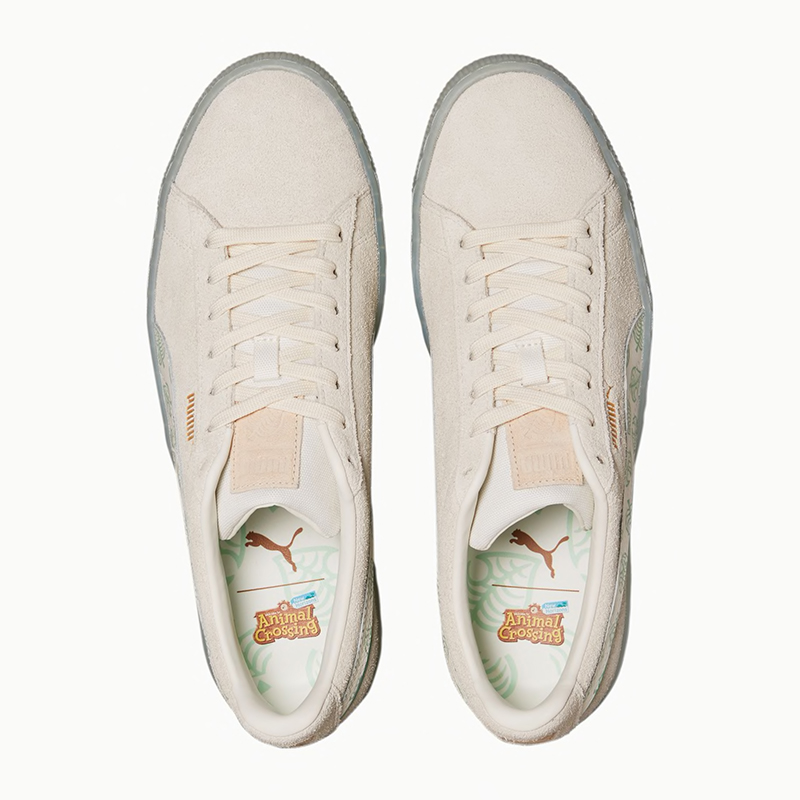 On the insoles, a combination of the Puma and Animal Crossing logo can be seen together — an image that was included in the teaser Puma released on 27 August 2021.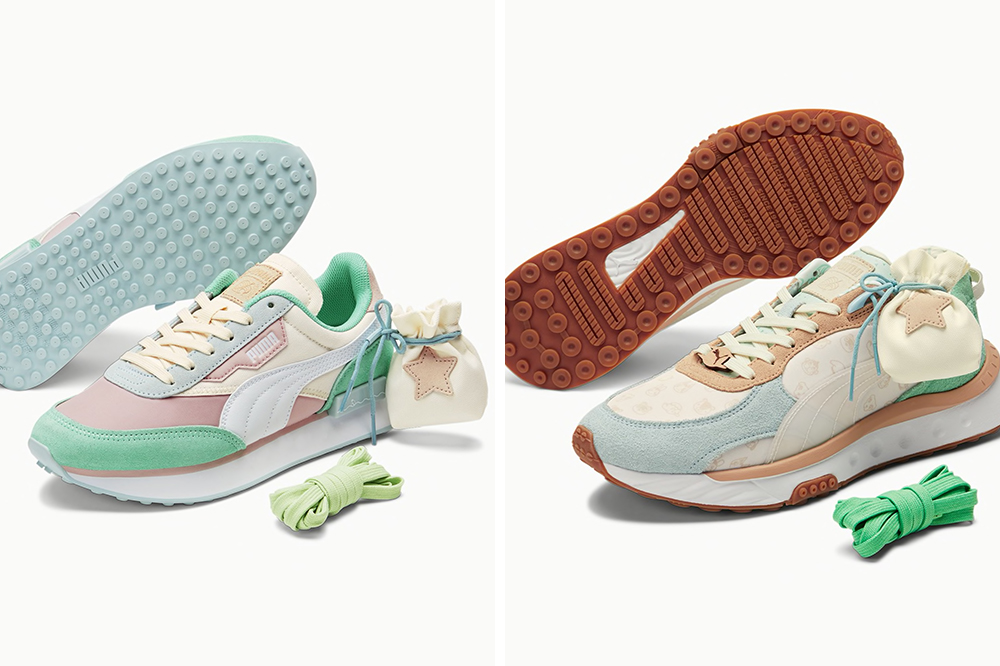 All of the sneakers in this collection contain an extra set of shoelaces and an adorable charm of a sack of bells. With this extra cash on hand, or foot, now you can upgrade your "house" without having to take any more loans from Tom Nook.
Also read:
UNIQLO x Animal Crossing Has T-shirts & Towels Inspired By Animal Villagers For You To Spend All Your Bells
Clothes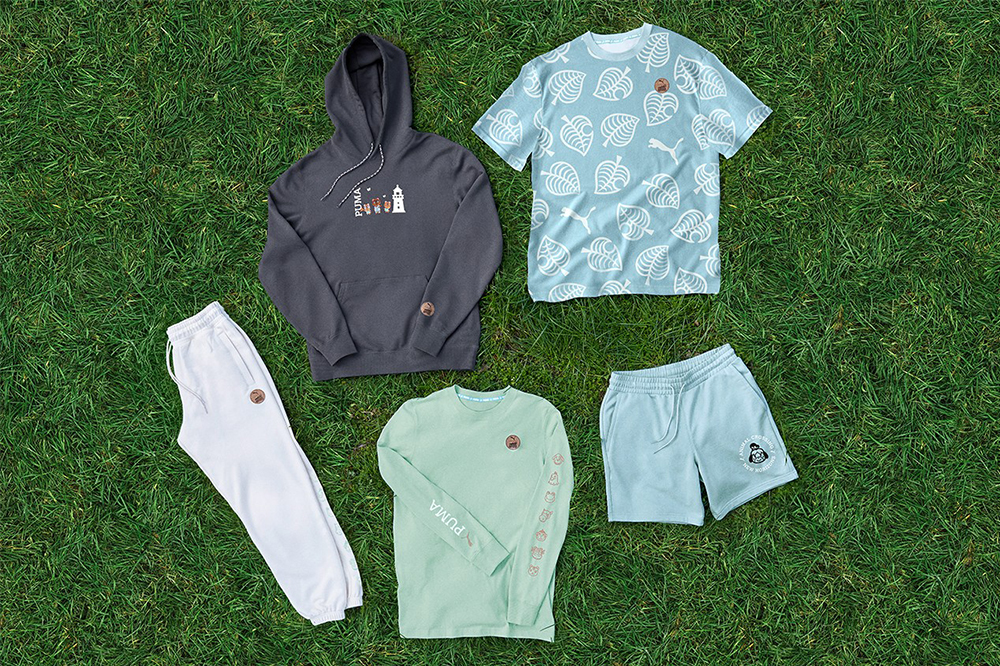 Apart from footwear, there are also more tees, shorts and sweatpants inspired by Animal Crossing villagers. Pair your colourful sneakers with these matching clothes to complete the ultimate Animal Crossing fan OOTD.
Despite most of the clothes being in pastel colours, there is a black hoodie for those who prefer a monochrome style. The hoodie highlights Tom Nook and his twin nephews Timmy and Tommy, who help him to run Nook's Cranny on your island.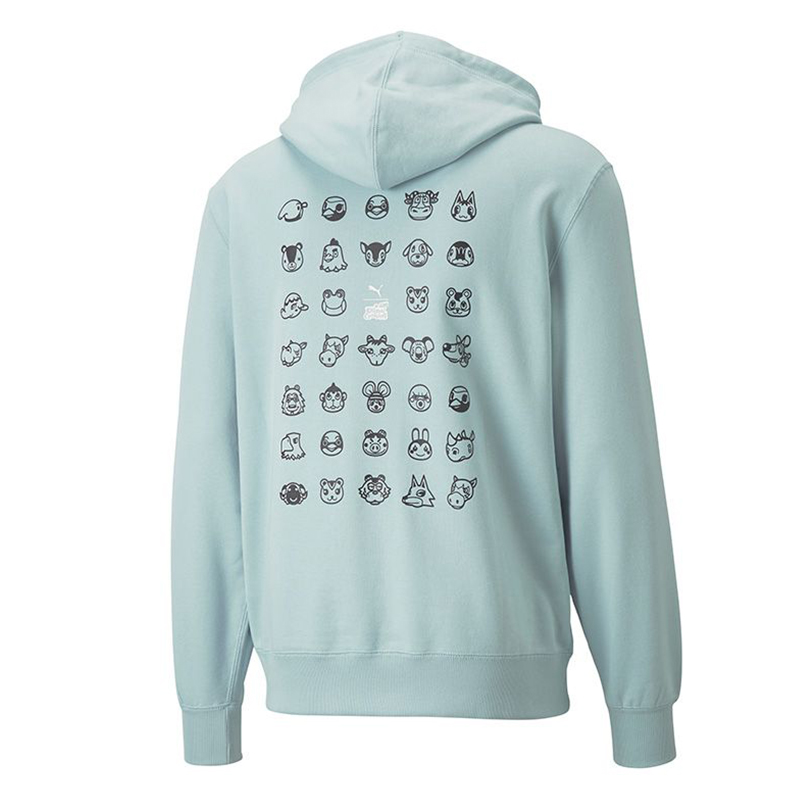 On top of the black hoodie, an alternative pastel blue hoodie featuring more Animal Crossing villagers is available. Though you can only have 10 villagers on your island, this hoodie will ensure that you can take in as many cute animals as you want.
Spend All Your Bells On This Adorable Puma x Animal Crossing Collection
Whether you bought Animal Crossing New Horizons during Circuit Breaker or have been playing Wild World since 2005, these merch are too cute for us to handle. The Puma x Animal Crossing collection will be released on Puma US's website from 18 September 2021. Seeing that many international fans enjoy playing Animal Crossing, hopefully these sneakers and clothes will make their way to Puma SG stores soon. Stay tuned to this page for any potential updates.
While we're waiting for the Puma x Animal Crossing collection to drop, don't miss out on getting the ColourPop x Animal Crossing collection with lippies and eyeshadow palettes. 
Also read:
ColourPop x Animal Crossing Collection Lets You Explore New Makeup Looks Like You Do Islands