Apple Marina Bay Sands
Amidst the never-ending barrage of bad news in 2020, a glimmer of hope recently surfaced on the waters of Marina Bay. After years of construction and months of speculation, Apple Marina Bay Sands opened its doors to the public on 10 September 2020. 
Slots to visit the store on the first day of its opening filled up in a flash. Snaking queues were reported that day, even though entry was by appointment only. Social media and news feeds were teeming with anticipation as to how it would look on the inside. 
Witnessing the collective hype around the latest addition to our skyline felt like a breath of fresh air. For the first time in a long while, it seems like Singaporeans finally have something new to discuss, explore and low-key brag about. 
Opening during a pandemic 
The last time a similar wave of excitement swept the nation was during the opening of 2019's shiny new toy, Jewel Changi Airport. In the weeks that followed, throngs of curious Singaporeans made the journey to the East to check out Shake Shack, A&W and the rain vortex. 
Sure, it was crowded as heck. Obviously, you couldn't snap a picture without another person getting into your shot. But the excitement in the air was palpable. We were all witnessing the birth of a new Singaporean landmark. Queues were never-ending. Cashier tills were ringing. 
Oh, what a difference a year makes. 
Now, every other day brings news of yet another shop or eatery shutting down. Established and emerging businesses alike are closing down left, right and centre. The retail landscape as we know it in Singapore has changed forever.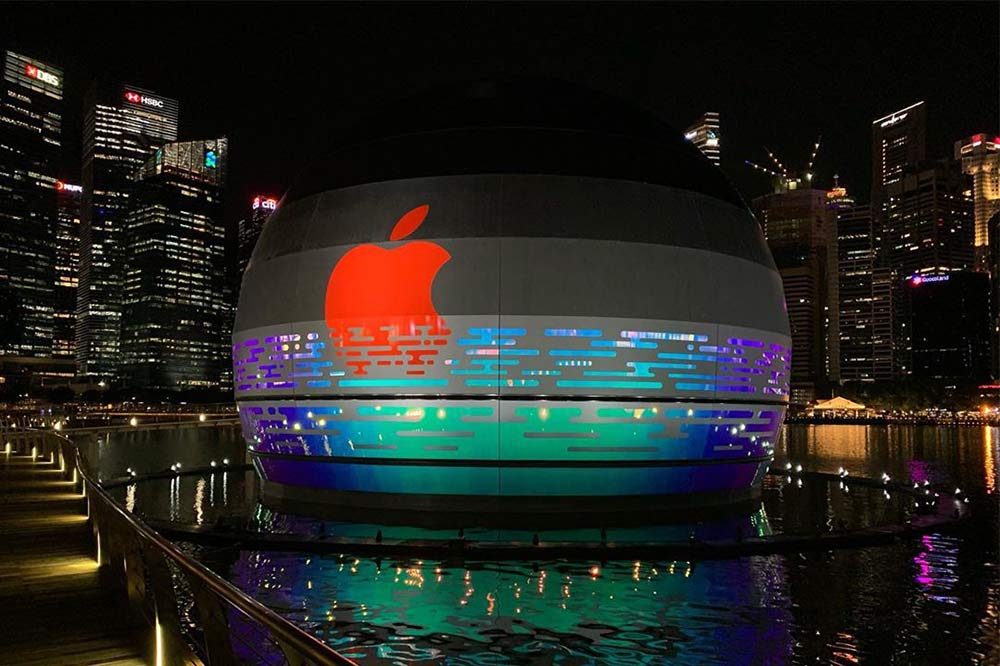 Source
Then, Apple decided to surprise us all by unveiling a flashy retail store. On top of that, it wasn't even any regular ol' mall opening, but Apple's first floating store in the world. And, we all know how coming first in the world for anything is practically a national sport for Singaporeans. 
Reviving a national sport
Unlike Jewel, Apple Marina Bay Sands is not a national icon that's an extension of our pride and joy, aka Changi Airport. And while Jewel is a mega lifestyle complex that you can visit to shop, eat and basically nua the day away, Apple MBS is ultimately, well, a store. Even with Apple's genius-level marketing, there's a tacit acknowledgement that entering its premises means partaking in a customer-vendor relationship.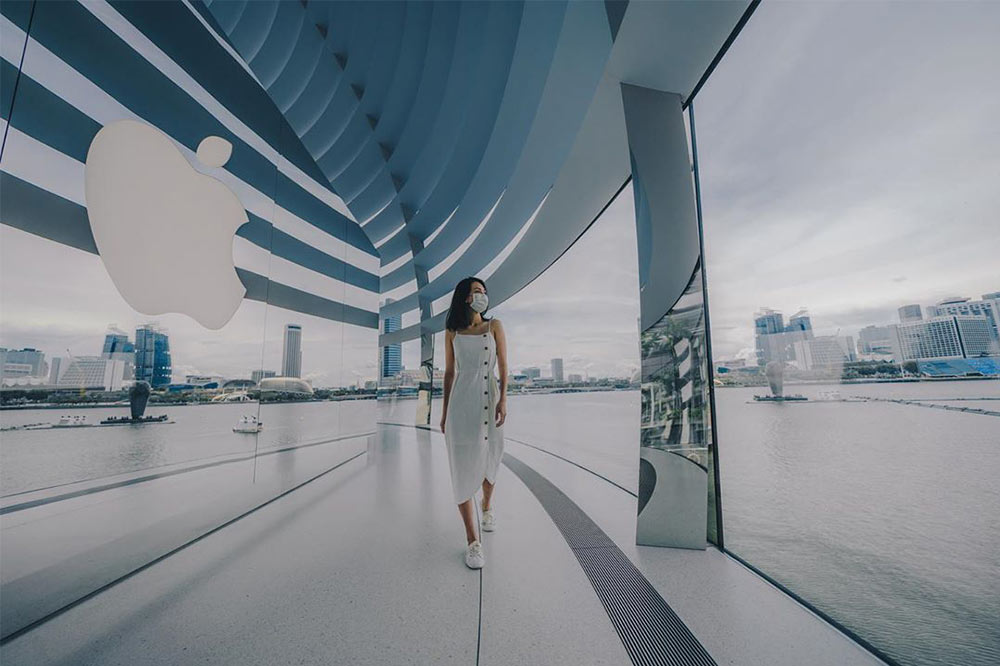 Source
Yet, for a country whose national pastime is shopping, a swanky new store opening is as good a reason to celebrate as any. After all, Singaporeans even go shopping alone as a form of therapy. And in these dark times, being able to get swept up in excitement over something shiny and new is no small matter. For some, it's almost something to seek comfort in.
Some might say that only a retail juggernaut like Apple has the power (and pockets) to launch what the company calls "its most ambitious retail project yet" during a pandemic. They're not wrong. 
The information technology sector is one of the rare industries that is thriving, not just surviving, during the current crisis. TikTok, for example, is said to be investing billions in its future headquarters in Singapore, creating hundreds of jobs here in the process. Similarly, Apple's investment with this project acts as a vote of confidence—in our country and economy.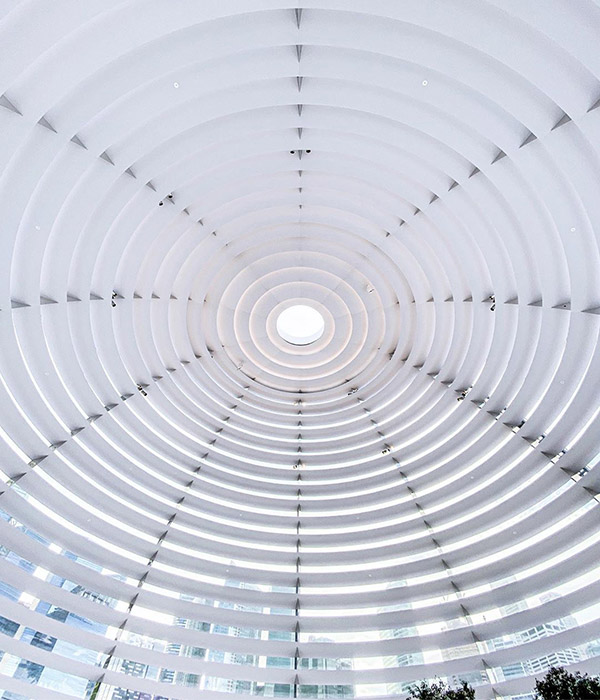 Source
Apple's new store is a beacon of hope that things will get better eventually, even if it seems like there's no light at the end of the tunnel.
Also read:
Apple's Upcoming Emoji Line-up Includes A Bubble Tea Emoji For All The BBT Addicts
Igniting a sense of wanderlust 
Singaporeans are a nation of globe-trotters. We hustle and save year-round so that we can spend our hard-earned money on holidays. Without the possibility of domestic or inter-state travel, we've become well-travelled folks who are equally at ease in far-flung countries or cities within the region. 
But for months now, going anywhere outside of our Little Red Dot has been out of the question.
Businesses, and the government, have tried to recreate the experience. Think: Hotels offering staycation packages so you feel like you're living it up on holiday. Marketers bringing other countries to us, through delivery services or virtual festivals. Tourism credits in the form of SingapoRediscovers Vouchers, so we can be tourists in our own home. 
No matter how hard you try, however, there's nothing quite like the idea of arriving at a new place, with no idea of what lies ahead. Soaking in your fresh surroundings; first with your eyes, then your camera. I mean, did you really go somewhere new if you didn't furiously snap one picture after another from different angles, adding roughly 100 pictures to your camera roll?
Even the escalator, lift and staircase are IG-worthy
Even though it sits on Singapore waters, Apple at MBS allows us to do just that. The 3-storey all-glass dome structure designed by Foster + Partners is unlike anything we've seen before, on or off our shores. 
With Instagram-worthy photo and video opportunities at every turn, it offers Singaporeans a new destination to explore, even as we're stuck on the island. It's almost enough to ignite wanderlust from the most jaded of jetsetters.
A new embellishment to our city skyline 
Before you think that I'm 1) being over-dramatic 2) an Apple evangelist, let me clarify that this is not the case. 
Like everyone else, my feed was inundated with pictures of everything from the oculus in the ceiling to the underwater Boardroom. Even before my scheduled media preview, it seemed like I'd already seen the entire store. 
Yet, after scanning the SafeEntry code at the curved stone entrance on basement 2 of The Shoppes at Marina Bay Sands, I started to feel a sense of anticipation. It built as I walked towards the escalators clad in mirror-polished stainless steel. Then, I arrived at the ground level. NGL, a sense of wonder washed over me, followed by a wave of nostalgia, tinged with a mix of pride and optimism.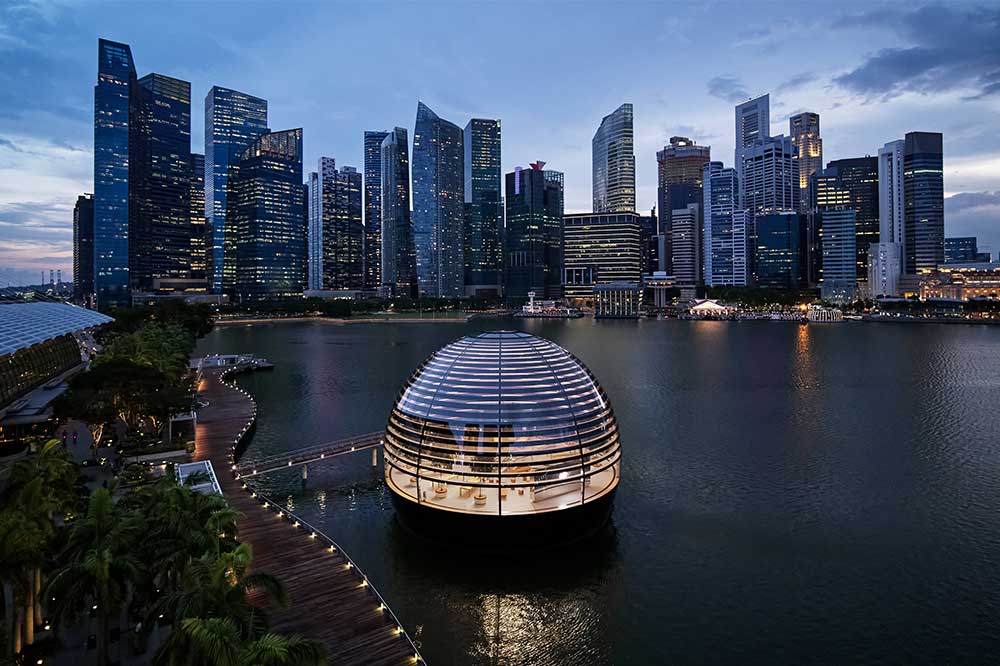 Image courtesy of Apple
The floor-to-ceiling glass windows provided the perfect lens to view some of Singapore's greatest architectural hits. The Fullerton Hotel. The Esplanade. The skyscrapers that make up Singapore's CBD. The ArtScience Museum. Each silhouette distinctive and immediately recognisable; each a statement to the rest of the world that we might be a small country, but we are far from insignificant.
Our city skyline is an indispensable part of our collective identity. When a new building is added to the line-up, days of heated discussions ensue. You can count on every Singaporean to have thoughts on the issue. But whether you love it or hate it, the underlying sentiment is that it's ours. Just like an auntie talking about her kids to her friends, we're naggy and nitpicky about these buildings because we care.
The day that Apple confirmed the store opening, local and international media outlets were quick to spread the word. Singaporeans went down to MBS just to snap pictures of the exterior, before the actual exterior was revealed. And now that its doors have finally opened, like proud family members, we're making plans to visit the latest embellishment to our skyline.
Apple Marina Bay Sands Might Make You Forget About The World's Woes For A While
Even in the midst of a pandemic, visiting the new Apple store evoked an unexpected range of emotions. The company's "most ambitious retail project yet" has succeeded in giving Singaporeans something that's much more than just a sphere in the city skyline. 
Instead, the floating orb might make you feel awestruck, hopeful and proud; an effect that can't be underestimated as we continue to fight the virus and recession together. So jio your (4) friends to go check out the shiny new store. Let it help you forget about the world's woes, even if it's just for a while.
Also read:
I Went To Jewel Changi Airport Reluctantly But Now I'm F*cking Proud To Be Singaporean