Blackpink x H&M Collection
So, you've secured your ticket to Blackpink's concert in Singapore next year. The next thing on your to-do list is to plan your outfit for the big day. While black and pink are obviously going to be your colour choices, consider the new collection by H&M inspired by the phenomenal K-pop girl group.    
The collection
Singapore might have a humid climate, but there are still days when we experience sweater weather. Keep yourself warm and snug in the Oversized Printed Hoodie.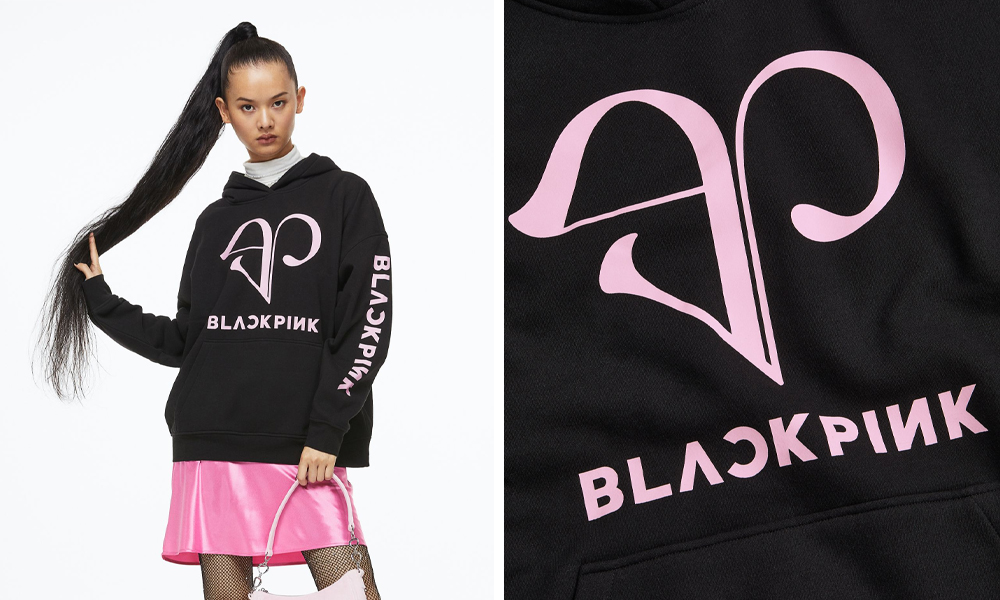 Made from a sweatshirt fabric that uses a cotton blend, the oversized hoodie is printed with a pink motif of Blackpink's logo alongside the wordings on the front and the left sleeve. You can make yourself even warmer by keeping your hands inside the kangaroo pocket.
The Oversized Printed Hoodie retails at $49.95.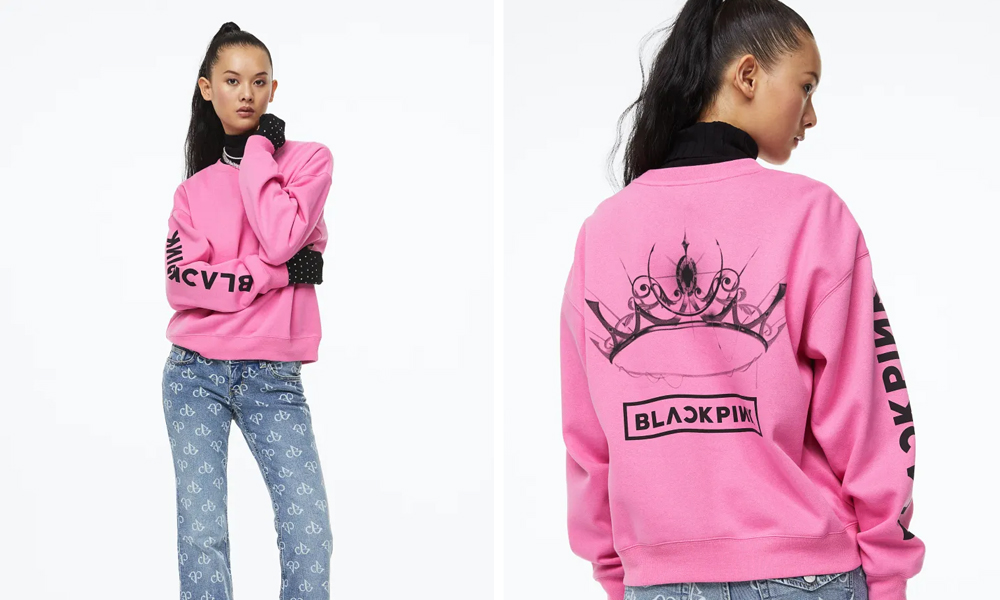 If pink is your colour, don't miss out on the Printed Sweatshirt that adds a pop of colour to your OOTD. While the design might come off as plain at first glance from the front, wait till you check out the print on the back ‒ it features a black motif of a crown and the wordings of Blackpink. 
The Printed Sweatshirt retails at $39.95.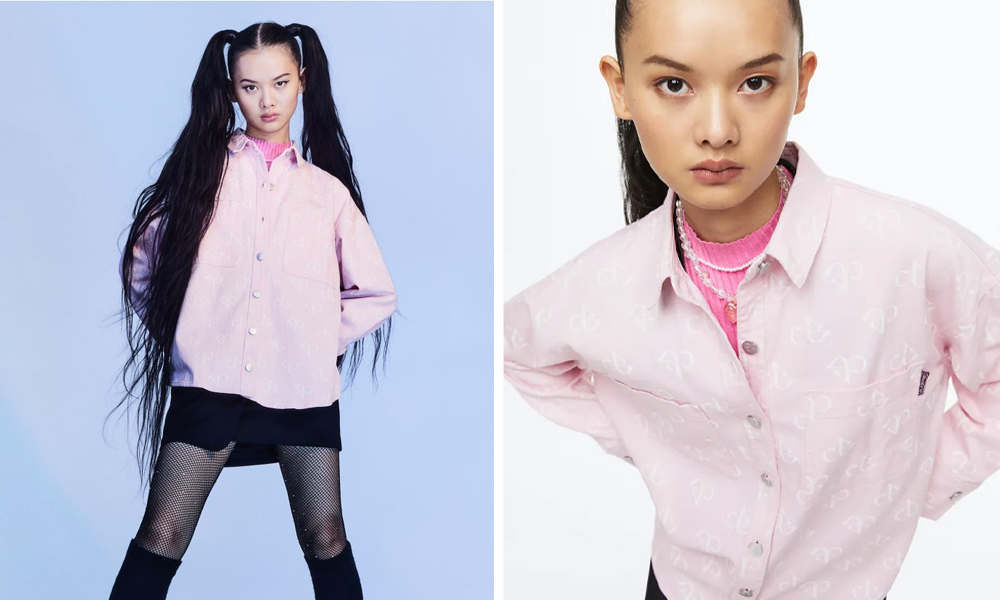 There is a reason why oversized apparel is able to stand the test of time ‒ they're comfortable, stylish, and allow you to experiment with different looks. Enter the Oversized Twill Shacket, a light pink crossover between a shirt and a jacket.
The logo of Blackpink is repeated all over in white, and the shacket even comes with two breast pockets for you to store essentials like a tissue packet or your phone.    
The Oversized Twill Shacket retails at $49.95.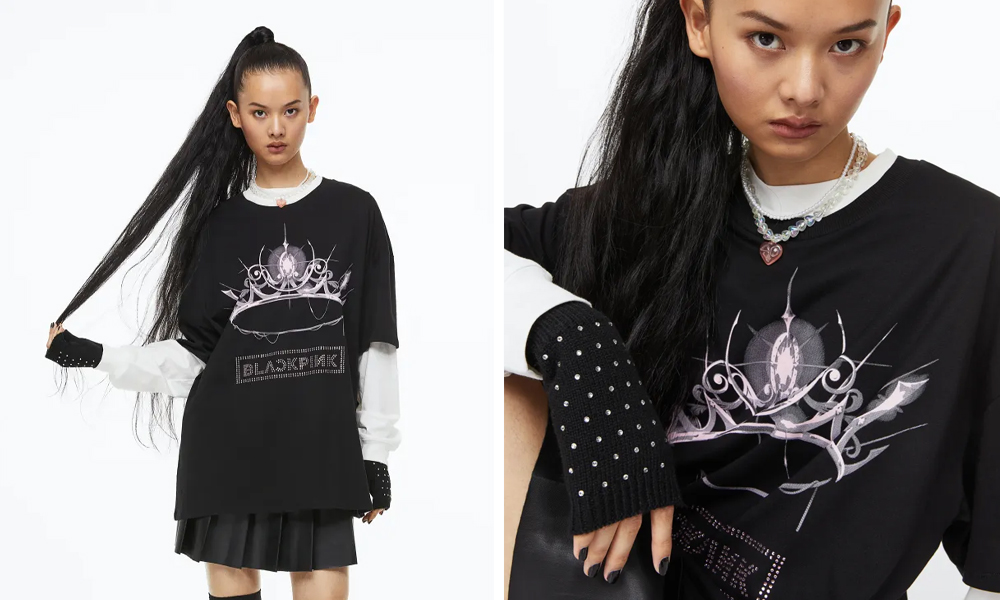 The oversized trend continues with the Oversized Rhinestone-Motif T-Shirt. In contrast to the black colour, the front of the T-shirt pays tribute to the girl group with a pink crown motif and a series of pink rhinestones that form "Blackpink". 
The Oversized Rhinestone-Motif T-Shirt retails at $19.95.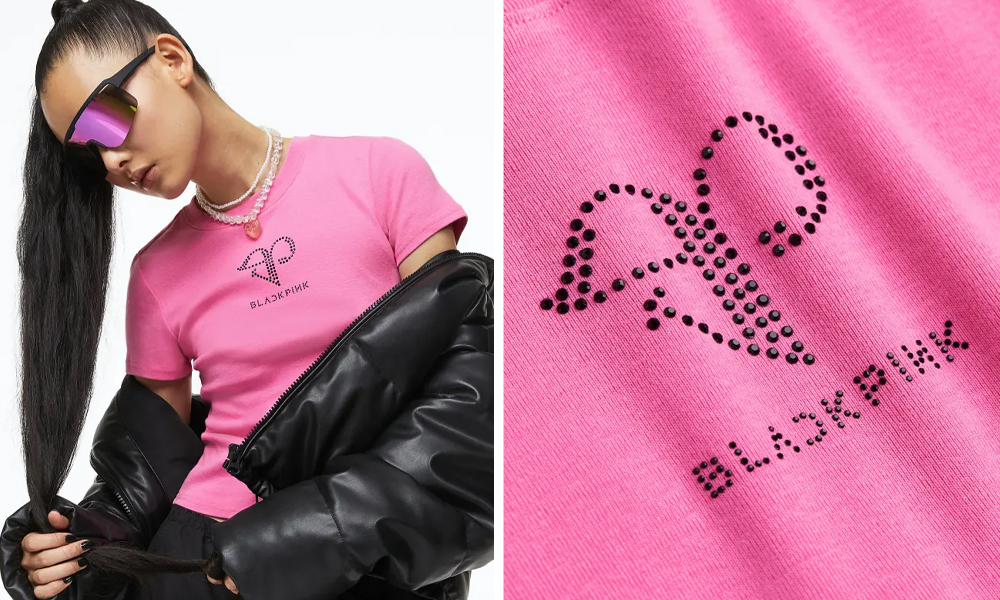 With Y2K fashion on the rise, it is not surprising to see rhinestones making a comeback too. The Rhinestone-Motif Top is one example, and it greets you in bright pink and black rhinestones that form the Blackpink logos repeated in the collection.  
Perhaps with this top, you can also jio your fellow Mean Girls fans and wear pink on Wednesdays. 
The Rhinestone-Motif Top retails at $17.95.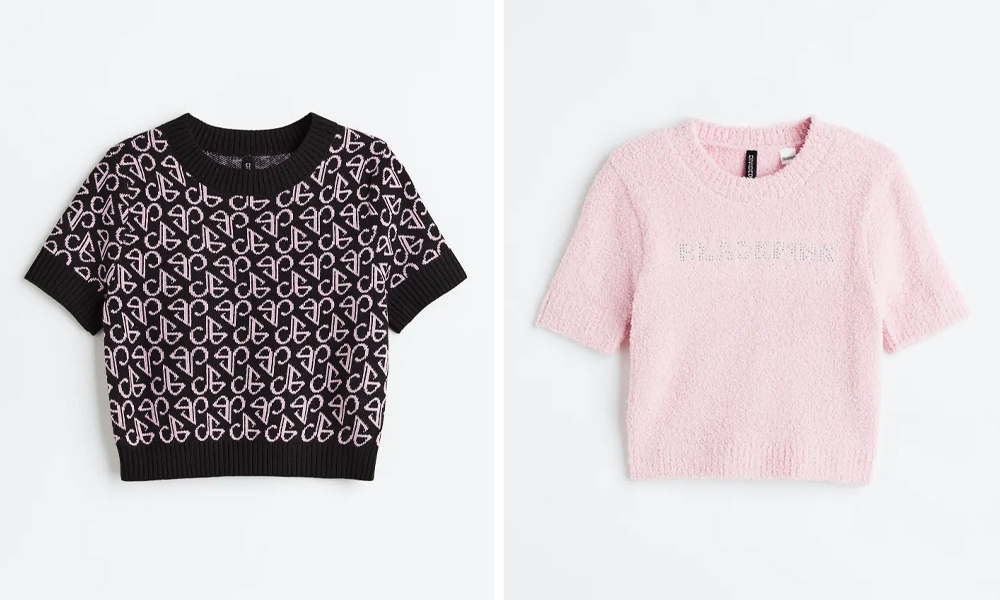 From left: Cropped Knitted Top in Black, Cropped Knitted Top in Pink
Spoiling you with even more top options are the Cropped Knitted Top in black and pink. NGL, but the first design is perfect for those who are shy about disclosing that they are a Blink. The black knitted top features motifs of Blackpink's logo in light pink, and rest assured only those who know will know. 
On the other hand, the design in pink suits those who wish to add some daintiness to their wardrobe. The sweet pink top is accented with the group's name in silver, and its knitted texture adds an edge to your overall look. 
Each Cropped Knitted Top retails at $29.95.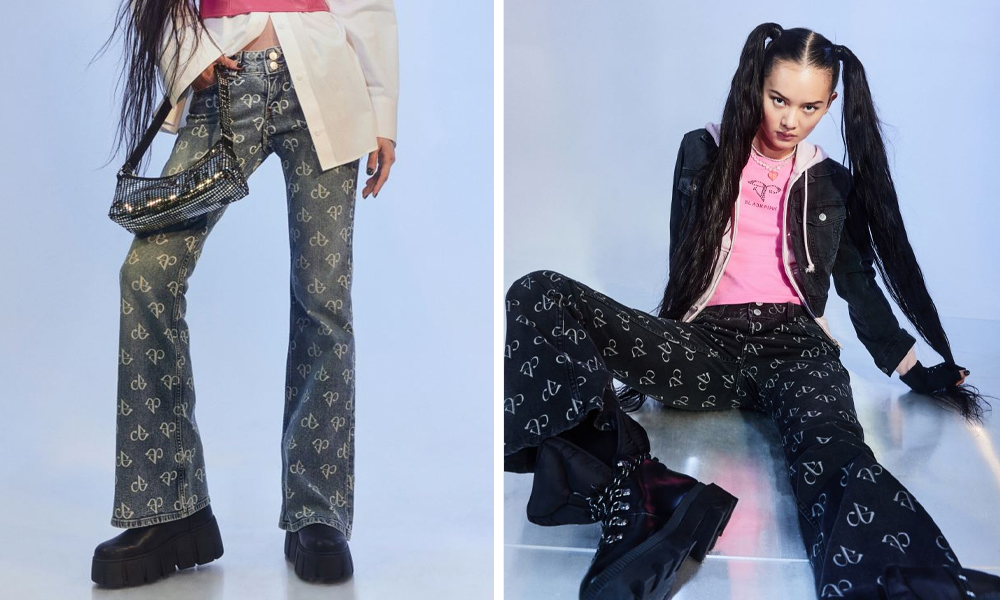 From left: Flared Low Jeans in Light Denim, Flared Low Jeans in Dark Grey
It is not easy to find a pair of pants that both flatter your figure and fit perfectly. As if saying "How You Like That" to you, the Flared Low Jeans in Light Denim and Dark Grey are perfect to consider. 
The slim-fit jeans are made of slightly stretchy cotton denim with an all-over print of the collection logo, and come with flares for you to sport a '90s look. It is designed with front pockets, a coin pocket, and flap back pockets that close with a button. 
Each pair of Flared Low Jeans retails at $59.95.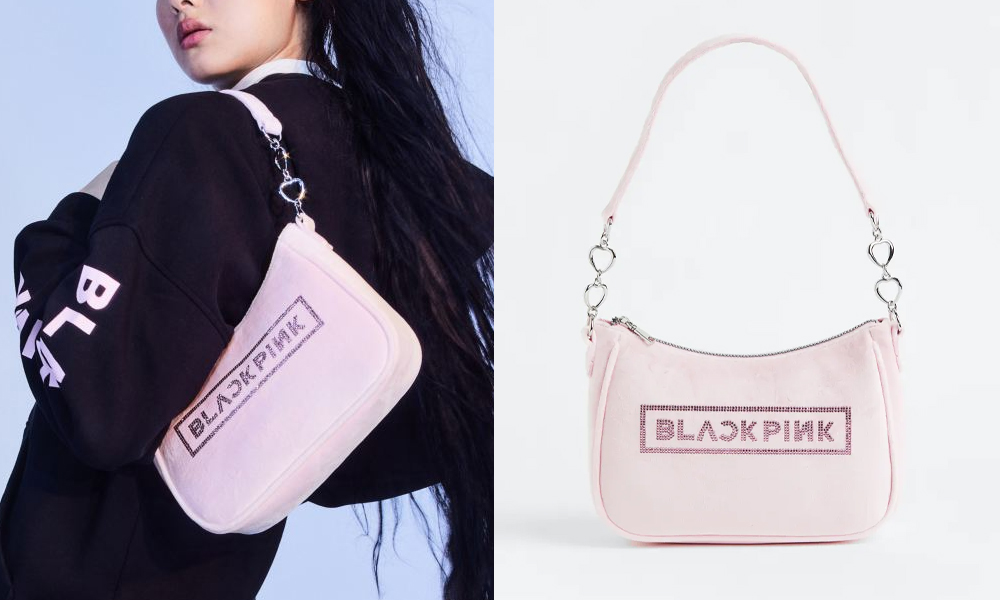 Spot a fellow Blink in your area when you carry the Rhinestone-Motif Velour Shoulder Bag. While the shoulder bag is unfortunately not big enough to fit your BI-ping-bong to the concert, its dimension of 24cm x 7cm x 17cm has sufficient storage to keep your essentials. 
The front of the bag has Blackpink's name all glammed up with pink rhinestones, and also note how the shoulder straps have decorative metal rings on both ends. 
The Rhinestone-Motif Velour Shoulder Bag retails at $29.95.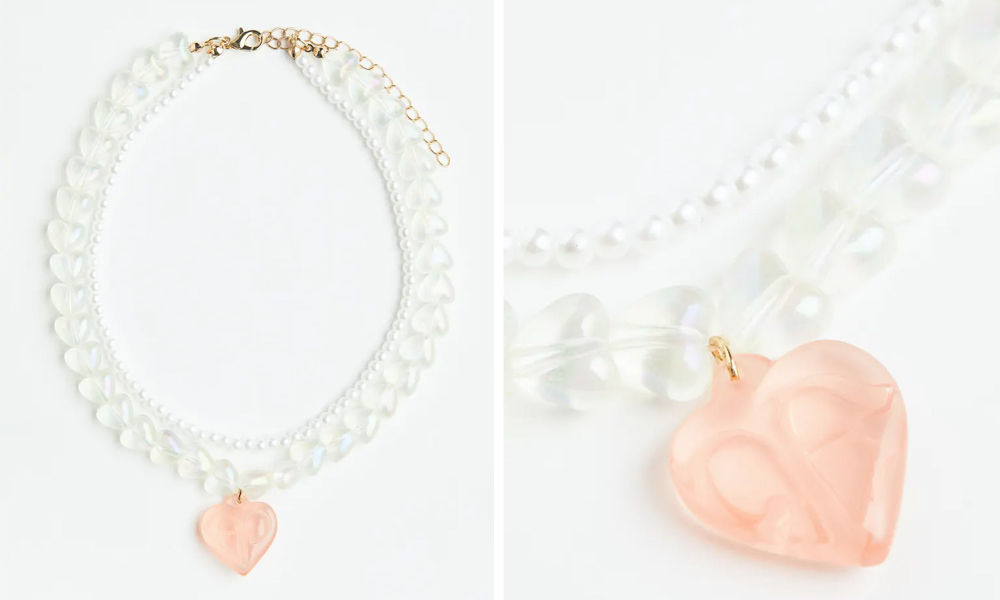 ICYMI, beady necklaces made with pearls are one of the most fashionable items these days. Hopping onto the bandwagon, the collection introduces the Two-Strand Beaded Necklace put together by two strings of necklaces. The shorter one only features pearly beads, whereas the longer one is chained together by heart-shaped beads and a pink heart-shaped pendant. 
That's not all ‒ the necklace is also adjustable thanks to a trigger clasp. The Two-Strand Beaded Necklace retails at $17.95.
This Blackpink x H&M Collection Offers A Variety Of Apparel To Put Together Your Concert Fit
While it is still 6 months till Blackpink arrives in Singapore for their world tour, but hey, there's nothing wrong with prepping your concert fit early. The Blackpink x H&M collection is now available for purchase on their official website, and at all H&M outlets. 
All images courtesy of H&M's official website. 
Also read: 
Sulwhasoo Announces Blackpink's Rosé As Global Ambassador, Releases New Floral-Inspired Campaign