Highly Rated Hair Salons To Bleach Hair In Singapore
When it comes to finding salons to bleach your hair in Singapore, you don't get to hear many real-life stories or experiences—even Google reviews can be somewhat confusing at times. Fret not. Out of the many hair salons in Singapore, we're here to help you narrow down that list and make sure that your hair is in good hands. We asked our friends and colleagues to share with us their top salons to bleach hair in Singapore, and why they chose to recommend them.
1. Harts Salon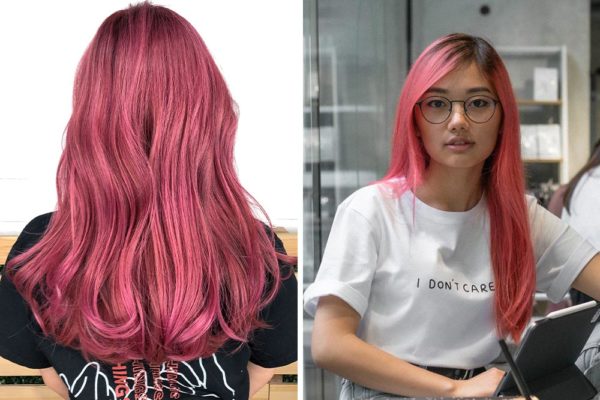 After the bleach job (left) vs 4 months later (right)
"Prior to visiting Harts Salon, I checked its Instagram page and tagged posts. I decided on this salon because their work looked good and they had the kind of colours I wanted. Hair salons tend to make me feel awkward and uncomfortable, but the stylists there were very friendly and nice. They not only tried their best to achieve what I was looking for, but also cared about the quality of my hair. 
My stylist told me that the colour I originally wanted, pastel pink, would only last for 2 weeks. She suggested a different shade that would last longer and made sure that I was comfortable with this before starting. The best part was that after finalising the colour, she took out a price list to calculate the exact price I'd be paying for everything. Letting me know the price in advance, and giving me the opportunity to change my mind, was amazing. 
As parts of my hair had been bleached before, the stylist let me know the number of times each section of my hair needed to be bleached to prevent the condition from becoming bad. She also suggested not to dye my roots directly. I was very thankful because I did feel the burn after they started dyeing, but it was bearable.  
The entire bleaching session excluding colouring took about 2 to 3 hours. With colouring, it was about 4 to 5 hours. The colour came out evenly in a dark plum shade and was meant to fade into a lighter pink as time goes by. My hair was—and is—still smooth, and many of my friends were amazed at how my hair wasn't damaged despite the drastic change in colour.
It's been 4 months since I dyed my hair, and the colour is still very strong and vibrant. Aside from a great dye job, I also spend an hour each day using a pink shampoo and pink hair mask to retain the colour. These products can be purchased from the hair salon too. It was costly, but I happily paid that price for the service, experience and outcome. I will still go back to Harts Salon and book the same stylist, Katherine, for my next hair appointment."
—Charmaine Sew
Address: 9 Tan Quee Lan Street, #02-05, Tan Quee Lan Suits, Singapore 188098
Opening hours: 1pm to 9pm (Mondays to Fridays) | 11pm to 7pm (Saturdays and Sundays)
Booking: Call 6254 5762 or Whatsapp 8776 7517 to make an appointment
Website | Facebook | Instagram
2. Steve V at Bugis Cube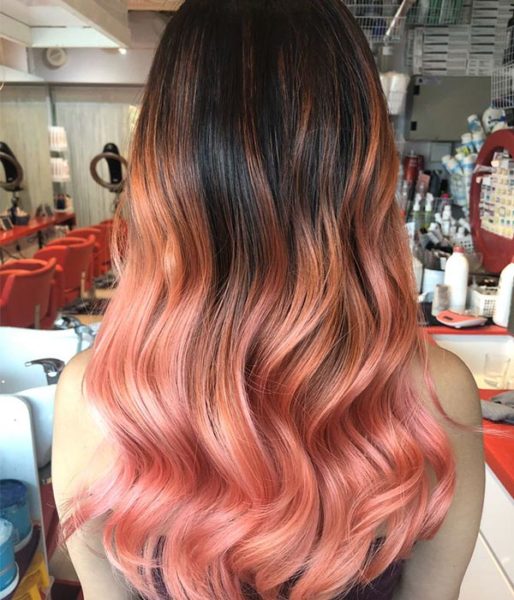 "I've bleached my hair 3 times over the past 4 years. Steve V remains my top-rated hair salon in Singapore as the pricing is affordable and my hair does not dry out after bleaching. I heard about the salon through a friend who sang its praises. True enough, I was highly satisfied. 
When I bleached my hair to dye it pink, I had to go through 2 additional rounds of bleaching even though I'd already bleached it twice prior. Since I was doing balayage, only three-quarters of my hair was undergoing the bleaching process. The bleaching, treatment and dyeing took a total of 5 hours.
The colour turned out exactly as I wanted it, and my hair was still smooth and shiny. Since my hair is long, the colour should've faded within 2 to 3 weeks. But after a month, it was still bright. The customer service was also top-notch. They provided a phone charger, drinks and snacks for me."
—Gladys Ong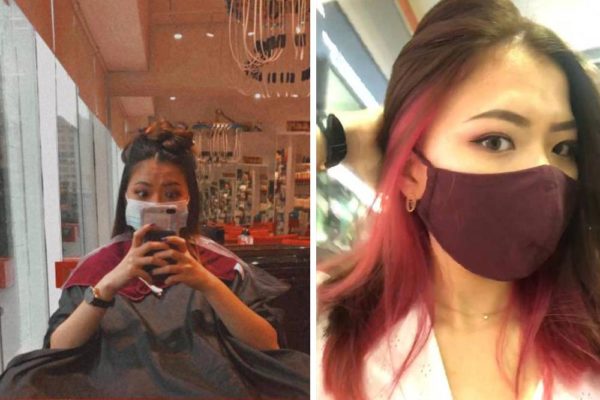 "I found out about Steve V through an Instagram advertisement. I saw that it was running a promotion for underlights, which was the look I was going for. The salon offered unlimited bleaching for any hair length. Since the colour I wanted was very light, I decided it would be worth it to go for it. 
Overall, it was a good experience. The service was very meticulous. The stylist checked with me if I had a sensitive scalp before starting. He used a new type of bleach that protected my scalp so it didn't feel irritated. It was only itchy during the second round when it really went into the roots. Besides that, I didn't feel any pain. 
It took about 3 hours for 2 rounds of bleaching, which is a long time but not unexpected. At the end of the colouring session, he did a wash off hair treatment for me to make sure my hair was still soft. They did try to upsell other treatments and products, but were not pushy at all when I rejected them.  My hair looked good at the end and it was the colour that I had hoped to achieve. I  thought my hair would feel frizzy given the number of times I bleached, but was pleasantly surprised to find it was still soft.
The promotion I went for was $98 for underlights with bleaching, but I added an extra colour for the outer layer of my hair, so it came up to $166. This is much cheaper than most salons given the number of rounds of bleaching."
—Queenie Ho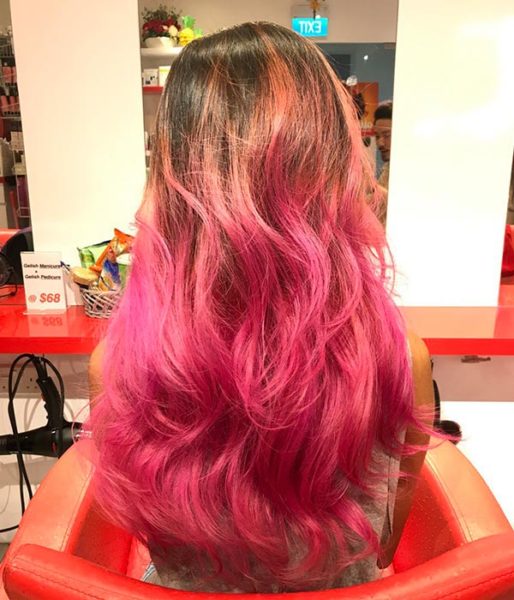 "I bleach my hair often and go to Steve V every time. Bleaching is unlimited, and the bleach job makes my hair look great after it is coloured. The prices for unlimited bleaching are affordable too.
I don't bleach up until my roots, as I usually tend to do balayage to get my usual shade of pink hair. The first time I bleached my hair at Steve V, there was a slight pain near my scalp but it wasn't excruciating. It took about 4 hours even though my hair is very long. The bleaching was even and I managed to get my desired hair effect. I topped up $50 for the Olaplex treatment as recommended by the stylist, so my hair texture wasn't too bad. The colour faded to a light pink after more than a month. The stylist also gave me tips on how to take care of my hair colour. 
I started at 6pm and ended around 10pm. Even though it was supposed to close at 9pm, the staff didn't compromise on the quality despite the timing. They also offered drinks, snacks and a tablet for me to watch shows on throughout the entire process. The staff were all approachable and friendly, and I paid around $200."
—Kamie Kok
Address: 470 North Bridge Road, #04-04/05, Bugis Cube, Singapore 188735
Opening hours: 11am to 9pm (Mondays to Fridays) | 10am to 7pm (Saturdays) | 11am to 7pm (Sundays)
Booking: Call 6336 1476 or fill in the booking form on its website to make an appointment
Website | Facebook | Instagram
3. Castle V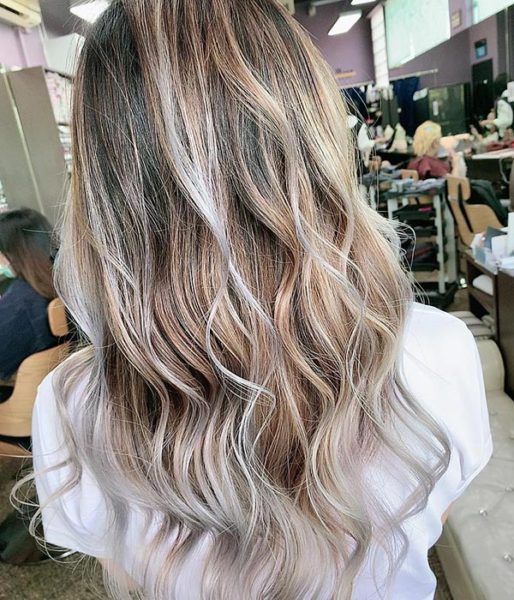 "I found out about Castle V through a Facebook advertisement. The lady boss is really nice. She gave me many tips and suggestions on how to take care of my hair after bleaching. 
Before bleaching, the salon staff checked with me to make sure I did not have any hair health-related issues. They genuinely tried to find the best [colour and treatment] for my hair and for me. 
I wanted my hair to be balayage ash grey but I had a yellow undertone from my previously bleached hair. The lady boss did her best to create a nice gradient for me. Initially, in order to get my desired hair colour, I was supposed to bleach my hair 4 times. However, the hairdresser wasn't keen on it because I had bleached my hair before. She advised me to stop at 2 bleaches since my hair wasn't very healthy, but reassured me that it would still be sufficient. I was thankful for the advice before every step. 
The bleaching process took about 3 hours with 2 rounds of bleaching. I paid $168, inclusive of treatment for a first trial offer.  The hair colour lasted for a few months, with the use of a colour shampoo."
—Yang Xin
Address: 1 Simon Road, Singapore 545891
Opening hours: 10am to 9pm daily
Booking: Call 9797 9636 to make an appointment
Facebook | Instagram
4. Aqua Hair Korean Salon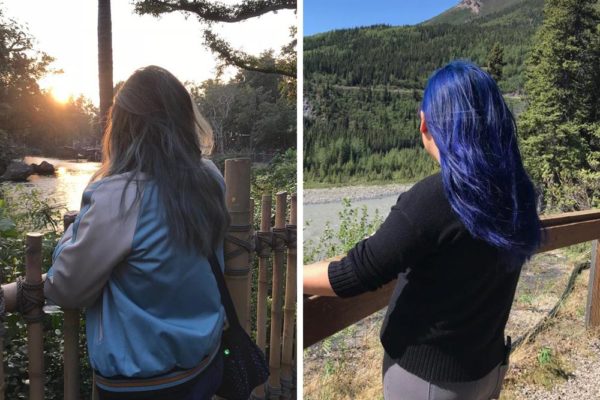 Before vs after
"I have been bleaching and colouring my hair for a few years now. I went to Aqua Hair Korean Salon once for a bleach job, and found the entire process the most value-for-money. 
All I did was tell the stylist I wanted blue hair, and she gave me a very nice and rich blue hue. I'd previously dyed my hair before going to the salon, and some colour still remained. They took the time to remove the colour before bleaching my hair again. 
The bleaching was a little painful and stinging on the scalp at first. But once I let the stylists know, they immediately brought me to the sink to wash it off. Since my hair is quite long and thick, they had 2 stylists doing the colouring process at the same time, which was very efficient. The whole process was very smooth and the colour lasted for about 10 months. While the colour did fade quite a bit, it was still very noticeable and bright towards the end. As I did a hair treatment during the colouring session, my hair texture wasn't dry afterwards. 
I found the salon a little small and the area where you wash your hair is quite close to the seating area. However, it is a nice place overall. Considering how long the colour lasted and compared to the previous salons I visited, the price I paid was definitely worth it."
—Rachel Wong
Address: 402 Orchard Road, #03-16, Delfi Orchard, Singapore 238876
Opening hours: 10.30am to 7.30pm (Mondays to Fridays) | 11am to 6pm (Saturdays and Sundays)
Booking: Call 6732 8011, email ask@aquahair.sg or fill in the booking form on its website to make an appointment
Website | Facebook | Instagram
5. Le Jean Hair Studio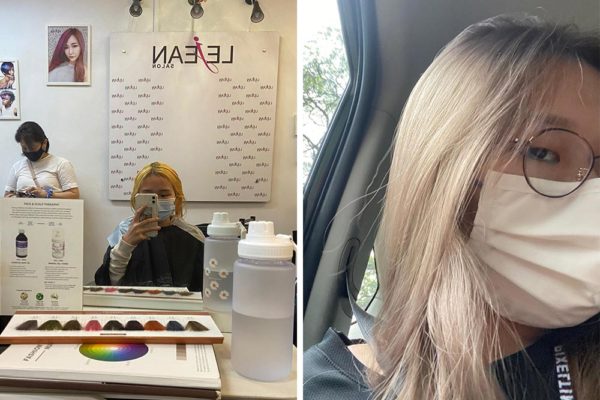 "I've always self-dyed my hair, so my visit to Le Jean was my first time bleaching at a salon. I heard about Le Jean through a friend whose hair colour turned out really nice, and he praised the salon for doing a good job.
The bleaching process was surprisingly pleasant. I had expected a burning sensation since I had heard stories from other people, but there was none. The whole process took 5 hours. The stylist was very patient and accommodating to my needs. He constantly made sure I was comfortable and would apologise whenever there was a slight wait. 
The colour met my expectations. My hair was very smooth, perhaps even smoother than before I had bleached it. The stylist also gave me tips on how to care and maintain my hair using silver shampoo so that the colour would last longer. My friend who had bleached his hair here previously had his hair colour last for a good 4 months. 
The price was considered cheap compared to other salons. Touch-ups are available at a cheap price too. "
—Pamela Lim
Address: 14 Scotts Road, #05-17, Far East Plaza, Singapore 228213
Opening hours: 11am to 8pm (Mondays to Saturdays) | 11am to 7pm (Sundays)
Booking: Call 6737 2272 or 9664 9275 to make an appointment
Facebook | Instagram
Also read:
46 Highly Rated Hair Salons in Singapore For Dyeing, Perming, Cuts, Treatments & Korean Styles
6. Prep Luxe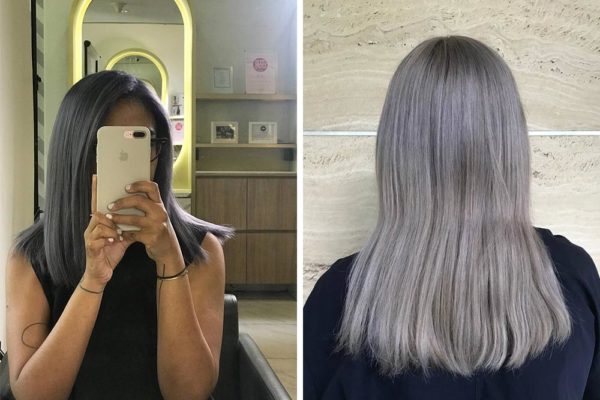 "I'd been wanting to dye my hair metallic silver for a long time but was hesitant due to the constant touch-ups required. I finally took the plunge after realising that a few friends had bleached their hair at Prep Luxe, and when their roots started growing out, it looked gradual, rather than stark against the bleached hair. 
Over the past 3 years I've been bleaching my hair at Prep Luxe, the experience has been consistent. The process usually takes about 5 to 6 hours. Since I go in with existing bleached hair, I typically do another 2 rounds of bleaching followed by toning. During the bleaching process, there's a slight stinging sensation during the second round, but nothing too unbearable. Each time, the salon Director, Den, and Senior Technician, Kai, will determine the best way to help me achieve the results I want without damaging too much of my hair. They also make sure the old and new colours blend well together. 
While the silver fades away quickly, I keep returning to Prep Luxe because it fades into a blonde shade that I like. The stylists also bleach the hair in such a way that when the roots grow out, the end result looks gradual. Therefore, I don't have to go for touch-ups and only return once it's time to bleach my hair all over again.
You won't feel cooped up inside even after sitting down for hours, as the salon is at ground level and has lots of natural light coming in through the glass windows. I also appreciate that there is ample space between each customer, so you always feel like you have your privacy.  
The "Unlimited Process" colour treatment costs $400 to $480 for medium length hair, which I find reasonable, considering the steps involved, the experienced stylists, the ambience and location of the salon, and more."
—Annabelle Fernandez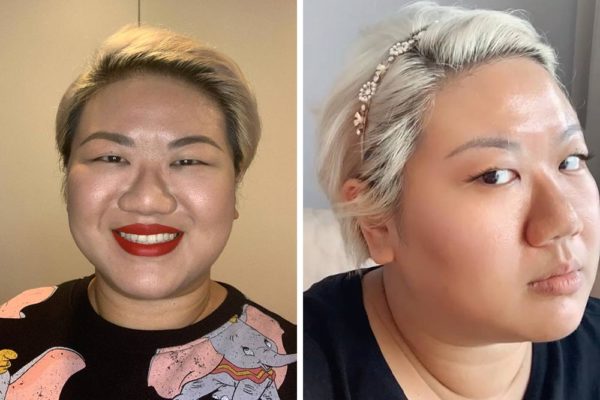 1 to 2 weeks after bleaching
"I've bleached my hair 3 times over the past 4 to 5 years, and one of the places I visited was Prep Luxe. At the end of last year, I decided to go blonde again. It was an easy decision to return to Prep Luxe as it has always been one of my favourite salons.

Some discomfort is to be expected when bleaching, but my colourist, Den, was able to minimise the amount of time the bleach was left on my hair to reduce my discomfort. He was also very gentle when rinsing bleach off my scalp as it can be quite tender at times. I went from my natural black hair to blonde, so the bleaching process took about 5 to 6 hours. There were 2 rounds of bleach on the lengths of my hair, and 1 round closer to the roots before the toner was applied. 
My hair had a slight lavender tint to it, which faded to a platinum shade over the next few days. I loved how clean the colour looked. Of course, bleaching the hair means a degree of damage has been done and it will not feel as smooth and soft as untreated hair, but I was satisfied with how my hair felt.
Caring for bleached hair takes a lot of at-home maintenance. With regular use of purple shampoo, toning masks and toning drops, my hair colour is still under control. My roots have also grown out and I will be going for my touch-up soon. The price isn't what most people would consider cheap, but I found it reasonable. Even though I'm paying more, I'm also paying for a peace of mind, knowing that the colour will turn out right and my scalp and hair will be well taken care of."
—Joyce Cheo
Address: 15 Stamford Road, #01-62, Capitol Piazza, Singapore 178906
Opening hours: 10am to 7.30pm daily
Booking: Call 6384 1406, WhatsApp 8876 1042, email hello@prepyourhair.com or fill in the booking form to make an appointment
Website | Facebook | Instagram
7. Mi the Salon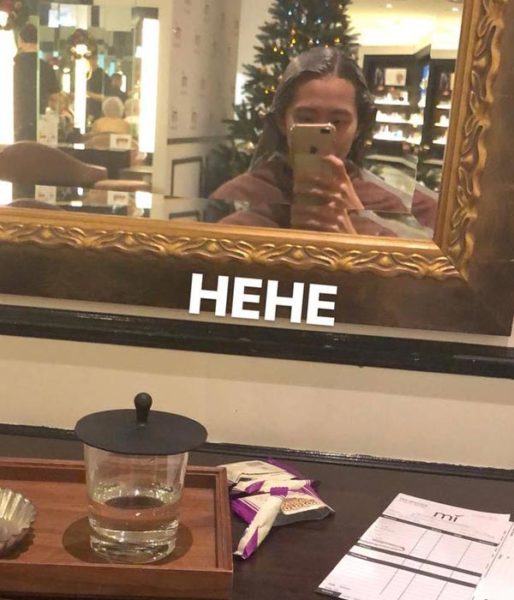 "There was a period when I bleached my hair twice in a year because I wanted to try some ashy colours. The first salon I went to gave me a colour that wasn't what I wanted even though I'd spent a lot of money on it. Thus, I went to Mi the Salon and they managed to fix my hair to obtain my desired colour.
I first heard of the salon through a friend, but had also seen good reviews on social media. I wanted to consult them before I got my hair done, since I had a bad experience at a previous salon. They were very patient with me, answering my queries and making sure I was okay with the colour before they proceeded with the bleaching process. 
The bleaching took about 2 hours and I didn't feel any discomfort or burning pain at all. I really loved the end product because my hair wasn't dry and was super smooth. The colour also lasted for very long.
The salon is very spacious and the service felt very professional. My hair was pretty long and I only paid $200 for bleaching and colouring, which I felt was reasonable."
—Rachel Yeo
Address: 435 Orchard Road, #02-01, Wisma Atria, Singapore 238877
Opening hours: 11am to 9pm (Mondays to Fridays) | 10.30am to 7.30pm (Saturdays and Sundays)
Booking: Call 6884 7754, Whatsapp 9827 5346 or email hair@mithesalon.com to make an appointment
Website | Facebook | Instagram
8. Dan Hair Design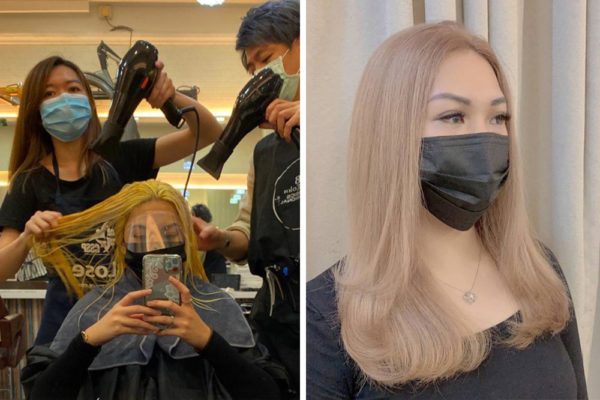 "Going to Dan Hair Design was my first experience with bleaching my hair. I got to know about this salon through an advertisement on Instagram. However, it was my friend's recommendation that convinced me to finally settle on the salon.
I went to the salon without a definite idea of what colour I wanted, aside from an ashy look. At first, I was leaning towards ash grey. However, the hairdressers advised me against it as it did not suit my skin tone. The staff were patient with me throughout the decision-making process. They made me feel comfortable enough to ask any questions. 
The entire bleaching process took approximately 2 hours and my chosen hair colour required 2 repeated processes of bleaching. I felt little to no discomfort or itch during the process. Furthermore, the staff checked in with me often to ask if I felt any discomfort at all.
My initial hair colour consisted of 3 different dark colour tones from previous dyeing. Surprisingly, the result of the bleaching process was even from the roots down to the tips of my hair. While it left my hair a little drier than it originally was, that is to be expected from bleaching. I felt thankful for heeding their advice in the end, as the final hair colour complemented my skin tone well.
The salon is located in an old building, thus both the exterior and interior of the salon did not give me the reassurance I needed at first. [However,] while I was there, there were also many young people in their 20s to 30s having their hair done. Overall, I found Dan Hair Design to have reasonably priced services and would return again."
—Eunice Ching
Address: 213 Bain Street, #02-81, Bras Basah Complex, Singapore 180231
Opening hours: 10am to 8pm daily
Booking: Call 6259 5988 or email danhairdesign@gmail.com to make an appointment
Facebook | Instagram
9. Artica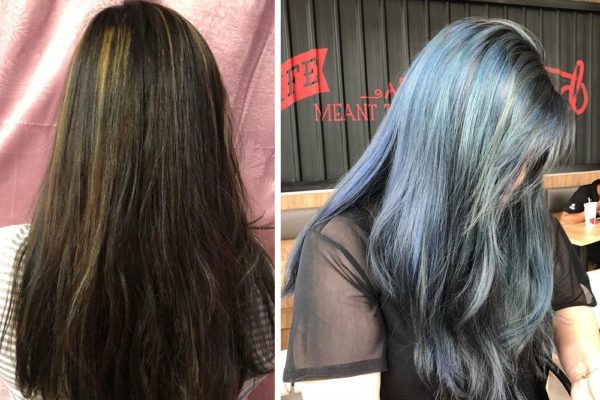 Before vs after
"I bleach my hair at least once a year. The packages that Artica offered appealed to me as they were cheap. They also provided the option to top-up to add Olaplex to the bleach, so it would be less harmful to your hair. I heard about the salon through my friend as she specifically searched for salons that offered packages for bleaching. The reviews of the salon and the pictures online seemed really good. 
I had my hair done by a hairstylist called Juno. He was very transparent with me as to whether the hair colour I wanted was attainable and if my hair could take more bleaching or not. [To dye my hair blue], I had to bleach my hair at least twice. The whole process took some time because I needed to wait around 45 minutes for each round of bleaching. In the end, the blue colour was pretty even and my hair was still in good condition. The colour didn't last very long because I wash my hair often and I didn't go back for touch-ups either.
The service at Artica is really good. The salon also doesn't hard-sell and the staff are all very friendly. I paid around $300 to $400 for everything, which I felt was reasonable."
—Lisa Ng
Address: 14 Scotts Road, #04-64, Far East Plaza, Singapore 228213
Opening hours: 11.30am to 9pm (Tuesdays to Fridays) | 11.30am to 8pm (Saturdays and Sundays) | Closed on Mondays
Booking: Call 6977 7237 or email articabyjuno@gmail.com to make an appointment
Facebook | Instagram
10. Shunji Matsuo Hair Salon at ION Orchard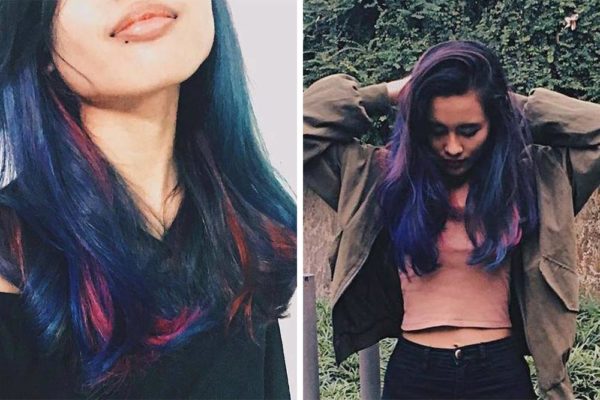 "The stylists at Shunji Matsuo take care of my hair every time I bleach my hair, which is at least 1 to 2 times a year. They often recommend the strength of bleach and inform me if my hair isn't able to hold onto the chemicals. I first found out about this salon after coming across good reviews online. Since I have always wanted colourful hair, I decided to give it a shot.
When bleaching my hair for the first time, I felt a slight tingle near the scalp, which is normal. The entire process including colouring took me around 4 hours. Originally, I wanted to dye my hair a teal colour, but did not because of the hairstylist's advice against bleaching until platinum blonde to get it. The teal ended up a bit greenish, which was fine with me. My hair felt smooth after the service and I didn't need to touch it up. I let the colour fade and my hair grow out before bleaching it again.
I found the price was pretty expensive for my hair length, around $200 for shoulder-length bleaching. They gave me snacks and drinks throughout the hours I was there.
I usually go during non-peak hours when there aren't many customers around, so the salon is peaceful and quiet. However, during dinner time or on weekends, it tends to get very crowded since it is in the town area."
—Syuhada Subuki
Address: 2 Orchard Turn, #04-04, ION Orchard, Singapore 238801 
Opening hours: 10am to 10pm daily
Booking: Call 6509 5833 or fill in the booking form on its website to make an appointment
Website | Facebook | Instagram
11. Jean Yip Hairdressing at Compass One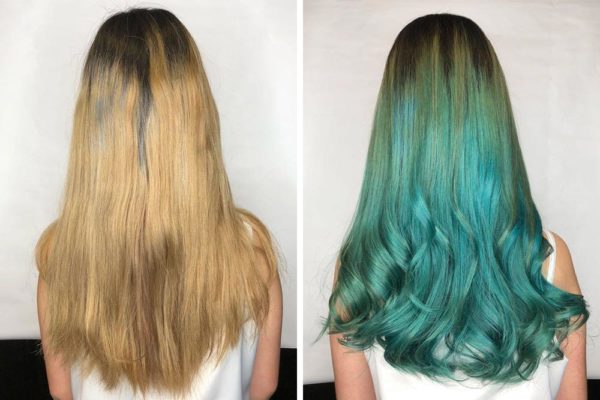 Before vs after
"I tend to dye and bleach my hair very often. My friend who visited the salon before me recommended this particular Jean Yip outlet. At that point of time, I was really into changing my hair colour frequently and playing around with crazy colours, so I decided to go for it. 
Before starting, the stylist applied a protector for the scalp so that my scalp would be protected against extra damage. I didn't experience any pain throughout the bleaching process and was glad because I have a sensitive scalp. I think the entire process took about 4 to 5 hours, since they had to bleach my hair until it was blonde for the colour to be vibrant.
My bleach job was done by the director of the salon and he was very friendly. He promptly answered all the questions I had about hair care. The colour was even and I was glad with the colour payoff as well. My hair also didn't feel rough. I didn't go for a touch-up even though the colour faded after 2 to 3 weeks because I wanted to try a different colour the next time. After trying it once, I felt they did a really good job, so I went back a few more times. 
The salon has a soothing ambience with a chic and professional design. The music helped to keep me in a good mood, since I was quite restless from sitting in a chair for long hours. The salon staff provided me with tea and magazines to read while going through the process. They also have free WiFi so I could catch up on some Korean dramas as well. "
—Gabrielle Yong
Address: 1 Sengkang Square, #04-08, Compass One, Singapore 545078
Opening hours: 11am to 9pm (Mondays to Fridays) | 10.30am to 8.30pm (Saturdays) | 10.30am to 7.30pm (Sundays)
Booking: Call 6315 3878 to make an appointment
Website | Facebook | Instagram
Heading To These Top Rated Salons In Singapore To Bleach Your Hair Is The Self-Care You Deserve
Whether you need a self-care hair therapy session or just want to go for a change in your appearance, this list of salons for bleach jobs will be your best friend. 
All photos courtesy of interviewees.
Also read:
10 Hair & Beauty Salons With Off-Peak Offers Islandwide So You Can Take Mini-Breaks To Pamper Yourself When WFH