Hair & Beauty Salons With Off-Peak Promotions
Working from home is a relatively comfortable situation for most, especially when you can wake up 5 minutes before your Zoom meeting or work from your bed. Another major WFH perk? Being able to take a break in the middle of a tough assignment or in between meetings. Some people pop out for a jog, others go on coffee runs, while those in the know make use of off-peak promotions to go for a massage, facial or manicure. 
We've done the legwork for you and curated a list of 10 hair and beauty salons with off-peak discounts going up to 50% off islandwide. The next time you need a self-care session to help you cope with the daily grind, treat yo' self to one (or more) of these beauty and wellness deals.
1. EX Beauty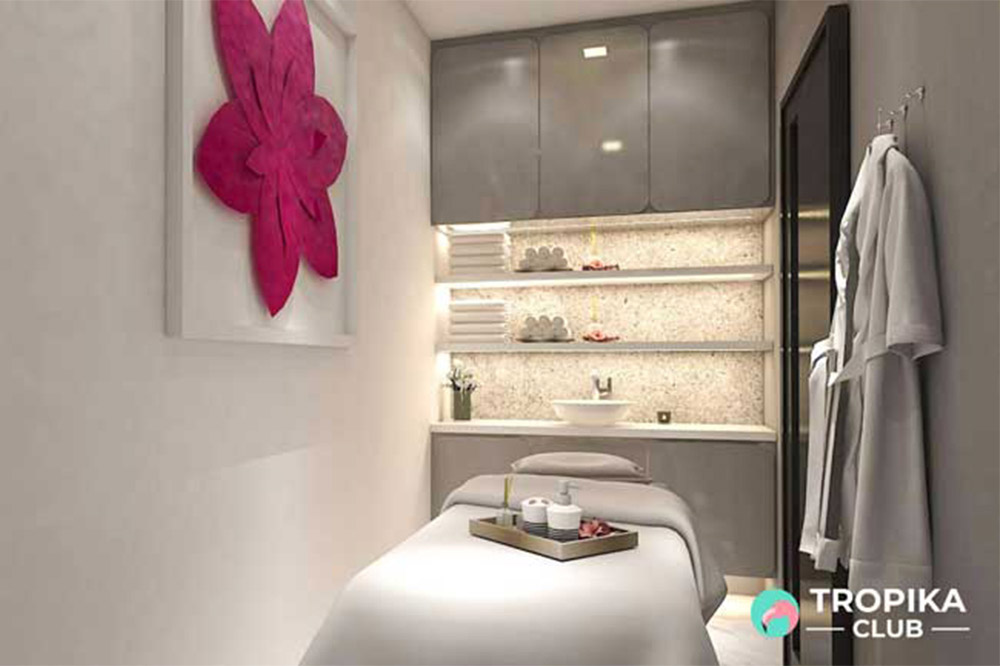 Source
EX Beauty's minimalist interiors will put you into Zen mode immediately. The beauty salon offers all kinds of services, with major deals on facials, massages and lash extensions. Wind down by booking its Relaxation Facial, $48.30 (U.P. $69). You can also zhng your lashes by opting for its Korean Doll Eyelash Perming treatment, which is currently 50% off at $44.
Price: From $44 (U.P. $88) for the Korean Doll Eyelash Perming treatment
Offer: Up to 50% off
Address: Block 11A Boon Tiong Road, #01-06, Singapore 161011
Opening hours: 10am to 8pm daily
Booking: Here
2. Dazzling Beauty Bar 

Source
Another one-stop destination for all your beauty needs, Dazzling Beauty Bar is an accessible salon for those staying in the north-east region. With 50% off classic and gel manicures and pedicures, sit back and get your nails done in one of its plush mint green armchairs, then hop into one of its cosy treatment rooms for a facial after.
Price: From $20 (U.P. $40) for a Classic Manicure
Offer: Up to 50% off
Address: 720 Ang Mo Kio Avenue 6, #01-4104, Singapore 560720
Opening hours: 11am to 8pm daily
Booking: Here
3. Home Nail Beauty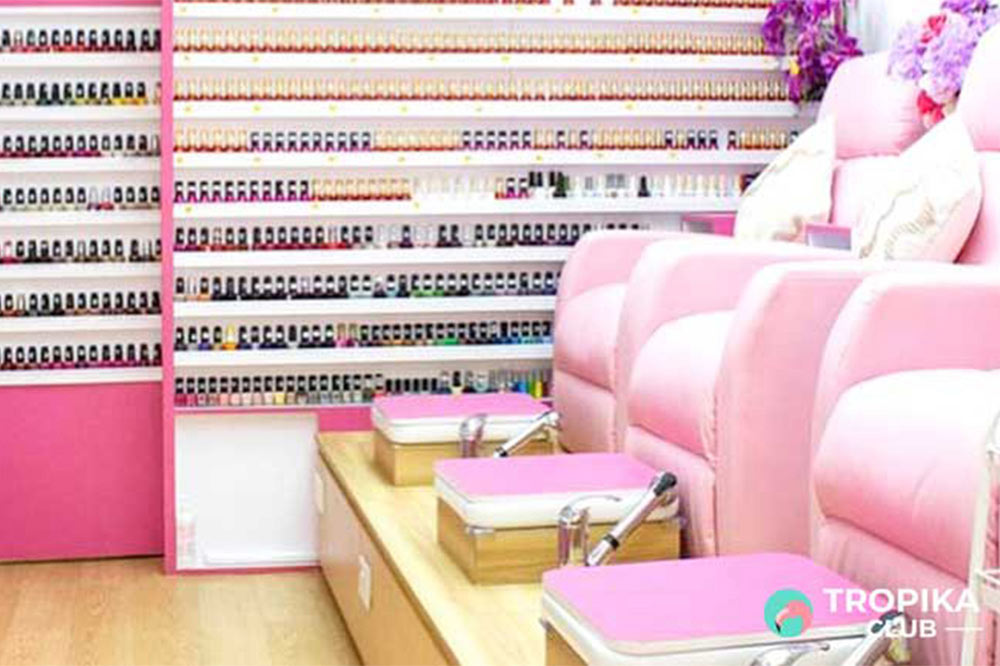 Source
Give your hands and feet a treat by copping one of the affordable deals from Home Nail Beauty. The nail salon does basic manicures and pedicures, as well as gel options. Pro-tip: Schedule the Classic Pedi Gel and Classic Mani Gel during your next lunch hour. You'll enjoy 30% off if you book a weekday session between 1pm to 2pm.
Price: From $12.60 (U.P. $18) for a Classic Mani
Offer: Up to 30% off during off-peak hours
Address: 721 Clementi West Street 2, #01-108, Singapore 120721
Opening hours: 11am to 8pm daily
Booking: Here
4. Perky Lash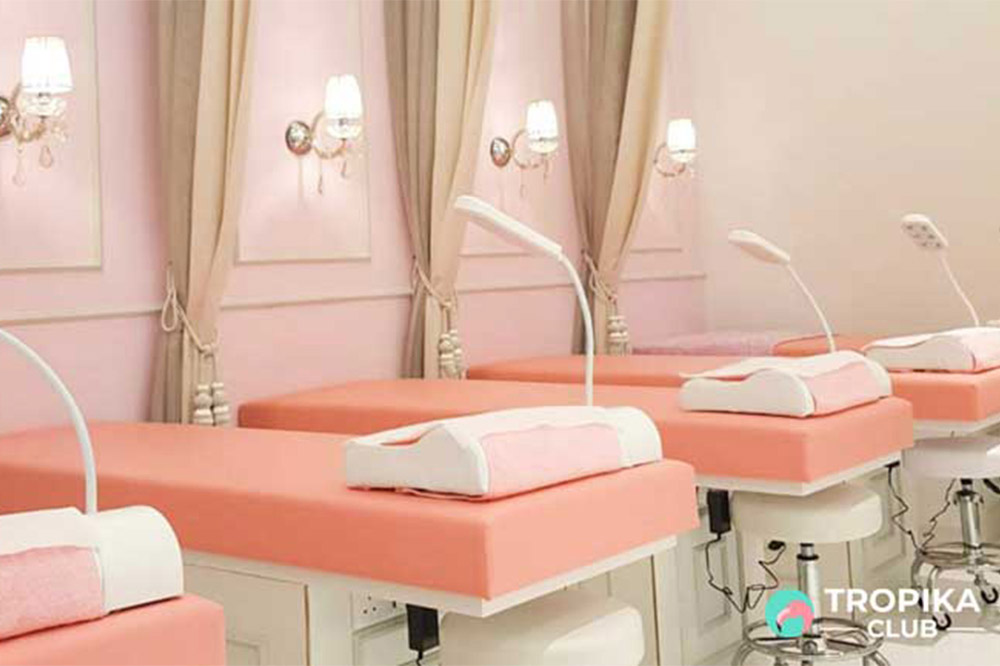 Source
Get your lash fix at Perky Lash while basking in the shop's immaculate Wes Anderson vibes, thanks to its pink-themed interior. You can choose between different types of collagen lash lifts or lash extensions, depending on the look you're after.
Price: From $47.60 (U.P. $68) for the Collagen Lash Lift
Discount: Up to 30% off during off-peak hours
Address: 8 Liang Seah Street, #02-03, Singapore 189029 | 23 Serangoon Central, #03-27, Singapore 556083
Opening hours: 11am to 10pm daily
Booking: Perky Lash Bugis | Perky Lash Serangoon
5. R'es Beauty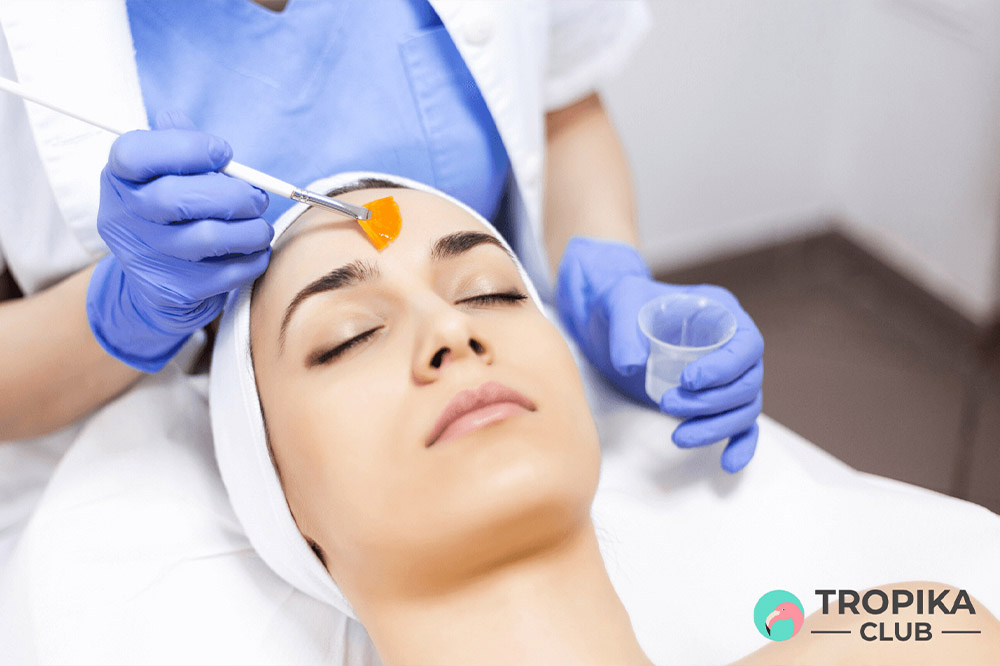 Source
Easties, you're in for a treat. R'es Beauty uses specially selected beauty products from France for its facial treatments, including the Age Recovery Treatment, Radiance Treatment, Micro-dermabrasion Treatment and Thermaskin Fractional RF Treatment. And if you book a session on weekdays between 11.30am to 3pm, they're all available at 50% off.
Price: From $48 (U.P. $96) for the Radiance Treatment
Discount: Up to 50% off during off-peak hours
Address: 50 East Coast Road, #02-127, Roxy Square 2, Singapore 428769
Opening hours: 11.30am to 6pm daily
Booking: Here
6. Tanubhi Beauty Care 

Source
Looking put-together can be hard on the wallet. Thankfully, Tanubhi Beauty Care has an array of nail, hair and beauty services at affordable prices. It offers threading and waxing services for both targeted areas such as the upper lip, as well as full face and body options, starting from just $3.
Price: From $3 for Threading – Neck/ Forehead / Cheeks and Upper Lip Threading
Offer: Up to 30% off during off-peak hours
Address: 631 Bedok Reservoir Road, #01-906, Singapore 470631
Opening hours: 10am to 8pm daily
Booking: Here
7. Wellaholic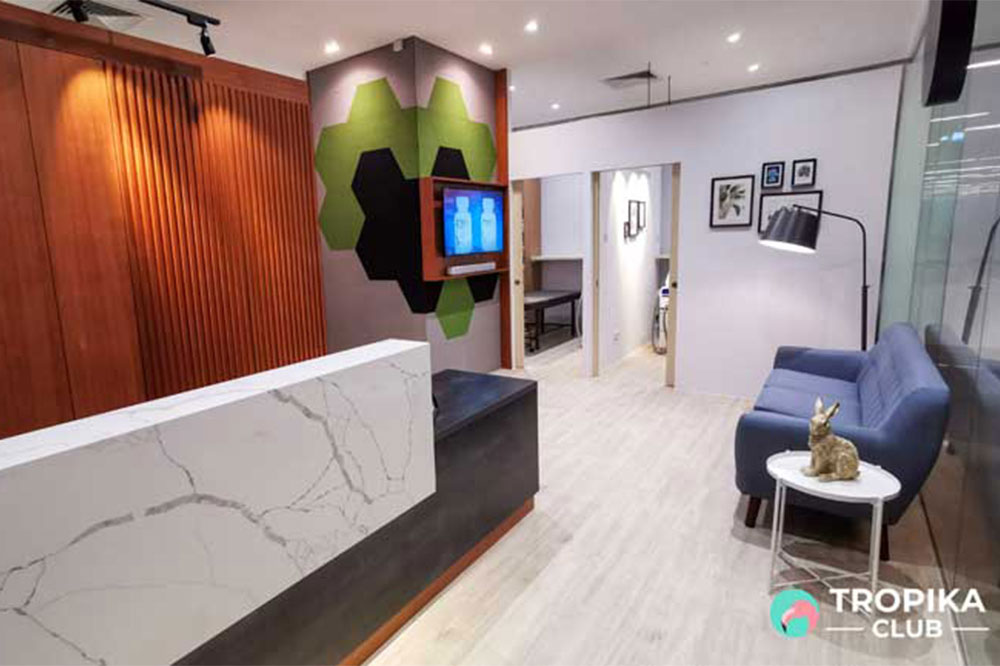 Source
With 6 outlets dotted across the island, making an appointment at Wellaholic is a breeze. The beauty clinic has a comprehensive range of treatments, from hair regrowth and removal to microneedling, teeth whitening and body sculpting. Starting from $12.60, there's no better time to try its popular Super Hair Removal service, which uses targeted wavelengths to remove unwanted hair.  
Price: From $12.60 (U.P. $18) for Super Hair Removal (Underarms, single session)
Offer: Up to 30% off during off-peak hours
Address: Find the full list of locations here
Opening hours: 11am to 10pm (Mondays to Fridays) | 11am to 8pm (Saturdays and Sundays)
Booking: Wellaholic Jurong East | Wellaholic Kovan | Wellaholic Lavender | Wellaholic Orchard | Wellaholic Tai Seng | Wellaholic Tanjong Pagar
8. Ravissant Hair Studio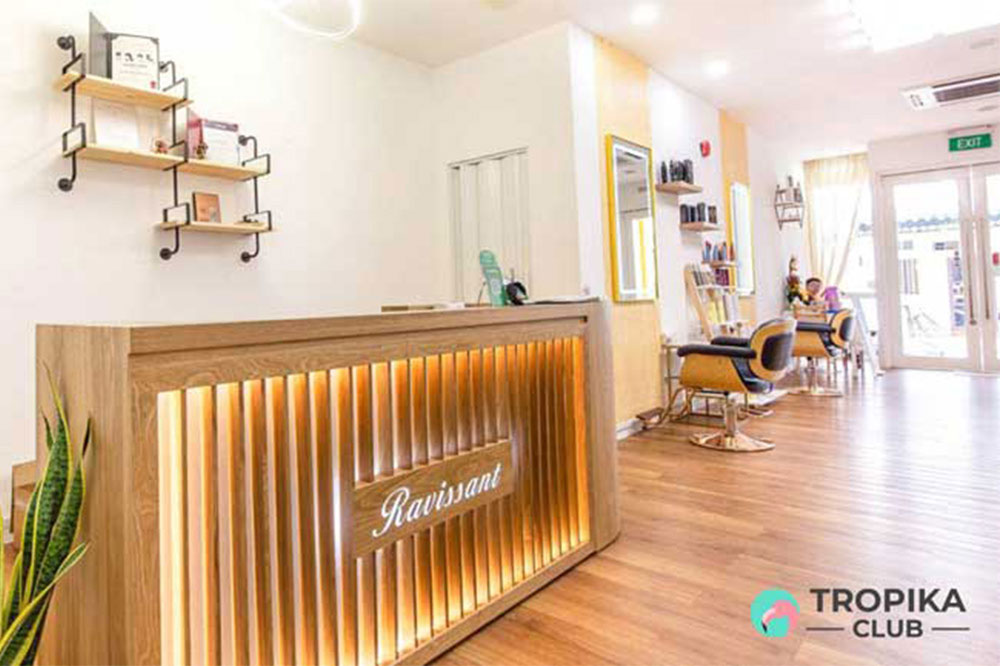 Source
Light wooden furnishings, potted plants, plenty of natural light… Ravissant Hair Studio's set-up is right out of a MUJI catalogue. Savour some me-time as you settle into one of its sleek leather chairs while doing a hair or scalp treatment, and emerge feeling recharged for the week ahead. 
Price: From $70.40 (U.P. $88) for the Colour+Emulsion Treatment or the Classic Scalp Treatment
Offer: Up to 20% off
Address: 75 Tras Street, Singapore 079014
Opening hours: 11am to 9pm daily
Booking: Here
9. The Organic Room 

Source
The Organic Room is a peaceful sanctuary situated right in the heart of the city. It has a plethora of services on offer, including sugaring and brow shaping. Sugaring is an all-natural hair removal method that's said to be less painful than waxing and leaves you with less ingrown hair. If you're curious about sugaring but have yet to try it, this is the perfect opportunity to do so.
Price: From $2.80 (U.P. $4) for the Toes (Sugaring) treatment
Discount: Up to 30% off
Address: 470 North Bridge Road, #04-03, Bugis Cube, Singapore 188735
Opening hours: 10am to 8pm daily
Booking: Here
10. Yunohana Spa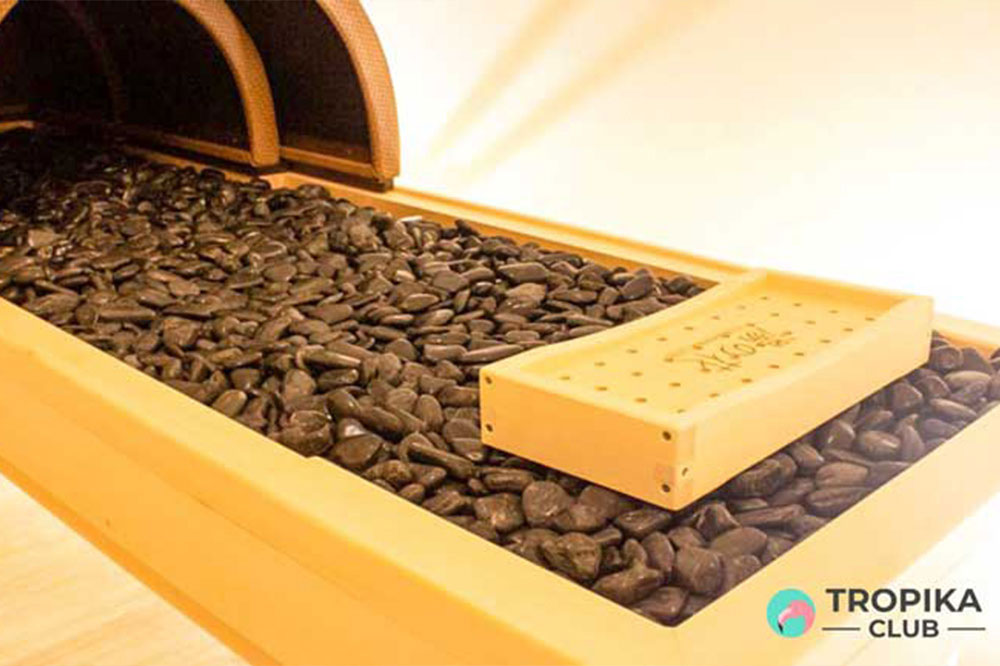 Source
Yunohana Spa is all about wellness, with its mineral-infused spas and detoxifying facials. The fancy rock beds are just one of several hot-spring inspired treatments, so if you're looking for a more holistic approach to your spa therapies, this might just be the spa for you.
Price: From $70 (U.P. $100) for the 60-minute Hokutolite Bedrock Therapy treatment
Discount: Up to 30% off during off-peak hours
Address: 9 Scotts Road, #03-03, Pacific Plaza, Singapore 228210
Opening hours: 11am to 9pm (Mondays to Fridays) | 11am to 7pm (Saturdays, Sundays and Public Holidays)
Booking: Here
Tropika Club
The key to getting through WFH season is by indulging in mini-breaks so you can keep hustling through the work week. And as you resolve to love yourself more, you shouldn't have to drain your wallet while you're at it.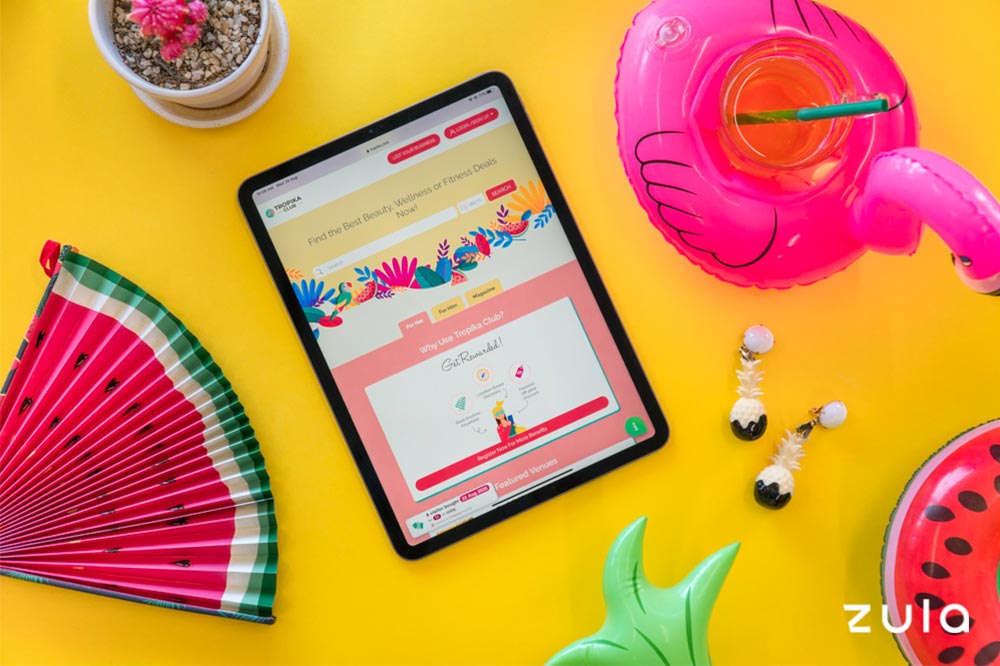 Tropika Club is a new booking platform that fetches you major deals on beauty, fitness and wellness services, from a luxurious massage to a casual haircut in your 'hood. 
The online booking portal has teamed up with numerous salons and fitness studios in Singapore, including well-known companies such as Mary Chia and Avone Beauty. Boasting over 4,000 listings and counting, you're sure to find something affordable near you for that much-needed pampering sesh.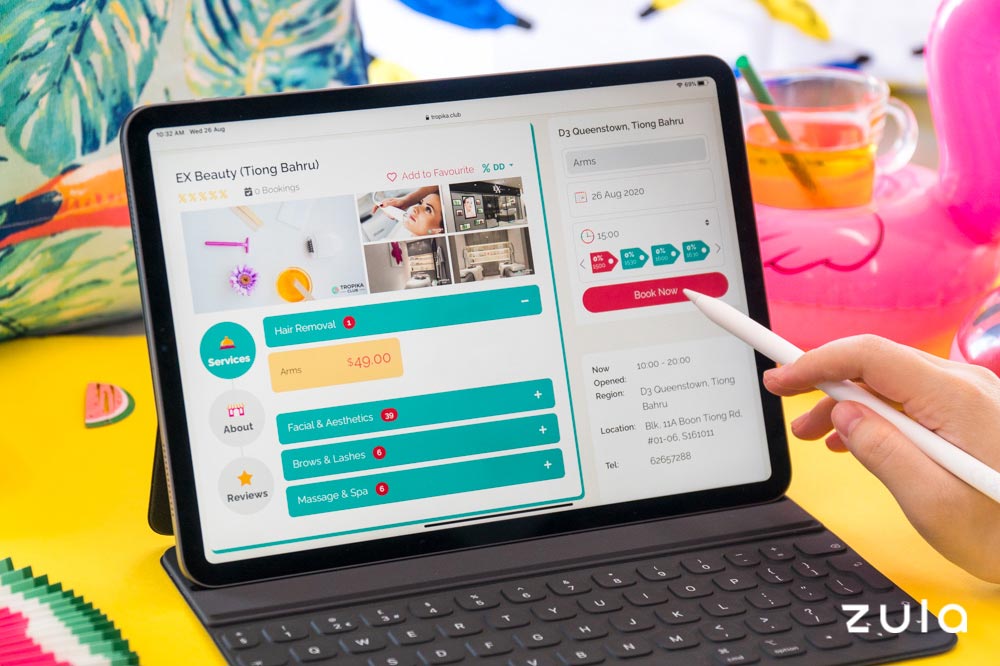 One of Tropika Club's most unique features is that it leverages time-based discounts to give you the best prices for your trip to the hair or beauty salon. This means that if your schedule permits, you can enjoy discounts of up to 50% off beauty, wellness and fitness services or activities across the island.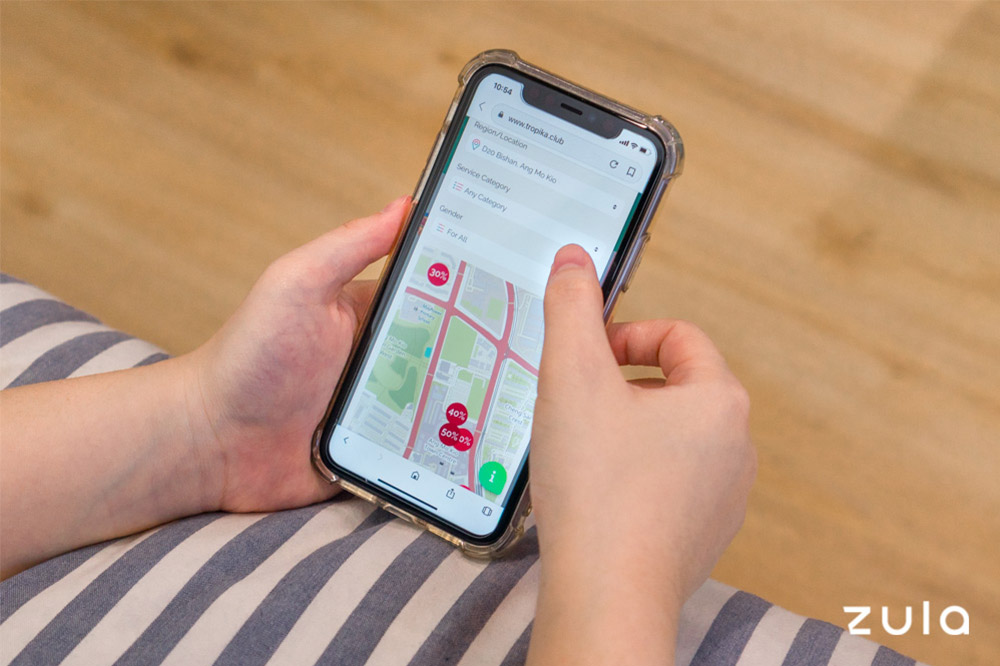 Another key feature is Tropika Club's Map View function, which helps you to easily find the relevant available services near you. You can filter this by selecting the area you prefer, what kind of service you're intending to go for, and your gender, if you deem it necessary. 
To make things even sweeter, the Map View also allows you to see all the discounted services around you—just zoom in to see which is the best deal for you.
Turn To Tropika Club For The Best Beauty, Wellness & Fitness Deals 
You don't need an excuse to pamper yourself with a spa day or a nail appointment, and even more so when you can get them at lower rates on Tropika Club. 
Tropika Club incorporates Google reviews under each listing, so you can rest assured the reviews are absolutely transparent before you evaluate your options and make a booking. On top of that, you won't have to worry about paying additional booking fees, because Tropika Club promises zero booking fees site-wide.
So if you feel like you need a little something to push through the week, get clicking and schedule an appointment at a hair or beauty salon.
This post is brought to you by Tropika Club.
Photography by Tan Wen Lin.
Also read:
11 Taobao Items That Will Transform Your Workstation Into A Stylish Home Office Set-up