Hire A Boyfriend
Once upon a time, in a desk chair not far from where I'm sitting now, I had an idea to hire a boyfriend for a week.
Call me crazy, but I was single and lonely, and I wondered if sugar daddies could 'buy' love, would it be possible for me to do so too?
Coupled with the fact that Carousell boyfriends for rent were popular, I was curious to know what 'boyfriend services' actually entailed, and how it would make for a hilarious article if I wrote about my experience.
Initially, I searched through news articles, Carousell and Facebook, before browsing through Locanto where I met several potential boyfriends.
But after exchanging numbers and texting, I realised most of them were male escorts who were purely DTF. One of them even tried to sell me insurance.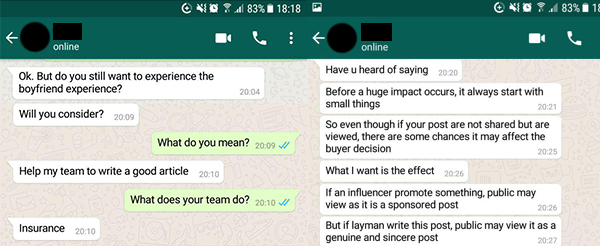 Rating: 3/10. Would not recommend.
Dejected, I realised this 'boyfriend for hire' experiment wasn't going well. In a last-ditch attempt, I turned to Tinder hoping for better luck.
To my surprise, I got an overwhelming response, which gave me the power to 'cherry-pick' the most #boyfriendmaterial dude from a bevy of good-looking guys.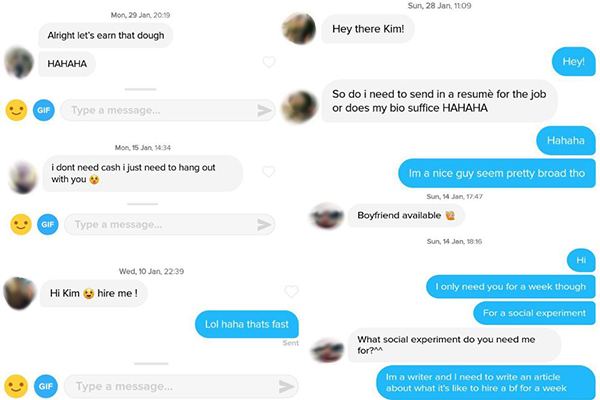 Eventually, after long weeks of 'interviewing' potential boyfriends, I chose Jake*, a part-time model who seemed too good to be real.
Unlike most Tinder matches who were apprehensive about my intentions, Jake was fully on board with being a fake boyfriend.
*Some names were changed to protect identities
Going on a date with my fake boyfriend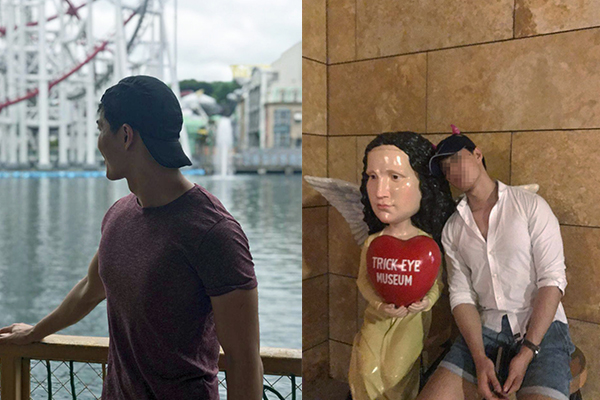 Jake's enthusiasm took me by surprise. On one hand, I was excited to finally have a spontaneous, game-for-anything 'boyfriend'. On the other, I questioned why he wasn't the least bit suspicious of what I was up to.
We had our first meeting a few days later and I was taken aback by how much better-looking he was in real life. He was tall, slightly tanned, and undeniably handsome—the cookie-cutter image of an ideal boyfriend.
Yet, despite fangirling over his good looks and killer bod, it was impossible to ignore his F-boy aura.
When we had dinner at McDonald's, he denied the 'F-boy' title with a laugh. According to him, he's just a 'chill' dude who pivots between being a player and an F-boy.
As we chatted, I learned Jake was younger than me, and he agreed to this experiment only because he was trying to save money for med school. Despite his upper-class background, he wanted to be financially independent, which I respected very much.
For a moment, I felt bad for stereotyping him. Why did I automatically assume he was 'one of those guys' just because of his good looks?
But, my instincts weren't wrong either. In fact, the longer the time we spent together, the more apparent his F-boy attitude became.
He mostly talked about himself, and every time the conversation shifted to me, his lack of interest was painfully obvious. I was momentarily annoyed but I had to remind myself he was only here for the money.
Also read:
6 Girls Older Than Their Boyfriends Share Stereotypes & Insecurities They Face In Singapore
Getting physical with Jake
Self-centredness aside, Jake was really good at making the first move.
Perhaps it was his experience with girls or his F-boy attitude that gave him the confidence to hold my hand and kiss me on the escalator. Or to whisper things like "I hope you take off your lipstick because I don't want to look like the Joker after the film" before we entered the cinema.
It was a refreshing change from the countless awkward dates I've been on, where no one was daring enough to take the lead.
For once, it felt nice to be wanted. But as much as I enjoyed his charms, I was acutely aware how I only allowed him to make advances simply because he's good-looking.
Had my fake-boyfriend been 'the weird insurance guy', I would have felt uncomfortable if he even attempted to get close to me.
There was a moment in the midst of all the PDA where I thought about all my previous dates, and how I felt guilty none of them were allowed to move as fast as this.
But there I was, sitting next to someone whose personality was far from my ideal type, and enjoying his company because he made me feel special and wanted.
The end of the date
As I waited for his last bus, cuddled up in his embrace, Jake asked if I was going to transfer him the money soon.
In that moment, reality sank in. I let go of our hug and thought about how none of this was real. Jake wasn't my boyfriend, he was just a boy trying to save up for med school.
"Tonight?" I said as we shared one last kiss before I left for my bus.
That night, I couldn't stop thinking about Jake. But more specifically, this crazy, nonsensical, absurd experiment I decided to try.
Initially, the plan was for the relationship to last for a week. But after one date, I didn't want any part of it because I felt embarrassed.
Embarrassed because I paid someone to shower me with attention, embarrassed because I got so caught up in the false romance, embarrassed that I was disappointed when he mentioned money at the end of the date.
Most of all, I was appalled at how naive I was. Though I told myself to have no expectations going into this arrangement, a part of me secretly hoped for some sort of personal gain.
That, perhaps, we would still hang out after the agreement ended, and I could continue to enjoy his attention or the pride that came with having a model-like boyfriend.
But who am I kidding, right? This is not the movie Pretty Woman, and I'm no Julia Roberts. There's no happy ending unless you consider Orchard MRT to be a place for bittersweet farewells.
Ultimately, this is just another social experiment where I paid a young, hot guy for his time because I'm incapable of finding a cute boyfriend myself.
But hey, for the sake of this article, at least I got my money's worth. I think.
This post was first published on 20 February 2018 and last updated on 30 September 2023.
Also read:
Why I Cheated With My Boyfriend's Best Friend When He Was In NS